Dallas Colleges:

Tony Mitchell
October, 29, 2012
10/29/12
1:23
PM CT
Before getting to the Blue Ribbon team-by-team previews for the Sun Belt, read Dana O'Neil's profile of new Florida International coach Richard Pitino, Myron Medcalf's look at North Texas' nonconference schedule and Western Kentucky's place in ESPN.com's 50 in 50 series.
Blue Ribbon's in-depth previews of all 11 Sun Belt teams:

Arkansas-Little Rock

Arkansas State

Florida Atlantic



Florida International

Louisiana-Monroe

Louisiana-Lafayette

Middle Tennessee

North Texas

South Alabama

Troy

Western Kentucky
As for an added bonus, ESPN.com's Eamonn Brennan picked the
top 10 national rebounders
heading into the season, and North Texas' Tony Mitchell made the list. His take:
7. Tony Mitchell, North Texas:
The former Missouri signee is the kind of talent you don't often see in the Sun Belt, and his rebounding numbers back it up. He averaged 10.3 rebounds per game, and notched the fourth-highest defensive rebounding rate in the country (28.8 percent). He wasn't quite as effective on the offensive end -- he barely missed the 10 percent mark in offensive rebound rate, at 9.6 -- but that is also a byproduct of being the primary focus of the Mean Green offense. Mitchell has already proven his bona fides; the next step is a truly dominant season.
April, 13, 2012
4/13/12
7:28
PM CT
Johnny Jones made 20-win seasons an expectation at North Texas, a program that had a grand total of 20 wins in four seasons before his arrival in Denton.
That's how the former LSU point guard and assistant coach earned his dream job at his alma mater, which hired Jones to replace new TCU coach Trent Johnson.
That's also why North Texas has never been a more attractive job for a head coach. Athletic director Rick Villarreal, who hired Jones about two weeks into his UNT tenure, should have a pretty impressive pool of candidates in his search to find an experienced head coach that can keep the Mean Green program's momentum going.
"You probably need somebody that you're not taking a chance he's pulling the trigger for the first time," Villarreal said. "That's my preference. As a program, we're at that point."
The program, which qualified for the NCAA tourney twice in the last six years, is at a point where it could be poised to join the midmajor powers.
The Mean Green's five-year streak of 20-win campaigns was snapped this season, when UNT finished 18-14 and lost a down-to-the-wire Sun Belt tournament final for the second straight year, but the entire rotation should return intact with an impact juco big man headlining the recruiting class. Potential first-round pick
Tony Mitchell
has decided to wait at least a year to declare for the NBA draft, opting to focus on improving his game and leading UNT back to March Madness, unless he reconsiders following Jones' departure.
This will always be known as a football state, but there aren't many more fertile basketball recruiting bases than the Dallas-Fort Worth Metroplex. UNT has a 10,000-seat arena and has positioned itself, with a facilities overhaul highlighted by its new $78 million football stadium, to benefit from future conference realignment dominoes falling.
This is no longer a job for a man desperate for a chance to become a head coach. It's a job for a proven winner who can build on the foundation Jones leaves as he heads home to LSU.
January, 23, 2012
1/23/12
1:51
PM CT
North Texas freshman
Tony Mitchell
has been named the Sun Belt Conference player of the week for the third consecutive week.
Mitchell becomes just the second player in league history to receive three consecutive weekly honors and the first since the 2008-09 season, when Brandon Hazzard of Troy received three consecutive honors.
Mitchell, a Pinkston High School grad, had 30 points and a Sun Belt-season high 17 rebounds to lift North Texas (12-8, 5-2 SBC) to an overtime win over Denver and into a tie for first place in the West Division.
The Mean Green has now won five of its last six games, with the only loss coming on a half-court buzzer beater on the road at Arkansas State on Jan. 7.
July, 19, 2011
7/19/11
11:43
AM CT
By
Diamond Leung
| ESPNDallas.com
COLORADO SPRINGS, Colo. -- Dec. 17 is supposed to be the big day.
After a frustrating year spent in limbo, that's when blue-chip recruit Tony Mitchell is expected to become academically eligible for North Texas and finally be able to put on a college uniform.
After five consecutive seasons of at least 20 wins for the Mean Green, the addition of the 6-foot-8 ex-Missouri signee from Dallas would be a real boon for a Sun Belt school unaccustomed to landing talent that
ESPN ranks in its top 25
.
For Mitchell, the turning point came amid news reports centering on a spotty educational record that turned his college career into a dream deferred. He tuned out the talk of his shortcomings and went to work.
"I was on the news like every week," Mitchell recalled last month after a workout at the U.S. Olympic Training Center. "I was like, 'What's going on?'
"It's motivation. They can say what they want to say."
[+] Enlarge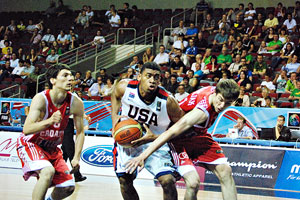 Craig Miller/USA BasketballTony Mitchell was Team USA's leading rebounder and shot-blocker at the world championships.
Displaying his ability as a strong and versatile power forward has never been an issue for Mitchell. After a year away from organized competition, he not only made the USA Basketball under-19 team that competed at the world championships but also led the Americans in rebounding (7.6) and blocked shots (1.8) during the tournament in Latvia.
Where Mitchell needed to improve was in the classroom, and he appears to have done so since enrolling at North Texas in January shortly after the NCAA had ruled him a nonqualifier with Missouri. He's done enough academically to the point where both he and UNT coach Johnny Jones are confident he'll be eligible to play in December.
"He was extremely strong in his studies in the first semester he was here, and he's off to a great start in the summer," Jones said. "There are no indications I should believe he wouldn't be available.
"He's very focused and very determined. I don't think he'd let anything get in the way after what happened."
Mitchell's college debut was delayed after he was dealt a series of academic setbacks. The Dallas Independent School District reportedly investigated how testing at Pinkston High had enabled Mitchell to quickly make up for nontransferable academic credits from the Center of Life Academy, a prep school in Miami he previously attended. Also, he wasn't able to graduate from Pinkston until the summer because he had difficulty passing the state's exit-level test.
It took months for the NCAA to rule Mitchell ineligible, and he said he became stressed with all the paperwork and phone calls and became withdrawn while sitting at home during the wait. Ultimately, the NCAA announced that it was rejecting Missouri's appeal and that the school would not further pursue the matter.
"Membership has made it a priority that prospective student-athletes be academically prepared," Kevin Lennon, the NCAA's vice president of academic and membership affairs, said then in a statement. "The standards are clear and serve as the foundation for the other NCAA academic requirements that must be met once a student-athlete enters college."
Mitchell's mother, Angie, broke it to him that he wouldn't be able to go to Missouri.
"I was really emotional," said Mitchell, who was told the NCAA would not accept two core classes from the Center of Life Academy. "Throughout the whole thing, it was frustrating. You got to stay humble and fight through it, though."
Mitchell decided that rather than head to a junior college, he would attend nearby North Texas and sit out a year while working on academic requirements. Jones, who has led North Texas to the NCAA tournament twice in the past four years, had recruited Mitchell before he committed to Missouri.
"It's already a winning program," Mitchell said. "I'm just trying to take it to national heights, basically take the program to another level than it's already at."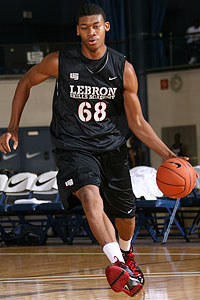 Kelly Kline for ESPN.comMitchell was a top-25 recruit but never quite made it to Mizzou.
Mitchell, who can neither play nor practice with the Mean Green while sitting out without an athletic scholarship, realized he did have old habits he needed to change. After all, he said the reason he went to Florida to attend prep school in the first place was to try to make up for poor academics.
"Starting off my freshman year of high school, I messed up really bad," Mitchell said. "I was playing catch-up throughout high school. I was a class clown. Failing, basically."
And now?
"I take my books seriously. Back in the day, I really didn't care about it. Now I'm on top of my stuff. I'm just doing my work -- studying, writing papers, being a regular college student, putting my books before basketball.
"I learned quickly. My coaches really carried me throughout that time -- how to study, time management."
Mitchell is relegated to staying in shape in the school's recreation center, but Jones has been able to help get him acclimated in the college setting off the court.
"He comes by our offices, and it's about growth," Jones said. "Be on time. That's half the battle. Get to where you're supposed to be. Be reliable.
"The basketball portion will come rather easily for him."
Jones, who played on a Final Four team at LSU and eventually helped recruit and coach Shaquille O'Neal at his alma mater, believes that Mitchell will become eligible just in time for when the Tigers come to Denton for a rare SEC-visits-Sun Belt battle. Mitchell might be rusty, but he should be raring to go after having played only nine real games in the past year, all for Team USA.
Mitchell said he's not bitter about the circumstances that cost him a career at Missouri and expects big things to happen at his second-choice school.
So does his new coach.
"We look forward to mid-December," Jones said. "He's definitely on track. I'm happy for him and extremely excited for us as well."
June, 23, 2011
6/23/11
12:05
PM CT
By
Master Tesfatsion
| ESPNDallas.com
Former L.G. Pinkston star Tony Mitchell has been selected to the USA Basketball Men's U19 National Team.

It's Mitchell's second selection to a USA squad. Mitchell was a member of the 2010 USA Basketball Men's U18 National Team that went 5-0 and won gold at the 2010 FIBA Americas U18 Championship. Mitchell averaged 8.2 points, seven rebounds and 1.5 blocks.

Mitchell led Pinkston to the regional finals his senior year and was named 2010 all-region selection, 2010 Texas Class 4A All-State, 2010 Texas 12-4A Player of the Year and 2010 Slam Magazine All-American. He averaged 20.5 points, 11 rebounds and five assists in 36 games.

The 24th ranked recruit in ESPNU's class of 2010 signed a letter of intent with Missouri but was ruled academically ineligible by the NCAA on Jan. 5, 2011. Mitchell has since transferred to North Texas but is not eligible to play until at least the second semester of the 2011-12 school year.

Mitchell is one of 12 players selected on the roster that will leave for Europe on Friday and compete at the FIBA U19 World Championship in Latvia from June 30-July 10.
January, 26, 2011
1/26/11
5:02
PM CT
By
ESPNDallas.com wire services
Tony Mitchell, a prized recruit for Missouri out of Pinkston High School, has been ruled academically ineligible by the NCAA and the school plans no further appeals.
The 6-foot-8, 220-pound forward was considered one of the top high school prospects in the nation after averaging 20.5 points and 13.2 rebounds last season.
A source confirmed to ESPNDallas.com that Mitchell is in the process of enrolling at North Texas as an academic non-qualifier and would not be eligible to play until at least the second semester of the 2011-12 school year.
For more, click here.