Dallas Colleges:

Toronto Raptors
June, 21, 2010
6/21/10
1:29
PM CT
ESPN NBA Insider Chad Ford
asked one NBA GM
to give him his top 20 for Thursday's NBA draft, and he had Baylor's
Ekpe Udoh
(No. 10,
Indiana Pacers
) and Texas'
Damion James
(No. 17,
Chicago Bulls
) and
Avery Bradley
(No. 18,
Miami Heat
) all going in that span.
Ford on the debate between Udoh and
Ed Davis
(No. 9,
Utah Jazz
): Udoh seems to have the buzz. He's more polished, is a better offensive player and has the ability to contribute right away. Davis is a better defender, is more explosive athletically and is bigger. He impressed the Jazz and Pacers in recent workouts with his improved shooting ability, but everyone knows he's a project.
Ford on debate about Bradley vs.
Eric Bledsoe
: Both players are considered raw and unproven, but both have tremendous athletic ability and upside. ... The real question for both players will come down to one spot in the lottery -- the Raptors at 13.
June, 16, 2010
6/16/10
10:19
AM CT
By
Jeff Caplan
| ESPNDallas.com
Casual basketball fans look at the wiry, 6-foot-3, 180-pound
Avery Bradley
, his 11.6-point scoring average and 43.2 percent shooting in just one year at Texas -- not to mention the Longhorns' catastrophic collapse from No. 1 -- and wonder what all the fuss is about.
Yet, come Thursday night, Bradley could be an NBA draft lottery pick, taken among the top 14 picks and higher than senior teammate
Damion James
. It's possible that Bradley is the first Big 12 guard selected, if not the first Big 12 player taken overall (Kansas big man
Cole Aldrich
and swingman
Xavier Henry
, plus Baylor power forward
Ekpe Udoh
likely have the inside track).
[+] Enlarge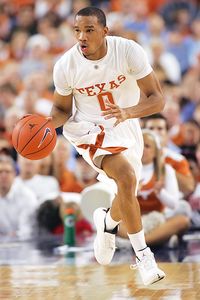 Ray Carlin/Icon SMIIn one season at Texas, Avery Bradley averaged 11.6 points and shot 43.2 percent from the field.
So what is all the fuss over Bradley? He's got what NBA types like to call "upside."
"He's got that strong, wiry body in a 2-guard and he prefers the up-tempo game," NBA scouting director Ryan Blake said. "He's got great speed end-to-end, sort of that attack mentality on offense and the ability to get to the line and finish -- even though he didn't show a lot of that this year. He's somewhat versatile and a pretty good shooter."
However, Bradley is just a freshman and at this point no one's certain if he's a point guard or shooting guard. No matter the upside, there is plenty of risk spending a lottery pick on him. Blake compares Bradley to Alabama senior
Mikhail Torrance
. At 6-5, 210 pounds, the combo guard averaged 15.6 points and 5.1 assists as a senior. Although Torrance is projected as a second-round pick, Blake said there's an argument to be made that Torrance is the player more suited to contribute to a team immediately.
If Torrance were only a freshman, he might get the nod over Bradley.
The other side of the coin is the
Brandon Jennings
argument. Jennings went straight to Europe after high school, but didn't play much last year. That didn't stop the Milwaukee Bucks from taking him 10th overall. The pick paid off as Jennings was a rookie of the year candidate throughout the season.
What to make of Bradley will cause some serious headaches for general managers. Even moreso now that Bradley is sidelined with an ankle injury and had to forego the remainder of his workouts, so a number of GMs and coaches won't get a hands-on workout before the draft.
As of today, Bradley is all over the board in mock drafts. Of the 12 mock drafts by various publications displayed on
NBA.com
, Bradley is now as high as No. 10 on two boards, at No. 13 on another and No. 14 on another. On eight boards, he has slipped out of the top 14.
ESPN.com Insider Chad Ford
is one of those who think Bradley will go early -- No. 13 to Toronto.
That doesn't mean he won't gain late momentum and wind up a lottery pick anyway.
"He could be. He could be a guy that doesn't get drafted in the first round," Blake said. "He could be a guy going low. Seriously, it's that type of draft."
And it could make for a long and nerve-racking night for Mr. Bradley.
June, 9, 2010
6/09/10
7:00
AM CT
By
Jeff Caplan
| ESPNDallas.com
Ekpe Udoh
is about to become a very rich young man. It's not certain exactly when his name will be called on the evening of June 24, but it appears that it won't take long for the
Baylor Bears
power forward to find a home. He is widely expected to be among the first 14 players selected in the NBA draft.
That's called a lottery pick and that's called hitting the jackpot.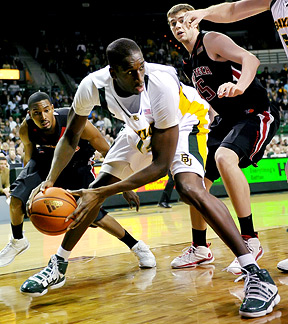 Manny Flores/Icon SMIEkpe Udoh averaged 13.9 points, 9.8 rebounds and 3.7 blocks per game for Baylor last season.
Udoh, a junior last season, certainly worked for it. He was barely on the radar after spending two years at Michigan where he was known as a shot-blocker but limited offensively. After transferring to Baylor, he sat out the 2008-09 season and worked relentlessly on his offensive game. He produced big-time for the Bears, helping to take them to the Elite Eight for the first time in the program's history.
Displaying an array of offensive ability, from post-ups to dribble-drives to mid-range jumpers, he quickly became one of the most-watched college prospects in the land. Some at least had him as a blip on their radar screen before his breakout season.
"One of our big scouts is in Detroit, Don Sicko, when Udoh didn't get much playing time up there, he kept just writing him up, saying you've got to track this guy regardless," said Ryan Blake, the NBA's director of scouting. "And once he hits, you've got to be ready for him, he's going to explode if he continues to work."
Udoh set a Big 12 Conference record for blocks and averaged 9.8 rebounds, results the Bears coaching staff half expected. But, Udoh's 13.9 points a game on 49 percent shooting and 2.7 assists completely changed the dynamics of the Bears' previously perimeter-based offense.
The 6-10, 240-pounder continued to produce at high level through the Big 12 tournament and the NCAA tournament, further cementing his place as a lottery pick.
"He also had a maturation process that went along through the year and his confidence was what really absorbed in him because regardless what level you go to, whether it's high school to college or college to the pros, some people can be the greatest athlete and very good on the court, but lose confidence and basically they don't have it," Blake said. "I think with him, getting into the Big Dance and keeping himself focused was really, really big, so I think that really helped. He is a smart kid."
Now, where will Udoh land?
That's a toss up. The various mock drafts have him going anywhere from No. 7 to No. 14 in the draft. Those teams, in order, are Detroit, the LA Clippers, Utah, Indiana, New Orleans, Memphis, Toronto and Houston.
In Chad Ford's
latest mock draft (version 3.0)
on ESPN.com, he has Udoh headed to the Houston Rockets with the No. 14 pick. And only two of the
12 mock drafts featured on NBA.com
do not include Udoh among the top 14.
There are some concerns that Udoh, despite possessing a remarkable wing span of 7-foot-4 inches, won't be physical enough or have the leaping ability to battle the top power forwards in the league.
"It's going to be a little bit more physical, he's going to have to get stronger, but I think with his opportunity, I think he is going to be able to reach that," Blake said. "I don't know at what level because he's still developing."