Dallas Colleges:

Travis Labhart
November, 20, 2013
Nov 20
9:30
AM CT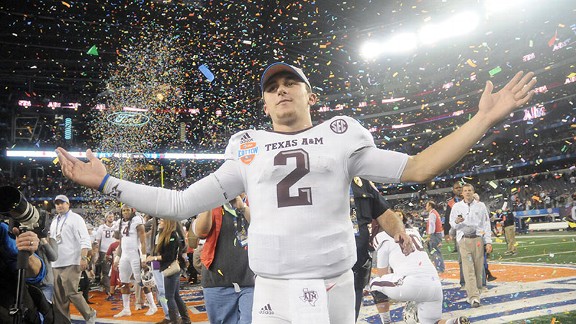 Jackson LaizureTake Johnny Manziel and the Aggies out of College Station and great things happen, as Texas A&M has a perfect 9-0 record away from Kyle Field since Kevin Sumlin took over.
If this is in fact
Johnny Manziel
's farewell tour with Texas A&M, it's only fitting that he do it, well, on the road.
Obviously, you can't really do an actual tour without hitting the road, but Manziel and the Aggies are done with their 2013 days at Kyle Field … and that's a good thing.
While Kyle Field has always stood as one of the best college football environments -- and a tough venue for its visitors -- the Aggies have had much better success in big games away from home since the Manziel-Kevin Sumlin era began last season. In the past two seasons, Texas A&M has gone 9-0 in road and neutral site games, compared to 10-4 (the only four losses under Sumlin) at home. While the Aggies have averaged five more points (48.3-43.8) and have an average points per game margin of 22.4 at home, Texas A&M has averaged 34 more yards (587.7-553.7) and is 4-0 in games decided by seven points or less on the road, according to ESPN Stats & Information.
At home, the Aggies have gone 0-4 in games decided by seven points or less.
So with trips to No. 22 LSU (7-3, 3-3 SEC) and No. 8 Missouri (9-1, 5-1) looming, the Aggies shouldn't fret over their last two games. In fact, they should smile and embrace their hostile surroundings.
"I feel like when we go on the road, it's us against the world," senior defensive back
Toney Hurd Jr
said. "We go into the stadium with a mindset that we have to come out here on top. Coach Sumlin has instilled in us that we have to focus and keep the same mindset, just like we're playing at home, but we're away."
But their road mindset is actually better. The Aggies should definitely avoid stowing their home mindsets in their carry-on luggage. They need whatever swagger and confidence that only comes with playing on the road because it has been lethal thanks to Manziel and Sumlin.
In A&M's nine wins away from College Station, Manziel has averaged 288.7 passing yards and 128.6 rushing yards with 31 total touchdowns. His lowest adjusted road QBR came at Ole Miss last year (84.5), while his lowest home QBR is 25.8, which he had in last season's loss to LSU.
Manziel is an animal in his own right, but when he's away from home, he has a Godzilla effect. He led A&M to its historic 29-24 win over No. 1 Alabama in Tuscaloosa last year, led thrilling comeback wins over Ole Miss in Oxford twice and registered a bowl-record 516 yards of offense in a rout of Oklahoma in last years AT&T Cotton Bowl.
The Manziel-led Aggies are also 4-0 with an average margin of victory of 15 against ranked teams on the road, as opposed to losing all four games at home to ranked teams by 19 total points.
"You go on the road, you try to create your own energy," Sumlin said. "We don't make a big deal about road trips. That's part of it. As a competitor, the same type of enthusiasm you get from the home crowd, from an electricity standpoint, you ought to be able to utilize that on the road, and I think our team does a good job of that."
Saturday presents a unique experience/challenge for the Aggies. Tiger Stadium is no walk in the park; it's a trek through a savage jungle. LSU is 55-7 at home under coach Les Miles, including 27-7 in SEC play. The Tigers have also lost just one home game since 2009.
One does not simply walk into
Tiger Stadium, but the Aggies don't seem fazed by raucous environment they're strolling into.
"It'll be a tough challenge, but it's an exciting one, one that we're all looking forward to," senior receiver
Travis Labhart
said.
"It's a good feeling to know that when you go on the road that it's just you and your teammates -- band of brothers -- and we go out and play our hardest and luckily we've prevailed so far with Coach Sumlin [on the road]."
For junior receiver
Malcome Kennedy
, playing on the road is intoxicating. Instead of battling the crowd, he chooses to admire them, and inhales their energy.
"You just look around and you see the crowd and, a lot of the times, I don't know if other players get the feeling but I get the feeling that they're cheering for me," Kennedy said. "It's something weird. Different players have different methods of approaching it but it's a very awesome experience."
November, 12, 2013
Nov 12
3:00
PM CT
COLLEGE STATION, Texas — With Texas A&M locked in a tight battle at Ole Miss at halftime, receivers coach David Beaty went to head coach Kevin Sumlin and said he was going to make a change at one of the inside receiver positions.
Beaty's desire was to insert
Travis Labhart
, a senior who has had one of the more unique journeys among the Aggies, into the lineup. Looking for more production from the 'H' receiver position, Beaty believed Labhart would be the one who could deliver.
"[Sumlin] looked back at me and said, 'He'll be great,' " Beaty recalls. "'Put him in there and let's roll.'"
[+] Enlarge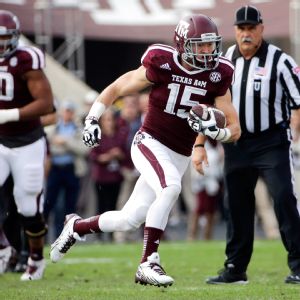 AP Photo/David J. PhillipTravis Labhart, a walk-on who wasn't even on the 105-man roster in 2011, earned a scholarship and is now a starter at wide receiver at Texas A&M.
The rest is history. Labhart hauled in eight receptions that night and finished with a then-career-high 97 yards. He since has become one of the most reliable receiving targets for quarterback
Johnny Manziel
.
In the Aggies' last five games, the 5-foot-9, 182-pound Labhart has 30 receptions, more than sophomore standout
Mike Evans
, the team's leading receiver. The outsized production Evans had early in the season has forced opposing teams to devote more attention to him, opening the middle of the field for others. Labhart has taken advantage.
On Saturday against Mississippi State, he had 102 receiving yards and two touchdowns on six catches in a 51-41 victory. Not bad for a guy who was a walk-on a year ago.
"At this time of year, if you're going to continue to win, you have to have guys that play at a high level that maybe before the year you didn't even talk about," Sumlin said. "Every team, across the board, if you're trying to get to double-digit wins or play at a championship level, very few teams have the same 22 guys across the board in this league at the end of the year, or even the middle of the year.
"He's worked very hard -- [a] non-scholarship player that worked his way into that. Didn't back off once that happened. Continued to play and earn the respect of his teammates. ... So when he went in the game [against Ole Miss], for him to have the type of success he had is a surprise to a lot of people, but not guys on the team, because he practices like that."
Labhart wasn't recruited out of Whitesboro (Texas) High School and initially sought to walk on to the men's basketball team. While he waited for an opportunity to try out in his freshman year, he found a spot on the women's basketball practice squad, which consists of men. He did that for a brief period before deciding to try to walk on to the football team. With encouragement from his high school coach, Eddie Gill, Labhart decided to give it a try.
He was able to find a spot but didn't make the 105-man training camp roster in his first season, which was coach Mike Sherman's final season. Labhart did make it last season, Sumlin's first, and played sparingly. This year, Labhart came in ready to contribute in training camp. He learned every receiver position and started the season as Evans' backup, but his versatility allowed him to become an option at other areas.
He impressed the coaching staff enough to earn a scholarship before the season. He's currently fourth on the team with 33 catches for 442 yards and five touchdowns, but virtually all those numbers have come in the last five games. Labhart started the last two games.
"You always want to be involved with the offense or defense," Labhart said. "You always want to be a guy and not just be someone who sits on the sidelines. This year I really tried to focus on the offseason and put in a lot of work.
"... I started out as a backup to Mike and I knew I wasn't going to get much time there, but you just kind of keep plugging away and luckily I was able to get that [chance] and it's just been a blessing, going out every night and playing your hardest, knowing that you gave your best individual performance to help your team."
A senior, Labhart played his final game at Kyle Field on Saturday. He never imagined that would happen.
"It's a dream come true," Labhart said. I was here for so many games when I was little with my granddad in the stands. I never, in a million years, thought that I would be on Kyle Field, and now I take it for granted because I'm used to it. But when I was little, it was such a big deal. I would have never imagined being out there and just getting to play and contribute to the team."
November, 10, 2013
Nov 10
3:30
PM CT
With apologies to Nick Saban,
AJ McCarron
,
T.J. Yeldon
,
C.J. Mosley
and all of the pageantry that accompanied the SEC's annual marquee regular-season matchup, there were just too many noteworthy performances to go handing out helmet stickers to the rolling Tide's usual suspects.

Aaron Murray, QB, Georgia:
With two touchdown passes in an easy 45-6 rout of Appalachian State on Saturday, Murray broke the 17-year-old SEC record of Florida's Danny Wuerffel (1993-96) for the most career TD passes. Murray entered the game already holding the SEC career marks for total offense and passing yards. The senior completed 19 of 26 passes for 281 yards in three quarters of work.
Johnny Manziel, QB, Texas A&M:
Ho-hum. Another week, another compelling argument in the sophomore's case for a second straight Heisman Trophy. Against Mississippi State on Saturday, Johnny Football threw for 446 yards with five touchdown passes (never mind those three interceptions). Honorable mention goes to senior
Travis Labhart
, once a walk-on, now a scholarship guy who has emerged as a key contributor at receiver. Manziel completed six passes to Labhart for a career-high 102 yards and two touchdowns.
Nick Marshall, QB, Auburn:
The former Georgia Bulldog and former juco quarterback accounted for 214 of Auburn's 444 rushing yards, running for two touchdowns and passing for another in the No. 9 Tigers' 55-23 dismantling of the home-standing Volunteers. Marshall posted a 99.6 Total QBR despite completing only 3 of 7 passes, but Gus Malzahn didn't need to throw with the success the Tigers were having on the ground. Marshall's 214 yards were the third-most by an SEC quarterback in a game over the last 10 seasons, behind only Heisman winners Manziel (229 yards vs. Oklahoma in 2012) and Cam Newton (217 vs. LSU in 2010).
Missouri's offense:
The No. 8 Tigers encountered little resistance in their first league game in the Bluegrass State. Freshman quarterback
Maty Mauk
threw five touchdown passes to tie Chase Daniel's school record in Mizzou's 48-17 romp past Kentucky.
Dorial Green-Beckham
broke through in a big way. The 6-foot-6 sophomore, who was the nation's No. 1 wide receiver prospect in the Class of 2012, had seven catches for 100 yards and four touchdowns. Not to be outdone, running back
Henry Josey
ran 11 times for 113 yards and two TDs, including an 86-yarder. The Tigers remain a half-game ahead of idle South Carolina in the East division.
Dak Prescott, QB, Mississippi State:
Even in a 51-41 road loss to Texas A&M, a special heartfelt helmet sticker goes out to Prescott, who lost his mother last Sunday to her battle with cancer.
Tyler Russell
got the start after Prescott missed the week of practice before Saturday's game, but the two rotated, with Prescott getting the majority of the snaps. The Aggies had difficulty slowing him in the running game, as Prescott ran 16 times for 154 yards (9.6 yards per carry). He was 14-of-26 passing for 149 yards and two touchdowns. It was certainly a determined and inspiring performance under the most difficult of circumstances.
October, 29, 2013
Oct 29
1:30
PM CT
COLLEGE STATION, Texas — One of the byproducts of
Mike Evans
' dominant showing at receiver this season is an opportunity for others to contribute.
As the Texas A&M sophomore dominates defensive backs weekly, defensive coordinators shift their game plans to pay more attention to the 6-foot-5, 230-pound Evans. Rightfully so, because if proper attention isn't paid, he'll make opponents pay, as he did to Auburn (287 receiving yards, four touchdowns) or No. 1 Alabama (279 receiving yards). In eight games, Evans has nearly matched his 2012 season-long receiving yardage total with 1,101 yards (he had 1,105 in 2012) and has more than doubled his touchdown total from last year's 13-game campaign (11 this season after five in 2012).
[+] Enlarge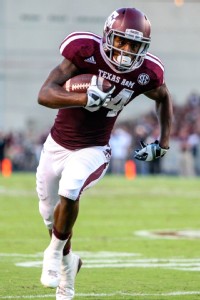 Troy Taormina/USA TODAY SportsTexas A&M junior wide receiver Malcome Kennedy is second on the team with 43 receptions.
Coming into this season, the Aggies knew they had to find other reliable options in the passing game. When Evans was a freshman last season, there were three seniors to accompany him in the starting lineup: Ryan Swope, Uzoma Nwachukwu and Kenric McNeal.
Other than Evans, this year's crop of receivers was a mix of returnees who have received only modest or no playing time and a batch of newcomers, as the Aggies signed six receivers in their 2013 recruiting class.
So far, the Aggies seem to be finding contributors.
The most consistent of the supporting cast has been junior
Malcome Kennedy
. Best known for catching the Aggies' final touchdown in their 29-24 upset win over Alabama in 2012, he is second to Evans with 43 receptions, 447 yards and four touchdowns. Kennedy has provided a consistent, middle-of-the-field target for
Johnny Manziel
this season, stepping into Swope's old 'Y' receiver position.
From week to week, the players who have emerged have varied. Senior
Derel Walker
(30 catches, 414 yards, two touchdowns) appears to have an increasing role in the offense as an outside receiver, with at least four catches in three of the last four games, including two touchdowns against Vanderbilt. Senior
Travis Labhart
has emerged lately, catching 20 passes in his last three games after only three receptions in the first five games of the season.
Early in the season, sophomore
Sabian Holmes
was targeted several times and a true freshman,
Ricky Seals-Jones
, had a smashing debut against Rice before a knee injury ended his season.
"That's what our philosophy is based on," coach Kevin Sumlin said. "We need good players at all those positions instead of just one. Otherwise you get the double team and then, 'Now what?' We've got good running backs that can catch it out of the backfield and put pressure on you that way, but in order to be a complete offense we've got to get production from our other receivers."
The Aggies got that against Vanderbilt, with Kennedy hauling in a team-high eight passes, Evans catching five and Walker with four. As the season wears on, even more players are finding themselves in the mix, such as true freshman
LaQuvionte Gonzalez
. Though most of the time he has seen has been on special teams as a kick returner or running fly sweeps, Gonzalez got into the mix on Saturday and caught four passes for 52 yards and his first career touchdown. With his speed and quickness, he has the look of someone who will fit nicely in the offense moving forward.
And, as Sumlin noted, running backs are a factor in the passing game as well.
"We've got a number of guys that we feel good about going in and out of the game and we need to have that this time of year," Sumlin said. "Because of what we do, all those guys have to be able to execute the offense, catch the ball, hang on to it, because you can't play one guy the way we go up and down the field. We had 78 snaps [Saturday]. We've got to be able to develop some depth, and I'm pleased with how those guys have come along."
October, 24, 2013
Oct 24
8:00
AM CT
COLLEGE STATION, Texas — Texas A&M has been down this road before.
The question of whether quarterback
Johnny Manziel
will play on Saturday is one that remains unanswered, but the Aggies have been through this type of uncertainty once already this season.
[+] Enlarge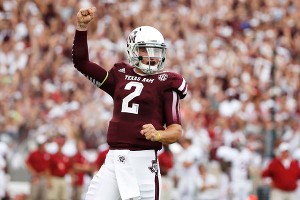 Scott Halleran/Getty ImagesIf Johnny Manziel can't go on Saturday, the Aggies say they are comfortable with his backups getting the job done.
They're preparing accordingly.
Manziel, who suffered an apparent right shoulder injury in last week's game against Auburn, is receiving treatment and rehabilitating daily in hopes of starting this Saturday when the Aggies host Vanderbilt. Texas A&M coach Kevin Sumlin called Manziel's status "hopeful" a couple times this week but has offered little more than that.
The Aggies had uncertainty before their season opener against Rice as the school, the team and Manziel awaited the results of an NCAA investigation into an autograph-signing controversy surrounding the Heisman Trophy winner. The team allowed both junior
Matt Joeckel
and freshman
Kenny Hill
to compete for the backup job. The announcement of a half-game suspension was delivered three days before the game. Later that week, the Aggies tabbed Joeckel as the starter for the game, and he played a solid first half against Rice.
Both have seen action this season and when Manziel exited the game at the 14:36 mark in the fourth quarter of the Aggies' 45-41 loss to the Tigers, it was Joeckel who entered in his place. Joeckel was 1-of-3 passing for 12 yards in his brief appearance before Manziel returned with 9:06 remaining.
"Matt was called and has been in the fire before," Sumlin said. "We put him in on a third down situation [Auburn] territory. Kenny was chomping at the bit to go, and our practice rotation will change a little bit depending on what Johnny can or can't do as far as practice goes [this week]."
When asked earlier this week whether he would consider playing Manziel on Saturday even if he didn't practice throughout the week, Sumlin said "We'll see."
No matter what Manziel's status turns out to be, the Aggies will have a solid plan. Should Joeckel get the nod, he's started a game before, and the Aggies are in the friendly confines of Kyle Field on Saturday so that helps. He has appeared in three games this season, completed 19-of-31 passes for 265 yards and a touchdown.
Should Hill happen to be pressed into action, he too has played in some live action. He made his debut in Week 2 against Sam Houston State, led a touchdown drive on his first possession and is 6-of-11 passing for 83 yards in his two appearances this season.
"I was very pleased with them," quarterbacks coach Jake Spavital said earlier this month when asked about his two backup quarterbacks. "I thought Joeckel earned the right to get in there and compete, and he started the Rice game. I thought he did a great job moving the ball. And then Kenny coming in during the Sam Houston State game and throwing a touchdown and moving the ball, they both still have a long ways to go ... but I've got to be pleased with how they performed."
Neither necessarily brings the unique skill set to the table that Manziel does, but teammates and coaches alike say they're confident in whomever calls the signals come Saturday.
"We have great backups in Matt and Kenny," senior receiver
Travis Labhart
said. "I am comfortable with those other guys, and I know the other receivers are. But obviously you want Johnny back there because of who he is."
October, 13, 2013
Oct 13
2:50
AM CT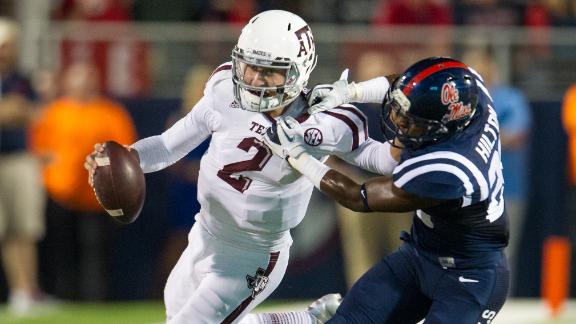 OXFORD, Miss. -- History certainly has a funny way of repeating itself, especially when
Johnny Manziel
is involved.
A little more than a year ago inside Vaught-Hemingway Stadium, Manziel did the work of a magician in the fourth quarter to erase a 10-point Ole Miss lead. Months later, he went down in the first quarter of the Missouri game with a freak injury to his left knee, only to return and roll up 439 yards of offense and five touchdowns.
Saturday, Manziel orchestrated another come-from-behind, game-winning drive in the fourth quarter against the Rebels and missed one play in the first quarter with another scary-looking injury to his left knee.
Again Manziel flashed a fashionable knee brace, and again it didn't hamper his play. All Johnny Football did was dazzle with his legs -- juking players left and right, making it seem like the brace actually made him more agile -- and arm, as he registered 346 passing yards and 124 rushing yards with two touchdowns in the Aggies' thrilling
41-38 win
over Ole Miss.
[+] Enlarge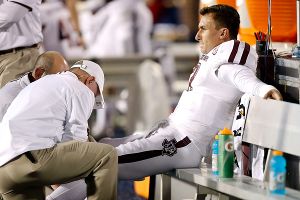 AP Photo/Rogelio V. SolisJohnny Manziel added another chapter to his legend, donning a knee brace, then dazzling at Ole Miss.
"The thing that makes him different is that he's one of the greatest competitors I've ever been around," Texas A&M coach Kevin Sumlin said.
You'd be hard-pressed to argue with Sumlin on that one. The same kid who was loathed for his off-field fun/controversy heading into the season showed once again why he's still the best player in the country. He was cool and collected when Ole Miss' rabid crowd rained boos down upon his head when he trotted out onto the field. He converted a third-and-14 with a 24-yard gain. He converted a fourth-and-7 at midfield with a 13-yard run that helped set up a fancy looking 6-yard touchdown run of his that made it 38-38 with 3:07 remaining.
In the fourth quarter, Manziel registered 177 yards of offense and a touchdown.
Neither the crowd nor his knee or even a fourth-quarter fumble could stop Manziel from playing hero/villain in the Grove on Saturday night.
"He's a funny player. He's outstanding, because I've never seen somebody who's such a gamer," said wide receiver
Travis Labhart
, who had eight catches for a game-high 97 yards.
"He's unreal. He's one of the best players in the country, if not the best."
There were a few anxious minutes in which the future of the reigning Heisman Trophy winner was thought to be in question. With a little more than five minutes remaining in the first quarter, Manziel fell awkwardly when his left knee buckled at the end of a pass attempt to
Mike Evans
. Manziel had to be helped off the field but was up and jogging on the sideline when Ole Miss' offense took the field.
Before Manziel stepped back onto the playing field, Sumlin asked if he could go back in and if he was 100 percent. Manziel had quite the answer.
"He's only got one way to do things," Sumlin said.
"If you know him, if he couldn't go 100 percent, he wasn't going to go."
On his first play back a drive later, Manziel completed a 2-yard pass to
Sabian Holmes
. Next, he threw a 21-yard pass to Holmes. Then, a 17-yard pass to
Malcome Kennedy
. His next run of the night came in the second quarter, and it went for 24 yards on third-and-14.
When the Rebels kept pace and scored, Manziel's teammates didn't flinch. They knew Manziel would get them into the end zone.
"I just never doubted. I'm always comfortable," Labhart said.
Manziel might rub people the wrong way with his lifestyle, but there's no doubting his on-field talents. He's a lightning rod for attention and controversy, but he's great for college football, and Saturday night he showed everyone why. Nothing gets to him when he's on the field. He turns on a switch and becomes Johnny Football. He makes defenders look silly with his feet and can deliver NFL throws standing tall in the pocket or on the run.
Manziel now has 2,273 yards of offense and 19 touchdowns on the season. There's a reason he won the Heisman last year, and a reason he probably should be at the top of everyone's list right now.
"Johnny's a beast, man," said
Josh Lambo
, who kicked the game-winning 33-yard field goal. "Week in and week out, we can expect greatness from him. It's so awesome to be a part of the team that he gets to lead out there on the field."
September, 14, 2013
Sep 14
11:12
PM CT
COLLEGE STATION, Texas — There was no plan for
Johnny Manziel
to speak to the media on Saturday.
In fact, win or lose,
Texas A&M
officials made it clear before the game that the Heisman Trophy winner would not be available for postgame interviews. Earlier this week, coach Kevin Sumlin noted that Manziel's family and attorneys advised him not to speak publicly this week.
[+] Enlarge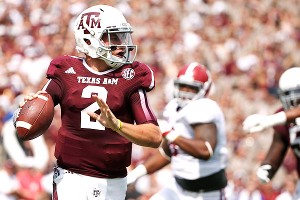 Scott Halleran/Getty ImagesJohnny Manziel produced more than 500 yards but admitted there were a couple of throws he wished he could take back.
But Manziel wasn't going to be told no. He approached Sumlin and Texas A&M associate athletic director for media relations Alan Cannon and said he was going to speak. When Cannon mentioned the objections from Manziel's parents and lawyers, Manziel said, according to Cannon, "My team didn't quit on me, so I'm not quitting on them."
The No. 6 Aggies showed no quit in their 49-42 loss to No. 1
Alabama
on Saturday at Kyle Field in one of the most highly anticipated games in school history. What they did show is that they're a good team with a lot of flaws that still need ironing out.
The message from Manziel, who played brilliantly for much of the day but had a couple of throws he'd like to have back, was that the Aggies had to keep playing -- both on Saturday and moving forward.
"My initial reaction is that I'm just proud of these guys," said Manziel, who threw for 464 yards and five touchdowns and ran for 98 yards. "I kept telling them that no matter what point in the game it was, we were never out of it. Didn't matter what [Alabama] did. I told the offense that going into it, that no matter what happened on the defensive side of the ball, no matter what happened on special teams, we felt like we could come out and score points. So I was proud initially more than anything else, proud of the way they kept fighting until the very end. I mean, we're a young team. That's impressive to me."
The Aggies (2-1) were down by as many as 21 points in the third quarter after taking a 14-0 lead in the first quarter. Alabama roared back with 35 unanswered points and used its power running game and efficient passing attack behind
AJ McCarron
to eat up yardage and extend drives to score points while keeping the Aggies' offense on the sideline.
The biggest flaw seen on Saturday was on defense. The Aggies' front seven was hammered by the Alabama offensive line -- a unit that struggled in its season opener against Virginia Tech -- to the tune of 234 rushing yards and 6.3 yards per carry, led by
T.J. Yeldon
's 149-yard effort. McCarron was rarely pressured in the passing game and wasn't sacked a single time; only one player on the Aggies defense,
Kirby Ennis
, recorded a quarterback hurry. There were big plays given up in the passing game as well, as the Tide threw for 334 yards.
"We've got to get some things shored up in our front defensively," Sumlin said. "We're playing a lot of young guys in there. [Gavin] Stansbury was back and [Steven] Jenkins was back [from suspensions], so they were a little rusty. We didn't have
Isaiah Golden
today because of the tragedy [involving the death of a family member] earlier this week. That put a lot of pressure on Hardreck [Walker] to handle that type of stuff with Kirby. We just have to get those guys in a routine, a steady routine and a rotation and shore some things up up front."
Mike Evans
, who already was considered one of the country's better receivers, made his case to be considered among
the
best after catching seven passes for a school-record 279 yards and a touchdown. He beat man-to-man coverage consistently, ran good routes and was an asset for Manziel when scrambling.
"I couldn't be prouder of him," Manziel said. "Last night in the hotel, me and him, we're roommates, and we were just talking about how the game was going to play out. I knew he was going to come out and play really well."
Manziel wasn't perfect. A fade pass to Ja'Quay Williams in the end zone was intercepted by
Cyrus Jones
in the second quarter ("We probably could have run a better route," Sumlin said). He tried to squeeze a pass in to
Travis Labhart
early in the third quarter but it was tipped by Alabama defensive back
Jarrick Williams
and intercepted by
Vinnie Sunseri
, who returned it 73 yards for a touchdown.
[+] Enlarge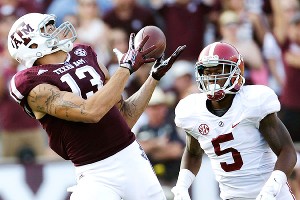 AP Photo/David J. PhillipMike Evans set a school record with 279 receiving yards, including this 95-yard touchdown.
"I had a couple throws that I want to have back, two in particular," Manziel said. "Coach Sumlin always says there's no regrets. Leave it all out on the field. I think that's what we all did. I know I did."
But he was, like the Aggies, still very good. He set the single-game school record for passing yards and put up the second-most total offensive yards in a game (562), second only to his own total (576) against Louisiana Tech last year.
He made what many would call an ill-advised throw in the second quarter after magically evading a sack while in the grasp of Alabama defensive end
Jeoffrey Pagan
, heaving a jump ball 40 yards downfield while falling backward. The ball wound up in the hands of a leaping
Edward Pope
for a first down that sent the crowd into a frenzy. The gain was only 12 yards; Manziel retreated back far to evade pressure.
At some point, it seems it might just be worth chalking it up to a little Manziel magic, since he has seemingly found an uncanny ability to make jaw-dropping plays of the sort each week. It's part of what captivated the college football world en route to his Heisman Trophy last year.
For those who said Manziel's eventful and sometimes tumultuous offseason would come back to haunt him when the games started this year, none of that seemed to be a factor. Though there were some mistakes made on the field, Manziel's play is hard to criticize, especially against the team that was No. 1 in the country last season in total defense. Manziel said afterward that it wasn't a factor.
But for all the flash, the bottom line was that Manziel and the Aggies fell short of their goal on Saturday. They were beaten by a better team.
The disappointment could be heard in the voices of the players afterward; they wanted Saturday's win badly. But with nine games to go in their season, they feel that what they want -- an SEC West title, SEC title and BCS title game berth -- is still within reach; it's just more difficult to obtain now that they're 0-1 in SEC play.
But if the Aggies are still serious about pursuing those goals, there's still much work to do.
"Just got to go game by game," Manziel said. "Just like last year, continue to get better, week by week, and the result was what happened in the Cotton Bowl. For us this wasn't the end of our season. This wasn't the Super Bowl. This wasn't the last game of the season.
"Alabama lost a game last year and still went on to win a national championship. They lost to
LSU
the year before and still went on to win the national championship. Our season isn't over. Anything can happen. This is college football. Some of the craziest things happen every week. So you never know. All we can do is take care of ourselves, take care of what's in this locker room and continue to get better as a team."
September, 13, 2013
Sep 13
3:00
PM CT
COLLEGE STATION, Texas -- When it comes to football, Texas A&M receiver
Travis Labhart
comes from humble beginnings.
Whether it's his high school alma mater, Whitesboro (Texas) High School, or his journey from a walk-on with the Aggies to a women's basketball practice squad player to a scholarship football player, it has certainly been interesting.
[+] Enlarge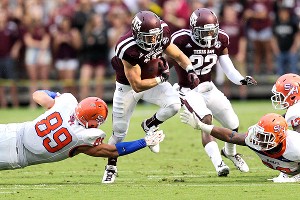 Bob Levey/Getty ImagesFormer walk-on Travis Labhart is now listed as the Aggies' starter at punter returner.
But it's a journey filled with hard work for the 5-foot-9, 182-pound Labhart.
Last week in the Aggies' win against Sam Houston State, Labhart caught his first career touchdown as an Aggie, a 14-yard pass from true freshman quarterback
Kenny Hill
in the third quarter of a 65-28 win over Sam Houston State. He also served as the team's primary punt returner and is listed as the starting punt returner for Texas A&M this week, when the No. 6 Aggies host No. 1 Alabama at 2:30 p.m. Saturday at Kyle Field.
In high school, Labhart played for a program that had no history of making the postseason. Whitesboro made its first playoff appearance in school history, which spans more than 100 years, in 2011, according to the Dallas Morning News, after Labhart was already at A&M.
Labhart walked on to the Aggies football team but also had a brief stint as practice squad player for the then-defending NCAA champion women's basketball team that fall.
"He was a good player," women's basketball coach Gary Blair said. "He was a good solid kid and we've had some men's practice players over the years and he was one of them."
Blair noted that Labhart was only on the practice squad for a couple of months before returning to the football field.
In 2012, Labhart appeared in three games as a junior but he has made significant strides this season. Despite breaking his collarbone during one of the Aggies' spring football scrimmages, Labhart recovered and had a strong preseason training camp in August and solidified himself a spot in the receiver rotation. He earned the coaching staff's trust enough to return punts.
Against the Bearkats last week, he returned two punts for 30 yards, including one of 18 yards.
"I thought his decision-making was pretty good back there," Sumlin said. "He's back there as our punt returner because he's demonstrated the ability for us to trust him deep. He made a nice catch during the game, a couple of them.
"He's a guy who has worked like crazy and is just a team favorite. Our team appreciates a guy like that who comes to work, wasn't on scholarship, fought his way there and is reaping the rewards of all his hard work and is helping us win."
Labhart, now a senior, was one of four walk-ons to earn a scholarship.
Sumlin announced the four during a team meeting before the season began
. Now, Labhart could have a chance to contribute in one of the biggest games in Texas A&M history.
"I talked about it a couple weeks ago about the guys that we put on scholarship since I've been here," Sumlin said. "I think it gives our walk-on program credibility that guys that come here and do what we ask them to do, and we give them a chance to get on the field and perform, they're guys that can help us win and earn a scholarship and he's one of those guys."