Dallas Colleges:

Tre' Newton
October, 11, 2013
10/11/13
11:00
AM CT
AUSTIN, Texas -- Where will
David Ash
be on Saturday? Not at the Cotton Bowl.
The crowd will be too loud. The lights too bright. The rivalry game atmosphere too stimulating. He can't attend the biggest game of Texas' season because doctors fear it could make his current predicament worse.
The junior quarterback spent two years trying to burnish a reputation as a leader. For the third time this season, he can't be on the sidelines with his fellow Longhorns.
[+] Enlarge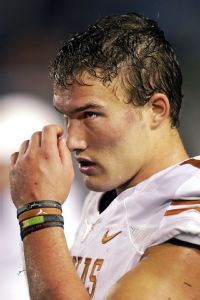 AP Photo/Rick BowmerDavid Ash is a long way from the sidelines right now, but Texas and Ash are being applauded for the way they are handling the QB's recovery from a concussion
He won't make the trip to Dallas to watch Texas take on No. 12 Oklahoma. He isn't attending practices. For a while, he even had to miss classes.
All because Ash suffered a concussion on Sept. 7 and hasn't been the same since.
The difficult road back
We don't know all Ash has gone through in the past month, and he hasn't spoken with reporters since going down against BYU.
We don't know when that concussion occurred -- he could've taken a hit in the second quarter and kept playing -- nor what specifically prompted Texas trainers to pull him at halftime against Kansas State two weeks later.
Texas coach Mack Brown says he doesn't either. He's trying to steer clear and do the right thing: Ash's recovery is 100 percent in the hands of the school's doctors and trainers.
"I think that's happening across the country," Brown said. "I think more than ever before, doctors and trainers are more aware, more sensitive to it and being much more careful.
"When people say that a coach plays a young man that's hurt and he shouldn't, that doesn't happen anymore. It's totally up to doctors and trainers. There's not a coach in America that's allowed to make that decision. I think that's the way it should be."
What's at issue now is not when Ash will come back in 2013, but whether he will at all. What began as a two-week setback has developed into the most puzzling issue facing the Longhorns this season.
Texas is proceeding with caution. Brown said Ash had a reoccurrence of symptoms last Friday -- which could be a simple as dizziness -- and because of that, doctors decided he must go a full seven days without symptoms before he starts thinking about playing football again.
That's just the first hurdle. Then he'll then need to pass rigorous testing before getting eased back into practice. Then, eventually, he could return to the lineup. If he isn't cleared before the season ends, he'll receive a medical redshirt.
That might be the least of Ash's concerns right now.
"David is a great player and he has more football, I think, left in him," Texas running back
Johnathan Gray
said. "You never want to see him go out and this be his last game of his career. We're praying for him to get back and hopefully he has a great return."
Experts applaud Texas' efforts
Dr. Robert Cantu, co-director of Boston University's Center for the Study of Traumatic Encephalopathy, has emerged as a major voice on the issue of concussions in football.
He's treated thousands of brain trauma patients, including pro athletes. When briefed on the situation Ash is facing, Cantu said he believes Texas is taking the correct approach to recovery.
"I think that's certainly wise to hold him out," Cantu said. "I don't think anybody can predict whether it's going to be a week or two weeks or three. The important thing is, when he is asymptomatic, that over the course of the next week he be progressed through a progressively more strenuous program, starting with light aerobic and resistance exercises and going on to sport-specific drills before scrimmage.
"And then, if all that goes well without provoking any symptoms, then he's allowed to go back to playing."
Cantu, the author of "Concussions and Our Kids," said his recommendations are based on uniform best practices for concussions. The NCAA has yet to adopt standard guidelines for treatment and only addresses the topic with a two-page appendix in its 2013-14 rulebook.
"Right now, it's a pretty uneven thing," Cantu said. "The NCAA allows schools to do their own thing. Some of them are doing it well, but others aren't."
Dr. David Crumbie Jr. agreed. An orthopedic surgeon at The University of Texas Health Science Center at Houston, Crumbie played defensive back at East Carolina in the 1990s and admits he suffered several concussions.
He knows the lack of consistent protocol among universities remains an issue, but he's encouraged to hear Texas is taking its time with Ash.
"Kudos to the coaches out there that take that same approach, which is a transition from the old-school thought process," Crumbie said. "It makes the discussion with the athlete and their family easier when you have the full support of the coaches to let this thing play out the way it needs to play out. That makes it easier to do the right thing."
More to life than football
Texas has been through this difficult ordeal before, just a few years ago.
On Nov. 15, 2010, Texas running back Tre' Newton decided to end his career, just 10 months after starting for the Longhorns in the BCS national championship against Alabama. In fairness, he had no choice.
Newton suffered four concussions in high school. He suffered concussions in each of his first two seasons at Texas. He'd started having issues with memory loss after the final one, late in the 2010 season, and to this day doesn't remember the play it occurred on.
"For me, it was obviously a tough decision," Newton said. "A lot of thought went into it. When it first occurred, I approached it like any football player would. I thought I'd go through the recovery period, take all the tests, make sure everything was back to normal and then I'd play again.
"But the trainers, thankfully, were thinking about my future even though I was just thinking about the present at the time."
He's working for the Longhorn Foundation now and has no regrets about his decision. When team doctors started fearing for his long-term health, Newton understood. It started to sink in when his father, former Dallas Cowboys lineman Nate Newton, told him frankly, "When is enough enough?"
Newton didn't play with Ash but said, in his experience, the best thing any student-athlete can do after a concussion is remain patient. And missing games is a must.
"With a concussion, it's always better to get away," Newton said. "If your brain is thinking, it's not really recovering. If you're around and you're still trying to watch plays or workouts, you're actually slowing the healing process."
Newton said he felt no pressure from Brown and the Texas staff. He appreciated that they didn't force him back onto the field.
"If it was up to me, I'd be back at practice the next Monday. That's just the football mentality most players have," Newton said. "It's good to have people tell you to settle down and that you need to go through the process. It's good to have that constant reminder that your life is bigger than just right now."
As much as Ash might be hurting right now, no matter how disappointing watching (or not watching) the Red River Rivalry from home may be, that's all that matters right now. There's more to life than one game.
June, 22, 2011
6/22/11
8:49
AM CT
Here's the next in our look at the Big 12 rankings by position: Running backs.
Last year's class was one of the best in recent history, but this year's class? Unassuming to begin the season. There are a few possible stars looming, but very, very little talent returning.
Cyrus Gray
ranked seventh in rushing yards last year (thanks to an insane finish), but he's the only player returning to the Big 12 from the conferences' top 10 rushers in 2010.
That's nuts.
The Aggies are the only team with a truly elite backfield tandem, though I could see Oklahoma and/or Oklahoma State joining that group by the end of the year.
The rest of the league? Every team has at least a couple of players to get excited about, and teams 5-10 are all pretty close. No one is really understaffed at the position, but obviously, they're fit to be ranked.
Here's where I have them:
1. Texas A&M
[+] Enlarge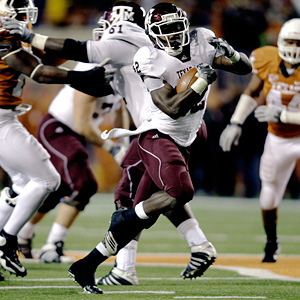 AP Photo/Eric GayCyrus Gray had at least 100 yards rushing in each of A&M's final seven games last season.
I wouldn't have been surprised if Cyrus Gray and
Christine Michael
were the Big 12's top leading returning rushers this year, but a midseason injury from Michael prevented it from happening. Regardless, his return gives Texas A&M by far the best tandem in the Big 12, and arguably the best in the country. When
Mister Jones
isn't cranking the Counting Crows on his stereo, he's a pretty good reserve, alongside
Ben Malena
, who
impressed me on my visit to College Station this spring
.
2. Oklahoma
Oklahoma will try and replace do-everything forever (or whatever) back DeMarco Murray with a platoon likely led by shifty Florida native
Roy Finch
. True freshman
Brandon Williams
made a big impact in spring camp, and
Brennan Clay
will likely earn a few touches, too. Health concerns raise questions about a pair of other OU backs' knees (
Jermie Calhoun
,
Jonathan Miller
), but walk-on
Dominique Whaley
led the team in rushing in the spring game
.
3. Oklahoma State
The Cowboys have a great pair in sophomores
Joseph Randle
and
Jeremy Smith
, and a nice set of backs to spell them if needed, too.
Kye Staley
, once a top-flight recruit, returned this spring after quitting the team following a severe knee injury, and might earn a few touches this spring. Also, Abilene, Texas, native and 2011 ESPNU 150 signee Herschel Sims arrives this fall and may jockey for time and the opportunity to shed a redshirt.
4. Missouri
What the Tigers lack in a truly elite back, they have in depth. Missouri has four backs who are all capable of being very good in the Big 12, even though neither of the four topped 600 yards a year ago. A big reason for that was none of the four got more than 100 carries, but with the carries they did get, every back averaged more than five yards per carry. The platoon approach works for Missouri, but senior
De'Vion Moore
and junior
Kendial Lawrence
will lead the way with sophomores
Henry Josey
and
Marcus Murphy
not far behind.
5. Kansas
[+] Enlarge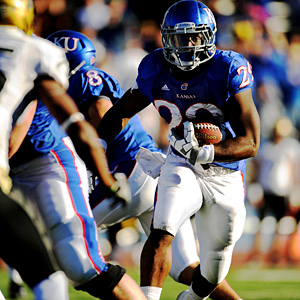 John Rieger/US PRESSWIREJames Sims is the No. 2 returning rusher in the Big 12 this season.
Running back will be a strength for Kansas next year, who might have found a second back this spring that perfectly complements power runner
James Sims
, a rising sophomore who racked up 742 yards last year after not playing in the opener. Believe it or not, he's the Big 12's No. 2 returning rusher, behind A&M's Gray. Darrian Miller burst onto the scene this spring, and figures to be a big part of the team in the fall. I see him being the Jayhawks' biggest home-run threat. DeShaun Sands and
Brandon Bourbon
offer even more depth at the position.
6. Texas Tech
The Red Raiders lose backfield constant Baron Batch, but have a good group lined up for 2011. Tommy Tuberville's effort to establish a more efficient running game is a realistic possibility with
Eric Stephens
as the likely feature back, and
Aaron Crawford
,
Ben McRoy
and
Harrison Jeffers
in the mix. True freshman Ronnie Daniels' strong spring likely earned him some time, too, rather than a redshirt.
7. Baylor
Baylor loses a 1,200-yard rusher in Jay Finley, and figures to use a thunder-and-lightning approach with 6-foot, 240-pound bowling ball
Terrance Ganaway
and shifty, 5-foot-9, 205-pound
Jarred Salubi
.
Glasco Martin
, a more balanced back, may earn a few carries, too. Regardless of who has the ball, life is good for Baylor backs, who get a bit more room from defenses that are forced to respect
Robert Griffin III
's legs.
8. Kansas State
The Wildcats' top two rushers, including two-time league rushing champ Daniel Thomas, are gone. Hopes are high for Wichita native and former blue-chip back
Bryce Brown
, but he's still entrenched in a position battle with
John Hubert
and
Robert Rose
heading into fall camp.
9. Texas
Texas brings back a pair of seniors in Fozzy Whittaker and
Cody Johnson
, but if the Longhorns are going to climb up this ladder by year's end (and they might) it's likely to be on the back of hyped incoming freshman
Malcolm Brown
, who is on campus and set to begin fall camp.
D.J. Monroe
might be the fastest player in the Big 12, but he'll have to master the nuances of pass blocking to get more than a few touches every game.
Jeremy Hills
can offer some depth at the position, too, after Tre Newton was forced to quit the game because of concussions.
10. Iowa State
Shontrelle Johnson
showed some flash last year, but he still brings just 35 career carries into his 2011 effort to replace
Alexander Robinson
.
Jeff Woody
and
James White
offer a bit more depth, too. Florida native DeVondrick Nealy might get into the mix if he can put together a strong fall camp.
April, 22, 2011
4/22/11
9:44
AM CT
The eighth in our series looking at the strongest and weakest position for each team in the Big 12: The
Texas Longhorns
.

Strongest position: Pass-rushers
Key returnees:
Keenan Robinson, Jackson Jeffcoat, Alex Okafor, Emmanuel Acho
Key losses:
Sam Acho, Eddie Jones
Analysis:
Sam Acho was the best of the bunch last year, but Texas is loaded with young talent up front that can put pressure on opposing quarterbacks. Robinson and Emmanuel Acho are budding stars who both were in the backfield plenty last year, and Jeffcoat showed potential to be the best defensive end in the league last year before being slowed by an ankle injury.
He should be much better this year and likely the most disruptive pass-rusher on the team.
Okafor, though, switched to defensive end from defensive tackle and drew rave reviews all spring, capping it with a five-sack performance in a spring game. Yes, it's a spring game, but still. He was impressive and constantly disruptive. Texas has a young secondary and a developing offense, but if the Longhorns bounce back in 2011, the front seven will be a big reason why.
Weakest position: Skill positions
Key returnees:
WR
Mike Davis
, QB
Garrett Gilbert
, RB
Fozzy Whittaker
, RB
Cody Johnson
Key losses:
WR
James Kirkendoll
, WR
John Chiles
, RB Tre' Newton
Analysis
: Texas has a lot of work to do here, but may rely on new faces heavily next year. Gilbert didn't show much last year, but he didn't have much help, either. He now has to win his job back, and there's no guarantee that will happen.
At running back, Whittaker and Johnson haven't shown much game-breaking ability or consistency, and they'll be seniors this year. Running back
D.J. Monroe
is the biggest home-run threat of the group, but a lack of playbook knowledge and pass-blocking acumen kept him off the field last year. In its spring game, though, Texas showed a strong intent to get him the ball in space. When that happens, he can make plays. Freshman running back
Malcolm Brown
also brings loads of expectations with him to fall camp.
Davis could blossom into a star this year at receiver, but he needs help from his quarterback.
Darius White
looked good at the spring game, but Texas also needs receivers like
DeSean Hales
and
Marquise Goodwin
to be more consistent.
Malcolm Williams
didn't do it, and as a senior this year, Texas' biggest target looks like he'll spend more time at H-back than he will at receiver.
More spring superlatives:
January, 27, 2011
1/27/11
10:09
AM CT
Signing day is exactly a week from Wednesday, and it's time to take a look at who needs what in its 2011 class.
Some schools have addressed these needs with their current class. Some haven't. Others are still trying.
Here's our look at the South, after running down the
Big 12 North
earlier this morning.

BAYLOR
Defensive tackle:
The Bears are loaded on offense and have a ton coming back, but anyone who watched Baylor in 2010 knows the big problems are on defense, starting with the front four. Phil Taylor is headed to the NFL and Nicolas Jean-Baptiste will be a senior next year. Reserve Chris Buford is gone, too. The Bears need to fill out some depth up front to avoid a repeat of their Texas Bowl debacle defending the run against Illinois.
Punter
: Derek Epperson was rock solid as a four-year starter for the Bears, averaging near 44 yards a punt for his past three seasons. He's gone now, and the Bears will need a replacement. The good news is Baylor's offense with
Robert Griffin III
doesn't make the position nearly as important as it used to be.

OKLAHOMA
Receiver:
Ryan Broyles
, a senior, and
Kenny Stills
look ready for big years in 2011, but senior
Cameron Kenney
is gone.
Trey Franks
,
Dejuan Miller
and
Joe Powell
could contribute in 2011, but beyond that, another big-time threat across from Stills would certainly help. One of the Sooners' top 2011 commits, Trey Metoyer, could become that player.
Safety:
Both starters, Quinton Carter and Jonathan Nelson, have graduated, and the Sooners will try to replace them with Sam Proctor, who has started plenty of games, and Javon Harris. The Sooners are pretty well-stocked about everywhere, but more depth in the secondary is always welcome.

OKLAHOMA STATE
Defensive line:
Three of the Cowboys' four starters are gone, and it's always necessary to fill in some depth behind them. Shane Jarka, Chris Donaldson and Ugo Chinasa all had good years in 2010.
Offensive line:
Oklahoma State brings back all five starters for 2011, but four will be seniors. That means replacing them in 2012, which will be a lot easier if those replacements don't end up being true freshmen. Oklahoma State kept offensive line coach Joe Wickline, a candidate for the same job at Texas, and his development of the line last year with four new starters was a big reason for the Cowboys' success. He'll need to do it again in 2012.

TEXAS
Running back:
Fozzy Whittaker
and
Cody Johnson
will both be seniors in 2011, and Tre Newton's career is over because of issues with concussions. Texas would be well-served if its top 2011 commit, Malcolm Brown, can come in and be effective immediately as a true freshman.
Cornerback:
Aaron Williams left early. Curtis and Chykie Brown graduated. Texas needs help at corner and will have big problems in the near future if they don't get it.
Linebacker:
Emmanuel Acho and Keenan Robinson will be seniors in 2011, and Dustin Earnest and Jared Norton already graduated. New talent behind them will help prevent a drop-off in 2012 after Acho and Robinson split.

TEXAS A&M
Kicker:
Randy Bullock will be a senior in 2011, but Texas A&M is already hoping his spot is filled by incoming freshman Taylor Bertolet, the nation's No. 2 kicker who won the Under Armour All-American game with a last-second field goal earlier this month.
Linebacker:
Michael Hodges and Von Miller have graduated, and Garrick Williams will follow them in 2011. The Wrecking Crew was pretty stout for most of 2010, but filling those holes in a four-linebacker front will be key in ensuring things stay that way.

TEXAS TECH
Secondary:
LaRon Moore and Franklin Mitchem are gone, so Texas Tech will be breaking in some new blood in the secondary for new coordinator Chad Glasgow and cornerbacks coach Otis Mounds. Freshmen cornerbacks Jarvis Phillips and Tre Porter made plays in 2010, but they also allowed offenses to make a few of their own. Stopping that will be a big step in Texas Tech getting things rolling under Tommy Tuberville.
Receiver:
Texas Tech already needs to replace
Detron Lewis
and
Lyle Leong
, and
Tramain Swindall
and
Jacoby Franks
will follow suit after 2011.
Alex Torres
was hampered by a back injury all year, but the Red Raiders will need some depth around him at receiver to keep the offense humming.
September, 20, 2010
9/20/10
2:03
PM CT
By
Jeff Caplan
| ESPNDallas.com
That power rushing attack the
Texas Longhorns
talked so much about prior to the season? Anyone seen it?
In Saturday's 24-14 victory at
Texas Tech
, it's not as though Texas gave up on the run. The Longhorns toted it 43 times, but gained just 93 yards for a 2.2-yard-per-carry average. Of course, 15 of Texas' final 16 plays in the game were rushes as they took a 24-14 lead and then tried to milk the remainder of the fourth-quarter clock.
However, after the touchdown with about 9:30 to play in the game, Texas went three-and-out on their next three drives, forcing the defense to preserve the lead.
Foswhitt Whittaker
was Texas' third starting tailback in as many games. He managed 55 yards on 15 carries with a touchdown.
Tre' Newton
left the game with a groin injury after his lone carry for 13 yards. Opening day starter
Cody Johnson
had just 35 yards on 17 carries. Johnson carried it seven times for 15 yards over the last three possessions.
"I thought it was poor on Saturday night," Brown said of the run game. "I thought we were better against Wyoming and made some progress, but I thought it was incosistent Saturday night and not happy with it. At the end of the game we were very conservative because we were going to win the game unless we turned the ball over ... so we kept field position, but you can still make first downs and we didn't do that. We felt like we were inconsistent with our running game throughout the night."
While Texas put up decent rushing numbers against Rice and Wyoming, the ground game clearly isn't taking off. And it must be a concern with No. 8
Oklahoma
at the Cotton Bowl (Oct. 2) and then a big one at No. 6
Nebraska
(Oct. 16) coming up after this Saturday's home game against
UCLA
.
For Texas to make it through that gauntlet unscathed, it will have to discover a ground attack to take pressure off quarterback
Garrett Gilbert
, who threw for 227 yards and two touchdowns against Tech, but also threw three picks in his first game in hostile territory.
Texas' run game ranks 65th in the nation, parking the offense 72nd overall, adding significant pressure to a defense that ranks No. 2 in the nation, giving up little more than 206 yards a game.
So what's holding the Horns' rushing attack back?
"One guy on each play," Brown said. "It's the same thing. It's just the inconsistency that you have. It's so frustrating watching film. We see four guys doing what they're supposed to do on one play and another guy doesn't get his head across or doesn't cut off or he's too high. We've just been too inconsistent. We've got to get better."
UCLA should prepare for a heavy dose of rushing. Texas must get that part of its game moving or the month of October could be downright scary.
September, 13, 2010
9/13/10
12:11
PM CT
By
Jeff Caplan
| ESPNDallas.com
Fozzy Whittaker
come on down. You're the next starting running back for the
Texas Longhorns
.
Coach Mack Brown will go with a third starter heading into the third game of the season, a big one Saturday at
Texas Tech
for an early start to the Big 12 season.
Whittaker will get the start over
Cody Johnson
, who started the opener at Rice, and
Tre' Newton
, who led the Longhorns in rushing at Rice and therefore earned the start in the home-opening win against Wyoming.
So why Fozzy this week?
"No. 1 he was the most productive in the [Wyoming] game and that's what we're trying to do. We're trying to keep the hot back in the game. We're lucky we have three good backs. When he was in the ballgame, he made the most happen. He had 45 yards after contact in this game. He looks really fresh and he's quick. If we can continue to keep him healthy, he's been a good player when he's been healthy."
Brown said number of carries won't be pre-determined among the three rushers, but each back can determine how much, or how little, he plays.
"What we will do is play the guy with the hot hand," Brown said. "So, whoever's making yards, we'll let him stay in."
Whittaker led Texas against Wyoming with 62 yards and a touchdown on just seven carries.
The new run-oriented Longhorns offense has averaged 182.0 yards on the ground in the first two games, good for just 44th in the country. Compare that to
TCU
, which ranks 10th in the country at 274.0 yards.
Whittaker has the fewest number of carries of the three backs (16), but the most yards (113) for a 7.1 average per carry. Johnson has 105 yards on 24 carries and Newton has 84 yards on 26 carries.
Clearly, Brown is looking for a spark. And he'll need it Saturday for a dangerous night game at Tech, the first big test for new Red Raiders coach Tommy Tuberville.
September, 4, 2010
9/04/10
7:31
PM CT
Southlake's Tre' Newton ran for three touchdowns as Texas beat Rice, 34-17, to open the season.
More coverage.
September, 2, 2010
9/02/10
10:46
AM CT
By
Jeff Caplan
| ESPNDallas.com
Texas Longhorns
coach Mack Brown has promised a scheme change that puts more emphasis on the rushing attack. Yet, in 2009, Texas averaged 36.6 carries a game and 39.1 carries in 2008. Hardly small rushing numbers.
Those numbers, however, are wildly skewed when talking a bona fide rushing game. In each of the last two seasons, quarterback
Colt McCoy
has led Texas in both carries and rushing yards. Texas finished 2009 ranked 61st in the nation in rushing, averaging 147.6 yards a game.
If first-year quarterback
Garrett Gilbert
winds up as the Horns' leading rusher this season, bet that Texas will have had an awful season. The plan is to utilize three running backs. A slimmed-down
Cody Johnson
won the starting job for Saturday's opener at Reliant Stadium against
Rice
. Behind him are
Tre' Newton
and
Fozzy Whittaker
.
"I don't know how the carries are going to be distributed," Texas running backs coach Major Applewhite said. "[Johnson's] getting the start not because he's lost weight or body fat. He's getting the start because of the production he's provided in fall two-a-days and spring ball as well. He's done a lot of different things. He's allowed himself to be an every-down back. Some of the things we had to pull him out of the game for last year -- we're going to run this pass, we're going to use this screen -- he was not fit for that play. He's allowed himself to be in the game and stay in those situations. If he continues to produce, he'll continue to get a full amount of carries."
So how many carries will the new ground-oriented Longhorns rack up Saturday against the Owls? Two years ago, the Horns ran it 44 times in a 52-10 thumping of Rice and the next week ran it 50 times against Arkansas. With Gilbert making his starting debut, and expected to do so much of the time under center instead of in the shotgun, and with new faces on the offensive line, Texas surely plans to use undermanned Rice to get physical.
The half-century mark for rushing attempts is clearly in play.
And unlike two years ago, when McCoy led the team in rushing against the Owls with 87 yards on eight carries, it would be a a major stunner if Gilbert finishes with more rushing yards than any of his three tailbacks.
January, 4, 2010
1/04/10
10:10
AM CT
By
Jeff Caplan
| ESPNDallas.com
An interesting discussion is taking shape regarding
Texas'
offense with quarterback
Colt McCoy
predominantly passing and doing so with a quick release against
Alabama's
vaunted defense led by ultimate run stopper, nose tackle Terrence Cody.
The thought is if McCoy is getting off quick passes, using screens and other short passes to create space, and not allowing the Crimson Tide pass rush time to get to him, then it helps to neutralize the 6-foot-5, 365-pound Cody's best asset, stopping the run. Alabama defensive coordinator Kirby Smart said the Longhorns are more balanced than it might seem.
"They're pretty stubborn with the run. They want to at least keep the run threat there so you can't turn it into a pass-rush game, which for them is wanting to stay balanced and try to run the ball," Smart said. "[Texas offensive coordinator Greg] Davis has always kind of been that way, and that allows Terrence's best assets to come out, which are to stop the run, push the pocket, knock balls down and do those kind of things."
He's right, to an extent. On the season, Texas has attempted 498 passes and 485 rushes, pretty balanced. However, McCoy is the team' second-leading rusher in yards (348) and no one's toted the football more than his 128 rushes. And plenty of those runs have come out of pass plays.
Still, Alabama expects Texas to try to establish the run with starting tailback Tre' Newton, and for Cody to gobble it up and force the Longhorns to become one-dimensional.
"It's not that he's not a good pass rusher; he is," Smart said of Cody. "But, the fact that he doesn't get an opportunity a lot of times, and your ability to sub and put guys in and out and substitute guys, he hasn't been there as much. But, we would not be as effective a running team. When you watch teams and you talk to other coaches after you play them, you talk to other SEC teams, they just can't get movement. Running game is about movement. If you can move people, you create space. And there is no space created when Cody is in there, and that's what he does best for us."
December, 22, 2009
12/22/09
9:35
AM CT
By
Jeff Caplan
| ESPNDallas.com
Todd Dodge is now coaching the Mean Green of North Texas, so in Denton, he's surely smiling. Two of his former players at Southlake Carroll will take center stage Jan. 7 in the BCS national title game.
Alabama
quarterback
Greg McElroy
and
Texas
tailback
Tre' Newton
played one season together for the Dragons. Newton was a sophomore and McElroy was a senior when they led the Dragons to the 2005 Class 5A Division II state championship.
"He was a great leader," Newton said. "He had a great arm, he could put the ball anywhere in high school. He never underthrew somebody, overthrew somebody, it was usually on target."
McElroy, a junior for the top-ranked Crimson Tide, took over as starting quarterback this season. After an up-and-down start, he settled down and comes into the title game playing his best football. Newton, a redshirt freshman for the No. 2 Longhorns, was named the starting tailback for the game on Monday. Texas has been waiting for one of their four tailbacks to break out and claim the job outright.