Dallas Colleges:

Trent Hunter
December, 10, 2011
12/10/11
6:13
PM CT
Texas A&M has its man.
Kevin Sumlin is ready to get started in College Station, but he'll have to get his hands dirty very early.
Sumlin's become one of the hottest names in coaching after a 12-1 season in 2011, but he'll have a laundry list of things to prove during his first big-time job after leaving Houston.
The Cougars were his first head coaching job after stops around the Big 12 at Texas A&M,
his new home
, and in a variety of positions in five seasons at Oklahoma under coach Bob Stoops, including as offensive coordinator.
Every coach with a resumé comparable to Sumlin's faces the same question: Can that small-conference success translate into a bigger pond with bigger fish?
For Sumlin, it's tough to imagine a more difficult scenario for a coach taking over a major program for the first time, especially as a coach that has yet to guide a team to a conference title.
Texas A&M will head into the torture chamber that is the SEC West, where Arkansas went 10-2 with both losses this season to teams that will meet for the national title and finished third in the division.
Mississippi State? It won nine games in 2010 and finished fifth in the division.
[+] Enlarge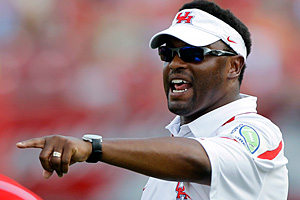 AP Photo/David J. PhillipKevin Sumlin spent four seasons guiding the Houston Cougars in Conference USA, and now he'll tackle the SEC as Texas A&M's newest head coach.
Sumlin knows Texas. He's recruited it for a decade and will continue to do so at Texas A&M, where he'll go head to head with former Big 12 rivals Texas and Oklahoma to convince players to help the Aggies ascend the SEC totem pole after going 6-6 in their final Big 12 season.
Sumlin's a man with spread sensibilities, though. He'll have to prove he can adjust that system as necessary to succeed in the SEC.
Success in the SEC, as national title participants Alabama and LSU can attest, correlates with defensive success, with rare exceptions for 6-foot-5, 250-pound Heisman winners/No. 1 picks at quarterback who can throw for 30 touchdowns, run for 20 more and rack up 1,400 yards rushing.
Sumlin's job in that department will be finding the right man to coordinate his defense. Current interim coach Tim DeRuyter could certainly stay in that role, despite a rough 2011 season in which the Aggies at one point went 22 quarters without forcing a turnover and finished 66th nationally in total defense and 76th in scoring defense.
The Aggies' linebacker-rich roster suits DeRuyter's 3-4 scheme well, and is better suited to defend the power running games in the SEC versus the pass-happy quarterbacks' league that is the Big 12.
If DeRuyter's not the right man, Sumlin better find the right one.
Can he carry over his success without
Case Keenum
? He threw an outlandish 45 touchdowns to five interceptions this year, including one game with nine scoring tosses.
Two of those interceptions came in the conference championship game loss to Southern Miss, where Sumlin was denied a league title for the second time in four seasons. Last year, when Keenum tore his ACL, the Cougars went 5-7.
The Aggies brass believed Sumlin could succeed without Keenum, and now, Sumlin will have to convince plenty of others.
Sumlin's personnel will look much different at Texas A&M. In the immediate future, his best player on offense will be former blue-chip recruit and 221-pound power back
Christine Michael
, who packs plenty of speed but will be coming off ACL surgery on his knee in 2012.
Sumlin will have a first-year starter at quarterback and loses his most physically gifted reciever,
Jeff Fuller
, while he'll retain his most productive receiver,
Ryan Swope
.
Defensively, the Aggies will lose top talents like four-year starter at safety, Trent Hunter. Cornerbacks Coryell Judie and Terrance Frederick will be gone. Defensive linemen Tony Jerod-Eddie and Eddie Brown will say goodbye, too.
Sumlin will have to adjust his wide-open passing attack at Houston that shredded Conference USA defenses to life amongst speedier, more instinctive SEC defenses.
He'll have the resources at Texas A&M, which built some recruiting momentum under Mike Sherman and will welcome a top-10 recruiting class in 2012 to some of the best facilities around.
Sherman proved that facilities and lots of talent don't equal wins. The Aggies were 1-5 in games decided by less than a touchdown in 2011.
Sumlin will set out to prove he's the right guy to fix that number and lots of others.
It won't be easy.
November, 28, 2011
11/28/11
12:04
PM CT
Here's our look back at the weekend that was in the Big 12, which set up a de facto Big 12 Championship game between Oklahoma and Oklahoma State.
Best offensive player:
Terrance Ganaway, RB, Baylor.
Ganaway quite literally "put da team on his back, doe." The 250-pounder rumbled for 247 yards and two touchdowns on a school-record
42
carries.
Robert Griffin III
was out with a concussion and Baylor needed somebody to step up. Ganaway did it in spectacular fashion, helping the Bears hold off Texas
[+] Enlarge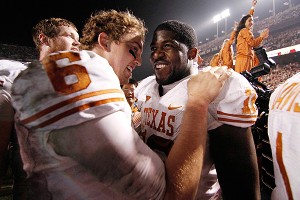 Brett Davis/US PresswireQB Case McCoy, 6, celebrates with Emmanuel Acho after Texas defeated Texas A&M last week.
Best defensive player:
Emmanuel Acho, LB, Texas.
Acho was everywhere for the Longhorns in their 27-25 win against Texas A&M. He made 14 tackles (10 solo) and had a tackle for loss in the win.
Best play:
Texas kicker Justin Tucker's 40-yard game-winner to beat Texas A&M.
No pressure, man. Just the bragging rights of one of America's quintessential football states for a long, long time. Tucker's kick was perfect. A no-doubter as soon as he kicked it. No matter what happens in the future, Tucker will always hold a special place in burnt orange lore. An ugly game with a gorgeous finish for the Longhorns.
Best game:
Baylor 66, Texas Tech 42.
So, Texas and Texas A&M had all the drama, but it was a pretty unattractive game. The Bears and Red Raiders in Cowboys Stadium was a ton of fun and had a different kind of drama. We had a crazy trick play, a team trying to rally without perhaps the nation's best player, big plays by his replacement, tons of turnovers and lots of offensive talent that put a ton of points on the board. This one was just fun to watch. A lot more fun than the Lone Star Finale.
Coolest play:
Texas Tech's mistaken identity TD
. Texas Tech backup quarterback
Jacob Karam
's No. 3 jersey was torn in pregame, and the Red Raiders gave him a nameless No. 85 jersey instead. Quarterback
Seth Doege
faked a handoff to the running back and tossed it to Karam on the end around, and we can only assume Baylor had no idea who No. 85 was. Karam slung it downfield to
Darrin Moore
, who caught it over a defender, stayed on his feet and trotted in the last few yards for a 43-yard score that cut Baylor's lead to 24-21 midway through the second quarter.
Best fashion sense:
Texas A&M
. The Aggies broke out maroon jerseys, maroon pants and maroon helmets for the first time since 2006 in their rivalry finale against Texas. A solid look.
Craziest statistic:
Texas A&M
. I heard it on Thursday and double-checked it. In the Aggies' six losses this season, they've been outscored 83-0 in the third quarter.
Best team performance:
Texas
. The Longhorns didn't do it pretty, but the defense kept them in it with a defensive touchdown, and Quandre Diggs added a huge 81-yard punt return to help Texas outscore the Aggies 17-0 in the third quarter. Texas played in one of the most frenzied atmospheres in the league this year, and strung together a huge late drive after the Aggies snatched the lead with 1:48 to play. Texas showed a lot of guts in this one.
Best appearance in relief:
Nick Florence, QB, Baylor
. RG3 came back in after taking a hit to the head and having it slammed against the turf. He looked dazed, but returned to the game and ran for a touchdown. When the Bears returned from halftime, though, the Bears announced that Griffin was done. Enter Florence. He made plays and threw two 40-plus yard touchdown passes, completing 9-of-12 passes for 151 yards and two scores.
Worst moment:
The clock running out in Texas' and Missouri's victories
. To me, it's nothing but sad. I watched games like Ohio State and Michigan on Saturday. It's rivalry weekend. The idea of never playing that game again is insanity. In the Big 12, though, it's accepted. The Border Showdown and Lone Star Showdown are done for awhile, and to me, it's the worst aspect of the recent realignment moves.
Best tweets:
Cyrus Gray, RB, Texas A&M
. Gray was hurt and stuck on the sidelines in a letter jacket after suffering a stress fracture in his shoulder against Kansas. Gray, though, was tweeting and taking photos from the sideline and
giving some love to his replacement
,
Ben Malena
, who played outstanding against the Aggies.
November, 25, 2011
11/25/11
12:58
AM CT
COLLEGE STATION, Texas -- The deed was done.
Amidst a stream of long-faced Aggies fans filing out of the Kyle Field bleachers, a single hand flashed the most famous hand signal in Texas -- the hook 'em Horns -- and let out a primal "Yeah!"
Minutes earlier, the Aggies watched Justin Tucker flutter a 40-yard kick through the uprights for a
27-25 Texas win
, leaving the worst phrase in sports behind for the A&M faithful.
"Better luck next year."
Or not.
The deepest burn in the Aggies' self-inflicted wound on Thursday night was the Longhorns' absence a year from now, and likely many years in the future. Thanksgiving will come and go. The Longhorns won't be coming to College Station. The Aggies won't march to Austin.
These bitter rivals have undergone this joyous ritual 118 times in their history dating back to 1894. They won't again for the foreseeable future when Texas A&M kicks off its SEC schedule next fall and the Longhorns stay behind in the Big 12.
[+] Enlarge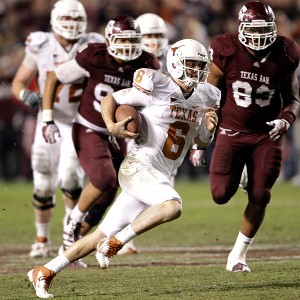 AP Photo/David J. PhillipA 25-yard run by quarterback Case McCoy helped set up the Longhorns for the game-winning field goal.
On Thursday night, the Aggies' biggest flaw flashed its face one more time, and Texas A&M will be forced to live with it for years to come.
"Seems like it's the same comment I've made before," coach Mike Sherman said before being asked a single question after the loss.
Another double-digit first-half lead -- nine at halftime -- and another crushing loss.
"Probably the hardest loss I've had since I've been here," said senior receiver
Jeff Fuller
.
Thursday marked the fifth time this season the Aggies controlled the game's first 30 minutes before ceding to chaos in the final stanza. In 12 outings this season, the Aggies were favored to win 11 times. They finish 6-6. A middling December bowl game awaits. For all the pain and frustration of this season -- losses at home to Oklahoma State, Missouri and a loss to future SEC foe Arkansas at Cowboys Stadium were among the worst -- a win against hated Texas would have made a disappointing 2011 season feel a bit more complete.
Fuller's 16-yard touchdown catch to snatch back the lead with 1:48 left made it feel oh so close.
"I didn't notice anybody panicking," said Sherman, now 25-25 in four seasons at Texas A&M. "If you look at our sideline, it's not a panicked sideline. It never has been. It never will be. We pretty much keep our composure."
Texas' offense, better than just two Big 12 teams, patching together a game-winning drive? Don't count on it.
In the cruelest of fashions, the improbable silenced the nearly hoarse 12th Man. Sophomore
Case McCoy
-- brother of perennial Aggie-annoyance Colt -- slipped past a pass rush for a 25-yard scramble to bring a second comeback in a single half near its completion.
This was the way it's always been. In many ways, it was how it had to end. The Longhorns, aka Big Brother, getting the best of the Aggies, ripping out a heart flush with hope from a touchdown pass to Fuller that embodied clutch.
Land grant versus the flagship. All too cruel. All too poetic.
"The young guys aren't going to get a chance to come back in the spring, work as hard as they can and avenge this loss," safety Trent Hunter said.
A loss that fit the mold of nearly every other defeat this season left Sherman saying words of frustration that were exceeded only by their familiarity.
"This was a game that we should have won," he said. "And we didn't."
Turnovers, an offense gone cold and a defense that looked lost let the Longhorns back into the game and kept the Aggies from scratching a seventh satisfying notch in the win column, even when so many more -- 10 wins? Eleven? -- could have gone the Aggies' way.
"We set our standards high and we didn't achieve what we wanted to. It's always difficult," Hunter said.
Instead, a tearful, silent locker room with nothing left to say and a future that's looking all the more imposing by the day. One of Texas A&M's most talented teams in recent history, forced to write 6-6 in the record books, complete with a loss to Texas.
"The Texas-Texas A&M game speaks for itself," said running back
Ben Malena
. "But we're going to the SEC next year, so we've got bigger and better things to worry about."
Indeed you do, Aggies.
September, 23, 2011
9/23/11
9:30
AM CT
We spent a few minutes with No. 7 Oklahoma State quarterback
Brandon Weeden
on Thursday, and today, it's time for a look at the other side of Saturday's big game: No. 8 Texas A&M.
PODCAST
Landry Locker is joined by Brandon Leone of TexAgs.com to discuss No. 8 Texas A&M's upcoming game against No. 7 Oklahoma State.

Listen

Aggies receiver
Jeff Fuller
spoke to ESPN.com for a few minutes this week.
David Ubben: What do you remember most about last year's game?
Jeff Fuller:
That we lost, for sure. Last year was a tough loss with a lot of turnovers. Oklahoma State's a great team, but I feel like there's a lot of things we could have done ourselves to perfect our game dramatically so we could have less turnovers and things like that that would have given us a better chance to win the ball game.
What are you expecting from the crowd in a game like this?
Oh, man. I expect the 12th Man to be out there loud and proud like they are every game. This is the first time we've had two top 10 teams playing at Kyle Field [since 1975] and it's going to be a wonderful venue and we're just looking forward to going out there and playing my best.
What's the environment like inside the facilities in a week like this?
Everything is real tight. Every day we're in meetings and everybody is really engaged. Coach [Mike] Sherman keeps on harping on us to not beat ourselves, so it's just kind of staying on top of the little things, the details to kind of perfect everything so we'll be ready to play on Saturday.
[+] Enlarge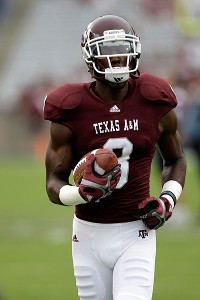 AP Photo/David J. PhillipTexas A&M wide receiver Jeff Fuller says beating Oklahoma State "would be huge."
Is this the most experienced team you guys have had in College Station?
I think so. We came in here with Coach Sherman, all of us. Tony Jerod-Eddie, Trent Hunter, Terrance Frederick. We're all Coach Sherman's guys and he kind of brought us up in his system and I think we started like, I don't even know how many freshmen, but I know we started more freshmen than anybody in college football my sophomore year, so we were young. That class is now seniors, and those freshmen are now juniors, and it's really exciting to see guys getting better and perfect things, all the little things, all the small details to make ourselves really a complete team.
Where does that experience pay off most on the field?
It pays off everywhere. Hopefully, we'll do a little bit better job of holding on to the football, we'll do a better job of just not turning the ball over and getting those small details right. Not miss one play and just get a lot of snaps.
What do you feel like a win in this game would mean to the program and fan base?
Being 3-0 would be huge. It would be a huge victory for us. The first two games, we had Idaho and SMU, two great teams, but they were nonconference games, but this is where it really counts. We're just trying to head into this game and try to put another victory on the board.
August, 19, 2011
8/19/11
4:30
PM CT
For the past decade, Oklahoma (and, until last year, Texas) had established a stranglehold on the top of the Big 12.
The Sooners won their seventh Big 12 title since 2000 in 2010, but did it after winning a three-team tiebreaker atop the Big 12 South and erasing a 17-point second-quarter deficit in the Big 12 title game.
The two teams that tied Oklahoma for the division title?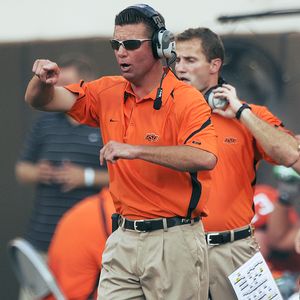 AP Photo/Brody SchmidtOklahoma State coach Mike Gundy has built his program into a consistent winner and a player on the national stage.
Texas A&M, which beat the Sooners by two touchdowns at Kyle Field, and Oklahoma State, which lost a heart-stopper to the Sooners in Stillwater with the South on the line and the Cowboys favored to win.
The result was a three-way tie for first place atop the division, the best finish in Oklahoma State history. Texas A&M was perched atop the division for the first time since 1998, though the Sooners were the league's representative in the title game.
Now, with the Big 12 2011 season set to kick off in two weeks, Oklahoma has company inside the top 10 of the national polls.
"I feel like slowly but surely we are gaining on the tradition-rich schools in this country," Oklahoma State coach Mike Gundy said of his team.
Gundy isn't emphasizing the comparison to the Sooners, but he's not running from it, either.
"Obviously, there's always a comparison made to Oklahoma because they're an hour and 20 minutes down the road and our goal is to win a league championship," Gundy said. "History tells you we have to go through Norman to do that."
The Sooners and Cowboys tangle in the league finale on Dec. 3 in Stillwater, actually. But you get the point.
The Cowboys' rise has been more gradual, never topping the heights of the 11-win season OSU fans celebrated in 2010, and never finishing higher than third in the division in the four seasons under Gundy before the 2009 season, when OSU finished second.
The divisions are gone now, but the growth in the program has remained.
"These guys know how to win," Gundy said. "They've won 29 games in three years and so there's something to be said about players understanding and knowing how to win."
Texas A&M's rise happened over the course of just one half of a season. In two and a half seasons at Texas A&M, coach Mike Sherman carried a 13-18 record, and his Aggies looked headed for another disappointing season in 2010.
[+] Enlarge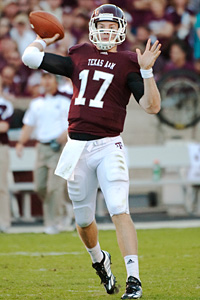 AP Photo/Dave EinselCoach Mike Sherman's move to quarterback Ryan Tannehill spurred a six-game Texas A&M winning streak.
Sherman made a switch at quarterback, ripped off a six-game conference winning streak and suddenly had the best season at the program in a decade -- and now the Aggies are knocking on the door of possible membership in the SEC.
"I always feel like competition brings out the best in everybody, and I feel like we have better competition at positions than maybe the first year, when a guy kind of knew he was the starter," Sherman said. "Realistically you say, 'Well, there's competition,' but maybe there wasn't."
But those six wins instilled in Sherman's players the same sense that Gundy's players have learned over the past three years. And with efforts on the recruiting trail, Sherman has instilled more talent on his depth chart.
"You look around the locker room, you see some guys who can make some plays. I think they have a better belief system, believe that we can win a football game," Sherman said. "And that's real, real important."
Gundy and Sherman have built programs. Sherman's base and resources were greater than Gundy's. But the Cowboys coach drew inspiration from Mike Leach, who spent a decade in Lubbock making sure Texas Tech did things his way and won as a result.
"When I look across the country for someone that took a program from somewhere and built it into a consistent, successful program, he's a guy that I recognize," Gundy said.
Gundy's "system" encompasses what players do on the field, in the weight room, off the field, in the classroom and in their communities. Older players make sure younger players know what's expected, and the cycle never ends as time passes.
"You have players go out early and go to the NFL and you're going to have coaches leave to become head coaches and coordinators," Gundy said. "So the basic core unit of what we do here every day has to stay the same. If that stays the same, you're allowed that flexibility with players and coaches."
Oklahoma State lost lots of star power before the 2010 season and was picked to finish fifth in the division with a new quarterback, no proven receivers and four new offensive linemen.
Gundy credits the unforeseen success to that system taking hold.
"It allows us to perform better than we should when maybe we're not as talented or we're not as experienced," he said. "We didn't have hardly any experience coming back last year, and we stuck with what we believed in, and I am somewhat convinced that that's the reason we were able to start playing pretty good and have a productive year in somewhat of a rebuilding phase."
The Aggies and Cowboys aren't rebuilding this year. The offseason was all about gearing up for a chase at a league title, a BCS game or more.
Oklahoma opens the season as the nation's No. 1 team, and while the Longhorns are searching for an identity, the Sooners won't have to look far to find a new rival bent on announcing its arrival on the national stage.
August, 19, 2011
8/19/11
3:00
PM CT
COLLEGE STATION, Texas -- Mike Sherman just finished watching his top-10 team scrimmage on its home field for two hours. He's concerned.
"We're still looking for that third running back," the Aggies coach says without a hint of sarcasm.
Safety Trent Hunter has worries of his own, and encounters it every time he steps on the practice field.
"Our receivers right now, I'd put up against any team in the nation," the senior says.
Life is good for the Texas A&M offense in preseason camp, which is stocked with perhaps the best collection of skill-position talent in the Big 12.
There are plenty of reasons for the Aggies faithful to lose a little sleep these days. Will a move to the SEC eventually happen? Does Texas A&M have what it takes to win in Norman against an Oklahoma team that might carry a No. 1 ranking into the matchup?
One question that doesn't need an answer: Will the Aggies be able to put points on the board?
Why is Sherman searching for a third running back?
That's the problem a coach discovers when
he has the top two running backs in his conference
.
Christine Michael
rushed for 844 yards as a freshman in 2009 and looked headed for his first 1,000-yard season as a sophomore in 2010 (631 yards in just over seven games) before breaking his leg and missing the rest of the season.
[+] Enlarge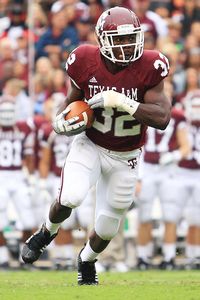 Thomas Campbell/US PresswireCyrus Gray piled up 938 yards and 10 touchdowns over the season's final seven games.
That's when
Cyrus Gray
took over, rushing for 938 yards and 10 touchdowns in the season's final seven games.
Both return. And that third running back? Whoever ends up earning the spot (this blogger casts his vote for
Mister Jones
), he'll have a lot to live up to.
Quarterback
Ryan Tannehill
has just six career starts, but he won five of them (all conference games, including wins over Nebraska and Oklahoma) and is throwing to one of the deepest receiving corps in the game today. Tannehill began his A&M career as a receiver and actually led the group in receiving in 2008 and 2009 before ceding to
Jeff Fuller
, who emerged as one of the nation's top receivers in 2010 with the first 1,000-yard season in Aggies history.
"He's on another level," Hunter said of Fuller's fall camp performance. "All of our receivers are."
Slot man
Ryan Swope
equaled Fuller's 72 receptions, amassing 825 yards and four touchdowns.
Uzoma Nwachukwu
, affectionately known as "Eazy," caught 36 passes for 407 yards and four scores.
Others such as
Kenric McNeal
and
Brandal Jackson
could be poised for big years and add even more depth to the squad.
"They're just multitalented guys. You can put them anywhere. You can put Jeff at the slot. You can put Ryan outside. Eazy. All our skill guys right now our interchangeable," Hunter said. "All our guys did punt returns and kick returns in high school, played quarterback or running back, and they all played so many different positions, that their skill sets aren't trapped at one position right now. They're interchangeable and can go at any position."
And for guys like Hunter, the additional plus for the Aggies is obvious.
"Playing in the Big 12 this year, they have a lot of talent year in and year out, and going against guys that can compete with the best of them will really help us this year," he said. "Especially as a secondary going against receivers like we have."
"They're so balanced," Hunter said. "I really can't even pinpoint one thing they do best. They just do everything so well."
August, 15, 2011
8/15/11
11:01
AM CT
COLLEGE STATION, Texas -- There's only so much you can take from a 90-minute workout without pads, but here are a couple quick thoughts and observations from Sunday afternoon's workout inside the indoor facility at Texas A&M.

I'll be there this morning for a live scrimmage with pads, too.
Last year, when I visited College Station in the preseason, it was pretty obvious during team work that Jerrod Johnson had a ways to go before he was back to the same player he was in 2009. He obviously never quite got there. This year? Not the case. All the usual suspects looked great. Ryan Tannehill was as good as you'd expect, Jeff Fuller looked great, and Christine Michael showed some nice explosiveness and lateral movement. Cyrus Gray is limited after suffering a minor hamstring injury on the first day of camp, but he's expected to be 100 percent for the season opener against SMU on Sept. 4.
Every time I've come to a practice at College Station, I've been impressed with what Jameill Showers had to offer as a backup quarterback, and Sunday was no different. It's a limited sample size, sure, but he throws an outstanding ball, and he made good decisions throughout Sunday's workout in team drills.
An offseason arrest didn't put Damontre Moore in the good graces of the coaching staff, and as a result, the possible star had spent the first week of camp working primarily with the third and fourth groups, according to other A&M reporters who had attended earlier practices. On Sunday, however, he was back working with the first team at the Joker position. A good sign for his future, no doubt. The sophomore may have struggled off the field during the offseason, but remember: Von Miller infamously wasn't the personification of a leader early in his career, and left as one of the program's all-time greats -- on and off the field. There's plenty of time for Moore to shore up his act.

PODCAST
Ian Fitzsimmons joins Ben and Skin to update us on Texas A&M's tryst with the SEC.

Listen

Inside linebacker is a primary concern for the Aggies this fall camp, especially after they got a preview of a grim future without Michael Hodges this year when Hodges missed the majority of the Cotton Bowl with a knee injury. Garrick Williams is one of the defense's leaders and a returning starter at one of the two spots in the 3-4 scheme, but Donnie Baggs and Jonathan Stewart have been earning lots of time together with the first team -- and without Williams. Coach Mike Sherman's explanation for the approach: "I always like to see guys with the first group, because that's when you get to evaluate them. When you're with the second group, you're going up against the second group of offense. So let's see how they do against the first group guys, so it's really a more accurate evaluation of where they stand. They could be killers in the second group but go to the first group and it's a little bit more challenging, so I want to see them against the better competition."
Sherman says he's still trying to sort out who his starter will be, but I like the approach to throw them in with the first-team and see who outperforms the other. Stewart is the more experienced player, but Baggs, a true freshman, has obviously impressed enough to even be in this position. Sherman expects the position to be more solidified early next week.
Sherman played it coy when asked about a "rumor" that Texas A&M's coaches met with university president R. Bowen Loftin about the possibility of a move to the SEC. "Rumors? Really? Are you saying it's a rumor? I don't comment on rumors," he said. "You led with a rumor, so..." A poor choice of words, sure, but a fruitless line of questioning, no doubt, regardless of word choice.
Safety Trent Hunter did discuss the prospect of the SEC, but only that the team has been told not to discuss it. "Our coaches made a point on the first day. Don't talk about it, don't tweet about it, don't Facebook about it," Hunter said, adding that it hasn't been difficult to focus on the field while rumors swirled. "It's not anything that's going to affect us playing SMU on that first week."
Today's scrimmage will be live with plenty of hitting, Sherman says. Should be exciting. I'll have some notes and stats up on the blog later.
July, 19, 2011
7/19/11
3:56
PM CT
The Big 12 has released its All-Big 12 preseason team as voted on by the media, including yours truly.
Here's my ballot
, for reference.
And here's the preseason team, in all its glory.
OFFENSE
QB:
Landry Jones
, Oklahoma
RB:
Cyrus Gray
, Texas A&M
RB:
Bryce Brown
, Kansas State
RB:
Roy Finch
, Oklahoma
WR:
Justin Blackmon
, Oklahoma State
WR:
Ryan Broyles
, Oklahoma
TE:
Michael Egnew
, Missouri
OL:
Levy Adcock, Oklahoma State
OL:
Kelechi Osemele, Iowa State
C:
Ben Habern, Oklahoma
OL:
Lonnie Edwards, Texas Tech
OL:
Luke Joeckel, Texas A&M
DEFENSE
DL:
Brad Madison, Missouri
DL:
Ronnell Lewis, Oklahoma
DL:
Kheeston Randall, Texas
DL:
Frank Alexander, Oklahoma
LB:
Travis Lewis, Oklahoma
LB:
Jake Knott, Iowa State
LB:
Keenan Robinson, Texas
DB:
Coryell Judie, Texas A&M
DB:
Markelle Martin, Oklahoma State
DB:
Blake Gideon, Texas
DB:
Demontre Hurst, Oklahoma
SPECIALISTS

K:
Grant Ressel, Missouri
P:
Quinn Sharp, Oklahoma State
KR:
Coryell Judie, Texas A&M
PR:
Ryan Broyles, Oklahoma
AWARDS
Offensive Player of the Year:
Justin Blackmon, WR, OSU
Defensive Player of the Year:
Travis Lewis, LB, Oklahoma
Newcomer of the Year:
Malcolm Brown
, RB, Texas
Selections by team:
Oklahoma (9), Oklahoma State (4), Texas A&M (4), Missouri (3), Texas (3), Iowa State (2), Kansas State (1)
And a few thoughts:
Generally, I agree with most of the selections. Nothing was really shocking. Brandon Weeden vs. Landry Jones is pretty close to a coin flip, and let's not act surprised that the quarterback from the bigger program got the nod. Perception is reality, even if the numbers are so, so close. Jones has the Heisman hype coming into the season, certainly more than Weeden, based on little more than the possibility his team runs the table.
Running back is going to get a lot of attention, but let's not get riled up. This is going to sound bad, but believe me when I say I don't mean it to: Bryce Brown's selection is more an indictment of the returning talent at running back in the Big 12 than an endorsement of the hype surrounding Brown, who isn't even the clear-cut starter at K-State just yet. Here's what I wrote when I posted my ballot earlier this month. "The second running back spot is near impossible. Just about anyone might get it on the official vote when its revealed by the Big 12. You could realistically make a convincing case for James Sims, Eric Stephens, Joe Randle, Roy Finch and even newcomers like Malcolm Brown, Bryce Brown or Oklahoma's Brandon Williams. And that's the first team!" Well, there you go. For the record, I voted for Christine Michael, and still feel good about it.
Finch and Brown tied for votes, giving the Big 12 three running backs. There weren't three spots on the ballot. And it also explains how Malcolm Brown got Newcomer of the Year and Bryce Brown got first-team All-Big 12 running back, despite both being newcomers. It's a little confusing, I suppose, and maybe not everyone did it, but my guess is a lot of ballots had Finch as the first-team running back and Malcolm Brown as the Newcomer of the Year. Not all that surprising.
I originally had Luke Joeckel on my ballot, but took him off for Missouri's Elvis Fisher. I think Joeckel will end up being better, and maybe even by the end of this year, but right now, Fisher is the better lineman, and that's how I define the ballot. Perhaps others see it differently. There's no concrete rubric for this.
I'm not very surprised to see Ronnell Lewis and Blake Gideon grab spots on the team, though I voted for Tony Jerod-Eddie and Trent Hunter in those spots on my ballot. Second safety and defensive line were pretty tough for me to fill out. Neither spot is very deep in this league, and both Lewis and Gideon have two of the biggest names, which matters in a media vote.
Quite a huge gap between Oklahoma and the rest of the league. The Sooners had a lot of guys on my ballot that were close, but five more selections than anyone else in the league? That's impressive, and if ballot deadlines had been after Jamell Fleming's reinstatement, Oklahoma might have had 10 guys on the team. My ballot had Oklahoma State leading the way with seven selections, followed by Texas A&M with six and Oklahoma with five. My ballot also only had six teams represented. The media's Bryce Brown vote put Kansas State on the board, making it seven teams represented on the official team.
July, 18, 2011
7/18/11
3:36
PM CT
A week from today, college football will feel oh-so-close. The Big 12 will kick off its media days, slimmed down to two days with its new 10-team configuration, instead of 12 teams over three days like it's been in the past.
[+] Enlarge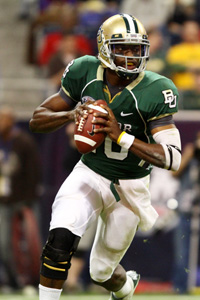 Thomas Campbell/US PresswireBaylor's Robert Griffin III will be attending Big 12 media days after missing last year's event.
I'll be there for every second of the action, with plenty of stories and videos, just like last year. Here's a look at
what we had for you every day
at media days last year.
You can expect more of that, and here's who we'll be dealing with here in Dallas.
Monday, July 25
Baylor
Oklahoma State
Missouri
Jacquies Smith, DE

Kenji Jackson, S

Elvis Fisher, OL

T.J. Moe, WR
Texas
Emmanuel Acho, LB

Keenan Robinson, LB

Blake Gideon, S

Fozzy Whittaker, RB
Texas A&M
Tuesday, July 26
Kansas
Steven Johnson, LB

Tim Biere, TE

Jeremiah Hatch, OL
Iowa State
Kansas State
Oklahoma
Texas Tech
I've got a lot of thoughts about this lineup:
Texas' quarterbacks haven't spoken to the media since the Thanksgiving Day loss to Texas A&M, and that streak won't end next week. Not that it necessarily should, at least not at this event. For better or worse, bringing a quarterback to media days implies a certain amount of confidence in said player, and every indication we got during the spring is that this race is wide open. Last year, Texas Tech brought both Steven Sheffield and Taylor Potts, and Mack Brown raised eyebrows when he brought his first-year starter, Garrett Gilbert, to media days before fall camp and before his first-ever start. He won't be making a return trip in 2011.

Kansas State's contingent is rather telling. If Bill Snyder was trying to temper the hype surrounding Arthur Brown, he wouldn't bring the transfer who has never played a game for Kansas State to Dallas. But Brown is coming, and his brother, running back Bryce Brown, isn't. That's plenty telling. As is Collin Klein's presence. It's not like Kansas State is starved for marketable talents. Cornerback David Garrett would fit in nicely, but he won't be coming. It's not explicit, but Klein will enter fall camp with the lead in the quarterback race, but Snyder has to feel good about him at this point. Bryce Brown's role on this team is still a bit unclear with Robert Rose and John Hubert still competing with him for carries, but I'm still feeling very good about making Arthur Brown my pick for Big 12 Newcomer of the Year. Except for Texas Tech quarterback Seth Doege, he's the only player in the entire league to come to Big 12 Media Days without at least a season of starting experience, and Doege at least has one start on his resume.

Serious, serious star power in Oklahoma and Oklahoma State's crews. Some of the biggest names in college football will be heading down to Dallas from just up north across the state line. Landry Jones will be making his first trip this year, as will Justin Blackmon. Weeden, Lewis and Broyles all attended in 2010. Another good bunch from A&M this year, too.

Glad to see Iowa State bring Kelechi Osemele to Dallas. He's a quiet star in this league who's been one of its best linemen for a couple seasons now. He'll finally get a bit more exposure in his first trip to media days. I'm a little surprised to see ISU bring Darius Darks, though, instead of Darius Reynolds, who Paul Rhoads went out of his way to praise this spring. That said, Darks is a solid choice as a co-captain and a contributor for three seasons heading into 2011, vs. Reynolds, a high-profile juco transfer who only emerged as a major contributor in 2010 after a quiet 2009.

Baylor's Robert Griffin III is back on Baylor's wagon after sitting out last year's media days to give the cameras and notepads a chance to get to know his teammates (and avoid about 4,000 questions about his knee, which was clearly fine last season).
July, 3, 2011
7/03/11
11:00
AM CT
We'll move on to the safeties today in our position rankings across the Big 12.
Here's what we've covered so far:
The group of safeties across the Big 12 isn't fantastic, without any truly elite groups, but it's decent. There aren't any teams that look really hopeless at the position in the immediate future.
I haven't given it real close examination so far on the positions we haven't covered yet, but this is by far the closest gap between 1-10 of any position so far.
Here's how I ranked them. (Remember, I lumped in nickel backs with linebackers, so Ahmad Dixon and Tony Jefferson won't be found anywhere in this post.)
[+] Enlarge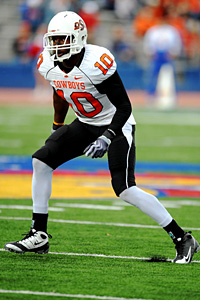 John Rieger/US PRESSWIREOklahoma State's Markelle Martin is the Big 12's best overall safety.
1. Oklahoma State
-- The Cowboys have Markelle Martin, the Big 12's best overall safety who's a big talent but a much better hitter than he is a cover man. Johnny Thomas is solid and both safeties got a lot better as the 2010 season progressed. OSU's depth lands them here, though. Daytawion Lowe could start for a few Big 12 teams and is slightly better than A&M and Texas' reserves, the other two teams with the deepest group of safeties.
2. Texas
-- Blake Gideon takes his share of criticism, a good deal of it fair, but there's a reason he's starting for Texas for a fourth season this fall. He knows what he's doing. Kenny Vaccaro will challenge OSU's Martin, among others, for the title of the Big 12's biggest hitter and Nolan Brewster and Christian Scott are strong reserves at the position. The Longhorns lose a lot at corner, but all the safeties are back from a defense that allowed just over 170 yards a game through the air in conference play last season.
3. Texas A&M
-- The Aggies' Steven Terrell and Trent Hunter are solid, and Hunter is a big playmaker who made 62 stops and picked off two passes last year. Toney Hurd Jr. is the backup and was one of the most impressive freshmen in fall camp last year, joined by Steven Campbell in the rotation.
4. Kansas State
-- Tysyn Hartman has loads of experience and is one of the Wildcats that Bill Snyder loves to rave about. Ty Zimmerman was one of the Big 12's best freshman last year, and picked off three passes. They should be solid again next year, and for as much criticism as K-State's defense faced last year, they were fifth in the Big 12 in pass defense. Logan Dold should be in the rotation, too.
5. Oklahoma
-- Reserve Sam Proctor has starting experience, but Javon Harris and Aaron Colvin enter fall camp as starters. That says plenty about how Bob Stoops and Brent Venables feel about them. In a word: confident. Colvin has the most potential in the group, but the two starters will have to learn on the go. Proctor, a senior, should be able to help. James Haynes will also be in the rotation.
6. Missouri
-- Jasper Simmons is gone, but Missouri's safeties might be a bit underrated in this spot. Kenji Jackson has loads of experience and should be solid, and Tavon Bolden and Matt White are a pair of promising sophomores who should compete at free safety. Kenronte Walker should be in the rotation, too.
7. Texas Tech
-- Injuries were a problem last year for the Tech secondary, but Cody Davis and D.J. Johnson will hold down the traditional safety spots away from the line of scrimmage in new coordinator Chad Glasgow's 4-2-5. The unit gave up lots of big plays in 2010 (151 over 10 yards, 46 over 20, and 25 over 30, all the most in the Big 12), but I'd expect that number to drop under Glasgow if the secondary stays healthy. Davis is the team's leading returning tackler, with 87 stops. Brett Dewhurst and Giorgio Durham should be in the rotation.
8. Kansas
-- Keeston Terry and Bradley McDougald give Kansas a lot of speed and athletic ability at the position, but both of the team's safeties from 2010 graduated and Terry and McDougald are short on experience. Lubbock Smith should add some solid depth to the position.
9. Iowa State
-- Iowa State loses their top playmaker at the position, David Sims, but returns starter Ter'Ran Benton. He'll be helped out by some combination of Jacques Washington, Earl Brooks and Deon Broomfield once the season starts. Iowa State's biggest weakness is on the defensive line, so it's hard to get a good read on how good the safeties really are with such a poor pass rush up front.
10. Baylor
-- This group might move up the list during the year under Phil Bennett, but the two best raw athletes (Ahmad Dixon, Prince Kent) at the position moved to nickel back and linebacker, respectively. The team's leading tackler, Byron Landor, graduated, and that left Mike Hicks as the other starter. He'll be helped out at safety by Sam Holl, Josh Wilson and K.J. Morton. Last year, the Bears ranked last in the Big 12 in pass defense in conference play, giving up over 300 yards a game. That'll have to change or Baylor won't get past seven wins.
July, 1, 2011
7/01/11
11:11
AM CT
Heading into the season, I see five teams in the Big 12 with a realistic chance to win the league. I'll be breaking them down in order (which
won't be the same as my post-spring power rankings
) of their chances to leave the season with the Big 12 title.
No. 1 on the list was
the favorites: Oklahoma
Today, we take a look at my No. 2: Texas A&M.
Why the Aggies will win the Big 12
[+] Enlarge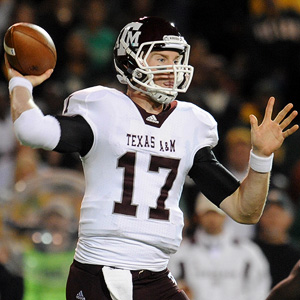 AP Photo/Rod AydelotteQuarterback Ryan Tannehill will be crucial to Texas A&M's success in 2011.
1. They've got the most complete offense.
Center Matt Allen is the only offensive starter not returning, but the Aggies have a solid line, headlined by a maturing, but already talented pair of bookends with big potential, tackles Luke Joeckel and Jake Matthews. At the skill positions, you won't find anything close to a weakness. Texas A&M returns the best running back corps in the league and maybe the best 1-2 punch in the nation with
Christine Michael
and
Cyrus Gray
. All of the team's top five receivers return, and
Jeff Fuller
, who chose to return for his senior season, is arguably one of the five best in the country.
Ryan Tannehill
doesn't have a ton of starts (six) under his belt, but he was great in a tight spot last year, and led the team in receptions his first two years on the field.
2. They're especially strong in great places on defense.
Those places: Secondary and pass-rushers. That's huge in the Big 12. New joker Damontre Moore, defensive end Tony Jerod-Eddie and linebacker Sean Porter should combine for more than 15 sacks this year and tons of quarterback pressures that could result in some big plays for another defensive strength: the secondary. All four starters return, and Terrence Frederick, Coryell Judie are experienced seniors at corner, while Trent Hunter and Steven Campbell hold down the safety spots.
3. They made it hard to win nine games last year.
Texas A&M already won a share of the Big 12 South last year, despite ranking 10th in the Big 12 in turnover margin at minus-5. Its 30 turnovers (15 INTs, 15 fumbles lost) were the most in the Big 12 and 111th most in the nation. You'd have to think that number will drop this year with Tannehill at quarterback. He struggled in the loss to LSU, throwing three interceptions, but he had just three in his six previous games at quarterback, compared to 11 touchdowns. Five of those 30 turnovers came from
Jerrod Johnson
in a loss to Oklahoma State, and if the Aggies take care of the ball then, or this time around, they're likely Big 12 champions.
Why the Aggies won't win the Big 12
1. The defensive losses will be too much.
Damontre Moore should slide in and replace Von Miller. I'd expect him to do well, but what about middle linebacker? Michael Hodges was the heart of the defense in 2010 and its leading tackler. When a knee injury forced him out of the Cotton Bowl against LSU, the Tigers gashed the Aggies' defense, which for the few weeks to end the season, looked like one of the Big 12's best and topped the league in rush defense. Hodges is gone for good now, and the Aggies left spring without a solid replacement. For now, it looks like Jonathan Stewart will slide in, but it could end up being true freshman Donnie Baggs. Either way, A&M won't be as strong there, and teams that can run the ball (i.e., OSU, OU) may take advantage. Lucas Patterson is the only other loss on the defensive side of the ball, but my money is on Hodges being missed the most on the field, even though Miller was the No. 2 pick in the NFL draft.
2. They have to travel to Norman.
Texas A&M has been outscored 107-24 in its last two trips to Norman, and Les Miles at Oklahoma State in 2001 is the only Big 12 coach to ever beat Bob Stoops at Owen Field. The odds are definitely against Mike Sherman becoming the second. The Aggies knocked off Oklahoma in College Station last year, but did it largely on the strength of the linebackers, and Hodges and Miller, who helped orchestrate those three goal-line stops to beat the Sooners, are gone.
3. Hype and the Aggies are not happy bedfellows.
Texas A&M looked like a possible Big 12 South contender last year, but the Aggies lost all three of their first real tests, and nearly lost to Florida International in College Station, erasing a 21-7 fourth-quarter deficit to avoid embarrassment. After being written off by most, they rallied for a share of the Big 12 South, but this year, the attention is back on the Aggies, who will likely be toting a top-15 ranking into the preseason. How will the team handle big games early in the season against Oklahoma State and an early trip to Lubbock before the showdown in Norman? Their recent history suggests "not well."
December, 7, 2010
12/07/10
2:10
PM CT
The story of Texas A&M's 2010 season will always be told in two parts. There was the frustrating start with close losses to Oklahoma State and Arkansas before "The Year" could pick up any real momentum. Then came the blowout loss to Missouri that gave fans reason to believe there was no real reason to believe.

Then, of course, is the streak that 2010 will ultimately be remembered for. Texas A&M finished its season with six consecutive Big 12 wins to finish 9-3 and land in the Cotton Bowl for the first time since 2004. That streak is the longest for the Aggies since its last Big 12 title which was in 1998.
The early stumbles cost the Aggies a chance at the Big 12 South title, but it knocked off top 10 opponents Oklahoma and Nebraska down the stretch to get inside the top 20. Three goal-line stops against the Sooners and allowing just six points against Nebraska keyed off talk of the return of the "Wrecking Crew" and the Aggies left the field to chants of "Wrecking Crew" after both big wins.
Offensive MVP: Cyrus Gray, RB.
Talk about
Ryan Tannehill
and
Jeff Fuller
all you'd like. Gray is the biggest reason for the winning streak.
Christine Michael
went down with a broken leg in midseason, but Gray finished the season with six games of at least 100 yards rushing, including over 200 yards of offense against a stingy Nebraska defense and 223 yards rushing against Texas. During that six-game stretch, Gray averaged 6.3 yards per carry.
Defensive MVP: Von Miller, LB/DE.
Miller, like the Aggies, got off to a slow start, too. His came because of an ankle injury, but Miller was one of the league's most productive defenders in Big 12 play, making a late surge into the conversation for Big 12 Defensive Player of the Year. He didn't have a tackle for loss or a sack in his first four games, but finished with 14.5 TFLs and 9.5 sacks, tied for the Big 12 lead.
Turning point: The switch from Jerrod Johnson to Ryan Tannehill.
I'll stress, this isn't the only thing that helped the Aggies rip off six consecutive wins, but it was one of the reasons why. Johnson didn't look like himself after offseason shoulder surgery, but Tannehill got some time at quarterback against Kansas, and took over the starting gig against Texas Tech. In that game, he set a school record with 449 passing yards and didn't give the job back.
What's next:
Tannehill's experience this year will carry over to next year, but the Aggies have to hope he doesn't fall victim to the Texas A&M senior quarterback curse as Johnson and Reggie McNeal did, among others before them. The defense made big strides under Tim DeRuyter, and though Miller, linebacker Michael Hodges and defensive tackle Lucas Patterson will be gone next year, the Aggies should still have a solid senior class with Tannehill, safety Trent Hunter and linebacker Garrick Williams. Freshman Damontre Moore will fill Miller's role and could be a breakout star in 2011, too.