Dallas Colleges:

Trent Richardson
December, 6, 2011
12/06/11
12:57
AM CT
My Heisman Trophy ballot has changed every week for the last couple of months.
I'm not surprised there are more than three players going to the trophy presentation.
Five players were invited to New York for Saturday night's Heisman Trophy presentation -- quarterbacks
Andrew Luck
of Stanford and
Robert Griffin III
of Baylor, tailbacks
Montee Ball
of Wisconsin and
Trent Richardson
of Alabama and cornerback Tyrann Mathieu of LSU.
It's a shame the Heisman Trust didn't have room for three more quarterbacks because Houston's
Case Keenum
, USC's
Matt Barkley
and Boise State's
Kellen Moore
were just as deserving.
With five finalists going to New York, it figures to be one of the closer votes in recent Heisman Trophy history.
The closest vote in Heisman Trophy history came just two years ago, when Alabama tailback Mark Ingram edged Stanford's Toby Gerhart by only 28 points. Ingram received 227 first-place votes, Gerhart got 222 and Texas quarterback Colt McCoy, the second runner-up, received 203.
Given the number of finalists and their geographical regions, we could have another really close finish on Saturday night.
Luck, the runner-up to Auburn's Cam Newton last season, entered the 2011 season as the Heisman Trophy favorite. His performance didn't slip much this season, as he completed 70 percent of his passes for 3,170 yards with 35 touchdowns and nine interceptions.
I still feel Luck might be the most valuable player on any team in the country. Without him, there's no way the Cardinal is ranked No. 4 in the country and playing No. 3 Oklahoma State in the Tostitos Fiesta Bowl. Luck has done more with less, as Stanford lacks the game-changing playmakers that other teams have.
But Luck might still be the second-best quarterback in New York. Griffin, who is widely known as RG3, completed 72.4 percent of his passes for 3,998 yards with 36 touchdowns and six interceptions. He also ran for 644 yards with nine touchdowns.
Without him, the Bears wouldn't have beaten TCU, Oklahoma and Texas. Griffin's one drawback: He had a late interception that sealed the Bears' fate in a 36-35 loss at Kansas State on Oct. 1 and threw two picks in a 59-24 loss at Oklahoma State on Oct. 29. But with everything else RG3 has done this season, it's easy to give him a mulligan for the miscues.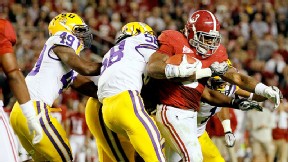 Kevin C. Cox/Getty ImagesRunning back Trent Richardson has been at his best in Alabama's biggest games.
I still believe Richardson is the best player in the country. He looked like the best player on the field in No. 2 Alabama's 9-6 loss in overtime to No. 1 LSU on Nov. 5. He had 89 rushing yards and 80 receiving yards in a game where every yard mattered. He finished the season with 1,583 yards with 20 touchdown runs and three touchdown catches. He's also Mr. Dependable, not losing a fumble in his past 520 touches and only once in 614 career touches.
Ball has been a scoring machine for the No. 10 Badgers this season, running for 1,759 yards with 32 touchdown runs and six touchdown receptions. His 38 total touchdowns are one shy of matching former Oklahoma State running back Barry Sanders' NCAA single-season record of 39 set in 11 games in 1988. Ball's production helped lead the Badgers to a Jan. 2 date against Oregon in the Rose Bowl Game presented by VIZIO.
Mathieu fell off my ballot after he was suspended from playing in the Tigers' 45-10 victory over Auburn on Oct. 22 for smoking synthetic marijuana. But his big plays helped the Tigers overcome deficits in each of their last two victories, over Arkansas and Georgia in the SEC championship game.
Mathieu -- aka the "Honey Badger" -- is the best player on the top-ranked team. He leads the Tigers with 70 tackles and has forced six fumbles and recovered five. He also is the most dynamic punt returner I've seen since Florida State's Deion Sanders. Mathieu has scored four touchdowns -- two on fumble returns and two on punt returns.
To penalize Mathieu for one foolish mistake wouldn't have been right. After all, Newton was briefly ruled ineligible at Auburn last season and 2010 Heisman Trophy finalist
LaMichael James
of Oregon was suspended from playing in last season's opener.
December, 6, 2011
12/06/11
12:56
AM CT
By
ESPN Stats & Information
On Monday the five finalists invited to New York for the Heisman Trophy ceremony were revealed. This year has featured one of the most interesting races for the Heisman as no one player has stood from the rest.
Here's a look at what a Heisman Trophy win -- or loss -- would mean to these players and their respective schools.

Trent Richardson, Alabama
Two seasons ago Trent Richardson was a part of a National Championship team with a Heisman Trophy winner, when running back Mark Ingram became Alabama's first winner. Richardson has nearly identical numbers to Ingram this season, and has already totaled 23 touchdowns compared to Ingram's 20 TD's.
If Richardson were to win the award it would put him and Ingram in some rare company. In the history of the Heisman Trophy only three times have two different players playing the same position at the same school won the award in a span of three seasons. It last happened when USC QB Matt Leinart won it in 2004 after Carson Palmer had taken home the award in 2002.

Andrew Luck, Stanford
Luck is listed second here as he finished second for the Heisman last season and Stanford has actually had the Heisman runner-up in each of the past two seasons (Toby Gerhart, 2009).
If Luck wins he would be the second player in Stanford history to win the award (Jim Plunkett, 1970) and join 1981 Herschel Walker as the only Heisman runner-ups to win the award the next season.
If Luck finishes second, Stanford would set a record. No school has ever had a Heisman runner-up in three consecutive seasons.

Montee Ball, Wisconsin
Montee Ball earned his invite thanks to his impressive numbers. Ball needs one touchdown in the Rose Bowl to tie Barry Sanders' FBS record for touchdowns in a season (39). Sanders won the Heimsan trophy during that 1988 season.
Ball's 38 touchdowns are the most by a Big Ten player since Eddie George had 25 in his Heisman Trophy winning 1995 season.

Robert Griffin III, Baylor
RGIII finished off a great regular season in which he threw 36 touchdowns compared to only six interceptions, while also leading Baylor to nine wins, its most since the 1986 season.
Griffin's invite is an accomplishment in its own considering he plays for Baylor. The Bears have only had one player finish in the top five of the Heisman vote in school history. In 1963 Don Trull finished fourth.
If Baylor's Robert Griffin III wins the Heisman Trophy this year, he will be just the third player since the BCS was established in 1998 to win the Heisman without his team playing in a BCS bowl game.

Tyrann Mathieu, LSU
The Honey Badger will take the trip to New York looking to join Charles Woodson as the only defensive backs to win the Heisman trophy.
Despite being a defensive player, recent history is on Mathieu's side to take home the award. Since 2003, seven of the past eight Heisman Trophy winners have come from the team at number one in the BCS standings entering the National Championship Game.
December, 3, 2011
12/03/11
9:13
AM CT
If
Robert Griffin III
dices the
Texas Longhorns
defense this afternoon the same way he sliced the
Oklahoma Sooners
two weeks ago -- and well the rest of the Big 12 all season -- how could the Heisman Trophy voters look the other way just because he wears a green jersey and has BU on the side his helmet?
Yet, that's what ESPN college football analyst Kirk Herbstreit said would happen this week during an appearance on Galloway & Co., on 103.3 FM ESPN.
Maybe Herbstreit has a point. The last Heisman winner not from a power football school that rolls off the tongue might be Rashaan Salaam from Colorado in 1994, although the Buffaloes did win the national title in 1990. BYU quarterback Ty Detmer won it in 1990 and Houston's Andre Ware won it in 1989. These days the award seems to go to the best player on the best team. Not necessarily the best player in college football.
So why not Griffin?
"It's hard to talk about the Heisman just because as a player I don't want to be a player that plays for awards. I don't want to be that selfish guy," Griffin said. "Obviously, you're aware of it because everyone is going to make you aware of it, but I definitely play for the guys on this team and the coaches that coach me. You know, I just don't say these things, I truly believe them and that's what makes me the guy and the leader I am."
Griffin enters this regular-season finale having guided lowly, old Baylor to eight wins for the first time in 20 years. He has the program in a bowl game for the second consecutive season. If he and the No. 17 Bears beat No. 22 Texas (2:30 p.m., ABC) they'll have pulled that feat off for the second time in two seasons. He helped bury the Sooners, a team Baylor was 0-20 against previously.
You want stats? How does a 72.6 completion percentage sound (252-for-347)? How about 3,678 passing yards for a 334.4 per-game average? Maybe you like 34 touchdowns to just five interceptions. Pile on with 612 rushing yards and seven touchdowns. For the first four games of the season his number of touchdown passes nearly equaled his incompletions. Ridiculous.
Certainly
Alabama Crimson Tide
running back
Trent Richardson
has had a deserving season and
Stanford Cardinal
QB
Andrew Luck
is far and away the choice to be the No. 1 pick in the NFL draft.
But, can any player in the nation claim to be more valuable to the success of his team and claim such lofty, near-unfathomable statistics?
Griffin isn't the first Baylor quarterback up for Heisman glory. He's just the first in a long, long time. Don Trull finished fourth in 1963 and Larry Isbell was seventh in 1951.
If Griffin can put up another huge day, just one week after sustaining a concussion against Texas Tech, there should be nothing to stop the 2011 Heisman from going to a player from -- gulp! -- Baylor.
"For us, we know that if we take care of business that we'll all be in New York [for the Heisman presentation]," Griffin said. "And we'll be wherever else we want to be for a bowl game and we can all celebrate because it's not just about me, it's about the guys that are around me, our coaches and all of Baylor Nation."