Dallas Colleges:

Tre'Von Armstead
May, 1, 2014
May 1
11:00
AM CT
A recap of what we learned about Baylor this spring as the program prepares to defend its Big 12 conference title.
Three things we learned in the spring
:

1.
The nation's No. 1 offense is ready to reload. There's no replacing guys such
Lache Seastrunk
and
Tevin Reese
, but
Bryce Petty
is fired up about the new weapons he gets to work with. RB
Johnny Jefferson
, TE
Tre'Von Armstead
and WRs
Corey Coleman
,
Robbie Rhodes
and
Jay Lee
were a few of the many who stepped up this spring.
2.
Art Briles loves this defensive line. The Baylor coach says he'll put his D-line up against any in the nation, and with good reason. Even after losing some key seniors, a unit that features ends
Shawn Oakman
and
Jamal Palmer
, tackles
Andrew Billings
,
Beau Blackshear
,
Byron Bonds
and the versatile
Javonte Magee
should frustrate opposing offenses.
3.
A historic season ending in heartbreak left the Bears with plenty of motivation this spring. The Tostitos Fiesta Bowl loss to UCF left a sting that troubled Baylor's players and coaches in the winter, and there's a stronger sense that there's unfinished business entering 2014.
Three questions for the fall:
1.
Can Baylor's defense play up to the level of its stellar 2013 unit? DC Phil Bennett is optimistic about the caliber of his new starters, and the depth that BU's strength program is fortifying. But you can't just assume the new guys will immediately match the quality play of
Ahmad Dixon
,
Eddie Lackey
,
Sam Holl
and so many other departed starters.
2.
How will the Bears' offensive line hold up? Losing left tackle
Spencer Drango
midseason was a major blow to this group last season, and while he's back, All-America guard
Cyril Richardson
was one of three senior starters who graduated. Baylor needs
LaQuan McGowan
,
Kyle Fuller
and several others to step up.
3.
What can the newcomers bring to the table? Briles brags that he signed the best wide receiver class in the country, but it's not as if Baylor needed much help at that position. You know the junior college additions will play early on, but what can the rest of the Bears' incoming class contribute?
One way-too-early prediction:
Calling Baylor a lock for a top-10 spot in the polls requires a lot of confidence in a defense that must replace 10 seniors on the two-deep, but the staff believes its talent evaluation and development will pay off big in 2014. But the Petty-led offense is absolutely loaded, and the Bears' sights should be squarely set on fighting for a playoff bid.
April, 17, 2014
Apr 17
9:00
AM CT
WACO, Texas -- Art Briles always wears sleeves. Go ahead, run a Google search. Try to find those forearms. Good luck.
You won't have any more luck getting Briles to reveal what's up his sleeve when it comes his newest offensive strategies. This future of the Baylor offense, and specifically how it intends to tear up opposing defenses in 2014, isn't something he's looking to gab about this spring or any spring.
"Not publicly, no," Briles said. "I like my job. I'm going to keep it."
There's no need to give up any secrets about the Bears' scheme, not when defensive coordinators have surely been scrutinizing it throughout this offseason in search of hints on how to stop it. Yet when you have the nation's No. 1 scoring offense and No. 1 total offense, when you rank first in FBS in yards per attempt and 20-plus yard plays, how can you get any better? What's the next step?
[+] Enlarge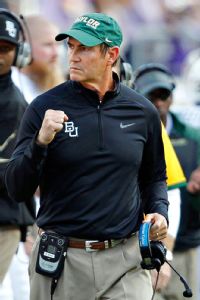 Ron Jenkins/Fort Worth Star-Telegram/MCT/Getty ImagesWhat's up Baylor coach Art Briles' ever-present sleeves for his offense this fall? Don't bother asking, becuase he's not telling.
Bryce Petty
has to pause and think a moment when he hears that question, not because he seeks a calculating answer. It's just a tricky thing to sum up when, really, the goal isn't changing.
"The next level is not just being able to stretch out a defense. The next level for us is to perfect it," Petty said. "It's to say there's honestly not a formation you can do that works. To me, that's the next step, and that's where we're getting to."
Innovation is the name of the game in Waco this offseason, as usual. This high-powered offense still needs new wrinkles, the latest tweaks and tricks, to stay ahead of the game.
And Briles knows this is a copycat game. This fall, you'll see offenses all over the country run the packaged run/pass option plays that Baylor mastered long ago. And that means defenses all over the country will have answers for it, too, which is all the more reason for Briles and his staff to cook up new recipes for scoring.
There's motivation in how Baylor closed out the season, too. It's not just the Fiesta Bowl loss to UCF. Briles knows there was a dip in consistency, that his offense wasn't the same in November and December.
"Honestly, we found that out last year," he said. "Through eight games last year, there's not a team playing better than us in the United States of America. It's hard to stay at that level that long.
He brings up this year's NCAA tournament. You're going to have teams that rise early and slide late, such as Syracuse. You're going to have the ones such as Kentucky that figure it out late in the season. There's just no room for that in college football, not when you're judged on a 12-game sample.
"You can't be a Kentucky (basketball) in football, because you'll never get there," Briles said. "You have to do it every week you step on the field. That's just the way it is."
What makes the job even trickier, as Petty points out, are the games like Kansas State last season. Baylor came to Manhattan fresh off a 73-42 beatdown of West Virginia and had a concrete plan on how to attack the Wildcats.
The plan got crumpled up and tossed aside quickly once K-State rolled out defensive looks the Bears had never seen on film.
"It was
nothing
like what we saw," Petty said. "That's the chess match of it. That's what's fun for me, it's a challenge to say, 'All of our game plan? Throw it out!'"
There will be aspects of the Bears' record-setting 2013 offense that gets thrown out because Briles knows the rest of the Big 12 will have caught up. Baylor has to be different.
"That's the cat-and-mouse game that I love," Briles said with a grin.
He'll have some speedy new cats to work with this fall with true home-run threats such as
Johnny Jefferson
at running back and
K.D. Cannon
at receiver. He'll even work in a few physical freaks like
Tre'Von Armstead
, a 6-foot-5, 280-pound tight end with 4.8 40-yard-dash speed.
They're all pieces to an ever-changing puzzle that will only get more challenging to solve.
"Trying to be perfect? Trying to be innovative? We're not trying," Briles said. "We're being perfect, we're being innovative, being fearless, not trying to open the book and play by what the book says. We're willing to think outside the box. That, to me, is the biggest challenge we have. Because the bar is set so high that it's really hard to maintain that level for an extended period of time."
For a perfectionist such as Briles, and for an offense that aims to score on every single snap, this is the fun part. He can say with pride Baylor was the nation's best for eight games, but in his book, that's not nearly enough.
"We still feel like we really haven't played a season here yet," Briles said. "We're just getting this thing going. We're on the ground floor. So to me, that's very inspirational."