Dallas Colleges:

Ucf Knights
January, 1, 2014
Jan 1
9:00
AM CT
David Hale, who is in Arizona covering the Tostitos Fiesta Bowl, and Big 12 reporter Jake Trotter break down the storylines in Wednesday night's matchup featuring Baylor and Central Florida:
Who is the one Baylor offensive player Central Florida must stop first?
[+] Enlarge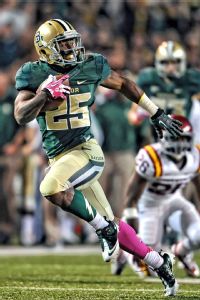 Manny Flores/Icon SMIIf Lache Seastrunk gets going for Baylor, it could be curtains early for UCF in the Fiesta Bowl.
David Hale:
Just one? It seems like the list could actually be pretty long.
Bryce Petty
obviously sets the tone, and UCF can't let Baylor's quick-strike, big-play passing game get going early if it wants to stay competitive. The Knights would love to take away
Antwan Goodley
, but of course, Petty has other weapons in the passing game, too. And then you get to the ground attack, which should feature a healthy
Lache Seastrunk
, looking for his first 100-yard game since October. Really, Seastrunk might be the key because a one-dimensional Baylor offense is at least manageable. If the Bears are moving the ball through the air and on the ground -- look out.
Jake Trotter:
People outside Big 12 country often incorrectly peg Baylor as a finesse, passing team. Sure, Baylor can pass. But Art Briles' offense is predicated on establishing the run first. After all, the Bears lead the Big 12 with 265 rushing yards per game. So for Central Florida to have any shot, the Knights have to corral Seastrunk early. If Baylor sets a quick tone on the ground with Seastrunk, UCF is probably toast.
Central Florida has scored more than 40 points just twice all season. Do the Knights stand any chance if this game becomes a shootout?
Hale:
Well, the numbers certainly don't seem encouraging for UCF. Baylor is averaging 53.3 points per game this year. UCF topped that total just once -- against lowly UConn. Still,
Blake Bortles
is no small-school phenomenon, and he's more than capable of chucking the ball downfield for some big plays. While Petty leads all AQ-conference QBs in completions and TDs on throws of 25 yards or more (courtesy ESPN Stats & Info), Bortles actually completes a far higher percentage of his deep balls (53.3 percent on throws of 25 yards or more, third-best among AQ QBs). Plus, UCF has a flair for the dramatic, with six second-half comebacks this season. Still, keeping pace in a shootout is hardly the Knights' preference, and I'd wager they'd prefer to keep this game from turning into a track meet.
Trotter:
Baylor would love nothing more than for this game to become a track meet. UCF, while possessing a good offense with a great QB in Bortles, lacks the requisite offensive firepower to outscore the Bears. The Knights would be wise to follow a similar game plan that TCU executed against Baylor. Limit the Bears' big passing plays downfield, buck up on third down defensively and get the chains moving offensively to keep the Baylor offense out of sync and off the field. If the Knights can do that, they can give Bortles a fighting chance to win the game for them in the fourth quarter.
Who is the player to watch in this game?
Hale:
The quarterbacks obviously take center stage, and for good reason. Bortles and Petty have been exceptional all season. But if this game is going to be competitive, the key player might be UCF running back
Storm Johnson
. He's a serious talent -- a top recruit out of high school who began his career at Miami before transferring to UCF -- and has 100-yard games against Penn State and Louisville this season. If Johnson can run the ball effectively for the Knights, milking the clock and keeping Baylor's offense off the field in the process, the game could be closer than most predict. If he struggles and it turns into a shootout between the two QBs, Baylor certainly appears to be in the driver's seat.
Trotter:
After wideout
Tevin Reese
suffered a dislocated wrist in early November, the Baylor offense definitely lost some pop. The Bears, who averaged more than 60 points per game for most of the season, scored just 17, 41 (thanks to two defensive touchdowns) and 30 in their final three games. Reese's downfield speed is what stretched defenses vertically to open up the running game. It also left Goodley in single coverage on the opposite side of the field. Reese has been cleared for this game. And if he's close enough to 100 percent, the Baylor attack could return to its early season form. That would not be good for UCF.
October, 24, 2012
10/24/12
4:00
PM CT
Before we get to the Blue Ribbon team-by-team previews for Conference USA, here is Eamonn Brennan's quick wind sprint through the league:
Blue Ribbon breakdowns of all 12 teams in C-USA:
East Carolina
Houston
Marshall
Memphis
Rice
SMU
Southern Miss
Tulane
Tulsa
UAB
UCF
UTEP

More Conference USA content
:
-- Andy Katz with
five things
he can't wait to see in Conference USA
-- John Gasaway answers
five burning questions
for the league

-- Eamonn Brennan's Three Big Things on
Memphis
-- Brennan on the
improved shot of Memphis' Adonis Thomas
and Myron Medcalf's
five questions
for Thomas
-- Brennan rates and analyzes the
nonconference schedules
of the C-USA
-- Katz on
Marshall star DeAndre Kane
and the unexpected tragedy he had to face in the offseason
-- Medcalf on how
new Tulsa coach Danny Manning
is counting on Bill Self's lessons
-- Paul Biancardi identifies the
top freshmen and potential recruits
in C-USA

-- Katz and Greenberg's conversation with
new SMU coach Larry Brown
-- ESPN.com's
Summer Shootaround
preview of C-USA
-- See where
Memphis
and
Houston
ranked in our "50 in 50" series, which attempted to identify the 50 most successful programs of the past half-century
-- For more coverage of Conference USA in the Nation blog,
click here
.
October, 15, 2011
10/15/11
1:08
AM CT
It appears as if the Big East is ready to make a move.
ESPN.com's Andy Katz reported late Friday that the
league has sent conditional invitations
to Houston and SMU in all sports, and Boise State and Air Force in football only. A separate all-sports invitation has been sent to UCF.
According to Katz, if Houston, SMU, Boise State and Air Force all agree to join, then the remaining six football-playing schools will agree to increase the exit fee from $5 million to the $10 million range as a show of commitment to the league. But the remaining football playing schools won't commit to raising the fee unless all four say they will join the Big East.
Houston athletic director Mack Rhoades issued a statement late Friday night saying, "We are aware of the growing speculation regarding conference realignment and do not feel it would be appropriate to comment on the possible intentions of another league. We are flattered to be mentioned as an athletics program of national importance and we are grateful for our strong traditions and the dedication of our fans, alumni, staff and student-athletes."
Earlier in the day, the Mountain West and Conference USA announced the formation of a football alliance. On a conference call announcing the move, C-USA commissioner Britton Banowsky said he had been informed by UCF of its discussions with the Big East. But he said he was unaware of any discussions between SMU, Houston and the Big East. Mountain West commissioner Craig Thompson confirmed Boise State and Air Force were in discussions with the Big East. All four of those schools participated in the vote to form the new MWC/C-USA alliance.
January, 31, 2011
1/31/11
11:44
AM CT
It's recruiting time among the non-AQ teams. Here's a look at the position needs for SMU and TCU for the 2011 signing class. I essentially looked at rosters and depth charts to see where teams were losing experienced players and where they could use some help.

SMU
Defensive backs:
Sterling Moore is gone, and though he missed several games because of injury, when he was on the field he was one of the team's best players. Chris Banjo is going to be a senior and so are Richard Crawford and Justin Sorrell. The Mustangs definitely need depth here.
Offensive line:
The projected starting lineup for 2011 will consist entirely of seniors, including first-team Conference USA lineman Kelvin Beachum. SMU needs improvement in this unit, too. The Mustangs gave up 34 sacks last season, No. 86 in the country.

TCU
Secondary:
The Horned Frogs take a huge hit in their defensive backfield going into 2011, losing six players on their two-deep, including starters Colin Jones, Tejay Johnson and Alex Ibiloye. Projected starters for 2011 Greg McCoy and Tekerrien Cuba will be seniors.
Defensive line:
TCU also loses two senior starters, including Wayne Daniels. It's three starters if you count Kelly Griffin, who got hurt during the season and was replaced in the lineup.
Offensive line:
Four senior starters depart, including center Jake Kirkpatrick and left tackle Marcus Cannon. Plus two projected starters for 2011 will be seniors as well.
December, 4, 2010
12/04/10
2:01
PM CT


ORLANDO, Fla. -- Central Florida scored a touchdown midway through the third quarter to take control and held on for the 17-7 victory to win the Conference USA championship game.

Some thoughts:

* SMU is likely headed to the Armed Forces Bowl, which will be played at Ford Stadium in Dallas because of the renovation work at TCU's Amon G. Carter Stadium in Fort Worth.

* I can't remember a first half this season, especially in C-USA, being that short (about 75 minutes). The teams had seven combined drives and five of them went for more than 10 plays, helping to chew up the clock. The half ended on a UCF field goal to make it 10-0.

* Injuries have hurt SMU this season, and they hurt again Saturday. Sterling Moore's left knee, which has given him trouble for much of the year, was banged up again in the second quarter. Youri Yenga was also hurt in the first half on what appeared to be a leg injury as he missed a tackle on UCF QB Jeff Godfrey and then went down. With just over nine minutes left in the game, cornerback Bennie Thomas needed attention and was taken to the sidelines.

* Godfrey sure can run. He's only a freshman, but the quarterback can make things happen with his feet. There were numerous times when he made the first tackler miss, allowing for positive yardage. He's still raw and a few times ran when he had open receivers on secondary routes, but you can tell he's got a chance to really grow in the UCF offense.

* The UCF crowd was doing the wave while the Knights were on offense early in the third quarter. Just thought I'd mention it, because I don't get why you'd do the wave with your team on offense in a close game early in the second half. But they did seem to enjoy it.

* UCF RB Latavius Murray was the MVP of the game with 115 total yards, 94 on the ground. He had both touchdowns.

* SMU QB Kyle Padron had an up-and-down day, not unlike his sophomore season. The best example was late in the third quarter. Padron converted a fourth down with a laser on an out route to Keenan Holman for 12 yards. But on the next play, he threw the ball to the wrong shoulder (inside instead of outside) to Aldrick Robinson and it was intercepted. That basically ended SMU's hopes with the Mustangs down 17-0 at that point. Padron did have some passes dropped and he tried to make things happen with his feet when he was flushed out of the pocket. But the Mustangs couldn't make enough plays. He had a couple of overthrows on deep balls as well (one to Robinson, who was open in the end zone, in the first half). Padron was 18-of-34 passing for 220 yards, one touchdown and two interceptions.

* UCF cornerback Josh Robinson, who had the INT, also broke up several deep balls and had an excellent game in coverage.

* UCF WRs Kamar Aiken and Brian Watters (among others) took advantage of Moore's absence for big plays across the middle. The SMU secondary had trouble making tackles and the UCF wide receivers were physical and made some nice runs after catches.

* RB Zach Line got away for one long run, a 23-yard scamper in the first half. Line, who has averaged 108. 1 yards per game to lead C-USA, rushed for 94 yards on 18 carries.

* LB Taylor Reed played well on defense for the Mustangs. Before the fourth quarter was barely a minute old, he had 10 tackles, including eight solos, and two sacks.

* WR Darius Johnson, who did not play last week due to a knee injury, had nine catches for 105 yards to lead all Mustangs receivers.

* WR Cole Beasley had a few catches, and one was particularly impressive. He was turned around, reached up and snagged the ball and then kept control while he hit the ground as the Mustangs drove deep into UCF territory in the fourth quarter.

* WR Aldrick Robinson's touchdown marked the seventh straight game in which he's scored a TD.

* LB Justin Smart got his first sack of the 2010 season and did a nice job in place of Yenga. He got into the backfield several times and was in on a gaggle of tackles.
December, 4, 2010
12/04/10
1:29
PM CT
ORLANDO -- Kyle Padron's 22-yard touchdown pass to Aldrick Robinson ends the shutout bid by UCF and puts the Mustangs within 10 points of the Knights.

Padron was 5-for-7 for 66 yards on the drive, including the touchdown. SMU kept the ball for 4:25.

So with 9:15 left, SMU is down 17-7 and hoping to get a stop to get the ball back. The Mustangs are trying to make it interesting.
December, 4, 2010
12/04/10
1:13
PM CT
ORLANDO -- SMU quarterback Kyle Padron made a nice throw on an out route to convert a fourth-and-7 just inside UCF territory.

But the very next play, Padron threw a pass to the wrong shoulder in an attempt to hit Aldrick Robinson down the sidelines and it was intercepted by Josh Robinson to end the drive.

UCF has the ball close to midfield at the end of the third quarter, leading 17-0.
December, 4, 2010
12/04/10
1:01
PM CT
ORLANDO -- After stopping SMU on its initial drive, UCF went 85 yards capped by a 36-yard touchdown run right up the middle by redshirt sophomore running back Latavius Murray. That puts UCF up 17-0.

SMU is without linebacker Youri Yenga and cornerback Sterling Moore and it showed on that drive as UCF got some big plays and the Mustangs had trouble making tackles.

The game is past the midway point in the third quarter and SMU needs a scoring drive to try to stop UCF's momentum.
December, 4, 2010
12/04/10
12:26
PM CT
ORLANDO -- UCF kicked a 29-yard field goal as time expired in the first half to claim a 10-0 lead at intermission.

The combined 10 points for one half are the lowest in the history of the Conference USA Championship Game, easily beating out the 30 scored in the 2006 game.

UCF ended the half with a 13-play, 68-yard drive that took 1:58 to get the field goal. But it could have been worse for SMU. The Knights had the ball at the SMU 3-yard line, but a personal foul penalty on UCF WR Kamar Aiken pushed the ball back 15 yards and put UCF in a third-and-long situation. (On the same play that the flag was thrown, a pass from Jeff Godfrey hit SMU's Chris Banjo between the numbers as he stood in the end zone, but he wasn't expecting it and couldn't get the interception).

UCF scored on its first posession, a 73-yard, 13-play drive that took 7:28 to take a 7-0 lead. That score didn't change despite some long drives by both teams. SMU missed a 47-yard field goal as Matt Szymanski's kick was short (and wide).

SMU has had some chances, but Kyle Padron has overthrown a few deep passes and the Mustangs have been stopped just out of field goal range.

UCF controlled time of possession in the first quarter, but SMU controlled it in the second. We are certainly set up for an entertaining second half to decide which of these teams goes to the Liberty Bowl to likely face Georgia.
December, 4, 2010
12/04/10
12:08
PM CT
ORLANDO -- The Conference USA Championship Game is known more for high-scoring affairs. That's not the case so far with UCF leading, 7-0 with less than two minutes to go before the half.

Time is ticking pretty quickly here because of long drives. The teams have combined so far for six drives and four of them have been 10 plays or more. SMU just punted the ball back to UCF near the end of the half after an 11-play, 45-yard drive that took up 6:50, but didn't result in any points.

UCF remains ahead 7-0 as they try to mount a drive to add to the lead before the half.
November, 6, 2009
11/06/09
6:05
AM CT
Well, 7-1 is not a bad week. Kudos to the SMU Mustangs, who proved me wrong and beat Tulsa on the road. That was a big win that puts them just two victories away from a bowl game, their first since 1984.

Shoutout to Ponyup53, who did have SMU winning. Also, GMoose816 and iruletheskool questioned how I could predict three TDs for Baylor. Well, I just decided to take a chance and thought maybe special teams would play a part in that one. I was wrong. They scored 10 points, as GMoose816 predicted. Nice job there. Oh, and yes, bradlane6, I did get on the field as a member of the marching band. That's nothing to be ashamed about

Onto this week's picks:
Central Florida at Texas: After moving the Texas Tech game to earlier in the year, this comes at a great time for the Longhorns. They are through that tough four-game stretch and remain in position to play for the national title. All they have to do is win. That shouldn't be a problem against George O'Leary's Central Florida team. I can't see Texas looking past this game. Prediction: Texas 48, UCF 6
Texas A&M at Colorado: After losing by the stunning score of 62-14 to Kansas State, Texas A&M has managed to turn things around. They crushed Texas Tech in Lubbock and beat Iowa State. They head to Colorado with plenty of momentum and are improving on both sides of the ball. I think Jerrod Johnson has a big day and the Aggies get to six wins. They remain the biggest hurdle left on Texas' schedule between now and the national championship game. Prediction: Texas A&M 35, Colorado 24
Baylor at Missouri: Baylor played better in the second half of last week's 20-10 loss to Nebraska and the Bears talked this week about putting two halves together and playing better from the start. That's not easy to do on the road. I do think the Bears hang in here, but Missouri will have enough at home to get the job done. Prediction: Missouri 21, Baylor 13
Oklahoma State at Iowa State: The Cowboys made plenty of mistakes and couldn't figure out the Texas defense. But the Longhorns defense has done that to a lot of folks this season. I expect a big bounce-back from OSU on Saturday. Mike Gundy will have his team ready and I imagine we'll see a better performance from Zac Robinson, who must forget about last week. Prediction: Oklahoma State 35, Iowa State 14
Oklahoma at Nebraska: This should be a fun matchup of good defenses. And it's always fun to watch Nebraka's Ndamukong Suh. But I still think Oklahoma will pull away enough to win this game by 10 or more. I know that they had a big lead and watched Kansas State close that gap considerably last week. I think this one stays close and then the Sooners get a few big plays late. Prediction: Oklahoma 24, Nebraska 13
Rice at SMU: The Mustangs are heavy favorites and they should be. Rice is 0-8 and has been outscored by 245. SMU has a bunch riding on these last four games. If the Mustangs win two of them, they are going bowling. They'll be fired up and should take care of business. I'll be blogging from that game on Saturday, by the way, to see if SMU can get within one win of bowl eligibility. Prediction: SMU 45, Rice 17
Louisiana-Monroe at North Texas: The Mean Green managed to pull out a high-scoring affair with Western Kentucky (we mean really high, as in 68-49) last week and are looking for a third win this season. Louisiana-Monroe is good against the run, sitting at No. 16 in the country. So it will be interesting to see if UNT can gain yards on the ground with Lance Dunbar. La.-Monroe is not as good at defending the pass, so the Mean Green may have to get this done in the air. This is a tough one to pick, but I'll go with the home team. Barely. Prediction: North Texas 27, Louisiana-Monroe 24
TCU at San Diego State: The Frogs better not look past the Aztecs toward next week's home game with Utah. San Diego State is 4-4, but they hung around with BYU before losing by 10 and have won two straight, including a victory at Colorado State. TCU has struggled on the road against the Aztecs the last two trips to San Diego (won by 3 in 2005 and needed to rally from 17 down in the first quarter in 2007). But as has been the case with this TCU team this season, they manage to not get ahead of themselves. I think they get this done, but it won't be any kind of UNLV score from last week. Look for TCU to have success running the ball. That includes plenty of Andy Dalton zone reads too. Prediction: TCU 28, San Diego State 13
November, 5, 2009
11/05/09
5:43
AM CT
When you're the No. 2 team in the country playing a team outside your conference that critics think pose no threat, sometimes it helps to find some added motivation.

Texas coach Mack Brown was quick to remind anyone that would listen that Central Florida gave the Longhorns all they could handle two years ago.

"All we have to do is look back to 2007," Brown said earlier this week. "They kicked an onside kick late in the game; we won, 35-32. Their seniors were on that team as sophomores a couple years ago so they will be coming here with a lot of confidence because they know they played us that well at that time.

"George O'Leary is a great football coach. He is a guy that will try to slow the game down. They will try to run the ball. They will try to hit some deep play-action passes. They will do a good job in the kicking game. They are No. 9 in the country in run defense and No. 8 in the country with 27 sacks. They bunch to stop the run and put a lot of pressure on the quarterback."

Brown added this warning later on: "They are a team that you better be ready to play."

Texas and Central Florida play at 11 a.m. in Austin on FSSW.