Dallas Colleges:

Utah State Aggies
November, 21, 2010
11/21/10
7:38
PM CT
By
Jeff Caplan
| ESPNDallas.com
The
TCU Horned Frogs
remained No. 3 in the
latest BCS rankings
released Sunday evening. After a bye week, they'll finish up the regular season Saturday at woeful
New Mexico
.
It could also be the week that No. 4
Boise State
(10-0), which made up ground on the Frogs (11-0) after another blowout win -- 51-0 over
Fresno State
-- pass the Frogs. Boise plays at No. 19
Nevada
on Friday night on ESPN.
The points gap between TCU (.8995) and Boise (.8860) is now razor thin. If the Broncos defeat the Wolf Pack handily it is widely presumed that Boise will overtake the Frogs at the No. 3 spot next Sunday. The Broncos finish the regular season at home Dec. 4 against
Utah State
.
Of course, both non-AQ schools continue to hold out hope that either No. 1
Oregon
(10-0) or No. 2
Auburn
(11-0) or both slip. The Tigers still must play at No. 11
Alabama
on Friday and then against No. 18
South Carolina
in the SEC Championship. The Ducks play at home against No. 21
Arizona
on Friday and at
Oregon State
in the Civil War on Dec. 4.
November, 13, 2010
11/13/10
7:19
PM CT
By
Jeff Caplan
| ESPNDallas.com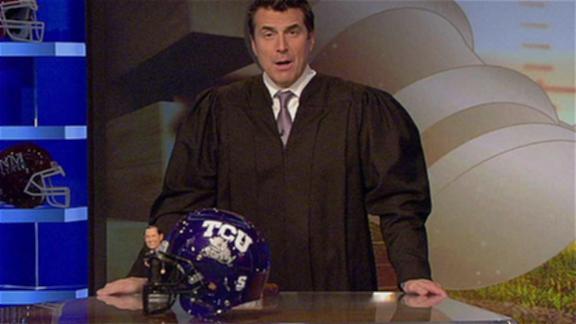 TCU
coach Gary Patterson preaches winning by one. In theory, that's great. But this is the unapologetic BCS, and now the third-ranked Frogs must wait anxiously to see if a five-point win over the unranked
San Diego State Aztecs
-- 40-35 after leading 34-14 at halftime -- will be enough to stay ahead of No. 4
Boise State
when the BCS rankings are released Sunday.
The stakes are incredibly high as TCU (11-0, 7-0 Mountain West Conference) heads into a bye week with one regular-season game remaining at woeful
New Mexico
after Thanksgiving. Boise State on Friday throttled
Idaho
, 52-14, and if the Broncos only close the gap on TCU, they still have three games remaining (vs.
Fresno State
, at No. 21
Nevada
, vs.
Utah State
) to thrust their high-powered offense and stingy defense upon the voters.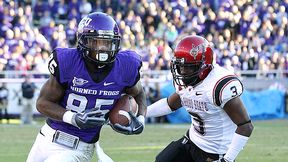 Matthew Emmons/US PresswireJeremy Kerley and TCU head into a bye week filled with BCS uncertainty.
The question now is if the polls will punish the Frogs -- who fell behind the juiced Aztecs (7-3, 4-2) 14-0 in the opening six minutes only to score 34 unanswered points -- for winning at home by a slim margin when the line was set at four touchdowns. TCU mostly dominated the stats and had possession twice as long. But, if the polls follow similar logic, TCU could be in trouble.
Remember back when TCU beat SMU by 17, but didn't show great and fell a spot in the AP Top 25 poll (which is not part of the BCS formula). Two weeks ago, riding a wave of impressive conference blowouts, the Frogs jumped Boise despite the Broncos routing their WAC opponents.
TCU widened the gap on Boise and were widely hailed as title-game worthy after their 47-7 road demolition of then-No. 5
Utah
.
But, the Utes did the Frogs no favors Saturday, getting blasted at hapless
Notre Dame
and perhaps cementing the belief that Utah was overrated, as well as denting the MWC's credibility as a menacing conference.
What does it mean if TCU drops behind Boise? Everything. The highest-ranked non-automatic qualifier is first in line for an automatic BCS berth -- this year into the Rose Bowl -- and remains on the doorstep of a possible national championship game appearance if, seemingly, No. 1
Oregon
, slim winners over
California
Saturday night, or controvery-ridden No. 2
Auburn
, big winners earlier in the day over
Georgia
, lose in their final games.
If TCU were to fall behind Boise, there is little time now to make another move.
The second-highest ranked non-AQ might find itself out of the BCS mix entirely, needing an at-large bid to get in, but knowing that the major conference's non-champions could fill the three precious spots remaining.
Yes, it will be a nervous 24 hours for the Frogs, who will find out if they were truly victorious on Saturday.
March, 18, 2010
3/18/10
7:37
AM CT
By
Jeff Caplan
| ESPNDallas.com
Texas A&M
senior
Donald Sloan
, knowing his career is coming to a close, has a definite sense of place and time.
Sloan will begin play in his fourth consecutive NCAA Tournament on Friday when the No. 5 Aggies face No. 12
Utah State
in Spokane, Wash. Tip-off should be around 3:45 p.m.
The Aggies' leading scorer remembered his first NCAA Tournament when the Aggies, seeded 12th, upset No. 5 Syracuse. A&M lost in the second round on a buzzer beater against LSU. The next year A&M broke through the to the Sweet 16.
"My freshman year you had great leaders out there, the same thing my sophomore year and my junior year I had a little bit more to do with it than in previous years and now it's like I'm the leader, we're leaders, me, Bryan [Davis]. B.J. [Holmes], Nate [Nathan Walkup], the guys that have been to as many tournaments as we've been to," Sloan said. "Instead of me looking for Josh [Carter] to try to feed off him or Dominique [Kirk] or Acie [Law], now it's the younger guys feeding off me and B.D. and the guys that have been there before.
"So it's really important that we try to play our best and come out with a lot of emotion and intensity early to set the tone for the young guys, to let them know how this tournament is going to be because we're going to need them."
March, 16, 2010
3/16/10
11:07
AM CT
By
Jeff Caplan
| ESPNDallas.com
Texas A&M
point guard
Dash Harris
is going to try to play Friday when the No. 5 Aggies open the NCAA tounament against No. 12 Utah State in Spokane, Wash.
Harris missed both Big 12 tournament games with a bone bruise on the outside of his right wrist. A&M coach Mark Turgeon said Harris saw a hand specialist on Saturday and returned to practice on Monday. Harris' wrist won't be pain-free, but the 6-foot-1 sophomore from Los Angeles will just have to deal with that.
His return helps the Aggies in two key areas: defensive pressure and offensive balance. Harris typically guards the opponent's top scoring guard, and with the ball in his hands he sets up A&M's halfcourt offense which allows
B.J. Holmes
, Harris' replacement in Kansas City, to concentrate more on scoring off the bench.
"Offensively, we flow better," Turgeon said.
Turgeon believes the Aggies are a different defensive team with Harris on the floor. A&M allowed opponents to shoot 41.1 percent during the regular season, so Turgeon was displeased in Kansas City after Nebraskas shot 50 percent and Kansas shot 56 percent. In their regular-season matchups, A&M limited Nebraska to 37 percent, while Kansas shot just 43.5 percent, using a late to run to overcome the Aggies.
"If we want to have any chance this weekend," Turgeon said, "we need to have Dash back and healthy."
March, 14, 2010
3/14/10
8:21
PM CT
By
Jeff Caplan
| ESPNDallas.com

No. 5 Texas A&M is happy with its seeding and happier that it won't open play in its fifth consecutive NCAA tournament until Friday. The Aggies face No. 12 Utah State, no stranger to the Big Dance, in a first-round game in Spokane, Wash., and they believe they will have their floor general, starting point guard Dash Harris, back in uniform.

Harris missed both games in last week's Big 12 tournament with a bone bruise in his wrist that he suffered in the regular-season finale. After A&M's semifinal loss to No. 1 Kansas, Harris said he expected to be ready this week. With a couple of other players dinged that has limited the number of players A&M has had available for practices, the schedule worked out as well as possible.

"Playing on Friday gives us more time to prepare and get some guys healthy," said coach Mark Turgeon, making his third consecutive trip to the tournament as the Aggies' head coach. "We have a lot of confidence and we just want to improve between now and Friday."

A&M (23-9) has won nine of its last 12 games, with its only losses coming to No. 1 Kansas twice and at Baylor, which was awarded a No. 3 seed and will start play Thursday in New Orleans against Sam Houston State. It's possible that A&M and Baylor could meet in Houston in the Elite 8 round.

Right now, no one's thinking that far ahead.

"We are playing a very good team in Utah State and need to bring all we've got and put it on the table. Nothing is ever easy in the NCAA tournament," senior forward Bryan Davis said. 'Every game has the potential to be my last at A&M, but I've played every game for three years like it was my last. We've just got to go out and play as hard as we can. We've accomplished a lot this year, but we're not done yet."