Dallas Colleges:

Virginia Tech Hokies
December, 19, 2011
12/19/11
8:00
AM CT
The Pac-10 and Big 12 nearly got married last year, but only Colorado ended up eloping with the now-Pac-12.
You know: The conference that can count!
But the Pac-12, which has, yes, 12 teams, and the Big 12, which has 10 teams (though it's often hard to keep up with which ones), play each other in three bowl games this holiday season.
Joy to the world.


So it seemed like a good time for the Pac-12 and Big 12 bloggers -- Ted Miller and David Ubben -- to say howdy and discuss all the coming fun.
Ted Miller
: Ah, David, the bowl season. Pure bliss. Unless you're the Pac-12, which is expected to get a whipping from your conference over the holidays. We have three Pac-12-Big 12 bowl games with the Tostitos Fiesta Bowl between Stanford and Oklahoma State, the Valero Alamo with Baylor and Washington, and the Bridgepoint Education Holiday matching California and Texas. And the Big 12 is favored in all three!
Poor ole West Coast teams. What are we to do? It's almost like the Big 12 is the SEC or something. Speaking of which, how are things with your Cowboys? Are they over not getting a shot at LSU for the national title? Are they excited about getting a shot at
Andrew Luck
and Stanford? We might as well start with that outstanding matchup in Glendale.
David Ubben
: You know, I was actually a little surprised. I stuck around Stillwater for the BCS bowl selection show announcement, and the players took the news pretty well. They found out an hour before, but there wasn't a ton of down-in-the-dumpiness from the Pokes. When you've never been to this point before, it's a bit difficult to develop a sense of entitlement. If Oklahoma had OSU's record and was passed over by Alabama and sent to the Fiesta Bowl for the 17th time in the past six years, you might have had a different reaction.
But Oklahoma State's first trip to the BCS and first Big 12 title aren't being overlooked. These players are looking forward to this game. There's no doubt about that.
I know the Big 12 seems like the SEC, but I have a confession, Ted. I wasn't supposed to tell anybody, but I can't hold it in anymore. When the Big 12 began back in 1996 ... wow, I'm really going to do this ... then-SEC commissioner Roy Kramer graciously allowed the league to keep two of his teams. The league made a similar arrangement with the Big Eight a century ago, and the Southwest Conference around the same time. Missouri and Texas A&M are really wolves in sheep's clothing: SEC teams just pretending to be in other leagues. So, that might explain the Big 12's recent dominance.
These should all be fun games, though. I ranked two of the matchups among the top three in my bowl rankings.
As for the big one, they say you learn more by losing than by winning. Stanford got its first BCS win. How do you think that experience plays into this year's game? I hate to ruin the surprise, but Oklahoma State's a bit better than the Virginia Tech team Stanford beat last season. OSU's loss to Iowa State this season is bad, but it's nothing like the Hokies' loss to James Madison last season.
[+] Enlarge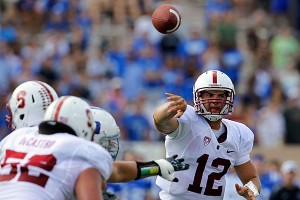 AP Photo/Gerry BroomeQuarterback Andrew Luck leads Stanford into its second consecutive BCS bowl, this season against Oklahoma State in the Fiesta Bowl.
Ted Miller
: Not only is Oklahoma State better than Virginia Tech, it's still questionable whether this Stanford team is better than last year's. Since we're going all crazy and whispering about the SEC, there was a feeling out West that by the end of the 2010 season the Cardinal might not only be the best team in the Pac-12 but also in the nation. They were big and physical and quarterback Luck actually had a solid receiving corps with which to work. After a loss to Oregon in the fifth game, they didn't lose again until playing, er, Oregon in this year's 10th game. If we could go back in time and have the Cardinal play Auburn, I think Stanford would have won the national title.
But that's 2010. The difference this year is the season-ending knee injury to middle linebacker Shayne Skov, who was an All-American candidate, a slight step back on the offensive line and a lack of top-flight receivers. But if Oklahoma State fans are looking for something to worry about it is this: Stanford's running game.
The Pokes are bad against the run, and they haven't faced a team that is as physical and creative in the running game as Stanford. As much as folks talk about Luck's passing, it's his run checks that often ruin a defense's evening.
The Fiesta Bowl matchup looks like a great one, perhaps the best of the bowl season. But I'm excited to see Mr. Excitement
Robert Griffin III
in the Alamo Bowl against Washington. Of course, I'm not sure that the Huskies, their fans and embattled Huskies defensive coordinator
Nick Holt
are as thrilled. First, tell us about what Washington should be most worried about with Griffin. Then tell us about Baylor in general. Such as: Can the Bears stop anyone?
David Ubben
: Nope. Not really.
Oklahoma State's defense unfairly gets a bad rap. Baylor's bad rap is earned. This is the same team that won five consecutive games late in the season -- but became the first team ever to win four consecutive in a single season while giving up 30 points in each.
[+] Enlarge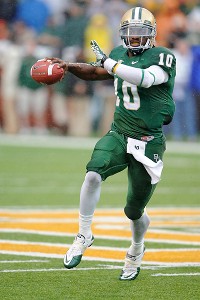 Jerome Miron/US PresswireBaylor's Robert Griffin III will try to make it three straight bowl victories by Heisman Trophy winners.
Which, if you ask me, says plenty about both the defense and the power of RG3. They've got a lot of athletes on the defense, but when four of your top five tacklers are defensive backs, well, you need a guy like RG3 to go 9-3.
The man is a nightmare. Top to bottom, he's the most accurate passer in a quarterback-driven league. Then, you add in his athleticism, which he doesn't even really need to be extremely productive. It sets him apart, though, and forces defenses to account for it, and it buys him time in the pocket. How many guys break a 20-plus yard run before hitting a receiver for a game-winning 39-yard score to beat a team like Oklahoma for the first time?
How do you think Washington will try to slow him down? What has to happen for them to have some success?
Ted Miller
: This game matches the 99th (Washington) and 109th (Baylor) scoring defenses. It has a 78-point over-under, the biggest of any bowl game. The offenses are going to score plenty, at least that's the conventional wisdom.
How does Washington stop RGIII? His name is
Chris Polk
. He's a running back. Baylor gives up 199 yards rushing per game. Polk right, left and up the middle is a good way to contain Griffin. The Huskies' best hope is to reduce Griffin's touches with ball control. It also needs to convert touchdowns, not field goals, in the redzone. The Huskies are pretty good at that, scoring 36 TDs in 45 visits to the red zone.
The Huskies also have a pretty good quarterback in
Keith Price
, who set a school record with 29 touchdown passes this year. He and a solid crew of receivers have prevented teams from ganging up against Polk. But Polk is the guy who burns the clock.
Should be a fun game. As should, by the way, the Holiday Bowl. David, Cal fans are
still
mad at Texas coach Mack Brown and his politicking the Longhorns into the Rose Bowl in 2004. Every team wants to win its bowl game, but the Old Blues really want to beat Brown.
Of course, neither team is what it was in 2004. Cal has an excuse. It's not a college football superpower. Sure you've been asked this before, but give me the CliffsNotes version of why the Longhorns have fallen so hard since playing for the national title in 2009.
David Ubben
: Cal fans are still mad? Really? I'd suggest they get over themselves. What's anybody on that Cal team ever done anyway? It's not like the best player in the NFL missed out on a chance to play in the Rose Bowl. Now, if that were the case, we might have a problem. But honestly, I don't think Tim Tebow cares all that much about the Rose Bowl.
As for Texas' struggles?
The easy answer is quarterback play. Texas relied on Colt McCoy and Jordan Shipley more than anyone realized. When they were gone, Texas couldn't run the ball, and quarterback Garrett Gilbert never made it happen. Two seasons later, the Longhorns still don't have a quarterback.
The other big answer last season was turnover margin. Gilbert threw 17 interceptions and the Longhorns were minus-12 in turnovers, which ranked 115th nationally.
They were still only 90th this year, and without solid quarterback play in a Big 12 dominated by passers, they scored five, 13 and 17 points in three of their five losses. Texas keeps people from moving the ball and runs the ball better this year, but without a solid passing game and a defense that changes games, it's tough to rack up wins in the Big 12.
It's been awhile since Cal was in the mix for the BCS, even as USC has fallen. Oregon answered the call and rose, but what has prevented Cal from winning the Pac-10 and Super Pac-10 since the Trojans' swoon?
Ted Miller
: You mention quarterback play. Cal fans ... any thoughts? You mention Aaron Rodgers. Cal fans? Oh, well, that's not very nice during this festive time of the year.
Cal has become a solid defensive team, but it's lost its offensive mojo, and that can be traced to a drop in quarterback play since Rodgers departed. The latest Bears quarterback,
Zach Maynard
, started fairly well, stumbled, but then seemed to catch on late in the season. It's reasonable to believe the team that gets better quarterback play -- mistake-free quarterback play -- is going to win this game.
Nice to cover a conference where quarterback play matters, eh David?
Speaking of quarterback play and winning, let's wind it up. Our specific predictions aren't coming on these games until after Christmas. But we can handicap the Big 12-Pac-12 side of things. We have a three-game series this bowl seasons.
I say the Pac-12, underdogs in all three games, goes 1-2. What say you?
David Ubben
: And to think, before the season, all I heard was the Pac-12 had surpassed the Big 12 in quarterback play. Did somebody petition the NCAA for another year of eligibility for Jake Locker and/or clone
Matt Barkley
? You West Coast folk are geniuses; I figured you'd find a way. We can't all be Stanford alums ...
Clearing out all the tumbleweeds here in middle America, I'll go out on a limb for the Big 12 in this one. Every matchup is a good one, and I don't think Cal has seen a defense like Texas' and Washington hasn't seen an offense like Baylor's. People forget that, yeah, RG3 is outstanding, but the Bears also have the league's leading receiver and leading rusher.
Stanford-OSU is a toss-up, but I'll go with a perfect sweep for the Big 12. The Cowboys haven't played poorly on the big stage yet, so I'll give them the benefit of the doubt in this one, and they clean up for the Big 12 against what was almost its new conference this fall.
Oh, what could have been. Ubben and Miller on the same blog? Divided ultimately by a little thing we call the Rockies.
September, 18, 2010
9/18/10
9:45
AM CT
By
Jeff Caplan
| ESPNDallas.com
The pride of the AQs, or "automatic-qualifiers" in BCS language, falls on the
Baylor Bears
this afternoon when they ride into Fort Worth to meet the No. 4
TCU Horned Frogs
.
We've seen TCU dump then-No. 24 Oregon State; Boise State beat then-No. 10 Virginia Tech, BYU bounce Washington and Utah take down Pittsburgh. On Friday night, the embarrassments continued for the big AQs as the WAC's
Nevada Wolf Pack
whipped the Pac-10's
Cal Bears
and
Southern Miss
routed
Kansas
, a Big 12 team that's already lost to a FCS foe.
The oddsmakers don't believe Baylor of the Big 12 has a chance to act like one of the big boys against the Mountain West's non-AQ Frogs. The Bears are more than three-touchdown underdogs.
What could play a major factor in the 3:30 p.m. kickoff at sold-out Amon G. Carter Stadium is the insufferable heat descending on the city. The temperature is forecast to soar to 96 degrees and well over 100 degrees on the field when taking in the heat index.
Both teams are equally adjusted to broiler-like conditions, but whichever team is in the best physical condition as the game wears on will likely have the advantage if the game is close in crunch time.
September, 7, 2010
9/07/10
2:09
PM CT
So, the little guys get no respect, huh? Here's respect for you. In the
AP Top 25 poll
released Tuesday,
Oklahoma
and
Florida
took a tumble after sloppy performances, while
TCU
moved up two spots to No. 4 and No. 3
Boise State
garnered eight first-place votes, twice as many as No. 2
Ohio State
.
In terms of the national title picture, Boise and TCU are right there. And for the Frogs, they were just a couple of minutes away from likely taking Boise's third spot as it appeared
Virginia Tech
was going to complete the comeback and beat the Broncos on Monday night.
"We were all watching it," TCU linebacker Tank Carder said. "I was kind of feeling that they [Boise] were going to come back and do it."
A Boise loss would have eliminated the Broncos from any national title possibilities, and perhaps from the BCS picture, while elevating TCU as the lead horse in the race of the non-automatic qualifiers to get back to the BCS and possibly more.
"I had to root for Boise," Patterson said. "They're going to come in the [Mountain West] conference. You had to root for Boise, [even though] they could hurt us. I always believe that things happen for a reason. Things are going to happen for a reason."
Boise finished the job behind quarterback
Kellen Moore
in the final minutes with a touchdown drive. The Broncos' next big test is in three weeks against now-unranked
Oregon State
, which dropped its No. 24-ranking after a 30-21 loss to the Frogs Saturday night at Cowboys Stadium. The Broncos have this week off and play at
Wyoming
in two weeks.
The Frogs get Tennessee Tech for their home-opener on Saturday and will face
Baylor
at home in two weeks.
"You can't worry about it. All you can do is take care of yourself and play each week and let the chips fall as they may," TCU reciever Bart Johnson said of the rankings. "I wouldn't have been really disappointed if they had lost."
That they didn't only makes the coming weeks that much more intriguing.
September, 7, 2010
9/07/10
10:36
AM CT
By
Jeff Caplan
| ESPNDallas.com
It's hard to fathom the emotions that were pumping through
TCU
coach Gary Patterson and the Horned Frogs last night as they watched
Boise State
come back from the brink and defeat No. 10
Virginia Tech
.
The Frogs' faithful, both old and new, were hoping for the third-ranked Broncos to loss, which would have put No. 6 TCU in the driver's seat for a BCS game and even possibly a berth in the national championship game if it can run the table.
What was Patterson and his players thinking as Monday night's game unfolded? We'll let you know in a few hours after TCU holds its media luncheon.
Stay tuned.
August, 21, 2010
8/21/10
10:26
AM CT
By
Jeff Caplan
| ESPNDallas.com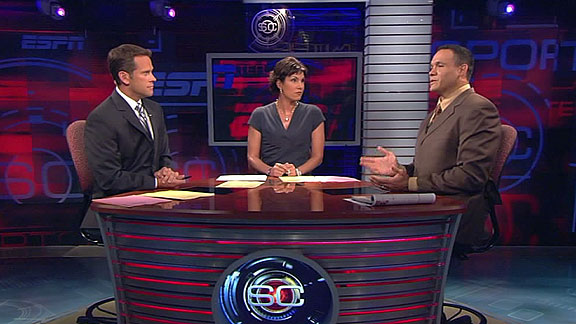 Coming off a first-ever BCS appearance and returning 19 starters, the
TCU Horned Frogs
begin the 2010 season ranked No. 6 in the
Associated Press Top 25 poll
released Saturday morning. It is the highest preseason ranking ever for the Frogs, who came in at No. 7 in the coaches' preseason poll.
No surprise, defending national champion
Alabama
is No. 1 and
Ohio State
came in a distant second.
The Frogs sit between familiar company. The
Texas Longhorns
begin the post-Colt McCoy era ranked No. 5 and the
Oklahoma Sooners
return from an injury-ravaged season at No. 7.
The
Boise State Broncos
, the other main BCS-buster with TCU, opens at No. 3, its best preseason ranking coming after last year's undefeated season that included a 17-10 win over the Frogs in the Fiesta Bowl.
For TCU and Boise, the ranking puts those programs in prime position to make a run not only at another BCS game, but at a possible national championship game appearance if either team can run the table. Last season, TCU started at No. 17 and climbed to No. 4 after going undefeated in the regular season. Many observers believed TCU came within one second of playing Alabama in the Rose Bowl for the national championship before Texas kicked a last-second field goal to beat
Nebraska
(ranked No. 8 in this season's preseason poll) in the Big 12 title game to secure its place opposite Alabama. A Nebraska victory might have pushed the Frogs over the top. Boise started last season at No. 14 and rose to No. 6 prior to the Fiesta Bowl.
A team from a non-automatic qualifier conference such as the Mountain West or WAC has never played for a BCS national title. With two such teams ranked in the top six to start the season, could this be the year?
"I don't know. We'll see in December. We'll see if somebody can be undefeated," TCU coach Gary Patterson said. "If they are, then they should get an opportunity if they started high enough, like Boise or ourselves."
TCU will begin its quest in two weeks, on Sept. 4 at Cowboys Stadium against the
Oregon State Beavers
, who come in at No. 24. Boise State opens the season on Sept. 6 in Washington D.C. against No. 10
Virginia Tech
.
Let the games begin.
August, 20, 2010
8/20/10
12:10
PM CT
By
Jeff Caplan
| ESPNDallas.com
UPDATE:
The Mountain West Conference issued this
brief statement on its blog
at 1:06 p.m., regarding the Thursday meeting between officials from the Mountain West Conference and Conference USA:
"Followed up on various media reports regarding a potential Mountain West Conference-Conference USA merger, and confirmed that representatives of both leagues did indeed meet yesterday in Colorado Springs. Included were Commissioner Craig Thompson, Commissioner Britton Banowsky (who have a long-standing personal and professional relationship), and a couple MWC Athletics Directors. The informal gathering, which was previously scheduled, covered a wide range of topics, including concepts regarding television, scheduling and the BCS. Yet another example of the Mountain West's ongoing strategic thinking on a number of fronts, as the league continues to position itself in the national landscape."
***
So the Mountain West Conference and Conference USA have apparently put their two brains together and are talking a one-game showdown -- champion vs. champion -- with the winner being granted an automatic BCS berth.
First question:
On the surface, it seems ludicrous, so why would the BCS agree to give an automatic bid to a non-automatic-qualifying conference team every year?
Answer:
They won't (in my opinion, but let's continue...). Conference USA hasn't sniffed a BCS berth since long-departed Louisville in 2004 and Tulane a dozen years ago. Last season, unranked East Carolina knocked off No. 18 Houston in the C-USA championship game. East Carolina went to the Liberty Bowl and lost to unranked Arkansas, 20-17, and finished with a 9-5 record. Houston came to Fort Worth and got shellacked by unranked Air Force, 47-20, in the Armed Forces Bowl to finish 10-4. Since the 2006 season, no C-USA team has finished with fewer than three losses. In three of those four seasons, the league's best team had four losses. Can you imagine the national outrage had 9-4 East Carolina actually played its way into the BCS by upsetting TCU in a one-game bonanza?
That's reason enough to end this conversation right here, right now ... but, having said that, the one reason the BCS might bend and agree to such a scenario would be to avoid the embarrassment of last season when it had to deal with two BCS-busters and threw TCU and Boise State into the Fiesta Bowl to eat their own. A MWC vs. C-USA playoff would lump 23 teams (assuming today's count for the 2011 season of 11 teams in the MWC and 12 in C-USA -- things can change quickly, like, say Houston switching sides, but the numbers would stay the same) together and immediately lop off 22. No longer would the BCS have to worry about two teams messing things up.
Second question:
This is a no-brainer for C-USA, which has never sent a team to a BCS game, but why would the superior MWC want any part of this?
Answer:
Last year, TCU and Boise State both crashed the BCS, but two years ago, undefeated Boise State was left to play one-loss TCU in the Poinsettia Bowl. Would Boise have taken a one-game playoff against the C-USA champ for a shot to play on the big-money stage? Of course. What if TCU and Boise both go undefeated this season? One scenario: Boise gets the BCS bid and unbeaten TCU is invited to the Las Vegas Bowl. Gary Patterson has worked too hard to elevate TCU to a national platform to just give unproven C-USA a ticket to the BCS gates, but in the current system, Patterson might figure he has a better shot each year to win his conference and then win one more against the C-USA champ to ensure getting into the BCS rather than depend on BCS calculations to determine his team's fate.
Also, this would eliminate the undefeated-or-forget-it situation that now exists in the non-automatic-qualifer conferences, easing pressure on TCU and Boise State and the others to sweep their non-conference schedules, typically highlighted by two to three tough matchups against major-conference schools (TCU plays Oregon State and Baylor this season; Boise plays Virginia Tech and Oregon State). A loss in September wouldn't end all BCS hope as it does now.
The MWC and C-USA are also looking toward the future. Although the superconference model didn't come to fruition this summer, nobody is shortsighted enough to believe the Big 12 is stable and the Big Ten and SEC won't seek to expand. When and if superconferences emerge, schools in the MWC and C-USA won't hold their breath for an invite, and that includes TCU. Arranging this championship game would possibly ensure a spot in the BCS when the landscape again changes.
Third question:
Would such a championship game generate more money for the two conferences?
Answer:
How much is debatable. Surely, ESPN would pay for an elimination game, but it certainly wouldn't rank up there with, say, the attractiveness and popularity of the SEC championship game. And, revenue generated from a championship game would seemingly have to be split among the 23 teams, further watering down the profit margin.
Alternate solution:
Merge. Let's say the Mountain West bids farewell to New Mexico, Wyoming and San Diego State (WAC, anyone?) and moves forward with eight -- TCU, BYU, Boise, Air Force, Colorado State, Fresno State, Nevada and UNLV -- and invites four from C-USA -- Houston, Memphis, Tulsa and maybe Southern Miss for a 12-team conference with a championship game. That's not bad football to take to ESPN and other networks to hammer out a more lucrative TV deal than either conference has now. It's also a stonger product than either can currently take to the BCS for eventual automatic inclusion.
August, 17, 2010
8/17/10
6:56
PM CT
By
Jeff Caplan
| ESPNDallas.com
A couple of weeks ago,
TCU
coach Gary Patterson hinted that the Horned Frogs would break out a special uniform again this season and quite possibly in the Sept. 4 season opener against
Oregon State
at Cowboys Stadium.
TCU has again been selected as one of 10 programs to wear uniquely designed Nike uniforms for at least one game. In fact, both teams could be wearing the uniforms in the opener at Cowboys Stadium since the Beavers were also included the group of 10.
It's not a given either team will break out the new duds then -- although it would make the most sense with the game being televised nationally on ESPN. The dates of those games that the teams will wear the uniforms will be announced at the unveiling of the uniforms Sept. 1 in New York City. TCU twice wore a special Nike Combat uniform last year, debuting it at home against Utah and then again in the Fiesta Bowl. It's not how this season's uniform might differ from last season's.
The other eight schools that will wear the uniforms are: Alabama, Boise State, Florida, Miami (Fla.), Ohio State, Oregon State, Pittsburgh, Virginia Tech and West Virginia.