Dallas Colleges:

Will Russ
August, 10, 2012
8/10/12
3:21
PM CT
AUSTIN, Texas -- At the tail end of Texas' season, with the kicking game about to be shambles, Mack Brown put in a call for help.
"We actually called the soccer club … and said, 'Got anybody that can kick and has a great leg?'" Brown said.
That's how
Michael Davidson
, who had never kicked a field goal in a game, but spent the entire Christmas break at Houston's Strake Jesuit High School teaching himself the few things he had watched on YouTube, tried out and was put on the roster after spring practice.
[+] Enlarge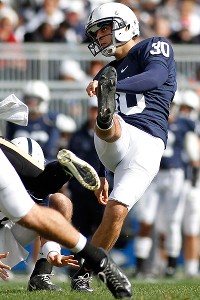 Justin K. Aller/Getty ImagesPenn State transfer Anthony Fera brings the most experience to the Longhorns' roster of kickers.
"He's a guy that's got a great leg and we'll watch him," Brown said.
Davidson is not the only guy Texas will watch this fall. There are eight kickers and punters in Texas' fall camp. Three of those are scholarship players --
Anthony Fera
, the transfer from Penn State, incoming freshman
Nick Jordan
and sophomore Will Russ.
Clearly, Justin Tucker's value just went through the roof. The last time one player had to be replaced by so many others Herschel Walker and the Minnesota Vikings were involved.
But Tucker was a guy who did it all for Texas. And he handled it well. Just ask Texas A&M.
In fact, Texas has always had a guy who could handle the kicking duties. In Brown's 14 years the Longhorns are 8-for-8 on game-winning field goals. Net punting has been more hit or miss with a high of No. 3 in 2007 and a low of No. 93 in 2009. Most of Brown's years, Texas has been middling at best.
With the 2012 season at least appearing to be one where Texas could be a lower-scoring, grind-it-out, field-position offense, kicking and punting could play a large role. Larger than most even expect.
"We set a lot of goals for preseason camp," Brown said. "What we do is, No. 1, would be to try to have the best kicking game in America."
OK, maybe there could be more pressing concerns, but at least according to Brown, the team's first goal is the kicking game.
Guess he saw the red zone stats last year, too. (Worst ever touchdown percentage by any team in Big 12 history.)
Since that emergency call was placed to the Texas club soccer team, a few other calls have come into Texas. The first was from
Alex King
, a punter previously at Duke. He needed a place to go to graduate school and a team on which to punt. Texas took a look at his 42-yard average and said there was a walk-on post waiting for him.
The next call came from Fera. The Penn State transfer wanted to be back in Texas, and closer to his mom who has MS. Texas needed a veteran kicker -- Fera was 14-of-17 for the Nittany Lions last year -- and welcomed yet another kicker.
King and Fera, like the other specialists, were only guaranteed a roster spot, not a starting one.
"We told Anthony that when he came to visit and we told Alex that," Brown said.
What Brown told himself was it might be nice to have a veteran at least competing for the kicking and punting spots. Texas had used a true freshman before -- Dusty Mangum was 16-of-23 on field goals in 2001 -- but typically a team does not relish placing a young player in such pressure situations.
"I like the fact that we are not putting so much pressure on young, talented kickers and punters and we will at least have experience as an option," Brown said. "I think that those two older guys can really help our young ones, that are talented, come on, too. So we are really excited about both those additions, and both of them just kind of fell in our lap and we didn't expect or pursue either one of them."
But now, with all the players in Texas' lap, the Longhorns can set about pursuing Brown's goal of being the top kicking team in the country.
August, 2, 2012
8/02/12
10:39
PM CT
Texas might have answered one of its largest questions before camp has even started.
Anthony Fera
will transfer to the Longhorns, giving Texas an experienced kicker in a spot where it had none.
[+] Enlarge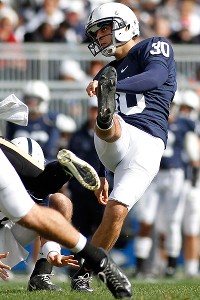 Justin K. Aller/Getty ImagesAnthony Fera, who hit 14 of his 17 field goals, should step in and make an immediate impact for Texas.
Fera has two years of eligibility left after transferring from Penn State and will be eligible for the 2012 season. Fera's scholarship counts against Texas' 85 as per the NCAA's ruling on the PSU scandal.
Fera, a Houston St. Pius X prospect who hit 14-of-17 field goals last season, gives the Longhorns a legitimate threat on field goals. Jordan Tucker graduated after a season in which he hit 17-of-21 field goals, and his departure left the Longhorns with a huge void.
William Russ
and
Ben Pruitt
battled for the job in the spring but the results were less than impressive.
Texas does have incoming freshman
Nick Jordan
. It also brought on walk-ons
Nick Rose
(Dallas/Highland Park) and
Michael Davidson
(Houston/Strake Jesuit).
Grant Sirgo
redshirted as a walk-on in 2011.
Alex King
, who is exclusively a punter, transferred from Duke at the start of the summer.
With the addition of Fera, Texas now has seven potential place-kickers. Three of those players, Fera, Jordan and Russ, are on scholarship.
While Texas has had success with true freshman kickers before -- Dusty Mangum was 18-of-26 in 2001 -- the Longhorns, due to a lackluster passing game, figure to be a team in need on a strong and reliable leg.
Jordan has the strength, and the range from 60 yards and in. But the reliability part is what worried Texas. Fera, due to his experience, might be slightly more reliable in pressure situations. Fera was perfect from inside 40 yards. That bodes well for Texas, which had the worst red-zone touchdown efficiency in the history of the Big 12 in 2011.
July, 26, 2012
7/26/12
12:52
PM CT
Penn State junior kicker
Anthony Fera
has contacted the Longhorns about joining their program, his father told ESPN.com, and he's returning home this weekend to consider a visit to Texas.
Tony Fera confirmed that his son is planning to visit his family in Cypress, Texas, on Saturday to discuss his potential transfer options.
"There's a lot of rumors flying around about if he's going to Texas or all these schools," Tony Fera said. "I can say he's coming home to his parents this weekend and that he's going to consider a visit while he's down here."
Fera, a Houston St. Piux X product, has heard from more than a dozen schools this week. He's still contemplating staying at Penn State, where he's on track to graduate in December. If he does leave the Nittany Lions in the wake of the program's severe NCAA sanctions, it will most likely be for a chance to play closer to home.
"We're certainly considering that, and UT is one of the schools that we'd consider hearing what they have to say," Tony Fera said.
As a redshirt sophomore, Fera became the first Nittany Lion since Chirs Bahr in 1975 to be the starter for field goals, kickoffs and punts a season ago.