Dallas Colleges:

William Crest
August, 15, 2014
Aug 15
9:30
AM CT
Today, we debut our Big 12 true freshman power rankings, which we'll update occasionally through August and the season. This list combines the factors of playing time and potential impact.
Without further ado, the Big 12 freshman power ranks:
1. Dravon Henry, FS, West Virginia:
After just a few months in Morgantown, Henry is pushing to be the starting free safety for the opener against Alabama, another team that also recruited him hard. The ultra-athletic Henry could also be a factor in the return game. He and cornerback
Daryl Worley
give the Mountaineers potentially two of the best young defensive backs in the Big 12.
2. Allen Lazard, WR, Iowa State:
The gem of Iowa State's recruiting class has not disappointed this preseason. He is already getting first-team reps alongside
Quenton Bundrage
and
E.J. Bibbs
. If he continues to progress, Lazard could round out a dynamic pass-catching trio.
3. K.D. Cannon, WR, Baylor:
Cannon is behind Lazard, but only because the Bears are loaded at wide receiver. Cannon has been equally as impressive. Baylor coach Art Briles acknowledged that Cannon has proved to be even faster than he thought while recruiting him.
4. Armanti Foreman, WR, Texas:
Foreman has taken full advantage of the injuries and dismissals Texas has endured at the wide receiving position this preseason. He might even have a chance to start the opener against North Texas.
5. Corey Avery, RB, Kansas:
Avery could be heir in the Kansas backfield to departed All-Big 12 running back James Sims. Avery has wowed with his ability to make defenders miss and has recently begun to receive first-team snaps.
6. Dimitri Flowers, FB, Oklahoma:
The Sooners raved about Flowers in the spring before he suffered an injury in the spring game. The 220-pound Flowers, who has drawn comparisons to former Oklahoma fullback Trey Millard, is healthy again and figures to be a big part of the Sooners' pistol attack.
7. James Washington, WR, Oklahoma State:
Up until late in the recruiting process, this small-school Texas standout's only other offer was from Texas State. But the Cowboys have apparently uncovered a diamond in the rough in Washington, who has been turning heads with his knack for catching any pass in his direction. Oklahoma State is deep at receiver, but Washington has played himself into a rotation role.
8. William Crest, QB, West Virginia:
Clint Trickett
was named the starter over the summer, but Crest is vying to become West Virginia's second-team quarterback. That could be a critical role, considering Trickett's injury history. Dana Holgorsen also has hinted at installing a special offensive package for his athletic quarterback.
9. Patrick Mahomes, QB, Texas Tech:
Davis Webb
is the clear-cut starter in Lubbock, but Mahomes is showing he might be ready to be a reliable backup. Mahomes tossed five touchdown passes during a scrimmage over the weekend. That might also be an indictment of Tech's second-team defense. But even against air, five touchdowns is impressive.
10. Emanuel Porter, WR, TCU:
With
Trevone Boykin
still working at quarterback, the Horned Frogs need help at receiver. They've been getting it from Porter, who has impressed the coaching staff with his penchant for making big plays downfield.
On the radar:
Dalvin Warmack
, RB,
Kansas State
;
Jeffery Mead
, WR, Oklahoma;
Justin Stockton
, RB, Texas Tech
August, 4, 2014
Aug 4
8:45
AM CT
Over the weekend, six of the Big 12 schools opened fall camps and opened up their coaches and players to the media.
Here are some of my takeaways from the weekend:
Texas Tech could have its run-stuffer
Due to injuries and a lack of depth, Texas Tech struggled to stop the run all last season and finished ninth in the league in run defense. With defensive interior linemen Dartwan Bush and Kerry Hyder gone from last year's club, Texas Tech desperately needed to add an impact player up front during the offseason to stabilize its porous run defense.
The Red Raiders, however, might have found such a player in mammoth junior college noseguard
Rika Levi
, whose size and strength has been generating plenty of buzz in Lubbock this summer. Levi was also the talk of Tech's media day on Sunday.
"He's a guy that the strength staff really, really likes," defensive coordinator Matt Wallerstedt said. "He's a voice in the weight room, he's a voice in the locker room and he's a voice on the field pushing guys."
According to the Lubbock Avalanche-Journal, Levi arrived on campus weighing 362, but he has since slimmed down 14 pounds, which could be crucial to keeping him on the field.
"I think in his career, he's been maybe as high as 390," Wallerstedt told the Lubbock Avalanche-Journal. "If we can get him into the low-340 range, you may have a guy that can play not just first and second down, but could help us all three downs."
One of Tech's biggest needs going into this season was a three-down run stuffer. The Red Raiders just might have found their man.
Boykin not giving up QB job without a fight
It remains unclear whether
Trevone Boykin
will be at quarterback or wide receiver this season. But Boykin, who is in the best shape of his life according to coach Gary Patterson, has done everything within his power to prove he should be TCU's starting quarterback.
"From just working out, eating right, living right, watching film, staying out of trouble, leading guys on and off the field, being in front of the summer workouts -- stuff that quarterbacks are supposed to do, but that not necessarily all of them do," he said during TCU's media day on Sunday, according to the Fort Worth Star-Telegram. "Some people lead by example, and some are more vocal. I've tried to become both."
Co-offensive coordinator Sonny Cumbie said the Horned Frogs would like to settle in on one quarterback. And Texas A&M transfer
Matt Joeckel
has more experience operating the offense Cumbie and co-coordinator Doug Meacham are installing.
Joeckel, however, has a fight on his hands.
West Virginia's freshman trio impressing
While they've struggled on the field their first two years in the Big 12, the Mountaineers have been rolling on the recruiting trail. In its most recent signing class, West Virginia landed three elite prospects in defensive back
Dravon Henry
, quarterback
William Crest
and running back
Donte Thomas-Williams
who have all impressed since arriving in Morgantown.
Henry figures to push for a starting role at free safety, just like cornerback
Daryl Worley
did as a true freshman last year.
"He's ahead of the curve for a true freshman, that's for sure," Dana Holgorsen said during West Virginia's camp-opening news conference.
The backfield is crowded for Thomas-Williams, but the "sky is the limit" for him, position coach JaJuan Seider noted after getting a glimpse of him in practice.
Crest is still adjusting to the speed of the college game, but the talent is undeniable.
"He's big, he's fast, he's strong, and he's got a good arm," Holgorsen said. "There's a reason we recruited him for three years."
All three freshmen have the potential to emerge into cornerstone pieces for the Mountaineers in time.
Oklahoma embracing defensive status
With the return of tackle
Jordan Phillips
from injury and the addition of promising redshirt freshmen
Matt Romar
and
Charles Walker
to the rotation, the Sooners should be deep and athletic up front. The entire linebacking corps returns, headlined by pass-rushing menace
Eric Striker
. And while the secondary has questions,
Zack Sanchez
is one of the top returning corners in the league.
Coach Bob Stoops said the returning experience has made a huge difference in how the Sooners have approached this preseason defensively.
"There's no comparison. A year ago on these first three days we were just implementing a basic 3-4 defense," he said. "Now our guys have had a whole year in it and they understand with each play how we want to play against that particular play. We have our different wrinkles to blitz one way or another to try and screw up blocking schemes. All that together is a big deal. A year ago you're just figuring out all that. We've had a long time to study and work it, and our players now are comfortable with it and we're comfortable with if somebody's doing a certain thing, here are our wrinkles to take care of it and all the kids know how we want to handle it as opposed to a year ago figuring all that out."
"We have a chance to be pretty good, yeah."
Senior transfer could boost Cowboys
The Oklahoma State defense got a boost last year from senior transfer cornerback Tyler Patmon. The Cowboys are banking on getting another boost from another senior transfer in safety
Josh Furman
, who arrived in Stillwater by way of Michigan.
"He's a bigger safety and we'll play him at our star linebacker position," defensive coordinator Glenn Spencer said Saturday. "We brought him in, that was the goal, to get him ready to play that position."
The "star" is essentially Oklahoma State's nickelback spot, where the Cowboys have a giant void due to Shaun Lewis' graduation.
"He's going to fit in perfectly," safety
Tre Flowers
said. "He's going to keep working and he's going to help the team out."
Strong will be relying on freshmen
Texas coach Charlie Strong confirmed on Sunday the dismissal of five players and the suspension of three others. That will leave the Longhorns with 10 fewer scholarship players than the NCAA's 85-man limit. And will leave Strong reliant on incoming freshmen to replenish some of the depth.
Two spots freshmen will have the opportunity to earn time will be at running back and receiver. Through the dismissals and suspensions, the Longhorns lost five players from those offensive skill spots.
"A freshman can handle the skill positions," Strong countered. "It's all about speed and athletic ability. You can get those guys out there and they can get up to speed."
The Longhorns still have veteran cogs at the offensive skill positions in
Johnathan Gray
,
Malcolm Brown
and
Jaxon Shipley
. But it appears the depth at running back and receiver will be supplied by freshmen this season.
June, 11, 2014
Jun 11
3:00
PM CT
Week 13 features some interesting matchups but no clear game of the week.
For the past few weeks, we've taken a closer look at the 2014 Big 12 schedule during our
Big 12's Ultimate Road Trip series
. This week, we'll wrap up the series with the final stretch of the regular season.
To those unfamiliar with this series, we both pick a game featuring a Big 12 team in every week of the season that we'd cover if the travel budget were unlimited and there were no editors telling us where to go.
We'll be basing our choices on several factors, including the quality of the matchup and the stakes that could be involved. The only restriction is that each of us can pick only one game per week.
Let's continue with Week 13.
Nov. 20-22
Kansas State at West Virginia
Oklahoma State at Baylor
Kansas at Oklahoma
Texas Tech at Iowa State


Jake Trotter's pick:
Kansas State at West Virginia
Two years ago at West Virginia, Kansas State proved it was a Big 12 title contender while the Mountaineers showed they were just a pretender. Ever since, these two programs have been going in opposite directions.
This is almost a must-win for West Virginia if it wants to get back to a bowl game, and a must-win for Dana Holgorsen if he wants to show athletic director Oliver Luck he has the Mountaineers back on track. West Virginia has talent in the backfield and at wide receiver, and the defense could be sneaky good under the Tony Gibson/Tom Bradley regime. But the Mountaineers better hope a quarterback has emerged (
Clint Trickett
?
Paul Millard
?
Skyler Howard
?
William Crest
?
Logan Moore
?) well before this game comes around.
K-State has an open date before and after this trip to West Virginia, which bodes well. When Bill Snyder has time to prepare, the Wildcats can be tough to beat (just ask Michigan). If K-State can escape Morgantown, that season finale at Baylor could loom large.
You won't find a prettier drive than the one along the country roads from Pittsburgh to Morgantown. I can't wait to make it again.


Brandon Chatmon's pick:
Kansas State at West Virginia
A Thursday night game in Morgantown, W. Va.? Yes, please.
Both teams have a bye week before this weekday matchup, meaning the bumps and bruises of the season could have time to heal. This allows both coaching staffs, which feature some of the conference's most creative minds, some time to come up with new wrinkles for each other as well.
If the Mountaineers' quarterback situation is not settled by this point, I have little hope for a great game. If it is, I expect a great game. WVU could be fighting for a bowl appearance, and K-State could be fighting for quite a bit more.
To top it off, a potential matchup between WVU cornerback
Daryl Worley
, who I think is poised for a breakout sophomore season, and KSU receiver
Tyler Lockett
, who I think is the Big 12's most dynamic receiver, is enough to make a trip to Milan Puskar.
A great environment, great individual matchups and two hungry teams make this the game of the week.
Previous weeks:
Week 1:
Trotter -- SMU at Baylor; Chatmon -- West Virginia vs. Alabama (in Atlanta)
Week 2:
Trotter -- Kansas State at Iowa State; Chatmon -- Kansas State at Iowa State
Week 3:
Trotter -- Texas vs. UCLA (in Arlington); Chatmon -- Tennessee at Oklahoma
Week 4:
Trotter -- Auburn at Kansas State; Chatmon -- Auburn at Kansas State
Week 5:
Trotter -- Texas Tech at Oklahoma State; Chatmon -- Baylor at Iowa State
Week 6
: Trotter -- Baylor at Texas; Chatmon -- Baylor at Texas
Week 7:
Trotter -- Texas vs. Oklahoma; Chatmon -- TCU at Baylor
Week 8:
Trotter -- Kansas State at Oklahoma; Chatmon -- Oklahoma State at TCU
Week 9:
Trotter -- Texas Tech at TCU; Chatmon -- Texas at Kansas State
Week 10:
Trotter -- Texas at Texas Tech; Chatmon -- TCU at West Virginia
Week 11:
Trotter -- Baylor at Oklahoma; Chatmon -- Baylor at Oklahoma
Week 12:
Trotter -- Oklahoma at Texas Tech; Chatmon -- Texas at Oklahoma State
May, 8, 2014
May 8
3:00
PM CT
The NFL draft gets underway in a matter of hours so we decided to have a little fun on the Big 12 blog today.
The premise: What could things be like if college football, and the Big 12 in particular, acquired players via a draft instead of recruiting?
Therefore, this afternoon we'll be posting a three-round Big 12 draft. Any recruit who signed with a Big 12 school is eligible to be drafted and the draft order reflects the 2013 final standings. Jake Trotter will draft for Iowa State, Texas Tech and Oklahoma State. Max Olson will draft for Baylor, TCU and Texas. Brandon Chatmon will draft for Kansas, West Virginia, Oklahoma and Kansas State.
Without further ado, let's kick the draft off with Round 1:

1. Kansas: QB Jerrod Heard
Signed with:
Texas
Brandon Chatmon:
The Jayhawks need a playmaker at the quarterback position, and Heard is the best quarterback who will enter the Big 12 this season, in my opinion. He's a dual-threat quarterback and the perfect guy to rebuild the Jayhawks offense around.

2. Iowa State: S Steven Parker II
Signed with:
Oklahoma
Jake Trotter:
With
Jacques Washington
and
Deon Broomfield
both gone off last season's team, the Cyclones need a new anchor at the back end of their defense they can rebuild around. Cornerback
Nigel Tribune
(who started in 2013 as a freshman) and Parker would give Iowa State one of the best young defensive back combinations in the league.

3. West Virginia: QB William Crest
Signed with:
West Virginia
Chatmon:
Ironically, I think Crest is the ideal fit for West Virginia and coach Dana Holgorsen. Crest could have the highest upside of any Big 12 quarterback signee, and his athleticism could take Holgorsen's offense to another level. Oklahoma signee
Justice Hansen
was strongly considered, but Crest gets the nod due to his upside.

4. TCU: ATH Davion Hall
Signed with:
Baylor
Max Olson:
The Horned Frogs get the second-highest rated Big 12 signee and a player who has the potential to not only contribute immediately, but he also addresses a need no matter what position he plays. At TCU, Hall would get a chance to become the playmaker the Frogs' new offense needs if
Brandon Carter
can't play, and he'd even be able to help a secondary missing
Jason Verrett
from the safety spot. Considering Gary Patterson's reputation for maximizing the potential of versatile athletes, it's a good fit.

5. Texas Tech: RB Tyreek Hill
Signed with:
Oklahoma State
Trotter:
With
Kenny Williams
now plying his craft at linebacker, the Red Raiders need help at running back. With his hands and unmatched speed, Hill would be the perfect fit in the backfield alongside
DeAndre Washington
. Because of his ability to slide over to the slot, Tech could line up in five wide sets, too, without having to substitute with Hill on the field. Hill would also alleviate Tech's problems returning punts, and with
Jakeem Grant
and
Reginald Davis
manning kicks, the Red Raiders would be a constant threat for a big play on special teams.

6. Kansas State: RB Joe Mixon
Signed with:
Oklahoma
Chatmon:
The Wildcats need a running back to ensure balance in an offense that features quarterback
Jake Waters
and receiver
Tyler Lockett
. Mixon would bring balance with his running ability and versatility with his receiving skills, thus allowing him to be a three-down threat for the Wildcats offense.

7. Texas: QB Mason Rudolph
Signed with:
Oklahoma State
Olson:
It's tempting to go with the Longhorns' top-rated signee, DE
Derick Roberson
, at this spot. But with Heard already off the board, the safe move here is probably Rudolph. The 6-foot-4 pocket passer might be a really good fit for what Shawn Watson wants in his future QBs, and Rudolph did receive an offer from Louisville during his recruiting process. Charlie Strong is a defensive-minded coach, no doubt, but hard to think he'd pass up a chance to address Texas' obvious issues at quarterback with this very talented one.

8. Oklahoma State: WR K.D. Cannon
Signed with:
Baylor
Trotter:
Cannon doesn't fill a position of need for the Cowboys, but as the top-rated Big 12 signee of this class, he's too talented of a player to pass up. The Oklahoma State offense has a strong track of producing first-round wideouts (Rashaun Woods, Dez Bryant, Justin Blackmon). Cannon would have the skill set to become the next star.

9. Oklahoma: CB Nigel Bethel II
Signed with:
Texas Tech
Chatmon:
Speed. Speed. And more speed. Bethel would bring much-needed speed to the Sooners secondary that needs someone to fill the void left by two-time All-Big 12 cornerback
Aaron Colvin
. Bethel recently won a few Florida state titles in track and would step right into the competition for playing time in the secondary.

10. Baylor: ATH Michiah Quick
Signed with:
Oklahoma
Olson:
Tough call with this pick. You can talk yourself into a few other touted wideouts. You can go in several different directions if you want to address needs. But we'll settle for speed and upside, two traits the Bears obviously covet. ESPN scouts loved Quick for his versatility as a WR and CB. They called him "an explosive jet of a weapon." Sounds like the kind of kid Baylor would have some fun with, right?
March, 28, 2014
Mar 28
9:00
AM CT
The
Dallas Cowboys
of the 1990s captured three Super Bowls on the backs of their triplets. Running back
Emmitt Smith
churned out yardage between the tackles. Wide receiver
Michael Irvin
hauled in receptions downfield. And quarterback
Troy Aikman
captained the unstoppable attack.
Like with the Cowboys, big-time triplets usually translate to big-time offense. And the Big 12 over the years has showcased several notable ones. Oklahoma's Jason White,
Adrian Peterson
and
Mark Clayton
in 2004. Oklahoma State's
Brandon Weeden
,
Joseph Randle
and
Justin Blackmon
in 2011. West Virginia's
Geno Smith
,
Tavon Austin
and
Stedman Bailey
in 2012. Even last season, Baylor boasted one of the best triplets in the country in
Bryce Petty
,
Lache Seastrunk
and
Antwan Goodley
.
So which Big 12 teams will feature the most prolific offensive triplets in 2014? We rank them below:

1. Baylor
QB Bryce Petty, RB
Shock Linwood
, WR Antwan Goodley
The Bears remain atop this list, even with Seastrunk bolting early for the NFL draft. Despite being Baylor's third-string running back last season, Linwood still finished sixth in the Big 12 in rushing and shined as the featured back while Seastrunk and
Glasco Martin
were injured. After totaling 46 touchdowns throwing and rushing, Petty should be even better in his second season as a starter. Goodley is an All-American-caliber wideout.

2. Oklahoma
QB
Trevor Knight
, RB
Keith Ford
, WR
Sterling Shepard
Knight finally live up to his preseason billing with a sparkling Sugar Bowl performance against Alabama. Knight has the talent and potential to be one of the best dual-threat QBs in the country. Ford was one of the top running back recruits in 2013, and would have played more as a freshman had the Sooners not also had four senior running backs on the roster. Shepard has been a dependable starter the last two seasons, and he already has 96 career receptions going into his junior season. He seems ready to take over for
Jalen Saunders
as the go-to receiver.

3. Texas Tech
QB
Davis Webb
, RB
Kenny Williams
, WR
Jakeem Grant
Webb broke out with a tremendous performance in the National University Holiday Bowl, throwing for 403 yards and four touchdowns in an upset of Arizona State. He had his moments during the regular season, too, and could be in for a monster sophomore campaign in Kliff Kingsbury's air-it-out offense. Williams is a solid pass-catching running back out of the backfield, and he led the Red Raiders with 497 rushing yards and eight touchdowns last season. Williams has been taking first-team snaps at outside linebacker this spring, so he could wind up deferring carries to
DeAndre Washington
, who has been a capable backup. Grant is electric with the ball, burning Arizona State with a pair of touchdown catches. Grant was sixth in the Big 12 last season in receiving, and with
Jace Amaro
and
Eric Ward
gone, should take on an expanded role offensively.

4. Texas
QB
David Ash
, RB
Malcolm Brown
, WR
Jaxon Shipley
The possibilities of this threesome hinges heavily on the health of Ash, who missed virtually all of the 2013 season with concussion issues. Ash is back with the team this spring, and he has had moments before of performing at a high level. After
Johnathan Gray
's Achilles injury, Brown took over as the starting running back and performed admirably, rushing for more than 100 yards in each of Texas' final three games. Shipley has sure hands, is a precise route runner and is capable of catching 70-plus passes in the right quarterback situation.

5. Kansas State
QB
Jake Waters
, RB
DeMarcus Robinson
, WR
Tyler Lockett
The Wildcats would be ranked second here if
John Hubert
had another season of eligibility. But running back is a major question, with no back on the roster holding much experience. Robinson might be the favorite to win the job, but he'll have to fend off
Jarvis Leverett
and incoming freshman
Dalvin Warmack
. Lockett is the best receiver in the Big 12 and one of the best in the country. Waters improved dramatically in his first season as the starter in 2013. If a running back emerges, the Wildcats could surge up this list.

6. Iowa State
QB
Grant Rohach
, RB
Aaron Wimberly
, WR
Quenton Bundrage
Rohach first must win the starting quarterback derby this spring over
Sam B. Richardson
. But he played well down the stretch while leading Iowa State to a pair of wins to finish last year. Wimberly was banged up for much of last season, but he can be dynamic when healthy. Bundrage was third in the Big 12 in receiving touchdowns in 2013, and with a little more consistency, could be an all-league receiver. This could be the best triplet combination coach Paul Rhoads has enjoyed in Ames.

7. Oklahoma State
QB
J.W. Walsh
, RB
Desmond Roland
, WR
Jhajuan Seales
Walsh was fifth in college football in Adjusted Total QBR as a redshirt freshman, but he took a step back as a sophomore and eventually lost the starting gig back to
Clint Chelf
. If he plays like he did as a freshman, Walsh could be one of the five-best QBs in the league. If he performs like his sophomore season, he could lose the job again. Roland is a touchdown machine and is as good as any back in the league in short-yardage situations. Seales could be on the verge of breaking out in a big way after starting as a freshman.

8. West Virginia
QB
Clint Trickett
, RB
Dreamius Smith
, WR
Kevin White
The Mountaineers have plenty of weapons, but they will only score more points with more consistent QB play. Trickett tops the projected depth chart for now, but he'll have to outperform
Paul Millard
,
Skyler Howard
and
William Crest
to stick there. Smith was very impressive at times last season backing up
Charles Sims
. He'll get the first crack at starting, but Pittsburgh transfer
Rushel Shell
will be looming if Smith sputters. White gets the nod as the No. 1 wideout, but
Daikiel Shorts
and
Mario Alford
are not far behind as part of a deep and balanced wide receiving corps.

9. TCU
QB
Trevone Boykin
, RB
B.J. Catalon
, WR
Josh Doctson
Boykin is back at quarterback again after splitting time at receiver the last two seasons. Boykin struggled as the starting QB last season but got little help from his offensive line or receivers. Reports are that he has been sharp this spring in the new Doug Meacham/Sonny Cumbie offense. Catalon is a solid cog at running back, and he averaged 5.3 yards per carry despite playing in an anemic attack last year.
Brandon Carter
was supposed to be the No. 1 receiver last season -- and still could be in 2014 -- but he wasn't reliable on or off the field. In Carter's stead, Doctson surfaced after transferring in from Wyoming, and led the Horned Frogs with 36 receptions and 440 receiving yards.

10. Kansas
QB
Jake Heaps
, RB
Brandon Bourbon
, WR
Nick Harwell
Harwell should give Kansas what it hasn't had in a long time -- a go-to receiver. Harwell was the nation's second-leading receiver in 2011 at Miami (Ohio), and he should give the Kansas offense a much needed shot in the arm. Heaps lost time to freshman
Montell Cozart
last fall, but he has reasserted himself this spring amid a three-way competition with Cozart and UCLA transfer
T.J. Millweard
. Bourbon is battling
Taylor Cox
and
Darrian Miller
to see who replaces All-Big 12 running back
James Sims
.
February, 24, 2014
Feb 24
9:00
AM CT
Since the turn of the millennium, the Big 12 has forged a national identity of elite quarterbacking. In fact, dating back to 2000, the Big 12 had a quarterback become a Heisman finalist in every season but three.
Last season, however, that identity all but vanished.
[+] Enlarge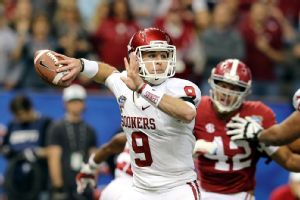 Chuck Cook/USA TODAY SportsOklahoma quarterback Trevor Knight torched Alabama for 348 passing yards and four touchdowns in the Allstate Sugar Bowl.
Bryce Petty
briefly emerged into a Heisman contender at Baylor. But otherwise it was a dismal season for quarterbacking according to the Big 12's high standards. Oklahoma State's
Clint Chelf
was named the league's second-team quarterback despite starting only half of 2013. Nine of the league's 10 teams juggled starting quarterbacks well into October.
But thanks to breakout performances during the bowl season, coupled with the imminent arrival of numerous blue-chip freshmen, the conference appears on the way back to restoring its quarterbacking reputation heading into spring practice.
Baylor, Kansas State, Oklahoma and Texas Tech have their starters cemented. Oklahoma State, Texas, TCU and West Virginia will welcome true freshmen with the pedigrees and opportunities to compete for jobs right away. And Kansas (
Montell Cozart
) and Iowa State (
Grant Rohach
) enjoyed promising moments from a pair of freshmen.
After totaling 46 touchdowns to just three interceptions in his first season as the starter, Petty headlines the position in the league again.
But if the bowl season was any indication, he won't be the lone headliner.
Oklahoma freshman
Trevor Knight
torched Alabama in the Allstate Sugar Bowl to the level backup
Blake Bell
asked to change his position to tight end.
In the National University Holiday Bowl, Texas Tech freshman
Davis Webb
lit up Arizona State, too, driving
Michael Brewer
to ask for a transfer.
And Kansas State's
Jake Waters
capped a red-hot second half of his season by throwing for three touchdowns in a rout of Michigan in the Buffalo Wild Wings Bowl.
Knight, Webb and Waters delivered three of college football's 10 best bowl performances according to the
Adjusted QBR metric
. All three rapidly improved in their first seasons. And that rapid improvement figures only to continue in their second.
"Traditionally, Year 2 in the offense is when you see the most growth in a quarterback," Texas Tech coach Kliff Kingsbury said.
Of the three, Knight was the only full-time starter to begin the season. Spearheaded by a dazzling preseason, he beat out Bell, who was the favorite to replace four-year starter
Landry Jones
. But Knight completed just 21 of his first 48 pass attempts, and after a knee injury, lost the job to Bell not even two games in.
Knight, however, emerged late in the season, and displaying improvement with his accuracy, led the Sooners to a late November win at Kansas State. Then in the Sugar Bowl, he finally showed why he won the job originally in August. Against one of the nation's most dominant defenses, Knight completed 32 of 44 passes as the Sooners toppled the Crimson Tide in one of the biggest upsets in BCS bowl history.
"If you're going to win a championship, your quarterback is going to have to make plays," Oklahoma offensive coordinator Josh Heupel said. "We all saw Trevor [struggle] as a young freshman, first start, first game. To see him grow throughout the entire year and play extremely well down the stretch and played really well in the Sugar Bowl, obviously -- he's obviously got a great future."
[+] Enlarge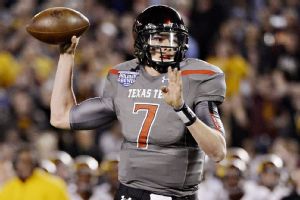 Donald Miralle/Getty ImagesTexas Tech signal-caller Davis Webb had a breakout performance against Arizona State, completing 28 of 41 passes for 403 yards and four touchdowns in the win.
The same goes for Webb.
Despite being the only healthy scholarship quarterback on the roster in August, Webb was beaten out by walk-on true freshman
Baker Mayfield
. But like Knight, Webb settled in behind the scenes. After Mayfield injured his knee, Webb led Tech to a come-from-behind win at West Virginia. Then, after Mayfield transferred, Webb was almost flawless against the Sun Devils. He passed for 403 yards and four touchdowns as Texas Tech controlled the game the entire night.
"The success he had in that bowl game against one of the top defenses showed what he can be," Kingsbury said.
Waters' bowl success showed the same.
Out of junior college, Waters beat out
Daniel Sams
for the starting job to begin the season. But with Waters taking the majority of the snaps, K-State fell in its season opener to FCS opponent North Dakota State. The next two months weren't much better for Waters or the Wildcats, as the defending Big 12 champs stumbled to a 2-4 start.
But after losing snaps to Sams, Waters reestablished control of the position and quarterbacked K-State to wins in six of its final seven games, including a 31-14 rout of Michigan in the bowl. Waters had his best outing yet, too, completing 78 percent of his passes for three touchdowns.
While Waters, Webb and Knight will be looking to build off their bowl performances this spring, Oklahoma State's
Mason Rudolph
will be looking to win a job. Perhaps the most highly acclaimed quarterback the Cowboys have ever signed, Rudolph had a monster senior season in Rock Hill, S.C., throwing for 64 touchdowns while leading his team to a state championship. Enrolled for spring ball, the ESPN 300 recruit will challenge
J.W. Walsh
.
"Mason really brings all of the characteristics you want to see in a quarterback," Oklahoma State offensive coordinator Mike Yurcich said. "All of the intangibles."
Plenty more quarterback talent is on its way, too.
Texas'
Jerrod Heard
, West Virginia's
William Crest
and TCU's
Foster Sawyer
were also four-star recruits in the 2014 class, and they will be joining their schools in the summer with chances to play right away.
Such opportunities exist because the Big 12 quarterback play was down last season. But heading to spring, the league's most identifiable position is on its way back up.
February, 18, 2014
Feb 18
3:00
PM CT
As we wait for the start of spring ball, we'll be examining and ranking the positional situations of every team, beginning Tuesday with quarterback. Some of these outlooks will look different after the spring. But here's how they compare at the moment:
[+] Enlarge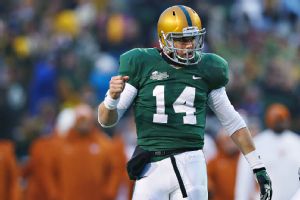 Ronald Martinez/Getty ImagesBryce Petty's return leaves Baylor sitting pretty at the most important position on the field.
1. Baylor:
The Bears have the reigning first-team All-Big 12 quarterback in
Bryce Petty
, who should be even better in his second season as a starter. In 2013, Petty led the Big 12 in QBR, and was on the short list of Heisman candidates until mid-November. His play dipped a bit late in the season, but Petty still finished with 44 total touchdowns to just three interceptions. He will start out on the Heisman short list again in 2014. The Bears also have a viable backup in
Seth Russell
.
2. Kansas State:
Junior college transfer
Jake Waters
was one of the most improved players in the league over the course of the season. Waters split time with
Daniel Sams
through the first half of the year, but eventually took command of the starting position and spearheaded the Wildcats to wins in six of their last seven games to ride a wave of momentum into the offseason. Like Petty, Waters should only get better in his second season as a starter. Sams figures to be moved around this spring, but he has proven he can step in at QB, too.
3. Oklahoma:
The Sooners were one of the most inconsistently quarterbacked teams in the league, notably during double-digit losses to Texas and Baylor. But with one game, OU's situation looks completely different. In just his fifth career start, freshman
Trevor Knight
torched Alabama in the Allstate Sugar Bowl, leading the Sooners to one of the biggest upsets in BCS bowl history. Insiders in Norman always thought Knight had the talent. The switch just finally flipped in New Orleans. Even with
Blake Bell
moving to tight end, the Sooners have depth with former four-star QBs
Cody Thomas
and
Justice Hansen
.
4. Texas Tech:
Davis Webb
also delivered one of the best bowl performances of any quarterback. After
Baker Mayfield
transferred, the plan was for Webb to split snaps with
Michael Brewer
against Arizona State. But Webb played so well, that plan was scrapped. Webb had the fourth-best QBR of any bowl to lead Tech to the upset. Webb actually played pretty well before the bowl, too, and has a promising future in Lubbock. The Red Raiders, however, are thin here. With Mayfield and Brewer transferring,
Patrick Mahomes
is Tech's only other scholarship QB, and he doesn't arrive until the summer.
5. Oklahoma State:
To enjoy success here, the Cowboys will need
J.W. Walsh
to return to his efficient 2012 form. Or, they will need
Mason Rudolph
to emerge as a true freshman the way
Wes Lunt
did two springs ago. Walsh took a step back as a sophomore. He completed 67 percent of his passes in 2012, but just 59 percent last season, and eventually lost his job back to
Clint Chelf
. Rudolph, the gem of the 2014 recruiting class, had no such issues completing passes in high school, connecting on 72 percent for 64 touchdowns while leading his team to a state championship. If Walsh's arm strength continues to be a problem, Rudolph could quickly go from QB of the future to QB of the now.
[+] Enlarge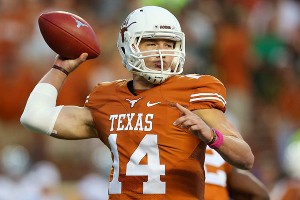 Ronald Martinez/Getty ImagesA healthy David Ash would be a welcome sight for Charlie Strong.
6. Texas:
The Longhorns might have the most fluid quarterback predicament in the Big 12. Quarterback play haunted Mack Brown the last four years, but will it haunt Charlie Strong in his first season? That could hinge heavily on the health of
David Ash
, who missed almost all of last season because of concussion issues. The school says Ash will be ready to go for the spring. But if he suffers another head injury, the Longhorns could be in a fix.
Tyrone Swoopes
has wheels and a big arm, but still needs a lot of polish, and four-star signee
Jerrod Heard
won't be in Austin until the summer.
7. West Virginia:
The Mountaineers have no fewer than four quarterbacks with a reasonable chance of becoming the starter.
Paul Millard
and
Clint Trickett
shared duties last season, though neither seized the position. Millard is playing baseball, and Trickett is still banged up. That could open the door for junior-college transfer
Skyler Howard
to make a move on the job. Keep an eye on true freshman
William Crest
, though. Crest, the No. 11 dual-threat QB in the country, won't arrive until after the spring. But the Mountaineers have had success with mobile freshman quarterbacks before.
8. TCU:
The Horned Frogs first must decide what they're going to do with
Trevone Boykin
. But they can't afford to leave him at receiver until another viable option surfaces at QB.
Tyler Matthews
didn't look ready in limited action, but the Horned Frogs have a pair of intriguing possibilities in
Foster Sawyer
and
Grayson Muehlstein
. Neither, however, will arrive until the summer, meaning TCU's QB situation will remain unresolved past the spring.
9. Iowa State:
The Cyclones have the requisite skill talent to bounce back from a disappointing season. But that won't happen until they stop playing musical quarterbacks. The answer could be
Grant Rohach
, who played well late in his redshirt freshman season.
Sam B. Richardson
will also be in the mix. Richardson was never healthy last year, and had the same kind of promising finish in 2012 that Rohach delivered last season. The darkhorse will be
Joel Lanning
, who redshirted last year. Lanning, who signed with Iowa State over Nebraska, has the arm to make this a three-way battle.
10. Kansas:
The Jayhawks
add another player to the
Jake Heaps
/
Montell Cozart
timeshare in UCLA transfer
T.J. Millweard
. Neither Heaps nor Cozart did enough to warrant full-time snaps, so Millweard, a former four-star recruit, will have his chance this spring.
February, 5, 2014
Feb 5
9:00
AM CT
Today will be the busiest of the year for fax machines. That's because it's national signing day, and recruits across the country will be faxing in their letters of intent.
It's always an exciting day for college football fans. And there's plenty to be excited about in the Big 12.
Below is a breakdown of the most exciting element from each of the 10 Big 12 recruiting classes:

Baylor
What to get excited about:
The wide receivers
The players:
K.D. Cannon
(Mount Pleasant, Texas/Mount Pleasant),
Davion Hall
(Texarkana, Texas/Liberty-Eylau),
Ishmael Zamora
(Houston/Alief Elsik),
Chris Platt
(Willis, Texas/Willis)
The skinny:
The Bears have one of the best WR classes in the country, with four players ranked in the ESPN 300. With
Antwan Goodley
also back in Waco, QB
Bryce Petty
should have a big, signing day smile on his face.

Iowa State
What to get excited about:
A blue-chip wideout
The player:
Allen Lazard
(Urbandale, Iowa/Urbandale)
The skinny:
Elite skill talent has come at premium in Ames the last few years. But that's exactly what Iowa State is getting in Lazard, an ESPN 300 prospect who had offers from Notre Dame, Nebraska and Stanford. If Lazard comes ready to play, new offensive coordinator Mark Mangino will have a dynamic complement to pair with No. 1 wideout
Quenton Bundrage
.

Kansas
What to get excited about:
The replacements for RB
James Sims
The players:
Traevohn Wrench
(Gardner, Kan./Gardner Edgerton),
Corey Avery
(Dallas/Carter)
The skinny:
The Jayhawks graduated their only All-Big 12 performer this past season in Sims. But they prevailed in a pair of hard-fought recruiting battles to land four-star running backs Wrench and Avery. Wrench was the first commit in the class, and gave coach Charlie Weis a player to build the rest of the class around. Then this week, Weis beat out Nebraska, Ohio State and LSU, among others, to reel in Avery. The one-two combination of Wrench and Avery is reason to be optimistic about the future of the KU offense, even without Sims.

Kansas State
What to get excited about:
Junior-college impact
The players:
Terrell Clinkscales
(Dodge City, Kansas),
Andre Davis
(Santa Rosa, Calif./Santa Rosa), D'Vonta Derricott (Garden City, Kan./Garden City),
Danzel McDaniel
(Dodge City, Kan.)
The skinny:
The Wildcats have a returning core capable of contending for the Big 12 title. In this recruiting class, they'll be adding four players in the ESPN Junior College 50 to aid that cause. K-State swiped Clinkscales from Nebraska, and he could team with
Travis Britz
to form a stout one-two punch at DT. Davis could be the perfect complement opposite wideout
Tyler Lockett
. Derricott (OLB) and McDaniel (CB) should help the defense.

Oklahoma
What to get excited about:
Backfield firepower
The player:
Joe Mixon
(Oakley, Calif./Freedom)
The skinny:
The Sooners closed as strong as any program in the country, and that included plucking the No. 53 overall recruit away from the West Coast powers. Mixon, together with last year's No. 3 RB
Keith Ford
and budding dual-threat QB
Trevor Knight
, could be a devastating rushing force in the Big 12 for years to come.

Oklahoma State
What to get excited about:
The linebackers
The players:
Gyasi Akem
(Broken Arrow, Okla./Broken Arrow),
Josh Mabin
(Spring, Texas/Klein Oak),
Kirk Tucker
(Tucker, Ga./Tucker),
Devante Averette
(Melvindale, Mich./Ellsworth Community College),
Justin Phillips
(Pearland, Texas/Pearland)
The skinny:
The Cowboys graduated a pair of all-conference linebackers in
Caleb Lavey
and
Shaun Lewis
, who played big parts in Oklahoma State's defensive turnaround. But impressive help is on the way. Akem is a ESPN 300 prospect, and Tucker, the other outside linebacker in the class, ended up at Oklahoma State after failing to gain admission to Stanford. Averette should provide instant impact on the inside, and Mabin is a four-star recruit.

TCU
What to get excited about:
The offensive skill talent
The players:
Foster Sawyer
(Fort Worth, Texas/All Saints Episcopal),
Grayson Muehlstein
(Decatur, Texas/Decatur),
Shaun Nixon
(Austin, Texas/Lake Travis),
Corey McBride
(Geismar, La.,/Dutchtown),
Emanuel Porter
(Dallas/Lincoln)
The skinny:
The top five players in TCU's class are offensive skill players, providing help where the Horned Frogs really need it. Sawyer and Muehlstein could battle for the starting QB job right away. The opportunity for playing time is there for receivers McBridge and Porter, too. TCU also pulled off a coup Tuesday by flipping Nixon, a four-star RB, from Texas A&M.

Texas
What to get excited about:
Possible QB of the future
The player:
Jerrod Heard
(Denton, Texas/Guyer)
The skinny:
Charlie Strong's quickest path to putting Texas back on top is finding a solution at QB that eluded Mack Brown the last four years. Heard, an ESPN 300 quarterback who won two state titles in high school, could very well emerge as the answer.

Texas Tech
What to get excited about:
A shutdown corner
The player:
Nigel Bethel II
(Miami, Fla./Booker T. Washington)
The skinny:
The Red Raiders lose three starters from their secondary, but they have a player who can come in and help right away in Bethel. The ESPN 300 prospect is one of the better pure coverage corners in the country. To win in the Big 12, you have to defend the pass. And Bethel can defend the pass.

West Virginia
What to get excited about:
The quarterbacks
The players:
Skyler Howard
(White Settlement, Texas/Riverside Community College),
William Crest
(Baltimore/Dunbar)
The skinny:
Coach Dana Holgorsen struggled to replace
Geno Smith
last year, using three quarterbacks to limited success. But Holgorsen is bringing in a pair of talented players at the position who could be immediate factors. Howard was the No. 3 dual-threat juco QB in the country and is already enrolled for spring ball. Crest is the No. 11 high school dual-threat QB nationally.
January, 15, 2014
Jan 15
1:00
PM CT
The final power rankings of the 2013 season:

1. Oklahoma (11-2, 7-2 Big 12, last week 2):
Where did this team come from? The Sooners seemed dead in the water after a 29-point loss at Baylor in early November. Instead, Oklahoma finished out the season by reeling off four straight wins, including the last three as the underdog. The Sooners saved their best performance for last, wiping out two-time defending national champ Alabama in the Allstate Sugar Bowl. The Crimson Tide didn't even play poorly. Oklahoma was just that good.
2. Baylor (11-2, 8-1 Big 12, LW 1):
The Bears just weren't quite the same team at the end of the season. With an outright Big 12 title, it was still a terrific season, even if the bowl game was not so terrific.
3. Oklahoma State (10-3, 7-2 Big 12, LW 3):
The Cowboys finished with two brutal losses. The season was still a good one, but it could have been a great one. With several key players graduating, 2014 figures to be a rebuilding season.
4. Kansas State (8-5, 5-4 Big 12, LW 5):
The Wildcats broke Bill Snyder's bowl game losing streak by hammering Michigan while also continuing the momentum build for 2014. With star wideout
Tyler Lockett
back, K-State should be a legitimate title contender next season.
5. Texas (8-5, 7-2 Big 12, LW 4):
New coach Charlie Strong is putting together an impressive coaching staff, notably plucking away Oklahoma State's Joe Wickline, who is one of the best offensive line coaches in the country. If the Longhorns can find a quarterback, Strong might have Texas back ahead of schedule.
6. Texas Tech (8-5, 4-5 Big 12, LW 6):
What five-game losing streak? The tenor in Lubbock has completely changed following the Red Raiders' pummeling of No. 14 Arizona State in the National University Holiday Bowl.
7. TCU (4-8, 2-7 Big 12, LW 7):
Coach Gary Patterson has overhauled his offensive staff with expectations of bringing a more high-powered offense to Fort Worth. The Frogs will need to find a quarterback who can run the attack, but they do have a pair of blue-chip freshmen arriving in
Grayson Muehlstein
and
Foster Sawyer
.
8. Iowa State (3-9, 2-7 Big 12, LW 8):
Iowa State missed out on a bowl game, but optimism has returned to Ames with the hiring of offensive coordinator Mark Mangino, who will have some talented pieces with which to work.
9. Kansas (3-9, 1-8 Big 12, LW 9):
Joy has returned to Lawrence, Kan. It's basketball season!
10. West Virginia (4-8, 2-7 Big 12, LW 10):
The Mountaineers have hope that newcomers
William Crest
or
Skyler Howard
can be the answer at quarterback. We know it won't be
Ford Childress
, who reportedly
left school
.
January, 7, 2014
Jan 7
11:00
AM CT
Immediately after the national championship game, colleague Mark Schlabach released his
Way-Too-Early Top 25
. In concert, below is our Way-Too-Early Big 12 power poll. This could change between now and the end of the spring. In fact, it probably will. But this is a first look at how the Big 12 teams stack up against one another for 2014:

1. Oklahoma Sooners
In the Allstate Sugar Bowl, freshman
Trevor Knight
finally played like the quarterback that had been drawing comparisons to
Johnny Manziel
behind Oklahoma's closed practices. The Sooners lose some cornerstone players to graduation, notably running back
Brennan Clay
, center
Gabe Ikard
, receiver
Jalen Saunders
and cornerback
Aaron Colvin
. But with Knight and budding running back
Keith Ford
returning to man the backfield, and nine starters coming back defensively, including menacing outside linebacker
Eric Striker
, Oklahoma could be a favorite in every game next season -- and a force once again on the national stage.

2. Baylor Bears
Even with running back
Lache Seastrunk
going pro, the Bears return plenty of firepower offensively.
Bryce Petty
will be the reigning All-Big 12 quarterback, and
Antwan Goodley
will be coming off a monster junior season. Rising sophomore
Shock Linwood
showed he could shoulder the rushing load, too, when Seastrunk and
Glasco Martin
were banged up late in the season. The Bears, however, could take a step back defensively. Baylor, which got torched for 52 points in the Tostitos Fiesta Bowl, loses six starters there, including All-American safety
Ahmad Dixon
and All-Big 12 linebacker
Eddie Lackey
. Former blue-chip defensive tackle recruit
Andrew Billings
will need to step up and become more of a force. Even if the defense stumbles, Baylor should be capable of scoring enough points to win every game on its schedule, thanks to coach Art Briles being back on its sidelines.

3. Kansas State Wildcats
Along with Missouri, the Wildcats were the first two teams left out of Schlabach's Top 25. But they make a compelling case for inclusion. Quarterback
Jake Waters
improved dramatically during the second half of the season, eventually squeezing
Daniel Sams
out of the QB rotation. Wideout
Tyler Lockett
could be a preseason All-American, after torching Texas, Oklahoma and Michigan for a combined 631 receiving yards and six touchdowns. The defense should be better, too, with sack artist
Ryan Mueller
back at end, and rising junior safety
Dante Barnett
set to take over for the outgoing
Ty Zimmerman
as leader of the secondary. The Wildcats will be tested early with national runner-up Auburn visiting Manhattan on Sept. 20. If K-State can win that game, the rest of the Big 12 will be on notice.

4. Texas Longhorns
During his introductory news conference on Monday, new Texas coach Charlie Strong said Mack Brown left him with a team that could win right away. Strong might be right. The Longhorns return eight starters off a defense that found its stride under interim coordinator Greg Robinson. Texas also brings back six starters offensively and its entire running back corps, including
Malcolm Brown
, who rushed for more than 100 yards in the Valero Alamo Bowl. A big part of Mack Brown's downfall, however, was quarterback play, and that once again will be a huge question mark in Strong's first season.
David Ash
sat out most of this season with concussion issues, making his football future tenuous.
Tyrone Swoopes
is athletic with a big arm but needs polish. The other option will be incoming freshman Jerrod Heard, who just led his high school team to a Texas state championship. If one of those three emerges, Strong could have Texas on the way back ahead of schedule.

5. Oklahoma State Cowboys
The Cowboys were 19 seconds away from playing in a BCS bowl game. But two losses to end the year soured what could have been a stellar season. Now, Oklahoma State must replace the bulk of its team, including quarterback
Clint Chelf
and seven starters defensively. Star slot receiver
Josh Stewart
is also reportedly mulling over leaving early, too. Either way, 2014 will be a retooling season for coach Mike Gundy, whose first order of business will be settling on a quarterback.
J.W. Walsh
, who started the first half of the season before losing the job back to Chelf, would have to be considered the favorite. But Gundy has shown before he's not afraid of turning the keys of the offense to a true freshman, and the Cowboys have an intriguing freshman QB enrolling for the spring in Mason Rudolph, who threw 64 touchdown passes this fall as a high school senior in South Carolina. That could result in some growing pains for Oklahoma State, which opens the season against defending national champion Florida State. But if Rudolph proves to be the long-term answer at QB, it shouldn't be more than a year before the Cowboys are contending in the Big 12 again.

6. Texas Tech Red Raiders
Texas Tech completely changed the tenor of its offseason with a dominating 37-23 win over Pac-12 South Division champ Arizona State in the National University Holiday Bowl. Finally healthy again, the Red Raiders showed they were better than a five-game losing streak to end the regular season indicated. Now, Tech returns eight starters offensively, including quarterback
Davis Webb
, who torched the Sun Devils and had several other encouraging moments as a true freshman. Tech has to replace most of its defense. But if Webb settles in at quarterback, the Red Raiders should be improved in coach Kliff Kingsbury's second season in Lubbock.

7. TCU Horned Frogs
TCU was the 2013 preseason pick of many people to win the Big 12. Instead, injuries ravaged the roster, and the Horned Frogs failed to go to a bowl game for just second time with Gary Patterson as coach. Patterson shook up his offensive staff after the season, bringing in Houston's Doug Meacham and Texas Tech's Sonny Cumbie as co-coordinators to revamp TCU's offensive attack. TCU should be stout again defensively, especially if 2012 Big 12 defensive freshman of the year
Devonte Fields
returns to form from a broken foot. But the key to a better season will be whether Meacham and Cumbie can squeeze more offense out of the Horned Frogs and find the answer at quarterback. The answer, however, might not be on campus yet.
Trevone Boykin
has 15 career QB starts, but is probably a better fit as a receiver. Meanwhile, TCU's top incoming recruits,
Foster Sawyer
and
Grayson Muehlstein
, are both quarterbacks, and could factor into the wide-open competition.

8. Iowa State Cyclones
Even though Iowa State just finished in the bottom three of the Big 12 in points per game (24.8), yards per game (363), yards per play (4.82), rushing yards (143.8) and passing yards (219.2), the Cyclones return some offensive firepower. Tailback
Aaron Wimberly
was effective when healthy, and
Quenton Bundrage
flashed signs of a legit No. 1 receiver. The key will be QB, and whether
Grant Rohach
builds on his late-season surge. But with a proven offensive coordinator in Mark Mangino now on board, the Cyclones have the pieces to form one of the better offenses in the league next season.

9. West Virginia Mountaineers
The Mountaineers careened off the road late this season with back-to-back losses to Kansas and Iowa State. Now, the pressure is on coach Dana Holgorsen, who will have to win games to keep his job even though the 2014 schedule is brutal. Like so many other teams in the Big 12, West Virginia must find a solution at quarterback. Holgorsen has options.
Clint Trickett
,
Paul Millard
and
Ford Childress
are all back after getting at least two starts apiece last year. Junior-college transfer
Skyler Howard
will be enrolling early and joining the fray. Four-star recruit
William Crest
will be in the mix, too. Even if Holgorsen finds his answer at quarterback, a winning season won't come easy. The Mountaineers have one of the toughest schedules in the country, beginning with the Chick-fil-A Kickoff Game against Alabama in Atlanta.

10. Kansas Jayhawks
Kansas showed only modest improvement in Charlie Weis' second season as head coach. This will be a key season for Weis as he attempts to rebuild the program. He desperately needs
Montell Cozart
to develop into the answer at quarterback. Cozart still has a ways to go with his passing, but he showed he could hurt defenses with his legs. Defensively, the Jayhawks bring back some solid players, notably linebackers
Ben Goodman
and
Ben Heeney
and safety
Isaiah Johnson
. But Kansas will take the next step only if Cozart -- or somebody else -- emerges at quarterback.
April, 23, 2013
4/23/13
12:15
PM CT
Recruiting is a year-round game, and it's time to take our monthly look at how this year's recruiting classes are progressing. Getting off to a quick start can get things rolling for any class. Here's how I'd rank the classes thus far. Click on each team to see the full class, though you'll need ESPN Insider to see it.

1. Texas
Total commits: 14
ESPN 150 commits: 2
Class notes
: The Longhorns added seven commits since our last update and debuted at No. 1 in our ESPN 2014 class rankings released last week.
Jermaine Roberts
, the nation's No. 14 cornerback, and Houston native
Otaro Alaka
(No. 9 OLB) headline a very busy month for the Longhorns. Texas also got a commit from the nation's No. 2 center,
Terrell Cuney
, though it lost Demetrius Knox, the nation's No. 14 offensive guard, on Monday. Texas is the only Big 12 team with multiple commits in the ESPN 150.

2. Texas Tech
Total commits:
9
ESPN 150 commits:
0
Class notes
: The Red Raiders made a big move since our last update, adding five commits and jumping ahead of Oklahoma for the No. 2 spot in our conference recruiting rankings. Four of Texas Tech's five commits made their pledge over the weekend while the spring game took place, including quarterback
Patrick Mahomes
and skill position talents
DeMarcus Felton
(RB) and
Cameron Batson
(WR). Kliff Kingsbury is doing some serious work on the recruiting trail. Tech doesn't have a huge commit that will turn heads, but this is a strong start for a class that already looks pretty deep.

3. Oklahoma
Total commits:
4
ESPN 150 commits:
1
Class notes
: The Sooners grabbed a huge pickup on the weekend of their spring game with quarterback
Justice Hansen
from nearby Edmond, Okla. The nation's No. 3 dual-threat quarterback gave Oklahoma its lone ESPN 150 commit, and two days later, the nation's No. 30 receiver,
Dallis Todd
, followed suit with a commit.

4. TCU Horned Frogs
Total commits:
5
ESPN 150 commits:
0
Class notes
: TCU is bringing two quarterbacks to Fort Worth in this class, including its latest commit. Fort Worth native
Foster Sawyer
(future All-Name Teamer, folks) joins
Grayson Muehlstein
to give the Frogs a pair of pro-style passers who combine to have four last names.

5. Oklahoma State
Total commits:
3
ESPN 150 commits:
0
Class notes
: Oklahoma State added a pair of commits who rank in the top 15 nationally at their position to jump ahead of Baylor in these rankings. The nation's No. 15 running back,
Devon Thomas
, and No. 14 OLB
Gyasi Akem
both pledged to be future Cowboys.

6. Kansas State
Total commits:
5
ESPN 150 commits:
0
Class notes:
Outside linebacker
Elijah Lee
(No. 41 at the position) is the biggest pickup for the Wildcats since our last update, but four of K-State's five commits are in the top 50 nationally at their respective positions. Defensive end
C.J. Reese
also committed to K-State since our last update.

7. Baylor Bears
Total commits:
4
ESPN 150 commits:
1
Class notes
: The Bears have the Big 12's top overall commit in ATH
Davion Hall
, the nation's No. 73 overall prospect, but don't have another player ranked nationally at his respective position. Offensive guard
Devonte Jones
joined the Bears' class over the weekend. One player, a recruiting class does not make, which is why the Bears have been passed up by three teams since our last update.

8. West Virginia
Total commits:
2
ESPN 150 commits:
0
Class notes
: West Virginia launched itself ahead of Iowa State on this update with a big pickup over the weekend. The nation's No. 12 dual-threat passer, Baltimore's
William Crest
, pledged to Dana Holgorsen and the Mountaineers. He went to the same high school as Tavon Austin.

9. Iowa State
Total commits:
1
ESPN 150 commits:
0
Class notes
: Iowa State doesn't have a commitment since December, but the nation's No. 33 receiver,
Allen Lazard
, is a nice pickup from inside state lines. Opinions on Lazard differ widely between recruiting services. I've already heard from a number of ISU fans about Lazard's modest ranking. Don't shoot the messenger, folks.

10. Kansas
Total commits:
1
ESPN 150 commits:
0
Class notes:
Kansas hasn't added anyone since our last update, but still has a pledge from running back
Traevohn Wrench
, a 6-foot-1, 190-pounder from Gardner, Kan.