Dallas Colleges:

Wyoming Cowboys
November, 1, 2011
11/01/11
4:00
PM CT
The TCU defense has had its share of downs this season, but the unit has recently had way more high points.
After giving up 40-plus points twice in their first five games, the Horned Frogs have settled down and looked more like their old selves as they head into an important Mountain West game at Wyoming (5-2, 2-0) on Saturday.
TCU (6-2, 3-0) has won three three games since losing to SMU 40-33 in overtime. That includes a shutout against woefully bad New Mexico. In those three games, TCU has 10 takeaways after totaling just six in the opening five games. The Horned Frogs have not committed a turnover in their last two games and were a season-best plus-3 against both New Mexico and BYU.
When asked what was the biggest difference in his team's play on defense the last three weeks, coach Gary Patterson said Tuesday, "It's been our legs," he said. "[Against] New Mexico, watching us run to the football, we looked like the team of old. We were able to run around, be more physical. Fresher teams get more turnovers and tackle better and hopefully that continues for the next four games."
TCU had a bye before the New Mexico game, and Patterson said that was sorely needed for his team to rest, especially after playing up-tempo teams like Baylor and SMU. Those teams gave the pass defense particular fits, and TCU allowed 40 or more points twice in a season for the first time since 2004.
That year, TCU went 5-6 and finished with the No. 99 total defense in the country. The Horned Frogs were ranked No. 103 in total defense after the first three weeks of this season, but have steadily climbed up to a very respectable No. 38 with their play of late. They have had to deal with key injuries -- including losing starting linebacker Tanner Brock for the season -- as well as inexperienced players at several difference positions.
Consider that TCU just started the same 11 players on defense in back-to-back contests for the first time this season.
What also has helped has been an increased pass rush. After getting one sack in the first two games, TCU has 17 in the last six. You can bet the Horned Frogs are going to try and be sure they get plenty of pressure on Wyoming quarterback
Brett Smith
, a true freshman who has been able to hold his own this season.
While the defense has struggled with consistency, first-year starter
Casey Pachall
has done a nice job directing the offense. Pachall ranks ninth in the nation in pass efficiency rating (162.4), and is on pace to set TCU single-season records for completions, completion percentage and touchdown passes. He has thrown for 19 scores with just four interceptions. TCU also has gotten backup quarterback
Matt Brown
involved as a change of pace, as he has scored two touchdowns in each of the last two games.
Meanwhile, receiver
Josh Boyce
is on pace for TCU single-season marks in both receptions (42) and receiving yards (653), and the running game has averaged more than 200 yards a game.
So TCU is not out of anything just yet -- especially with a huge showdown against No. 5 Boise State looming next week.
October, 28, 2011
10/28/11
11:52
PM CT
By
Art Garcia
| ESPNDallas.com
ARLINGTON -- Playing a nonconference game in the middle of the season wasn't an ideal situation for TCU coach Gary Patterson. Now he's past that and ready to jump back into the Mountain West schedule.

The Horned Frogs (6-2) beat BYU 38-28 Friday night and head back into conference at 3-0 with a trip to Wyoming next Saturday.

"We've got to go to Wyoming, always a tough place because of the weather in November," Patterson said. "They're 4-2, they play at San Diego State [on Saturday] and they haven't lost in conference [1-0], so we've got a tough game next week. Every game we've got from now on is that way."

Winning the MWC is a goal for the Frogs in their final year in the league before moving to the Big 12. Should they get past Wyoming, a showdown with No. 5 Boise State awaits on Nov. 12.

"What we said from the beginning is we wanted to be undefeated if possible going into the Boise game and if can win next week we have an opportunity to do that," Patterson said.
October, 7, 2010
10/07/10
1:20
PM CT
By
Jeff Caplan
| ESPNDallas.com
The No. 5
TCU Horned Frogs
will become big backers of the undefeated, yet still unranked
Kansas State Wildcats
(4-0, 1-0 Big 12) when they take on the No. 7
Nebraska Cornhuskers
(4-0, 0-0) in Manhattan, Kan., on ESPN.
Meanwhile, the Frogs (5-0) begin a three-game homestand Saturday against the
Wyoming Cowboys
, followed by the
BYU Cougars
and the No. 25
Air Force Falcons
, all seemingly must-win games if TCU is to keep alive its BCS hopes.
Those hopes would be aided by a Kansas State victory tonight to knock the Cornhuskers from the ranks of the unbeaten. The bottom line for the Frogs is if they and fellow BCS-buster candidate, the No. 4
Boise State Broncos
, finish the season undefeated, the Broncos are on course to likely get the one automatic bid the BCS grants to the champs of the non-automatic qualifer leagues (there is the thought that TCU could pass Boise in the rankings due to overall strength of schedule).
In the case Boise finishes ahead of TCU in the final BCS standings, the Frogs would be left to cross their fingers for an at-large bid, and the only way that would happen is if only two of the six power conferences get a second team into the BCS.
Here's how it works: Ten BCS spots are up for grabs. The conference champ from each of the six BCS conferences earns an automatic berth. One additional team from each conference can get in as an at-large selection. So, for example, if the Big 12, SEC and Big Ten each send two teams, and Boise gets the one automatic berth for the non-AQs, then there's your 10 BCS teams.
That's right, TCU can go undefeated and play in the Poinsettia Bowl. Boise experienced that buzz kill two years ago and then lost to TCU in San Diego.
So the Frogs will root hard for the Wildcats tonight. If K-State can't get the job done, then TCU will have to hope the unranked
Texas Longhorns
can get it together and topple Nebraska in Lincoln (Oct. 16). After that the Huskers' schedule is quite favorable.
TCU would also love to see the No. 6
Oklahoma Sooners
get upset Saturday by the visiting
Iowa State Cyclones
. And if not, then they'll hope the Sooners get bit playing either at the
Missouri Tigers
(Oct. 23), at the
Texas A&M Aggies
(Nov. 6) or at the
Oklahoma State Cowboys
(Nov. 27). TCU wants the Big 12 South and North champs to have at least one loss heading into the Dec. 4 title game at Cowboys Stadium, ensuring that one will leave with two losses and likely out of the BCS mix.
Similar scenarios in the other power conferences are also preferable to TCU's quest. Having said all that, the Frogs could benefit from relatively weak power conferences this season. The Sooners look vulnerable. Which is the SEC power team beyond the No. 1
Alabama Crimson Tide
? How about behind the No. 2
Ohio State Buckeyes
in the Big Ten?
If TCU can't help elsewhere, what are the chances Boise loses one of its remaining eight games? The Broncos' most difficult challenge would seem to be the No. 21
Nevada Wolf Pack
(Nov. 26). TCU, as of this week's rankings, faces two more Top 25 teams, No. 25 Air Force and at the No. 10
Utah Utes
(Nov. 6).
That's the system, folks.
September, 25, 2010
9/25/10
7:05
AM CT
By
Jeff Caplan
| ESPNDallas.com
UNIVERSITY PARK, Texas -- Gary Patterson was hacked at half time and he wasn't too thrilled immediately after Friday night's hot Skillet game either.
"He was pretty fired up at halftime," game hero Jeremy Kerley said. "Miscues and misplays, that's basically what it was."
Patterson told his team: "We've got to go take the ballgame. They were walking in with their heads down because it was 14-10. I said, 'You're ahead. This team probably was preparing for you from last spring. You took their best shot. Now we got to go out and we got to play. That's what it's all about.'"
As the media gathered outside the visitor's locker room for coach and player interviews after
TCU's 41-24 win over June Jones' inspired SMU team
, media relations director Mark Cohen marched over and whispered orders from the head coach: Only one player would be made available to meet the media. Hello, fullback Luke Shivers.
No disrespect to Shivers. He landed the knockout touchdown from 4 yards out early in the fourth quarter. But, reporters that coverd this re-budding little rivalry Friday night wanted to also talk to players like Kerley, who gutted through a stomach virus, senior quarterback Andy Dalton, and junior linebacker Tank Carder and others on a veteran-laden team that ranks fourth in the nation and moved to 4-0.
Not until Patterson wrapped up a nearly eight-minute press session that touched on themes from Dalton's two interceptions ("he needs to stop") to TCU's place in the next poll ("the only thing we can control is at the end of the season we have an argument if we're still undefeated"), did he soften and relent on a last-ditch request to talk to Kerley, a wily senior who's been there before.
His 83-yard kickoff return after SMU took a 17-14 lead early in the third quarter, quickly snapped momentum back in TCU's favor. He was asked what it felt like to have essentially saved the season. He also had four catches for 33 yards and a completion for 11 yards.
"I wouldn't say I saved the season [with the return]," said Kerley, who acknowledged SMU stunned the Frogs early with hard-hitting play. "I'm glad I could step up to do that."
The silliness that governs college football today allows for the odd post-game interview in which the coach won, yet feels compelled to defend the way in which his team won the game. As the fourth-ranked team in the nation, it comes with the territory. He admitted mistakes and some sloppiness, but he ultimately praised his team for persevering in a tough spot, whether it costs them in Sunday's polls or not.
"I can't worry about all that," Patterson said. "All I can worry about is trying to go into conference next week against Colorado State. If I let this be a negative that we just won a ballgame like that then I'm not the coach that I say that I am. We'll see what people say about us in December."
TCU now enters its eight-game Mountain West Conference schedule. It starts in Fort Collins then back to TCU for three consecutive games against Wyoming, BYU and Air Force. The triple-option Falcons and the Nov. 6 road game at Utah figure to be the Frogs' toughest challenges in their quest for regular-season perfection.
The Mustangs on Friday night gave TCU, riding high after the Baylor rout, a timely reminder that everyone can be vulnerable.
"You got to give coach Jones and his staff and SMU a lot of credit," Patterson said. "We came into their house, they went door-to-door, they got a big crowd in the stands and it was a great football game in the state of Texas on a Friday night. We're just glad we won because I think they would probably trade us."
September, 22, 2010
9/22/10
4:18
PM CT
By
Jeff Caplan
| ESPNDallas.com
The
Texas Longhorns
have added a home-and-home series with
Maryland Terrapins
in 2017 and 2018, the school announced Wednesday.
Texas will host the Terrapins on Sept. 2, 2017, and travel to Maryland on Sept. 1, 2018.
The Longhorns also set four other non-conference games and adjusted the years on two others to finalize its non-conference schedule through 2017.
UT has added games with New Mexico on Sept. 8, 2012, New Mexico State on Aug. 31, 2013, North Texas on Aug. 30, 2014 and Rice on Sept. 12, 2015. In order to accommodate some scheduling issues, the Horns moved their game with UCF from 2011 to 2017 and UTEP from 2012 to 2016.
A look at UT's non-conference schedule through 2018 (the non-conference schedule decreases to three games next season as the Big 12 contracts to 10 teams):
2011
9/3 RICE
9/10 BYU
9/17 at UCLA
2012
9/1 WYOMING
9/8 NEW MEXICO
9/15 at Mississippi
2013
8/31 NEW MEXICO STATE
9/7 at BYU
9/14 MISSISSIPPI
2014
8/30 NORTH TEXAS
9/6 BYU
9/13 at Arkansas
2015
9/5 at Notre Dame
9/12 RICE
9/19 CAL
2016
9/3 NOTRE DAME
9/10 UTEP
9/17 at CAL
2017
9/2 MARYLAND
9/9 UCF
9/16 at USC
2018
9/1 at Maryland
9/8 TBA
9/15 USC
September, 19, 2010
9/19/10
1:18
PM CT
By
Jeff Caplan
| ESPNDallas.com
TCU
held steady at No. 4 in the latest
AP Top 25
, but made up ground on No. 3
Boise State
ever so slightly.
TCU reduced the margin between it and BCS-buster cousin Boise State from 71 points to 53. The Frogs destroyed
Baylor
, while the Broncos dismantled
Wyoming
.
If moving up in increments isn't all that exciting, it could be worse.
Texas
has dropped a spot after each of its last two wins. Saturday's mistake-prone, 24-14 victory at
Texas Tech
obviously didn't impress the voters, who dropped the Longhorns to No. 7. Texas opened the season at No. 5.
In the USA Today coaches poll, TCU remained at No. 5, while Texas is No. 4.
September, 14, 2010
9/14/10
10:09
AM CT
By
Jeff Caplan
| ESPNDallas.com
The stated goal for the
Texas Longhorns
offense is to establish a straight-ahead rushing attack with its three tailbacks. However, the fact is a talented crop of receivers might make it hard not to pull the trigger more with sophomore quarterback and first-year starter
Garrett Gilbert
.
Last week's win over
Wyoming
might just be the start. Texas threw it 35 times and ran it 29 times against the Cowboys. In the opener against Rice, the Longhorns came out explicitly to establish its new identity and rushed 46 times to just 24 pass attempts.
While, the No. 6 Longhorns will start their third different running back Saturday at
Texas Tech
, most exciting in the passing game is a pair of freshmen,
Mike Davis
, a former Dallas Skyline star who is now ahead of
John Chiles
on the depth chart (officially they have OR status, meaning either could start, but Davis' name now precedes Chiles), and
Darius White
, a promising, 6-foot-3, 200-pounder out of Fort Worth Dunbar, that can grow up alongside Gilbert.
Davis draws the immediate spotlight after his seven-catch, 104-yard performance last week that included a big-splash, 45-yard touchdown.
"Mike is a guy that we had seen make some dramatic catches and some really good runs in practice. I'm not sure we've seen anything in practice like we did on Saturday night. I was really proud of him," coach Mack Brown said. "Now as a freshman, he's got to learn to be consistent. That's the hardest thing. If you start believing the things that people will say about you, usually it's too high or too low. If you lose a game, everybody says there was nothing good, which is not true. If you win a game, everything was great and that's not true. The same with receivers. Mike has some things he needs to fix, but he's obviously a talent with the ball in his hands. He's very confident and that's unusual for a freshman. We were proud to see Darius White do the same. The replay was very close in the end zone."
Brown said that White, who has yet to make a catch, but has moved up to No. 2 on the depth chart behind
Malcolm Williams
at split end, could also be used to return punts.
September, 13, 2010
9/13/10
1:22
PM CT
By
Jeff Caplan
| ESPNDallas.com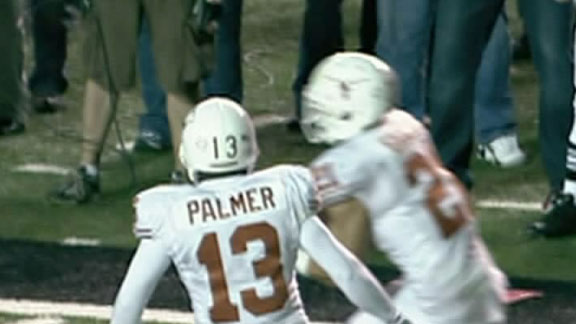 A quirky schedule for the second consecutive season will pit the No. 6
Texas Longhorns
against the
Texas Tech Red Raiders
.
Texas has won two of the last three meetings, but no one has forgotten the 2008 battle in Lubbock when Texas nearly sealed the game and the Big 12 South championship with a late interception, only to be foiled by a Michael Crabtree touchdown in the waning seconds.
"I watched the game myself," first-year Tech coach Tommy Tuberville. "I think it was one of the best college football games I've seen in a long time...
"For me, my first game in the Big 12, what better way to start?"
But, is either team, although both being 2-0, ready for this one, this early? Texas has played two offensively unimpressive games against
Rice
and
Wyoming
, while Tech has shown great bursts as well as letdowns in wins over
SMU
and
New Mexico
.
"It has pluses and minuses," Tuberville said of the September matchup. "We need to find out where we're at in terms of a football team. We've had two non-conference games and you got to start playing [conference games] some time. Back when I was at Auburn, not always, but most of the time we played LSU around the third game, which was either a good start or slow start depending on how you play the game."
In the Big 12 South, one loss can mean elimination from the championship hunt. If Texas loses, the Horns will feel enormous pressure on Oct. 2 at Dallas for the annual Red River Rivalry against a seventh-ranked
Oklahoma
squad that just hammered
Florida State
.
For the Red Raiders, a loss Saturday won't be as detrimental to the overall picture in Tuberville's first season, but a victory over Texas would go a long way toward repairing a fractured bandwagon and getting it firmly behind the former Auburn coach. It could also get Tech on a roll in the Big 12. The Raiders have an unusual schedule this season in that it will continue with Big 12 play from now until Nov. 20 when they finish the regular-season schedule with consecutive home games against
Weber State
and
Houston
.
After the Longhorns, Tech gets a nicely timed bye week before heading into three key conference games: at
Iowa State
(Oct. 2), at the Cotton Bowl in Dallas against
Baylor
(Oct. 9) and at home against
Oklahoma State
.
"I think [the Texas game] gets us more focused on what we're doing earlier," Tuberville said. "The first two games went fairly well for us, but we didn't play up to our potential and hopefully this week we'll find out a lot more about our team."
September, 8, 2010
9/08/10
4:03
PM CT
By
Jeff Caplan
| ESPNDallas.com
A year ago, the
Texas Longhorns
waltzed into
Wyoming
only to learn they had a football game on their hands.
The 41-10 final doesn't do the Cowboys justice. It was 13-10 at the half. Now Wyoming comes to Austin to face No. 5 Texas Saturday night in the Longhorns' home opener.
"I think we've got something to prove to ourselves," Texas senior wide receiver James Kirkendoll said. "We've got to play to our standards if we want to get back to where we were last year [the BCS national title game]. "We're going to take Wyoming just like we would take Oklahoma. We're going to come out there and play as hard as we can play."
So, too, will the Cowboys (1-0), especially brothers Marcell and Tashaun Gipson, Wyoming's stellar starting cornerbacks and former stars at Dallas Kimball High School. Marcell is a senior; Tashaun a junior. They make up one-third of the six Texans on the Wyoming roster. Saturday will mark the 27th consecutive game in which the brothers have started at the two cornerback spots.
"Both of those guys are pro prospects," Texas coach Mack Brown said. "The corners can cover. We were really impressed with their secondary last year. We thought it was one of the real strengths of their defense."
They'll likely face a stiffer challenge from the Texas passing game with first-year starter
Garrett Gilbert
, who completed 14-of-23 passes for 172 yards in his first career start. Against Rice, the Horns focused on establishing a ground game, a point of emphasis this year as the team transitions away from the Colt McCoy era.
"I think that Wyoming will have a little bit better defense [than Rice]," Kirkendoll said. "When we challenged them last year, Wyoming's defense was really good. But, we will have plenty of opportunities, especially in the wideout group this week."
August, 20, 2010
8/20/10
12:10
PM CT
By
Jeff Caplan
| ESPNDallas.com
UPDATE:
The Mountain West Conference issued this
brief statement on its blog
at 1:06 p.m., regarding the Thursday meeting between officials from the Mountain West Conference and Conference USA:
"Followed up on various media reports regarding a potential Mountain West Conference-Conference USA merger, and confirmed that representatives of both leagues did indeed meet yesterday in Colorado Springs. Included were Commissioner Craig Thompson, Commissioner Britton Banowsky (who have a long-standing personal and professional relationship), and a couple MWC Athletics Directors. The informal gathering, which was previously scheduled, covered a wide range of topics, including concepts regarding television, scheduling and the BCS. Yet another example of the Mountain West's ongoing strategic thinking on a number of fronts, as the league continues to position itself in the national landscape."
***
So the Mountain West Conference and Conference USA have apparently put their two brains together and are talking a one-game showdown -- champion vs. champion -- with the winner being granted an automatic BCS berth.
First question:
On the surface, it seems ludicrous, so why would the BCS agree to give an automatic bid to a non-automatic-qualifying conference team every year?
Answer:
They won't (in my opinion, but let's continue...). Conference USA hasn't sniffed a BCS berth since long-departed Louisville in 2004 and Tulane a dozen years ago. Last season, unranked East Carolina knocked off No. 18 Houston in the C-USA championship game. East Carolina went to the Liberty Bowl and lost to unranked Arkansas, 20-17, and finished with a 9-5 record. Houston came to Fort Worth and got shellacked by unranked Air Force, 47-20, in the Armed Forces Bowl to finish 10-4. Since the 2006 season, no C-USA team has finished with fewer than three losses. In three of those four seasons, the league's best team had four losses. Can you imagine the national outrage had 9-4 East Carolina actually played its way into the BCS by upsetting TCU in a one-game bonanza?
That's reason enough to end this conversation right here, right now ... but, having said that, the one reason the BCS might bend and agree to such a scenario would be to avoid the embarrassment of last season when it had to deal with two BCS-busters and threw TCU and Boise State into the Fiesta Bowl to eat their own. A MWC vs. C-USA playoff would lump 23 teams (assuming today's count for the 2011 season of 11 teams in the MWC and 12 in C-USA -- things can change quickly, like, say Houston switching sides, but the numbers would stay the same) together and immediately lop off 22. No longer would the BCS have to worry about two teams messing things up.
Second question:
This is a no-brainer for C-USA, which has never sent a team to a BCS game, but why would the superior MWC want any part of this?
Answer:
Last year, TCU and Boise State both crashed the BCS, but two years ago, undefeated Boise State was left to play one-loss TCU in the Poinsettia Bowl. Would Boise have taken a one-game playoff against the C-USA champ for a shot to play on the big-money stage? Of course. What if TCU and Boise both go undefeated this season? One scenario: Boise gets the BCS bid and unbeaten TCU is invited to the Las Vegas Bowl. Gary Patterson has worked too hard to elevate TCU to a national platform to just give unproven C-USA a ticket to the BCS gates, but in the current system, Patterson might figure he has a better shot each year to win his conference and then win one more against the C-USA champ to ensure getting into the BCS rather than depend on BCS calculations to determine his team's fate.
Also, this would eliminate the undefeated-or-forget-it situation that now exists in the non-automatic-qualifer conferences, easing pressure on TCU and Boise State and the others to sweep their non-conference schedules, typically highlighted by two to three tough matchups against major-conference schools (TCU plays Oregon State and Baylor this season; Boise plays Virginia Tech and Oregon State). A loss in September wouldn't end all BCS hope as it does now.
The MWC and C-USA are also looking toward the future. Although the superconference model didn't come to fruition this summer, nobody is shortsighted enough to believe the Big 12 is stable and the Big Ten and SEC won't seek to expand. When and if superconferences emerge, schools in the MWC and C-USA won't hold their breath for an invite, and that includes TCU. Arranging this championship game would possibly ensure a spot in the BCS when the landscape again changes.
Third question:
Would such a championship game generate more money for the two conferences?
Answer:
How much is debatable. Surely, ESPN would pay for an elimination game, but it certainly wouldn't rank up there with, say, the attractiveness and popularity of the SEC championship game. And, revenue generated from a championship game would seemingly have to be split among the 23 teams, further watering down the profit margin.
Alternate solution:
Merge. Let's say the Mountain West bids farewell to New Mexico, Wyoming and San Diego State (WAC, anyone?) and moves forward with eight -- TCU, BYU, Boise, Air Force, Colorado State, Fresno State, Nevada and UNLV -- and invites four from C-USA -- Houston, Memphis, Tulsa and maybe Southern Miss for a 12-team conference with a championship game. That's not bad football to take to ESPN and other networks to hammer out a more lucrative TV deal than either conference has now. It's also a stonger product than either can currently take to the BCS for eventual automatic inclusion.
June, 13, 2010
6/13/10
12:14
AM CT
By
Jeff Caplan
| ESPNDallas.com
As dead as the Big 12 appears, Baylor, Kansas and the three other schools that would be left behind by an exodus to the Pac-10 are hanging on to the slim hope that Texas can be convinced to stay and lead a 10-team Big 12. If not, those five schools are considering an option to reconstitute the Big 12 by plucking schools from other conferences, namely the Mountain West, according to a source close to the Big 12.

The source said that even though it appears 95 percent certain that an exodus to the Pac-10 is just days away, an internal debate at Texas continues regarding the merits of sticking with a 10-team Big 12.

The Big 12 has been told that a new TV deal, while it wouldn't be as lucrative as if Nebraska remained, would still be considerable, enough to pay out substantially more than the current deal in part because there would be 10 teams instead of 12 to divide revenue. Also, by staying in the Big 12, Texas would remain as the ultimate power broker and could continue with a plan to create its own TV network, something it won't pursue as a member of the Pac-10, which figures to establish a conference network like the Big Ten.

This outcome is obviously favored by the Big 12 North schools and Baylor.

But, if Texas, Texas A&M, Texas Tech, Oklahoma and Oklahoma State break away, the source said the remaining five schools -- Kansas, Kansas State, Missouri, Iowa State and Baylor -- could attempt to reconstitute the Big 12 by adding the top teams from the Mountain West -- TCU, BYU, Utah, Air Force and perhaps newly acquired Boise State --plus schools from Conference-USA and even a school such as Louisville out of the Big East, a conference that could soon be facing an uncertain future of its own.

The source said "several teams" have already initiated contact with the Big 12 about such a scenario if the league splits as expected.

The idea behind a rebuilt Big 12 assumes that the league would retain its status as a BCS conference, which grants an automatic bid to lucrative BCS bowl games. That would be an enticing scenario for the Mountain West teams. The MWC is in position to become a BCS conference, but not for another two years once a four-year evaluation period expires.

In the ever-changing college landscape and with the potential for four super-conferences on the horizon, schools are looking out for their best interests. For those four MWC schools, aligning with Missouri, Kansas, Kansas State, Iowa State and Baylor presents a stronger long-term viability than the current MWC makeup with Wyoming, San Diego State, UNLV, New Mexico, Colorado State. It could also be possible that the Big 12 simply absorbs the entire MWC.

The Kansas City Star reported Saturday night that the five remaining Big 12 schools communicated via teleconference earlier in the day to discuss their situation, and Big 12 expansion was among the topics.

Of course, as fluid as the situation is, things can change quickly. If the Pac-10 does expand to 16, the Big Ten and SEC could respond by also growing to 16. In that case, Missouri could land in the Big Ten.

The Big East and the ACC could be in store for major changes as both conferences would figure to be raided in the expansion process.

One potential road block for a Big 12/MWC merger is a perceived dislike and distrust between TCU and Baylor dating back to the breakup of the SWC and the creation of the Big 12. Of course, Baylor was granted membership while TCU was left to fend for itself. However, TCU athletic Chris Del Conte Saturday night said TCU and Baylor "absolutely" could co-exist as conference members. The two schools continue a series in football this season at TCU.

Del Conte contradicted a report on Saturday that TCU would seek to block Baylor's inclusion into the MWC, if the MWC sought to expand by adding the remaining Big 12 teams. Del Conte said he spoke to Baylor athletic director Ian McCaw on Saturday.

"That did not come from myself or the chancellor or anyone associated with TCU," Del Conte said of the report.

As realignment continues to swirl, it might not be Baylor looking to join TCU, but rather TCU -- and friends --moving into the Big 12.

However, there are certainly no guarantees.
June, 7, 2010
6/07/10
4:29
PM CT
By
Jeff Caplan
| ESPNDallas.com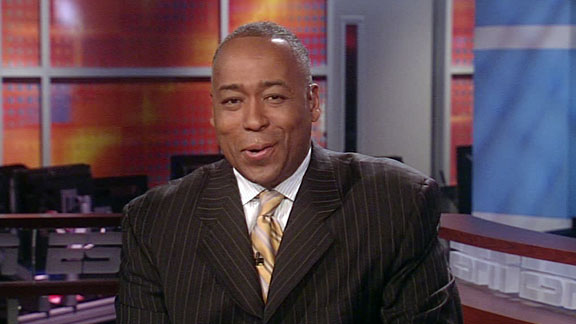 Kansas basketball coach Bill Self saw this coming, the day when Jayhawks hoops, one of the three premiere college basketball programs in America, would compete for conference championships with Utah, BYU, TCU Air Force and San Diego State.
As coach Self knows all too well, basketball is great, but football pays the bills and cold, hard cash (as in fat football TV contracts) is at the heart of impending conference realignment.
If a Pac-10/Big 12 (South) merger were to go down, Kansas (along with Kansas State and Iowa State) would be left out of the major-conference realignment. Kansas could find itself with little choice but to join the Mountain West Conference.
On Feb. 15, as the Big 12 was headed down the stretch run of what was arguably the legaue's most competitive season from top to bottom, and rivaled the Big East for national supremacy, Self was asked about the rumors of realignment, which at that point were being spearheaded by the Big Ten's stated desire to expand.
Here's Self:
"I don't understand all the ins and outs. I would think the Big Ten, with the Big Ten Network and the media markets that they have, naturally would be more of a money-generating league [than the Big 12] from the television aspect of it. But, there's more to it than just the money.

"Having to start new rivalries with people, that would take 40 or 50 years to build and I'm sure it wouldn't be a favorite of the fan base and so many things that go along with it that I don't think it would be positive. But, if the Big Ten were to come after us -- I'm not saying they are, the Pac-10 or any league, because they're not, I don't know anything about it -- that would be something I'd strongly try to fight. There's some things that are inbred with fans and throughout your teams over time that it makes it so special to play certain games and to eliminate those games are in very, very poor taste for so many.

"I do think there is a lot of flirting going on and you certainly understand why people listen, but at the end of the day, I think our league is rock solid."
Self is correct on two of four counts. First, Kansas fans would not be happy dropping its roots rivalries from the Big Eight and newer ones with Texas and Baylor and Oklahoma State and Texas A&M in the Big 12 for Colorado State and Wyoming and UNLV and New Mexico in the MWC.
Second, Self is correct, surely to his chagrin, that neither the Big Ten nor the Pac-10 is coming after Kansas.
Now, the two counts Self got wrong? For one, clearly the Big 12 is not rock solid. And, obviously, there's not more to it than just the money.
December, 24, 2009
12/24/09
9:22
AM CT
TCU hasn't even left Fort Worth for Glendale, Ariz., yet and the No. 4 team in the BCS standings is already winning. Why? The Mountain West Conference has put together a solid bowl resume and it's not even Christmas yet.

Wyoming, a pretty big underdog, beat Fresno State in overtime in the New Mexico Bowl. BYU trounced Oregon State in the Las Vegas Bowl and Utah beat California by 10 in the Poinsettia Bowl on Wednesday.

Air Force will play Houston in Fort Worth in the Armed Forces Bowl to give the MWC a chance to go 4-0 before TCU takes the field against Boise State on Jan. 4.

But since TCU got wins over all three of the MWC teams that won bowl games, it makes the Frogs' look even better.