Dallas Colleges:

Zac Robinson
November, 29, 2012
11/29/12
1:00
PM CT
Here's what I've got my eye on in the Big 12 in the final week of the regular season.
1. Reach for the stars. If you fail, you'll still land among the Heismans ... or something.
Collin Klein
needs an absolute monster of a game to catch front-runner
Johnny Manziel
after Klein's awful outing against Baylor two weeks ago.
He hasn't been himself after suffering an injury
against Oklahoma State, having his two worst games of the season since. Can he bounce back?
[+] Enlarge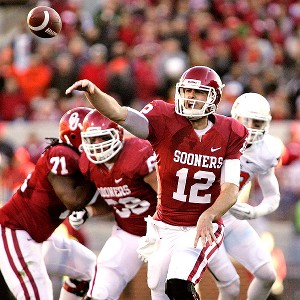 Brett Deering/Getty ImagesOklahoma's Landry Jones takes a string of two straight 500-yard passing games to TCU.
2. Shoot for three. Why not?
Landry Jones
, if you haven't been paying attention, has been tearing it up of late. Oklahoma has only had three 500-yard passing performances in school history; two have come in the last two weeks, and all three are from Jones. Jones has 1,054 passing yards, nine touchdowns and two picks in his past two games. Can he keep it rolling against a really good TCU pass defense that loves to disrupt in the backfield and force interceptions downfield?
3. No time to pout.
Kansas State is the Big 12's No. 2 rush defense. Only three teams had managed to top 100 yards on the ground against the Wildcats before the Baylor loss. The Bears managed, uh, 342. Kansas State has a lot left to play for, but Texas excels on the ground, and may rely more on its running backs without
David Ash
starting. Can the Wildcats D answer the bell?
4. Make 'em do something else.
TCU jumped out to an early lead against Texas, and the Longhorns never forced the Frogs to do anything special on offense. Quarterback
Trevone Boykin
threw just nine passes and ran 10 times against the Horns. If his pass attempts are that low again this week against the Sooners, Oklahoma's in big trouble.
5. Return of the MAC.
Hey, if you're not doing anything else on Friday night, you really might want to tune into the MAC championship game at 7 p.m. ET on ESPN2. I usually wouldn't sanction such an action, but it's quite relevant for Big 12 fans. If No. 17 Kent State beats No. 21 Northern Illinois (the Huskies are favored), the Golden Flashes will be heading to the BCS -- likely at Oklahoma's expense. If the Huskies win, the Big 12 should be fine and place two teams in the BCS for the first time since 2008, barring upset losses by K-State or Oklahoma.
6. There's a first half too, guys.
Oklahoma State has outscored Baylor 59-0 in the first half of its past two meetings. Those games were over before they even started. Can the Bears hang around in the first half this time and give themselves a decent shot in the second half?
7. Closing arguments, gentlemen?
Alex Okafor
and
Devonte Fields
are Nos. 1 and 2 in my defensive-player-of-the-year race. They both take on great offenses this week, offenses that love to get physical. A big performance by each might help his team grab an upset. Can either one make a strong case to close the season and take home the award? And on the offensive side of the ball, another off day by Collin Klein might open the race. Can
Terrance Williams
,
Tavon Austin
or perhaps Landry Jones step in there?
8. The Choo Choo keeps rolling and running.
Clint Chelf
hadn't done a ton of running before last week, but he looked a whole lot like Zac Robinson in the Cowboys' near-upset of Oklahoma. His 12 carries were more than he'd had in his previous three games combined. Some of them were on scrambles, but a few were designed. Does he look to run again against the Bears?
9. This might just be unfair.
Kansas plays good team defense, but so do Iowa State and Oklahoma. And those teams have much better individual talents all over the field than the Jayhawks. Tavon Austin didn't play as much running back last week, but he still was all over the place for West Virginia. What does he have in store for a KU defense that ranks eighth in the league in total defense?
10. Is there hope?
Kansas is sitting on a 20-game loisng streak in Big 12 play. If the Jayhawks win this game, it will be on the back of
James Sims
and
Tony Pierson
, controlling the clock and keeping West Virginia's offense on the sidelines. I don't believe the defense has any shot to slow them down otherwise. It's within reason. Can KU close the first year under Charlie Weis in style?
November, 6, 2012
11/06/12
12:00
PM CT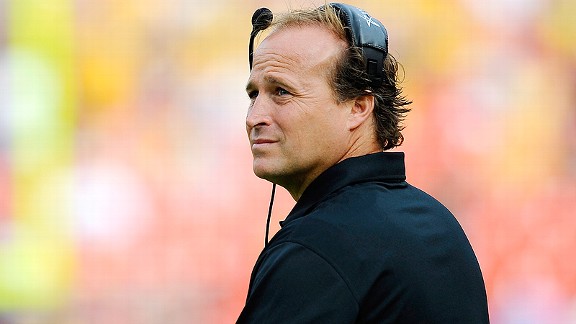 Patrick McDermott/Getty ImagesDana Holgorsen returns to Stillwater to face an offense he installed two years ago.
Oklahoma State and West Virginia will meet Saturday. One team has to win.
Even if the Cowboys win Oklahoma may have to, at least in part, thank Dana Holgorsen. He has helped take both programs to where they want to be, and on Saturday the former offensive coordinator will be back in Stillwater for the first time as a head coach.
At the end of 2009 Oklahoma State scored a total of seven points combined in a pair of embarrassing losses to close the season. Quarterback Zac Robinson was dealing with a bum shoulder, but seven points isn't enough to do much else but rack up frustrating losses that leave point-loving fans unfulfilled.
Coach Mike Gundy was designing his offense and decided to take a different approach to begin the following spring.
Robinson, a dual-threat quarterback built to run and take hits, was being succeeded by Brandon Weeden, a 6-foot-4, 218-pound junior with a big arm and we'll say ... hesitant legs.
With Gundy looking to take on a different role for his team, hiring Holgorsen made sense.
"I had a tremendous amount of respect for him for what he had done with the program," Holgorsen said. "His question to me was how [former Houston coach and current Texas A&M head coach] Kevin Sumlin did things from a CEO standpoint. I think Mike wanted to be more of a CEO type head coach, as opposed to being in the offensive room for 18 hours a day trying to get the offense better. I think he's done a tremendous job of that.
"Since he's gone back and made that switch, they've won a tremendous amount of ball games. Good for him."
Oklahoma State won a school-record 11 games the next season. Holgorsen left for West Virginia, a team that scored just seven points in a frustrating bowl loss of its own to close the 2010 season and wanted a new head coach.
Once he left, Gundy hired former OSU receivers coach Todd Monken to run the same offense Holgorsen installed in one spring.
"I knew a whole lot about it prior to going there, from a facilities standpoint, a coaching staff standpoint, culture and recruiting standpoint, knew a lot about it," Holgorsen said. "There wasn't any surprises."
He spent nearly a decade at Texas Tech before coordinating Sumlin's offense at Houston, where the Cougars played Oklahoma State in each of Holgorsen's seasons. In 2009, the Cougars even upset a top five Oklahoma State team in Stillwater.
His first season as head coach at West Virginia -- which only came after scandal led to an early exit for the late Bill Stewart -- was his only season in the past 12 in which he didn't face the Cowboys.
"We were just a typical spread offense. Run/pass, no-huddle offense," Gundy said. "The impact it had was we changed our style of quarterback, so we brought in a scheme that could best fit what Brandon Weeden could have success with, which was pocket-style passing."
It worked. The Cowboys ranked No. 3 nationally in total offense in 2010, up from 70th in a nine-win campaign in 2009. A year later, using Holgorsen's system under Monken, the Cowboys won their first Big 12 title and once again ranked third nationally in total offense.
Meanwhile, Holgorsen was helping build West Virginia, who won the Big East in Year 1 and won a BCS bowl for the first time since 2007 -- Rich Rodriguez's final season in Morgantown.
West Virginia ranked 15th in total offense last season, a year after ranking 67th, despite possessing offensive talent like
Geno Smith
,
Stedman Bailey
and speedster
Tavon Austin
.
"[Gundy] was with Pat Jones there for a long time, played for Pat Jones, which is old-school football, tough, hard-nosed physical football and incorporated it into our style of spread offense," Holgorsen said, "keeping it as physical as it can possibly be."
Holgorsen's fingerprints will be all over both sidelines, but without a stop at Oklahoma State and proof he could run his offense at a major conference away from mentor Mike Leach and away from a minor league like Conference USA, a high-profile head job like West Virginia might never have come along.
"It worked out good for everybody," Holgorsen said.
August, 13, 2012
8/13/12
3:44
PM CT
To begin the season, I see six teams with a legitimate chance to win the Big 12. Today we'll continue our series looking at why each team will or will not win the league. Next up: The defending champs -- Oklahoma State.
More contenders:
Why Oklahoma State will win the Big 12
1. The Cowboys offense is set up for Wes Lunt to succeed.
Most importantly, the bulk of the Cowboys offensive line returns, as does coach Joe Wickline. Never underestimate the power of an extra second in the pocket. Those add up over time. He's got arguably the league's best 1-2 punch at running back in
Joseph Randle
and
Jeremy Smith
, and though his receivers aren't the most experienced, they're hardly green, and he's got lots of targets who will be productive, starting with
Josh Stewart
,
Tracy Moore
and
Isaiah Anderson
. There's no Justin Blackmon or Brandon Weeden in this offense, but Lunt should do well, and he'll have loads of help.
[+] Enlarge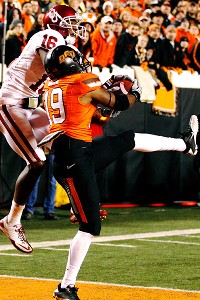 AP Photo/Sue OgrockiBrodrick Brown made five interceptions last season, including this one against Oklahoma.
2. This is becoming a theme: The defense is a lot better than most everyone realizes.
Everyone wants to pretend they can write off Oklahoma State without Weeden and Blackmon, while conveniently overlooking that just about everyone else on the team comes back, especially on defense. Defensive linemen Jamie Blatnick and Richetti Jones are gone, leaving a pretty big hole on the defensive line, but the Cowboys have one of the Big 12's best secondaries, and colleague
KC Joyner says the cornerback duo
of
Justin Gilbert
and
Brodrick Brown
is the nation's second best, behind only Texas. Add in a great set of linebackers in
Shaun Lewis
,
Alex Elkins
and
Caleb Lavey
, and you've got a unit that's due a lot of respect. Too many people forget that this unit is the same one that led the Big 12 in scoring defense in conference play last year. Yes, it even gave up fewer points than Texas.
3. The Cowboys know what it takes to win a Big 12 title.
Never underestimate the ability of a team that knows what it's like to reach the summit. No, Oklahoma State is not the best team in the Big 12 to begin the season, but it's stocked full of players who know what it takes to be that team. My guess is they're willing to push the rest of the team to that level if the players who need to step up are able to match that effort. You can't duplicate experience, but last year OSU broke the Oklahoma-Texas duopoly that dominated this league. The pieces are in place for the Cowboys to have a reasonable shot to do it again.
Why Oklahoma State won't win the Big 12
1. They're starting a true freshman at quarterback.
The offense that Dana Holgorsen brought to Stillwater in 2010 is much simpler than what it ran when Mike Gundy was in charge of the offense piloted by Zac Robinson, but Lunt is still a true freshman. He'll make plays, and he'll make mistakes -- probably too many to ultimately win a title. History is absolutely against him. Only two first-year starting quarterbacks have won Big 12 titles, to say nothing of true freshmen, which has never been done, even if there have only been a handful of true freshmen to start in this league.
2. The turnover avalanche won't be quite as plentiful.
Oklahoma State forces turnovers. Period. That's what the defense does. Last season, when the Cowboys forced an FBS-best 44 turnovers, was not a complete aberration. That said, it was still somewhat of an outlier, and in a few of those games, OSU needed every one of the turnovers it forced. OSU forced 34 turnovers in 2010 (fifth nationally) and 30 in 2009 (11th nationally). That's a pretty clear trend since the arrival of defensive coordinator Bill Young. OSU's defense should be very, very good, but it's a little silly to expect another 44 turnovers to roll in this season. No other team in college football had more than 39 last year.
3. The rest of the contenders are more talented.
Oklahoma State has a ton of talent, but do the Cowboys have as much as the teams ahead of them in the conference poll? Certainly not Oklahoma. Depending on where you want to see talent, it's close between the Cowboys and West Virginia or Texas when you assess the depth chart from top to bottom. I'd probably lean toward West Virginia and Texas in both of those cases. Last year, OSU had as much talent as any team in the league, if not more. This year, the Cowboys have enough talent to win the league, but they don't have as much as other teams in the Big 12.
August, 3, 2012
8/03/12
9:00
AM CT
We'll be walking through the top 10 players at each position in the Big 12 before the season, but we'll start with the most important, especially in this league.
Let's do this:
1. Geno Smith, West Virginia:
Smith put up huge numbers (4,385 yards, 31 TD, 7 INT, 65.8 completion percentage) and did so efficiently last season. Both of his top two targets are back and the adjustment to Big 12 defenses shouldn't be too difficult.
2. Landry Jones, Oklahoma:
Jones and Smith will go head-to-head all season for honors as the Big 12's top passer. Who comes out on top is anyone's guess, but Jones regressed last season, and his receivers let him down after Ryan Broyles' season ended with a knee injury. He'll try to bounce back with just one reliable target (
Kenny Stills
) to start the season. The rest of the receiving corps is loaded with potential, but very inexperienced.
3. Collin Klein, Kansas State:
Clearly, I'm taking more than just passing acumen into account here. Klein is the Big 12's No. 2 returning rusher, and also threw for just under 2,000 yards last season, adding 13 passing touchdowns to the 27 he scored rushing. We'll see how much better he is as a passer this fall.
[+] Enlarge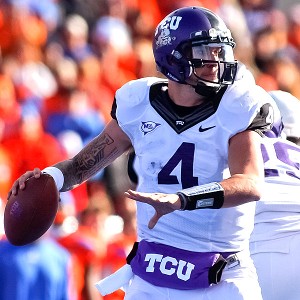 Otto Kitsinger III/Getty ImagesTCU's Casey Pachall could be poised for a big year with a stable of talented receivers.
4. Seth Doege, Texas Tech:
I refuse to hang last year's failures on Doege's shoulders. Absolutely not. He played well, at least as well as he could. The running game struggled and offered almost no support after
Eric Stephens
' injury. The defense was a disaster and there were injuries all over the place. Doege still went for more than 4,000 yards, 28 scores and just 10 picks. Don't be surprised if Doege throws his hat in the ring as the Big 12's best passer by season's end.
5. Casey Pachall, TCU:
Pachall didn't have eye-popping numbers, but only because TCU rode on the shoulders of its trio of running backs. Still, Pachall's numbers are going to be better this year, and he's got great targets in
Josh Boyce
,
Skye Dawson
and
Brandon Carter
, not to mention youngster
LaDarius Brown
.
6. Nick Florence, Baylor:
I like Florence to have a big year with really good receivers, but he's got too much to prove for now. He looked good in spot duty for RG3 against Texas Tech last season, but his senior season will look much, much different than his inconsistent freshman year all the way back in 2009.
7. Wes Lunt, Oklahoma State:
The Big 12's only freshman quarterback is a true freshman, and Lunt earned this spot by beating out some really tough competition in
J.W. Walsh
and
Colton Chelf
this spring. Amazing stuff, and his coaches know good quarterbacks. Zac Robinson and Brandon Weeden have established quite the QB tradition in Stillwater. Here's guessing Lunt continues it.
8. Dayne Crist, Kansas:
Crist's college career hasn't been what he imagined after coming to Notre Dame as one of the most highly recruited signal-calling prospects in his class, but he's got a chance to start something special at Kansas in his senior year, reunited with former coach Charlie Weis. Crist won't have the weapons some of the other guys on this list have, but he gives KU a big, big upgrade at the position.
9. Steele Jantz/Jared Barnett, Iowa State:
These two have to cut down the turnovers, but they've both shown the ability to be playmakers. There's no guessing who wins this legitimate battle in the fall, but coach Paul Rhoads isn't afraid to bench either one if the turnovers don't stop.
10. David Ash/Case McCoy, Texas:
Mack Brown insists it's still a contest. My jaw will be on the floor if Ash doesn't trot out on the field for the first game of the season. Ash has some potential and promising targets in
Mike Davis
and
Jaxon Shipley
, but he hasn't shown the big-play ability of Jantz or Barnett. Expect Ash to move up this list by season's end, but for now, it's all just potential.
April, 26, 2012
4/26/12
10:45
AM CT
STILLWATER, Okla. -- The similarities? Well, they're almost
too
uncanny.
A record-setting quarterback? Gone.
The best receiver in school history? Gone.
And that was in the spring of 2010.
Dez Bryant took a trek south after being drafted in the first round by the Dallas Cowboys. Zac Robinson took his ball and left for the NFL, too.
In the fall, Mike Gundy's Oklahoma State squad was picked to finish fifth out of six teams in something called the Big 12 South.
Instead, the Cowboys won 11 games for the first time, coming a defensive stop or two away from knocking off Oklahoma and playing for the Big 12 title, which also would have been unprecedented for the program.
There are more new faces in the spring of 2012. Could Oklahoma State overachieve again?
"I feel like it's kind of the same. Gundy said that spring we were so good because we were scared," said sixth-year offensive lineman
Jonathan Rush
. "I wouldn't exactly agree that we were scared, but I feel that urgency."
[+] Enlarge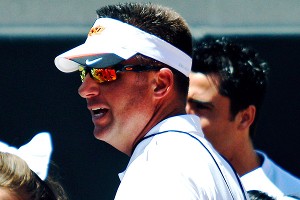 AP Photo/Sue OgrockiMike Gundy's 2012 team has plenty of parallels to the 2010 unit that won a surprising 11 games.
How could he not? Two-time All-Big 12 first-team quarterback
Brandon Weeden
is headed to the NFL. Two-time Biletnikoff Award winner
Justin Blackmon
is likely to hear his name called in the top 10 of tonight's first round of the NFL draft.
Oklahoma State's 23 victories in the past two years were the highest total of any two-year period in school history, and Weeden and Blackmon were the two biggest pieces of a team that captured the Cowboy's first Big 12 title.
"It's real similar, except Weeden was an older guy. Weeden was 26 years old or however old he was back then," Gundy said.
Now, Oklahoma State is
left to rely on three inexperienced quarterbacks
without the minor league baseball experience that helped shape Weeden's even-tempered demeanor.
The similarities don't end at what's gone, either.
"We've got good running backs, good receivers and we'll be as good on the offensive line as we've been," Gundy said.
All-American Kendall Hunter helped carry the 2010 team with a 1,500-yard season, the second of his career. In 2012,
Joseph Randle
is ready to carry the offense after rushing for 1,200 yards and 24 touchdowns in 2011.
Jeremy Smith
and
Herschel Sims
fill out the rest of the Pokes' deepest unit, which also features a fourth underrated, powerful runner in
Desmond Roland
.
"We're further along on defense, because we recruited well the '09, '10, '11 and '12 seasons, so we're further along athletically," Gundy said. "But offensively, it's about the same."
Gundy is entering his eighth season in Stillwater this fall. In 2010, he credited a system that had been drilled into players for the surprising success. Knowing what was expected helped to soothe some of the growing pains new players would experience in a new system.
That's been drilled only deeper into this year's squad.
"They realize what they have to do personally. How to practice. They realize those things that are essential to be a good team. You have to work hard, show up on time. It's not even so much a big thing," Rush said of the team's younger players. "They realize how essential little things are. Working hard, not quitting. Finishing."
Said receiver
Isaiah Anderson
: "I feel like we have a lot more leaders now than people know. It's not just up to the seniors to lead. The young guys can step in and lead if they need to."
The biggest talents are gone. This year, OSU won't be picked near the bottom of the Big 12. Instead, it will be near the bottom of the top 25.
With the spotlight on teams above OSU, will 2012 be yet another Stillwater surprise for the Big 12?
"Be on the lookout, but they know we're coming now," Anderson said. "We all know what it takes to get there and willing to do what it takes to get there again."
January, 9, 2012
1/09/12
10:30
AM CT
Finally, these two lovebirds made it official.
Really, though, it was a matter of time.
Flirtations with A&M
? An eventual breakup?
Please.
Mike Gundy loves Oklahoma State. Oklahoma State loves Mike Gundy.
They'll be together for eight years and Gundy
will be paid among college football's top 10 coaches
after agreeing to a contract extension and a big raise. As it should be.
That's what happens when one pays for the other's education and hires him as a 23-year-old assistant coach and 27-year-old offensive coordinator.
And that's what happens when a 44-year-old head coach (yes, he's a man) guides his alma mater to the two best seasons in school history in consecutive years.
These two belong together. Gundy, who hired agent Jimmy Sexton, grew uncomfortable as the process dragged on during his team's preparations for its Fiesta Bowl date with Stanford.
The Cowboys won to cap the first 12-win season in school history, which coincided with the school's first BCS appearance ever.
Uncomfortable or not, it shouldn't have come to this. "This," though is in the past and Gundy's gotten what's coming to him.
How many coaches have held the same job for seven years and had an equal or better record every season?
Not many, and Gundy's being paid like one. His deal reportedly averages out to about $3.75 million per year, up from $2.1 million this past season.
Kansas' Turner Gill and Texas A&M's Mike Sherman were paid more in 2011. They were both fired after the season. Now, only Texas' Mack Brown and Oklahoma's Bob Stoops are paid more in the Big 12.
Gundy was the 29th-highest paid coach nationally this season,
according to USA Today's coaching salary study
. His new raise puts him at sixth, ahead of guys like Bobby Petrino at Arkansas, Chip Kelly at Oregon and Bret Bielema at Wisconsin.
Gundy kicked off his career with a four-win season and two seven-win seasons. For some who saw those years, its hard to see Gundy, who first burst on the scene with his polarizing rant, as a coach who has ascended to the coaching elite.
But consider also: Gundy has as many BCS wins now as Petrino and Kelly, who both have earned reputations as offensive virtuosos. He has one more than Bielema, who is 0-2 in two Rose Bowl appearances.
He's developed offensive talent with the best of anyone in the country, sending stars like Dez Bryant, Kendall Hunter, Zac Robinson, Russell Okung and soon to be Brandon Weeden and Justin Blackmon to the NFL. On the way, he collected bushels-full of wins that Oklahoma State has never seen before.
This has been the best four-year period in
the history of Oklahoma State football
. Gundy is the biggest reason why.
This took too long. Why Oklahoma State wouldn't want to pay up for as long as possible, especially
with more Big 12 money on the way
, I have no idea.
But it's done now.
Oklahoma State paid up. Gundy is paid like one of college football's best coaches.
With a résumé like he's put together, with 41 wins, a Big 12 title, a BCS bowl win and a share of the Big 12 South all in the past four years, how else should he be paid?
October, 13, 2011
10/13/11
10:15
AM CT
For so long, it was so cruel. This "rivalry," if you could even call it that.
Colt McCoy and Vince Young tormented Oklahoma State, rescuing Texas from 28, 19 and 21-point deficits in a span of just four years.
PODCAST
Trey Fallon of ESPN Dallas speaks with Justin Wilmeth of OState.com about the addition of TCU to the Big 12 and Oklahoma State's big matchup with Texas.

Listen

OSU had beaten Texas just once in Big 12 history, back in 1997 in a harmless game in Stillwater between two teams that would combine for 12 wins that year, the last time Texas (4-8) saw a losing season.
The Cowboys program rose, winning as many or more games than the previous year in each season under Gundy. But no wins over Texas as Zac Robinson, Kendall Hunter and Dez Bryant tried to help OSU climb among the nation's elite.
Until last season, when OSU took its biggest leap into national relevance with 11 wins and Texas plummeted to its first losing season under Mack Brown.
Oklahoma State was the better team, by far. The Cowboys won easily, racing to an early 33-3 lead and beating Texas in Austin for the first time since 1944.
"When you have played at a high level like we had over the last few years, having so many close games and not being able to get over the hump. It made it a good win for our team and the university," Gundy told reporters this week. "For everyone involved it was very positive. I am sure it had some effects on our recruiting. It also changed the way we were perceived across the country. The win was another step in our goal, to hopefully win a championship."
A kink in switching 12-team Big 12 schedules to 10-team schedules means Oklahoma State travels to Texas again and hosts Oklahoma to close the season.
Once again, Oklahoma State is the better team.
[+] Enlarge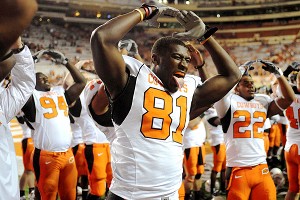 Brendan Maloney/US PresswireTexas hopes the scene will be different after this year's game against Oklahoma State as the Longhorns look to avoid another loss to the Cowboys
This time, Oklahoma State stands in the way of Texas' attempts to re-join the nation's best. The Longhorns were embarrassed a week ago by No. 3 Oklahoma.
"Things are always better when you watch the video. It's hard to make a 55-17 loss to a good team where you played poorly good, but what you do as a coaching staff is you go back and find the things that are good," Brown said. "They did try hard. They did a lot of things good, but we made so many mistakes, we never had a chance in the game. You can't lose five turnovers to a great team."
That's the first goal. With an opponent like Oklahoma State -- the Cowboys are ranked No. 2 in total offense, even higher than Oklahoma -- the Longhorns will need more from their offense than a late touchdown if 45 points are separating the teams.
"You use caution when talking about Texas football and needing to get better. I think Oklahoma played very well. Once the game got rolling, the momentum changed," Gundy said. "I cannot speak for Texas, or their staff. I do know that there is some youth in key positions. That can factor in situations when things do not go well."
Texas'
secondary will have to grow up fast
.
So will quarterbacks
Case McCoy
and
David Ash
.
If not, another beating like last week is waiting, and a chance to country's top squads may prove to be another season away.
August, 12, 2011
8/12/11
1:55
PM CT
Today, we're taking a look at the tease teams across the Big 12, and the past three seasons, we've seen a good number of cases in the Big 12.
These three programs find themselves in the top 10 again this year, but here's what's happened lately. Is one of these squads simply a tease in 2011?

2010: Texas A&M
The Aggies, coming off a 6-7 season in 2009, weren't convincing enough to earn preseason top 25 honors, but the potential for a big year was there, and anyone paying attention knew it. The offense was loaded, led by the league's preseason offensive player of the year,
Jerrod Johnson
. Johnson, however, struggled early, throwing four interceptions in consecutive games against Florida International and Oklahoma State, turning the ball over five times in a loss to the Cowboys. The Aggies were embarrassed on their home field by Missouri to fall to 3-3, and despite a late-season rally, couldn't qualify for the Big 12 championship game.

2009: Oklahoma State
The offseason crescendo built to a pressure-packed season opener against SEC foe Georgia, but Dez Bryant and the Cowboys knocked off the Bulldogs to land in the top 5 and on the cover of Sports Illustrated. A week later, however,
Case Keenum
(and Dana Holgorsen, by the way) waltzed into Stillwater and gave the Cowboys a nasty buzzkill in the form of a 45-35 upset, officially derailing a championship season. OSU also suffered a pair of embarrassing 27-point losses to Big 12 South rivals Oklahoma and Texas, including a 27-0 shutout loss to Oklahoma. Kendall Hunter (ankle), Zac Robinson (shoulder) and Dez Bryant (NCAA suspension) were all forced off the field at times, but there's no doubt: That team was a tease.

2008: Missouri
The Tigers reached No. 1 heading into the Big 12 championship game in 2007, but a loss sent them to the Cotton Bowl and hoping for better luck next year. Chase Daniel and Co. opened the season at No. 6 and ran off a 5-0 start, including a 52-17 obliteration of Nebraska in Lincoln, the first win for the Tigers there since 1978. A week later, though? A program-defining win for Oklahoma State on Missouri's field, followed by an absolute undressing by Colt McCoy and Texas in Austin a week later, featuring a 35-3 halftime deficit. The Tigers were upset by Kansas before being rolled over 62-21 by Oklahoma and settling for an appearance in the Alamo Bowl. Quite the tease, Tigers.
So, which of the Big 12 teams ranked this year looks like a tease?
July, 27, 2010
7/27/10
11:00
AM CT
By
Jeff Caplan
| ESPNDallas.com
IRVING, Texas -- Oklahoma State starting quarterback
Brandon Weeden
was born in Oklahoma City, was a two-sport star at Edmond (Okla.) Santa Fe High School and committed to play baseball and walk-on the football team at OSU -- in 2002.
The hard-throwing right-hander instead signed a $565,000 minor-league baseball contract after the New York Yankees drafted him in the second round, 71st overall, in the 2002 draft. He spent a couple years in the Yankees system before being traded to the Dodgers in a deal that included former Texas Rangers pitcher Kevin Brown. He also played in the Kansas City Royals system before a shoulder injury convinced him to put away the glove and return to school and put on the shoulder pads.
"I'm 26, be 27 quick, but feel 18," said Weeden, who is projected to be the Cowboys' starter in the season opener and leading a pass-intensive spread offense under new offensive coordinator Dana Holgorsen. "I had the quarterbacks all over dinner the other night, cooked them steaks, grilled out a little bit and hung out. I don't want to feel like I'm the old man, the boring guy, I just want to be one of the guys."
Weeden, 6-foot-4, 224 pounds, was the third-team quarterback last season behind three-year starter Zac Robinson. He's a junior now and if he shows he can run the Cowboys' offense in a transition season with plenty of turnover, OSU could be set behind center for the next couple seasons.
He had his big break out last season coming on in relief and guided OSU to a comeback win over Colorado. He threw for 168 yards and two touchdowns to rally the Cowboys from an 11-point deficit in the second half.
"We all know that we're different at 26 than we are at 18 and in order to handle the pressures of being a quarterback and playing at this level, maturity is an advantage," coach Mike Gundy said. "Brandon, obviously, signed to play professional baseball out of high school, so he's had a taste of what it's like to be there and to deal with the media and the public and have success. There's obviously tough days and I think that will help."
January, 20, 2010
1/20/10
7:56
PM CT
Oklahoma State quarterback
Zac Robinson
officially accepted an invitation to the 2010 Under Armour Senior Bowl on Wednesday.
Robinson joins Florida's
Tim Tebow
and West Virginia's
Jarrett Brown
as the South quarterbacks for the game, played on Jan. 30 at 3 p.m. CST in Mobile, Ala. The NFL Network will televise the game.
Robinson set records at OSU in his career, including total offense (10,175 yards), passing yards (8,317), touchdown passes (66) and completion percentage (61.2).
In 2009, Robinson had 2,084 passing yards and 15 touchdowns. He also ran for 305 yards and four scores.
January, 2, 2010
1/02/10
4:44
PM CT
By
Scott Noll
| ESPNDallas.com
Zac Robinson just threw his third interception of the game -- the sixth turnover for Oklahoma State. Patrick Trahan was the lucky recipient this time, catching a tipped pass to seal the deal.

For the record, that's six turnovers for Oklahoma State. Add to that the five for Mississippi, and that's the kind of game it's been.
December, 29, 2009
12/29/09
7:00
AM CT
By
Jeff Caplan
| ESPNDallas.com
Gil Brandt, the longtime brilliant personnel director for the Dallas Cowboys and now the NFL Draft guru for NFL.com, provided his thoughts on who he believes are the top three draft prospects playing in the Jan. 2 Cotton Bowl.
The game features
Mississippi
vs.
Oklahoma State
(Brandt's list was provided by Cotton Bowl media relations).
(Drum roll, please...)
1. Russell Okung, Oklahoma State, OL - "He's a size guy that's got really good feet and has been well-coached. I think he's going to be a top pick. Ironically, I don't think he's as good as [former Ole Miss lineman Michael] Oher, but I think he will be drafted higher." (Note: Oher was drafted 23rd overall by the Ravens last spring).
2. Greg Hardy, Ole Miss, DE - "When he's healthy and wants to play, he's a pretty good football player."
3. Perrish Cox, Oklahoma State, CB - "He's short (Cox is listed at 6-0), but he plays a lot taller."
And one bonus scouting report from Brandt: "I think the real sleeper in this game is the Oklahoma State quarterback,
Zac Robinson
. I think he's the kind of guy you're going to take and develop. He's a lot like [Dolphins QB] Chad Henne. He's a smart guy and he moves around well."
There you have it folks, straight from the draft master himself, Gil Brandt.
December, 15, 2009
12/15/09
4:09
PM CT
By
Jeff Caplan
| ESPNDallas.com
The 2010 Cotton Bowl, the 74th edition of the classic game, will be played at Cowboys Stadium in Arlington on Jan. 2. Perhaps playing under Jerry Jones' giant video board will serve as a consolation prize for both
Oklahoma State
and
Mississippi
, two teams that hoped to be playing a little later in the first week of January.
Mississippi, riding high off last year's Cotton Bowl victory over Texas Tech, came into the season ranked No. 8 in the Associated Press Top 25 poll, moved up to No. 4 after Week 2, and with former Texas quarterback
Jevan Snead
leading the charge, had high hopes. But, an ugly, 16-10 loss in Week 3 at South Carolina tumbled the Rebels all the way down to No. 21. After losses to Alabama, Auburn and Mississippi State, the Rebels come to the Cotton Bowl unranked.
No. 19 Oklahoma State also had its sights set on a BCS game. But, it had the setback of stud wide receiver
Dez Bryant
being suspended for lying to the NCAA about a visit to Deion Sanders' house and later quarterback
Zac Robinson
was stung by injuries.
Still, beat hobbled in-state rival Oklahoma and the Cowboys were likely headed to the BCS. The Sooners pasted OSU, 27-0.