Dallas Colleges:

2012 Big 12 tournament
March, 10, 2012
3/10/12
7:57
PM CT
KANSAS CITY, Mo. -- Quick thoughts from Missouri's
90-75 victory
over Baylor.


Overview:
Missouri's final season as a member of the Big 12 is officially its best.
Kim English
scored 19 points, and
Michael Dixon
added 17 to propel the Tigers to the conference tournament championship at the Sprint Center. Missouri will take a 30-4 record into next week's NCAA tournament, where the Tigers will likely be a No. 2 seed.
Baylor, which defeated regular-season champion Kansas in Friday's semifinal, fell to 27-7 and is expected to be a No. 3 seed next week. Saturday's loss to Missouri was the Bears' third of the season.
Perry Jones III
led Baylor with 16 points and 11 rebounds. The Bears made just 39.7 percent of their shots.
Missouri never trailed Saturday, and the score was never tied. Baylor trailed by as many as eight points in the opening half, when Missouri shot a blistering 53 percent from the field. The Bears pulled within two points twice -- 33-31 and 37-35 -- before intermission. But each time, the Tigers responded with points on the other end. Missouri opened the second half with a 13-5 scoring run that made it 56-42.
Baylor never got closer than five after that.
Turning point:
The Bears made a slight threat in the game's waning minutes. Trailing 75-62, Baylor went on a 10-2 run to whittle Missouri's lead to 77-72 with 2:20 left. But the Tigers made their free throws after Baylor began to foul, and it wasn't long before the game was out of reach.
Key player:
It's hard to pick just one for Missouri, as five Tigers scored in double figures. Along with English and Dixon,
Phil Pressey
,
Ricardo Ratliffe
and
Marcus Denmon
had 15 each. Such balance illustrates the versatility and well-roundedness Missouri has shown all season.
Key stat:
Not many teams would've defeated the Tigers on a night when they shot 53.8 percent from the field and 80.6 percent (25 of 31) from the foul stripe.
Miscellaneous:
It was a bit of an awkward moment when Big 12 interim commissioner Chuck Neinas presented the Tigers with the championship trophy about five minutes after the final horn. Neinas has been ultra-critical of Missouri's decision to leave the Big 12 for the SEC. He was booed heavily.
The all-tournament team:
Kim English (Most Outstanding Player), Phil Pressey (Missouri), Perry Jones III (Baylor),
Brady Heslip
(Baylor),
J'Covan Brown
(Texas).
What's next:
Missouri is expected to open NCAA tournament play in Omaha, Neb., on Thursday. Most prognostications have Baylor going to Albuquerque, N.M., where play begins on Friday.
March, 10, 2012
3/10/12
4:50
PM CT
KANSAS CITY, Mo. -- When it arrived in Kansas City earlier this week, the Baylor basketball team noticed advertisements around town hyping a potential meeting between Kansas and Missouri in the Big 12 tournament title game.
It was talked about on television, on the Internet and in the hotel lobby. Everyone, the Bears said, assumed the Jayhawks and Tigers would be playing in tonight's championship.
"It definitely caught our attention," guard
Brady Heslip
said. "We used it as motivation."
It worked.
Instead of Kansas, the Bears will be the team facing Missouri in tonight's championship bout. If the two squads are as crisp and sharp as they've been all week, the game could actually turn out to be better than the one so many people had originally hoped for.
Missouri is 29-4 and ranked No. 5 in the country. Eleventh-ranked Baylor climbed to No. 3 in the polls earlier this season. The Bears advanced to tonight's title game by upsetting Kansas 81-72 in the semifinals Friday.
[+] Enlarge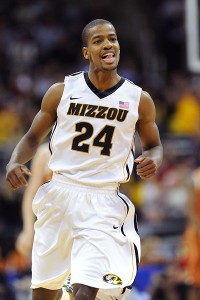 Peter G. Aiken/US PresswireKim English and the Tigers are 4-0 in the Sprint Center this season, with an average margin of victory of 25 points.
The Tigers defeated Baylor twice this season, but they said they'll hardly be complacent after seeing how well the Bears have played in their past two games.
"Just because we're not playing Kansas doesn't mean we're not playing a great team," Missouri guard
Phil Pressey
said. "Baylor has so much talent and they're playing so well. We're going to have to be at our best to beat them."
Rare has been the night when the Tigers weren't at the top of their game. Missouri's field goal percentage (50.3) ranks third in the nation. The Tigers rely heavily on their outside shooting, but their patience on offense and the pride they take in sharing the ball usually lead to high-percentage shots.
Baylor coach Scott Drew said earlier this season that Missouri was the top offensive team in the nation.
"They do two things extremely well," Drew said Friday. "They can shoot it from the outside, and they can penetrate on anybody. So it's pick your poison with them. You take away one thing, you get the other. That's what great teams do. They have multiple options."
Drew's players seem to agree.
"If they get hot, it's over," said forward
Quincy Miller
, who is averaging 24.5 points in two games against Missouri. "They're very good shooters. They know how to get to the paint and they know how to offensive rebound, which is a little surprising for a smaller team.
"Ricardo Ratliffe is definitely one of the best big men in the NCAA. They've got so much chemistry. They're just a great team overall."
Missouri has been especially good in Kansas City's Sprint Center, where it's 4-0 this season with an average victory margin of 25 points. And get this stat: Guard
Kim English
is shooting 75.5 percent this season at the Sprint Center.
English, who averages 14.7 points, hopes to have another good game against Baylor, but he knows it won't be easy.
Baylor surprised Kansas State and Kansas this week by playing man-to-man defense the majority of the game. The Bears are spending a lot of time in a three-guard lineup with point guard
Pierre Jackson
, 3-point specialist Heslip and defensive standout
A.J. Walton
. All three are solid ball-handlers -- Baylor committed just nine turnovers against Kansas -- who usually maintain their poise. And their presence has given more room and freedom for versatile forwards such as Jones and Miller, who combined for 31 points against Kansas on Friday.
The biggest difference, though, has been the play of forward
Perry Jones III
, who is averaging 24.5 points in two Big 12 tournament games. A projected lottery pick, Jones has had an up-and-down regular season and has struggled against top competition.
Or at least he had until this week.
"Perry Jones ... ever since the [ESPN.com article] about him came out, he's been picking it up," English said late Friday night. "He's been playing really well. It's good to see him playing that well. He seems like a really good kid. I love him, but I hope he doesn't have a good night tomorrow."
Both teams have plenty to play for.
There's still an outside chance Missouri could earn a No. 1 seed in the NCAA tournament, and nothing would please the Tigers more than to strut out of the Sprint Center with a championship trophy from their final Big 12 tournament ever. Missouri is leaving the league after the season for the SEC.
Even though he knows the rest of the Big 12 will be pulling for his team to keep the title out of the Tigers' claws, Drew said Baylor won't be distracted by outside storylines.
"Right now we're pretty focused on what we want to do as a team," Drew said. "That's why we've been successful the first two games."
A victory by Baylor today would mark the first time in history that a team from Texas has won the Big 12 tournament. Making the achievement even more impressive would be that Baylor defeated Kansas State, Kansas and Missouri on their home turf at Kansas City's Sprint Center, which doesn't exactly feel like a neutral court when 90 percent of the 18,000-plus fans are either Wildcats, Jayhawks or Tigers.
"When we had that tough stretch in the Big 12, I was like, 'I don't know if we're going to be able to beat the top teams,'" Heslip said. "But when you get a little momentum and then you win a game against a great team like Kansas, you definitely have to feel good."
Jones agreed.
"If we keep playing like this," he said, "there's nowhere to go but up."
March, 10, 2012
3/10/12
12:03
AM CT
KANSAS CITY, Mo. - One day after debuting highlighter-yellow jerseys, the Baylor basketball team trotted onto the court for Friday's Big 12 tournament semifinal against Kansas decked out in camouflage.
"A new look,"
Perry Jones III
said, and even though the forward was referring to the Bears' apparel, he could've been talking about the entire program.
From the uniforms to the attitudes to the on-court play, everything about Baylor appears to have changed. On Friday, coach Scott Drew's squad catapulted into the Big 12 tournament title game with an
81-72 semifinal victory
over third-ranked Kansas -- the same team it lost to twice this season by an average of 16 points.
"This," forward
Quincy Miller
said, "is how we should've been playing all along."
Baylor, 27-6, was ranked as high as No. 3 after opening the year with 17 consecutive victories. But the Bears ended the regular season with an 0-4 mark against conference bluebloods Kansas and Missouri.
Baylor could beat the good teams, sure. But what about the great ones?
After whipping Kansas in what was basically a road environment at the Sprint Center on Friday, it became clear that Baylor could now be mentioned in the same breath as its conference rivals. No one ever doubted the Bears had Final Four-caliber talent. But now, for the first time all season, they look like a Final Four-caliber team.
"Make no mistake about it," Kansas coach Bill Self said. "They beat us tonight. They were better than us, no question. That's a good basketball team. They're very talented."
The victory propels Baylor into Saturday's Big 12 tournament championship against Missouri. No team from Texas has ever won the conference's postseason title. The Bears are currently projected as a No. 3 seed in the NCAA tournament. But there's a chance they could move up to a No. 2 seed with a win against the Tigers.
Kansas, meanwhile, may have cost itself a No. 1 seed by losing to the Bears.
"Everyone, from a psychological (standpoint), wants to be on the highest seed line they can possibly be," Self said. "But I think it's more about matchups than a seed line."
Kansas also might have squandered its chance to play in the Midwest Regional, which is just four hours away in St. Louis.
"To play in St. Louis means we would've had to have won two games," Self said. "If we win two games, I could care less where we play. But we hurt ourselves tonight if we want to be No. 1 seed. I guess it could still happen, but some other teams would probably have to lose."
[+] Enlarge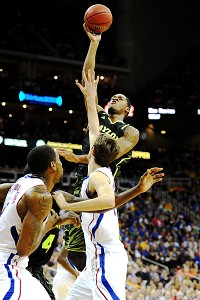 Peter G. Aiken/US PresswirePerry Jones III continued his strong Big 12 tourney run with 18 points and 7 boards against Kansas.
An even bigger story line Friday involved a game that will never even be played. Fans from both Kansas and Missouri were hoping to see the teams meet one last time -- in Saturday's championship -- before Missouri bolts for the SEC. The Jayhawks and Tigers split the regular-season series, but there will be no rubber match in the Sprint Center.
"I've never said I was all right with the rivalry ending," Self said. "I never said that. I'd like for it to go on. It's just not going to.
"So we had two epic games with them this year. Two
epic
games. It's unfortunate it's going to end."
And so, instead of Kansas, Baylor will be the team charged with trying to prevent the Tigers from walking away with the tournament trophy in their final Big 12 season. If the Bears continue to perform like they have in Kansas City, a victory would hardly come as as a shock.
Baylor has made a handful of adjustments in the last few weeks, and each of them is proving beneficial.
After playing a zone defense for most of the season, the Bears played primarily man-to-man defense against Kansas State and Kansas, which shot just 42.6 percent Friday.
"I was surprised they played man," Self said. "That was a good move."
Baylor has also started using a three-guard lineup with cat-quick point guard
Pierre Jackson
, 3-point specialist
Brady Heslip
and defensive standout
A.J. Walton
. All three are solid ball-handlers -- Baylor committed just nine turnovers against Kansas -- who are good at maintaining their poise. And their presence has given more room and freedom for versatile forwards such as Jones and Miller, who combined for 31 points Friday.
Baylor led by as many as 14 points early in the second half before an 18-3 run by Kansas put the Jayhawks up 58-56.
The game turned, though, when a loose ball was batted toward Heslip, who was wide open on the left wing. The sophomore swished a 3-pointer that put Baylor ahead 59-58. The Bears never trailed again.
Heslip came up huge again in the game's final two minutes when he made a 3-pointer that extended Baylor's 67-64 lead to 70-64. Kansas'
Tyshawn Taylor
countered with a layup on the other end, but Heslip responded with another 3-pointer to make it 73-66 with 1:17 remaining.
Ballgame.
"You knew (Kansas) was going to make a run," Drew said. "When they took the lead, I was really pleased with the poise our guys had and the togetherness, the character. For three first-year college guys and one second-year, I think they grew up a little bit tonight.
"That's the great thing about playing in the Big 12. If you don't have those (tests) in the regular season, you're not seasoned and ready when the postseason comes."
The Bears certainly look seasoned and ready now. Instead of grouping them in with the "best of the rest," it's time to include Baylor among the country's elite. Even with those new uniforms.
"Hey," Drew said, "they work for me."
March, 9, 2012
3/09/12
9:54
PM CT
KANSAS CITY, Mo. - Thoughts from Baylor's
81-72 victory
over Kansas.


Overview:
Fans hoping to see one final showdown between Kansas and Missouri left the Sprint Center disappointed Friday after Baylor upset No. 1 seed Kansas in the semifinals of the Big 12 tournament. Back-to-back 3-pointers by Bears guard
Brady Heslip
in the game's final two minutes broke open a 67-64 contest and propelled Baylor to its first victory over Kansas since 2009.
Baylor advances to play either Missouri or Texas in Saturday's title game. Kansas, meanwhile, might have lost its shot at a No. 1 seed in the NCAA tournament. The Jayhawks, who won the regular-season conference title, suffered just their second Big 12 tournament loss since 2005. Kansas had won five of the previous six league tournament titles.
Perry Jones III
scored a team-high 18 points for Baylor and was one of six Bears in double figures. Point guard
Pierre Jackson
had 13 points and 7 assists.
Tyshawn Taylor
had 20 points for Kansas while
Thomas Robinson
added 15.
Turning point:
The noise level at the Sprint Center deafening after a pair of free throws by Robinson cut Baylor's lead to 67-64 with 2:25 remaining. But Heslip silenced the crowd with a 3-pointer on the other end. Taylor countered with a layup, but Heslip came up with another 3-pointer to make it 73-66 with 1:17 remaining. Kansas never threatened again. Heslip also swished a 3-pointer at the 9:05 mark that turned a 58-56 deficit into a 59-58 Baylor lead.
Key player:
They were plentiful for Baylor, but the most encouraging sign was another banner performance from Jones. One night after scoring 31 points against Kansas State, Jones had 18 Friday along with seven rebounds. Jones missed his first six shots of the second half, but he didn't lose confidence. His runner in the lane put Baylor ahead 63-58 at a time when Kansas was threatening.
Key stat:
Often criticized for being soft in the paint, Baylor couldn't have been any tougher Friday. The Bears outrebounded the Jayhawks 37-34. They also did an excellent job defensively in holding KU to 42.6 percent shooting. And Baylor kept its composure on offense by committing just nine turnovers.
Miscellaneous:
Baylor lost its two regular-season games to Kansas by an average of 16 points ... If the Bears win the Big 12 tournament title it will mean they defeated Kansas State, Kansas and possibly Missouri in what is basically a road environment for each game.
What's ahead:
Baylor gets second-seeded Missouri on Saturday. If Baylor wins, there's a chance the Bears could be a No. 2 seed in the NCAA tournament. Kansas will wait until Selection Sunday to find out if Friday's loss costs it a No. 1 NCAA seed.
March, 9, 2012
3/09/12
1:30
PM CT
KANSAS CITY, Mo. -- Kansas and Baylor have spent most of the season ranked among the country's top 10 teams. Still, even though they've remained close in the polls, the Jayhawks and Bears couldn't have been farther apart on the court.
Kansas whipped Baylor by 18 points in January. A month later they humiliated the Bears by 14 points on their home floor.
Despite the lopsided scores, KU guard
Tyshawn Taylor
vows his squad won't be looking past the Bears when the teams meet for a third time Friday in the semifinals of the Big 12 tournament.
"They've got way too much talent," Taylor said, "for us to come out and sleep on them."
[+] Enlarge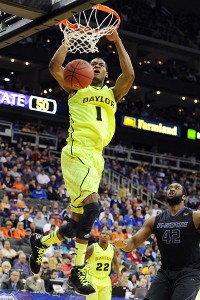 Peter G. Aiken/US PresswireCan Perry Jones III keep the momentum going from his 31-point game against Kansas State?
That was obvious Thursday, when Baylor demolished Kansas State in a game that wasn't nearly as close as the 82-74 score indicated.
Perry Jones III
scored a career-high 31 points for the Bears, showing glimpses of why he's projected as an NBA lottery pick.
Jones had 18 points in Baylor's setback against Kansas in Lawrence on Jan. 18 but scored just five points in the loss in Waco on Feb. 8. The NBA scouts in attendance Friday will certainly be interested to see how Jones fares in this third matchup against Jayhawks forward
Thomas Robinson
, a national player of the year candidate who is also projected as a lottery pick.
Jones' teammates hope the aggression he showed in Thursday's win over Kansas State carries over into the game against the Jayhawks. The 6-foot-11 sophomore scored from all areas of the court and didn't hesitate to drive and mix it up down low. It was a nice look for Jones following a regular season when he was often described as passive and soft.
Also, at times this season, Baylor hasn't done enough to get Jones the ball. Bears coach Scott Drew admitted as much Thursday.
"That's my fault," he said.
It will be interesting to see what kind of defensive strategy Baylor uses to try to stop Kansas today. In both of the regular-season meetings the Jayhawks' picked apart the Bears' trademark zone. In last month's tilt in Waco, Kansas went on a 32-4 run to put the game out of reach. Seven-foot Kansas center
Jeff Withey
had 25 points.
"We played two of our better games of the year against them," coach Bill Self said, "and they probably look back and say they didn't play two of their better games against us."
The Bears said mental toughness will be important if they want to keep it close against the Jayhawks in Round 3.
"A couple of times we lost our head a little bit," Baylor point guard
Pierre Jackson
said. "We got rattled when they made their runs. We've got to stayed poised and be mature about the situation. We've got to go out there and execute."
Teammate
Quincy Acy
agreed.
"We can't lay down," Acy said. "If we get punched in the face we've got to get back up and keep fighting."
Win or lose, the Bears know that today's game will help prepare them for the NCAA tournament. Most bracketologists are predicting that Baylor will be a No. 3 seed.
"If you're a competitor, you want to play the best," forward
Quincy Miller
said. "And everyone says they're the best."


Missouri vs. Texas
: Much like Baylor, Texas will be looking to avenge a pair of early-season losses when it faces Missouri in Friday's other Big 12 semifinal. The Longhorns lost to the Tigers 84-73 in Columbia and 67-66 in Austin.
In the second defeat, it appeared as if
Myck Kabongo
was hacked by Tigers guard
Matt Pressey
as he attempted a game-winning shot from the baseline at the buzzer. The whistle never came, though, and Missouri escaped with the win.
Kabongo took the loss hard, teammate J'Covan Brown said.
"He was mad about missing the shot," Brown said. "The guy fouled him. But the refs don't call everything. He was upset but he moved on."
Apparently.
Kabongo turned in an excellent defensive effort on Iowa State's
Scott Christopherson
(10 points on 4-of-13 shooting) in Texas' 71-65 quarterfinal victory over the Cyclones Thursday. The win made the Longhorns feel much better about their NCAA tournament hopes. Texas, which went 9-9 in the Big 12, entered the game on the bubble.
Longhorns coach Rick Barnes knows his team is in for a tough task tonight against Missouri, which is coached by his former assistant, Frank Haith. The fifth-ranked Tigers are 28-4 overall and shoot 50.3 percent from the field, a mark that ranks third in the nation.
"They're a very explosive offensive team," Barnes said. "They can hurt you in a lot of different ways. We're going to have to defend them."
Texas will obviously need a big game from Brown, who leads the Big 12 in scoring with 20.1 points per game. Brown's three-point play with 36 seconds remaining Thursday broke a 65-65 tie and propelled Texas to victory.
"I love big games," Brown said. "I like the challenge."
He'll certainly get one Friday night.
March, 9, 2012
3/09/12
12:59
AM CT
KANSAS CITY, Mo. -- Moments before a final half of basketball that may have decided the fate of Texas' season, coach Rick Barnes stood before a dry-erase board in the Longhorns' locker room.
On one side, Barnes scribbled three letters: "N-I-T."
Then he took a step to his right and jotted down four more: "N-C-A-A."
Barnes put down the marker and looked at his team.
"Who are we?" he asked the Longhorns. "Which one would you put your name under?"
By the time Texas left the Sprint Center, the question had been answered.
In a game that so many predicted they would lose, the Longhorns fought back from an 11-point deficit and defeated Iowa State
71-65
in the quarterfinals of the Big 12 tournament. Along with propelling them into Friday's semifinal against Missouri, the victory significantly enhanced the résumé of a Texas team that entered the contest on the NCAA tournament bubble.
Now 20-12, the Horns feel much better about their chances of earning a 14th consecutive bid under Barnes, who isn't the type to politick to the selection committee.
He shouldn't have to.
Texas finished 9-9 in what is generally regarded as the second-best league in the country behind the Big Ten. The Longhorns' strength of schedule is No. 20 in the country according to
ESPN's InsideRPI
, and they have only one defeat (at Oklahoma State) that can be viewed as a "bad loss."
Thursday's victory over Iowa State also should turn some heads considering the Cyclones -- who tied for third in the Big 12 standings -- entered the game touting wins in four of their previous five contests. Texas' win Thursday came before 18,792 people, most of whom were in support of Iowa State.
"You love to walk into other gyms and quiet their fans," UT guard
J'Covan Brown
said.
Texas led 65-59 with 2 minutes, 55 seconds left before Iowa State scored six consecutive points to force a tie. But rather than flounder in the face of adversity, the Longhorns flourished.
[+] Enlarge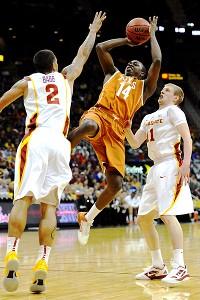 Peter G. Aiken/US PresswireJ'Covan Brown's late-game cool helped Texas hold off Iowa State -- and strengthen its NCAA case.
With 36 seconds left, Brown spun into the lane and swished a floater as he was fouled. He sank the ensuing free throw to convert the 3-point play to give Texas a 68-65 lead. It was yet another huge shot for a player whose career has been defined by gut-check moments.
Brown scored seven of his game-high 23 points in the second half.
"A few seconds before I hit that shot, Coach was like, 'Are you feeling it?'" said Brown, a junior. "I told him I was, and he let me go out and do my thing. It gives you a lot of confidence when your coach has your back like that."
Brown's performance this season -- he averages a Big 12-best 20.1 points -- is even more impressive considering he's on a team that features five freshmen among its top seven players. Opposing defenses are geared to stop Brown, yet he still finds ways to score. His game winner Thursday came against Iowa State's
Chris Babb
, who is regarded as one of the top defenders in the Big 12.
"[Brown] is a gifted offensive player," Barnes said. "He has such great vision. On that last play he had three or four different options, and he picked the right one to get the ball where it needed to be."
The Cyclones still had a chance after Brown's clutch basket, but standout
Royce White
lost control of the ball on the perimeter, and it ended up in the hands of Texas forward
Jonathan Holmes
. Iowa State immediately fouled Holmes, and the freshman made both free throws to make it 70-65 with 22 seconds left.
Ballgame.
As proud as he was of Brown, Barnes was also ecstatic about the play of freshman point guard
Myck Kabongo
, who has been on a steady incline all season. Kabongo finished with 11 points, five assists and no turnovers -- Texas had only six turnovers as a team -- and he played excellent defense on Iowa State 3-point ace
Scott Christopherson
.
A senior, Christopherson entered Thursday's game averaging 21.8 points in his previous five contests and had made 19 of 36 3-point attempts during that span. Pestered by Kabongo, he scored just 10 points on 4-of-13 shooting and missed four of his six attempts from beyond the arc.
As a team, the Cyclones made just five 3-pointers Thursday. They came in averaging nine per game.
Texas now advances to play another strong shooting team in Missouri. The Tigers are shooting 49.9 percent from the field, a mark that ranks third in the nation. Mizzou defeated Texas 84-73 in Columbia on Jan. 14 and 67-66 in Austin on Jan. 30.
"We feel good about this win," Brown said. "But we can't let our young guys celebrate too much. We've got another big one tomorrow."