January, 27, 2015
Jan 27
2:20
PM ET
The NFL has a reputation for being a copycat league. So it makes perfect sense that the two best guard prospects in this year's draft class spent the majority of their college careers playing left tackle – Iowa's
Brandon Scherff
and LSU's
La'el Collins
.
Last year,
Dallas Cowboys
rookie
Zack Martin
made that same transition, going from left tackle at Notre Dame to right guard in the NFL. And he wound up as a first-team All-Pro.
[+] Enlarge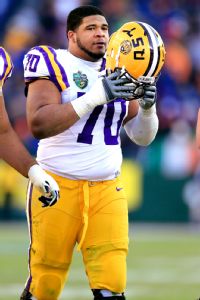 AP Photo/Mark HumphreyLa'el Collins is a first-round prospect who can play at several offensive line spots.
It's still possible that Scherff or Collins could wind up playing tackle in the NFL, depending on where they land. But for a team like the
New Orleans Saints
that values the guard position so highly and needs to start building for the future behind veteran guards
Jahri Evans
and
Ben Grubbs
, those two prospects could be strong possibilities with the 13
th
pick in this year's draft.
"There are trends, and you look at that and say, 'OK, this kid [Martin] just did it and he played really well for Dallas. And he was great.' But you've gotta also look at the individual player," said ESPN/Scouts Inc. draft analyst Steve Muench, who said that neither Scherff nor Collins is as "quick on his feet" as Martin was last year.
But Muench described both as worthy first-round picks and "plug and play" guards – meaning he believes they could step right in and start at guard in the NFL.
I chatted with Muench last week at the Senior Bowl in Mobile, Alabama, where he said he was impressed by what he saw from the 6-foot-5, 308-pound Collins during the week of practices while Collins took turns playing left tackle, right tackle and left guard.
Scherff (6-5, 320) elected not to play in the Senior Bowl. He is projected slightly higher than Collins on most draft boards right now – often in the top 10 overall.
Muench said he has Scherff graded slightly higher right now as a guard prospect – though he believes Collins has a better chance to play right tackle in the NFL than Scherff if that's what teams are looking for.
"I still really like Collins and thought he had a good week, but Scherff is a little more consistent with more explosive power. Both players should be good, though," said Muench, who described Collins as a "mean run blocker" and said his only knock on him during Senior Bowl week was a few technique issues, like opening up a little too much with his feet during 1-on-1 pass-rush drills.
"Outside of the technique, I think he's a really good player. He's got a lot of talent. He's got good hands, good feet, good balance. He doesn't overreact to things in pass pro, lets it develop, stays in front of guys," Muench said. "And then you don't see it as much here [at Senior Bowl practices] because guys don't fire off like they do on game film, obviously. But he's a mean run blocker on tape, who's got the power to move guys off, in addition to having enough athletic ability to seal guys, seal a defensive end, get up to the second level, cover up linebackers."
Scherff was a first-team All-American and Collins a second-teamer in 2014, according to the Associated Press. But Collins, a Baton Rouge native, seems to have helped his draft stock by deciding to return for his senior season at LSU, where he won the Jacobs Blocking Trophy as the SEC's top blocker and was named as the Tigers' Most Valuable Player.
Collins said between practices last week that it doesn't matter to him whether he plays tackle or guard in the NFL.
"I'm comfortable playing anywhere on the offensive line," Collins said. "You've just gotta be ready to fit in wherever you need to be. So a guy like me, I feel like I can play inside and outside."
When asked why he played in the Senior Bowl despite being projected as a top-20 draft prospect, Collins said, "Because I'm a competitor, and I look to get better. This is another chance for me to elevate my game, with NFL scouts out here. Who wouldn't want to be here? …
"Why would you pass up on chance to work with great coaches and play against great competition?"
Collins said it would be great to play for the Saints, just an hour away from home, but he stressed, "Anyone that wants to give me an opportunity, I'll definitely be there with open arms and that will be my new home."