December, 25, 2014
Dec 25
8:00
AM ET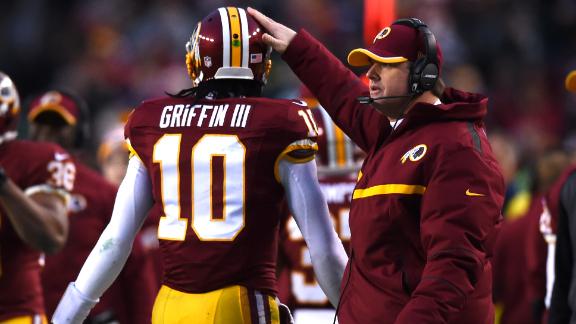 When:
1 p.m. ET Sunday.
Where:
FedEx Field, Landover, Md.
TV:
Fox.
The
Washington Redskins
don't have anything to play for, other than pride and a feel-good vibe to close the season. It's debatable how much the
Dallas Cowboys
really have to play for, too, considering the long-shot scenario for them to improve their playoff positioning with a win.
But the Redskins would like nothing more than to sweep Dallas. It wouldn't exactly turn a 5-11 season into something other than bad, but it would pacify a group of fans who believe that beating Dallas is all that matters.
Regardless, the Cowboys will be in the playoffs and the Redskins will be watching them. A lot of this game comes down to this: Will Cowboys coach Jason Garrett play his starters -- as he has said?
ESPN Cowboys reporter Todd Archer and Redskins reporter John Keim look ahead to Sunday's game.
Keim:
At what point did you buy in to this Cowboys team and think it had a legitimate shot to win the division? And what is the difference in this group compared to the past couple of seasons?
Archer:
Um, how about last week? I've been on the fence pretty much the entire season. And I still don't know how good they are. I guess I just have to get over it. When you are around a team as much as we are around a team, you tend to see just the flaws. There were times in training camp when this defense was dreadful; I remember a day when the running backs weren't touched until they were 10 yards down the field. I was among the more optimistic prognosticators when I predicted 8-8 at the beginning of the season, so I certainly didn't see this success. I thought the offense would be terrific and the defense would be bad, and I didn't envision the offense being able to protect the defense as much as it has. I also have to give the defense and coordinator Rod Marinelli credit. It has been far from perfect, but the unit has made timely plays all season. But back to the question: I think the second Eagles game finally got me convinced that the Cowboys have a chance. They were waxed by Philadelphia on Thanksgiving. In the rematch, they blew a 21-point lead and answered on the next drive. That was when I really thought, "They're not the same old Cowboys." Maybe I was late to the party.
Cowboys fans surely are happy with the Redskins for beating the Eagles last week. The Redskins' season is over, obviously, and they can't ruin the Cowboys' season, but how much is at stake for
Robert Griffin III
?
Keim:
There is a decent amount at stake, but as of now it appears Griffin will return, so on Sunday he's not playing for his Redskins future. I haven't gotten the sense yet that they would get rid of him. I also know that some of the issues the coaches have with his game will take a lot of work in the offseason to correct. It's not just how he operates in the pocket; it's also his mechanics as a passer -- inconsistency with his feet, his base, how he stands. One game won't alter their opinion, but if he can play well and they win Sunday? It would go a long way toward showing the coaches how they can win with him.
How strongly should
DeMarco Murray
be considered for NFL MVP? Obviously his stat line is terrific, but what has he done that has put him in this category?
Archer:
Oh, I think he should be considered for the award, but if I had a vote, I'd give it to
Tony Romo
. He is having his best season and has made big plays at big moments. But since you asked about Murray, I'll stick with him. He needs 29 yards to pass Emmitt Smith's franchise record for yards in a season. To me, the offensive line has played a big part in Murray's season, but he did more work on looking at opposing fronts and trying to understand what the defense does and letting that flow into the Cowboys' running game. He's put up a lot of yards and had some big games, but I think his understanding of the Cowboys' run schemes and what the defense wants to do have been the biggest difference. There have been times when you still wonder about his vision, but he has answered just about any question that people might have had about him. He deserves to be in the MVP discussion, as does Romo. It's possible these guys could split their vote.
From the outside and with Texas ties, it's all about RG III from the Cowboys' perspective. Jerry Jones still sees the guy who ripped up Dallas on Thanksgiving two years ago. Can he be that guy again?
Keim:
Oh, it's all about Griffin up here, too. That is part of the problem, and it's worn many out, including Griffin. It's amazing to think that he might never be that guy again, but with some of the talent around him he's capable of big games. Still, I don't know if he can have that sort of magical year again. He has to definitely improve as a passer -- be more accurate, see the field better -- to regain that consistency. The spread offense in college did not prepare him for life in the NFL. Regardless, I'm not about to write him off, because of the memory of 2012 and because he's rather young. Right now it's hard to believe that he can play at that level consistently. (More than a few in the organization feel that way.) Griffin was more explosive then, and the offense did a good job of using his talents while defenses tried to figure him out. I always felt, even in 2012, that for him to keep growing as a quarterback, his mechanics and passing had to improve. They haven't done so to the necessary level. I don't know if he will ever be a truly good pocket passer -- is it instinctual? How much can it be developed? But let's see what happens when Griffin gets another offseason in this offense and more chances to work on his fundamentals. It would also help Griffin if the Redskins improved more around him, lessening the need for Pro Bowl-level performances.
Do you get a sense from the Dallas offensive players as to why they have struggled at times against the Redskins' defense?
Archer:
The easy answer is execution. That's what they always say. Some of it has been the plans put together by the coaches. Up until this season, the Cowboys had holes on their line and had a hard time with any team that featured a lot of pressure packages. In the first meeting, they struggled again with the pressure. It's almost as if defensive coordinator Jim Haslett has Romo guessing. Romo is able to get a good feel for what defenses do against him during the course of his film study, but some of the stuff Haslett does has no rhyme or reason. As a result, the Cowboys can't figure out the tendencies and are often left guessing, and too often they have guessed wrong. The past two times Romo has played the Redskins, he has hurt his back. Obviously that can't happen Sunday, but the Cowboys had better get a read on what Haslett will do. To me, it's imperative they excel on first and second down early in the game.
For as well as Romo has played this season, he still has to get over the Haslett hump. Does Haslett have the Cowboys' -- and Romo's -- number?
Keim:
It certainly seems that way at times. The Redskins have a great feel for what Romo and the offense want to do. And they have always felt that their style of play works well against Dallas. They have cornerbacks who can and like to play physical, and they don't feel like the Dallas receivers will run past them. They have Romo's cadence well-timed and, in the first meeting this season, did an excellent job of shifting at the last second. Why? Because they knew after the center made his protection call, Romo would then adjust and that would be it -- and that's when the Redskins' defense would adjust. They also love using stunts against young linemen, and that has hurt the Cowboys as well. But Dallas will be facing a different defense because of injuries.