August, 21, 2014
Aug 21
5:26
PM ET
IRVING, Texas --
Anthony Spencer
has two goals: to play this season and avoid the reserve/physically unable to perform list, which would cost the
Dallas Cowboys
defensive end the first six games of the regular season.
"I just want to be back on the field this season, whenever that is," Spencer said.
Cowboys owner and general manager Jerry Jones has acknowledged the possibility of keeping Spencer on the 53-man roster for the first two weeks of the season even if he is not cleared to play.
Spencer is coming back from microfracture surgery on his left knee after playing just one game last season. He has slowly increased his workload during the summer and is focusing on more change of direction and resistance training.
"I haven't plateaued yet," Spencer said. "My body is responding really well to the things we're doing, so we're just going to continue to do them."
The Cowboys open the season Sept. 7 against the
San Francisco 49ers
. If he is on the PUP to start the season, he would not be eligible to play until Oct. 19 against the
New York Giants
. The Cowboys will be without second-round pick
DeMarcus Lawrence
for at least the first three regular-season games because of a broken foot and they need all the defensive line help it can get.
Coach Jason Garrett said Spencer would mostly play right defensive end when he returned. He played left defensive end last year and has mostly played on the strong-side for his career. Spencer said he is working on both stances as he works his rehab and does not believe it will take him long to adjust to the new side.
"I would just be happy to be out there, truthfully," Spencer said. "It really doesn't matter where I end up."
August, 21, 2014
Aug 21
2:39
PM ET
IRVING, Texas -- Veteran linebacker
Jason Phillips
is working out for the
Dallas Cowboys
on Thursday.
Phillips, 28, a TCU product, was cut by the
Philadelphia Eagles
this week.
Phillips missed all of last season because of a torn ACL suffered during training camp.
Originally a fifth-round pick by the
Baltimore Ravens
, Phillips had his best season in 2012 with the
Carolina Panthers
, serving as a core special teams player and making two starts at linebacker.
The Cowboys are looking for linebacker depth after doctors advised
DeVonte Holloman
, a sixth-round pick last year, to retire from football because of a neck condition.
August, 21, 2014
Aug 21
2:25
PM ET
IRVING, Texas -- After spending all of training camp at weakside linebacker, rookie fourth-round pick
Anthony Hitchens
finds himself competing for the starting job in the middle.
Hitchens has played solely middle linebacker during practice this week and has been getting some work with the starters. He's in the mix with
Rolando McClain
and
Justin Durant
to be the Cowboys' Week 1 starter.

"Yesterday he had a really good day at practice," head coach Jason Garrett said. "He stepped up. He ran around. He struck people. He was physical. He looked the guy we drafted. He looked damn good."
The Cowboys drafted the 6-foot, 235-pound Hitchens, who played weakside linebacker at Iowa, with the idea of grooming him as
Sean Lee
's backup at middle linebacker. Those plans went out the window when Lee suffered a season-ending knee injury on the first day of organized team activities in May.
After acquiring McClain, the Cowboys decided to have Hitchens focus on the weakside spot during camp, but they always stressed to him the importance of position flexibility. He made a point to study all the calls a middle linebacker must make before each snap, but that communication is still the toughest part of his transition.
"Setting the front when they're motioning and getting everybody lined up," Hitchens said. "Everybody looks for me to for the call, and in college our middle linebacker made all those calls. That was the biggest thing for me. I'm getting it down now, so I should be all right."
Hitchens has a heck of a tutor. He spends "as much time as I can" with Lee, who is trying to get the rookie up to speed as quickly as possible in the mental details of playing middle linebacker in this scheme.
"In meetings during camp, he sat right behind me," Hitchens said. "He was always in my ear. I'm looking this way and I just hear him in the back of my head talking to me. He just gives me a little knowledge here and there."
Hitchens knows he still has a lot to learn. He figures the more reps he gets, the faster he can play and the less he'll have to think on the field.
Hitchens also understands that his time in the middle could be temporary.
"I'm just trying to get better every day," Hitchens said. "That's all I can focus on. Whatever happens, happens. That's the coaches' decision. That's what they get paid for. I'm just here trying to get better and then play the role I can."
August, 21, 2014
Aug 21
2:21
PM ET
IRVING, Texas – How much
Dallas Cowboys
quarterback
Tony Romo
plays Saturday against the
Miami Dolphins
has not been finalized, but Romo feels like he is ready for the regular season.
Romo saw 16 snaps of action last week against the
Baltimore Ravens
in his first action since undergoing back surgery in December, completing 4-of-5 passes for 60 yards and a touchdown. Typically the Cowboys' starters do not play in the final preseason game, which means this will be Romo's final action before the Sept. 7 opener against the
San Francisco 49ers
.
Romo
"You play through a lot of stuff when you're playing," Romo said. "Obviously right after the surgery it would've been a different story but at this point, yeah there's no question you'd be playing a football game. I mean I don't know that you would go to play in the preseason if you didn't think you could play football. I mean, it's football."
Romo returned to practice on Thursday after sitting out Wednesday as he continued a conservative practice plan through his recovery from surgery.
"This feels like I've got a ton of time compared to last year," Romo said. "Last year really, sitting out the entire offseason [following his first back surgery], that part of it, I've been a part of a lot more even though it might not seem like it to you guys."
Romo went through parts of individual drills on Thursday for the first time this summer. Coach Jason Garrett said Romo's fundamentals have not been an issue.
"I think you're always doing that with guys, and you do those every day drills for a reason -- to make sure everybody at every position is handling the fundamentals of the game the right way," Garrett said. "Tony is no different than anybody else, and like with anybody coming back off of an injury, you want to make sure you're doing stuff that's not going to hurt them.
"He'll work his way back into getting the full complement as we go, but there are plenty of ways to evaluate that. I think he's done a really good job technically and fundamentally. His footwork and his ball carriage and getting the ball out have all been really good."
August, 21, 2014
Aug 21
1:59
PM ET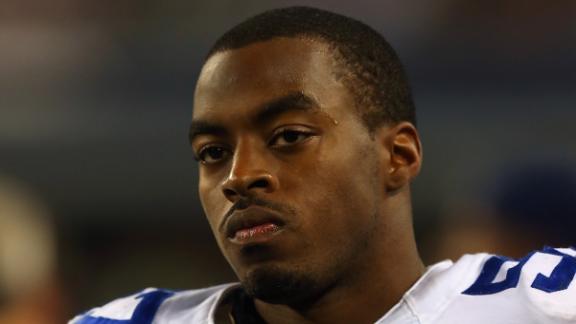 IRVING, Texas -- Dallas Cowboys linebacker DeVonte Holloman was told by team doctors on Thursday to retire because of neck injuries, according to a source.
Holloman, 23, received a second opinion that confirmed he can't play in the NFL anymore, the source said. He will seek a third opinion just to see if there's a chance he could play.
Holloman missed seven games as a rookie with a bruised spinal cord but was able to return and start the final two games, posting a career-high 11 tackles and two sacks in the season finale against the Philadelphia Eagles.
In the offseason, Holloman took part in several offseason workouts and noted he almost had to learn how to tackle again.
Coach Jason Garrett said the neck had been bothering Holloman the last few weeks, and he was unable to finish last week's preseason game against the Baltimore Ravens.
"I don't want to get into anything medical about it," Garrett said. "I don't know that much about it, and there's a lot of very specific things regarding that. But it has to do with his neck and he had that injury last year and he dealt with it again this year. It's a very challenging, difficult thing for a young man who has dreams of being an NFL football player, achieves those dreams.
"I told him this morning, 'You're a 10-year player in my mind. You're going to play for a long, long time.' Just has everything that you want. Took advantage of his opportunity here last year whenever we gave it to him. And he has physical ability, he's tough, he's got instincts and feel for the game. But this becomes an easy decision for him and for his family when you're dealing with that kind of injury."
August, 21, 2014
Aug 21
12:00
PM ET
IRVING, Texas – What to do with the fullback on the final roster will be among the
Dallas Cowboys
' toughest decisions.
The "who" right now is easy; the job would go to veteran
Tyler Clutts
. But it is far from a given that the Cowboys will keep a fullback heading into the regular season.
Clutts joined the Cowboys in the final four games of last season and
DeMarco Murray
had 424 yards in that span, although not all of it came behind the fullback. But to keep a fullback, the Cowboys might have to carry just three tailbacks or go lighter somewhere else on defense.
[+] Enlarge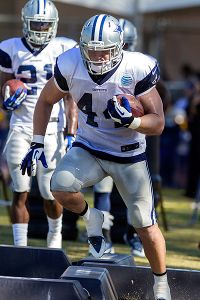 AP Photo/Ringo H.W. ChiuThe Cowboys must decide whether to keep a fullback on their final roster. It would most likely be Tyler Clutts.
"When you talk about the fullback, you talk about the second tight, you talk about the third receiver – those guys that are starters on your team in particular personnel groups," coach Jason Garrett said. "You're always kind of counting plays with those guys, you're evaluating what their special teams role is and you're evaluating simply their effectiveness and their value to your offense. You want to be a physical football team; having a fullback matters. You want to be a physical football team. That second back in the backfield sometimes provides that oomph that you're looking for."
Clutts averaged about 12 plays a game last season. There aren't a lot of short-yardage and goal-line plays to go around in a season, but if the Cowboys want to run more and kill the clock late in games, keeping a fullback could make some sense. Murray said he has no preference as to whether he runs in a one-back or two-back set.
"Typically in the NFL you might have 10, 12, 15 – at the most – goal-line plays over the course of a season," Garrett said. "And you take every play as if it's the last play you'll ever play, but having said that, those goal-line plays matter. Having a guy in there who can do the job for you there and also in some short-yardage situations, that's an important part of having success on offense.
"So we've done it different ways. Different teams have done it different ways, issuing the third tight end. Sometimes you use a defensive lineman or an offensive lineman to help those personnel groups out. But if you have a fullback who is worthy, you can throw him the ball, he can lead-block, he can do some other things and can contribute on special teams. All of a sudden you count up those plays and the importance of those plays and he becomes a valuable commodity."
August, 21, 2014
Aug 21
11:15
AM ET
IRVING, Texas -- ESPN has kicked off is #NFLRank program in which 90 experts polled picked the Top 100 offensive and defensive players.
In spots 61-100, the
Dallas Cowboys
have two players -- both on offense -- ranked so far.
Click here
for the list so far.

Tony Romo
checked in at No. 61 today, improving by a spot over last year. Romo is ahead of quarterbacks like
Jay Cutler
,
Joe Flacco
,
Nick Foles
,
Matthew Stafford
and
Eli Manning
, who came in at No. 62 after a horrendous season.
DeMarco Murray
popped up at No. 91 and if he has the season many are forecasting, he should move up in the rankings in 2015.
The fact that the Cowboys don't have a defensive player yet in spots Nos. 61-100 might be telling. Who could be in the top 60?
Sean Lee
was hurt at the time of the voting.
Orlando Scandrick
?
Barry Church
?
Brandon Carr
? Hard to see a defensive player cracking the list.
On offense,
Jason Witten
,
Dez Bryant
and
Tyron Smith
would have to be sure bets to enter the list in the top 60.
August, 21, 2014
Aug 21
11:00
AM ET
IRVING, Texas --
Dallas Cowboys
cornerback
Morris Claiborne
and his head coach share a similar hope that he can play in Saturday's preseason game in Miami.
But Claiborne, who hasn't done competitive work since spraining the AC joint in his right shoulder last week, isn't on the same page as Jason Garrett in terms of whether practice is a prerequisite to playing in the game.
Claiborne
Claiborne anticipated that his Thursday work would "probably be the same" as other practices this week, which means he'd be limited to non-contact individual drills. He still planned to play this weekend against the
Miami Dolphins
.
"My mind is on the game, on playing," Claiborne said. "As we get closer, we'll see, but that's where my mind is right now, on playing on Saturday."
Garrett said Claiborne's availability against the Dolphins would be determined by how he does in Thursday's practice with Friday a scheduled off day.
"We do want to make sure he has a good work day before we put him out on the game field," Garrett said.
Claiborne has played in only two of 11 preseason games since being selected with the sixth overall pick in the 2012 draft. He didn't play a preseason down last year and performed poorly in the regular season.
"Again, we're for practice. We're for preseason games," Garrett said. "We're an advocate of all these things. We think it's good to practice and play and get yourself an opportunity to get some experience -- for all players, not just young players.
"For whatever reason, he's had some issues that have prevented him from doing that, but that's just what the situation is. So you get that thing healthy; you come back as soon as you can come back; you get as many reps as you can get to get yourself ready for the season. It's as simple as that."
August, 21, 2014
Aug 21
10:31
AM ET
IRVING, Texas –
Dallas Cowboys
quarterback
Tony Romo
and linebacker
Rolando McClain
returned to practice on Thursday, but cornerback
B.W. Webb
was missing.
Romo went through some individual drills, working on footwork and ball security for one of the first times this summer. He has followed a conservative training camp practice routine this summer but will play Saturday against the
Miami Dolphins
.
McClain sat out Wednesday after he was unable to finish Tuesday's practice because of cramping. Rookie
Anthony Hitchens
worked with the first time at middle linebacker during the portion of practice open to the media, with
Justin Durant
and
Bruce Carter
as the outside linebackers.
DeVonte Holloman
has not practiced this week since suffering a neck injury and is awaiting the results of a second opinion.
Sterling Moore
returned to practice for the first time in a week after aggravating a groin injury. Webb has a sore hip flexor that is keeping him out of practice. Rookie
Tyler Patmon
will see time in practice as a slot corner.
Safety
Johnny Thomas
was also missing from practice.
August, 21, 2014
Aug 21
10:00
AM ET
In truth, there is very little to tie
Eli Manning
and
Tony Romo
together. One was the No. 1 overall pick, the other undrafted. One has won two Super Bowl MVP awards, the other has become the poster child for blowing it in big games. They play in the same division and are about the same age, but their stories are divergent.
Manning
Romo
Yet there they sit right next to each other, Romo at No. 61 and Manning at No. 62, on this year's #NFLRank list (see chart, below right). And when you see it like that, you start to imagine where they'll be on this list a year from now. It's easy to realize that this is a pretty big season for both of these guys. For different reasons, each faces the question of whether he's in decline.
Romo is 34 years old and has had back surgery twice in the past two years. He's set up to produce big numbers as the quarterback of a
Dallas Cowboys
offense loaded with skill position weapons. For the first time in his career, it appears he has enough elite offensive line talent to protect him. Given the sorry state of the Cowboys' defense, Romo is going to have the opportunity and responsibility to put up a lot of points.
So the question is whether he can, physically, or whether the back issues will continue to be a part of Romo's story from here on out. If they are, the rest of the story likely gets a lot shorter and a lot more uncomfortable to watch.
Cowboys people say they're happy with the progress Romo has made from this year's back surgery and that the priority now is to make sure there are no further setbacks. If there aren't, there's no reason to think there's reason for long-term worry with Romo. He's up one spot from his place in last year's rankings, which indicates that perception of him as a player hasn't changed much. He's set up to succeed on the field as long as he can stay there. For Romo, this season is about proving he's healthy enough to make the next chapter of his career a substantial one.
Manning is in a different spot. As consistently healthy a quarterback as the NFL has, Manning had ankle surgery this spring and missed almost no practice time. He's fully healthy and expecting to play all 16 games, as he has in every season since 2005. The question with Manning is not whether he'll play, but how he'll play.
Manning led the league last season with a career-high 27 interceptions. The Giants' offense fell apart around him so completely that the organization engaged in a full-scale overhaul, bringing in a new offensive coordinator, installing a new offensive system and making sweeping personnel changes at running back, wide receiver, offensive line and tight end.
While some pieces (
Victor Cruz
,
Justin Pugh
) remain in place around him, the most critical constant is Manning, whose 2013 performance was alarming enough to drop him from No. 17 to No. 62 in these rankings. The question hanging over his tousled head as 2014 dawns is whether he was a victim of a system meltdown or an active creator of the mess. Manning is 33, and the way the league is built to preserve quarterbacks now, as long as he's healthy, there's no reason to think he can't play five or six more years, easily.
But Manning has no contract beyond 2015, and the fact that the Giants didn't extend him this offseason, when doing so would have helped them significantly on cap room, indicates that there are questions about his future. They have said, publicly and privately, that they don't consider Manning to be a quarterback in decline. They believe he has and will continue to take to the new offense and help everyone else with the ease of the transition. He's eager to put 2013 behind and play better going forward. He acknowledges his role in the mess and is working to make sure he doesn't repeat it.
However, another bad year could easily change the narrative here. There's no doubting Manning's ability to elevate a team to greatness over a one-month or two-month span, as he has twice, to the chagrin of
Tom Brady
and the
New England Patriots
. But can Manning be a consistent-enough performer in the regular season to shorten the Giants' rebuilding phase and return them to annual contender status? Or are his best days behind him?
The Cowboys and the Giants could be in for rough seasons. Dallas' defense appears noncompetitive on paper, and the Giants' offense is a work in progress that might not be ready for the start of the season. It would be a mild surprise if either team contended for the division title, though it's important to note that the NFC East always surprises to some extent.
Within that framework, though, Romo and Manning face important seasons from individual standpoints. Regardless of their teams' final 2014 records, each is going to emerge from this season having addressed a major question about what to expect from the remainder of his career. Five months from now, we're going to have a lot more information on which to base future expectations for these franchise quarterbacks. Based on the manner in which these players answer these key questions, their teams will either be breathing sighs of relief or addressing huge new questions about the most important position on their rosters.
August, 21, 2014
Aug 21
10:00
AM ET
IRVING, Texas -- Last season
Dallas Cowboys
wide receiver
Dwayne Harris
averaged 12.8 yards per punt return and 30.6 yards per kickoff return. He was the only returner in the NFL in the top five in both categories.
Through two preseason games Harris has just one punt return attempt, good for 7 yards, and no kickoff returns.
"Special teams coach Rich Bisaccia, is kind of saving me I guess for the San Fran game," Harris said. "He doesn't want me to get hurt, so we'll see what happens. I'm pretty sure he'll put me back there a couple of times (in the preseason). I don't know when, but I'm pretty sure it will be soon."
Harris is a dynamic returner. He won the first meeting against the
Washington Redskins
with an 86-yard punt return for a score and a 90-yard kickoff return that was turned into a touchdown two plays later.
"I don't need many reps at it as a returner," Harris said. "I think when you get the ball in your hands your instincts just take over anyway. It takes the guys up front to get used to blocking and seeing how I still return it."
August, 21, 2014
Aug 21
9:00
AM ET
IRVING, Texas -- The commitment of players who retire twice by the age of 25 tends to be questioned, particularly if he repeatedly misses practices due to minor ailments.
Is
Dallas Cowboys
linebacker
Rolando McClain
unable to practice or just unwilling to push through pain after a year away from football? Does he really care about the chance to win a starting job?
McClain, who sat out Wednesday's practice due to cramps, wasn't available to answer those or any other questions during the media access period in the locker room. However, head coach Jason Garrett strongly supported the player the Cowboys recruited off his couch in July, saying the team made the "right decision" to rest McClain a day after he took first-team reps at middle linebacker.
Garrett also insisted that he could see that McClain, who missed a couple of practices during training camp with knee tendinitis, was motivated by the opportunity to start. How does he know?
"I have seen him practice," Garrett said. "Now, he, like everybody on our team, has to do it again and again and again. He has some things that have sidetracked him here for a day or two throughout training camp. But obviously being out at practice playing play after play, day after day matters. So hopefully he will have a chance to do that starting again [Thursday]."
The Cowboys clearly want McClain, the eighth overall pick in the 2012 draft, to claim the starting job at middle linebacker. But he's been sidelined by minor medical issues the following day both times he's worked with the starting defense.
No matter how talented McClain is, he can't win a starting job by hanging out in the weight room during practice.
Maybe McClain truly has rediscovered his desire to play football after being away from the game since November 2012. Only he truly knows that. But after the long layoff, there's no question that conditioning is a significant concern.
McClain was mostly impressive during his preseason debut with Dallas, recording six tackles, a forced fumble and a pass deflection to halt a drive. One particular sequence was telling, though.
After making a big hit inside the 5 by the Baltimore sideline, McClain got back on his feet, faced the Dallas bench and waved both hands over his head, looking like a guy on a stranded boat trying to get the attention of a passing ship. He was tired and wanted to tap out of the game.
The coaches either didn't see McClain -- yeah, right -- or ignored him, hoping to force him to fight through the fatigue. He went through the motions on the next snap, a touchdown run right at him.
That's kind of the way it's gone for McClain since he's joined the Cowboys. He'll give glimpses of his talent. He just hasn't been consistent.
The Cowboys can help McClain improve his conditioning if that's the issue. Two other franchises have failed to light a competitive fire under him.