January, 26, 2015
Jan 26
12:00
PM ET
Cowboys reporter Todd Archer breaks down the Dallas Cowboys, position by position, analyzing what the players did in 2014, what they can do in the future and what the team can do to improve the position in 2015.
Under contract:
Tony Romo
,
Brandon Weeden
,
Dustin Vaughan
A look back:
It's difficult not to call 2014 Romo's best season. He led the NFL in completion percentage. He led the NFL in quarterback rating and Total QBR. He had the best touchdown-to-interception ratio of his career.
[+] Enlarge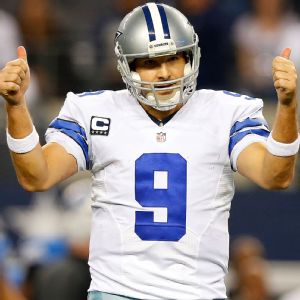 Tom Pennington/Getty ImagesBy many statistical measures, Tony Romo had the best season of his career.
And he did it coming off major back surgery and not being able to practice fully the entire season. After the second week of the season, Romo did not practice on Wednesdays during full practice weeks in order to build up strength in his legs and core.
It worked perfectly. The one time it didn't was on Thanksgiving, a shorter week, in a 33-10 loss to the
Philadelphia Eagles
.
Romo threw 34 touchdown passes and was intercepted just nine times. Three came in the first half of the season opener. He was more efficient than ever and benefitted from the belief in the running game. But as the running game slowed some late in the season, Romo's play picked up and the Cowboys closed the regular season with four straight wins. He had 12 touchdowns and one interception. He completed 90 percent of his passes in the win against the
Indianapolis Colts
. He showed he didn't need to throw for 300 yards to be successful. He did it just once all season.
And he showed again just how tough he is playing through two transverse process fractures and torn rib cartilage.
Weeden started the 28-17 loss to the
Arizona Cardinals
and completed 18 of 33 passes for 183 yards. He was picked off twice and threw one touchdown pass. The Cardinals made a lot of quarterbacks look pedestrian during the season. Weeden had a good spring, which helped the Cowboys decide to cut
Kyle Orton
after the veteran skipped the offseason program, organized team activities (OTAs) and mandatory minicamp. He had some good moments in the preseason and played well in relief of Romo against the
Washington Redskins
.
Is he a long-term answer or a stop-gap backup? The Cowboys will give him a chance to show that either way.
Dustin Vaughan made the roster as an undrafted free agent and was active for just one game. He has a big arm and showed potential in training camp and in the preseason, but his presence would not deter the Cowboys from taking a quarterback in the draft this spring.
A look ahead:
For the first time since 2012, Romo will have an offseason to be able to perfect his craft. Back surgeries held him out in 2013 and '14 and while he was able to play at a high level, he has long believed his improvement came in the spring when he tinkered with different things.
Romo turns 35 in April, but the Cowboys believe he is different than most 35-year-old quarterbacks because he didn't play the first three years of his career. Maybe the back surgeries or hits he has taken eat up some of that clock. But this isn't about a five-year plan with the Cowboys. There is no reason to think Romo's about to hit a steep decline in play.
Mentally, he is at his best. Physically, he can still get it done and he has a top offensive line that is a huge benefit.
He is set to count $27.773 million against the cap, which is an astounding number but one that the Cowboys could keep him at with the kind of salary-cap shape they are in. By restructuring his deal, they would only add to how much he will count against the cap in the future.
Weeden is signed through 2015. The Cowboys will have Vaughan's rights through 2017.
A look out:
Every spring we wonder if this is the year the Cowboys draft Romo's successor. The guess now is no, they won't. Whenever the Cowboys decide to move on from Romo or Romo moves on from the Cowboys, then they will find his successor. The thought of grooming quarterbacks these days seems quaint, like a glass of lemonade on a hot day. Teams mostly draft a guy early and play him.
They could look for a more veteran backup than Weeden, but there's not a lot available and they still like Weeden's arm and potential. The same goes with Vaughan.