July, 22, 2014
Jul 22
11:20
PM ET
[+] Enlarge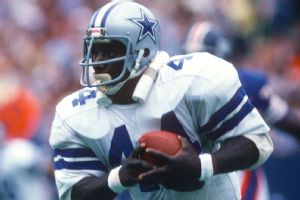 Focus on Sport/Getty ImagesFormer Cowboys fullback Robert Newhouse has died after a long illness, according to his son.
Robert Newhouse, responsible for one of the most iconic plays in Dallas Cowboys history, died Tuesday after a long illness. He was 64.
Rodd Newhouse told Minneapolis TV station KMSP-TV that his father was surrounded by his wife and four children at the Mayo Clinic in Rochester, Minnesota, when he died from the effects of heart disease.
Newhouse had been in declining health since suffering a stroke in 2010.
Newhouse, a Longview, Texas, native, played fullback for the Cowboys from 1972 to '83.
He helped Tom Landry win his second Super Bowl with a memorable play against the Denver Broncos in Super Bowl X.
With about seven minutes left, Newhouse took a handoff from Roger Staubach and headed left. Suddenly, he pulled up and lofted a pass to receiver Golden Richards just over the outstretched arm of a Denver defender to give the Cowboys their final points in a 27-10 victory.
"The thing I remember most is for that halfback option play we ran against Denver," former Cowboys player personnel director Gil Brandt said. "We ran it going left, and it's a lot harder to go left than right. During the week they must've practiced the play 10 times, and he never completed it. And that was going right. Here it is going left, and he completed it."
July, 22, 2014
Jul 22
2:30
PM ET
Associated Press
DECATUR, Ala. -- An Alabama judge has denied a motion from Dallas linebacker Rolando McClain to delay his trial because of training camp.
Decatur Municipal Court Clerk Jessica Haggard said Tuesday that Judge Bill Cook Jr. declined to push back the trial set for Friday on charges of resisting arrest and disorderly conduct. McClain's local attorney, Carl Cole, had filed a motion to reschedule because the Cowboys start camp on Thursday.
McClain was with the Cowboys when they arrived in Oxnard, California, on Tuesday. He wasn't available for comment, and it wasn't immediately clear how the team planned to handle a possible trip to Alabama.
Dallas acquired the rights to McClain from Baltimore on July 1. He was the eighth overall pick by Oakland out of Alabama in 2010 but had retired and hasn't played since 2012.
Haggard says the case had been postponed three times since McClain's arrest in April 2013.
It was his third arrest in Decatur since 2011.
McClain has played in 41 games over three seasons.
July, 20, 2014
Jul 20
9:36
PM ET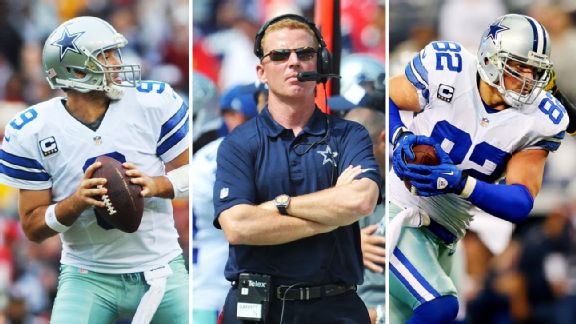 Getty ImagesWith head coach Jason Garrett basically still learning on the job, veterans Tony Romo and Jason Witten must use their influence to get the Cowboys back into the playoffs.
It has been 6,750 days since the Dallas Cowboys' most recent championship.
It has been 1,655 days since their most recent playoff win.
And it has been 1,660 days since they most recently finished an NFL season with a winning record.
Since the Cowboys last ruled the NFC East, in 2009, 18 teams have won division titles, including every other NFC East team. Four others have made the playoffs.
Folks, that's 22 of the league's 32 teams that have been to the postseason since the Cowboys most recently did so during their 2009 campaign.
Ridiculous.
The Cowboys arrive on the West Coast on Tuesday for training camp in Oxnard, California -- about an hour's drive northwest of Los Angeles - and the players and staff will be filled with the usual optimism for this time of year.
After all, every team is undefeated and sees ways it can contend for a championship.
For the Cowboys to end the longest playoff drought since Jerry Jones bought the team in 1989, this team must learn how to win. Clearly, that's easier said than done, as Mama used to say.
So much of winning in professional sports is about confidence -- and unwavering confidence, at that -- because there's not much difference in talent between the best teams and the worst teams.
Take a look at this Cowboys roster, and tell me who knows how to win at the pro level. Hardly anyone.
July, 15, 2014
Jul 15
7:52
PM ET
[+] Enlarge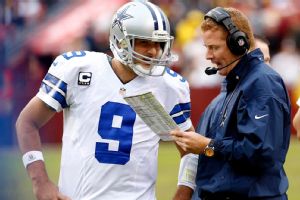 Geoff Burke/USA TODAY SportsJason Garrett must do a better job with his team than the past three consecutive 8-8 seasons.
IRVING, Texas -- Of the eight head coaches who took over teams at the start of the 2011 season, Pat Shurmur, Hue Jackson and Leslie Frazier already have been fired.
Jim Harbaugh and John Fox have taken teams to the Super Bowl, and Ron Rivera has won an NFC South division title.
Jason Garrett, who's had three consecutive 8-8 seasons after going 5-3 in the last eight games as an interim coach in 2010 to win the job, has been in football purgatory.
Three straight times the Cowboys have played for the NFC East title on the season's final week, and three times they have lost.
Now, Garrett is entering his fourth full season. We have zero idea if he'll get a new contract at the end of the season. We don't even know what kind of criteria owner/general manager Jerry Jones will use to judge him.
Trying to guess is folly.
A segment of the population will suggest Garrett should be canned if the Cowboys don't make the playoffs. While they have a point, we've seen 10-6 teams miss the playoffs and 8-8 teams make the playoffs.
Smart teams fire a coach when they believe he's one of the key reasons the teams is losing instead of winning. Or teams fire a coach when they need a scapegoat, which certainly could happen here.
As we've discussed many times, Jerry isn't firing himself.
Ever.