October, 2, 2014
Oct 2
11:10
AM ET
IRVING, Texas --
Jakar Hamilton
wasn't among the several players who had their suspensions reduced due to the new adjustments in the substance abuse and performance enhancing drug policies.
Hamilton
Hamilton, a Cowboys safety, missed the first four games of the 2014 season regardless of the new policies.
Teammate
Orlando Scandrick
saw his suspension reduced to two games and has played the past two weeks. Hamilton just returned to practice on the active roster on Monday.
"It made me think about a whole lot," said Hamilton who is getting work on the scout teams in practice. "It made me think about my future and how much of an opportunity it was to even be here for a team to still like me despite what happened. They brought me back, and I'm blessed, and I just need to buckle down and take advantage of the opportunity because it don't come but once in a lifetime."
The Cowboys are short at corner with
Morris Claiborne
out for the season after tearing the patellar tendon in his left knee. However, it doesn't appear that Hamilton will move to corner and be active for Sunday's game against Houston.
Hamilton's absence was painful on several levels. It left the Cowboys short in the secondary and quite possibly on special teams.
And on a personal level, Hamilton let one of his mentors down, Hall of Fame cornerback Deion Sanders.
The two speak by text message everyday with Sanders sending a word of encouragement.
"The questions I ask he's there to answer and give me support," Hamilton said. "He just told me to be careful and just make sure it don't happen again, and if I do get back, bust my a-- and show my worth. It's a great opportunity to have someone like Deion in your corner to give you advice and take the time out to give you details on how to play the position in the NFL. I'm very thankful for him in my life as a supporter."
October, 2, 2014
Oct 2
11:00
AM ET
IRVING, Texas -- A stats-eyed view of Sunday's game between the
Dallas Cowboys
and
Houston Texans
from the folks at ESPN Stats & Information:
What would a win mean? Since the playoffs expanded to 12 teams in 1990, teams that start a season 4-1 make the playoffs 77.1 percent of the time (101 of 131 teams). Of course, the last time the Cowboys started a season with a 4-1 mark came in 2008 and they missed the playoffs.
Teams with a 3-2 record after five games make the playoffs 49.7% of the time (98 of 197).
This is the first time in the short history of this series that both teams will be entering the game with better than .500 records.
By the numbers:
DeMarco Murray
leads the NFL in rushing this season with 534 yards, 156 more than the next highest back. Murray's 133.5 rushing yards per game average is 39 more than the next highest back.
If he runs for 100 yards Sunday and scored a rushing touchdown, he would be the first back since O.J. Simpson to open the season with five straight games with 100 yards on the ground and a rushing touchdown.
Keeping up with Emmitt:
Every Cowboys running back is compared to Hall of Famers and Smith. Smith set the franchise's single-season mark for rushing yards with 1,773 in 1995.
Here's how Smith's first four games stacked up that year against Murray's first four games this year:
Setting up the pass:
With the Cowboys running it effectively,
Tony Romo
is throwing it efficiently.
His 936 yards on 118 pass attempts so far this season are career lows through the Cowboys' first four games. But he is excelling in play-action. After throwing three interceptions on play-action passes in the season opener, Romo doesn't even have three incompletions on play-action passes in the last three games.
October, 2, 2014
Oct 2
10:00
AM ET
IRVING, Texas – While the
Houston Texans
like to move defensive end J.J. Watt all around their front, he lines up mostly on the left side.
For this week's matchup against the
Dallas Cowboys
, right tackle
Doug Free
will be largely responsible for Watt, although the Cowboys are likely to slide help to Free's direction when they can.
"It's going to be a great challenge," Free said. "Anytime you get to play against a player that has a lot of prestige and stuff like that it's going to be a battle. It's going to be a fight. Just go one play at a time and just rock and roll."
Watt has 15 tackles, two sacks, four tackles for loss, 16 quarterback hits, an 80-yard interception return for a touchdown, three pass deflections and a fumble recovery. The only defensive category he has not filled yet is forced fumble.
Free has had his moments where playing with strength has not been his best attribute, but coach Jason Garrett believes that has improved.
"I think that's a technical thing. I think that's a demeanor thing," Garrett said. "The more he's played, the better he's gotten. That's something that we really emphasize. Guys get to a certain point in their career and there's a feeling from the outside that, 'Nah, they can't get any better; he is what he is.' That's not the way we approach it around here, and Doug's a great example of that. He really gets better and better the more he plays, getting stronger, playing with more snap, playing with more aggressiveness. His hands are better. I think we've seen a lot of that in this first part of the season."
What does playing with "more snap" mean?
"Just play with some snap, you know what I'm saying?" Garrett said. "Don't play oozie. Play with some snap to you."
Free will definitely have to have some snap against Watt.
October, 2, 2014
Oct 2
9:00
AM ET
IRVING, Texas -- In his first draft as a head coach, Jason Garrett had to decide whether the
Dallas Cowboys
needed to take a game-changing defensive end or a left tackle he could plug in and play for a decade with the Cowboys' first-round pick.
Ultimately, Garrett and the Cowboys chose
Tyron Smith
over J.J. Watt -- and the decision wasn't really that difficult.
The offensive line needed to be re-built because the Cowboys had plans to release Marc Colombo and Leonard Davis for salary cap reasons and they wanted to replace aging center Andre Gurode. Besides, the defensive line, at the time, was in good shape with defensive ends Kenyon Coleman and
Jason Hatcher
and noseguard Jay Ratliff.
Watt said he spoke with the Cowboys at the combine, but they didn't invite him to Dallas or speak with him at Wisconsin.
"When they were on the clock at No. 9 that was the first time my family and I really started to watch what was going on," Watt said. "You never know where you're going to go or how things are going to work out but let's start tuning in right now."
Besides, Garrett believed the only way the Cowboys could become a contender again was with a dynamic offensive line.
"Certainly that first pick was critical for us," Garrett said. "We had let three veteran offensive linemen go and we were really young and under-resourced there and we felt like we needed to get some cornerstone players.
"We were fortunate that Tyron Smith was coming out that year. We felt he could be a left tackle and be a cornerstone player for us for a long time. Remember, he was only 20 years old at the time and he was coming out early and we just felt like he had all of the traits to be a great, great player for a long time at a really important position."
Smith played right tackle as a rookie and did a solid job. He was above average in 2012, his first year at left tackle, but midway through the 2013 season he became a dominant player.
Last year, he earned his first trip to the Pro Bowl.
"Often times it's difficult to identify a player's intangibles," Garrett said. "By definition, you can't see intangibles but we always argue that you can see evidence of them in their play. (Tyron) got ringing endorsements from everyone around him and he jumped off the tape at us.
"He was a young player who had everything: physical ability, mental make-up. He played at a big school and was productive. We felt if we could get him in here he could be a great player for us."
October, 2, 2014
Oct 2
8:00
AM ET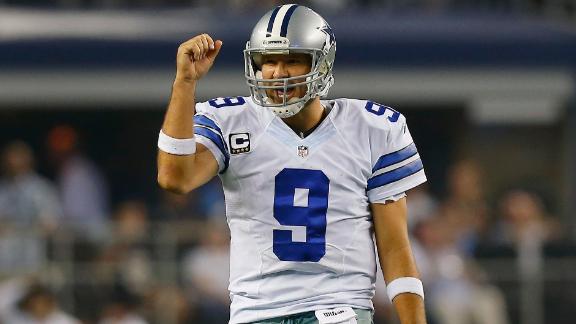 IRVING, Texas -- The
Dallas Cowboys
host the
Houston Texans
at AT&T Stadium for the first time in the $1.2 billion stadium's history, and it's a surprisingly big game, with these teams a combined 6-2 after they were a combined 10-22 last season.
When these teams met on Oct. 15, 2006, at Texas Stadium,
Tony Romo
threw the first two passes of his career in mop-up duty of a 34-6 Cowboys win.
NFL Nation reporters Tania Ganguli and Todd Archer offer up this week's Game Preview:
Todd Archer:
The Cowboys are a surprising 3-1. The Texans are a surprising 3-1. I'm still on the fence about how real the Cowboys truly are. Are you ready to take the Texans for real?
Tania Ganguli:
Well, I don't like to think too much about these things because when I do I tend to talk myself out of my correct first instincts. Back in the preseason when we had to predict the schedule I thought the Texans would start 3-1, beating Washington, Oakland and Buffalo while losing to the Giants. This part of the schedule is a kinder, gentler portion, which is especially useful to the Texans for two reasons. First, it allows a team with a new coaching staff to sort things out. Second, the Texans have had to play without No. 1 overall pick
Jadeveon Clowney
, who is probably two or three weeks from returning, and it hasn't hurt them as much as it could have. I think this team will get better as the season progresses because of those two factors, but I also think the Texans will have much tougher tests than they had in their three wins. And I think that will start this week -- I certainly didn't anticipate the Cowboys being as hot as they are heading into this week.
I half expected the Cowboys to blow Sunday night's game against the Saints. I guess I'm on the fence about them, too. You know them better: What's keeping you from thinking the Cowboys are for real?
Archer:
I guess it's just recent history. They were impressive against the Saints last week, but, like you, I was already beginning to think about epic-collapse angles when New Orleans made it 31-17 early in the fourth quarter. Just when you think the Cowboys have things figured out, they revert back to form. It wouldn't surprise me to see them play poorly Sunday. This team does not have a lot of margin for error, especially defensively. And for as well as we all said the Cowboys played against the Saints, they still allowed 438 yards and that came after they allowed an
Austin Davis
-led offense for the
St. Louis Rams
to put up 448 yards. My trepidation has nothing to do with the offense, although it has had too many turnovers. It's about the defense. I still see a lot of warts and not a lot of depth. What the Cowboys have done is make timely plays. I don't think they can be expected to just shut down opponents. If they can make them drive the field, then that's OK. Who knows, maybe if they win this week I'll change my tune?
For years we were able to marvel at some of the things
DeMarcus Ware
did with the Cowboys. I'm wondering if that's the same way with
J.J. Watt
. Is there anything he can't do?
Ganguli:
Well, Texans kicker
Randy Bullock
said he's never seen him kick. So there's no proof he can do that. He is also not good at golf, unless he's made great strides since he and I talked about this topic a year ago. And he's shown a distinct lack of ability to celebrate in a cool-enough fashion for some of his teammates when he scores touchdowns. Watt has taken a lot of heat, some of it from himself, for that hand in the air, sort of high-step thing he did as he crossed into the end zone after his 80-yard pick-six against the Bills. In all seriousness, though, Watt has a habit of finding a new way to amaze over and over again. Beyond the interception, he had nine quarterback hits on Sunday, which was more than any player had in the first three games of the season combined. Watt is constantly thinking of new ways to use his freakish athletic ability, and he's finding them. His position doesn't really fit into any traditional label -- he's defining it as he goes. And what makes Watt so valuable to the Texans is that really the only way to neutralize him is to pay him a lot of attention. When that happens, it can open up opportunities for other members of the Texans' front.
How big is the loss of
Morris Claiborne
for this team and how will it change what the Cowboys do?
Archer:
It's funny how Watt is such a vital piece to that defense and the Cowboys were hoping Claiborne, whom they moved up to take with the sixth pick of the 2012 draft, would have the same impact on their secondary. It just hasn't happened. Some of it is injury. Some of it is poor play and a lack of confidence. As for the loss of Claiborne, I don't think it will be that big a deal and it definitely won't change what the Cowboys do. What changes is who they do it with.
Sterling Moore
will take over as the No. 3 corner and he's played better than Claiborne and maybe should have played more anyway. He's a smart player and knows what he can't do so he keeps himself in good spots. I don't know if the Cowboys will be appreciably better with Claiborne out for the season, but I don't believe they will be worse. Saying that about the loss of a high first-round pick compared to a former undrafted player is certainly damning.
To me what was somewhat impressive in seeing the Texans last week was seeing them have success without
Arian Foster
or
Andre Johnson
having to carry the day. Are we seeing a changing of the guard with that offense?
Ganguli:
The Texans did have success, but they had a lot of problems offensively and their running game is something Texans coach Bill O'Brien talked about needing to improve after Sunday. Foster admitted to not being 100 percent healthy during that game and he had only eight carries. The Texans rushed for just 37 yards. You can commend the Texans for figuring out a way to win without doing what they like to do, which is run the ball effectively. As for Johnson, he is a great safety blanket for quarterback
Ryan Fitzpatrick
, if he needs it. Johnson is a smart player who runs routes well and communicates well with both his quarterback and his coaches. As they're playing together more, though, Fitzpatrick is clearly developing more confidence in second-year receiver
DeAndre Hopkins
. It's looking like he's starting to believe more and more, as Hopkins piles up his athletic grabs, that Hopkins will catch any jump ball that goes his way.
What's gotten into
DeMarco Murray
?
Archer:
It's more like what's gotten into the Cowboys' playcaller, Scott Linehan. They're actually calling runs and calling a lot of them. Murray has always been productive, but they just didn't call on him as much. The Cowboys have invested three first-round picks in the offensive line in the past four years and have hit on
Tyron Smith
,
Travis Frederick
and
Zack Martin
. They finally have the pieces in place to back up their actions. Murray's numbers, however, are pretty staggering. He's done something only Jim Brown, O.J. Simpson and
Emmitt Smith
have done with four straight 100-yard and one-touchdown games to open a season. That's ridiculous company. He's carried it 99 times in the first four games for 534 yards. He's breaking long runs. He's making tough runs. The line is doing a great job. As a result that has taken pressure off Tony Romo to do everything. It's a simple formula that the Cowboys have finally figured out.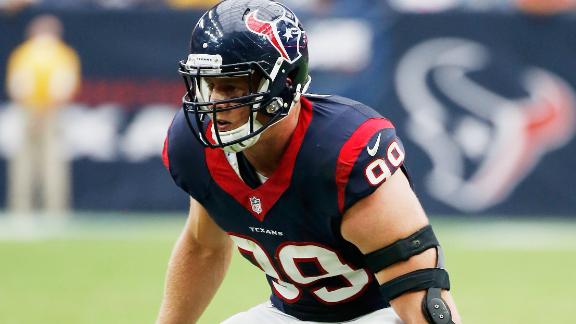 October, 1, 2014
Oct 1
11:03
PM ET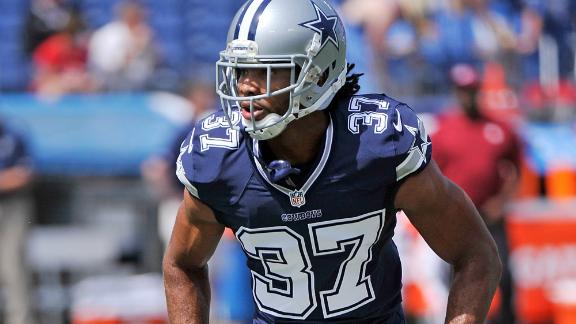 Dallas Cowboys safety C.J. Spillman is being investigated in connection with an alleged sexual assault at the team's hotel last month, according to Grapevine, Texas, police.
Police spokesperson Barry Bowling said a report was filed Sept. 20 and that the matter is still under investigation. Spillman hasn't been arrested or charged.
According to a source, Spillman, who was signed by the Cowboys on Aug. 31, has cooperated fully in the investigation.
Police say the incident occurred at the Gaylord Hotel on Sept. 20, the day before the Cowboys played at St. Louis. The team flew to St. Louis later that Saturday, and Spillman played against the Rams.
There was no immediate response from the Cowboys. Spillman's agent, Ron Slavin, and attorney Bruce Ashworth declined to comment to The Associated Press.
Several Cowboys players stay at the Gaylord Hotel until they find apartments, which is the case with Spillman.
Recently, Cowboys coach Jason Garrett addressed the team about off-the-field conduct and mentioned domestic violence as part of his discussion.
On Monday, the team welcomed the return of defensive tackle Josh Brent to the team. Brent was convicted of intoxication manslaughter resulting in the death of his best friend and Cowboys practice squad player Jerry Brown.
Brent spent five months in jail and 45 days in a rehab facility before he was released. He was suspended for the first 10 weeks of the season but after the league failed to hear his appeal, it was amended, and while he still can't play in a game until Week 10, he's now allowed to work out and take part in meetings with the Cowboys.
October, 1, 2014
Oct 1
5:27
PM ET
IRVING, Texas -- This Wednesday off thing seems to have agreed with
Tony Romo
, so the
Dallas Cowboys
quarterback was a spectator at practice just as he was the previous two weeks.
Romo
After not functioning well in the first two games, the Cowboys and Romo agreed to alter the quarterback's practice schedule so he could spend more time strengthening his core and legs to help him on game days.
The results could not have been better. Romo has completed 40 of 52 passes for 479 yards and five touchdowns and one interception since undergoing this routine.
"You want to feel healthy," Romo said. "You want to feel good. You want to feel like you're maximizing your opportunities to be at your best within each day and obviously within each week and start over and do it again. I don't think about it anymore than that."
Romo took part in Wednesday's walkthrough and spent the early part of the regular practice in the weight room. When the team portion of practice starts, Romo is on the practice field observing the plan.
"It's a full day for him," coach Jason Garrett said. "There's no question about that."
In each of the last two games, Romo has had runs of 16 and 21 yards. He finished the win against the
New Orleans Saints
with 20 yards on six carries with his yardage total dipping because of three kneeldowns.
He still outgained
Philadelphia Eagles
back
LeSean McCoy
, who had 17 yards on 10 carries last week against the
San Francisco 49ers
.
"Me and him are battling," Romo joked. "Just the speed out on game days I'm sure. I'm sure he's looking at my moves and seeing if he can incorporate them. I think he's safe. I think at the end of the year when you add it up, he'll probably pass me."
October, 1, 2014
Oct 1
5:01
PM ET
Bryant
IRVING, Texas --
Dallas Cowboys
wide receiver
Dez Bryant
went through his first full practice on Wednesday since injuring his right shoulder Sept. 14 against the
Tennessee Titans
.
Bryant has not missed a game, but he had been a limited participant in the previous six practices. In the two games since getting hurt Bryant caught nine passes for 133 yards and two touchdowns in wins against the
St. Louis Rams
and
New Orleans Saints
.
Linebacker
Rolando McClain
also went through a full practice for the first time since injuring his groin against the Titans.
Defensive tackle
Henry Melton
(hamstring) and defensive end
Anthony Spencer
(knee) were limited. Both played last week against the Saints and barring any setbacks will be available Sunday against the
Houston Texans
.
Quarterback
Tony Romo
(back) and linebacker
Bruce Carter
(quadriceps) were the only Cowboys not to practice. Romo will practice on Thursday, following the same plan he has used the past two weeks. Carter will not play against the Texans, but hopes to return Oct. 12 against the
Seattle Seahawks
.
October, 1, 2014
Oct 1
4:40
PM ET
IRVING, Texas --
Houston Texans
defensive end
J.J. Watt
was named AFC Defensive Player of the Week on Wednesday after recording his first career interception return for a touchdown, a career-high nine quarterback hits, a pass defensed and five tackles in a victory over the
Buffalo Bills
.
This Sunday afternoon, Watt and the Texans visit the
Dallas Cowboys
in a battle between 3-1 teams.
Watt
Watt's ability to line up at both defensive end spots and inside as a tackle makes him a matchup nightmare for any team. However, Cowboys center
Travis Frederick
, a teammate of Watt's at Wisconsin from 2009 to 2011, said don't forget the other players on Houston's defense.
"He's a tremendous player, like I said, but they also have a lot of good players in their linebacking corps.
Jared Crick
on the other end is a good player as well," Frederick said. "He's another Big Ten guy. The guys in the middle are big run stoppers and it's not just one guy. We're not playing the Houston J.J. Watts. We're playing the Houston Texans and it's going to be a good challenge."
Watt has more quarterback hits (16) than 13 other NFL teams. The closest player to Watt in terms of quarterback hits is Seattle's
Michael Bennett
, who has eight. The Cowboys see him in Week 6.
But Watt's ability to rush the passer from different parts of the line of scrimmage is a challenge. As the right defensive end, Watt will meet the left tackle, and in the Cowboys' case that's
Tyron Smith
, who is coming off his first Pro Bowl season.
"It's always fun going up against a good player, and everybody is in this game for the competition and that's basically all it is," said Smith, who worked out with Watt prior to the 2011 NFL draft. "He's one of the top players at his position, and I give him credit for what he's done so far."
Can the Cowboys control Watt?
Can the Cowboys contain Watt?
"I think it's the same thing," Frederick said. "He's one part of a bigger defense, and our job is to control and move against the Texans defense."
October, 1, 2014
Oct 1
4:35
PM ET
IRVING, Texas --
Dallas Cowboys
defensive tackle
Henry Melton
was listed as limited on the Wednesday practice report.
Last week, Melton (hamstring) didn't practice until Friday and was listed as questionable going into the game against the
New Orleans Saints
. Melton did play against the Saints.
Defensive end
Anthony Spencer
(knee), who made his season debut last week, was limited.
Tony Romo
(back) and
Bruce Carter
(thigh) didn't practice on Wednesday. Romo is expected to practice this week and play in Sunday's game against Houston. Carter most likely won't play.
Linebacker
Rolando McClain
(groin) and wide receiver
Dez Bryant
(shoulder) were full participants on Wednesday.
October, 1, 2014
Oct 1
2:30
PM ET
IRVING, Texas --
Dallas Cowboys
coach Jason Garrett recently addressed his players about the team's stance on domestic violence and similar issues.

Garrett
Garrett made it clear that any player involved in such an incident won't be allowed to play until the situation has been resolved.
When defensive tackle
Josh Brent
was involved in a car accident in December 2012 and subsequently charged with intoxication manslaughter since the wreck resulted in practice squad player Jerry Brown's death, the Cowboys deactivated Brent for the final four games of the season.
Brent, who spent nearly five months in jail and 45 days in a rehabilitation facility, rejoined the team this week after the NFL reduced his suspension.
"Part of what our jobs are as coaches is to create the right environment for our players to function both on and off the field," Garrett said, "so we need to be clear about where we are and we need to be clear that we have a structure in place to help anybody who has any off-the-field issue.
"We have a lot of resources here to help guys, if you're dealing with anything off the field. That was the first message. Having said that, there are standards we have about all off-the-field behavior and certainly domestic violence applies to that. We're very clear about how we're going to handle things."