September, 14, 2014
Sep 14
9:28
PM ET
[+] Enlarge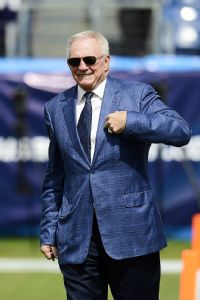 AP Photo/Mark ZaleskiCowboys owner Jerry Jones said NFL owners are united in wanting to use the strengths of the league to combat domestic abuse, and that to his knowledge Roger Goodell has "100 percent" of their support.
NASHVILLE, Tenn. -- NFL commissioner Roger Goodell has unwavering support from the league's owners, Dallas Cowboys owner and general manager Jerry Jones said.
Goodell has been heavily criticized for his handling of former Baltimore Ravens running back Ray Rice's domestic violence case. Rice was originally suspended two games before being banned indefinitely after the video of his assault of then-fiancée Janay Palmer -- now Rice's wife -- became public.
September, 14, 2014
Sep 14
8:05
PM ET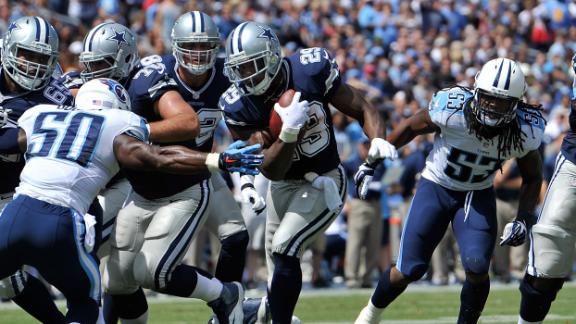 Last week,
Dallas Cowboys
running back
DeMarco Murray
fumbled on his first carry. This week, he fumbled on his fourth.
After slamming his helmet down and muttering to himself for a couple of minutes, he walked over to each starting offensive lineman and said he'd make up for his mistake.
Did he ever.
Murray finished with 29 carries for 167 yards, the third-highest total of his career, in the Cowboys'
26-10 win
against Tennessee.
After Murray's fumble, Cowboys coach Jason Garrett said he spoke briefly to the four-year veteran.
"I told him that was his third [sic] carry and he was going to get about 30," said Garrett, "so hold onto the damn ball."
Murray is not a player with a reputation for fumbling. In his first three seasons, he fumbled seven times, losing three, in 542 carries. Already, he's lost two fumbles this season.
Still, Murray finished the first half with 17 carries for 115 yards as the Cowboys built a 16-0 lead.
"Yeah, I can't let that happen," Murray said of running more determined after his fumble. "I just have to revert to what I'm used to doing and holding it in the hand that I'm comfortable in. I just can't let that happen. I will work on it."
Murray, who's missed 11 games in his first three seasons, has carried the ball 51 times in the Cowboys' first two games.
It's the highest two-game total of his career.
"We've talked about him being a guy who can be a bell cow," Garrett said, "and there's never been any evidence to me from the minute he showed up at the Dallas Cowboys that he couldn't do these kinds of things."
September, 14, 2014
Sep 14
8:05
PM ET
NASHVILLE, Tenn. –
Dallas Cowboys
tight end
Jason Witten
has 885 catches in a career that one day could lead him to the Pro Football Hall of Fame.
If that day comes, he won't talk about his pass breakup in Sunday's 26-10 win against the
Tennessee Titans
.
It was, however, one of the Cowboys' most critical plays in winning their first game of the season.
Witten
With the Titans bringing a heavy blitz up the middle,
Tony Romo
attempted to float a pass to Witten just past the line of scrimmage, but it was a little high and nearly fell into the arms of safety
Bernard Pollard
. With Pollard in full sprint, Witten reached out to stop what would have been an interception return for a touchdown.
"I was just trying to tackle him and got my hand on it," Witten said. "We got lucky there."
The Cowboys' 16-point halftime lead was cut to six points before the Witten breakup. They ended that drive with a
Dez Bryant
touchdown and a 23-10 lead.
"That was big," Romo said. "Obviously turnovers matter."
It allowed Romo to finish without an interception after he was picked off three times in the season-opening loss to the
San Francisco 49ers
. In the 11 games after Romo was intercepted three times, he has now thrown 16 touchdown passes and been picked off eight times while the Cowboys have posted a 6-5 mark.
"You know the game can come down to a couple play as you saw in San Francisco, and I needed to tighten up the way I played so that what I did today," Romo said. "And whether we needed to throw for 300 yards or 200 or 180, I was going to do what we needed and we needed that today."
September, 14, 2014
Sep 14
7:45
PM ET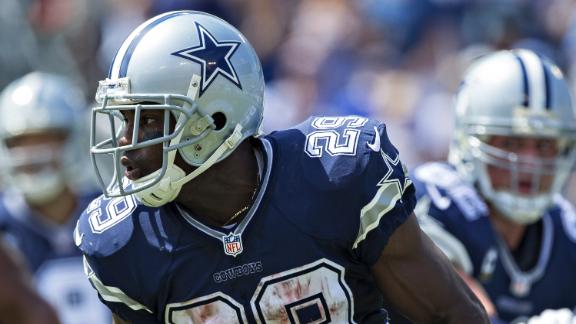 NASHVILLE, Tenn. -- You've heard the rhetoric pretty much since the day Jason Garrett became the
Dallas Cowboys
' head coach. Finally, you saw some results.
You just hope it's not a fluke. Only time will tell us. For now, enjoy the Cowboys' first win of the season.
Dallas 26, Tennessee 10
.
For at least one game, this was the team Garrett envisioned putting on the field when Jerry Jones made him the eighth coach in franchise history.
It's exactly what Garrett had in mind when he persuaded Jerry to spend first-round picks on offensive lineman three times in four years, when the owner had never ever used a first-round pick on a lineman.
Garrett will tell you he's always wanted an offense capable of running the ball in the fourth quarter when yards are precious and games are decided, though we've never been able to tell considering the obscene run/pass ratios his offenses usually have.
You must decide for yourself whether he's telling the truth, but the Cowboys can win games with the style they displayed against Tennessee.
The Cowboys rushed for 220 yards, kept the ball for 41 minutes and kept their suspect defense off the field. The offense revolved around
DeMarco Murray
who rushed for 167 yards -- the third-highest total of his career -- on 29 carries,
Joseph Randle
and
Lance Dunbar
.
"I thought he played a fantastic football game -- downhill the whole game," Garrett said of Murray. "When you're on the sidelines and plays come to you and you see the collisions and him delivering those blows on those guys. It was physical, it was strong and he was really purposeful on how he ran."
How much do you want to wager that Jerry doesn't feel nearly as bad about passing on current bench-warming Cleveland quarterback
Johnny Manziel
for road-grading right guard
Zack Martin
in the draft?
In the locker room after the game, play-caller Scott Linehan made a point to congratulate each offensive line starter before leaving, while tight end
Jason Witten
gleefully talked about the Cowboys forging a new offensive identity.
Garrett even referred to Romo as a complementary player. And get this: Romo agreed.
"It's all about winning," Romo said. "We've done the stat thing plenty of times."
If the Cowboys can figure out a way to consistently play the style they used Sunday, they they're capable of winning more games than most of us envisioned and ending this wretched streak of four consecutive years without making the playoffs.
It means the Cowboys must build their offense around Murray instead of Romo and the passing attack, which is the way it has been every year since Garrett took over the offense in 2007.
A dominant offensive line and a strong running game will make the defense better, if for no other reason than they're not on the field as much. They played only 49 snaps against Tennessee and limited the Titans to 68 yards on 21 plays in the first half.
This style will make the play-caller better and the coach too.
We watched the Cowboys blow a 26-3 halftime lead against Green Bay and a 27-17 lead with 6:45 left against Detroit last season because they either couldn't or wouldn't run the ball.
Heck, a lot of offensive players and coaches will tell you they didn't trust the running game last season, even though Murray gained more than 1,100 yards because they didn't truly believe in the offensive line.
These days, they do.
Tennessee trimmed the Cowboys lead to 16-10 midway through the third quarter, then the Cowboys drove 80 yards in 12 plays, pushing the lead to 23-10 on a 3-yard touchdown catch by
Dez Bryant
.
But it was the fourth quarter where Linehan and Garrett showed us there really might be a new way for the Cowboys to win games.
Linehan called runs on 17 of 21 fourth-quarter plays. And when the Cowboys took over at their 6 with 6:22 left after stopping Tennessee on fourth down, Linehan called 11 consecutive running plays -- five to Murray and six to Lance Dunbar.
The Cowboys picked up three first downs and converted two third downs. They punted with 32 seconds left.
"I think we're stronger than we've been in the offensive line," said Garrett, "and that's very intentional that we've done that and it allows you to play like this -- go on the road against a good football team and do the things you need to do throughout the ballgame."
Now, we need to see if the Cowboys can do it again.
September, 14, 2014
Sep 14
7:45
PM ET
NASHVILLE, Tenn. -- As
Dez Bryant
lined up for the first snap of the game, he looked up and saw two
Tennessee Titans
cornerbacks within breath-smelling distance.
There was nothing remotely subtle about this double-team. The Titans were treating Bryant like he was a gunner on the punt team, using two guys to jam him at the line of scrimmage and keep him from getting into his route.
"Sign of respect," Bryant said, smiling. "There's nothing else to that."
Bryant
Bryant, the Dallas Cowboys' go-to guy, saw that kind of coverage in last season's loss to the
New Orleans Saints
. He saw it again later Sunday afternoon.
But Bryant had plenty of opportunities against traditional coverage against the Titans, catching 10 passes for 103 yards and a touchdown in Dallas' 26-10 win.
"You've just got to make a play when your number is called," Bryant said. "That's it."
The Cowboys kept calling Bryant's number during the most critical drive of the game, a 12-play, 80-yard march for a touchdown after the Titans scored 10 quick points in the third quarter to pull within six.
Tony Romo
targeted Bryant eight times on that series. Those plays produced five catches for 57 yards and a touchdown and a 9-yard gain on a pass interference penalty. Bryant kept the drive alive with an 18-yard gain on third-and-15 and ended it by beating cornerback
Blidi Wreh-Wilson
for a 3-yard score on a back-shoulder fade.
The Titans couldn't afford to consistently double Bryant because they were getting gashed so badly by running back
DeMarco Murray
, who gained 167 yards on 29 carries. Bryant figures that he better feast when Murray demands so much of the defense's attention.
"DeMarco is turning straight beast mode, man, straight beast mode," Bryant said. "I know he's going to keep doing that. When he runs the ball like that, all the running backs, it just makes our jobs that much easier."
And if defenses want to make Bryant their primary focus, that's fine by him, too. Even if it means getting the gunner treatment.
"I'm going to have to go to practice and work on it," Bryant said. "I am. I don't think you really can [beat that coverage], but in my mind, I can beat anything."
September, 14, 2014
Sep 14
7:45
PM ET
By
ESPN Stats & Information
After an ugly loss to the 49ers last week and
Tony Romo
struggling mightily, the Cowboys needed to find a winning formula to avoid a daunting 0-2 start (after which NFL teams have made the playoffs only 11.6 percent of the time since 1990). It seemed like they found it in a 26-10 drubbing of the Titans.
Going to the Ground Early
Jason Garrett came out of the gate featuring his running game, increasing it after early pressure on Romo, running 53 percent of the time over the first half to give Dallas a nice 16-0 cushion at the break. This allowed the Cowboys to amp up their rushing percentage even further over the last two quarters. They finished the game with a total of 43 rushes compared to 33 total dropbacks (57 percent rushing).
DeMarco Murray
rushed 19 times on first down Sunday for 116 yards and a touchdown. Entering Sunday, Murray had 19
total
rushes in only four of his last 15 games (since start of 2013). He finished with a career-high 29 carries for 167 yards.
Featuring the Stars
In addition to the heavy DeMarco workload, the Titans got a large dose of
Dez Bryant
. The receiver was targeted on 14 of Tony Romo's 29 pass attempts, finishing with 10 catches for 103 yards and a TD. That's the highest percentage of Romo passes to go to Bryant in a game since the two became teammates in 2010. In total, Murray and Bryant combined for 40 offensive touches Sunday, six more than their previous high in a game.
Can't Argue with Results
Last season Dallas rushed the ball only 34 percent of the time, finishing 8-8. During Jason Garrett's tenure as Dallas head coach, the Cowboys rushed more than they've passed only eight times. Including today, Dallas is 7-1 in those games. Need more evidence to support a rush-heavy approach? The score certainly influences this, but in 13 career games that DeMarco Murray has eclipsed 20 carries, Dallas is 12-1.
September, 14, 2014
Sep 14
7:27
PM ET
NASHVILLE, Tenn. -- A game the
Dallas Cowboys
seemingly had in hand with a 16-0 halftime lead on Sunday was suddenly contentious.
The
Tennessee Titans
scored 10 points on their first two possessions of the second half, and the crowd was getting into it.
"You have to respond in a 60-minute game," said Dallas coach Jason Garrett after his team's
26-10
win. "As we all know, some things are going to go well for you in the game and you have to keep building on those things and keep the pressure on them. And sometimes it's going to go against you. You have to respond the right way to adversity."
On what was a quiet
Tony Romo
day – 19-of-29 passing, 176 yards – the Cowboys quarterback had his most important moments after the Titans made the score 16-10. He completed 6 of 9 passes for 65 yards and ended the 12-play, 80-yard drive with a 3-yard scoring throw to
Dez Bryant
.
"I think you could feel at that point in the game it was a drive that you feel like you can make the difference and make it very difficult for a team," Romo said.
The Cowboys had their breathing room with 2:09 left in the third quarter.
On a day in which the Cowboys stayed mostly ahead of the chains with a running game that gained 220 yards on 43 carries, it was a bailout by Romo and Bryant on third-and- 15 that turned into one of the biggest plays. Well, that and a
Jason Witten
pass breakup.
After
Travis Frederick
was penalized for holding, the Cowboys faced third-and-15 from the Tennessee 29. The Titans rushed only four at the snap, but Romo slid to his right as he felt a little pressure up the middle. Bryant broke off his route and moved inside to give Romo more space.
"It's not a complete ad lib because his route is where it's supposed to be," Romo said. "I moved just to kind of create the time that I think you need for that specific route, for that kind of down and distance."
Bryant got 18 yards and the Cowboys had their touchdown three plays later.
September, 14, 2014
Sep 14
7:14
PM ET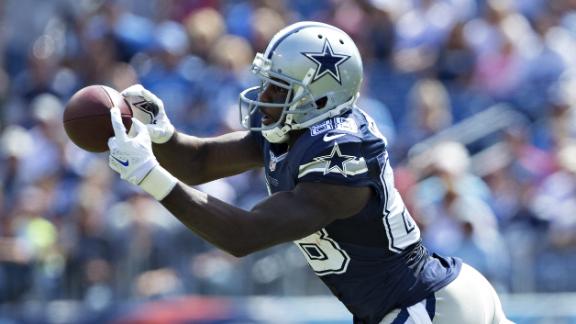 NASHVILLE, Tenn. --
Tony Romo
swears everything is right with him physically.
Jason Witten
did not see anything in the
Dallas Cowboys
'
26-10 victory
against the
Tennessee Titans
on Sunday.
"I think he's himself," Witten said.
Head coach Jason Garrett said Romo was solid.
"Tony was more of a complimentary player," Garrett said, "but I think he played a good game for us."
Cowboys owner and general manager Jerry Jones, as strong a Romo backer as there has been despite his flirtations with
Johnny Manziel
last spring, came the closest to saying something didn't seem quite right.
"We all saw a couple of passes that looked like they needed a little more energy," Jones said. "But then I saw him throw on a key third-down situation, I saw him zip that ball out there to
Cole Beasley
. If you can see that, by the way, in the fourth quarter after a lot of snaps, you can count on it being there."
Maybe it is just the heightened awareness because of Romo's back surgery last December. Maybe we're looking for the first cracks of age. Coming off a three-interception game in the season-opening loss to the
San Francisco 49ers
, all eyes were on Romo to see how he would respond Sunday against the Titans.
Romo completed 19 of 29 passes for 176 yards and a touchdown in the win, but it was some of the throws that floated that stood out almost as much as the third-and-7 completion for 10 yards to Beasley that Jones referenced or the 18-yard pickup on third and 15 to
Dez Bryant
on the game's most crucial drive.
Romo missed Witten on back-to-back throws at the end of the first half that he has made thousands of times in games and practices over the years. He floated one to Bryant near the Dallas sideline and was low on a crossing route to Bryant as well.
"Listen, I'm telling you guys, the reason I'm excited is because of the way I'm throwing the football," Romo said. "Physically just like piercing it when I want to. I can throw it better than I ever have. The rest of it is part of the game and footwork and your hips. Did you find the guy at the right time? Or are you working here and throwing it over there so it's like you don't get anything on it?"
It wasn't arm strength, or a sore back -- he was sacked four times by the Titans -- but body position.
On the throw to Witten: "It's 14 seconds, no timeouts. So what you're going to try to is hold yourself up high so the corner drives up and then at the last second throw it here. Your body's not turned, so it's really hard. You don't want to just open up and turn, or the corner comes off. So that throw has nothing to do with arm or any of that stuff. It's more body, getting yourself in position … It looks easy. It's just not."
On the throw to Beasley: "It's third down, outbreaking route. I'm just right in here and he breaks out and you throw it and it's right on target. ... If I'm able to just drop back and throw the ball, I've never thrown it as well as I am."
On the throw to Bryant: "The corner doesn't blitz, but he looks like he's blitzing to help in the run game. So I'm giving him a play-action fake and as soon as I'm coming up to throw it, he's supposed to be over the middle. So as I come up and see, my body weight is getting ready and not I want to get him to him quick. Most people just kind of reset, but it would take so long to get there. ... You're never going to get anything on the ball. Not if you're going to give it to him quickly."
In a crisp gray suit with white shirt, blue tie and black dress shoes, Romo demonstrated his motions on those throws as he walked to the Cowboys' buses, accepting congratulations as stadium workers passed by.
There was no pass rush. Nor was there thousands screaming in the stands. It was just Romo pantomiming his actions as he spoke, bouncing on his toes, his held head high as if he was reading the coverage.
"I think I'm going to make it," Romo said. "I'm getting stronger every week. It's a positive. It's been good this last month."
September, 14, 2014
Sep 14
7:00
PM ET
NASHVILLE, Tenn. -- The sight of Pro Bowl receiver
Dez Bryant
walking to the locker room with an athletic trainer in the first quarter provided a scare to the many
Dallas Cowboys
fans at LP Field on Sunday afternoon.
Bryant
But the shoulder injury caused Bryant to miss just one series.
Bryant played the rest of the game with extra padding on his right shoulder, which he hurt when he came down hard on it after catching a pass across the middle on the Cowboys' first drive of the game. Bryant finished the game with 10 catches for 103 yards and a touchdown.
"I'll fight through anything," Bryant said. "As you see, I came back and did what I do. It's good, it's good, it's good. It might be sore in the morning, but it's good right now."
Backup running back
Joseph Randle
exited early in the third quarter after suffering a concussion covering a kickoff. Randle, who gained 26 yards on three carries and had a tackle on special teams, will have to pass the NFL's concussion protocol before being cleared to practice or play.
September, 14, 2014
Sep 14
6:50
PM ET
NASHVILLE, Tenn. -- It's time to give the most harshly criticized general manager in the NFL a little bit of credit.
[+] Enlarge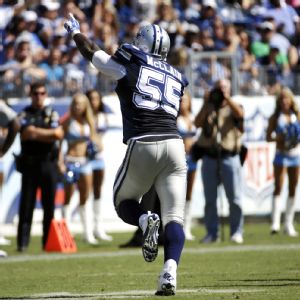 AP Photo/Wade PayneRolando McClain, who had an interception in the Cowboys' win over the Titans, is beginning to show his potential on a defense in need of playmakers.
The addition of middle linebacker
Rolando McClain
looks like one of the smartest personnel moves that Jerry Jones has made in a long time.
After two games, the low-risk trade with the
Baltimore Ravens
appears to be a tremendous bargain for the
Dallas Cowboys
. In exchange for swapping a sixth-round pick for Baltimore's seventh-rounder, the Cowboys acquired a replacement for injured star
Sean Lee
who has Pro Bowl type of talent.
McClain, who was on the road to being one of the biggest wastes of talent in league history, is finally fulfilling his potential after two retirements. Not coincidentally, a Dallas defense that ranked dead last a year ago has been surprisingly solid through two games.
"He just wants to come in and be a part of the team, but I'm going to tell you something: He's a natural-born football player," Jones said after watching McClain lead the Cowboys with seven tackles, a sack and a spectacular interception in Sunday's 26-10 win over the
Tennessee Titans
. "He's mean. He's interested in a good way on the football field, and he's really making a difference out there on our defense."
The decision to add McClain, who doesn't exactly fit head coach Jason Garrett's right-kind-of-guy mold, was without question an act of desperation. It also made a lot of sense, considering the loss of Lee and lack of playmakers on the Dallas defense.
It looks smarter every time McClain, who has quickly and quietly established himself as a defensive leader, steps on the field.
"Man, he brought that passion, that excitement," receiver
Dez Bryant
said. "He wants to execute. He wants to dominate. That's exactly what we need. As long as he keeps bringing that, them guys are going to fall in behind him. You're going to continue to keep seeing that kind of performance from that defense."
Added Garrett: "He plays with a demeanor and spirit that you want. It's great to have that from a middle linebacker because he gets contagious really quickly."
McClain was one of the biggest bright spots in the Cowboys' Week 1 loss to the
San Francisco 49ers
, leading Dallas with 12 tackles and making big hits from sideline to sideline. How many 6-4, 260-pound linebackers can chase down speedy San Francisco quarterback
Colin Kaepernick
trying to turn the corner on the option?
McClain's importance to the Cowboys increased this week with linebacker
Justin Durant
sidelined by a strained groin. McClain is part of the nickel package now, basically playing every snap the defense is on the field.
And McClain made plays all over the field again, highlighted by a momentum-halting pick that would have been an amazing play by a cornerback, much less a run-stuffing middle linebacker. After defensive tackle
Henry Melton
deflected the pass at the line of scrimmage, McClain changed directions, dove, kept the ball from hitting the ground with his right hand and made the juggling catch that was so good it required a replay review for the referees to believe it.
"He's a big cat," said safety
Barry Church
, who also had an interception. "He's agile on his feet. He made a heck of a play."
Jones made a heck of a move to recruit McClain out of retirement, rolling the dice that a guy who had been arrested three times and retired twice since the
Oakland Raiders
made him the eighth overall pick of the 2010 draft could revive his career in Dallas. And help revive a defense that was historically horrible last season and expected by many to get worse.
"I wouldn't say it was a huge leap for him," McClain said. "Tape don't lie. I was in the league three years as a starter, the whole time I was there besides being suspended. I played some good football at times. Tape don't lie.
"I'm thrilled he did give me a call. There weren't many teams that I would have left the couch for, and this is one of them, and I'm glad that he did."
So is NFL's least popular GM, who got this one right.
September, 14, 2014
Sep 14
6:10
PM ET
NASHVILLE, Tenn. -- Observed and heard in the locker room after the
Dallas Cowboys
'
26-10 win
against the
Tennessee Titans
:
Romo
Changing philosophy:
The Cowboys' offense has been built around
Tony Romo
for years, but Sunday was a different route. Led by
DeMarco Murray
's 167 yards, the Cowboys ran it 43 times for 220 yards in the win. Romo threw for 176 yards, only the fifth time in his career he has passed for so few yards and the Cowboys still won.
"It's about winning," Romo said. "We've done the stat thing plenty of times. It's about winning and if our football team can continue to run the ball like we can, I'm all for these types of games and that's exciting when you have the opportunity to have a team that can do that."
Staying out of hole:
Jason Garrett downplayed the importance of avoiding an 0-2 start, but his players knew just how big of a difference it is between 1-1 and 0-2.
"Starting off 0-2 is tough," safety
Barry Church
said. "After putting yourself in a hole like that it's hard to come back and make the tournament at the end of the season. We were able to stay away from that situation and hopefully we can just climb up from now on."
Maybe there is a defense:
After a woeful preseason, the defense has played better than many thought it would through two games. The Cowboys have allowed just two touchdowns in the last seven quarters after giving up 14 points in the first quarter of the opener against San Francisco. The Cowboys sacked
Jake Locker
two times and intercepted him twice. They did it without defensive captain
Justin Durant
, who has a groin injury.
"We stepped in and figured out a way to find the right matchups and we made the plays when we were supposed to make them," defensive end
Jeremy Mincey
said.