July, 23, 2014
Jul 23
5:23
PM ET
OXNARD, Calif. -- Numbers can be twisted and turned to say what you want -- which is what people who mock the fact that quarterback
Tony Romo
has the highest fourth-quarter passer rating in NFL history tell you -- but there is a number that the
Dallas Cowboys
and Romo need to improve upon in 2014.
It's yards per attempt.
Romo
Romo averaged just 7.2 yards per pass attempt in 2013, the third-lowest of his career and well below his 7.9-yards-per-attempt average.
"I think it's meaningful," passing game coordinator Scott Linehan said of the yards-per-attempt stat. "That's a number that's shown up for teams that are explosive on offense. To get that up, you've got to have a fair number of big, explosive plays in the passing game. If you throw the ball 100 times but your yards per attempt is somewhat low you're probably having to spend a lot of time on the field to score."
From 2006-2009, Romo had the highest yards per attempt in the league at 8.1 He had 129 passes of at least 25 yards during that span, which was second in the league. He and Terrell Owens were an explosive duo. From 2011-2013, Romo had a 7.57 yard-per-attempt average, which is 11th best in the league. He had just 28 passes of 25 yards or more in 15 games last season, one more than he had in 10 starts in 2006.
Even with the low yards per attempt (by his standards) Romo completed just 63.9 percent of his passes last season, his lowest since 2009 when he completed 63.1 percent.
"Tony's a great quarterback and I think he's a great fit," Linehan said. "If you play in the NFL you want to be able to attack all parts of the field. He's one of the guys in this league I think of that understands that throughout his career. It's easy to say, but you've got to have the mindset for it and the guys to do it and I believe we have both."
Linehan comes to the Cowboys with a reputation of taking shots, but
Detroit Lions
quarterback
Matthew Stafford
averaged 7 yards per attempt in his career and 7.3 yards last season.
"It's not 'careless aggression,' but you've got to have the idea that when people are lined up in, I guess, a mode where they're kind of squeezing the field on you and adding people in the run game, I think you've got to be able to have that threat," Linehan said. "It's not always the case, but I think it's 'the threat of that being something they will do,' is what we have to in our offense."
July, 23, 2014
Jul 23
2:45
PM ET
OXNARD, Calif. – When
Travis Frederick
left his Wisconsin home last summer for Dallas, he didn't know what he didn't know. When he made the trip a few days ago as the
Dallas Cowboys
prepared for their flight to California for training camp, something was different.
Frederick
"I think it's a matter of just knowing what to expect and knowing where to be and how to do things," said Frederick, who started every game as a rookie in 2013. "When I was flying to Dallas to come out here I'm thinking, 'I don't have that pit in my stomach like I don't know what's coming. I'm afraid.' I'm just really excited to be out here and excited for the opportunity to come out and work."
It's not just the start of training camp that has Frederick excited. It's the opportunity to work again with
Tony Romo
.
With Romo recovering from December back surgery in the offseason, the quarterback did not take any competitive snaps in the organized team activities or minicamp. The work with Frederick was limited to walkthroughs.
"We did take a few snaps during the OTAs but it's always good to be working with that guy you know you're going to be working with so you can get on the same mindset," Frederick said.
Frederick believes Romo is as eager as any player for camp.
"Anybody that's been out or hasn't had the opportunity to work, you're always excited to get back in there and get that continuity back," Frederick said. "He's been doing it for a long time, so it's probably much easier for him then somebody like me where if I had been out to come back. I think he's really excited for it, too."
For Frederick, the true excitement does not come until the pads come on in camp. Per league rules, the Cowboys have to work their way slowly into practices, working without pads or shells the first two days. Frederick understands the importance of injury prevention and the build up helps the players get accustomed to the speed.
"It takes a little time to get yourself ready or get yourself adjusted, I guess I should say. But it's been a long time since we had pads on," Frederick said. "You play football in pads, so it's fun and it's exciting for us to be able to put that back on and get back to work instead of just having to work in helmets or no helmets."
July, 23, 2014
Jul 23
12:00
PM ET
Three Thoughts
Garrett

Coach Jason Garrett believes the annual conditioning test is important. He's said as much many times. There is no way he canceled it, and let the players administer it without any coaches around to oversee it and make sure everyone passed.If that were the case, it would be like an open-book test and all of us could pass it. After all, which teammate is gonna tell Garrett which players flunked it. Actually, Garrett wouldn't even want to put his players in that position.It's not a huge story, but there's something missing in this narrative concerning the players administering their own conditioning test.It probably has something to do with the team not being allowed to make the players do anything in the 10 days before training camp begins and a desire for the players to do the test at their Valley Ranch training complex instead of Oxnard.We'll get answers Wednesday afternoon, when Garrett addresses the media for the first time.
You can't possibly have any expectations for linebacker Rolando McClain, the eighth player selected in the 2010 draft. He's now with his third team since the end of the 2012 season -- also the last time he played.He told the Baltimore Ravens a few months ago that he wanted to retire because his heart wasn't in the game.The game is too tough and too physically demanding to persuade players to play. The Cowboys need players and McClain has talent, the question is whether McClain wants to work hard enough to play in this league.
Lance Dunbar had the best game of his career against Oakland last season -- 12 carries for 82 yards and one reception for 12 yards -- and displayed the change-of-pace skill set Garrett has talked about since he arrived two seasons ago.But he tore the posterior cruciate ligament in his left knee during that game, forcing him to miss the rest of the season. In his third season, the Cowboys need him to be the playmaker they envision, or he probably won't get a fourth year to show them.
Key stat:
736 yards receiving by third-round pick
Terrance Williams
ranked third among rookies. His 44 receptions ranked fifth and his five touchdowns ranked second.
You could easily argue Williams had the second-best season among the 28 rookie receivers drafted -- six in the first two rounds -- last year. Only San Diego's
Keenan Allen
, taken two picks after Williams, had a better season.
He finished with 71 catches for 1,046 yards and eight touchdowns.
Player to watch:
DeVonte Holloman
will probably start training camp as the backup to
Kyle Wilber
at strongside linebacker. He showed an ability in the preseason and in limited playing time last season to make plays. That's an intangible quality the Cowboys must figure how to exploit, especially on a unit devoid of playmakers. He doesn't have to start, but it would be nice if he forced the Cowboys to play him 25 plays a game.
July, 23, 2014
Jul 23
10:30
AM ET
OXNARD, Calif. -- On Thursday,
Dallas Cowboys
quarterback
Tony Romo
will return to the field full-time for the first time since a Week 16 win against the
Washington Redskins
on Dec. 22, 2013.
Five days later Romo underwent surgery to repair a herniated disk in his back, forcing him to miss the winner-take-all season finale against the
Philadelphia Eagles
that the Cowboys lost.
Romo's offseason was filled with rehab, a little bit of football and no golf. He and his wife welcomed their second son into the world. The Cowboys confirmed their faith in him by passing on
Johnny Manziel
in the first round. Debates raged about how high -- or low -- he should be ranked among quarterbacks. The first questions of retirement came about in part because of his second back surgery in less than a year and the fact that he turned 34 in April.
[+] Enlarge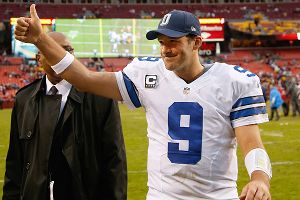 AP Photo/Evan VucciTony Romo's late-game heroics against Washington last December left the Cowboys in contention to win the NFC East in the finale against the Eagles.
But as he gets ready to return to the practice field, it's worth re-visiting what Romo did in his last game to remember just how good he was and can be.
At 7-7, the Cowboys were in a must-win situation at FedEx Field that day. With 3:39 left to play the Cowboys trailed 23-17.
Fifty-two weeks earlier the Cowboys were in a Week 17 must-win situation against the Redskins, trailing 21-18 with 3:33 to play. Romo's pass on the second play of the drive was intercepted, ending the Cowboys' hopes for a playoff spot and an NFC East championship.
With that in his head and his body aching, a numbing pain shooting down his legs from the back injury, Romo delivered.
For all of those who believe he does nothing but falter in the fourth quarter, this drive was his shining moment.
First down, Dallas 13, 3:39
With three wide receivers on the field and in the shotgun, the Redskins brought five pass rushers, and Romo's throw to the sideline was low and just out of the reach of
Terrance Williams
.
Second down, Dallas 13, 3:28
Same personnel grouping, but the Redskins only rush four. Romo makes a small hand gesture to Williams, who runs a comeback after Washington corner
David Amerson
gets turned around. The completion is good for 15 yards.
First down, Dallas 28, 3:21
The Cowboys continue with 11 personnel and a shot gun, but
Dez Bryant
is lined up alone to Romo's left and the Redskins only rush four. Redskins corner
DeAngelo Hall
makes a great play with a last-second deflection of Romo's pass to Bryant on the sideline.
Second down, Dallas 28, 3:14
The Cowboys keep the same formation with Bryant alone to the left and
Jason Witten
,
Cole Beasley
and Williams to the right. The Redskins have eight at the line of scrimmage but only rush four. Bryant is doubled and Witten is not open. Beasley is open at the far hash, but Romo scrambled to his right as he gets pressured. He gives a quick pump fake and Josh Wilson slips at midfield. Williams turns up field and Romo chucks the pass for a 51-yard completion.
First down, Washington 21, 2:51
The Cowboys keep with 11 personnel but Witten's hand is in the ground at tight end with the Redskins putting eight in the box, expecting a run. Romo throws a quick "smoke" to Bryant with Hall in off coverage. The play was supposed to be a run, but the pass picks up 17 yards after Bryant breaks a tackle.
First and goal, Washington 4, 2:16
The Cowboys bring in fullback
Tyler Clutts
and go with 21 personnel. With time on their side, the Cowboys want to eat up clock but score as well.
DeMarco Murray
gets his first carry of the drive and picks up three yards,
[+] Enlarge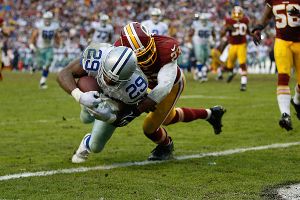 AP Photo/Evan VucciDeMarco Murray's game-winning touchdown came after some of Tony Romo's famous improvisation.
Second and goal, Washington 1, 2:00
Coming out of the two-minute warning the Cowboys go with 22 personnel and bring in backup tackle
Jermey Parnell
as an extra blocker.
Doug Free
gets beat at the snap and is knocked back into Clutts.
London Fletcher
dives over the top, and Murray is stopped for no gain.
Third and goal, Washington 1, 1:55
The Cowboys stick with their power look against the Redskins goal-line defense.
Travis Frederick
and
Ronald Leary
are beaten at the snap.
James Hanna
misses his block. Murray attempts to circle back to his right with three defenders waiting for him and loses nine yards.
Fourth and goal, Washington 10
The season is on the line, and everybody knows the Cowboys have to pass. The Cowboys line up with 11 personnel again with
Miles Austin
in the slot over Beasley. Bryant is alone to Romo's right. The Redskins only rush four, hoping to flood the tight area with defenders to make for a difficult. Witten is covered well by Fletcher. Bryant is not open. Austin is at the goal line and Murray is not an option. Murray chips the defensive end before funneling out wide. With
Tyron Smith
getting beat, Romo slides up to his right and gives a quick pump fake to freeze the linebacker, who is inside Murray. That gives Murray more time to shake free, and he catches the ball at the 2 and backs his way in before Hall can hit him.
The Cowboys had their touchdown. Romo had his comeback.
Five days later he would need surgery and his season was over.
On Thursday he starts on the road back, where he will have a chance to deliver again.
July, 23, 2014
Jul 23
10:00
AM ET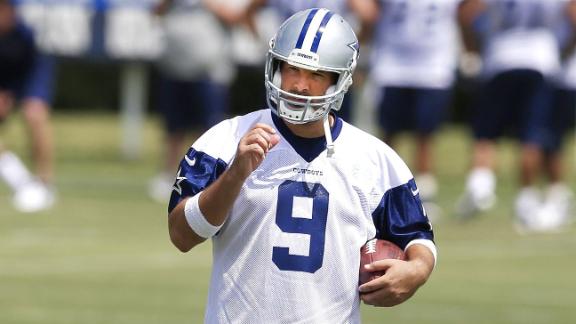 Dallas Cowboys
reporter Todd Archer has arrived in Oxnard, California, with the team and discusses many of the changes in the player personnel and coaching staff heading into camp.
July, 23, 2014
Jul 23
9:00
AM ET
OXNARD, Calif. -- When the
Dallas Cowboys
arrived in California for training camp two years ago,
Jason Witten
uttered the motto for the season when he said, "it can't be the same old story."
For the Cowboys, 2012 was a repeat of 2011. And 2013 was a repeat of 2012. The Cowboys have finished 8-8 the last three years, losing de facto NFC East championship games in Week 17 the last three seasons.
Second-year center
Travis Frederick
's message for the beginning of training camp?
"It's truly work," Frederick said. "We're out here to work. We're out here to make our team better. I think that the team's done a really good job of doing things in the offseason. I can speak especially for the offensive line and tell you that our group has put in the work and we're ready to go. I know that we've seen that throughout the other (groups). We don't always get to work out with everybody else but every chance that I've seen guys are in here working, they're working extra and guys are excited and ready to go."
Safety
Barry Church
had the take of a defense that finished last in the NFL last season and will be without
Sean Lee
,
Jason Hatcher
and
DeMarcus Ware
this season.
"The mindset is just to get better as a whole and as a defense specifically," Church said. "I'm part of the defensive side. When we go out there we just make sure everybody -- from top to bottom, either first string or fourth string -- knows their playbook front and back."
Optimism always reigns at training camp. Every team has hope. The Cowboys have hope, and Frederick noticed something on the flight out to Naval Base Ventura County at Point Mugu on Tuesday.
"I can tell there was a certain energy on the plane," Frederick said. "Guys are out here and they're ready to go."
How?
"I think you can just feel it as your walking by, guys talking about where we think we're going," Frederick said, "and guys ready to work, excited to get to show off what they've done and the hard work they've put in."
July, 22, 2014
Jul 22
11:30
PM ET
[+] Enlarge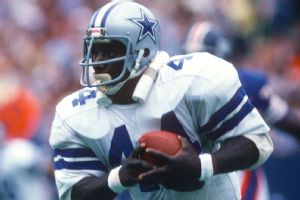 Focus on Sport/Getty ImagesFormer Cowboys fullback Robert Newhouse has died after a long illness, according to his son.
Robert Newhouse, responsible for one of the most iconic plays in Dallas Cowboys history, died Tuesday after a long illness. He was 64.
Rodd Newhouse told Minneapolis TV station KMSP-TV that his father was surrounded by his wife and four children at the Mayo Clinic in Rochester, Minnesota, when he died from the effects of heart disease.
Newhouse had been in declining health since suffering a stroke in 2010.
Newhouse, a Longview, Texas, native, played fullback for the Cowboys from 1972 to '83.
He helped Tom Landry win his second Super Bowl with a memorable play against the Denver Broncos in Super Bowl X.
With about seven minutes left, Newhouse took a handoff from Roger Staubach and headed left. Suddenly, he pulled up and lofted a pass to receiver Golden Richards just over the outstretched arm of a Denver defender to give the Cowboys their final points in a 27-10 victory.
"The thing I remember most is for that halfback option play we ran against Denver," former Cowboys player personnel director Gil Brandt said. "We ran it going left, and it's a lot harder to go left than right. During the week they must've practiced the play 10 times, and he never completed it. And that was going right. Here it is going left, and he completed it."
July, 22, 2014
Jul 22
8:50
PM ET
OXNARD, Calif. -- Rolando McClain made the flight to Naval Base Ventura County on Tuesday, but the linebacker might not be around when the
Dallas Cowboys
open practice on Thursday.
McClain
McClain is due in Decatur (Alabama) Municipal Court on Friday
after Judge Bill Cook Jr. declined to delay a trial
stemming from charges of resisting arrest and disorderly conduct. Decatur Municipal Court Clerk Jessica Haggard said the case has been postponed three times since McClain's arrest in April 2013.
The Cowboys and
Baltimore Ravens
agreed to a trade July 1 that sent McClain, who has retired twice in the last two years, to the Cowboys in exchange for a seventh-round pick in 2016 provided McClain is on the 53-man roster for five games, or the 46-man roster for three games, and only if their pick is better than the Ravens' pick in the round. If it is, then the teams will swap selections. If the Ravens finish with a worse record in 2014, then there is no swap.
If McClain plays in 50 percent of the defensive snaps in 2014, then the Ravens would receive the Cowboys' sixth-round pick in 2015 and the Cowboys would receive Baltimore's seventh-round pick that year.
McClain, who was the No. 8 pick in the 2010 draft by the
Oakland Raiders
, has not played since November 2012, but the Cowboys could look at him as a replacement for
Sean Lee
, who is out for the season with a torn anterior cruciate ligament. He could also be in the mix as a strongside linebacker.
July, 22, 2014
Jul 22
8:25
PM ET
OXNARD, Calif. -- The
Dallas Cowboys
arrived at Naval Base Ventura County at Point Mugu on Tuesday afternoon under clear blues and temperatures in the mid 70s.
It was far different atmosphere from the high-90s temperatures that greeted the players at Valley Ranch on Monday for the players who ran a conditioning test.
[+] Enlarge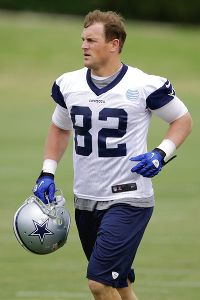 Tony Gutierrez/AP PhotoTight end Jason Witten was one of several Cowboys veterans who wanted to run a conditioning test before heading to training camp.
Barry Church
and
Travis Frederick
said Jason Garrett canceled the conditioning test -- a series of sprints ranging from 40, 50 and 60 yards that need to be completed at different times depending on the player's position -- but older players such as
Jason Witten
called for the test to be run anyway.
League rules prevented any coaches from being on hand because the facilities are closed down 10 days prior to the start of training camp.
"When coach said we weren't going to have a conditioning test this year a couple of the older guys wanted to make sure that we had everybody in the right shape," Frederick said. "Sometimes if you don't do it, you're not in the right shape and you're not ready to practice. When you come out and practice as hard as we do and you do it as much as you do during training camp, that's when it leads to guys getting hurt. A couple of the older guys wanted to make sure guys were in shape, so we did get together yesterday and do some stuff like that. Nobody was around, just the players running it, but I think it was a really good step for our team."
The players kept the times and had to have been on the honor system. What's unclear, however, is if those who didn't run the test Monday will run it Wednesday in Oxnard before practices begin Thursday. Could peer pressure play a part in those who did not attend the Valley Ranch workout lead to them running it?
Safety Barry Church said it was a "camaraderie thing."
"I feel like it's showing the players are trying to make this team our own and go out there and have our own type of identity as a team and combine together to see what we can get accomplished here this upcoming season," Church said.
In the past, the Cowboys have used the test as a barometer for a player's readiness for practice. If a player was unable to complete the test, he started the year on the physically unable to perform or non-football injury list. Garrett has attempted to alter some of the training exercises to potentially combat the number of injuries the team has suffered the last two years.
"When the players get together and do something like that I think that it shows there's a level of maturity," Frederick said. "There's a level of work and a level of expectations by the older guys, the guys that held it. When you go out and do something like that, that is really showing the team is ready to step forward and is a mature team. Coach says 'There's no conditioning test,' we could easily just not do it. Everybody is like, 'Oh yeah, it's great. We don't have to do it.' But are you going to be ready? Are you ready to work? Are you ready to come out and practice as hard as we need to practice to make ourselves into the caliber of team we want to be?"
July, 22, 2014
Jul 22
2:30
PM ET
Associated Press
DECATUR, Ala. -- An Alabama judge has denied a motion from Dallas linebacker Rolando McClain to delay his trial because of training camp.
Decatur Municipal Court Clerk Jessica Haggard said Tuesday that Judge Bill Cook Jr. declined to push back the trial set for Friday on charges of resisting arrest and disorderly conduct. McClain's local attorney, Carl Cole, had filed a motion to reschedule because the Cowboys start camp on Thursday.
McClain was with the Cowboys when they arrived in Oxnard, California, on Tuesday. He wasn't available for comment, and it wasn't immediately clear how the team planned to handle a possible trip to Alabama.
Dallas acquired the rights to McClain from Baltimore on July 1. He was the eighth overall pick by Oakland out of Alabama in 2010 but had retired and hasn't played since 2012.
Haggard says the case had been postponed three times since McClain's arrest in April 2013.
It was his third arrest in Decatur since 2011.
McClain has played in 41 games over three seasons.