September, 21, 2014
Sep 21
10:51
PM ET
By
Michael Bonzagni
| ESPNDallas.com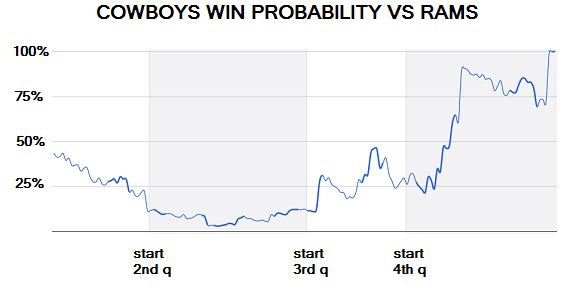 Tony Romo brought the Cowboys back from extremely long odds to beat the Rams.
Tony Romo
posted a near-perfect 99.1 Total QBR on Sunday, despite throwing an interception that was returned for a touchdown in the second quarter.
You might be wondering how it's possible for a quarterback who threw a pick-six to have a near-perfect rating.
Let's go behind the math to make that clear.
Total QBR takes into account the entire game.
The interception set Romo back significantly (it dropped his Total QBR from 85.6 to 12.3 – a drop of 73.3 points), but he was able to dig himself out of the hole he created with some stellar play in the second half.
And in the end, leading a rally from a 21-point deficit was far more important.
What plays were key to the QBR spike?
A 26-yard pass interference penalty against the Rams in the second quarter essentially served as a completed pass for Romo. It upped his Total QBR from 20.3 to 53.2.
The 68-yard touchdown pass to
Dez Bryant
was on a pass thrown 48 yards downfield. Romo receives significant credit for making such a successful throw, one that cut the Cowboys' deficit from 11 points to four points. That increased his Total QBR from 67.7 to 91.0.
With 11:47 left in the fourth quarter and the Cowboys down by four points, Romo scrambled for a 16-yard gain on a third-and-13. That boosted his Total QBR from 93.0 to 98.2. The Cowboys took the lead on that drive and went on to win, 34-31.
Let's provide one more stat to offer some perspective on how unusual this game was:
Over the last three seasons, an NFL quarterback has recorded a Total QBR of 99 or better 11 times. Romo is the only one in that group to throw an interception in that game. But he's also the only one to be the focal point of a remarkable rally.
For 2014 Total QBR rankings, click here
September, 21, 2014
Sep 21
8:48
PM ET
ST. LOUIS --
Anthony Hitchens
was the
Dallas Cowboys
middle linebacker by default on Sunday.
Sean Lee
was home watching because of a torn anterior cruciate ligament suffered in May.
Justin Durant
was on the sideline with a groin injury. So was
Rolando McClain
.
The Cowboys had nowhere else to go against the
St. Louis Rams
other than Hitchens, their fourth-round pick.
And he came up with a game-changing play.
After converting on a fourth-and-inches in the first half, the Rams pressed their luck on their first drive of the second half at the Dallas 15.
This is where Hitchens was a quick study.
"I was about 85, 90 percent -- I knew it was coming, so good thing they did run it and not pull it out," Hitchens said. "It was in their scheme. They ran it the first time and when I saw that formation I was going to shoot the gap."
Hitchens was able to get into the backfield and stop
Zac Stacy
for a 1-yard loss. The Rams passed on a chance to take a 24-17 lead and the Cowboys answered with a field goal of their own after Hitchens' stop.
"I seen it the first time but I just didn't want to shoot my gun," Hitchens said. "I went over the top then. Sometimes it just takes a second time to see it."
Hitchens finished with a game-high 13 tackles in his second career start but first at middle linebacker.
"Hitch, I think, got more comfortable as the game went on and was around the ball more, hits on the ball, plays on the ball," coach Jason Garrett said. "That was obviously a big play for our team to get that stop there."
September, 21, 2014
Sep 21
8:35
PM ET
ST. LOUIS -- The first turnover of
Dallas Cowboys
linebacker Bruce Carter's career was a big one.
Carter picked off a pass over the middle intended for running back
Zac Stacy
and raced 25 yards untouched for a touchdown to stretch the Cowboys' lead to double digits with 5:58 remaining in
Sunday's 34-31 victory
against the
St. Louis Rams
.
Blitzing cornerback
Orlando Scandrick
and defensive ends
George Selvie
and
Kyle Wilber
got pressure on Rams quarterback
Austin Davis
, forcing him to make a hurried throw. Carter made sure the Rams paid dearly for that mistake.
"I don't think he could actually see who he was throwing to and I slide right in there and was able to make a good play," said Carter, who also had 12 tackles and a pass deflection in the win. "It all worked out well. It felt great. I haven't had an interception since college and that felt great.
"Even when I was on the sidelines, I still couldn't believe it happened. It's a great feeling."
September, 21, 2014
Sep 21
8:17
PM ET
ST. LOUIS -- Orlando Scandrick's excitement for Sunday's game actually started Saturday.
Scandrick had his four-game suspension for failing the NFL's performance-enhancing drug policy reduced to two games after the NFL and NFL Players Association agreed to a revised policy last week. He made his 2014 debut Sunday against the St. Louis Rams.
Scandrick
"I'm just glad to be back, man," Scandrick said. "Driving to the airport, getting on that plane, waking up at the hotel, I was up since 4:30 in the morning I had such anxiety. I was just ready to go."
Scandrick started and split time on the base defense with Morris Claiborne. He was credited with five tackles and a quarterback hurry.
"We'll watch the tape and see how he did, but it looked like he showed up a couple of times," coach Jason Garrett said.
One of those times was when he upended Jared Cook on an 8-yard gain and he had to come out for two plays before Claiborne's game-ending interception.
"He just kind of got my back when I went low," Scandrick said. "I'm good. Just kind of like on impact a little shock, but I was going to come back in in a play or two, but Morris obviously ended the game."
September, 21, 2014
Sep 21
8:01
PM ET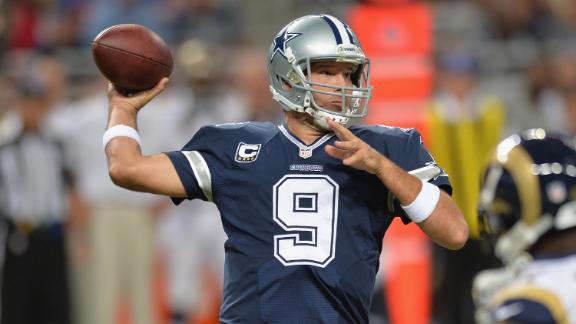 ST. LOUIS -- The complementary quarterback, the same dude who didn't practice Wednesday so he could rest his aching back, was at his spinning, twirling, big-play making best Sunday afternoon at the Edward Jones Dome.
Tony Romo
, the 34-year-old quarterback who looked stiff and immobile a week ago against Tennessee, moved spryly in the pocket as he consistently eluded defenders and created additional time to find his receivers.
Romo made one of the biggest plays in a game chock-full of them when he converted a third-and-13 with a 16-yard run -- his longest since 2011 -- in the fourth quarter.
No way do the Cowboys match the biggest comeback in franchise history without their veteran game-manager. When it was over, he had actually played like the "old" Romo instead of an old Romo.
Maybe Romo isn't done after all. Then again, perhaps this is just a cruel mirage. The beauty of sport is we must wait for the answer to be revealed.
Dallas 34, St. Louis 31.
"I saw the same things you saw," owner Jerry Jones said of Romo. "His quickness, his ability to escape, his ability to whip around and change directions."
None one saw this comeback occurring when the Cowboys trailed by three touchdowns after
Janoris Jenkins
returned an interception 25 yards for a touchdown with 6:06 left in the second quarter.
But the Cowboys didn't abandon their running game -- go ahead and give play-caller Scott Linehan a round of applause -- which meant the Cowboys never became one-dimensional like we've seen so many times during Jason Garrett's regime.
By continuing to run the ball, Linehan prevented St. Louis' fierce rush from controlling the game and unloading on Romo, whether he was sacked or not.
When Romo threw a 68-yard touchdown pass to
Dez Bryant
three minutes into the third quarter, it pulled Dallas within 21-17. As Bryant threw up the 'X' in the end zone, Romo chest-bumped guard
Zack Martin
, then running back
DeMarco Murray
.
He was feeling good again. The feelings intensified as Romo led the Cowboys on their fifth consecutive scoring drive to take a 27-24 lead with 6:13 left.
On third-and-13, Romo took off up the middle as the pocket collapsed. He made a funky move on linebacker
Alec Ogletree
after about 10 yards and slid after picking up the first down.
"The run was good," Romo said. "To make one guy miss -- that was obviously an exceptional move that I think he probably wants back."
Romo converted a third-and-14 with a 20-yard completion to
Terrence Williams
. A 33-yard pass interference penalty against Bryant moved the ball to the St. Louis 17. Three plays later, the Cowboys took their first lead on a 12-yard touchdown pass to Williams.
If Romo is going to move this well, the Cowboys might consider letting him work on strengthening his core every Wednesday instead of throwing passes in practice.
It seems as though Romo has only so many throws in his body each week. The Cowboys can use them in practice or games.
"You have to kind of figure out what's going to give everyone the best opportunity to play their best," Romo said. "If you're tired or sore, that's just part of football. You want to have the functioning strength that you might have without as many torque situations throughout a week. I think, for me, that was the benefit this week."
The night before his son rallied the Cowboys to an improbable victory, Ramiro Romo nursed a glass of red wine at a hotel restaurant and predicted his son would soon play better.
The elder Romo figured his son needed time to get his body in shape to withstand the rigors of a 16-game NFL schedule after two back surgeries in the past year.
It's one thing to be 100 percent healthy and another to be ready to function as an elite athlete and play the most difficult position in sports.
"At first glance, it looked like he was more himself in this ballgame," Garrett said. "I thought he made some throws down the field, spontaneous throws, where he had to move in the pocket, kept his eyes down the field and really looked like himself."
Those are words of hope.
Romo is in the first year of a six-year, $108-million contract extension. If he can't give the Cowboys three or four quality years, it guarantees this franchise will remain stuck in the abyss of mediocrity.
September, 21, 2014
Sep 21
7:55
PM ET
ST. LOUIS --
Dez Bryant
didn't get mad when
St. Louis Rams
cornerback Janoris Jenkins celebrated his pick-six by throwing up the X, taunting Bryant by borrowing his trademark gesture.
Bryant got even.
"Had to get him back," said Bryant, who torched Jenkins for a 68-yard touchdown to help the
Dallas Cowboys
pull off the 34-321 comeback win Sunday. "Had to get him back."
Bryant
It didn't look pretty for the Cowboys when Jenkins jumped a stop route to Bryant for an easy interception and 25-yard touchdown return with 6:06 remaining in the second quarter, giving the Rams a 21-0 lead. However, Bryant and quarterback Tony Romo knew right then that they could take advantage of Jenkins' aggressiveness for a big play.
The Cowboys cashed in on the first series of the second half, when Bryant ran a post route off play-action on first down with Jenkins in man coverage. Jenkins bit so badly on Bryant's fake to the outside that he wasn't even in the television picture when Romo's deep ball arrived.
"As soon as I seen him flip his hips, I knew I had him," said Bryant, who caught six passes for 89 yards and also drew a 33-yard pass interference penalty on Jenkins during Dallas' go-ahead drive.
No Rams defenders were within 20 yards of Bryant when Romo threw the ball, as the safety reacted to a deep crossing route by Terrance Williams that is actually the primary read on the play. Bryant was so open that Romo had the luxury of severely underthrowing the ball, just to make sure the completion was made and Bryant could jog into the end zone.
"I took a peek and I knew he was open -- let me make sure he's as wide open as I think," Romo said. "No one ever comes that wide open, so you wait a tenth of a second longer just to be like, 'Nope, He actually is that wide open.' So you just give him the ball.
"You just want to make sure you don't do anything stupid."
Throwing up the X might not have been Jenkins' smartest move. It was good for a few chuckles, but Bryant got the last laugh.
September, 21, 2014
Sep 21
7:25
PM ET
ST. LOUIS -- Another game, another groin injury for the
Dallas Cowboys
' defense.
Melton
Defensive tackle Henry Melton's groin bothered him for most of Sunday's win against the
St. Louis Rams
. The injury caused Melton, who had one tackle and a fumble recovery, to remove himself from the game in the fourth quarter.
"Melton had a little twinge but played with it," owner and general manager Jerry Jones said. "He took himself out right at the end. But he played with it for most of the day."
Melton was sidelined for several practices and did not play in the preseason because of a strained groin.
Starting linebackers
Justin Durant
and
Rolando McClain
were inactive against the Rams because of groin injuries. Durant has not played or practiced since straining his groin in the season opener. McClain strained his groin in last week's win against the
Tennessee Titans
and did not practice all week.
Jones said the hope is that McClain will be able to play next week against the Saints. The original timetable for Durant's recovery was three to four weeks, but he is also hoping to play next week.
September, 21, 2014
Sep 21
7:00
PM ET
ST. LOUIS -- Convinced yet about the Dallas Cowboys' commitment to the run?
If there was ever a time for the Cowboys to go back to their pass-happy ways, it was Sunday, when they trailed the
St. Louis Rams
by three touchdowns with a little more than six minutes remaining before halftime. At that point,
DeMarco Murray
had a grand total of 3 yards on five carries, plus he lost a fumble on a reception.
Murray finished the game with 24 carries for 100 yards and a touchdown, playing a key role in the Cowboys matching the franchise's biggest comeback. Dallas doesn't pull off
the 34-31 victory
at the Edward Jones Dome without imposing its will against a Rams defense geared up to stop Murray.
The commitment to the run is real.
"It's trust," said Murray, who has at least 100 yards and a touchdown in each game this season. "They trust the offensive line, they trust myself to give us a few yards and get stuff going. That's what it's all about."
You can't call the Cowboys' offense soft anymore. Not with three first-round picks on the offensive line paving the way for the NFL's leading rusher. And not with a coaching staff committed to punishing opponents on the ground, regardless of the circumstances.
"I think everybody's waiting for that to break and it's not," tight end
Jason Witten
said. "There's a complete commitment to run the football and continue to run the football and everything we do is off of that. That's just our football team. It's a little different than what we've been in the past."
Oh, it's a lot different than it's been in the past. The Cowboys, after all, had the second fewest rushing attempts in the league in each of the last two seasons. It didn't used to take much to get head coach Jason Garrett and quarterback
Tony Romo
to give up on the run and ride Romo's right arm.
But this is the way Garrett, who won Super Bowl rings while standing on the sideline and watching
Emmitt Smith
and a big, nasty offensive line beat up opponents, has always wanted to play. He finally feels like he has the horses to do it after Dallas invested first-round picks in offensive linemen in three of the last four drafts.
"We're never going to be a team that hands it to him every frickin' time," Garrett said. "That's not how you play offensive football in this league. Teams can take the run away. They can commit people to the line of scrimmage. If they play eight-, nine-, 10-man fronts, you're not going run the ball. I don't care who you are. And similarly you don't want to get into a deal where you're throwing it all the time.
"You want to be balanced. You want to attack different ways. Keep finding different ways to run the ball."
[+] Enlarge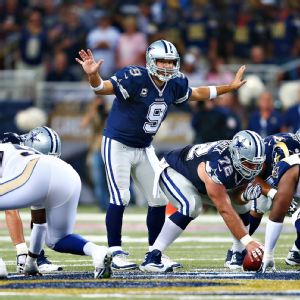 Dilip Vishwanat/Getty Images
That was the challenge for the Cowboys in St. Louis with the Rams consistently bringing an extra defender in the box and playing man coverage on the receivers.
Dallas did indeed find ways to get Murray going. Down 21-0, he was stuffed for a loss of a 2 yards on the first play of the next drive. But Romo handed him the ball four more times on the series for a 14-yard gain behind left tackle
Tyron Smith
, a 20-yard gain behind Smith again, a 4-yard gain behind center
Travis Frederick
and right guard
Zack Martin
and a 1-yard touchdown up the middle again.
Want creativity? Look at Murray's biggest run of the day, a 44-yard gain on a counter pitch after a fake end-around to
Dez Bryant
, with Smith leading the way around the left end and Frederick sprinting 40 yards downfield.
These Cowboys make you respect the run. And that puts defenses in position to get burned for a 68-yard touchdown by Bryant off a play-action fake.
"The approach to games is regardless of the front, regardless of the score, that's the way we're going to attack and everything else we do comes off of that," Witten said. "We're seeing that that's our identity."
Added Bryant: "The identity that we're creating, we want it. We want it to be strong. We want the world to know who we are."
The pass-happy Cowboys are a thing of the past. This is a smash-mouth team. That's their story, and they really are sticking to it.
September, 21, 2014
Sep 21
7:00
PM ET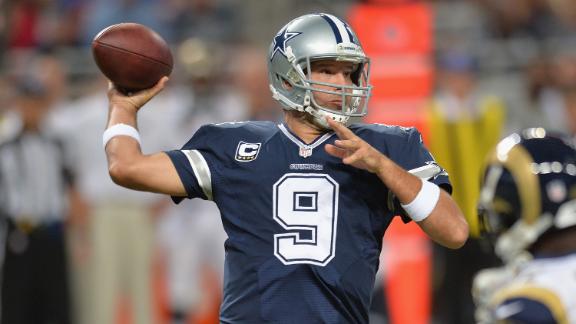 ST. LOUIS --
Morris Claiborne
was more relieved than happy as he buttoned up his dress shirt after the
Dallas Cowboys
' 34-31
win
against the
St. Louis Rams
Sunday.
The cornerback made the game-clinching interception with 1:02 to play, coming down with a deep
Austin Davis
pass down the sideline for
Brian Quick
. He had the requisite on-field celebration, but he admitted "I pretty much stunk it up," before the play.
"The guys are still trying to keep me up," Claiborne said. "I'm not satisfied. We got a win and a big play at the end but it's something about leaving plays out there."
Claiborne didn't just leave plays on the field. He didn't make plays and he was beaten for plays. Continuously.
Quick beat him for a 51-yard touchdown on the first play of the second quarter. He was beaten by
Kenny Britt
for a 38-yard gain in the third quarter. He missed a tackle on a 16-yard run by
Zac Stacy
on the next play. He was penalized for illegal contact in the fourth quarter and acknowledged he was in the wrong spot on the Rams' final touchdown.
The cries for his benching could probably be heard everywhere evidently but the Edward Jones Dome. It was the lowest point for the former sixth overall pick of the 2012 draft, a player compared to Deion Sanders when he was selected.
With
Orlando Scandrick
back after his four-game suspension was cut in half thanks to a revised NFL drug policy, the Cowboys could have played Claiborne less.
Scandrick started but he rotated with Claiborne, depending on the St. Louis personnel. When the Rams spread the field, Scandrick moved to the slot and Claiborne stayed outside.
Sterling Moore
, who played well in Scandrick's absence, was a mere afterthought.
Coach Jason Garrett applauded Claiborne's ability to forget a poor play. Or two. Or three. Or seven.
"There is probably no position other than quarterback that you have to do (move on from a bad play) as much as the cornerback position in this league because you're out there on that island and the guys on the other side are good," Garrett said. "I thought our guys outside really battled back. Obviously Mo made a significant play at the end of the game to ice it for us. A true sign of mental toughness. That's what you've got to do in this league."
Even as Claiborne missed opportunities to make plays, jumping too soon on the pass to Britt, failing to wrap up Stacy, he figured he would have another chance. He knew he had done nothing to dissuade Davis from going in his direction, especially as the Rams looked to tie or win the game late.
"Playing this position, you can't hang your head," Claiborne said. "Guys are going to catch balls. It's what you do after that. They're going to come again at you."
When Claiborne saw Quick use an outside release on first-and-10 from the St. Louis 26, he figured it was a go route. The same one in which he was beat in the second quarter.
"I turned and ran and tried to play the ball," Claiborne said. "I was blessed to come up with it."
He sprinted away to celebrate after coming up with the interception -- just the third of his career -- but he couldn't outrun what happened to him the rest of the day.
The interception did not erase the first 58 minutes of the game.
"Not in my eyes," Claiborne said. "It seemed to do that with everybody else. Not in my eyes. I'm ready to go learn from this tape and get better from it. Like I told the DBs, no matter what the outcome is I can't go out and play like that. If we want to be the No. 1 defense in the league, on my end, I can't go out like that."
September, 21, 2014
Sep 21
6:04
PM ET
ST. LOUIS -- The clearest evidence
Dallas Cowboys
quarterback
Tony Romo
felt better Sunday against the
St. Louis Rams
was not just his 16-yard scramble in the fourth quarter. It was how Romo moved from the beginning of the game until the end.
Romo, who completed 18 of 23 passes for 217 yards, two touchdowns and an interception, noticed a difference.
Romo
"I felt stronger, felt as if everything was firing, activation sequence, blah, blah, blah, stuff like that," Romo said. "That wasn't necessarily as well as I wanted to probably the first couple of weeks. But I've played through injury and stuff before. You just kind of manage it and play to the best of your ability. It was good to feel better this week than previous. That helped."
Romo sat out of Wednesday's practice, spending time in the weight room as his teammates went through the game plan. He did not miss a practice the first two weeks of the regular season, but he did not feel his best in either game as he works his way back from back surgery.
Romo said he isn't sure if he will continue to sit on Wednesdays going forward.
"I think more than anything you have to kind of figure out what's going to give everyone the best opportunity to play at your best," Romo said. "If you're just tired or sore, that's just part of football. Nor does anyone get anything for that. It's mostly just you want to have the functional strength that you might have without as many torqued situations during the week. I think with me, that was the benefit this week, and we'll see going forward how that reacts and everything."
September, 21, 2014
Sep 21
5:55
PM ET
ST. LOUIS -- Observed and heard in the locker room after the Cowboys' 34-31 win over the
St. Louis Rams
:
Staying in it:
Jason Garrett has preached to his team to fight and finish. The Cowboys fought back and finished off the Rams late in tying the franchise record for the biggest deficit in a comeback win. The Cowboys were down 21-0 with 6:06 left in the first half but scored 10 points before halftime to get in the game.
Romo
"It's a sign of maturity in a team," Garrett said. "That's what you have to do. You have to execute and fight. I thought our guys were able to do that."
Staying with it:
Trailing by such a large margin, the Cowboys easily could have gotten away from the run as they have numerous times in the past. On the drive after the Rams took a 21-0 lead, the Cowboys ran five times with DeMarco Murray picking up 37 yards, including the final yard for Dallas' first touchdown. He finished with 24 carries for 100 yards, and the Cowboys ran it 29 times for 123 yards as a team.
"It's more about in-game, how this game is going," quarterback
Tony Romo
said. "The fact that we weren't in a rush because it was so early in the game to just abandon it, that's a great job by Scott [Linehan] and staff. It was just a really well-called game."
Staying level-headed:
Morris Claiborne
's afternoon was horrid before the final defensive play. He gave up a 51-yard touchdown. He gave up a 38-yard completion. He missed a tackle on a 16-yard run. He had an illegal-contact penalty. He was the closest defender on the Rams' final touchdown. But he made an acrobatic pick of
Austin Davis
with 1:02 to play to seal the win.
How much did he need that?
"A lot," Claiborne said. "Not just for myself, but for the team. I'm happy for both of us."
September, 21, 2014
Sep 21
4:04
PM ET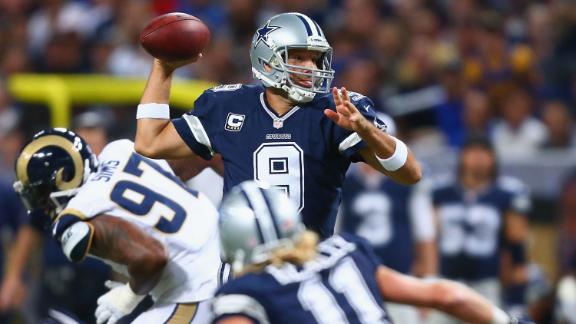 ST. LOUIS -- A few thoughts on the
Dallas Cowboys
'
34-31 win
over the
St. Louis Rams
on Sunday at the Edward Jones Dome:
What it means:
Any win on the road against any team cannot be taken lightly when the expectations for the Cowboys this season are as low as they are. So give the Cowboys credit for their win after overcoming an abysmal start, even if a lot of it was overcoming themselves.
DeMarco Murray
fumbled for the third straight game, and the Rams countered with a touchdown.
Tony Romo
had an interception returned for a touchdown. As a result, the Cowboys were down 21-0 with 6:06 left in the half.
But then they scored 34 of the game's next 37 points, culminating in a
Bruce Carter
interception return for a touchdown with 6:13 to play.
It matched the largest deficit the Cowboys have overcome in team history and the first time they did it in regulation. On Oct. 21, 1984, they beat the
New Orleans Saints
30-27 in overtime. In the 1999 season opener, they did the same to beat the
Washington Redskins
41-35 in overtime.
Century mark once more:
Murray became the third Cowboys running back to start the season with three straight 100-yard games, but it was a fight. It was also Murray's third straight 100-yard game against the Rams, as he finished Sunday with 100 yards on 24 carries. Did we mention it was a fight? In the first half, Murray carried 10 times for 40 yards, but 38 of those yards came on the final drive of the half. The seven other first-half carries gained 2 yards.
In the second half, Murray found it a little bit easier but was helped by a 44-yard run in the third quarter. When the Cowboys needed to run the clock out, they couldn't do it.
Murray joined Tony Dorsett and
Emmitt Smith
as the only Cowboys runners to open with three straight 100-yard games. Dorsett did it in 1981. Smith did it in 1995, when he had four straight games.
Game ball:
Yes, Romo had an interception returned for a touchdown in the first half, but the Cowboys quarterback looked far different than how he had played in the first two games. Romo was nimble, as evidenced by his 16-yard scramble on a third-and-13 run in the fourth quarter. Later, on third-and-14, he found
Terrance Williams
for 20 yards. Four plays later, he hit Williams on a 12-yard touchdown pass. There was no wild celebration. Romo simply pumped his fist and went to the sideline. His stats were modest -- 18-of-23, 217 yards -- but he made the plays when it mattered most.
Stock watch:
When the Cowboys drafted
Morris Claiborne
with the sixth pick of the 2012 draft, they said he was their highest-rated defensive back since Deion Sanders. It looked like they could not have been more wrong until Claiborne sealed Sunday's win with an athletic interception in the closing minutes to stop the Rams' final drive. Before that, however, Claiborne was beaten by Brian Quick for a 51-yard touchdown on the first play of the second quarter. In the third quarter, he was beaten on a go route for 38 yards by
Kenny Britt
and then missed a tackle on a 16-yard run by
Zac Stacy
. That drive led to a Rams field goal. Later, he was flagged for illegal contact and was the closest defender on St. Louis' final touchdown. All is not forgiven with the interception, but at least Claiborne made the deciding play.
What's next:
The Cowboys return to AT&T Stadium to take on the Saints. Last year, the Cowboys were embarrassed at the Mercedes Benz Superdome 49-17 in a game when the Saints put up an NFL-record 40 first downs and 625 yards. After the Cowboys saw 49ers fans overtake the home stadium in the opener, the Saints fans will be out in full force as well. New Orleans has won both meetings at the new stadium in Arlington, Texas.