September, 21, 2014
Sep 21
8:01
PM ET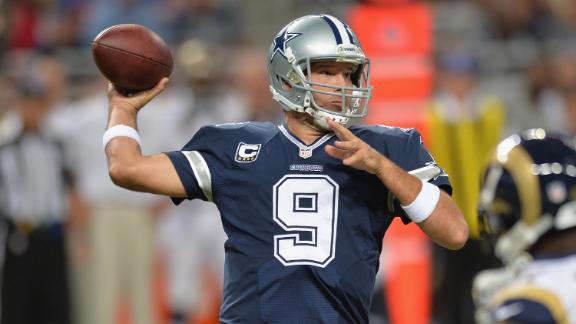 ST. LOUIS -- The complementary quarterback, the same dude who didn't practice Wednesday so he could rest his aching back, was at his spinning, twirling, big-play making best Sunday afternoon at the Edward Jones Dome.
Tony Romo
, the 34-year-old quarterback who looked stiff and immobile a week ago against Tennessee, moved spryly in the pocket as he consistently eluded defenders and created additional time to find his receivers.
Romo made one of the biggest plays in a game chock-full of them when he converted a third-and-13 with a 16-yard run -- his longest since 2011 -- in the fourth quarter.
No way do the Cowboys match the biggest comeback in franchise history without their veteran game-manager. When it was over, he had actually played like the "old" Romo instead of an old Romo.
Maybe Romo isn't done after all. Then again, perhaps this is just a cruel mirage. The beauty of sport is we must wait for the answer to be revealed.
Dallas 34, St. Louis 31.
"I saw the same things you saw," owner Jerry Jones said of Romo. "His quickness, his ability to escape, his ability to whip around and change directions."
None one saw this comeback occurring when the Cowboys trailed by three touchdowns after
Janoris Jenkins
returned an interception 25 yards for a touchdown with 6:06 left in the second quarter.
But the Cowboys didn't abandon their running game -- go ahead and give play-caller Scott Linehan a round of applause -- which meant the Cowboys never became one-dimensional like we've seen so many times during Jason Garrett's regime.
By continuing to run the ball, Linehan prevented St. Louis' fierce rush from controlling the game and unloading on Romo, whether he was sacked or not.
When Romo threw a 68-yard touchdown pass to
Dez Bryant
three minutes into the third quarter, it pulled Dallas within 21-17. As Bryant threw up the 'X' in the end zone, Romo chest-bumped guard
Zack Martin
, then running back
DeMarco Murray
.
He was feeling good again. The feelings intensified as Romo led the Cowboys on their fifth consecutive scoring drive to take a 27-24 lead with 6:13 left.
On third-and-13, Romo took off up the middle as the pocket collapsed. He made a funky move on linebacker
Alec Ogletree
after about 10 yards and slid after picking up the first down.
"The run was good," Romo said. "To make one guy miss -- that was obviously an exceptional move that I think he probably wants back."
Romo converted a third-and-14 with a 20-yard completion to
Terrence Williams
. A 33-yard pass interference penalty against Bryant moved the ball to the St. Louis 17. Three plays later, the Cowboys took their first lead on a 12-yard touchdown pass to Williams.
If Romo is going to move this well, the Cowboys might consider letting him work on strengthening his core every Wednesday instead of throwing passes in practice.
It seems as though Romo has only so many throws in his body each week. The Cowboys can use them in practice or games.
"You have to kind of figure out what's going to give everyone the best opportunity to play their best," Romo said. "If you're tired or sore, that's just part of football. You want to have the functioning strength that you might have without as many torque situations throughout a week. I think, for me, that was the benefit this week."
The night before his son rallied the Cowboys to an improbable victory, Ramiro Romo nursed a glass of red wine at a hotel restaurant and predicted his son would soon play better.
The elder Romo figured his son needed time to get his body in shape to withstand the rigors of a 16-game NFL schedule after two back surgeries in the past year.
It's one thing to be 100 percent healthy and another to be ready to function as an elite athlete and play the most difficult position in sports.
"At first glance, it looked like he was more himself in this ballgame," Garrett said. "I thought he made some throws down the field, spontaneous throws, where he had to move in the pocket, kept his eyes down the field and really looked like himself."
Those are words of hope.
Romo is in the first year of a six-year, $108-million contract extension. If he can't give the Cowboys three or four quality years, it guarantees this franchise will remain stuck in the abyss of mediocrity.