November, 25, 2014
Nov 25
10:54
PM ET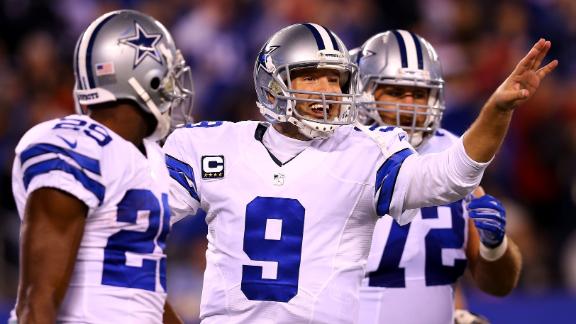 How does the expression go? It's not how you start but how you finish? Well, the Dallas Cowboys have not finished well, not in any recent year. And if they don't finish well this season, chances are there will be people finished in Dallas. It is that simple.
As good as the Cowboys have been, as successful as their season has been, it all comes down to this: December. The month that has undone family budgets also has undone Cowboys seasons. And it threatens to do so again.
Three times in the past six regular seasons (2008, '11 and '13), the Cowboys have won only one game in December and January. Even worse, since 1997, the Cowboys have compiled a 30-47 regular-season December-January record, tied for 28th in the NFL during that span.
Before the Cowboys get to December, they have a rather significant Thanksgiving date with the Philadelphia Eagles. But after Thursday's key NFC East matchup, their last November game this season, the Cowboys play three of their remaining four games on the road.
Dallas plays at Chicago on Dec. 4 and at Philadelphia on Dec. 14, returns home for Indianapolis on Dec. 21 and closes out the regular season at Washington on Dec. 28.
Nobody has traveled as well as Dallas, the only NFL team unbeaten in road games (5-0) this season.
Yet Week 17 has been especially brutal to the Cowboys. Since 2000, the Cowboys are 2-12 in Week 17 games, the worst record of any team in that span. They have lost four straight "win-or-go-home" games dating to 2008 by a combined margin of 127-60.
November, 25, 2014
Nov 25
5:36
PM ET
IRVING, Texas – Playing two games in five days will not be an issue for
Dallas Cowboys
quarterback
Tony Romo
.
Romo
Romo went through a full practice on Tuesday -- even if it was just a little bit faster than a walkthrough -- and will practice again on Wednesday as the Cowboys go through their red-zone and short-yardage plan.
"The game will be Thursday so you do everything you can to get yourself feeling at your best around 3:30 on Thursday," Romo said. "That's my job, and I'm going to wear out the mental side of it to get ready and to have the Eagles down cold by the time we get there."

The stress of the Thanksgiving week is more mental than physical. The players have not worn helmets during the two practices so far. Romo said the Cowboys used their bye week to implement some plays that could be part of the game plan this week as a way to work ahead.
Romo has fared well on Thanksgiving in his career. The Cowboys are 6-1 in his starts and has thrown 18 touchdown passes to just six interceptions.
"I mean the mental challenge is there, but I've played in enough Thanksgiving games to understand what is going to give you some advantages to the short week, to give you a leg up," Romo said. "You've got to really grind it out. And you'll be a little bit exhausted on the mental side of it but that's a good thing in this sort of week."
November, 25, 2014
Nov 25
4:00
PM ET
By
Calvin Watkins
| ESPNDallas.com
IRVING, Texas -- Cowboys wide receiver
Terrance Williams
was limited in practice on Tuesday with a fractured index finger. Williams will wear a splint and is expected to play in Thursday's game against the Eagles.
Williams was the only real serious injury on the Cowboys' practice report.
Defensive end
Jack Crawford
and safety
Jeff Heath
(thumb surgeries on Tuesday) didn't practice and won't play against the Eagles. The same can be said of cornerback
Tyler Patmon
(knee/ankle) and linebacker
Dekoda Watson
(hamstring).
Defensive tackle
Josh Brent
(groin), right tackle
Doug Free
(foot), defensive tackle
Nick Hayden
(shoulder), quarterback
Tony Romo
(back) and linebacker
Rolando McClain
(knee) are listed on the injury report as full participants in practice.
November, 25, 2014
Nov 25
3:15
PM ET
By
Calvin Watkins
| ESPNDallas.com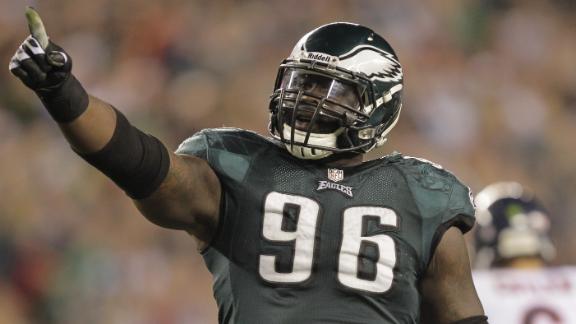 IRVING, Texas -- The trash talking has started between the
Dallas Cowboys
and the
Philadelphia Eagles
in anticipation of their Thanksgiving Day clash at AT&T Stadium.
On Monday, Eagles defensive tackle
Bennie Logan
didn't seemed impressed with the Cowboys' offensive line.

"They're OK,"
Logan told CSNPhilly
. "Yeah, they're OK. I don't really know what's great about them."
The Cowboys have the NFL's leading rusher in
DeMarco Murray
and an offensive line with three first-round draft picks, including Pro Bowl left tackle
Tyron Smith
.
Starting left guard
Zack Martin
, the Cowboys' 2014 first-round selection, is getting consideration for the offensive rookie of the year award.
"The running back's having a good year running, but I don't see anything spectacular about them," Logan said. "Same offensive line we faced last year and they have one new guy. We faced them [before]. They're OK linemen."
Cowboys center
Travis Frederick
, like Martin and Smith, a first-round pick, didn't take the bait.
"I'm not really a big bulletin-board guy," Frederick said after Tuesday's practice at Valley Ranch. "For me, if you can't get motivated to play a game, this is your job, this is what I do, this is what I love. I'm motivated to play every game. People say things sometimes to the media and sometimes the media spins it a little bit. It is what it is."
Frederick was made aware of Logan's comments by fans on Twitter and Murray didn't know what was said until a reporter told him about it.
"Let's find out Thursday," Murray said with a smirk.
November, 25, 2014
Nov 25
2:30
PM ET
IRVING, Texas --
Tyron Smith
, who signed an eight-year contract worth $110 million, leads the
Dallas Cowboys
with seven penalties.
At times this season, he's been beaten by players such as Houston's
J.J. Watt
and Sunday night against the
New York Giants
'
Jason Pierre-Paul
. And, for what it's worth, Pro Football Focus ranks him 21st among tackles.
Doug Free
ranks 16th.
Smith
"Tyron has played well. He's gone against some really good rushers like he always does and done an excellent job neutralizing them," Garrett said. "He's improved as a run-blocker and a leader. His play is consistent, but having said that, he can always play better. He's still a young player and technically he's still improving."
Smith has not been as dominant this season as he was in 2013, when he seemingly destroyed opposing defensive ends every week. Then again, the standard for Smith is so high that it's easy to forget the only player who's never been beaten is the player who stays on the sideline.
"That's the standard he needs to have for himself. That's the one we have for him, you also have to recognize who he's going against play-in and play-out, week in and week out. He's not perfect, but he's a great teammate and a great guy to have on your team not just because of his ability and productivity but also because how he goes about it."
Pierre-Paul had two tackles, a quarterback hit and forced a holding call. At times, he was disruptive.
But on the final drive with the game on the line, Smith made Pierre-Paul disappear. Twice the offensive line provided Romo with more than seven seconds to throw a pass against a four-man rush.
If you hadn't seen it, you wouldn't have believed Romo had so much time.
"He never wants to get beat in anything we do," Garrett said. "We do these pass-rush drills, and if he gets beat or he doesn't have a good performance, you can just see it inside of him.
"A number of times, if he has gotten beat, he says, 'Give it to me again.' He wants to go again and rectify that situation immediately. The best players I've been around and the best offensive linemen I've been around have that same attitude."
November, 25, 2014
Nov 25
1:00
PM ET
A quick observation of quarterback
Tony Romo
and how he played in the
Dallas Cowboys
' 31-28 win in Week 12 against the
New York Giants
:
Romo
The Romo who played Sunday against the Giants looked a lot different from the Romo who played Nov. 9 against the
Jacksonville Jaguars
. Romo moved much more freely against the Giants than he did against the Jaguars, which was his first game playing through two transverse process fractures in his back.
The Cowboys also felt more comfortable with him moving out of the pocket on designed plays. Romo said he feels better and expects to be back closer to normal in a week or two.
The challenge Thursday against the
Philadelphia Eagles
is the quick turnaround. He has been limited in his practice work since the second week of the season as he rested and rehabbed his surgically repaired back, but there is no time for rest this week.
Romo has excelled in Thanksgiving games in the past. He has posted a 6-1 record with 2,033 yards, 18 touchdowns and six interceptions. His only defeat came in 2012 when he lost to Washington 38-31 while throwing for 441 yards on 37-of-62 passing with three touchdowns and two interceptions. These Cowboys are not as pass-happy with their focus on the running game, so the burden is not as heavy on Romo to do everything.
November, 25, 2014
Nov 25
12:52
PM ET
IRVING, Texas -- The calendar might say it's Tuesday but for the
Dallas Cowboys
it is a Thursday in terms of their practice schedule, which means quarterback
Tony Romo
will take part in a full workout.
The nature of the practices this week is light because of the quick turnaround with the Cowboys playing the
Philadelphia Eagles
on Thanksgiving, and Romo took part in Monday's walkthrough as well. Since the second game of the season Romo has not practiced a full week because of his surgically repaired back, but that will not be the case this week.
The only players missing from Tuesday's practice are defensive end
Jack Crawford
, safety
Jeff Heath
, linebacker
Dekoda Watson
and cornerback
Tyler Patmon
. Crawford and Heath had surgery Tuesday morning to repair broken thumbs. Watson has a hamstring strain, and Patmon is working his way back from a sprained knee.
Wide receiver
Terrance Williams
is on the practice field. He suffered a fractured index finger against the
New York Giants
but will wear a splint and continue to play.
November, 25, 2014
Nov 25
11:30
AM ET
There were 127 plays in the Cowboys' 31-28 win over the
New York Giants
. They weren't all created equal. It's never that way. Touchdowns and turnovers get most of the attention, but who wins or loses is often determined by plays that get lost in the shadows of those that command the most attention.
Here's a look at five plays that shaped the Cowboys' win:
Play:
Eli Manning
completion
Situation:
First-and-10 from Dallas 18
Score:
Dallas leads, 24-21
Time:
1:05 left in third quarter
Taylor's Take:
Orlando Scandrick
stumbled almost at the snap and
Odell Beckham Jr
. blew past him. He had 10 yards on Scandrick, but Manning looked right and never saw him. By the time he looked left again, the Cowboys were pressuring him and he dumped it off to
Rashad Jennings
for a 5-yard gain instead of an 87-yard touchdown to Beckham Jr.
Play:
Manning incompletion
Situation:
Second-and-goal from Dallas 3
Score:
Tied, 0-0
Time:
7:15 left in first quarter
Taylor's Take:
The Giants lined up with three tight ends and called a play-action pass. The Cowboys weren't fooled and Scandrick tracked Manning the entire play was he rolled right. When Manning threw back into traffic, Scandrick broke on the ball and should've intercepted it. Instead, he dropped it and the Giants scored on the next play. You have to wonder how different the game would've been if Scandrick had intercepted the pass.
Play:
Cowboys challenge overruled
Situation:
First-and-goal from Dallas 8
Score:
New York leads, 14-10
Time:
2:21 left in first quarter
Taylor's Take:
Andre Williams
went into the pile with the ball, and linebacker
Anthony Hitchens
came out of the pile with the ball. Replays indicated
Barry Church
had ripped the ball out, but officials apparently couldn't determine whether he was down when the ball came out. The Cowboys challenged the play, but officials upheld the call on the field. The Giants scored on the next play.
Play:
George Selvie
sack
Situation:
Second-and-8 from Dallas 37
Score:
New York leads, 21-10
Time:
8:06 left in third quarter
Taylor's Take:
After a Cowboys' punt the Giants had the ball in great field position to add more points before the end of the half and deliver a knockout punch. Selvie rushed hard outside then spun inside just as Manning was trying to escape the pocket. He tripped up Manning for the Cowboys' first sack of the game, creating a long-yardage situation on third down. The drive fizzled and the Giants punted.
Play:
Tyron Smith
penalty
Situation:
Second-and-nine from Dallas 45
Score:
New York leads, 21-10
Time:
11:32 left in third quarter
Taylor's Take:
Jason Pierre-Paul
gave Smith trouble all night. He rushed hard outside then cut inside, forcing Smith to hold him so he didn't sack Romo. Romo rolled right then lofted a pass to
Dez Bryant
for a 39-yard completion tot he Giants 16. Instead of getting in position to score a touchdown, the Cowboys second-and-19 and eventually punted.
November, 25, 2014
Nov 25
11:00
AM ET
IRVING, Texas -- How good has
DeMarco Murray
's season been?
Murray
He can rush for 121 yards on 24 carries and it gets lost in the shuffle of the
Dallas Cowboys
' 31-28 win against the
New York Giants
.
"I thought he was fantastic," coach Jason Garrett said. "It starts with the offensive line. They blocked very well, but to be able to run the football as well as he's run the football week in and week out, against a lot of eight-man type fronts where they're trying to defend the run, I just think is really, really good stuff. He was physical throughout. Sometimes you get some gaudy numbers running the football because you make some big runs. He had a couple of explosive runs for us, but for the most part it was a grinder. That's really to me, when you're evaluating a back, that's when it gets most impressive. He's had a number of those kind of games where a lot of dirty runs, a lot of five, six, seven yard runs where he's finishing forward. He just did a lot of positive things in allowing us to control the football, make some first downs and really control a lot of the game."
And yet Murray wasn't completely pleased Sunday.
"I definitely felt like I was rusty," Murray said, adding, "I may have missed a few things here and there, but we'll watch the film and get it corrected and see where we go."
Murray entered the season seven games of at least 120 rushing yards in his career. He has six this season. He has recorded at least 100 yards in 10 of the Cowboys' 11 games. He is now third in team history with 17 career 100-yard games, trailing only
Emmitt Smith
(76) and Tony Dorsett (43).
His 1,354 yards are ninth-most in franchise history. He is on pace for 1,970 yards, which would be a franchise record. Smith had 1,773 yards in 1995. He needs one more 100-yard game to equal Smith's team record for most in a single season.
"I like the word patience better than pace," Garrett said. "Pace kind of suggests that he's pacing himself. But great runners have patience. They have great vision and they have patience. There's a ton of expressions that have been used through the years, slow to the hole, fast through the hole. You're always kind of working on coordinating the runner with the line blocking and the scheme and the timing of that, his depth, his steps, all of those things. And allowing plays to develop is a big part of being a good runner. The best runners I've been around, they kind of see things and 'Hah!' and they go. And he certainly has those traits."