August, 28, 2014
Aug 28
4:00
PM ET
About three months ago,
according to ESPN senior writer Don Van Natta
, a friend of Jerry Jones put the
Dallas Cowboys
' owner on the phone with
Minnesota Vikings
tailback
Adrian Peterson
. Per Van Natta's reporting, in that phone conversation Peterson said he would love to play for the Cowboys one day, a sentiment Jones carefully concurred with.
Jones
Peterson
Whether that conversation constituted tampering, and no matter if it reflected a whim or a fervent desire on Peterson's part, its revelation opens the window for a real discussion about the remainder of Peterson's career. I believe he was genuine this summer when he said he plans to
"let it ride"
in Minnesota, rather than push to play elsewhere, but I think we are looking at his future through the wrong lens.
To put it simply, Peterson's departure from Minnesota isn't up to him. In the NFL, teams wield full power over player movement, be it a superstar like Peterson or the No. 53 man on the roster. No matter what Peterson wants, he won't leave until the Vikings decide they're done with him.
Such is the harsh truth of the NFL. Peterson is a future Hall of Famer who is two years removed from the second-best season by a running back in league history. Since the start of 2012, he has gained 3,363 yards and scored 22 touchdowns. But Peterson has also played seven rough-and-tumble seasons at football's most brutal position, and at 29 he is two years past the age when most running backs begin a production decline. (
Here is an April post
with more detail on that topic.)
.
Though Peterson is the game's highest-paid running back in 2014 with a $12 million salary, he is essentially in a rolling deal with no future guarantees. As the chart shows, if the Vikings release him after this season, he would count just $2.4 million against their salary cap.
Put it all together and you have a player who should recognize that his future with the Vikings, at least at his current pay scale, is year to year. If his production decreases in 2014, will the Vikings want to pay him $13 million in 2015? That salary dwarfs the running back market, which is at an all-time nadir. In 2015, the average running back salary will be $1.3 million. Peterson would be one of only two running backs making as much as $8 million.
I can't say for sure that Peterson has contemplated that scenario yet, but I would bet the house that his advisers have. Peterson grew up in Texas, and if there is any owner who would overpay an aging running back for entertainment value, it's Jerry Jones. Whomever put Peterson and Jones on the phone, however reckless it might have been, surely understood those dynamics as well.
Both the Vikings and Peterson
issued statements
Wednesday afternoon, and they're notable as much for what they didn't say as for what they did. The Vikings noted they are "focused on the 2014 season," and Peterson said: "This was a casual conversation between NFL colleagues in which I never indicated I wanted to leave the Vikings. I have always said I understand the NFL is a business but that I would love to retire as a Viking."
Pointedly, Peterson didn't deny telling Jones he would like to play for the Cowboys someday. In his mind, no doubt, Dallas would be an ideal landing spot if he ever reaches free agency.
The Vikings, of course, hope that day never comes. They want Peterson to continue as an elite offensive player, one whose production matches the 11-digit salaries his contract calls for over the next four years.
If not -- if he succumbs to the NFL's near-inevitable running back decline -- then they will have a business decision to make. Peterson could well have trade value, but often in such cases, possible suitors sit tight and await a release. He could also agree to a pay cut, as painful as that usually is to the pride of most superstars.
Hall of Famers from Johnny Unitas to Joe Montana to Marcus Allen to the Cowboys' own Tony Dorsett have finished their careers with new teams. It's part of the business. No one faults Dorsett for playing with the Denver Broncos in 1988. Does anyone even remember it? I wouldn't be surprised, and it appears Peterson wouldn't either, if his name joins that list.
August, 28, 2014
Aug 28
3:30
PM ET
IRVING, Texas -- With the suspensions of cornerback
Orlando Scandrick
and safety
Jakar Hamilton
, the
Dallas Cowboys
are facing a fine of close to $44,000 from the NFL.
According to league rules, when a player is suspended without pay for a violation of the personal conduct policy, policy and programs for substance abuse, or policy on anabolic steroids or related substances, the team will have to remit to the Management Council a portion of the players' salary that is deemed forfeited.
Scandrick was suspended for violating the league's performance-enhancing drug policy. Hamilton was suspended for violating the substance abuse program.
With two suspensions, the Cowboys will owe 15 percent of what Scandrick and Hamilton would make over a four-week period. Scandrick will make $750,000 this season. Hamilton will make $495,000. Over four weeks Scandrick would make $176,470 and Hamilton would make $116,470.
Fifteen percent of $292,940 is $43,941.
The Cowboys actually got off lighter because they re-worked Scandrick's contract last season. He was supposed to make a $3.5 million base salary in 2014, which would have raised the fine to $140,000.
If Josh Brent is reinstated and suspended by the NFL, the Cowboys could be on the hook for a larger fine. The Cowboys would have to pay 25 percent of the suspended player's applicable proportionate base salary up to $250,000.
August, 28, 2014
Aug 28
3:07
PM ET
IRVING, Texas -- There are days with the
Dallas Cowboys
when it just never ends.
Take today for instance.
Jakar Hamilton
is suspended four games for violating the NFL's substance abuse policy. That is followed up by the club's decision to cut 2013 fourth-round pick, B.W. Webb in order to add running back
Phillip Tanner
to the roster so he can take some carries in tonight's preseason finale against the Denver Broncos.
Then comes
a mesmerizing tale by ESPN's Don Van Natta Jr.
for "Outside the Lines," and ESPN The Magazine. Some of the story is a rehash of Jones' history as the owner and general manager of the Cowboys.
[+] Enlarge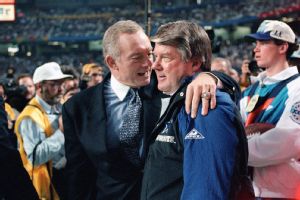 Focus on Sport/Getty Images The sniping between Dallas owner Jerry Jones, left, and former coach Jimmy Johnson is alive and well nearly two decades after Johnson left the Cowboys.
But three of the juicier nuggets include a conversation Jones had with Minnesota Vikings running back
Adrian Peterson
, Cleveland Browns quarterback
Johnny Manziel
and former college teammate and Cowboys coach Jimmy Johnson.
After the George Strait concert Peterson confided in Jones he wants to play for the Cowboys one day after a friend of his handed Jones a cell phone. Tampering charges have been mentioned, but Jones didn't initiate the call. If somebody has some explaining to do, it's Peterson to the Vikings' fans.
Jones' love of Manziel is not surprising. That he so often talks about a love he spurned by listening to the rest of the draft room on May 8 is surprising. Get over it.
Zack Martin
was the pick. He has looked like a veteran since the day he walked in the building.
Tony Romo
is your quarterback.
On the night of the draft, Jones said financially it made no sense to draft Manziel because of the price they paid to keep Romo last offseason. Since then, Jones' love for Manziel has grown and grown.
Maybe Romo doesn't care what Jones says about Manziel, but on a human level doesn't he have to think that maybe Jones isn't fully in his corner?
Jones has a hard time letting things go, which was also evidenced in the piece with his comments regarding Johnson.
I was not around for the Jimmy Johnson Era. There was a clear delineation between Jerry guys and Jimmy guys, from what I'm told, and Jones still has his true loyalties to those people even if Johnson has not been around since the second Super Bowl win in the 1990s.
The sniping between Jones and Johnson remains alive and well. Johnson constantly tweaks Jones backhandedly about his football acumen. Jones said in the piece that Johnson has "but two Super Bowl rings," and won't win another. Jones said he has the chance to win five more without Johnson.
From the sounds of it Johnson will never land in the Ring of Honor. Here's why:
"Disloyalty ... I couldn't handle the disloyalty. Whether it was right or not, by every measurement you can go, I had paid so many times a higher price to get to be there than he had paid, it was unbelievable. ... By any way you wanna measure it, wear and tear, pain, worry, butt kickin', the criticism -- everything in the book!"
It's only the middle of the afternoon. The Cowboys play their final preseason game against the Denver Broncos at 7 p.m at AT&T Stadium.
What else will today bring?
August, 28, 2014
Aug 28
2:10
PM ET
IRVING, Texas -- In order to make room for
Phillip Tanner
on the roster for tonight's preseason finale against the Denver Broncos, the
Dallas Cowboys
waived cornerback
B.W. Webb
.
Webb
A fourth-round pick last year, Webb suffered a hip flexor injury that would prevent him from playing in the final two preseason games. Webb was active for 15 games as a rookie and had 13 tackles and one pass breakup but never got comfortable on the field. He had a so-so training camp and was outplayed by undrafted rookie
Tyler Patmon
.
With Webb gone and
Orlando Scandrick
suspended the first four games of the regular season, the Cowboys will likely go with rookies Patmon and
Terrance Mitchell
, a seventh-round pick, as their fourth and fifth cornerbacks behind
Brandon Carr
,
Morris Claiborne
and
Sterling Moore
.
The Cowboys claimed cornerback
Jemea Thomas
off waivers from the
New England Patriots
on Wednesday.
With injuries to
Joseph Randle
(oblique) and
Ryan Williams
(cramping) the Cowboys were left with one tailback they would play tonight against the Denver Broncos --
DJ Adams
. The Cowboys will not use starter
DeMarco Murray
or
Lance Dunbar
, necessitating the addition of Tanner, who played three years for the team and was recently cut by the Indianapolis Colts.
August, 28, 2014
Aug 28
1:00
PM ET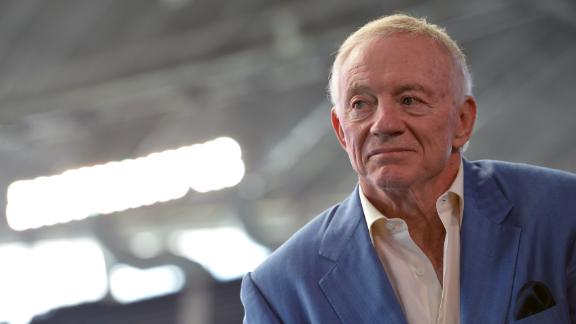 ARLINGTON, Texas -- There are typically two sure things when Jerry Jones delivers his speech at the
Dallas Cowboys
' annual kickoff luncheon.
He'll puff out his chest and pump up his team. And he'll make at least one confusing comment or reference that causes a lot of head-scratching in the audience.
Well, Jerry went 1-for-2 on Wednesday. He certainly didn't make any bold predictions for this season, stressing how the Cowboys are facing an "uphill battle" with "our backs against the wall." Those comments were clear as could be. His reference to an old Ray Charles song, um, really wasn't.
"It basically said without the music and without his great voice was, how do you get if them that gets is them that's got?" Jones said.
Huh? What the heck does that mean? Well, it makes perfect sense when you read or listen to the
lyrics of "Them That Got."
Jerry, the proud owner of a glitzy, glamorous franchise recently valued by Forbes at $3.2 billion, is basically saying that the Cowboys are football broke. He's absolutely right, and the contradiction between the state of the Cowboys financially vs. on the football field pretty much sums up Jerry in a nutshell.
He's among the best, if not the best, of the businessmen in the NFL. He's among the worst, if not the worst, of the general managers in the NFL.
Owner Jerry has done a remarkable job maximizing the marketing potential of the America's Team history. The man just landed a multimillion-dollar deal from a swanky Swiss watchmaker whose head honcho wouldn't know a touchdown from a fourth down because the Cowboys are the most recognizable brand in American sports. The combination of those five Super Bowls from so long ago and Jerry's business savvy made building a $1.2 billion football palace possible, and prompted suburban Frisco to pay $115 million for the right to build the Cowboys a state-of-the-art practice facility. The brand is the biggest reason the Cowboys consistently produce big TV ratings.
But none of that will help GM Jerry's flawed team end a four-year playoff drought or win a playoff game for only the second time since The Triplets' time. Not with a defense whose rebuilding process isn't any further along than the new practice facility, which just had a groundbreaking ceremony last week.
The good news is Jerry seems to get this, finally. The good ol' days can't help the Cowboys win in this decade.
As Ray Charles would say, this crop of Cowboys ain't got nothin' yet. On the field, the Cowboys haven't been one of them that got for years.
The question is, now that Jerry's clear about that, what will he do to change his franchise's football fate?
August, 28, 2014
Aug 28
12:12
PM ET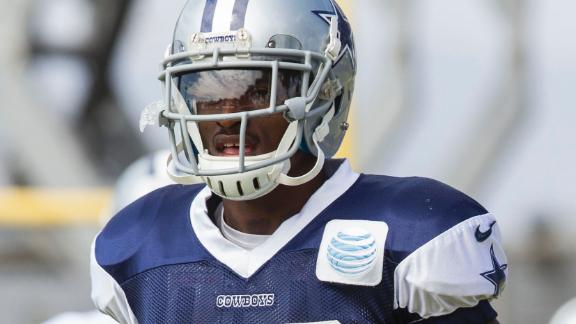 IRVING, Texas -- A second member of the Dallas Cowboys' secondary has been suspended four games by the NFL with second-year safety Jakar Hamilton being sanctioned Thursday.
Hamilton will miss the first four regular-season games for violating the NFL's substance abuse policy. Earlier this month, cornerback Orlando Scandrick was suspended four games for violating the league's performance-enhancing drug policy.
As with Scandrick, the Cowboys were aware of the possible suspension of Hamilton before it was announced.
Unlike Scandrick, Hamilton is fighting for a spot on the Cowboys' 53-man roster. He missed the first preseason game because of a concussion and did not play last week against the Miami Dolphins because of a hamstring injury. He was unlikely to play Thursday night against the Denver Broncos because of the leg injury.
Before Thursday's game, Hamilton issued a statement apologizing for letting his family and teammates down.
"I thank my family for being supportive and forgiving," he said. "I also want to sincerely apologize to Mr. Jones and his family including the entire Dallas Cowboys organization. I ask my coaches and teammates to forgive me and I pray that my mistakes in life will be for others to learn from. I humbly apologize for my past actions.
"My family, fans and the people here in Texas are the greatest. I ask for your forgiveness. I don't blame any one for my shortcomings. I just thank God for another chance to come back stronger and wiser. Let this be a lesson for those who are disobedient."
August, 28, 2014
Aug 28
12:00
PM ET
IRVING, Texas -- The
Dallas Cowboys
(0-3) and
Denver Broncos
(1--2) conclude the preseason tonight at AT&T Stadium.
Three things to watch:
Knocking off the rust:
Henry Melton
was the Cowboys' biggest free-agent acquisition but the defensive tackle has yet to play in the preseason. He was kept off the field in the opener by a coaches' decision and a groin injury knocked him out of two games. He will play at least a little against the Broncos to sharpen him up a little for the Sept. 7 opener against the
San Francisco 49ers
. It will be his first game action -- even if it is just for a series or two -- since Week 3 last season when he tore his anterior cruciate ligaments against the
Pittsburgh Steelers
while with the
Chicago Bears
. The knee has not given Melton an issue all summer. He feels it is strong, but also said he needs some game time because it has been so long since he played. For the Cowboys' defense to succeed they need Melton to play close to the Pro Bowl form he displayed in 2012.
Keeping off the rust:
Orlando Scandrick
will not be seen from again after tonight until Sept. 29 because of a four-game suspension for violating the NFL's performance-enhancing drug policy. The Cowboys have had to balance getting Scandrick enough work to keep him sharp before his month-long absence and making sure his replacement,
Sterling Moore
was able to get some work. In a normal preseason, Scandrick would not step on the field in a finale, spending the night as a spectator. With his suspension, the Cowboys could use him tonight to keep at least some rust off of him before he can practice again. Scandrick said he would go through double-sessions during the suspension to stay sharp, but there's nothing like game action, even preseason game action.
Hope to see some rust after tonight:
The Cowboys hope they won't have to see
Brandon Weeden
play in a game for a long time after tonight. If he does have to play, then they hope it is in mop-up duty of a big win or loss and not because something happened to
Tony Romo
. How much or little Weeden plays has not been determined, but the Cowboys know he is not like the veteran quarterbacks they have carried in the past under Garrett, like Brad Johnson, Jon Kitna and
Kyle Orton
, who had a bevy of starting experience in the NFL. Weeden is only in his third year in the league and first with the Cowboys. His first experience at AT&T Stadium as a Cowboy was admittedly not his best. He forced some throws and was intercepted once by the
Baltimore Ravens
on Aug. 16. He was much better last week vs. the
Miami Dolphins
and a solid performance tonight could go a long way in making the Cowboys' front office and coaches feel better about the backup job.
August, 28, 2014
Aug 28
10:00
AM ET
IRVING, Texas --- With his final chance to throw some punches in his bid to make the
Dallas Cowboys
' roster, running back
Ryan Williams
might not be able to play tonight against the
Denver Broncos
.
He left last week's game against the
Miami Dolphins
with cramping but said tests taken after the game showed no pull or defect in his groin muscle. He was, however, limited in practice due to the short week and as a result the Cowboys will add
Phillip Tanner
to the roster today to have a second fully healthy runner available for the Broncos.
If Williams can't play, he will have to rest his case on what he did in three preseason games. He leads the Cowboys with 112 rushing yards on 25 carries and a touchdown. He also leads the Cowboys with nine catches, good for 66 yards.
But is it enough?
Not even the Cowboys know for sure.
They have so many questions on the roster that they might not be able to carry four tailbacks.
Joseph Randle
will not play against the Broncos because of an oblique strain, but he appears to have the inside track behind
DeMarco Murray
and
Lance Dunbar
. He's also been a better special teams player.
The third tailback has to contribute on special teams and Williams acknowledged that has been new for him. As a former second-round pick of the
Arizona Cardinals
, he wasn't asked to chase down punts and kicks. He's worked at it, according to Jason Garrett.
What Williams has done is put himself in the conversation not only for the Cowboys' roster, but for another team. If he is waived, he should get a second chance. Perhaps the Cowboys could find a willing trade partner looking for a back.
Or perhaps the Cowboys keep him, knowing that Murray and Dunbar have not played a full schedule in their short careers.
"The one thing I do know is it's a numbers' game and it's a business," Williams said. "At the end of the day, you can be as good as you want to be but they might not need you at the end of the day. So you go out there and play as hard as you can and you don't worry about the rest."
August, 28, 2014
Aug 28
9:00
AM ET
IRVING, Texas – It doesn't bother
DeMarcus Ware
one bit that he won't play a down in his return to AT&T Stadium.
It's fine by Ware that he'll be across the field from
Tyron Smith
, who he considers the best offensive tackle in the NFL, instead of across the line of scrimmage from the
Dallas Cowboys
' $110 million man.
"I don't even want to see Tyron," Ware said, laughing. "He's big time now. He's big boy now."
Ware, the franchise's all-time sacks leader who signed with the
Denver Broncos
after the Cowboys released him in a cap-savings move this offseason, can take pride in being able to heap such praise on Smith.
After all, Ware played a significant role in Smith's rapid development from a raw, immensely talented 20-year-old rookie to a Pro Bowl left tackle. Ware routinely stayed after practice with Smith to go over the finer points of pass protection, giving the 6-foot-5, 320-pound physical specimen invaluable perspective from one of the premier edge rushers in NFL history. And the practice battles against Ware pushed Smith to improve -- or be embarrassed.
"DeMarcus Ware beat my butt every day but got me better," Smith said at the Cowboys' kickoff luncheon Thursday.
In Ware's eyes, Smith is the best, bar none. Ware saw that potential in Smith the first time he caught a glimpse of the massive, muscular kid with freakish athleticism for his size. The transition to elite took place last season, when Ware challenged him to physically punish the player across from him each week.
"He looked at me and I said, 'If you're that guy that can shut each one of those guys down and make them quit the first quarter, I promise you they'll stop coming,'" Ware said. "From that point on, he's been like that since the first quarter, trying to kill people. I see the guys quit."
That makes Ware feel proud -- and fortunate that he doesn't have to face Smith in the preseason finale.
August, 28, 2014
Aug 28
8:00
AM ET
IRVING, Texas -- By Saturday the
Dallas Cowboys
have to make their final cut to 53 players. Tonight's preseason finale against the
Denver Broncos
represents the last chance for many players to make a favorable impression.
And that might not even be good enough.
The Cowboys will look for help on the waiver wire and through potential trades over the weekend so the 53 players settled on Saturday might not be the same players on Sunday or Monday or even Tuesday.
But coach Jason Garrett insists players can still make the team tonight.
[+] Enlarge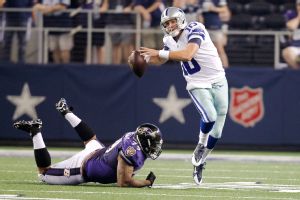 AP Photo/Matt StrasenCan Dustin Vaughan do enough to make the Cowboys want to keep three quarterbacks?
"Fourth preseason games, they were my life," Garrett said. "Guys all over the league, fighting for this opportunity."
Many of the spots on the Cowboys' roster are taken. A handful will be up for debate.
Who can make a difference tonight?
Dustin Vaughan:
The undrafted quarterback from West Texas A&M can make the Cowboys think longer and harder about keeping a third quarterback with a solid performance. If he can lead the Cowboys on multiple scoring drives while making good decisions, he might be too valuable to expose to the waiver wire. With so many roster spots needed elsewhere keeping a third quarterback is a little bit of a luxury, but the Cowboys might view Vaughan as a quarterback worth developing without exposing him to the waiver process.
Dartwan Bush, Kenneth Boatright, Caesar Rayford:
There are jobs to be had on the Cowboys' defensive line, especially at defensive end.
Anthony Spencer
will be on the active roster to start the season, but won't play Week 1 against the
San Francisco 49ers
.
DeMarcus Lawrence
will have to be on the roster at least until Tuesday to be eligible for short-term injured reserve with his broken foot.
George Selvie
has an ailing right shoulder.
Tyrone Crawford
and
Jeremy Mincey
are locks. But who else?
Bush earned a late invite to training camp after making a favorable impression in a rookie minicamp. Boatright was signed during camp. They have shown some flashes of pass rush. Rayford is a worker and will not quit. There might be room for only one of these guys at Saturday's deadline.
Tyler Clutts:
Do the Cowboys keep a fullback or not? It's Clutts' job to win. Garrett has talked about the need for a fullback to be a physical team. Maybe the team looks outside the building for that guy, but Clutts has some versatility and can play special teams.
Will Smith, Keith Smith:
Do the Cowboys keep a seventh linebacker? Will Smith is a draft pick, so he gets the edge, but even if they make the team Saturday, the Cowboys will look at the waiver wire. Remember last year they added
Kyle Bosworth
after the cuts.
Terrance Mitchell, Jemea Thomas:
The seventh-round pick earned praise from coaches for his willingness to work and always being around the ball. He also seemed to be around a lot of penalty flags. With
Orlando Scandrick
gone for the first four games because of a suspension, maybe the Cowboys go heavier than expected at corner. For now Mitchell is fighting for a spot with
B.W. Webb
and
Tyler Patmon
. Thomas was claimed off waivers Wednesday from the
New England Patriots
and will play without the benefit of a practice. Is he an emergency pickup? My gut says no. The Cowboys liked him in the draft. If he can show anything he might be able to snag one of the final defensive back jobs.
August, 27, 2014
Aug 27
5:24
PM ET
Outside The Lines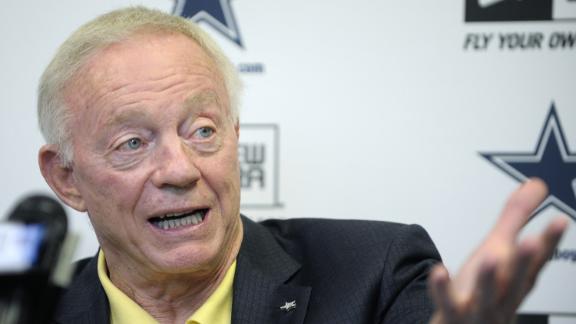 Minnesota Vikings running back Adrian Peterson told Dallas Cowboys owner Jerry Jones in a June telephone call he would like to play for the Cowboys at the end of his tenure with the Vikings, according to an "Outside the Lines" report.
"Well, I understand, Adrian," Jones told Peterson during the call. "I'd like that, too ... Well, I love your story. I love your daddy's story. I've always respected what you've been about. I've always been a fan of yours."
The telephone call is recounted as part of an expansive "Outside the Lines"/ESPN The Magazine profile of Jones by ESPN senior writer Don Van Natta Jr. that was published Thursday.
The story also details Jones' lingering angst over passing up quarterback Johnny Manziel in the NFL draft and Jones' continued emotion over former Cowboys head coach Jimmy Johnson, whom Jones says will not be put in the Cowboys' "Ring of Honor" that recognizes contributors to the franchise's success.
As for the Peterson call, Van Natta was in Jones' suite at AT&T Stadium when a friend of Jones' handed the phone to him. Peterson had talked first to a Morgan Stanley money manager who had attended George Strait's final concert on June 7 at AT&T Stadium. After the concert, Jones and several others remained in the suite; Peterson talked with the man, who handed the phone to Jones without saying who was on the line.