Dallas Cowboys:

Dallas Cowboys draft
August, 8, 2014
8/08/14
1:00
PM ET
Joseph Randle
started three games last season. The 2013 fifth-round pick did little to inspire confidence he could adequately replace
DeMarco Murray
, gaining 108 yards on 44 carries in those games.
But he's had a good training camp, and it continued Thursday with a nice performance against San Diego. Randle gained 50 yards on 13 carries, a 3.8 average, but he ran through arm tackles and showed a burst and decisiveness we didn't always see last season.
Randle
The
Dallas Cowboys
' scheme is designed for the running back to make one cut and go. It's not good for a runners who want to take their time picking a hole.
"He did a good job of cutting his foot in the ground and getting up the field," coach Jason Garrett said. "It looked like he saw the field well, saw the holes, saw the soft spots and got north and south. I thought he had a real good night."
More important than his running, Randle did well on his blitz pickups and made a tackle on special teams.
"I'm trying to take step forwards every day," Randle said. "This is the time of year you grind and try to move up the depth chart. I'm supposed to be pushing my way toward more playing time and finding a role on this team."
He's fighting
Ryan Williams
, a former second-round pick, for a roster spot. The best special teams player will earn it.
For now, Randle has a slight edge.
May, 12, 2014
5/12/14
10:15
AM ET
IRVING, Texas -- For all of the talk about the
Dallas Cowboys
drafting a quarterback, they never really considered selecting one.
[+] Enlarge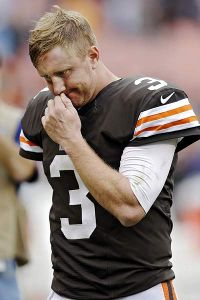 Tony Dejak/AP PhotoThe Dallas Cowboys are viewing 30-year-old backup Brandon Weeden as their "developmental quarterback."
After the first round, owner and general manager Jerry Jones said picking
Johnny Manziel
, "wasn't even a thought," despite loving the former Texas A&M quarterback who ended up with the
Cleveland Browns
.
The Cowboys liked several lower-round quarterbacks, such as
Tom Savage
, but passed on all of them. The Cowboys have not drafted a quarterback since taking
Stephen McGee
in the fourth round of the 2009 draft. Since 1989, the Cowboys have drafted only four quarterbacks:
Troy Aikman
,
Bill Musgrave
,
Quincy Carter
and McGee.
Steve Walsh
was taken in the first round of the 1989 supplemental draft.
With
Tony Romo
coming off his second back surgery and
Kyle Orton
's future in question, many thought the Cowboys would take a shot at a quarterback.
"We feel in signing
Brandon Weeden
, he can be viewed as that developmental guy," coach Jason Garrett said. "A first-round pick a couple of years ago, coming from a baseball background, has all the physical tools you want. We view him as in that role right now, so we wanted to be selective about anybody else we wanted to bring in here."
So no Savage, no
Aaron Murray
, no
AJ McCarron
. The Cowboys did sign
Dustin Vaughan
as an undrafted free agent and he was on their draft board.
At quarterback, "the best players who play typically come from the top rounds," Garrett said. "I do think with how the league has changed, there is a demand to play those guys earlier and that changes the dynamic of taking your time to develop guys year after year and they play in years four and five. The thing you're concerned about is developing them for somebody else. You develop them for two, three, four years and he goes and plays for another football team. We don't think that's a worthwhile thing. There's been a theory around the league, teams like Green Bay for years always took a guy late and if that player develops into something that was a good thing for their team or to trade to somebody else. There were some examples of them doing that. It's a philosophy a lot of teams, they agree with that. But when you have other issues on your team I think it becomes a little bit of a luxury to do that. When you feel good about your starter and you feel good about your backups, we feel it's better to take a position player, a guy we know can contribute on special teams, instead of trying to develop that guy [quarterback]."
May, 12, 2014
5/12/14
9:15
AM ET
IRVING, Texas -- The
Dallas Cowboys
won't hold their rookie minicamp until Friday, but some of the nine-player draft class and undrafted free agents will be at Valley Ranch Monday for workouts.

With the later-than-normal draft, rookies can start in the offseason program before the minicamp provided they have graduated or their schools are out of session. First-round pick
Zack Martin
will be on hand from the beginning, but second-rounder
Demarcus Lawrence
, cannot arrive until Thursday. Fouth-round pick
Anthony Hitchens
has exams at Iowa the next two days.
"The benefit is simply getting in the meeting room," coach Jason Garrett said. "We start there, introduce stuff to them and then on Tuesday and Thursday they'll go out with the veteran players on the field. They'll get an orientation to our strength and conditioning program, so these days are valuable. If you have time with them, 45 minutes in the morning [to] an hour and a half in the afternoon [for] a couple three days you can really learn a lot of football in a short period of time."
In addition to their draft picks, the Cowboys have agreements with more than 20 undrafted free agents and will have a number of players in on a tryout basis. Garrett believes the rookie minicamp will be more productive than in years past because of the extra time with the veterans beforehand.
"Typically we bring them in Thursday, install plays Friday morning and then go out and practice 30 minutes later," Garrett said. "You can be three or four days ahead of where we were and hopefully get more out of this time that we have on the field this weekend."
May, 11, 2014
5/11/14
1:00
PM ET
IRVING, Texas -- Grading drafts right after the conclusion of the selections is always tricky, but ESPN Insider Mel Kiper Jr. liked what the
Dallas Cowboys
did.
Kiper gave the Cowboys a "B."
To read all of the grades,
here are Kiper's marks

for every team, but you have to be an Insider to read it.
Here is what he wrote about the Cowboys:
Summary: Give Jerry Jones credit: I don't think it's unfair to at least be tempted by the prospect of Johnny Football with that blue star on his helmet, playing in that football theatre. But Manziel isn't making Dallas a better team in 2014, and Tony Romo -- for all the derision -- is a really good QB when he gets protection. The Dallas offensive line with Zack Martin isn't just the strength of the team, it's arguably among the top few units in the NFL. They are going to be able to run the ball. I had Martin as high as the top 10, so that's not a bad pick. I can see why Dallas added Demarcus Lawrence where it did, but a third is pricey in this draft. Devin Street addresses the depth the Cowboys really do need at WR, and they used the run of seventh-round picks to pile up some lottery tickets at need spots like safety, defensive tackle and cornerback, where Terrance Mitchell at times looked a lot better than your typical late-rounder. His 40 time didn't help, but he could stick. The Cowboys mixed in that typical moment of aggression, but in some ways they were as disciplined as any team in the draft, and they took some good shots to hit needs.
To me, it's interesting that he is high on Mitchell. He'll be a player to watch at the upcoming rookie weekend. He certainly has the size but he did not time well. He did, however, have five picks last season.
May, 10, 2014
5/10/14
7:46
PM ET
»
NFC wrap-ups
:
East
|
West
|
North
|
South
»
AFC
:
East
|
West
|
North
|
South
IRVING, Texas – A wrap-up of the
Dallas Cowboys
draft.
Click here
for a full list of Cowboys' draftees.
[+] Enlarge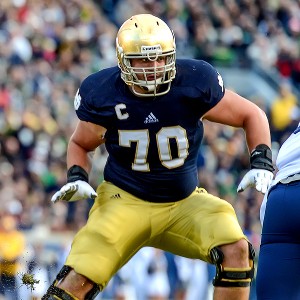 Robin Alam/Icon SMIZack Martin was the right choice for the Dallas Cowboys in the first round.
Best move:
In taking
Zack Martin
with the 16th pick in the first round with
Johnny Manziel
staring at them in the face, the Cowboys made a football decision. Bravo. It did not directly help a defense that ended last in the NFL in 2013, but indirectly it could make the defense better. If the Cowboys are better along the offensive line, they can do a better job closing out games by running the ball and the defense would be on the sidelines watching. Martin started 52 games at left tackle at Notre Dame but will move to guard, most likely for
Mackenzy Bernadeau
, this year. He is the third offensive linemen the Cowboys have drafted in the first round in the last four seasons. The Cowboys hit on tackle
Tyron Smith
(2011) and center
Travis Frederick
(2013) and if they hit on Martin, they will make Tony Romo's life much easier. Jason Garrett said teams win games up front, but he has been reluctant to run the ball and Scott Linehan's offense in Detroit was pass happy. The Cowboys do not have to become a ground-and-pound team but they will have to do a better job of finishing games with the run.

Riskiest move:
The Cowboys entered the draft knowing they needed a right defensive end. When they went with Martin in the first round, the need increased, so they were willing to overpay some by giving the
Washington Redskins
their second (47th) and third (78) picks in order to move to the 34th pick to take Boise State defensive end
Demarcus Lawrence
. With how the draft fell, they had a chance to stick at their picks and take defensive linemen anyway, but none with the elite talent they believe Lawrence has to affect the quarterback. Moving up is always dangerous. The last time the Cowboys moved up significantly in a round was in 2012 when they took
Morris Claiborne
in the first round. Through his first two seasons, the Claiborne move has not paid off.
Most surprising move:
Most of the draft experts had linebacker
Anthony Hitchens
as a late-round pick, but the Cowboys took him in the fourth round, No. 119 overall. He was Iowa's defensive MVP in 2013 and led the team in tackles for two seasons with 112. He could play inside linebacker as Sean Lee's backup and be a special teams stalwart early on. The Cowboys defense is predicated on speed and he ran a 4.7 at the scouting combine. But he was productive. He had an eye-catching 13.5 tackles for loss as a senior.
File it away:
The Cowboys came into the draft needing to find help for a defense that finished last in the NFL in 2013. The Cowboys ended up with nine picks and took seven defenders to potentially help Rod Marinelli make over the unit in 2014. Five of those picks came in the seventh round, so some expectations need to be tempered, but the Cowboys were able to find a defensive end in
Ben Gardner
, a linebacker in
Will Smith
, a safety in
Ahmad Dixon
, a defensive tackle in
Ken Bishop
and defensive back
Terrance Mitchell
. If the Cowboys can find three players to fill roles out of that group, they should be happy.
May, 10, 2014
5/10/14
7:06
PM ET
IRVING, Texas --
The pick:
Ken Bishop
, defensive tackle, Northern Illinois
My take:
The Cowboys took their third defensive linemen of the draft in Bishop, who is 6 feet, 306 pounds. He fits as a run defender for a unit that struggled to stop the run too often in 2013. The Cowboys signed Terrell McClain as a free agent and have Nick Hayden, a starter last year, but Bishop had 70 tackles last season and was named a first-team All-MAC selection. He had 16.5 tackles for loss in two seasons with 3.5 sacks.
Notable:
Bishop was among the national visitors the Cowboys hosted at Valley Ranch prior to the draft ... The last time the Cowboys took three defensive linemen in one draft was in 2005 when they took Marcus Spears, Chris Canty and Jay Ratliff.
May, 9, 2014
5/09/14
1:00
PM ET
Greg Ellis didn't watch the first round of the NFL draft Thursday night, but as soon as he heard the Cowboys picked Notre Dame offensive lineman
Zack Martin
over
Johnny Manziel
, one thought popped into his head.

Martin
"He's going to go through the same thing I did when the
Dallas Cowboys
passed on Randy Moss and took me with the eighth pick," Ellis said. "It followed me throughout my career.
"Johnny is the more exciting player playing the more exciting position. Randy Moss was the more exciting player playing the more exciting position. The Cowboys drafted what they needed last night just like they did with me.
"If
Tony Romo
is still your guy and you feel like you can make a run with him, then you can't spend your first pick on quarterback. Hopefully, both kids will turn out to be good football players like Randy Moss and Greg Ellis."
Ellis started 155 of 162 games in 11 seasons with the Cowboys. Ellis, who played one season with Oakland, finished his career with 84 sacks, including a career-high 12 1/2 in 2007 after making the conversion from defensive end to outside linebacker in the 3-4 defense.
And if he hadn't played on the left side his entire career, perhaps he would've had even more sacks. After all, he still holds North Carolina's career sack record with 32. Ellis' first priority with the Cowboys was to stop the run -- not rush the passer.
While Ellis had an excellent career, Moss had a Hall of Fame career. Moss caught 982 passes for 15,292 and 156 touchdowns. He terrorized the Cowboys, scoring 10 touchdowns in seven games against Dallas.
The comparisons never really stopped. And they won't stop for Martin.
Whenever Manziel plays well, the chatter about how Dallas should've drafted him will begin. Whenever Martin allows a sack, folks will mention Manziel. If Romo plays poorly or gets hurt, Manziel's name will pop up even more.
"I just tried to focus on my job and do what I needed to do to help the team," Ellis said. "I'd laugh it off whenever people talked about it. I'd say, 'I've scored an NFL touchdown, but has Randy Moss ever gotten a sack?'"
The key for Martin, said Ellis, will be to focus on being the best player he can be -- not worrying about Johnny Manziel.
"While Randy was making millions and scoring touchdowns, I was doing my best to help the Dallas Cowboys win," Ellis said. "I put the team first, realizing that this is the job they've given me to do.
"They didn't need me to go outside the framework of the defense. The highest compliment I ever received came from Mike Zimmer. He once said I could've had a million sacks, but I was unselfish and willing to do what was best for the football team. It wasn't easy.
"If Johnny is having a Pro Bowl rookie season, Zack can't think about punishing a guy and making a highlight film, if the play calls for him to zone block. He can't worry about the reporters and media. He just needs to worry about himself."