Dallas Cowboys:

Dallas Mavericks
June, 21, 2014
6/21/14
10:08
PM ET
By
Bryan Gutierrez
| ESPNDallas.com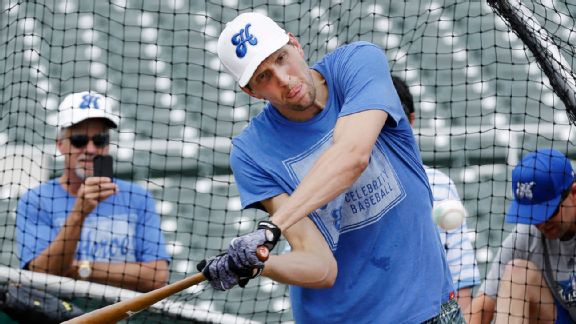 AP Photo/LM OteroDirk Nowitzki's White Socks team scored a 17-16 victory in Saturday's charity game.
FRISCO, Texas — The stars were out Saturday night as
Dallas Mavericks
forward
Dirk Nowitzki
hosted the 2014 Heroes Celebrity Baseball Game presented by Baylor Medical Center. The game featured stars of the Mavericks and
Dallas Cowboys
and former
Texas Rangers
. Nowitzki led his White Socks against the Blue Socks.
Former
Dallas Stars
center
Mike Modano
established the game 10 years ago. With the event flagging three years ago, the foundation approached Nowitzki, who has taken over responsibility since. The event benefits the children's charities of the Dirk Nowitzki Foundation and the Heroes Foundation, established by Mavs owner Mark Cuban.
For the first time, the celebrity baseball game played at Frisco's Dr Pepper Ballpark sold out -- for which Nowitzki expressed his gratitude.
9200 people came. Insane. Sell out. You guys are amazing. Thanks for supporting my baseball game.

— Dirk Nowitzki (@swish41) June 22, 2014
Here are some of the highlights:
Cowboys quarterback/White Socks dugout coach Tony Romo joked during the game that he was dying to play, but head coach Jason Garrett -- who played third base -- wouldn't let him. Both Garrett and Mavs coach Rick Carlisle joked beforehand that they had a similar dream: That everyone involved would avoid any injuries. Their dream ultimately came true.

Nowitzki -- who played first base -- singled in his first at-bat, a line drive up the middle. Nowitzki casually ran backward to first base. He later scored the first run of the game.

Jason Witten was caught in a rundown between first and second base during the same inning. He was eventually called out at first but charged into the opposing catcher. No one was injured.

Cowboys wide receiver/White Socks center fielder Dez Bryant made a tremendous catch in the top of the fourth inning. Former Rangers catcher Ivan Rodriguez hit a hard pop fly to center, forcing Bryant to retreat. Still trying to catch up to the ball, Bryant leapt as he was running backward and snagged the ball, drawing a roar of applause from the crowd.

Between innings, Carlisle joined the Mavs' drum line. As its members were going through their routine, Carlisle grabbed sticks and began banging on each of the drums.

Mavericks guard/White Socks second baseman Devin Harris had an eventful sixth inning. He let a ground ball roll between his legs -- then redeemed himself with a running over-the-shoulder catch on the next play.

Former Mavericks forward/White Socks infielder Brian Cardinal had the game-winning hit, a bases-clearing two-out double. The fly ball got past a hard-charging Terrell Owens. The White Socks scored seven runs during their comeback in the bottom of the sixth inning.

Cardinal and Nowitzki were named co-MVPs of the game. With the 17-16 win, Nowitzki got his first victory in the charity contest. In addition to the 33 runs, the teams combined for 40 hits.
December, 24, 2012
12/24/12
9:00
AM ET
Last week against Pittsburgh, the Cowboys were able to overcome
DeMarco Murray
's red-zone miscue. On Sunday against New Orleans, they couldn't.
After Murray's third-quarter fumble at the Dallas 7, the Saints converted the turnover into a Drew Brees' touchdown pass for a 24-17 lead.
Murray had the ball ripped out as he was twisted to the ground by linebacker
Curtis Lofton
, who also recovered the fumble.
"Everything just got torqued and the ball came out," Murray said. "You get torqued like that the defense mechanism is that. You've got to brace yourself. The ball shouldn't come out."
Murray was on the sidelines for the Cowboys' next four snaps, replaced by
Felix Jones
. He said after the game he would need to get looked at by the athletic training staff, but would not specify what. He missed six games with a sprained left foot.
He returned to Sunday's game without much of an issue and finished with 40 yards rushing on 11 carries. He also caught four passes for 51 yards.
"It's devastating to play the way I played," Murray said. "I didn't play my best game, but I'll play better next week."
February, 29, 2012
2/29/12
10:09
AM ET
Mavericks coach Rick Carlisle made several visits to Valley Ranch and Cowboys Stadium during the NBA lockout, watching practices and sitting in on meetings with Jason Garrett's staff.
Garrett ought to get out to the American Airlines Center some time, at least to watch a Carlisle postgame press conference.
Carlisle could teach a clinic in how a coach can hold his team accountable by publicly setting the tone with himself. He provided another lesson after last night's loss to the Nets, criticizing the Mavs' performance for most of the game but
blaming himself for their failure to score on the final two called plays
.
The most notable example of Carlisle's coaching accountability seminar was him falling on the sword after the Mavericks' historic collapse in Game 4 of their first-round series in Portland last season, pointing out that his failure to adjust defensively on Brandon Roy was the primary reason the Mavs blew a 23-point lead.
Having said that, Carlisle didn't let his players off the hook, wondering whether the Mavs continued competing after it appeared the win was in the bag. His willingness to admit fault, however, gave him credibility to challenge his players.
We all know how the Mavs responded, rolling through the rest of the playoffs en route to the franchise's first championship ring.
Compare that to Garrett after his worst performance as a head coach. He offered nothing but weak rationalizations during his press conferences after the clock-management crisis in Arizona.
Garrett doesn't call out his team publicly, either, preferring not to imitate a style that was so successful for Jimmy Johnson and Bill Parcells. Garrett opts to never admit or assign fault, striving to make his press conferences as meaningless as possible.
Maybe Garrett is too busy preparing for the draft and free agency to make it to a Mavericks game. If that's the case, he at least needs to read this Carlisle response to a question about why he thought it was important to pin the blame on himself for the ugly end of last night's loss.
"If I'm going to get on their ass about not being into the game early, then I've got to be willing to take the heat when the two plays at the end of the game don't work out," Carlisle said. "It's accountability; that's how it works."
That's how it works at the AAC. How's Garrett's way working at Valley Ranch?
January, 13, 2012
1/13/12
10:00
AM ET
IRVING, Texas -- Jon Kitna's retirement should not come as a surprise. That was the plan when the 2011 season started and that remained the plan when it was cut short because of a back injury.
What will the Cowboys do at their backup quarterback position?
Stephen McGee
ended the year as the No. 2 and played all but one series of the Dec. 24 Philadelphia game after
Tony Romo
bruised his hand. McGee completed 24 of 38 passes for 182 yards and a touchdown in the loss to the Eagles.
He will be entering the final year of his rookie contract in 2012.
Would the Cowboys be comfortable with him as Romo's backup?
The Cowboys could look to the draft as a possibility. Romo will turn 32 in April and he has suffered injuries in three of the last four seasons, although he has missed just 13 games with 10 coming in 2010 because of the broken collarbone.
It might be wise to look for his potential successor but the quarterback class was thinned out some by the decisions of Matt Barkley and Landry Jones to remain in school. Plus, this team has a number of defensive needs it must address, especially early in the draft.
Then there is free agency.
If you look at Jason Garrett's history with the Cowboys he has preferred an elder statesman to be Romo's backup.
Brad Johnson
was 39 when he joined the Cowboys in 2007 and started 122 games in his career. He played for Norv Turner and had an idea of what Garrett would want. Kitna was 37 when he joined the Cowboys and started 115 games in his career. He played for Mike Martz, whose offense is from the same Don Coryell scheme Garrett employs, in Detroit and was in Cincinnati with Garrett's brother, John.
The free-agent market does not appear to have a quarterback with the same credentials and connections. Maybe Detroit's
Shaun Hill
. Maybe
Sage Rosenfels
. Maybe
Jason Campbell
.
Executive Vice President Stephen Jones said last month that the team would feel comfortable with McGee as the No. 2 in 2012. They may not have another choice.