Dallas Cowboys:

Free Reign
March, 19, 2012
3/19/12
8:41
AM ET
IRVING, Texas – Having already hauled in seven free agents, the Cowboys might not be done shopping.
The Cowboys have interest in Green Bay cornerback
Jarrett Bush
and are attempting to set up a visit.
PODCAST
With WR Laurent Robinson leaving for the Jaguars, ESPN Dallas 103.3 FM's Ben & Skin wonder how the Cowboys will replace his production.

Listen

So far in free agency the Cowboys have proven to be good closers. The Cowboys have signed seven of their eight free-agent visitors. The only player not to sign was tight end
Kellen Davis
, who returned to Chicago on a two-year deal.
Bush, 27, is considered a top special teamer and led Green Bay with 12 tackles. Defensively the Packers' coaches credited him with 21 tackles, 1.5 sacks, two interceptions and eight pass breakups. He started two games for the Packers in 2011.
So far in free agency the Cowboys have taken care of the defense with cornerback
Brandon Carr
, safety
Brodney Pool
and linebacker
Dan Connor
and the offense with guards
Mackenzy Bernadeau
and
Nate Livings
, fullback
Lawrence Vickers
and quarterback
Kyle Orton
.
Bush (6-0, 194 pounds) would help the special teams as well as the sub packages defensively. He can play cornerback or safety.
April, 11, 2011
4/11/11
12:00
PM ET
So here's our list of 10 Cowboys players who might not return in 2011:
1.
Marc Colombo
: We think he's a great leader for the band Free Reign. However, as a right tackle, his health, knees, and age (will be 33 in October) is too much to overcome. Colombo is due a $2.6 million option bonus. But if there's younger talent out there in the draft -- USC's
Tyron Smith
, for instance -- then go get it. Colombo is one of the leaders of this team and he'll be missed if he's gone, but sometimes you have to move on.
[+] Enlarge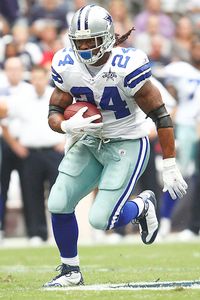 Thomas Campbell/US PresswireMarion Barber
2.
Marion Barber
: He's not a starting running back. Never was. He's paid like one, but doesn't play like it. This silly rotation of
Felix Jones
, Barber and
Tashard Choice
has to stop. End it by setting Barber free. He got a $12 million signing bonus in 2008, and he hasn't earned a penny. Not one. He hasn't rushed for 1,000 yards since getting it, and his health continues to be an issue.
3.
Alan Ball
: He's not a starting safety for an NFL team. He did get better toward the end of the 2010 season, but it's clear Ball is better served as a corner. He will return to the team because the Cowboys have his rights, but it's doubtful if he can make plays on the ball on a consistent basis. Ball likes to tell reporters (mainly me) that we don't know what we're talking about when it comes to the game. OK. Fine. Stats Inc. -- a business built on knowing what players have done and are supposed to do -- credited Ball with getting burned 23 times in 2010, tied with
Antrel Rolle
of the
New York Giants
for the most in the NFC East. Ball was also charged with allowing seven touchdown passes, tied for most in the division, and he was credited with just four pass breakups, tied for the lowest in the division.
4.
Jason Hatcher
: He might need one more chance to prove he can become an dependable pass rusher, and the Cowboys will do that with their tender contract offer. Hatcher would like something more substancial, and it won't happen here unless he gets more playing time. It seems the team values
Stephen Bowen
more than Hatcher.
[+] Enlarge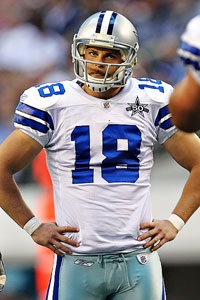 Ronald Martinez/Getty ImageDavid Buehler
5.
David Buehler
: He struggled to make field goals last season. That missed PAT at Arizona on Christmas Day, which lost the game, was probably the last straw. He's an excellent kickoff guy, but new rules -- which could lead to more touchbacks for kickers with weaker legs -- means Buehler might be out of a job unless he can make field goals.
6.
Sam Hurd
: He's waiting for his chance to become the No. 3 or No. 4 receiver and hasn't done it. He couldn't surpass
Miles Austin
and seemingly now
Kevin Ogletree
to move up the depth chart. Hurd is a good special teams player, but he wants more -- and that's why the Cowboys will let him find a new team this offseason.
7.
Martellus Bennett
: We're waiting for Marty B to emerge as a threat. You can blame the quarterback, playcalller, defense, type of offense run, whatever. Bennett isn't producing for any number of reasons. He seems to talk more than he plays, which isn't a good thing in the NFL. A trade seems the best thing. With
John Phillips
returning from a torn ACL, however, Bennett's status is safe for now.
[+] Enlarge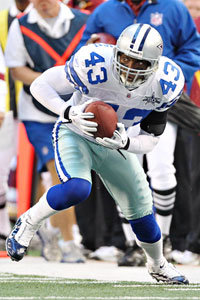 Matthew Emmons/US PresswireGerald Sensabaugh
8.
Gerald Sensabaugh
: Like Alan Ball, he played better toward the end of the season. He could be a little more physical. He had 10 pass breakups while allowing just one touchdown last year, according to Stats Inc. Jerry Jones and Jason Garrett said they want the free agent to return, but at what price?
9.
Leonard Davis
: The big fella was a good free agent pickup a few years ago, but he was benched early in the 2010 season for poor play and only returned when
Montrae Holland
suffered an eye injury. Davis performed well as the season progressed, but if the Cowboys can find a younger replacement who is more athletic, then they might have to do it.
10.
Roy Williams
: He wasn't involved in the gameplan the last six weeks of the season. What's the point? He can't live up to the contract, so a new scene seems to be in order. However, the uncertainty of
Dez Bryant
's off-the-field issues, and whether or not Kevin Ogletree improves, gives you pause. Williams has the tools to produce. The question is: Why can't the Cowboys get him going?
It's that time of year again when, after taking a few naps and drinking a lot of coffee, we've decided to list the 10 Cowboys who need to go. Or might need to go, depending on your point of view.
March, 26, 2010
3/26/10
4:35
PM ET
Profootballfocus.com released its 2009
all-improved team
and Cowboys right tackle
Marc Colombo
was listed as the most improved right tackle in the game.
Colombo, who played nine games last season for a total of 544 regular season snaps, received a rating of 2.7 overall. Colombo was credited with allowing just one quarterback sack, three quarterback hits and 13 quarterback pressures. Among all the tackles in the game, Colombo was the highest ranked Cowboys linemen coming in at 20. In 2008, Colombo was the highest ranked Cowboys but finished 62nd overall with a -12.2 rating.
Doug Free
, the man who replaced Colombo, while he recovered from leg injuries in 2009, ranked 22nd with a 2.1 rating.
Flozell Adams
, who many think won't be here in 2010, finished 51st among tackles with a -8.8 rating.
Adams gave up 34 pressures in the 2009 season according to Profootballfocus.
Jake Long
of Miami and
Joe Thomas
of Cleveland allowed a combined 14 quarterback pressures.
March, 24, 2010
3/24/10
10:55
AM ET
Free Reign, the heavy metal band composed of
Dallas Cowboys
offensive linemen
Marc Colombo
,
Leonard Davis
and Cory Procter, will serve as grand marshals of the ARCA Rattlesnake 150 at Texas Motor Speedway on Friday, April 16.
One member of the band, which also includes guitarist Justin Chapman, will wave the green flag to start the race. The band will watch the race from the pits as special guests of ARCA driver Joey Coulter.
The race will be broadcast at 6:30 p.m. on SPEED.