August, 2, 2013
8/02/13
3:00
PM ET
Well, another week of training camp is in the books for the
Dallas Cowboys
. Next up: the Hall of Fame Game against the Miami Dolphins on Sunday night.
PODCAST
Sean Lee joins Fitzsimmons and Durrett to discuss the Cowboys' upcoming season and his role on the team.

Listen

But we're sure you have questions about a number of topics, with injuries -- especially on the offensive line -- leading the way. So, as the Cowboys steamroll toward the regular season,
we want to know what's on your mind.
We're asking you guys to weigh in. What concerns you? What about the team do you like? What are your expectations?
You can let us know by
hitting up the mailbag today
. Calvin Watkins will answer your questions on this blog Sunday so
get them in quickly
.
July, 26, 2013
7/26/13
3:33
PM ET
Well, that was a pretty eventful first week of training camp for the
Dallas Cowboys
.
PODCAST
Dez Bryant has been the star of Cowboys training camp and Michael Irvin weighed in on the new No. 88 with Tim MacMahon.

Listen

They've lost one player (
Tyrone Crawford
) for the season, have been bitten by a very aggressive injury bug (too many players to name), have some players pondering their future (
Miles Austin
) while others try to live up to expectations (
Dez Bryant
). Oh, and there's the rebranding of the Cowboys' home in Arlington to AT&T Stadium.
So, as the Cowboys steamroll toward the Hall of Fame Game,
we want to know what's on your mind.
We're asking you guys to weigh in. What concerns you? What about the team do you like? What are your expectations?
You can let us know by
hitting up the mailbag today
. Calvin Watkins will answer your questions on this blog Sunday so
get them in quickly
.
July, 6, 2012
7/06/12
10:29
AM ET
The Cowboys have a quality backup quarterback in
Kyle Orton
, but in an abbreviated mailbag we present today we field this this question from a trusted reader:
Q: Calvin, the Cowboys need to sign Donovan McNabb to challenge/push Tony Romo into an outstanding QB. We need an excellent backup QB and McNabb fits the bill. I know we will go to the Super Bowl with a QB like McNabb. Great insurance if Romo gets hurt. Tell Jerry that in the past the Cowboys always had a good/excellent backup QB when they won all five Super Bowls. -- Free3 (San Antonio)
A:
The Cowboys have Orton and are in capable hands should something happen to Romo. I don't believe McNabb can be a starter in this league anymore. A few years ago, I thought McNabb was the best quarterback in the NFC East. That was before
Michael Vick
came along, Romo emerged and
Eli Manning
matured into a star. While I think McNabb is still mobile, he isn't an accurate passer and can't produce the numbers needed to help a team. Is McNabb a good backup? Sure. But not for this team. At this stage of his career, I don't believe Romo needs to be pushed. He understands he needs to get his team into the postseason and make a deep run at a title. A few years ago I would have argued for McNabb over
Jon Kitna
, but not now.
Q: I am a huge Cowboys fan as well as a Tony Romo fan, but this constant bashing is getting a bit old and ridiculous. The guy wins games and still gets dogged. For instance, look at the games last year against the Giants, Bucs, and Bills, especially New York. If DeMarco Murray doesn't get hurt and the defense actually stops Eli Manning down the stretch, no problem. Do you think if Romo had a Steelers or Ravens defense the Cowboys would have a championship by now? -- Frankie Boisseau (Durham, N.C.)

A:
You make some valid points. Last season, the
New York Giants
didn't have a good secondary -- it was their front seven that did the work. The Ravens were a missed field goal from playing in the Super Bowl. So yes, a strong defense can help you reach the postseason. But I can think of two games -- against the
New York Jets
and
Detroit Lions
-- in which Romo's mistakes cost his team. Would those two games have made the difference in the Cowboys making or missing the playoffs? Yes. It's not so much the defense that hurts Romo's chances of reaching his goals. Sometimes, it's his own play. Romo is an excellent quarterback, but he doesn't get to an elite level unless he gets his team on a deep playoff run. What do I mean by deep playoff run? NFC title game or Super Bowl. That's what he needs to do right now.
Q: Picking up a linebacker is fine for insurance purposes, but what are the expectations for Bruce Carter? -- Marc Dula (Clifton Park, N.Y.)

A:
Carter is going to compete for starting job with
Dan Connor
. Carter was a second-round pick who had a first-round grade. Based on this, Carter should be penciled in as the starter, not a player competing for a starting gig with a veteran. Connor is a good player, and I do like the signing, but at some point the people you draft (especially in the second round) need to become starters. Carter missed time last season as he recovered from knee surgery, so his snaps were reduced to special teams and some defensive snaps. Carter will be given a chance to play more this season. Will he start? We'll find out soon.
May, 11, 2010
5/11/10
9:10
AM ET
We normally have our mailbags on Mondays. But some of you are interested in what the Cowboys just traded for plus some other things.
We have some leftover notes from the people, and the first one is a comment from John in Charlotte.
[+] Enlarge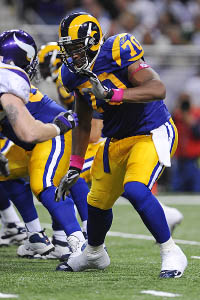 G. Newman Lowrance/Getty ImagesAlex Barron will compete with Doug Free for the starting left tackle position but could wind up as the backup swing tackle.
Q: Hey Calvin, this trade for Barron is purely to create some depth on the OL. He won't sniff the starting lineup without someone getting hurt. Doug Free is a tremendous athlete. Find me another offensive lineman who ran 30 yards downfield to make the final block on Felix Jones' 49-yard TD run in week 17. That was an amazing display of talent for a 300-plus pound man, and don't forget he was ahead of Jones at the time of the block. Larry Allen is the only other linemen I've seen do that, and he did it on a Monday night game early in his career at New Orleans. Doug Free will start easily and have a great year barring injury. Let's hope that's the case as I've read very little on this Barron guy to instill any confidence. -- John Byrne (Charlotte, N.C.)
A:
John, I think
Alex Barron
will be good for Doug Free. Now, Barron has underachieved big-time in St. Louis. It's almost as if the Cowboys are trading for a bad tackle in place of a bad linebacker. But that's not the case. Both guys need new places to play, especially Carpenter, who never fit in here on the field. As for Barron, he has at least started over 70 games, so he should challenge Free for the starting gig at left tackle. If it doesn't work out, you have Barron as the swing tackle and
Robert Brewster
as the other tackle on the active roster.
Q: Hey Mr. Watkins, I just read your piece on the Cowboys' preseason schedule and was curious as to why they play five preseason games. -- JT Carter (Gainesville, Texas)
A:
The Cowboys have five preseason games because they're playing in the Hall of Fame game, which is the opening of the preseason schedule. The Cowboys can open up training camp earlier than most teams because they're playing in this game. Wade Phillips said this is a positive thing because it gives the organization a chance to give more reps to some of those young players, especially those 2009 draft picks. Also, the Cowboys will have training camp in two different cities, San Antonio and Oxnard, Calif. Those dates have not been fully determined.
Q: What is the plan for a field goal kicker? I heard a rumor that Buehler was going to take on that duty also. Do you think that is a good idea? -- Sam (Charlotte, N.C.)
A:
I don't know if it's a rumor, Sam, but
David Buehler
is the favorite to win the field goal job. Now, the team did bring in
Connor Hughes
to challenge Buehler for the job during training camp, however, kicking coach
Chris Boniol
was hired to help Buehler.
The problem with Buehler is that, as the kickoff specialist, he didn't work on his field goal-kicking duties last season. Now he has to get his mechanics down to make sure the Cowboys can depend on him as the field goal kicker. He has the leg, but the ability to become consistent is the issue for him.
Calvin Watkins covers the Dallas Cowboys and answers your questions and comments weekly. You can send questions and comments to his
mailbag
.
April, 23, 2010
4/23/10
3:45
PM ET
How do you feel about the Cowboys drafting Dez Bryant in the first round of the draft? How do you think the Cowboys fared overall? What would you do with Roy Williams and the receiving corps?
Calvin Watkins will answer all your questions related to that and anything else involving the Cowboys in his weekly mailbag, which will appear Monday.
Get your questions in now.
April, 9, 2010
4/09/10
4:33
PM ET
With the draft two weeks away, this week's mailbag has people questioning whether
Tony Romo
is getting old. Wow. I didn't know turning 30 meant you're getting old.
Thanks for all the questions. Here's the complete
Q&A from the mailbag this week
.
Don't forget to get me your question early for
next week's mailbag
.