Dallas Cowboys:

Proving Ground
July, 16, 2010
7/16/10
12:10
PM ET
Last in a 10-part series focusing on young non-starters who have a lot to prove during training camp (series):
Travis Bright
is the best bet to make the jump from the practice squad to the 53-man roster.
The key is whether Bright can prove that he can play center.
It's a position that the 6-foot-5, 320-pound Bright, a guard who went undrafted out of BYU, had never played before this offseason. He worked on his snapping for weeks before OTAs and minicamps and didn't botch any snaps during those workouts.
We'll see how Bright, a physical specimen who can bench press more than 500 pounds, fares at center when there is contact involved.
Offensive line coach Hudson Houck raves about Bright's work ethic, intelligence and attention to detail. If he shows that he's versatile enough to play the three interior line positions, Bright could become a valuable backup.
July, 15, 2010
7/15/10
12:48
AM ET
Ninth in a 10-part series focusing on young non-starters who have a lot to prove during training camp (series):
[+] Enlarge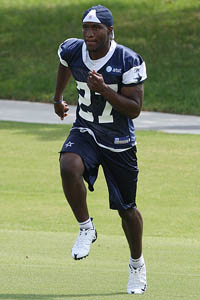 Matthew Emmons/US PresswireFourth-round draft pick Akwasi Owusu-Ansah is trying to make a long jump from Division II Indiana (Pa.) to the NFL.
The Cowboys believe
Akwasi Owusu-Ansah
has the potential to develop into a playmaking free safety, but they plan to be patient as he makes the transition from Division II to the NFL.
But it's uncertain how much the fourth-round pick will get on the field during training camp and the preseason.
Owusu-Ansah didn't participate in organized team activities or minicamps because he was recovering from surgery to correct a shoulder injury that he played with for most of his senior season at Indiana (Pa.). The Cowboys hoped he would be cleared for full participation by the beginning of training camp, but a source said he might not be ready until the second week of camp and would be worked in steadily.
One of the things that most impressed the Cowboys about Owusu-Ansah during the pre-draft process was his football intelligence, a pleasant surprise after he played in a simplistic scheme in college. Wade Phillips said Owusu-Ansah displayed a better grasp for defensive concepts during his visit to Valley Ranch than several safeties selected before him.
The 6-foot, 207-pound Owusu-Ansah has phenomenal physical tools. He was clocked at 4.32 in the 40 at his pro day and has the quickness and change-of-direction ability to be considered a cornerback prospect by many NFL teams. He was a dominant return man in college and has a chance to contribute in that role as a rookie.
Owusu-Ansah will be playing catch-up once his shoulder is fully recovered. At that point, he'll try to prove he's ready to help the Cowboys win now instead of spending his rookie season as the NFL equivalent of a redshirt.
July, 14, 2010
7/14/10
9:34
AM ET
Eighth in a 10-part series focusing on young non-starters who have a lot to prove during training camp (series):
Wade Phillips declared this offseason that he was pleased with
Stephen McGee
's progress because the young quarterback was making quicker decisions. His passes weren't on the money that often, but at least he was getting rid of the ball on time.
Consider that evidence of just how much work McGee has to do.
McGee needs to show the Cowboys this summer that he's a worthy developmental project. If he can't do that, it's likely that the Cowboys will look to replace him with a mid-round draft pick next year.
The Cowboys love McGee's physical tools and character. He's got a big arm, good quickness and looks the part of an NFL quarterback. He's a smart guy who works hard.
Now it's time to see the talent translate into performance. That didn't happen much at Texas A&M, where McGee was miscast in a Zone Read-based scheme for three seasons and spent most of his senior year on the sideline after injuring his shoulder. That didn't happen much during training camp and preseason last year, when McGee usually looked afraid to make a mistake.
The Cowboys are in big trouble if they have to count on McGee this season. He needs to give them hope that won't be the case in the future.
July, 13, 2010
7/13/10
12:51
AM ET
Seventh in a 10-part series focusing on young non-starters who have a lot to prove during training camp (series):
We know
Martellus Bennett
can put on a show in the Alamodome.
Can he do it when it counts for the Cowboys?
Marty B can put a lengthy highlight reel on his YouTube channel with all the acrobatic catches that he made during training camp last season. He appeared to be on the verge of a breakout season.
And then he caught a grand total of 15 passes for 159 yards and no touchdowns during the regular season. Yet the Cowboys are still cautiously optimistic that the 6-6, 265-pound character will tap into his immense potential in his third season.
There's no question about Bennett's talent. He's bigger, stronger, faster, quicker and can jump higher than
Jason Witten
.
But he's not anywhere near as productive or dependable as the Cowboys' perennial Pro Bowl tight end.
Bennett's primary goal this offseason was to improve his rapport with
Tony Romo
. When Bennett makes plays during training camp and the preseason, it's worth noting who threw the ball.
If it's
Jon Kitna
, it could just be a tease again. If it's Romo, maybe there's reason to be excited about Marty B again.
July, 12, 2010
7/12/10
6:00
AM ET
Sixth in a 10-part series focusing on young non-starters who have a lot to prove during training camp (series):
Undrafted receiver
Kevin Ogletree
proved as a rookie that he can contribute to the Cowboys.
PODCAST
Cowboys WR Kevin Ogletree joins Ben and Skin to talk about OTA's, his buddy Miles Austin and more.


Listen

Now, he's trying to prove that the Cowboys can rely on him.
That's a big step. Offensive coordinator
Jason Garrett
created a simplified package for Ogletree in the second half of the season, putting him in position to use his quickness and elusiveness to make plays. Ogletree, who split reps last summer with the rest of the receivers fighting for a roster spot, acknowledges that he wasn't ready to play a larger role.
After a full offseason, Ogletree feels confident that he has a firm grasp of the playbook. He practiced at all three receiver positions, trying to maximize his chances to get on the field.
The Cowboys don't have any questions about Ogletree's ability. They like his speed, quickness, elusiveness and hands. They don't know yet about his dependability.
If Ogletree performs during training camp and the preseason, he could push
Patrick Crayton
off the roster and claim the No. 4 receiver job. If he struggles, he'll be stuck on the sideline during the regular season.
July, 9, 2010
7/09/10
10:34
AM ET
Fifth in a 10-part series focusing on young non-starters who have a lot to prove during training camp (series):
More than a year after he was drafted in the third round, offensive tackle
Robert Brewster
is still waiting to make his first real impression on the Cowboys' coaching staff.
Oh, they've gotten to know Brewster. They like the approach he took to rehabbing after tearing a pectoral muscle last summer. They're pleased with the way he's worked to change his body, which is still a blubbery work in progress.
But they've yet to see him put on a pair of shoulder pads. That will finally happen in training camp.
The hope for the Brewster, who is listed at 6-foot-4, 320 pounds, is that he will develop into Dallas' right tackle of the future. It's also possible that he could move inside to guard, where
Kyle Kosier
is entering the final season of his contract.
But Brewster isn't guaranteed anything. If he doesn't perform well in training camp and the preseason, it's possible that he could be pushed off the roster by sixth-round pick
Sam Young
.
July, 8, 2010
7/08/10
11:28
AM ET
Fourth in a 10-part series focusing on young non-starters who have a lot to prove during training camp (series):
[+] Enlarge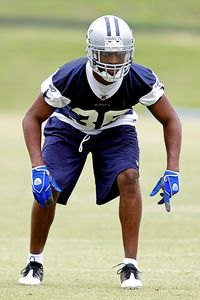 James D. Smith/Icon SMIMichael Hamlin was unable to gain any experience on defense last year after breaking his wrist during the preseason.
Alan Ball
is the clear frontrunner to be the new starter at free safety, but
Michael Hamlin
can make the decision difficult.
Hamlin has the physical tools. He has good size for a safety at 6-foot-2, 213 pounds. He has excellent ball skills, as evidenced by his school-record 14 interceptions at Clemson and a few spectacular picks during his rookie training camp.
However, Hamlin doesn't have experience. He didn't play a down on defense last season. His preseason was cut short by a broken wrist.
To present a legitimate challenge to Ball, a converted cornerback with good coverage skills, Hamlin has to prove that he can play fast. That means he can't get caught thinking too much during the play. He has to be able to process information instantly and react.
Hamlin could play a significant role on the defense even if Ball holds on to the starting job. With the Cowboys' lack of depth at cornerback, Ball will play in the slot against four-receiver packages (and three-receiver packages if one of the top three corners gets injured). That provides Hamlin an opportunity to get on the field.
Hamlin has the potential to be the Cowboys' playmaking safety of the future. His training camp plan should be to speed up that process.
July, 7, 2010
7/07/10
9:57
AM ET
Third in a 10-part series focusing on young non-starters who have a lot to prove during training camp (series):
[+] Enlarge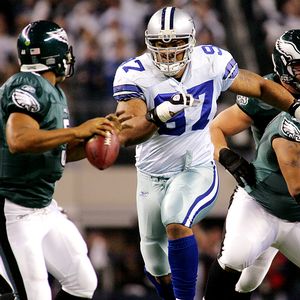 Ray Carlin/Icon SMIJason Hatcher has 6.5 sacks over four seasons in limited action.
As a five-year veteran,
Jason Hatcher
has reached the point of his career where he can't be considered a developmental player much longer.
Good thing folks at Valley Ranch believe this could be the breakout campaign for the 2006 third-round pick.
The 6-foot-6, 305-pound Hatcher has been a contributor throughout his career. He ranked fifth on the team in 2009 with 27 quarterback pressures despite not being fully recovered from offseason knee surgery until midway through the season.
But Hatcher has potential to do much more. He has the size and athleticism to be a three-down defensive end in Wade Phillips' 3-4 scheme.
Hatcher, who will play this season for the second-round tender of $1.759 million, could push
Marcus Spears
for a starting job. He's competing with
Stephen Bowen
for a spot as an interior pass rusher in the substitution packages, but Phillips said Hatcher could also be used as an edge rusher on occasion.
Hatcher has shown flashes in the last four seasons. This could be the year he flourishes.
July, 6, 2010
7/06/10
12:00
PM ET
Second in a 10-part series focusing on young non-starters who have a lot to prove during training camp (series):
[+] Enlarge
AP Photo/Tony GutierrezBrandon Williams missed all of his rookie season with a knee injury after leading the Big 12 in sacks as a junior at Texas Tech.
Brandon Williams
' burst is back.
That was the encouraging word coming from Valley Ranch in the spring after the ex-Texas Tech pass rusher missed all of his rookie season due to a knee injury.
The Cowboys' coaching staff saw enough from Williams during training camp last season to believe that he had potential to contribute as a situational pass rusher. They were intrigued by the way Williams, who led the Big 12 in sacks as a junior before declaring for the draft, exploded off the ball and had a knack for getting to the quarterback.
Then Williams, a defensive end in college who is making the transition to outside linebacker, spent the season on injured reserve after he tore up his knee while covering a punt during a preseason game.
It's unlikely that Williams will ever emerge as a starter for the Cowboys. The Cowboys got a long-term deal done with perennial All-Pro
DeMarcus Ware
last season, and they envision
Anthony Spencer
wreaking havoc on the other side for the foreseeable future.
But depth behind the dominant duo is a concern. The ideal situation would be for Williams or fellow 2009 fourth-rounder
Victor Butler
to give the coaches enough confidence to use them in pass-rushing situations for about 10 plays per game, helping keep Ware and Spencer fresh late in games and down the stretch of the season. Butler didn't seize the opportunity as a rookie.
Wade Phillips has proven that he'll come up with creative substitution packages to occasionally put another edge rusher on the field if he has three good ones. It's up to Williams to prove that he warrants playing time.
July, 5, 2010
7/05/10
10:06
AM ET
First in a 10-part series focusing on young non-starters who have a lot to prove during training camp:
[+] Enlarge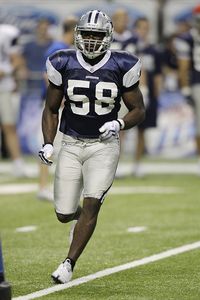 AP Photo/Eric GayAn ankle sprain hindered Jason Williams in his rookie season, and he struggled to pick up the Cowboys' scheme.
Trading up to select linebacker
Sean Lee
in the second round was a value pick, not a sign that the Cowboys' brass has lost belief in
Jason Williams
.
The front office and coaching staff, especially Wade Phillips, still consider their first pick in the 2009 draft an intriguing prospect. They still believe that Williams' raw potential, highlighted by rare speed and quickness for a 246-pound linebacker, can be translated into playmaking production.
Williams, the 69th overall pick in the '09 draft, acknowledges that he was lost while learning the Cowboys' scheme during his rookie training camp. He had a rough transition from Western Illinois' simplistic scheme – his role in college was basically to wreak havoc as a blitzer every down – to Phillips' defense. That, along with a high ankle sprain suffered in the preseason, prevented him from contributing as a rookie.
There shouldn't be near as much of a mental block entering Williams' second season.
Williams says he's confident in his knowledge of the scheme, allowing him to react instead of think. He's also much more fundamentally sound in coverage than he was a year ago.
Jason Witten
says Williams has made vast improvements in his footwork and understanding how to use his body to prevent tight ends from getting to certain spots in their routes.
Williams will compete with Lee for playing time in passing situations, but there's a possibility that both could be used in certain substitution packages. Williams is also trying to prove that he can be prepared to be a starter in the not-too-distant future.