Dallas Cowboys:

Rabid Reaction
January, 2, 2012
1/02/12
11:30
AM ET
By
Ben Rogers
| ESPNDallas.com
Rabid Reaction: Our series of knee-jerk-styled, emotional overreactions from Ben Rogers of 103.3 FM ESPN's Ben and Skin Show. He's known to get way too excited over even the slightest of developments with the teams he grew up with in the DFW. Proceed with caution ...
We didn't have the pleasure of knowing a deep Cowboys playoff run this year, but I've spent some time following the adventures of Jerry, Stephen and Spalding Jones. I was raised on Cowboys football during the jewelry-producing Staubach and Aikman eras, so I have a very clear impression of the kind of glorious run that we're here to bury today.
The 2011 Cowboys season started with such high hopes. Gone was Wade Phillips and his relaxed, friendly lemonade salesman style of leadership. In his place was a red-headed cyborg robot with the most coveted scantron in the classroom.
But in the end, Jason Garrett's knack to finish other people's complicated chalkboard formulas -- that only one or two others could -- ultimately gave credence to the theory that he is quite possibly little more than a very intelligent Valley Ranch janitor, potentially capable of being best friends with Ben Affleck.
But despite Garrett's distinct ability to bore an entire room of reporters into medical grade comas with repeated monotone mentions of watching tape, all three phases and the process on a weekly basis, the Cowboys' offense racked up the second-most yards in franchise history with the worst offensive line in the history of organized football. So clearly the offense was not to blame here
When the season started, Rob Ryan's enormous belly offered tremendous promise of big things to come. However, in the end, it proved to be little more than a human beer refrigerator and gas-powered balloon muffler. For it was truly nothing more than fruitless hot air coming from this Ryan, and all Ryans for that matter. Were it not for the intoxicating allure of his balsa wood-based bold talk, many of us would have wisely protected our fragile Jerry Jones trampled football hearts.
But because of his completely unsubstantiated and never-backed-up swagger, we believed. Rob Ryan sold us a box of disgusting rotten vegetables, and we couldn't wait to eat them up as if it was the finest produce in the country. And for that mistake, we all feel tremendous sorrow today as the 2011 Cowboys season rests forever in the Jerryworld-sized coffin metaphor before us.
And so we say goodbye to
Terence Newman
, perhaps the worst cornerback in the history of the forward pass. Goodbye
Anthony Spencer
, master of ordinary. Goodbye
Martellus Bennett
, beacon of underachievement. Goodbye
Bradie James
, creator of the tackling piggyback ride. Goodbye
Keith Brooking
, linebacking
Bill Bates
.
The 2011
Dallas Cowboys
season died a cold, wet, miserable death last night in the far-away Meadowlands. But in truth, this franchise has been on life support for a decade and a half. Jerry Jones is the worst GM in football, but he is going nowhere. And because of that, nothing will change.
Perhaps during this quiet time we can spare a special thought and offer our sympathy, our love and our support to Cowboys fans, their families and loved ones -- and most importantly, to
Tony Romo
. You, sir, are not to blame for any of this. This violent, bloody football death falls directly on the head of one Jerry Jones -- the all-time QB and we're-doing-it-my-way bully of this never-ending disaster called Jerry Jones-brand Dallas Cowboys football.
Rest in peace, 2011 Dallas Cowboys. You will not fool us again in 2012.
November, 18, 2011
11/18/11
3:02
PM ET
By
Ben Rogers
| ESPNDallas.com
Rabid Reaction: Our series of knee-jerk-styled, emotional overreactions from Ben Rogers of 103.3 FM ESPN's Ben and Skin Show. He's known to get way too excited over even the slightest of developments with the teams he grew up with in the DFW. Proceed with caution ...
Although this has been one of the most psychologically tumultuous seasons the Cowboys fan base has ever endured, the arrival of
DeMarco Murray
and an easy-breezy stretch in the schedule has the Metroplex dreaming about a magical winter.
[+] Enlarge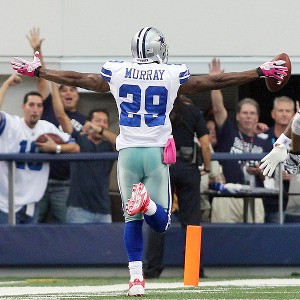 Tim Heitman/US PresswireDeMarco Murray is the reason Cowboys fans should be optimistic about a return to the postseason.
Suffering chronic, emotional whiplash while high stepping from one polar extreme to the other has been a lot like riding 50-foot storm waves in a one-oar dingy for Cowboys fans. But firm ground and stable footing are in the forecast. There is reason to believe that the current good vibes could actually be sustainable this time.
Dark clouds are quickly disappearing as the Detroit debacle falls further and further back in the rearview mirror, and beautiful, invigorating sunlight is now shining a bright, natural spotlight directly on the following three games of the Cowboys' win-friendly schedule.
Don't fall for the banana-in-the-tailpipe cliches that every game is a tough game in the NFL or that you can throw records out the door with divisional rivalries. The ensuing three weeks essentially represent automatic win/bye weeks for the Cowboys.
At (3-6) Washington = WIN

Home vs. (2-7) Miami = WIN

At (3-6) Arizona = WIN
Going into the final four games of the season, the
Dallas Cowboys
' record will be 8-4.
Curse those lofty expectations as jinx bait if you'd like. Hide your Ouija board. Consult your favorite warlock. Make a black cat reverse moonwalk beneath a tiny ladder. Do whatever you need to in order to absorb that truth without overly spooking your superstitious side. But that is official real talk, sports friend.
PODCAST
Ben and Skin mine Valley Ranch for some Cowboys audio gold. Could Ben be forced to change his name?

Listen

This is not the same team it was before the remarkable emergence of Murray. The Cowboys offense now features a certified rush monster capable of gobbling up defenses in giant bites. He runs with patience, power, explosiveness and vision. If the block is there, he'll wait for it and take advantage. If the block isn't there, he'll reverse field and improvise heroically.
Murray is a legitimate 20+ carry-per-week workhorse who forces the defense to respect the run. The balance he brings to the table makes
Tony Romo
considerably more dangerous. If you're not sure, go back and watch
Laurent Robinson
's 58-yard touchdown against Buffalo. It didn't even take a play-action fake to tie the Bills' secondary in knots. It merely took a run formation with Murray lurking in the backfield to shake an NFL defense to its core and turn that drive into a one-play score.
Murray also rolls clock. He moves chains and keeps his defense fresh on the sideline. He protects leads and keeps the opposing offense ice cold on their sideline. By effectively utilizing the run threat, Romo is able to make plays early in games and build leads.
If the formula reminds you of the '90s Cowboys, it should. Although this year's team more closely resembles the shaky rollercoaster of the last several years than the dominant steamroller of the '90s, Jason Garrett could be on the verge of deploying the same magical offensive recipe for winning that Dallas used to collect a handful of rings in the '90s.
If the Cowboys are truly going to do something special this season, they need to take advantage of the generous gift the scheduling gods have placed at their feet. With Murray on board, they appear equipped to do just that.
The Ben and Skin Show airs weekdays from 9 a.m.-noon on 103.3 FM, ESPN in Dallas-Fort Worth. Follow Ben on Twitter: @BenRogers
October, 16, 2011
10/16/11
6:21
PM ET
FOXBOROUGH, Mass. -- Rob Ryan's defense couldn't make a play when it counted, and
Tom Brady
sliced up the Cowboys with a game-winning drive in a dramatic 20-16 victory at Gillette Stadium on Sunday.


It was a difficult loss for the Cowboys considering how well they played on defense. Despite losing starting running back
Felix Jones
, they were able to stay in the game until the end. Coach Jason Garrett decided to play it safe inside the red zone, and it might have cost his team.
What it means:
The Cowboys have lost two consecutive games, as they fell two weeks ago versus Detroit. The Cowboys missed a wonderful chance to gain some ground in the sloppy NFC East. The Cowboys are now in the bottom half of the division at 2-3, a half-game ahead of the Eagles, whom they will play in two weeks.
No Felix Jones:
Jones suffered a left ankle injury in the second quarter and didn't return. Jones finished with eight carries for 14 yards. Rookie
DeMarco Murray
and
Tashard Choice
took over for Jones, who was playing with a dislocated shoulder. Murray finished with 10 carries for 32 yards.
Red zone issues:
The Cowboys went 1-for-3 in the red zone on Sunday afternoon, and they're 6-of-18 on the season. One of the interesting play calls in the red zone came with about six minutes to play when on a third-and-5 from the 5, Garrett called for a shuffle pass to Choice. It seemed that Garrett was not trusting Romo or wanted to play conservatively and let Rob Ryan's defense win the game for him.
Special-teams penalties:
The Cowboys were called for four special-teams penalties.
Anthony Spencer
,
Barry Church
,
Keith Brooking
and
Phillip Tanner
were flagged. The Cowboys can't have these things in close games. Spencer's penalty, running into the punter, extended a Patriots drive in the third quarter.
Injuries:
The Cowboys lost two starters. Jones suffered an ankle injury and didn't play in the second half, and guard
Bill Nagy
also injured an ankle in the fourth quarter and didn't return.
Kevin Kowalski
replaced Nagy at left guard.
What's next?
Cowboys will host the winless
St. Louis Rams
at Cowboys Stadium next week. This is almost a must-win game for the Cowboys considering where they are right now.
October, 4, 2011
10/04/11
9:10
AM ET
By
Ben Rogers
| ESPNDallas.com
Rabid Reaction: Our series of knee-jerk-styled, emotional overreactions from Ben Rogers of 103.3 FM ESPN's Ben and Skin Show. He's known to get way too excited over even the slightest of developments with the teams he grew up with in the DFW. Proceed with caution ...
Romocoaster riders take notice -- when the Cowboys' quarterback bandwagon naturally comes to a complete halt during the coming bye week, it could represent "last call" for those looking to safely jump off once and for all. Should you choose to stay on board, you will do so at your own risk. Either way, all indications are that it will continue to be a bumpy ride.
It all comes down to a question of trust. Think of a potential win as a fragile, vulnerable infant. It must be nurtured, cherished and cradled in a warm, safe blanket. Right now,
Tony Romo
doesn't appear to consistently grasp the high level of attention that the win baby requires.
Instead of gently watching over the win baby in the safest possible environment, Romo is busy stunt-jumping over 17 school buses while yelling out to the tiny, defenseless win baby, "Hold on!"
Romo's magical gun-slinging ways remain brilliant. They're capable of staking his team to big leads against solid opponents. But once a win is in reach, he must adapt to the game from a situational standpoint and transition into a more conservative approach. It's beginning to look as if he has just one gear, and it doesn't appear to be anything less than full throttle.
Anyone who takes the stance that Romo is not a good quarterback is wrong. The same goes for those who say that the Cowboys can't win with him at QB. Far lesser quarterbacks have Super Bowl jewelry. But at 31 years old, it's beginning to look like Romo is what he is: a talented yet reckless gunslinger capable of both throwing his team into and right out of games at any given time.
How great would it be to let Romo build up a nice lead only to see Jason Garrett walk out to the huddle, signal to a closer warming on the sideline and take the ball away for a relief quarterback? The crowd goes wild. Romo tips his helmet to them and shuts it down for the day as the closer QB comes in to shut it down with good, safe win-preserving decisions.
It's laughable. Just like Romo's ridiculous play in the second half Sunday. But in all seriousness, had
Jon Kitna
come in for Romo -- so he could protect his injured ribs -- once the score was 27-3, the Cowboys would have won that game. Mind-boggling.
When has a quarterback ever been able to look both so extraordinary and so horrendous in the same game? It's uncanny how often Romo will do that. Unfortunately for him, teams need to be able to trust the player who makes the most decisions for them with the ball. Right now, Romo is proving to be untrustworthy. Instead of throwing the ball away when nothing is there, he seems intent on zinging it into tight coverage and letting the cards fall where they may.
That's too unstable of an environment for a sweet, little win baby.
The Ben and Skin Show airs weekdays from 9 a.m.-noon on 103.3 FM, ESPN in Dallas-Fort Worth. Follow Ben on Twitter: @BenRogers
September, 30, 2011
9/30/11
10:57
AM ET
By
Ben Rogers
| ESPNDallas.com
Rabid Reaction: Our series of knee-jerk-styled, emotional overreactions from Ben Rogers of 103.3 FM ESPN's Ben and Skin Show. He's known to get way too excited over even the slightest of developments with the teams he grew up with in the DFW. Proceed with caution ...
Yes, the Cowboys need to sign
Randy Moss
. Forget about the massive, dangerously explosive drama canister he'll wheel in when he arrives. Forget about the fact that he's old enough to be
Tyron Smith
's grandfather. The bottom line is that the Jerry Jones needs Randy more than Randy needs Jerry.
Outside of
Miles Austin
, Cowboys receivers have little to no experience.
Watching the Austin-less Cowboys pass-catching youngsters break from the huddle like lost toddlers in a mall parking lot was difficult to stomach. They inexplicably broke off routes. They stopped at exactly the wrong time right smack dab in the middle of others. They failed to recognize coverages correctly. They failed to read hot routes correctly.
The saving grace for the receivers against the Skins was
Tony Romo
's sandlot style scramble-and-point mini-Hail Mary throw to
Dez Bryant
on third-and-21. If you're comfortable with that type of "you're the twig, I'm the rock, follow my finger for your route" play-calling as the backbone of the offense moving forward, then don't go get an experienced wide receiver off his couch.
I felt like I was watching a bunch of Drivers Ed students trying to win Daytona. Romo can't be a quarterback and a mom simultaneously. You may not like Moss and what he stands for, but you should respect the fact that he's the best of the rest available. And I expect Austin's hammy to cause problems all year.
Jerry, go get Randy. You screwed that up one other time. Don't do it again.
September, 22, 2011
9/22/11
10:22
AM ET
By
Ben Rogers
| ESPNDallas.com
Rabid Reaction: Our series of knee-jerk-styled, emotional overreactions from Ben Rogers of 103.3 FM ESPN's Ben and Skin Show. He's known to get way too excited over even the slightest of developments with the teams he grew up with in the DFW. Proceed with caution ...
An extremely early must-win vibe mysteriously surrounded the slump-shouldered
Dallas Cowboys
heading into Week 2. Angry mathematicians raised their calculators in fuming protest but the sense of urgency never relented.
Little did the Poindexters know that there's no key on a calculator capable of factoring epic quarterback panic. The disastrous manner in which the Jets debacle went down washed over Valley Ranch like a rogue wave of toilet water.
No one in that locker room was fond of the feeling. It was far too familiar. After all, it was just a year ago that this team watched their backyard Super Bowl dreams unravel prematurely. This team is fully aware of how one loss can snowball into two, and then three, and four, and so on. In fact, few teams in professional sports right now are better suited to successfully identify a snowballing crisis in a police lineup.
They know the warning signs, so even though playoff games are clearly not won in mid-September, they shuddered at the prospect of leaving San Francisco in a recognizable 0-2 hole. That's why
Tony Romo
refused to be denied and shook off a violent rib fracture/lung puncture combo like it was a harmless Victor Ortiz head butt.
He valiantly returned just in time to carjack a victory from the 49ers, squash all quarterback panic (before it even had a chance to breathe) and stylishly pen his signature win to date in the process. But soon after the game, my sources tell me that Winston Wolf from Pulp Fiction intercepted a Gatorade bucket dumping to remind everyone that great challenges still remain.
After all, if Week 2 featured a ridiculously early must-win atmosphere, why wouldn't Week 3 against the Redskins lead to more of the same? Although Romo's meltdown vs. the Jets is no longer a troubling topic for Cowboys fans, plenty of other dramatic storylines have now been flagged as urgent.
In that vein, here is a list of the seven deadliest concerns for Cowboys fans heading into Monday night's showdown against the Redskins:
7. A Blanketed Witten Blanket:
Assuming Romo picks up his courageous adventure where he left off Sunday and actually plays this week despite a lung hole issue, you're left to wonder who he'll be throwing to. With
Miles Austin
out with an exploded hamstring, you'd have to think Romo would lean on his tight end wooby more than ever. Problem is, the Redskins know that too, so you can expect
Jason Witten
to face suffocating coverage.
6. Garrett Brainlock:
For such a seemingly conservative soul, Jason Garrett sure does dabble in the trickery portion of his playbook a lot. Double reverses stop working after junior high football and, according to my hazy recollection, they have proven to be no more successful than triple and quadruple reverses at the NFL level. The next time a game is on the line and the Cowboys decide to run the ball, it might be wise for Garrett to call a play for an actual running back.
5. Offensive Line Anxiety:
Surprisingly, the player on the Cowboys' reshuffled offensive line to worry about the least is the 20-year old rookie with the hyperextended knee:
Tyron Smith
. Beyond him, everyone else dabbled in the suspect sauce to varying levels on Sunday. With Romo gingerly dancing around on crutches behind them, they'll need to be better as a group if they want to keep him out of a coma. Here are two words that might help: Max Protect.
4. Fragile Corners:
Defensive Godzilla Rob Ryan has been able to work wonders with a depleted cornerback group.
Orlando Scandrick
is somewhere in a walking boot right now.
Mike Jenkins
has slowly been working his way toward a full-body cast.
Terence Newman
is finally ready to return from a groin injury -- which is great news -- but how long can he stay healthy? The Cowboys need him to stay upright at least until Scandrick is ready to return. Anything longer would simply be a bonus at this point. By the way, how confident are you in
Frank Walker
? Did you just say "Who?" Exactly.
3. Running Nowhere:
Maybe it's the fault of their retooled offensive line or maybe they've just faced two incredibly tough front sevens to start the season, but it's looked as if Cowboys' running backs have had nowhere to go. Now with
Felix Jones
suffering a shoulder injury, worry for the Cowboys' rushing attack only escalates. Considering that an effective running game would buy some much-needed breathing room for their wounded QB, it's imperative that the Cowboys break out of their run game funk. (Pick to click:
DeMarco Murray
.)
2. Dez Bryant:
Will he be 100 percent? Has he done everything in his power to maximize his rehabilitation process? Does he know the plays? Is he prepared to run precise routes for a QB who might need to let it fly to an area at times to avoid a hit? Can Romo and Bryant establish trust and chemistry? Can Bryant replace Miles Austin's clockwork reliability? Will he face unrelenting double coverage in light of no real threat on the opposite side? Rooting for the Cowboys and worrying about Dez Bryant are basically a package deal at this point, but if Romo can simply get the ball into his hands, magical things will happen. Guaranteed.
1. Romoribs:
According to Calvin Watkins, it not only hurts Romo merely to breathe, but he's also been forced to sleep in a chair. Meanwhile, everyone is chugging right along as if he'll lace em up Monday night. There were times on Sunday where he had to get peeled off the turf with a spatula. One poorly placed hit on Monday night and there won't be a big enough spatula. Although he'll be fitted with a custom bulletproof vest, he won't be himself again until he's fully healed. How could he be? His teammates must rally around his courage once again and do everything in their power to keep him upright. If not, it'll be a short season.
September, 13, 2011
9/13/11
12:53
AM ET
By
Ben Rogers
| ESPNDallas.com
Rabid Reaction: Our series of knee-jerk-styled, emotional overreactions from Ben Rogers of 103.3 FM ESPN's Ben and Skin Show. He's known to get way too excited over even the slightest of developments with the teams he grew up with in the DFW. Proceed with caution ...
Walk into any Metroplex dive this week and mention Tony Romo's name with a complimentary tone and you're likely to reel in a dirty look or two.
A quick fly-by of the local drinkeries will confirm that the "Cowboys will never win a Super Bowl with Romo at QB" thread has officially replaced the suddenly less useful "Mavs will never win with Dirk as their best player" angle when it comes to long-winded regional barstool sports lectures.
The Romo stock is officially plummeting. It's kind of surprising, too, considering that he was pretty darn good for the first 45 minutes Sunday night. But what took place after that is what has people worried. That one awful, terrible, unbelievably dreadful quarter has tweaked the panic radar of many who have struggled for years to wrap their arms around Romo's real value. Is he a fantasy quarterback prone to throwing up big stats or a Super Bowl quarterback capable of leading a team to the dreamparty? His unforgivable fourth-quarter turnover meltdown Sunday against the Jets has even his most loyal supporters letting calls go straight to voicemail.
Cowboys fans are a battered and bruised bunch following a heartbreaking loss in Week 1. If you need a favor from one of 'em, you're probably better off just waiting to file your request for another week or so.
Metroplex officials confirmed reports of foul mood outbreaks throughout the area on Monday. Courtesy waving on local highways, friendly smoke-break smalltalking, and semi-enthusiastic whistle-walking in the workplace are all suddenly hitting their lowest levels in months as an enormous loss-hangover has ravaged social pleasantries throughout North Texas. It was a game they were never supposed to be in, yet there they were with a mind-boggling chance to win it in the fourth quarter.
[+] Enlarge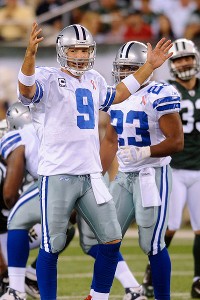 AP Photo/Henny Ray AbramsWhat went for with Tony Romo in the fourth quarter? Everything.
Had they been blown out, it would've been a much easier pill to swallow. In fact, that puppy would've gone down like a shot of tap water at a Rangers game. After all, the AFC's pride-and-joy Jets were playing at home in front of an emotionally charged house on the 10th anniversary of the 9-11 tragedies and – more importantly – at least at this early stage of the season, the Jets are clearly a better football team than the reshuffling Cowboys.
Had Dallas lost its season opener by a wide margin, like 31-10, most Cowboys fans would've simply returned to work unfazed Monday, ready to "open up a can" on lowly San Fran this coming weekend. A training camp of convincing expectation reduction will do that to a fan base.
But in the heat of the moment late Sunday night, the Cowboys unexpectedly found themselves sitting in the overachiever chair, ready to deliver a potential knockout punch (of either the three- or seven-point variety) to a stunned Jets team. But following three flawless quarters of expert quarterbacking,
Tony Romo
inexplicably decided to transform into Tony Turnover at precisely the wrong time. Hello fumble. Hello interception. Hello heartbreak.
And now, subsequently, hello Romo-doubtapalooza.
To snatch a loss from the jaws of victory is bad enough on its own (especially when you have to Heimlich that sucker out of there like the Cowboys did Sunday night). But to lose because your prized veteran quarterback blows the game with a fireworks-style grand finale of crunch-time bone-headedness is something else entirely.
The "old" Tony Romo was a careless gunslinger who scrambled around the pocket like he was on ice skates, fired from the hip like Wild Bill Hickok, and fed defenses turnovers like they were hungry fish in his own private Koi pond. But in 2009, Romo significantly took his game up a notch and finally started taking care of the ball. He grew up. His wild ways in the rear-view mirror, he was ready to graduate to the elite level.
Then his line forgot how to block the Vikings in the second round of the playoffs, and 2009 ended before he was able to go on a deep, name-making playoff run. That unsatisfying but promising campaign was then followed up by an all-around disastrous 2010. The head coach was fired after a miserable start, a season was utterly lost, and an injured Romo got to model sweatsuits and arm slings on the sideline for the second half of the season.
Fast-forward to this training camp, and expectations for Romo and all of his explosive offensive weapons have been sky high. He's finally healthy, Dez is ready to eat defenses for breakfast, and all potential cancer bombs and entitlement kings have been removed from the offensive side of the ball. This has the makings of a huge year for Romo – a year where he finally puts it all together. That's why his terrible decision-making Sunday night was so very shocking.
He's not a rookie, but he made two serious rookie mistakes in the fourth quarter Sunday. He knows better than to risk fumbling the ball inside the opponent's 5-yard line on third down when a simple hook slide would ultimately result in a field goal and a two-score lead. He knows better than to throw a floater to a receiver on crutches limping through double coverage – which by the way included the best cornerback in football. He knows better.
So why did he do those things? He's smarter than that, isn't he?
Concern over a quarterback's football IQ is no small thing, especially when the play-caller in question is closer to a comb-over than a sleepover. It forces you to wonder if it's an isolated incident or a catastrophic flaw. Repeat "are-you-freakin-kidding-me" offenses of this kind almost always lead to pitchforks, torches and quarterback controversies.
As of now, such talk is ludicrous. Romo could very well have just needed one regular season tune-up game to shake off the rust. As of now, the New York debacle is hereby officially being labeled as an isolated event.
But make no mistake about, he's been written up. That loss, and all of the seedy details about how it went down, is going into his permanent file. In fact, my sources tell me that he's now
officially on double-secret probation
in the hearts and minds of most Cowboys fans. Oh, they still love him and they'll stand by him long enough to let their hero get back up on his white horse one more time, but he did considerable damage with that brain freeze fiasco. One more destructive wrecking ball performance like that, and Cowboys fans might repossess the horse.
For now, there is still a sunset to potentially ride off into. A win against the 49ers would go a long way to making a lot of grumpy people forget about the one that he threw away ... and fumbled away ... and basically just gift-wrapped and gave away in general.
The Ben and Skin Show airs weekdays from 9 a.m.-noon on 103.3 FM, ESPN in Dallas-Fort Worth. Follow Ben on Twitter: @BenRogers
September, 8, 2011
9/08/11
9:42
AM ET
By
Ben Rogers
| ESPNDallas.com
Rabid Reaction: Our series of knee-jerk-styled, emotional overreactions from Ben Rogers of 103.3 FM ESPN's Ben and Skin Show. He's known to get way too excited over even the slightest of developments with the teams he grew up with in the DFW. Proceed with caution ...
Cowboys optimism has been in short supply around the Metroplex of late. It's been easier to find a cool breeze inside the swirling volcanic winds of an August Rangers game than it has been to find a teaspoon of belief in America's Team.
This brave column has served as one of the last remaining beacons of Jerry Jones sunshine.
But dark storm clouds are now threatening to choke out even the last glimmers of hope for Cowboys fans as a knee injury outbreak is suddenly ravaging the thinnest positions at Valley Ranch. As fallout from Wednesday's injury explosion transforms into a giant mushroom cloud of concern, the prospect of a Week 1 win against the
New York Jets
is slipping away faster than you can say
Jermey Parnell
.
[+] Enlarge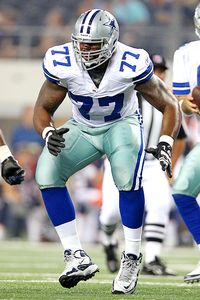 Matthew Emmons/US PresswireEven if he is ready, do Cowboys fans really trust Tyron Smith protecting Tony Romo against the Jets' voracious front line after the rookie injured his knee in practice Wednesday?
Losing both right tackle
Tyron Smith
and cornerback
Mike Jenkins
to hyperextended knees Wednesday leaves a team that was already bony at their respective positions flat out emaciated. Jones and company rolled the dice at tackle and decided to just carry one backup on the roster in Parnell, a converted defensive lineman with extremely limited experience.
Even if Smith is somehow able to Willis Reed his way out of the tunnel for his first game as a pro, do you really want an limping rookie out on the edge trying to protect
Tony Romo
from a hungry pass rush?
Meanwhile, the ridiculous need to carry two kickers on the roster might have kept the Cowboys from keeping former sixth-round pick
Sam Young
, whom they waived and had hoped to sign to the practice squad before he was scooped up by the
Buffalo Bills
.
Oops.
Then, of course, there's the
extreme lack of depth at cornerback
to consider. Team officials are hoping MRIs will reveal whether or not Mike Jenkins and Terence Newman are made of expensive porcelain. A source indicates that balsa wood is also a real possibility. All right, that's not fair. Injuries happen. But rather than be disappointed with the wounded, perhaps you should aim your wrath at those in charge of restocking the empty cupboard. They're failing miserably.
So with this recent injury news, combined with the lack of up and coming depth on the roster, early season dreams of Cowboy fans are collapsing so fast it would make Leonardo Dicaprio's totem explode.
Throwing in the towel on the season would be extremely premature at this point. Despite the Cowboys' shortcomings, this remains a league full of parity. Having said that, we're also talking about a team that doesn't stand a chance against the Jets in Week 1. So feel free to fly the flag of Cowboys optimism this season. Just be advised that you may need to go into hiding until they reach San Francisco soil in Week 2.
On the 10-year anniversary of the 9/11 tragedies, the
Dallas Cowboys
are about to walk into a hornets nest of emotion at the Meadowlands to start their season. Not only will they be outmatched by a superior team in a challenging road environment, but they're also not quite ready to tango as a team. They're overwhelmed. They're inexperienced. They're undermanned. And now to add injury to insult, there are just a few too many key players spending time in the trainer's room.
0-1.
The Ben and Skin Show airs weekdays from 9 a.m.-noon on 103.3 FM, ESPN in Dallas-Fort Worth. Follow Ben on Twitter: @BenRogers