Dallas Cowboys:

Texas Stadium flashback
April, 11, 2010
4/11/10
9:06
AM ET
IRVING -- The demolition of Texas Stadium on Sunday morning was emotional for the Jones family.

Charlotte Jones, the daughter of Jerry Jones was crying as was her daughter Haley. But Jerry Jones, the man who owns the Cowboys, also teared up as he watched the stadium come down.

Jones sat next to Bruce Hardy, the long-time general manager of Texas Stadium, who is now a senior consulant for Cowboys Stadium in Arlington.

"When that roof started coming in it was sad," Jones, with a tear in his right eye, said. "That's about all you can say with that. It certainly wasn't fun."



April, 8, 2010
4/08/10
9:33
PM ET
April, 8, 2010
4/08/10
2:05
PM ET
My biggest memory of Texas Stadium is the changing of the guard at quarterback for the Dallas Cowboys.

It was Oct. 23, 2006 and Cowboys quarterback Drew Bledsoe was having a terrible day. The Cowboys trailed 12-7 toward the end of the first half against the New York Giants. But Bledsoe had driven the team to the Giants 4-yard line. During a timeout, wide receiver Terrell Owens told Bledsoe he had one-on-one coverage against a cornerback and that he was open.

Bledsoe, according to Owens, said, "I'm throwing to Terry."

Terry meaning Terry Glenn, the other wide receiver and a trusted offensive weapon for Bledsoe. On the play, Bledsoe directed a pass to Glenn that was intercepted by Sam Madison.

The half ended with Bledsoe going 7-for-12 for 111 yards, no touchdowns and one interception. Bill Parcells benched Bledsoe for Tony Romo to start the second half.

We knew Bledsoe was struggling, but there was such an unknown about Romo. Michael Strahan tipped his first pass, which Antonio Pierce picked off. The Giants scored as a result of the turnover to take a 19-7 lead.

When the night was over, the Cowboys were beaten, 36-22, and Romo had thrown three interceptions. There was plenty of turmoil around the Cowboys then. Parcells said he didn't know what he was going to do at quarterback. Owens didn't care which quarterback was back there.

Then there was Bledsoe. I remember walking with him out of the locker room with another reporter. There's this tunnel outside of the Cowboys locker room that leads players to their cars. Bledsoe was looking sick. I'm sure he was thinking he was going to get benched. I'm sure his memories of how Tom Brady took over for him in New England were seeping into his brain.

We had gotten to the tunnel when Bledsoe said, "Just a bad decision."

When asked who made a bad a decision?

"Bill," he said as he walked to his car.

It was the end of the Bledsoe era in Dallas and the start of Romo's career as a starter.

That night, I left the tunnel and headed to the press box, walking across the Texas Stadium turf wondering if Romo could handle being the starter of the Dallas Cowboys.

April, 8, 2010
4/08/10
1:55
PM ET
By
Matt Mosley
| ESPNDallas.com
For reasons I can't recall, my best friend Danny Terry and I were once called upon to work the sideline for the Miami Dolphins at Texas Stadium. I was 13 at the time and the Cowboys' veteran equipment manager Bucky Buchanan signed us up for duty.
[+] Enlarge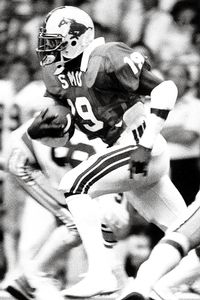 Getty ImagesEric Dickerson and the Pony Express frequently galloped across the Texas Stadium turf during their heyday.
Looking back, I should have been blown away in the presence of coach Don Shula and a young quarterback named Dan Marino. But all I knew about Marino is that he'd fallen short to SMU in the Cotton Bowl.
Offensive tackle Ronnie Lee gave me a practice shirt that day and linebacker Bob Brudzinski provided me with some gloves that I kept for six or seven years.
Before the game, I actually warmed up quarterback Don Strock, who appeared to be older than most of the assistant coaches. We also shagged punts for the late, great Dolphins punter Reggie Roby, a man who would have hit Jerry Jones' new HD screen on a regular basis.
I would end up covering games for a living at Texas Stadium 18 years later, but that wasn't as fun as working the sideline on "Monday Night Football."
Dad always said Texas Stadium was either the hottest or coldest place in the world. And we've endured both extremes. Probably my favorite games to watch at Texas Stadium were between Baylor and SMU in the late 1970s and early 1980s. Baylor had linebacker Mike Singletary and the Mustangs had the Pony Express.
For a brief period of time, we had one of the best college teams in the country and the most recognizable pro team sharing the same home.
Texas Stadium is one of the most iconic structures in the state. And tearing it down is not going to erase the memories.
Oh, one more thing: My first date with my future wife was attending a playoff game between Lake Highlands and Waco High School at Texas Stadium. Perhaps I should have led with that.
April, 8, 2010
4/08/10
1:55
PM ET
By
Jeff Caplan
| ESPNDallas.com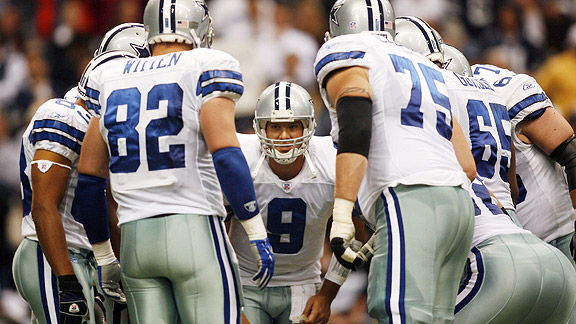 James D. Smith/NFL/Getty ImagesAfter breaking his first NFL huddle as the Dallas Cowboys' starting quarterback, Tony Romo had his pass intercepted by the New York Giants.
At Texas Stadium on Oct. 23, 2006, Bill Parcells' Cowboys weren't exactly getting their clocks cleaned on Monday Night Football by the
New York Giants
, but it sure wasn't pretty. Starting quarterback
Drew Bledsoe
resembled a standing target -- he was sacked four times in the first half -- while completing just 7-of-12 passes for 111 yards.
The Cowboys trailed 12-7 at the half and the natives were grumbling, to put it mildly.
Then the course of the Cowboys' future changed with their opening possession of the second half. Backup quarterback
Tony Romo
pulled on his helmet, jogged off the sideline and into the huddle.
Here comes my most memorable moment at the old yard in Irving.
The Giants' kickoff was a touchback, and Dallas is at its own 20-yard line. An energy not felt at Texas Stadium in some time sweeps through the building. The Cowboys break the huddle and Romo gets under center as everyone sitting in a blue seat was fully aware -- or at least hoping -- that they were finally witnessing the passing of the quarterback torch to young No. 9. Since
Troy Aikman
, the torch has been more like a hot potato, but on with the moment ...
Romo takes the snap, drops back, looks, looks, fires and ... the ball is tipped at the line of scrimmage, high in the air. Giants linebacker
Antonio Pierce
has a bead on it, swallows it and sets up the Giants at the Cowboys' 14-yard line. Three plays later, the Giants led 19-7 and the rout was on.
And with that, the Tony Romo era had begun.
Sorry, Tony, but if that's the worst thing that happens in your career, it's been a pretty good life.
April, 8, 2010
4/08/10
1:54
PM ET
For all the Cowboys games I covered or attended, my fondest memories of Texas Stadium are from high school football.

Nothing beat a playoff triple-header, especially on the Friday after Thanksgiving, a few rounds into the postseason. Two such games stick out in my mind.

One featured perhaps the best quarterback matchup in Texas high school football history: Ennis' Graham Harrell vs. Highland Park's Matthew Stafford. Harrell was a senior who owned most of the significant state passing records. Stafford was a sophomore who had been the subject of much hype despite not being old enough to drive a car.

Harrell's Ennis team, which was undefeated and unchallenged while averaging more than 50 points per game, had knocked Highland Park out of the playoffs the previous two seasons. Stafford made sure the Scots' seniors experienced a win over Ennis, passing for more than 400 yards and three touchdowns in a performance that made it clear the kid was special.

You knew while watching that game, a 38-28 Highland Park win, that both quarterbacks were destined for greatness. Harrell rewrote the Big 12 passing record book at Texas Tech, claiming the NCAA record for touchdown passes in a career. Detroit made Stafford the No. 1 overall pick in the 2009 draft.

The other game that stands above the rest pitted a pair of undefeated defending state champions. (We'll avoid a tangent on Texas' screwy two-division playoff system.) That old stadium was pretty close to packed for Southlake Carroll-Euless Trinity, and the fans got their money's worth and more.

Trinity led Carroll, which had lost once in the last five seasons, almost the entire game. But the Dragons got a short field to run a two-minute drill for the game-winning touchdown after Trinity coach Steve Lineweaver called for a fake punt. That's how much respect Lineweaver had for quarterback Riley Dodge and the Dragons' potent offense.

Those are the kinds of crazy gambles you didn't see on Sundays at Texas Stadium, at least not after Barry Switzer got the boot.