Scout's Eye: Cowboys-49ers review
September, 20, 2011
9/20/11
11:03
AM ET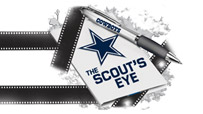 After a tough, emotional opening season loss to the
New York Jets
, Jason Garrett had to focus his team on another difficult road test against first-year head coach
Jim Harbaugh
and the
San Francisco 49ers
.
The 49ers are not a talent-poor team on either side of the ball. The Cowboys were missing key players
Dez Bryant
,
Terence Newman
and
Orlando Scandrick
, making the trip even more difficult.
Offense
In my 49ers breakdowns for ESPNDallas.com, I wrote about how I thought it would be difficult for the Cowboys to move the ball against this 49ers front seven. The 49ers linebackers were outstanding on tape.
Patrick Willis
,
NaVorro Bowman
,
Ahmad Brooks
and
Parys Haralson
were active running to the ball, filling gaps and not playing out of position.
On the third play of the game, defensive coordinator Vic Fangio used Brooks in a different scheme look, putting him on the outside shoulder of
Kyle Kosier
and shooting him through the "B" gap. Kosier was unable to adjust to the quickness of Brooks off his shoulder, getting his shoulders turned and lunging after the exploding Brooks.
Tony Romo
was in the extension of his delivery to
Jason Witten
with the right side of his body exposed. Brooks smashed into Romo's ribs, dropping him to the ground.
[+] Enlarge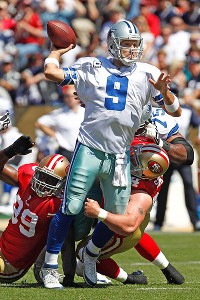 AP Photo/Tony AvelarThe 49ers' front seven was able to disrupt Tony Romo's accuracy with an early strike against the Cowboys' offensive line.
Romo was able to get to his feet and carry on, but you could see from the way that Romo was throwing the ball that it was difficult for him to be accurate. His throwing motion looked off.
When you study Romo, you see the tightness of his spiral. In this case, there was none of that.
After marching his team down the field on the first drive, the Cowboys had three straight three-and-outs. Romo looked uncomfortable in the pocket because the 49ers were able to get pressure with four and five men, which brings me to how this Cowboys offensive line played Sunday.
The 49ers have some high-effort, high-motor players. Ends
Justin Smith
and
Ray McDonald
are the type of players who just keep coming at you. If you can't hold your block for that extra count, your quarterback is going to get hit.
I thought this was the worst game that I had seen
Doug Free
play since he was put in the lineup, going all the way back to when he filled in for
Marc Colombo
at right tackle two seasons ago. Free didn't have his "A" game and he would be the first to admit it. Free didn't play with the normal good balance and footwork that he has shown throughout his career. Free also struggled with power.
He gave up pressure inside on
Jon Kitna
's second interception. He was beaten around corner by Brooks another time and rookie
Aldon Smith
took him down inside for pressure. On the fourth-and-five play where Romo hit Witten, Smith was a tick away from knocking the ball out of Romo's hand.
Kosier, another veteran, also struggled. One of the reasons that
Tyron Smith
is playing well at right tackle is Kosier and his ability to help him understand the front and blitzes that the offensive line has faced the last two weeks. However, like Free, this wasn't one of Kosier's better efforts.
I mentioned the miss of Brooks by Kosier hitting Romo in the ribs. Kosier might be an undersized guard, but he usually plays with outstanding leverage. In this game, he was overpowered by McDonald for pressure. He and Smith gave up another pressure to McDonald when they each thought that the other was taking the man, allowing him to go unblocked. Those are the types of mistakes that you don't see Kosier make.
In the running game, Kosier missed on a reach block and struggled with a run-through linebacker.
At the other guard,
Derrick Dockery
made the start for
Bill Nagy
, who hurt his neck during the week of practice. After watching Nagy against the Jets, you had a feeling there was going to be a chance that he would be replaced by the bigger body of Dockery against the 49ers. Dockery's effort was good, but the two false start penalties were bad.
Dockery played like he did on tape for the
Washington Redskins
. Showed some pop but tended to get overextended on his pass set. He missed an assignment on a run-through linebacker. Thought he needed to do a better job of staying on his feet. Little slow to pull but able to hit the target. Needed to get more push at the point.
Like Free, Dockery had his struggles with Justin Smith. Needs better sustain. Didn't look as good as Nagy getting outside on the screen but wasn't as bad as
Montrae Holland
.
On the positive side,
Kevin Kowalski
did a wonderful job in his fill-in role for the injured
Phil Costa
on the final few possessions. Kowalski worked well with Kosier and Dockery in handling the inside part of the 49ers defense. Shotgun snaps were good. He was able to slide and help in pass protection. He didn't play as if the game was too big for him. A lot of the same things that you saw from him in the preseason games when he played the whole games against the
Minnesota Vikings
and
Miami Dolphins
.
Without Bryant in the lineup for the Cowboys, there was no doubt in my mind that
Miles Austin
and Witten would be the go-to guys for the offense. The two combined for 16 catches, 245 yards and three touchdowns. As outstanding as Romo was, Austin and Witten were better.
Austin's start was slow and some of his early routes in the game were not his best, but after he was able to score that touchdown before half he started to click. Austin's best touchdown of the game was his final one, when he was able to work between the corner and safety, adjusting his body to snatch the ball and maintaining his balance to get into the end zone.
I do want to point out something that Garrett talked about Monday when he met with the media. That is the third-and-1 call that he made with Austin in the backfield. Garrett spoke that it was a call that he wished he could have had back and it was a mistake. It was a mistake because it didn't work, but it wasn't for the lack of design.
The play was set up well, but the execution by Austin was poor. If Austin makes his way to the outside of Free who was peeled back in space, there was an outstanding chance for a first down and maybe a touchdown with Austin's ability to run with the ball. Austin catches the ball, pauses slightly, then tries to run the ball straight ahead to get the first down and was stuffed. If Austin sprints to the outside, it's a big play.
Defense
For the second week in a row, the effort and execution on defense for Rob Ryan was outstanding.
We all saw what
DeMarcus Ware
did with the two sacks, but I want to focus on a guy who will struggle for stats because other than quarterback, he plays one of the most difficult positions on the field. That is nose tackle
Jay Ratliff
.
At 285 pounds, Ratliff is not your prototypical nose man and in my view would be better suited to play on the edge of the guard as a three technique in a 4-3 scheme, using his quickness to attack the gaps. Against the Jets, Ratliff faced double team after double team. He dealt with his share of those again against the 49ers, but when he was single blocked, he took full advantage of pushing the middle of the pocket. That caused
Alex Smith
to have to adjust in the pocket, driving him to the edges where Ware,
Anthony Spencer
and
Jason Hatcher
were waiting.
Ratliff also did a nice job in the running game playing off blocks and controlling the middle, not allowing
Frank Gore
to get anything going. Ratliff also had several plays where he made hustle tackles.
In the secondary, Ryan got a nice game from cornerback
Frank Walker
. For a guy who had just signed this past week, Walker lined up on the outside at left corner in the nickel and
Alan Ball
shifted inside. Walker played with an ease of movement and looked comfortable when he walked up on receivers in tight man coverage.
I was surprised to see how effective he was in coverage. Did not see his man run away from him or look like he was laboring in his assignments.
Jason Garrett spoke of how his defense carried his team until the offense was able to work through all the problems that they were having with the 49ers defense and Romo's health issues. The 49ers were 8-of-10 on third-down conversions in the first half of the game but 0-of-6 in the second half. Give Ryan and these defensive players a ton of credit for the way they played in this victory.