Report Card: Secondary steps up
October, 21, 2012
10/21/12
6:33
PM ET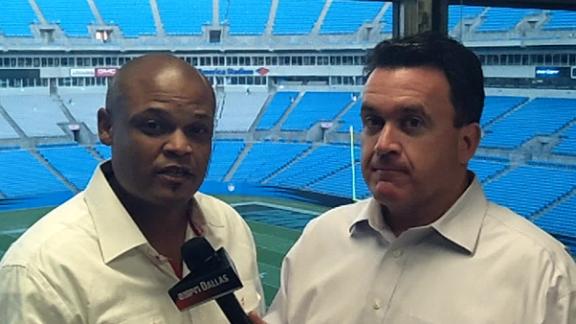 C-
Rushing Offense
The Cowboys ran the ball often, but they didn't run it well. Tailbacks Felix Jones and Phillip Tanner combined for only 74 yards on 28 carries. It's hard to fault them. The offensive line failed to get much push, especially after center Phil Costa suffered an ankle injury in the second quarter. Ryan Cook, Costa's replacement, hadn't practiced since before the bye due to a hamstring strain. Jones was especially ineffective in the second half, when he gained only eight yards on seven carries. It's interesting that the Cowboys relied on Tanner much more than Jones in the fourth quarter.

C
Passing Offense
Tony Romo (23-of-34 for 227 yards and a TD) didn't throw an interception for the first time this season, although he narrowly avoided one when Carolina linebacker James Anderson dropped a pass that he might have been able to return for a touchdown. The Cowboys did commit a turnover in the passing game on a Miles Austin fumble, but Austin (five catches, game-high 97 yards) made up for that mistake with a beautiful catch for Dallas' lone touchdown. Dez Bryant didn't make an impact, catching only two passes for 14 yards and dropping what should have been a touchdown pass. The Cowboys' pass protection prevented the Panthers from sacking Romo.

C+
Rushing Defense
The Panthers rushed for 112 yards and a touchdown on 21 carries, but those numbers are skewed by some long scrambles by Cam Newton. The Panthers were not able to line up and run the ball against the Cowboys with any sort of sustained success. Tailback Jonathan Stewart gained only 35 yards on 10 carries -- and that included a 20-yard gain when Carolina caught the Cowboys in a state of confusion. NT Josh Brent was a force despite being credited for only one tackle. LB Bruce Carter had two key stuffs. OLB Anthony Spencer (six tackles, one TFL) made his presence felt in his return from a strained pectoral.

B
Passing Defense
Miracles do happen. The Cowboys secondary came up with an interception. The first pick of first-round pick Morris Claiborne's career killed a 12-play, 74-yard Carolina drive. Claiborne came up with another big play when he broke up a fourth-down pass in the fourth quarter, although the Panthers screamed for a pass interference penalty on the play. Cam Newton went 21-of-37 for 233 yards and a touchdown, and he should feel like he left a lot of plays on the field. The Cowboys defense deserves some credit, but Newton had a lot of misses. The Cowboys only sacked him twice.

B
Special Teams
The Cowboys committed penalties on the first three special teams plays, but Dallas didn't have a killer mistake in the kicking game, as has been the case in two losses this season. Oh, Dez Bryant came awfully close, making an ill-advised, over-his-head catch on a punt inside the 10 and running around with the ball recklessly away from his body, but the play didn't result in a disastrous turnover. Dan Bailey bounced back from missing the potential game-winner last week by going 4-of-4 on field goals, including a 49-yarder. Brian Moorman had an outstanding day, averaging a net of 49.3 yards on four punts, including two inside the 20.

C-
Coaching
Jason Garrett coached scared in crunch time. He can talk about trusting his defense until he's blue in the face, but he looked like a coach who was afraid that his offense would make a catastrophic mistake. Why else call for a run up the middle on a third-and-9 in the red zone when your team trails by one point late in the game? The Cowboys got away with the ultraconservative play call, but it's a classic case of coaching not to lose. That approach blew up in Garrett's face last season in New England. The Cowboys' defense also looked confused way too often.