December, 26, 2014
Dec 26
3:23
PM ET
IRVING, Texas -- Throughout the season
DeMarco Murray
has shrugged off talk of a 2,000-yard season or breaking Emmitt Smith's
Dallas Cowboys
record for rushing yards in a season the way he would a tackler.
On Friday, Murray acknowledged it would be a special feeling to break Smith's record but he deflected the attention away from himself.
He needs 29 yards in Sunday's season finale to surpass Smith's 1,773-yard season of 1995.
[+] Enlarge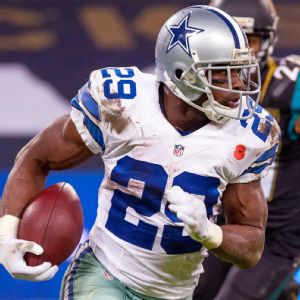 Steve Flynn/USA TODAY SportsDeMarco Murray needs 29 yards on Sunday to break Emmitt Smith's team record for most rushing yards in a season.
"It's definitely a humbling experience," Murray said. "I think we all have a piece of that in the O-line, coaches, receivers, tight ends, fullbacks, and think we all have a piece of that and whenever you get to have the chance to do something special like that, you want to share it and share it with the guys on this team and the people in this organization. So it definitely will mean a lot to us."
Murray leads the NFL with 1,745 yards on a career-high 373 carries. He also has 12 rushing touchdowns.
Smith, the NFL's all-time leading rusher, attended last week's game against the
Indianapolis Colts
in part to see Murray break the record. Owner and general manager Jerry Jones said Smith is rooting for Murray to break the mark.
"Obviously he's the best running back to play in the league and records are meant to be broken," Murray said. "And I'm sure this one will be broken sometime soon, whoever else comes along. That's what they're for and you've got to cherish the moment and move on and really know what's important and that's obviously winning games."
Perhaps the most gratifying part of Murray's season has been the ability to be on the field. He missed 11 games in his first three years with ankle, foot and knee injuries. Last week against the Colts, he played six days after undergoing surgery to repair a broken left hand.
"I don't think it was (playing in 16 games), it was just the fact that I knew I could play," said Murray, who was voted to his second Pro Bowl on Tuesday. "I wasn't going to let a hand take me out of the game no matter what. No matter what I knew I had to grind through it and tough it out some way, somehow to stay on the field."
Murray said he feels fresh and healthy despite the added work and the injured hand. He also knows how important he is to the offense's success.
"I feel that I give us a good chance to do some pretty good things when I'm on the field that I kind of give us a complete run game, and help on the outside, and give (
Dez Bryant
) a lot of one-on-one matchups along with (
Jason Witten
), so we've all been healthy this year offensively," Murray said. "That's been huge for us and we've all been able to play well and make some plays running the ball, passing the ball, things like that. So I love playing football and love being on the field and happy I'm here."