Friday, January 6, 2012
The Blame Bowl: Rob Ryan vs. GM Jerry

---
By ESPNDallas.com

Ben Rogers and Jeff "Skin" Wade of ESPN Dallas 103.3 FM are asking for your help in placing the blame exactly where it should go. The Cowboys might not have made the playoffs after having every chance to win the NFC East, but that doesn't mean somebody can't walk away with a championship.



PODCAST
Ben and Skin unveil the final matchup in the 2011 Dallas Cowboys Blame Bracket.

Listen

The skinny: Voting for our Blame Bowl will take place all weekend and the fans' choice will be announced on the Ben & Skin Show on Monday morning.

At stake: The Blame Cannon, a constant reminder of how the winner of this event was constantly blasted during (and after) the 2011 season.

So leave your votes for our Blame Bowl below, and listen to Ben & Skin Show from 9 a.m.-noon every weekday -- as we play the Blame Game. You can listen online here.

View the bracket and cast your vote below.


The Blame Bowl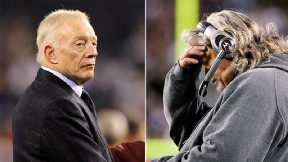 Who's most to blame for the Cowboys' collapse this season: GM Jerry Jones or Rob Ryan
Ben & Skin matchup: GM Jerry/Ryan
---