Dallas Cowboys:

2012 Draft CB
March, 15, 2012
3/15/12
11:45
PM ET
The fifth installment in our draft series looks at Georgia cornerback Brandon Boykin.
Scouts Inc. ranks:
No. 8 cornerback, No. 60 overall
Bio:
Second-team All-SEC selection at cornerback last season, when he had 55 tackles (11 for losses), nine passes broken up, three interceptions and two forced fumbles. Finished career with nine interceptions. Also a dynamic kickoff and punt returner. Averaged 24.2 yards on 110 career kickoffs with four touchdowns. Averaged 12.9 yards with a touchdown on 14 punt returns. Played some offense as a senior, when he had seven carries for 103 yards and a touchdown and five catches for 71 yards and two touchdowns.
[+] Enlarge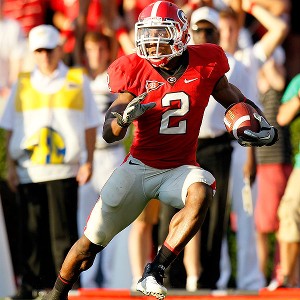 Kevin C. Cox/Getty ImagesCornerback Brandon Boykin isn't the most physical player, but he has good speed and quickness and was a dynamic punt and kick returner at Georgia.
Size:
5-foot-9 ¼, 182 pounds
40-yard dash:
4.44
Did not participate in scouting combined due to broken leg suffered at Senior Bowl.
Broaddus Breakdown (viewed South Carolina, Georgia Tech, LSU and Michigan State games):
Lined up at the right cornerback, slot and even safety at times for the Bulldogs. … Small-looking player on film, and at times will play small. … Like
Stephon Gilmore
from South Carolina, he plays with outstanding foot quickness and does a nice job reading routes and driving on the ball. Plays with range and good initial burst. Really shows some closing speed when he sees the play develop. … Skilled enough to carry routes across the field and maintain position. Will show the ability to cut his man off in route. Is a fluid-moving athlete. Can turn and run with little trouble. Don't see much separation from receivers in his game. … Plays smart. LSU tried to fool him with a double move on the outside, but he did not bite on the route. … Thought he was a much better zone player than man, and that might have something to do with his size. … Starts well in his pedal but will tend to get a little high. … Showed good ball skills. Had an interception against South Carolina, but also dropped one. Played the ball well in the air against LSU. … Will struggle when he has to set the edge in the running game. This just really isn't one of his strengths. Bothered me when the ball came downhill at him; he went into retreat mode. The LSU game was awful for him when it came to being physical on the edge. Missed two tackles in the open field that both resulted in touchdowns. If he can tackle you by running you down from the backside, he has a shot at making the play, but otherwise, there could be some problems. … Did drive on the ball against Michigan State on a hitch screen and tackled his man, which resulted in a safety. … A club will draft and use him in the slot to start his career. There is no doubt of his ability to cover anywhere on the field, but he will need some work when he has to play at the point of attack. … Can easily see him going mid to late second round of the draft. Did not work out during the combine because he got hurt in the Senior Bowl, but that really shouldn't be a problem for him because you can see the speed and quickness on tape.
March, 15, 2012
3/15/12
12:00
AM ET
The fourth installment in our draft series looks at South Carolina cornerback Stephon Gilmore.
Scouts Inc. ranks:
No. 4 cornerback, No. 44 overall
Bio:
Started all 40 games in three seasons at South Carolina, declaring for the draft after his junior year. Finished his college career with 176 tackles (14 for losses), eight interceptions, seven sacks, four forced fumbles and four fumble recoveries. First-team All-SEC selection in 2010, when he led the Gamecocks with 79 tackles, including six for losses. Played quarterback in high school.
[+] Enlarge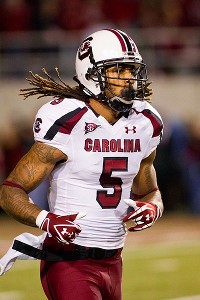 Beth Hall/US PresswireSouth Carolina's Stephon Gilmore is an explosive player that started all 40 games he played with the Gamecocks.
Size:
6-foot-0 ¼, 190 pounds
40-yard dash:
4.40
Vertical jump:
36 inches
Broad jump:
10-foot-3
20-yard shuttle:
3.94 seconds
Three-cone drill:
6.61 seconds
Broaddus Breakdown (viewed Arkansas, Florida and Clemson games):
Lined up at left corner for the Gamecocks but also played in the slot and even some safety in certain schemes. … Is an explosive player that moves with ease. Has outstanding, quick feet and reactions. When he sees it, he goes. … Nice job of driving on the slant against Arkansas in a goal line situation. Good position in routes, doesn't allow much separation. … Has the size and quickness to give receivers fits when working down the field. Nice tight coverage. There is no wasted motion in the way he plays. … Has the skill level to try and bait the quarterback into making a throw his direction. Will lay back and make the quarterback feel he has a window, then break on the ball. … Plays with nice technique in the way he defends passes with his hands and arms. Tends to peek in the backfield at the quarterback during his pedal. Plays with feel on the receivers in route. … Can be physical when he is asked to play press, man coverage. Will get his hands on his man, then run with him. … As for his ball skills, only saw one opportunity where he dropped a sure interception. Would not say that he has the ball skills of a
Morris Claiborne
from watching his combine workout and would also not call him a physical tackler like
Dre' Kirkpatrick
, but he will attempt to wrap up his man in the open field. Will go low on ball carriers, too. … There are two areas where you do see physical play. One is in the press coverage on receivers. The second is when he comes off the edge as a blitzer. He has a real feel for how to do this. In the Florida game, did a really nice job of beating the running back's block around the corner and hitting Scott Brantley in the back, which resulted in a sack and fumble. Later in the season against Clemson, came on the same blitz and caused an incomplete pass when he hit the quarterback from the blind side. … Is a very natural player in the way he moves and reacts. His 3.94 20-yard shuttle at the combine is a great example of his lateral quickness and footwork. Very well could be the second cornerback on a lot of teams' boards, but I have him behind Claiborne and Kirkpatrick.
March, 14, 2012
3/14/12
12:01
AM ET
The third installment in our draft preview series looks at North Alabama cornerback Janoris Jenkins.
Scouts Inc. ranks:
No. 2 cornerback, No. 15 overall.
Bio:
Transferred to Division II North Alabama last year after being dismissed from Florida. He was arrested three times at Florida, twice for marijuana possession and once after being involved in a fight and fleeing police. The fact that Jenkins already has four children is also a red flag for character concerns. He started as a freshman at Florida, was an All-SEC selection in 2010 and had eight career interceptions for the Gators. He was rarely challenged at North Alabama. Had 53 tackles, six passes defensed, two interceptions, a fumble return for a touchdown and three punt returns for touchdowns last season.
[+] Enlarge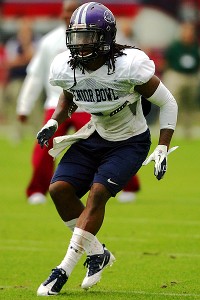 Cliff Welch/Icon SMINorth Alabama cornerback Janoris Jenkins shows excellent quickness, but he may come with some character issues.
Size:
5-foot-9 3/4, 193 pounds
40-yard dash:
4.46 seconds
Vertical jump:
33.5 inches
Broad jump:
10-foot-1
20-yard shuttle:
4.13
Three-cone drill:
6.95
Broaddus Breakdown (viewed Abilene Christian, Harding College and West Georgia games):
Short, compact player that plays with outstanding foot quickness. Can show an explosive burst when he drives on the ball. … Plays with nice awareness and the ability to read routes. Is quick enough to undercut routes and make plays on the ball. Was able to get an interception this way against Abilene Christian. … Will gamble at times because there is no one in the league that he plays in that can truly cause him any problems when it comes to running routes. There were teams that have tried to use double moves on him, but even if he gets fooled off the start, he has the skill and ability to recover. … Is a fluid player that has no tightness to his game. Runs easy on the outside or when he plays the slot. Is outstanding in carrying his man across the field. Again, there is no one that can run away from him to gain separation. … Would not call him a physical player when it comes to defending the slant, but quickness helps him here. Think he might have trouble in the NFL when he has to defend a bigger body or when a receiver becomes physical with him. … If I could compare him to a player in the NFL, he plays like Asante Samuel of the Eagles in the way he moves and covers. Another similarity to Samuel is his lack of tackling ability. He really wants nothing to do with it. Tries to avoid contact and will only tackle as a last resort. Is a sling-down tackler or will try and go low without wrapping up. … Only observed this one time in the Harding game, but he did struggle to play the ball in the air down the field and it wasn't because he was in bad position. It was just the fact that he wasn't tall enough to knock it down. Only saw him give up one touchdown in three games when he lost his man in coverage and the ball went over the top for the score. … I cannot downgrade him for the talent that he plays against, but he is clearly better than anyone he plays. Have to grade him on what you see, and he has talent. … Teams will have to get to the bottom of why he left Florida and other issues that might affect his play. Players in the past have been taken off the board all together or placed in the "box" for the Cowboys because of character issues. Jenkins has a real shot to be off the board early this April.
March, 13, 2012
3/13/12
9:00
AM ET
The second installment in our draft preview series looks at Alabama cornerback Dre Kirkpatrick.
Scouts Inc. ranks:
No. 3 cornerback, No. 20 overall
Bio:
Was a shutdown corner for the national champions, who led the nation in total defense, passing defense and scoring defense. Did not have an interception last season, but he broke up nine passes, had four tackles for losses and forced two fumbles. Was a finalist for the Thorpe Award. Had three interceptions as a sophomore, when he also had seven passes broken up, four tackles for losses, a forced fumble and a fumble recovery. Arrested Jan. 17 for marijuana possession, but the charge was dropped.
[+] Enlarge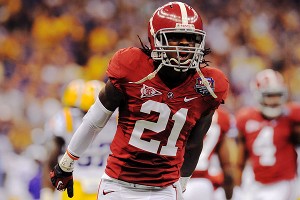 John David Mercer-US PRESSWIREDre Kirkpatrick was a shutdown cornerback for Alabama and plays a physical style.
Size:
6-foot-1 1/2, 186 pounds
40-yard dash:
4.51
Vertical jump:
35 inches
Broad jump:
10-foot-0
Broaddus Breakdown (viewed Arkansas, Florida, LSU and Tennessee games):
Of the cornerbacks that I have studied in this draft, he is by far the most physical. He is not afraid to throw his body around in support of the run or tackle when the receiver catches the ball. … Is one of those corners that can play either press man or in zone coverage. Is effective when he can get his hands on the receiver off the line because it allows him to get into position on the route. Can consistently re-route receivers, but the one time that he didn't do it he was beaten badly off the line by Florida's Andre DeBose, which resulted in a long touchdown. … Like him in zone coverage when he can play off and drive on the ball. Was impressed with how quickly he can read the route, see the ball and drive on it. When he drives on the ball, he doesn't give the quarterback much of a window to allow the ball through. … Plays with really good balance and quickness. Has some stop-start quickness. … Type of corner that teams will try to use double moves against because of how aggressive he tends to play. … Does a nice job of using his long arms to defend passes. Shows the ability to track the ball and play it in the air. Florida tried to throw the fade on him without success, and Arkansas tried to work the ball up the sideline without success. … Mentioned that he is not afraid to throw his body around. Took a nice shot on Arkansas' Joe Adams, who ran a crossing route with Kirkpatrick playing in zone. Kirkpatrick read the play, drove on the ball and laid a big hit on Adams to dislodge the ball. … If Kirkpatrick does have a technique flaw, it will be that he tends to drift in coverage, and this will happen to him in zone. By drifting, I mean he will float like he is not covering anyone in the scheme. … When he is focused, he can be outstanding because of his ability and his physical style. … Will usually line up at left corner but started the Florida game on the right side.
March, 12, 2012
3/12/12
12:45
AM ET
We begin our draft preview series with a look at LSU cornerback
Morris Claiborne
.
Scouts Inc. ranks:
No. 1 cornerback, No. 5 overall
Bio:
Won the Thorpe Award and SEC Defensive Player of the Year as a junior in 2011. Recruited as a wide receiver, he moved to cornerback as a freshman and started two seasons for LSU. His 11 interceptions are tied for sixth in school history. His 274 interception return yards rank second in school history. Also returned kickoffs, averaging 26.3 yards with a touchdown on 19 returns.
[+] Enlarge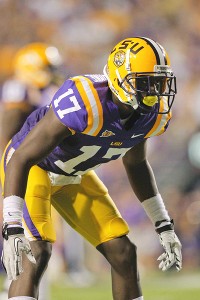 Derick E. Hingle/US PresswireLSU's Morris Claiborne is projected to be the first cornerback off the board.
Size:
5-foot-11 1/8, 188 pounds
40-yard dash:
4.50 seconds
Vertical leap:
34.5 inches
Broad jump:
9-foot-10
20-yard shuttle:
4.12 seconds
Three-cone drill:
7.01 seconds
Broaddus Breakdown (viewed Oregon, Florida, Arkansas and Georgia games):
Looks much taller on tape than what he measures. Long arms and quick feet. … Can play press or off with equal skill. Moves easy without much wasted motion. Has a smooth, relaxed backpedal. … Is a difficult corner to run away from because he uses his long arms and hands well to put himself in position on the route. One of his real strengths is his ability to mirror the receiver on routes. I would not say that he is in the same mold of
Arizona Cardinals
corner
Patrick Peterson
, but you can see that they were both taught the same way to play coverage. Will stab with his hand, get the receiver off balance, then position himself inside -- flipping his hips -- to work up the field. … Does a nice job for finding the ball in the air and playing it at its highest point. Was a former high school wide receiver, so you do see ball skills. Will take his eyes from the receiver, then turn his head quickly to find the ball. … Does a nice job in off coverage in reading the quarterback, then the route. Outstanding reactions to the ball once the ball is thrown. His foot quickness really helps put him in position to make the play with his long arms. … If he has a weakness, he is not nearly as physical a player as
Dre Kirkpatrick
of Alabama when it comes to tackling. There are plenty of times where you see him going low and to the ground instead of wrapping up the ball carrier, and this will cause him to miss. He will also take poor angles to the ball when it comes to tackling. Have seen the ball spill to the outside and he struggled to get off the block to make the play. This surprised me because of how physical he will play the receivers in press coverage. … One other point of interest is that he will struggle with his balance. It's just something that I picked up on tape and I didn't know whether it was a shoe issue or something that he just has to work on, but you will see him slip from time to time in coverage, but the ball will not go to his direction. … Overall, the best cornerback in the draft and will be the first one off the board because of his skill. Coverage is outstanding, but he is not as good as former teammate Peterson. Will need work on his tackling, but that is really his only major knock.