Dallas Cowboys:

2012 Draft Preview Series
April, 12, 2012
4/12/12
4:03
PM ET
The 24th installment of our draft preview series focuses on LSU safety Brandon Taylor.
Scouts Inc. ranks:
No. 3 safety, No. 68 overall
Bio:
Three-year starter at LSU who was a team captain for the SEC champions and BCS runners-up as a senior. Finished career with 160 tackles (11.5 for losses), 15 passes broken up and four interceptions. Had 71 tackles and two interceptions as a senior, when he wore No. 18, an honor at LSU bestowed on the senior who best represents the program.
[+] Enlarge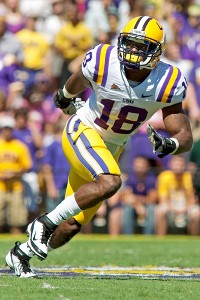 Cal Sport Media/AP ImagesBrandon Taylor wore No. 18 last season at LSU -- an honor bestowed on the senior who best represents the program.
Size:
5-foot-11 ¼, 209 pounds
40-yard dash:
4.53 seconds
Vertical jump:
33.5 inches
Broad jump:
9-foot-10
20-yard shuttle:
4.37 seconds
Three-cone drill:
7.32 seconds
Broaddus Breakdown (viewed Oregon, West Virginia and Arkansas games):
Is built like a strong safety, but you see him do some free safety things. Does a really nice job of finding the ball and getting in on the play. ... Plays off the blocks well. Will bounce off them at times. ... Was unique to study in the way they he would appear like he was in a bad position on the tackle, then readjust himself to wrap up to bring the man down. Can be a physical tackler. ... Has a burst to drive on the ball in coverage. Will also break well when the ball is thrown to the outside. Shows some range from the middle of the field. Showed some quickness with his range. Had in interception in which he was playing center field and the ball was tipped but he was right there to make the play. ... Got fooled on a vertical route in the West Virginia game when he got caught peeking at the quarterback instead of playing his man. ... Observed him in coverage out of the slot where he got beat, but then the next time was able to drive on the ball and make the plays. ... Is very aware when it comes to picking up players in coverage. Times when the corners would bust their coverage and he was able to adjust from his man and recover to help on the play. ... Did a nice job of driving on the football when it was thrown in front of him. Plays with good footwork, which has been a problem for several of the safeties that I have studied this spring. ... If he does have a trait that bothers me, at times he will take a strange angle to the ball, which will put him in funny positions to tackle. But when he is on, things are OK. ... Would be an interesting option for a team for two reasons: he is physical and he does have coverage skills. ... Was a former high school cornerback, so you see that he is comfortable carrying a receiver in the route. Has a feel for how to drive and break on the ball as well. ... Has the strong safety build but also shows free safety traits, which will give him an opportunity in this league.
April, 11, 2012
4/11/12
1:30
AM ET
The 23rd installment of our draft preview series focuses on Oklahoma State safety Markelle Martin.
Scouts Inc. ranks:
No. 4 safety, No. 76 overall
Bio:
First-team All-Big 12 selection as a senior, when he had 74 tackles (five for losses), 11 passes broken up, two forced fumbles and a fumble recovery. Three-year starter who only had three interceptions in his career, all as a junior. Did not participate in Oklahoma State's March pro day due to his knee injury, but he was timed at 4.43 in the 40 and measured with a 37-inch vertical jump the previous year.
[+] Enlarge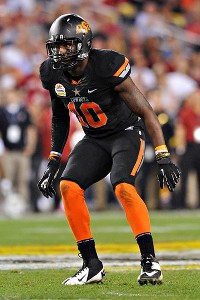 Chris Morrison/US PresswireOklahoma State safety Markelle Martin could improve his tackling by playing a little more under control.
Size:
6-foot-0 ¾, 207 pounds
40-yard dash:
4.48 seconds
225-pound bench press reps:
19
Did not work out at combine due knee injury
Broaddus Breakdown (viewed Texas A&M, Baylor and Stanford games):
Is much more of a free safety type than
Mark Barron
or
Harrison Smith
. … Would call him a 50-50 tackler at best. Will take some funny angles to the ball and tends to lunge when he gets in position. Had some plays where he missed badly in the open field, but also had a play against Stanford where he blew the receiver up on a crossing route, so you do see a physical side of him. Did have a wrap-up tackle when the ball spilled outside and he was able to get the ball carrier to the ground. … Shows the athletic ability to drive on the ball when he is covering in the slot. Pretty good job in the Baylor game of reading the out route from the slot and knocking the ball down. Plays with good range, and you see him more in coverage than Barron and Smith. … Good athletic ability to stay in position on the route. Plays with some foot quickness. Will carry his man up the field, as well. Looks more natural in coverage than Barron or Smith. Will get a little high and tall in his pedal, but it doesn't hurt him that much overall. … Had a bad bust in the bowl game on a seam route when he got caught looking into the backfield. The receiver ran right by him and
Andrew Luck
had no problem with the throw for a touchdown. Thought there might be some questions with his awareness after this because in the Texas A&M game, he didn't correctly read the crack block of the receiver and got hammered. In the Baylor game, he let the receiver run an inside route on him then cross his face without adjusting. You see one of these types of plays each game. … Has a reputation as a big hitter and you do see him try and line receivers up, but if he just played under better control, I am sure that his tackling would improve. … Has the speed and quickness to walk down in the slot to cover, whereas Barron and Smith have to take a physical approach with the receiver to make that happen. Barron and Smith have the better of Martin when it comes to anticipation and the ability to quickly read the play. Martin is a much better athlete, but he makes more mistakes. Has been awarded academic recognition for his classroom work, but there are times where he doesn't play smart football.
April, 10, 2012
4/10/12
12:01
AM ET
The 22nd installment of our draft preview series focuses on Notre Dame safety Harrison Smith.
Scouts Inc. ranks:
No. 2 safety, No. 35 overall
Bio:
Finished career with 309 tackles, including 18.5 for losses, and is the only player in Notre Dame history with at least 200 tackles, 15 tackles for losses and 15 passes broken up. Had seven interceptions in 2010, but didn't pick off a pass in his other three seasons for the Fighting Irish. Split time between safety and outside linebacker early in his career. Team captain in 2011 who graduated with a management-entrepreneurship degree the previous summer.
[+] Enlarge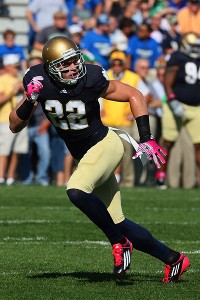 Brian Spurlock/US PresswireHarrison Smith lined up at strong safety and free safety at Notre Dame and plays with a physical style.
Size:
6-foot-1 7/8, 213 pounds
40-yard dash:
4.58 seconds
225-pound bench press reps:
19
Vertical jump:
34 inches
Broad jump:
10-foot-2
20-yard shuttle:
4.12 seconds
Three-cone drill:
6.63 seconds
Broaddus Breakdown (viewed USC, Stanford and Florida State games):
Lined up at both strong and free safety in Notre Dame's scheme. Really believe he is more of a strong than a free in the NFL. … Shows some similar traits as Mark Barron in the fact that he doesn't have great deep or catch-up speed, but he is not afraid to blow you up. Does a really nice job of being a physical player. Plays downhill. … Doesn't have the reaction of Barron once he sees the play, but you do see him working in that direction to get in on the tackle. Really tries hard to get to the outside from the middle of the field when the ball goes that way. If he has a flaw, it is that it takes him a little time to get going. Will waste some steps and there is not much sharpness in his breaks, but again, his effort is there. … Does a nice job of playing off blocks and throwing his body around. Not afraid to fill at the point of attack when coming forward. … Used as a blitzer in the Stanford game. Was able to get a pressure on Andrew Luck, which created an interception. … Viewed him as a wrap-up tackler. Only saw him miss one tackle in the open field, and that was against Stanford when he was off balance. … See him more in coverage against tight ends than receivers. Was solid in the Stanford game against their group of fine tight ends. Showed good position in route, but he's a little like Barron in that he needs to get his hands on the receiver to have a real good chance to stay in coverage. Gets away with a great deal of holding while in coverage. … Needs to keep things in front of him to really be effective. When he has to turn and run, he gets in trouble. … Is not the most fluid-moving player. That surprises me, because his 20 shuttle numbers from the combine are very similar to what some of the top cornerbacks run. … Looks like a much bigger player on tape and he plays with some pop. As mentioned before, you see him line up more as a free safety than you do Barron and see him more in coverage, but I don't think you want to line him up in the slot against receivers. Really has limited skills as a cover guy because of his speed, but teams will fall in love with his toughness and his ability to play with a physical style.