Dallas Cowboys:

2012 nfl training camp
August, 20, 2012
8/20/12
12:30
PM ET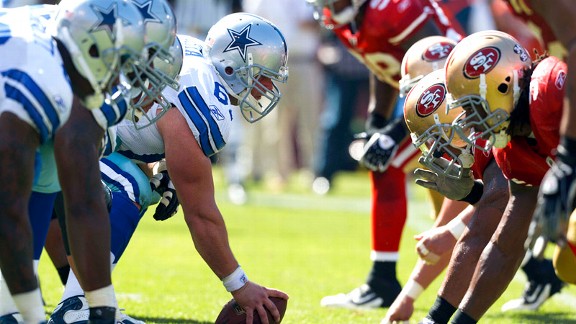 Jason O. Watson/US PresswireLike its NFC East rivals, Dallas is shuffling and searching for ways to solidify its offensive line.
The NFC East leads the league in hype. The huge media markets in which the teams play, the history of success, the rivalries ... all of it combines to create a perception that the NFC East is the best, most competitive and toughest division in the NFL. That the defending Super Bowl champion
New York Giants
play in it -- and are not the clear-cut favorites to win it again this season -- only adds to the perception, as does the growing excitement over an NFL regular-season opener between the Giants and the
Dallas Cowboys
16 nights from tonight.
But while Giants-Cowboys is fun, and each of those teams has something pretty intense going with the division's other two teams -- the Giants' recent struggles with the
Philadelphia Eagles
and the Cowboys' longstanding rivalry with the
Washington Redskins
-- the stats don't back up the NFC East as the league's toughest division anymore. The division is, by many measures, coming off its worst season ever. Last season was the first regular season in NFC East history in which no team won at least 10 games. Only the Giants finished over .500, and they gave up more points than they scored. Their Super Bowl run might have saved the division's honor, but it also disguised the troubling fact that the NFC East is no longer the Beast it used to be.
A large part of the reason for this, I believe, is the state of the division's offensive lines. We all know offensive line play is important, but in the NFC East these days, concern about the lines affects too many things. Teams that are strong on the line can control games. Teams that aren't cannot.
Eli Manning
and the Giants have been talking for months about wanting to not have to come back in the fourth quarter as much as they did last season, and the best way to avoid that is to control games from the start. Given the issues with their offensive line, they could find that a challenge once again.
But they're not alone. As we look ahead to 2012 and start assessing everyone's biggest questions, offensive line stands out as an issue for each of the NFC East's four teams. To wit:
The NFC has no shortage of star power. It has three great quarterbacks and one, Washington rookie
Robert Griffin III
, who's getting as much hype as any of the other three these days. It has some of the great wide receivers in the league in veterans such as
Hakeem Nicks
,
Miles Austin
and
DeSean Jackson
as well as rising stars such as
Victor Cruz
,
Dez Bryant
and
Jeremy Maclin
. The Eagles'
LeSean McCoy
ranks with the game's great running backs. And on defense, of course, the division is known for its great pass-rushers. Each team can rattle off names that give opposing quarterbacks heartburn.
DeMarcus Ware
.
Jason Pierre-Paul
.
Justin Tuck
.
Trent Cole
.
Jason Babin
.
Brian Orakpo
.
All of that makes the NFC East very exciting. But very often in the NFL, excitement and hype can conceal issues of quality. And if the NFC East really wants to be the best division in football again, it's not the quarterbacks or the wide receivers or even the pass-rushers that will bring it there. The NFC East's teams all need to start paying more attention to their offensive lines, because as those continue to erode, so will the division's annual claim to Beastliness.
August, 8, 2012
8/08/12
12:15
PM ET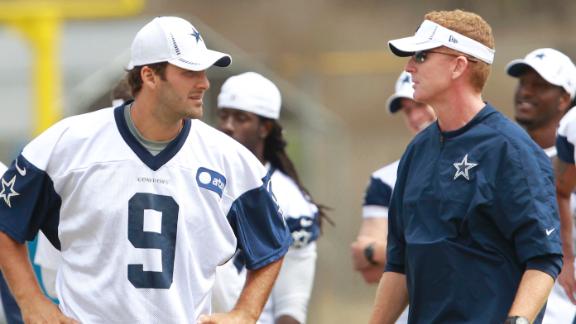 OXNARD, Calif. -- Much was made last year of the performance of
Dallas Cowboys
fullback
Tony Fiammetta
in connection with the breakout performance of running back
DeMarco Murray
. But the Cowboys let Fiammetta go this offseason and replaced him with veteran fullback
Lawrence Vickers
, who blocked for
Arian Foster
and
Ben Tate
last year in Houston and for
Peyton Hillis
the year before that in Cleveland. Vickers is a remarkably fun guy to talk to -- enthusiastic and engaging -- and here's what he told me about Murray when I spoke with him after Cowboys practice Monday:
[+] Enlarge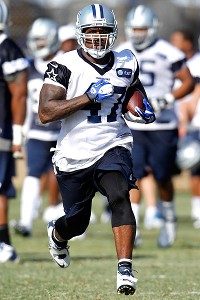 AP Photo/Paul SpinelliFullback Lawrence Vickers will be paving the way for DeMarco Murray this season.
"First of all, he's ambitious. And he's coming in to work. He's got that hard-nosed mentality, but he loves the game. And when you want to be great and you have ambition and goals and dreams and all those things, there's only one way to get there -- work, work, work. And that's what he wants to do. When it's his time to go, he wants to get in there. Everything he's doing, he's trying to do it to the best of his ability."
Vickers said his most important jobs as the fullback in the Cowboys' offense are "to lead by example and to be the eyes of the running back." Then he tried to demonstrate by standing in front of me with his back turned and asking if I could see anything. I could not. I am 5-foot-9, 190 pounds. Vickers is 6-0, 250. More relevantly. Murray is 6-0, 215 and likely cannot see around Vickers, either.
"He has to trust in me in order to go where I'm going," Vickers said. "You have to trust in me that I'm going to go to the right place, because you're following me. We have to be able to trust each other, and that just comes from repetition."
Murray obviously trusted Fiammetta with a great deal of success, so it's not as though running behind a fullback is some kind of new concept for him. But to those who have asked me whether there's anything to fear about Murray switching from Fiammetta to Vickers my answer is: If you met Lawrence Vickers, you wouldn't have to ask.
"I've got no complaints there," Murray told me. "He's a great guy, a great blocker, a smart guy and he gets after it."
Talking to Vickers fired me up. I wanted to go try to run through a defensive line. Fortunately for me, the opportunity did not readily present itself. If it had, I'd have asked Vickers to block for me. He'd probably have done it. He's a different sort of guy. I mentioned to him that the fullback position wasn't really a glory position in the NFL, and he agreed. He just doesn't care.
"I love it," Vickers said. "Because it's a job everybody can't do. So when you're doing something everybody can't do, and you're making it look good, that says a lot about you as a person. I don't need the glory, because at the end of the day, when those guys get in that end zone, when those guys go over to Hawaii, when those guys get in that Hall of Fame ... Emmitt Smith said it best: 'Couldn't do nothing without my fullback.' Not that my guys have to say that about me, but knowing that I was a part of that is enough for me."
August, 7, 2012
8/07/12
10:13
PM ET
OXNARD, Calif. -- I was going to start off writing about the
Dallas Cowboys
' center position, but it's such a beautiful night here I just feel too good to start off with a negative. So we'll get to center, but I'm going to start with the defensive line.
I was critical of the Cowboys' draft in general, and my feelings on third-round pick
Tyrone Crawford
were that they'd picked a guy who couldn't help them this year -- a project defensive end for a 3-4 defense when they'd already traded their second-round pick and still had 2012 needs to address. But watching Crawford practice -- watching him in drills against the likes of
Tyron Smith
-- it's easy to see how the Cowboys could indeed find a role for him this year as a situational pass-rusher in nickel or dime packages. I asked Cowboys coach Jason Garrett about Crawford and this year, and this is what he told me:
[+] Enlarge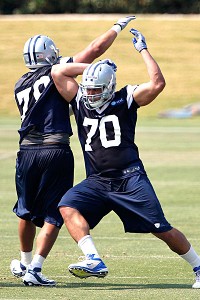 AP Photo/Tony GutierrezThird-round pick Tyrone Crawford has impressed during training camp.
"The vision we had for him in Year 1 was, 'Come in here and be a contributor as a pass-rush guy, and then we feel like you can be big enough to play the five-technique in our base defense.' We loved his relentless nature. Passionate kid still learning the game of football. His body's going to get bigger. He's going to get stronger. He has position traits to be a starter in the future, and right now he can have a role for us because we potentially like how he can rush the passer in a third-down situation."
Crawford is listed at 285 pounds, and most of the rest of the defensive linemen on the Cowboys' roster exceed 300. So they will need to see him bulk up before he can be a starter for them. But rushing the passer is a lot about speed, instinct and determination, and Crawford doesn't need to bulk up in order to deliver in that aspect of the game. So keep an eye out for how they deploy him on third downs. Could be that I was (hope you're sitting down!) wrong about that one.
Some other things I saw/heard/noticed/surmised during my second and final day at Cowboys training camp:
As great as the Cowboys' skill-position players are, they're going to have a hard time being productive if the center can't get the ball to the quarterback. And the Cowboys' centers... well, they struggle with that. Starter Phil Costa had trouble with it last year. The guys they thought would push Costa for the job this camp -- Mackenzy Bernadeau, Bill Nagy and Kevin Kowalski -- are all hurt. David Arkin, a guard who's never played center before, has been getting snaps there, but he was so bad Tuesday that they had to take him out of his spot as the second-team center, replace him with Harland Gunn (another guard they're trying out at center) and use Costa, the starter, as the third-team center. It was, to use a highly technical football term, not good. Bernadeau did do some work early in position drills and could start practicing later in the week, but Kowalski and Nagy don't look as though they'll factor into this mix in the preseason. Cowboys player personnel director Stephen Jones acknowledged after the practice that it was ugly, but he said he has high hopes for Bernadeau as a real option and that they weren't yet in the market for a free-agent center.

Bernadeau and Gunn stayed after practice to work on snaps on the side.

Fifth-round pick Danny Coale did a lot of work in individual wide receiver drills as well as punt return drills, though he was still held out of 11-on-11s as he recovers from his injury. He also could return to practice later in the week. Garrett didn't list him among the No. 3 wide receiver candidates earlier in the day, but it's possible he could work his way into the mix as the year goes along.

The guys Garrett did list were Kevin Ogletree, Andre Holmes and Dwayne Harris. He was making a point that Miles Austin's ability to play an inside slot position as well as play on the outside gives the Cowboys leeway when picking their No. 3, as they don't need it to be one or the other. He said they look at Ogletree and Harris as guys who can play both inside and outside while Holmes profiles more as an outside guy.

Austin, incidentally, is still out with a hamstring injury, but this is not being deemed serious because it's not as though Austin has a history of missing time with hamstring injuries. Wait. What? Oh.

After briefly leaving camp and coming back at the team's request, Cole Beasley continued to look good as a wide receiver and catching punts. Not sure if he can push himself into the mix, but he's playing very well.

DeMarco Murray looks fantastic, running with vision and power and showing no signs of the ankle injury that ended his 2011 season early.

And yeah, I could gush some more about how good Dez Bryant looks, but I feel like I've done enough of that. Just... I mean... if you don't want to draft him for your fantasy team, I'll be happy to scoop him up one pick later, is all I'm saying.

I head home to New Jersey on Wednesday, but Cowboys Camp Confidential is scheduled to run Friday and I have a bunch more stuff from Cowboys camp to share with you over the coming days and probably into next week. If the posts are a little light tomorrow, you'll know my plane doesn't have WiFi.
August, 4, 2012
8/04/12
11:45
PM ET

Claiborne
The news out of
Dallas Cowboys
camp on
Morris Claiborne
's knee Saturday was relatively good. Ed Werder reports that the injury is a
"minor" sprain of the MCL
and that Claiborne is likely to miss only a few practices. Obviously, it could be worse. The M could be an A, for instance, and the sprain could be a tear. The Cowboys are breathing easier as a result of the diagnosis, I'm sure. But this is still a knee injury and mildly alarming development that should prompt the Cowboys to be extremely careful with their first-round pick going forward.
The Cowboys have a ton invested in Claiborne. They spent big money in free agency on cornerback
Brandon Carr
and then used their first-round pick and their second-round pick to draft Claiborne because they believed (correctly) that cornerback was that big a weakness for them in 2011. As a result, however, of spending all of those resources on cornerbacks, they ignored needs at safety and on the offensive and defensive lines and upset incumbent cornerback
Mike Jenkins
, who responded by asking to be traded and sitting out much of the offseason program.
None of that will matter too much in the long run as long as Claiborne is as good as they believe he will be. But this is a young man who already missed the offseason practices while recovering from wrist surgery and now will be missing training camp and possibly a preseason game with a knee injury. Even if these medical issues are just bumps in the road and not a sign of a fragile player, he's still missing important time in his rookie development. And given how much they're counting on him to be excellent from day one, that's not good news.
Reports from camp last week indicated that receiver
Dez Bryant
was having his way with the rookie. That's to be expected, but it serves as a reminder of how much rookies in this league have to learn, and how vital these August practices are in learning them. As long as Claiborne's only out a few days, the Cowboys should have little to worry about. But they'd do well to make sure and manage him so that it doesn't become more serious than that.
July, 31, 2012
7/31/12
2:33
PM ET
I know, I know. Reason and perspective are strange and wary travelers when they wander into an NFL debate. But we're going to try to nudge them in again, for the sake of sanity.
The issue is this Jerry Jones quote that's getting all of this attention. Jones told
Dallas Cowboys
fans at
a pep rally this week
, "Y'all should come to Cowboys Stadium and watch us beat the Giants' asses." Predictably,
New York Giants
fans are annoyed (or maybe more amused) by this, since the Giants beat the Cowboys twice in the final four weeks of the season last year in games that determined the outcome of the NFC East race. Who is Jones to even suggest such a thing as a beating of the hind quarters of the defending Super Bowl champions?
I just think it's worth remembering where this was said. Jones wasn't giving an interview or being asked to predict the division. He was speaking at a pep rally -- specifically, trying to fire up Cowboys fans at "a festival-like event that featured a few skydivers and a performance from the franchise's famous cheerleaders." If you can't make outrageous, over-the-top boasts in the midst of skydivers and cheerleaders, well then where can you?
I think we all know Jones has respect for the Giants and what they did at the end of last year. He's spoken since the end of last season about needing to be more like the Giants, about how the way
Eli Manning
played ended up being the difference between the two teams, etc. I think that kind of stuff tells us more about what Jones really thinks than does whatever he decided to shout at a pep rally to fire up his fans on the first day of training camp. And for that reason, it's hard for me to get worked up and say Jones was out of line.
But that's just me. Continue, if you wish, with your outrage.