Dallas Cowboys:

2012 Rookie Review
January, 25, 2013
1/25/13
11:00
AM ET
[+] Enlarge

Tim Heitman/USA TODAY SportsTyrone Crawford could end up as the Cowboys' starting strong side defensive end if Anthony Spencer does not return.

Tyrone Crawford
Position:
Defensive end
How acquired:
Third round (No. 81 overall), Boise State
What he did:
Crawford developed nicely as the season wore on. He was active for every game but did not record a start. He finished with 33 tackles (18 solo) and five quarterback pressures. He was not able to get to the quarterback as much, but the Cowboys liked his build for the 3-4 and position flexibility at 6-4, 285 pounds. He also saw work on special teams on the kick return unit. The coaches lauded his work ethic and saw a player become more technically sound as the year went on,
Where he fits in the future:
It's possible he could be a starting strong side defensive end, especially if
Anthony Spencer
is not re-signed as a free agent. He has the ability to hold up against the run and also get up the field to provide some pass rush push. Monte Kiffin's strong-side ends during his time in Tampa Bay, like a
Greg Spires
, were often underrated and benefited from the attention given to other players up front. Crawford will have to learn the craft as he goes, but he will have a tremendous teacher in new line coach Rod Marinelli. In order to make this scheme switch, the Cowboys are banking on players such as Crawford being able to learn on the fly as they alter their preferences in defensive linemen.
January, 24, 2013
1/24/13
11:30
PM ET
[+] Enlarge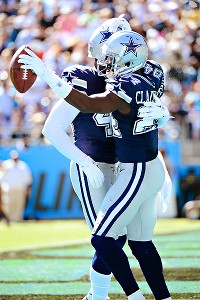 Bob Donnan/US PresswireMorris Claiborne had only one interception but was solid overall in his rookie season.
How acquired:
First-round pick (sixth overall), LSU
What he did:
The Cowboys' first pick of the 2012 draft had a solid rookie campaign. Claiborne allowed four touchdowns, knocked down eight passes, picked off one pass, forced a fumble and scored one touchdown in 2012. He did an excellent job in man coverage but struggled slightly in zone. Claiborne missed the offseason program while recovering from wrist surgery, sprained a knee during training camp and battled little health issues the rest of the way. Offenses targeted him 65 times, according to Stats LLC, and he had roughly two bad games the entire season.
Where he fits in the future:
Regardless of how he's used in the Tampa 2 defense, Claiborne is the future of this franchise. He's developed into a solid player and is listening to veteran corner
Brandon Carr
about how to be professional on and off the field. If Claiborne remains healthy he's got the skill set to become an elite corner, and that's something the Cowboys are expecting from him. Kiffin said his defense isn't glued in to using the corners in just zone coverage. He said the cornerbacks can play zone and man coverage, and if that's the case it won't hinder Claiborne's development.
January, 24, 2013
1/24/13
11:00
AM ET
[+] Enlarge

AP Photo/Brandon WadeInjuries kept Matt Johnson from making an impact, although he was on target to return had the Cowboys reached the postseason.

Matt Johnson
Position:
Safety
How acquired:
Fourth-round (135th overall), Eastern Washington
What he did:
Not much. Johnson battled hamstring injuries the entire season. At one point, he dealt with back problems as a result of a hamstring injury. The Cowboys didn't place him on injured reserve because they figured he would return. Once healthy, Johnson practiced for less than two weeks before re-injuring his hamstring. He was placed on reserve/injured, designated to return on Nov. 17. Johnson said he was healthy toward the end of the season and was on target to practice the week after the regular season ended if the Cowboys had reached the playoffs.
Where he fits in the future:
The Cowboys drafted Johnson because of his ability to make plays on the ball. In the time he practiced during the regular season, the Cowboys were impressed with his abilities. That, however, was under former defensive coordinator Rob Ryan. Now with new defensive coordinator Monte Kiffin in place, it will be interesting to see what type of role he has in the new defense.
January, 23, 2013
1/23/13
11:30
PM ET
[+] Enlarge

AP Photo/Paul SpinelliKyle Wilber played in 10 games his rookie season, mostly in an unfamiliar inside linebacker spot.

Kyle Wilber
Position:
Linebacker
How acquired:
Fourth round (No. 113 overall), Wake Forest
What he did:
Wilber played in 10 games as a rookie and saw most of his action on special teams. He played sparingly as a backup outside linebacker on defense to
Anthony Spencer
and
DeMarcus Ware
and finished with three tackles. He was eighth on the team in special teams stops with eight. His most extensive action came against Philadelphia on Dec. 2, when he played inside linebacker in the sub package because of injuries. Defensive coordinator Rob Ryan did not do him any favors by putting him in an unfamiliar spot, and he struggled.
Where he fits in the future:
The Cowboys touted his work as a possible edge rusher in their 3-4 system after his 13.5 sacks in four years at Wake Forest, but the move to a 4-3 seems to make him an odd fit unless he can fit in at strong side outside linebacker in Monte Kiffin's 4-3 defense. He does not have the size to put his hand on the ground to play defensive end and at times as a rookie he got overwhelmed when asked to hold up at the point of attack in practice. He was limited by a pair of hand injuries that took him out of preseason work and all but one preseason game. He has the athletic ability to make the move off the line and he should be more comfortable with the pro game as he enters his second year. He will need to improve as a special teams player.
January, 23, 2013
1/23/13
7:00
AM ET
[+] Enlarge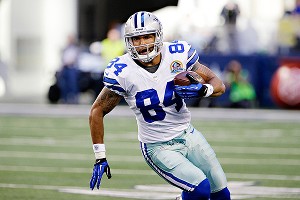 AP Photo/Tony GutierrezJames Hanna has shown he can run good routes and could be the No. 2 tight end behind Jason Witten next season.
Position:
Tight end
How acquired:
Sixth round (186th overall), Oklahoma
What he did:
Hanna finished the season with just eight catches for 86 yards. Hanna was third on the depth chart behind
John Phillips
and, of course,
Jason Witten
for the majority of the regular season. But injures to
Miles Austin
and
Dez Bryant
in the regular-season finale at Washington forced the Cowboys to put Hanna on the field in key situations. Hanna had three catches for 20 yards -- with his longest catch going for eight yards -- against the Redskins. Hanna was considered a pass-catching tight end coming out of Oklahoma, but there was some concern about whether he could block well enough on a consistent basis. Hanna struggled in this area until later in the regular season, but he did a nice job in the passing game overall.
Where he fits in the future:
Phillips is a free agent, and it appears he in unlikely to return. If that's the case, Hanna would move into the role of No. 2 tight end behind Witten. Hanna has displayed an ability to run good routes and make catches. The Cowboys' 2012 draft class was marred by injuries, but Hanna was one of a few who remained healthy for the bulk of the season. The Cowboys need durable players moving forward, and Hanna's ability to stay on the field is a positive.
January, 22, 2013
1/22/13
11:30
PM ET
[+] Enlarge

AP Photo/James D SmithInjuries in the preseason and in training camp limited what WR Danny Coale could show the Cowboys.

Danny Coale
Position:
Wide receiver
How acquired:
Fifth round (No. 152 overall), Virginia Tech
What he did:
On the first day of organized team activities, Coale suffered a stress fracture in his left foot that required surgery. It knocked him out of the rest of the preseason and limited his work early in training camp. When he was able to get on the practice field in Oxnard, Calif., he was slowed by a quadriceps that limited his work. His best day of practice came in a session against San Diego when he caught a touchdown pass from
Tony Romo
to end a two-minute drill. He caught two passes for 21 yards in the preseason but was among the Cowboys' final cuts. He spent most of the year on the practice squad before suffering a torn anterior cruciate ligament in a practice in November.
Where he fits in the future:
The hope is that Coale will be ready for the beginning of training camp, but that might be pushing it. The Cowboys could look for wide receiver help in the draft or perhaps look at a low-cost free agent, which would hurt Coale's chances. Because of the foot injury, he never really displayed the 4.3-second 40-yard dash time the Cowboys say he ran at Virginia Tech nor the quickness getting in and out of his cuts. He did show pretty good hands and toughness. He can play inside and outside, which is a plus, and he can be a cover guy on special teams. He even worked a few days as a holder in camp. He will have to turn heads in camp but he may have some time to work back from the serious knee injury. He falls into the "right kind of guy," category but two major injuries as a rookie do not help.
January, 22, 2013
1/22/13
2:00
PM ET
[+] Enlarge

AP Photo/Paul SpinelliA serious injury suffered in training camp and the Cowboys' switch to a 4-3 scheme will prove to be a challenge for linebacker Caleb McSurdy.

Caleb McSurdy
Position:
Linebacker
How acquired:
Seventh round (No. 222 overall), Montana
What he did:
McSurdy's rookie season ended early in training camp because of a torn Achilles tendon suffered during a non-contact drill. He spent the rest of his season rehabilitating from surgery and was still walking with a noticeable limp late in the year. The hope is that he will be ready for the offseason program in April.
Where he fits in the future:
He was drafted in part because he fit with the Cowboys' 3-4 scheme as a 6-1, 248-pound inside linebacker. His chances to make an impact have taken a hit with the injury and the switch to the 4-3 scheme. Coming out of the draft, the Cowboys loved McSurdy's makeup and willingness to compete and he could find himself in the mix as a backup middle linebacker to Sean Lee. He is an instinctual player, but the Cowboys felt he was a better athlete than some thought before the injury. To make a move on a roster spot, McSurdy will have to show he can play special teams. In a way he will enter this summer's camp the same way he entered last summer's: fighting for a chance to make the 53-man roster.
January, 22, 2013
1/22/13
11:00
AM ET
[+] Enlarge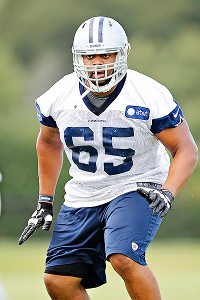 AP Photo/James D SmithRonald Leary was promoted to the active roster late in the season and could compete for a starting job.
Position:
Offensive guard
How acquired:
Undrafted free agent, Memphis
What he did:
Ronald Leary impressed the coaches in training camp after a slow start. Offensive line coach Bill Callahan said he could see Leary improve every day in practice with his strength and his overall knowledge of the game. Callahan said Leary is the type of player who needed to play against a better level of competition to get better. The Cowboys' goal was to keep Leary on the practice squad for the season, but the
Oakland Raiders
claimed him and Dallas blocked the move by promoting him to the active roster on Dec. 22. He was inactive for the last two weeks of the regular season.
Where he fits in the future:
When Leary was signed there was concern about a chronic knee problem, but the Cowboys' doctors determined it wouldn't be a problem in the short term. With Leary getting better and with the inconsistency of the interior of the offensive line in 2012, there is a chance he could compete for a starting job. At this stage, with the NFL draft months away, it appears he does have a future with the Cowboys.
January, 21, 2013
1/21/13
11:30
PM ET
[+] Enlarge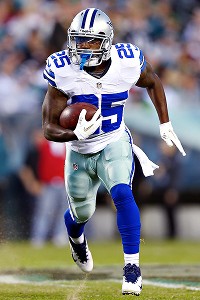 Elsa/Getty ImagesLance Dunbar will compete to be DeMarco Murray's backup next season.
Position:
Running back
How acquired:
Undrafted free agent, North Texas
What he did:
He spent the early portions of the season on the practice squad but was called up in October. Dunbar rushed for 75 yards on 21 carries during the season in a backup role. His value increased when
DeMarco Murray
missed six games with a sprained foot. Dunbar proved to be a player who can do different things -- he caught six passes out of the backfield, averaged 21.8 yards on kick returns and got work on special teams. In the second meeting with the
New York Giants
, on Oct. 28, Dunbar returned a kick 44 yards.
Where he fits in the future:
He needs more work in the passing game, especially in picking up the blitz, but it seems the Cowboys want to keep him around more than
Phillip Tanner
, the other backup running back. Dunbar has good speed and vision and seems to hit holes faster than Tanner. He will compete, possibly with Tanner in training camp, to be Murray's backup. The key for Dunbar, of course, is whether the new special teams coach thinks he can provide an impact on his unit.
January, 21, 2013
1/21/13
2:00
PM ET
[+] Enlarge

Tim Heitman/USA TODAY SportsBen Bass played in two games and made two tackles before landing on injured reserve with five games left in the season.

Ben Bass
Position:
Defensive lineman
How acquired:
Undrafted free agent, Texas A&M
What he did:
No player was more of a surprise to stick with the Cowboys than Bass, a native of Plano, Texas, who had a middling career at Texas A&M. He was offered a tryout at the rookie minicamp and turned that into an invite to training camp. He played well in the preseason -- five tackles, one sack -- to earn a spot on the practice squad.
Because of injuries he was called up to the active roster on Nov. 14 and played in two games. He made two tackles but an ankle injury landed him on injured reserve with five games to play.
Where he fits in the future:
He was a good fit for the Cowboys' 3-4 defensive scheme last season, but at 6-foot-5, 283 pounds he might be a better fit as the Cowboys make the move to the 4-3 under new defensive coordinator Monte Kiffin.
He possesses good natural strength and moves well for a bigger player. The best hope as the Cowboys go forward is that he can be a rotational player, but it might be asking too much to view him as a possible future starter. He has some versatility that will serve him well, but he will be a player who will face competition as the team looks to upgrade the defensive line.
January, 20, 2013
1/20/13
11:30
PM ET
[+] Enlarge

AP Photo/Kevin TerrellCole Beasley was active for 12 games and finished with 15 catches for 128 yards while working in the slot.

Cole Beasley
Position:
Wide receiver
How acquired:
Undrafted free agent, SMU
What he did:
Beasley quickly made a name for himself in the offseason but walked away from the team for a few days in training camp when he was not sure he wanted to continue. The Cowboys welcomed him back and he made the 53-man roster.
Beasley was active for 12 games and finished with 15 catches for 128 yards while working in the slot. He earned the trust of
Tony Romo
during the preseason and the quarterback pitched for Beasley to play more as the season went on when the Cowboys went to an empty look.
Where he fits in the future:
At 5-8, 177 pounds, Beasley lacks the size you want in a receiver to play on the outside, so he is limited mostly to being a slot receiver. He has the quickness and savvy to play on the inside and he is not afraid.
With the way the game is played today there is a spot for Beasley going forward, but he will face competition at the spot. He does not play on many special teams units, so that lack of versatility could work against him as the Cowboys define their backup wide receivers.