Dallas Cowboys:

2013 Week 16 DAL at WAS
December, 23, 2013
12/23/13
9:00
AM ET
LANDOVER, Md. -- The biggest play of the
Dallas Cowboys
' win against the
Washington Redskins
was without question
DeMarco Murray
's 10-yard touchdown catch.
But the Cowboys would not have been in position without
Terrance Williams
.
Williams
The rookie receiver had the longest pass play of the day on the winning drive, hauling in a 51-yard catch from
Tony Romo
that took the ball from the Dallas 28 to the Washington 21.
"I looked and saw Tony Rolling my way, and so I broke up and then saw the corner (
Josh Wilson
) slip, so Tony saw the same thing and he just let it go," Williams said. "The challenge was paying attention to the ball the whole way through."
And then not fumbling as he turned up field.
"I just didn't want to do nothing dumb," Williams said, "and try to fight for more yards. So the whole key was just when I caught it to get down and live for another day."
That Williams even played in the game was not a given. He suffered a hamstring injury last week against the
Green Bay Packers
and did not practice on Wednesday or Thursday. He was limited on Friday.
"Terrance is really a special kid," coach Jason Garrett said. "He's such a determined individual. He wants to be really, really good at this game and works very hard at it. He's a very soft-spoken guy, but he wants to be a great player. And he wants to help our football team. He didn't practice on Wednesday and Thursday, and was determined to come back from his injury and practiced well on Friday and instilled some confidence in us. He made some plays. He made a lot of little plays in the game, and certainly made the big play at the end to change the field position."
Williams finished with four catches for 84 yards. It was the second-most yards he has had in a game this season, and most since he had 151 on four catches on Oct. 6 against the
Denver Broncos
.
"He puts himself in good position because of how much he cares," Romo said. "He goes about his business the right way, and you really appreciate a guy like that."
December, 22, 2013
12/22/13
7:55
PM ET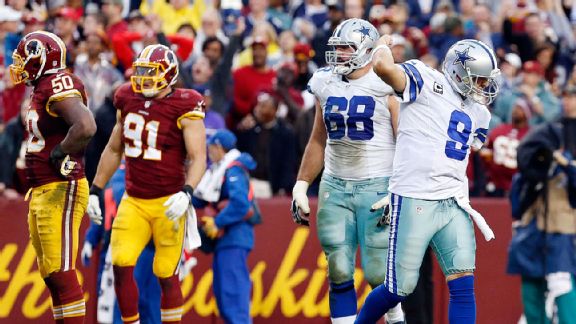 Geoff Burke/USA TODAY SportsThis time, in an elimination game of sorts, Tony Romo tossed the winning TD pass in the final minutes.
LANDOVER, Md. – Maybe
Tony Romo
was being sly when he said it, but it was certainly noteworthy.
The
Dallas Cowboys
'
24-23 win
against the
Washington Redskins
on Sunday was barely over when Romo stepped up to the microphone surrounded by media.
"That felt like an elimination game for us," Romo said. "Obviously, we did what we needed to do to win this football game as a playoff game. Guys kept having belief and we came out on top."

It wasn't a true elimination game, of course. If the
Philadelphia Eagles
went on to lose to the
Chicago Bears
on Sunday night, then this outcome was moot. If the Eagles went on to win, this most certainly would have been an elimination game.
And we all know about Romo's 1-6 mark in elimination games, a stat by which only he seems to be burdened.
Very little will be made this week of his 23 comebacks in the fourth quarter or overtime; in that department, since Romo became the starter in 2006, he is second only to
Peyton Manning
.
Very little will be made of what he did Sunday.
But think of what was hanging over Romo, some of which has been his own doing.
He was a week removed from his two fourth-quarter interceptions that led to the
Green Bay Packers
' leaving AT&T Stadium with an almost unfathomable 37-36 victory. Romo's decision to eschew a running play to throw a pass to
Miles Austin
was exhaustedly replayed over and over again. Suddenly, Romo's relationship with Jason Garrett was called into question, with some believing the coach did not protect the quarterback in the media.
Romo was 51 weeks removed from his last trip to FedEx Field; he threw three interceptions in his most recent elimination game. The last interception came with three minutes to play and the Cowboys down three points. They ended up losing 28-18, and Romo labored out of the stadium with a back injury that would eventually require surgery.
On Dec. 30, 2012, the Cowboys started that drive at their own 15-yard line with 3:33 to play. On Sunday they started a drive on their 13 with 3:39 to play. Romo's back was aching from a hit earlier in the game, and the Cowboys' season was on the line.
Facing second-and-10 on the drive's fourth play, Romo stepped up and away from the Redskins' pressure. There was open field in front of him, but he had little in his legs because of the sore back.
Terrance Williams
broke free deep as
Josh Wilson
slipped. Romo hit him for a 51-yard gain.
That was followed by a 17-yard "smoke" route to
Dez Bryant
to the Washington 4. After two plays stalled, the Cowboys tried RB
DeMarco Murray
for a third time, but he was stymied to his left and lost 9 yards as he attempted to switch fields.
Fourth-and-goal from the 10.
Fourth and the season.
The Cowboys called timeout with 1:16 to play.
"We just felt we wanted to get everybody settled down," Garrett said. "We wanted to bleed that clock a little bit. We knew it was going to be a one-down type of play for us. We were going to score or not score. So if we were to score we wanted to make sure they had as little time left on the clock, so I thought that was handled well, and I think the byproduct of that was that we got everybody calmed down after that emotional play before."
More bad memories might have come to mind during the timeout. In the 2010 season opener at FedEx Field, Romo's would-be game-winning touchdown pass to
Roy Williams
on the final play was nullified because of
Alex Barron
's penalty.
This time, on fourth down, Romo had
Jason Witten
, Austin and Williams to his left and Bryant to his right. The Redskins rushed four, with Murray chipping
Ryan Kerrigan
before he moved down the field. With
Rob Jackson
, who intercepted a Romo pass to Murray last year, lurking to his left, the QB stepped up in the pocket.
"Tony recognized what they were trying to get accomplished, and what you have to do in that situation is buy a little time because there's not very many holes in the zone initially," Garrett said. "You have to give your guys a chance to wiggle free."
As Romo stepped up in the pocket, Murray drifted down the field and wide. Romo found him at the 2, and Murray was able to plow into the end zone for the game-winning touchdown.
Romo completed 4 of 6 passes for 93 yards on the drive and, for at least a few days, exorcised demons that chased him for a week, a year and his career.
"We've been in a lot of close games over the last three years, and I think a lot of that is because we're not a football team that is going to go out and consistently win 40-10," Romo said. "I think that's everyone's goal, but it's not reality. The more times you put yourself in these situations, you've got to keep getting better. For us, it's just, you have to have a stronger belief in yourself than the doubt of other people. I think our football team has that."
Another elimination game looms next week.
December, 22, 2013
12/22/13
7:45
PM ET
LANDOVER, Md. -- The
Dallas Cowboys
' best coaching adjustment Sunday was made by a cornerback.
Scandrick
Orlando Scandrick
had seen enough of ill teammate
Brandon Carr
being overmatched by
Washington Redskins
receiver
Pierre Garcon
, who caught 11 passes for 144 yards and a touchdown. Scandrick took matters into his own hands during the fourth quarter.
"Honestly, I just took him," Scandrick said. "We had to get a stop and I knew they were going to go to him."
Scandrick, who vowed this week to find a way to bounce back from back-to-back bad performances, came up with the Cowboys' biggest play of the game. With the Cowboys trailing by six, Scandrick blanketed Garcon on a third-and-6 crossing route, breaking up
Kirk Cousins
' pass to force the Redskins to punt with 3:47 remaining.
That gave
Tony Romo
and the offense the opportunity to drive 87 yards for the game-winning touchdown.
Once Scandrick saw Washington's formation, he knew the route that Garcon was going to run, based on his film study. Scandrick said it was the third time the Redskins ran that play Sunday.
"If you watch the tape, you'll see I played it a little bit low and I undercut," Scandrick said. "Honestly, I didn't think he would throw it, but he did."
Cousins was 11-of-15 throwing to Garcon before the Redskins' last two possessions. He targeted Garcon on three incompletions during those series.
The coaches didn't say anything to Scandrick about his decision to switch the assignments, he said. Carr got the best of Garcon in the Cowboys' Oct. 13 win over the Redskins, but that individual battle was about as lopsided as could be in the rematch after Carr didn't practice on Thursday and Friday because of an illness.
"They got enough faith in me," Scandrick said. "That's a great matchup for [Carr]. It just wasn't his day. Not making any excuses for him, but he was sick. He was dragging. He's getting IVs before the game. He looked out of it."
Asked if Scandrick has the authority to change coverage assignments, defensive coordinator Monte Kiffin said, "It just depends. It depends on the situation, what coverage you're in. There's a lot of things that go into that type of deal."
It's a good thing Scandrick made the switch Sunday. It's a wonder it didn't happen a lot earlier in the game.
December, 22, 2013
12/22/13
7:30
PM ET
LANDOVER, Md. -- All
DeMarco Murray
wanted was a chance.
Just give the man a chance to finish the ball game. Just give the man a chance to help you win a game, especially if he's playing well.
The Cowboys awoke out of their season-long slumber with Murray and gave him an opportunity to help them win, not in the second quarter, but the fourth quarter when it counts.
[+] Enlarge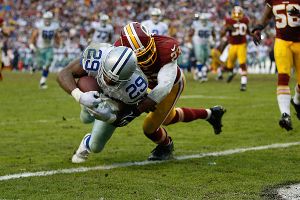 AP Photo/Evan VucciDallas running back DeMarco Murray carries the ball into the end zone for the winning touchdown against Washington.
Murray rushed for 96 yards on 22 carries with one touchdown in the Cowboys' thrilling
24-23 victory
against the
Washington Redskins
on Sunday.
It was Murray showing what patience means when he was stopped on a third-and-goal from the one for a nine-yard loss late in the fourth quarter.
And after a timeout, Murray made himself helpful. He chipped a defender, helping tackle
Doug Free
, to give quarterback
Tony Romo
some time.
Murray snuck into the flat and caught a pass with his back to the end zone and he spun around and stepped in for the go-ahead score. It was Murray's first receiving touchdown of his career.
After the score, you saw was a hockey scrum breaking out in the corner of the end zone with yellow flags being thrown and Murray yelling at somebody without a helmet.
When Murray got to the sidelines, a warm embrace with
Dez Bryant
occurred. It was like two brothers happy for one another.
Murray was finally given the chance he was waiting for. He's not one to complain about his touches or when he gets them.
He calmly just wants to get the ball, like everybody else.
"I wanted to stay on the field and I was fortunate (they) kept me on the field," Murray said. "It was a good play by Romo and a good call by Bill."
Bill is Bill Callahan, the play-caller whose own play calls are questioned on a regular basis around here. He doesn't run Murray enough or use him in the right situations.
On the third-down play, the Cowboys tried to use Murray by running off tackle, but guard
Ronald Leary
was pushed into the backfield. Murray attempted to take the play across the line of scrimmage but was dropped for the loss.
It seemed the season was coming to an end after Murray's loss.
"My first instinct is to try and make a play, but after looking at it I should have kinda of ate it there," Murray said. "But as a competitor you're always trying to make a play, and you got to move on."
It didn't make sense to rush Murray off the outside where there was a chance he could get pushed out of bounds and stop the clock. Callahan should have used Murray up the gut where the Cowboys seemed to have success.
Faced with their season on the line, Murray made the biggest catch and score. It was in the same end zone where Roy Williams caught a dramatic pass from Romo that should have beaten the Redskins back in 2010, only to see a holding call negate the play.
There were no holding calls here on Sunday.
Just smiles and a relief Murray is getting his chance to help this team.
"It was huge, it was huge, man," Bryant said. "We talk about these kinds of moments all the time, then when it happens it makes you feel good, and it makes you emotional, and it brings you together and tighter."
The Cowboys need to stick with Murray as they head into their play-in game with the
Philadelphia Eagles
next Sunday at AT&T Stadium. If the Cowboys are down a score or even two with some time, Murray needs his touches. It takes pressure off the passing game that's hazy with Romo's back/foot problems, a disappearing
Miles Austin
and a shaky play-caller.
When Murray gets 20-or-more carries, the Cowboys are 11-0. His 1,073 marks the first time since 2006, the Cowboys have had a 1,000-yard rusher. He's got nine touchdowns this season, the most since Marion Barber had 10 in 2007.
You might not like Murray's measured running style that doesn't display speed, but quickness. He did bang out a 43-yard run, the second longest play of the game.
Yet, if the Cowboys want to win the NFC East next week, everything starts with Murray.
December, 22, 2013
12/22/13
6:57
PM ET
LANDOVER, Md. -- The show goes on.
What a wild episode this was for one of the longest-running, highest-rated soap operas in sports. It felt like a twisted comedy at times, like a horror show at others, packed in plenty of heart-pounding drama and ended up being a feel-good story, at least for a week.
Were you not entertained by the Dallas Cowboys' 24-23 win against the
Washington Redskins
with the season on the line for America's Team?
[+] Enlarge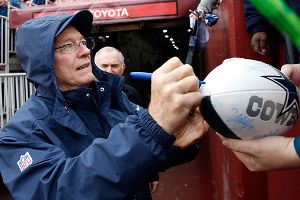 AP Photo/Alex BrandonJerry Jones autographs a football before Dallas' game against the Washington Redskins.
"Well, tonight I don't think there's going to be any apathy," said owner/general manager/show director Jerry Jones, poking fun at himself for the public relations mess he made on the radio this week.
No, it wasn't wise for ol' Jerry to compare the Cowboys to a show days after a devastating meltdown against the
Green Bay Packers
, citing the sky-high entertainment factor to dismiss a question about whether he was concerned about fan apathy. There are times that the truth doesn't need to be told.
But Jones, as relieved as he was giddy after the
Tony Romo
-led rally to defeat the 3-12 Redskins, could laugh about his foot-in-mouth moment in the FedExField visitors' locker room Sunday afternoon.
About an hour earlier, Jones was on the verge of tears. He feared the Cowboys' season was essentially ending when Dallas fell behind by nine points in the fourth quarter, in large part because of a couple of turnovers that had a sick comedic quality to them but left Jones feeling just as low as he did while watching the Cowboys blow a 23-point lead to the Packers last week.
"The thought was out of contention, to still have a chance here," Jones said. "It was down there at that particular level.
"This thing that we do is an amazing thing. It's an exciting thing. The wins and the elation is real. Really getting kicked is real, too. I didn't have this before the Cowboys in business life. I didn't have these kind of feelings, and I had some hard disappointments, some bad phone calls in my business."
Even the elation of the Cowboys' game-winning drive took a cruel twist.
DeMarco Murray
, who played a starring role as the ridiculously underused running back in the drama leading up to the game, managed to lose 9 yards while trying to punch it in on third-and-goal from the Redskins' 1. It briefly seemed that the wrong-way run would be the most memorable moment from Murray's outstanding day (22 carries for 96 yards and a touchdown).
"I'm glad the team and Romo and Murray and the coach have more of those [guts] than I do, because I had started thinking about the alternative," Jones said. "I am not proud of that at all."
As tight end
Jason Witten
said, "You can't think about the roller coaster. You've just got to find a way."
The way the Cowboys found to win was better than anything Jones could have scripted. Romo, the franchise quarterback with the most infamous December record in NFL history, made the kind of play that his boss dreamed of while the ink dried on the six-year, $108 million deal signed this spring.
Romo, who was bothered by a tight back, bought enough time with his feet to allow Murray to drift from the flat to the front right corner of the end zone. They connected for a season-extending 10-yard touchdown pass that capped a nine-play, 87-yard drive.
How fitting that the touchdown catch was made by Murray, the target on the Romo interception that sealed the Cowboys' fate on this field in last season's finale.
Then a defense that has been a disaster much of the season -- and especially the last couple of weeks -- closed the door by not allowing the Redskins to pick up a first down when all Washington needed was a field goal to win the game.
Here the Cowboys are again, playing a de facto NFC East title game in Week 17.
Road losses to the
New York Giants
and Redskins were horror shows for the Cowboys in the past two season-enders. Can they have a happy ending at home against the
Philadelphia Eagles
this time?
Stay tuned, as if that was ever in any doubt.
December, 22, 2013
12/22/13
4:11
PM ET
LANDOVER, Md. -- A few thoughts on the
Dallas Cowboys
'
24-23 victory
over the
Washington Redskins
:

What it means for the Cowboys:
They're alive. For the third straight year, the Cowboys will play a Week 17 game for the right to win the NFC East and make the playoffs. Somehow.
Trailing 23-14, the Cowboys rallied on
Tony Romo
's 10-yard touchdown throw to
DeMarco Murray
on a fourth-and-goal play with 1:08 to go. The defense was able to come up with a stop, and now the Cowboys welcome the
Philadelphia Eagles
to AT&T Stadium next week to try to make the playoffs for the first time since 2009. The Cowboys are 5-0 in the NFC East for the first time since 1998 and snapped a two-game losing streak.
It was not pretty, but it will do. It also continued to show the team's ability to bounce back from tough losses. The Cowboys did it earlier in the season against the Redskins after their 51-48 loss to the
Denver Broncos
, and they did it after their 31-30 loss to the
Detroit Lions
when they beat the
Minnesota Vikings
.
Stock watch:
Terrance Williams
, rising. On the winning drive, Williams caught two passes for 66 yards, including a 51-yarder that set up Murray's touchdown catch. Williams finished the day with four catches for 84 yards, which is his second-most in a game this season.
Murray hits mark:
It should have happened last week against the
Green Bay Packers
, but DeMarco Murray went over 1,000 yards on the season with a 43-yard run in the second quarter.
Murray finished with 96 yards on 22 carries and enters the final game of the season with 1,073 yards, which is even more impressive considering he missed two games earlier in the season with a knee injury. He is the first Cowboys running back with 1,000 yards in a season since
Julius Jones
had 1,084 in 2006. Murray also had his ninth rushing touchdown of the season when he bulled his way in from the 3 on the Cowboys' first drive. It's the most rushing touchdowns by a Dallas back since
Marion Barber
had 10 in 2007.
Oh, by the way, he scored the winning touchdown.
Defense comes up with stops:
The offense did the defense no favors by starting out the second half with turnovers on consecutive possessions that led to Washington touchdowns and a 20-14 lead.
The Cowboys were able to overcome a bad penalty by
J.J. Wilcox
on a third-down play to hold Washington to a field goal, then came up with the only punt of the second half when
Orlando Scandrick
broke up a
Kirk Cousins
pass to
Pierre Garcon
. They also flustered Cousins into poor throws on the final drive.
What's next:
The Cowboys close the regular season at AT&T Stadium against the Eagles. The Cowboys beat Philadelphia 17-3 on Oct. 20 at Lincoln Financial Field with what was their best defensive effort of the season. They kept
LeSean McCoy
in check (55 yards), limited
Nick Foles
to 80 yards passing before knocking him out of the game and intercepted
Matt Barkley
three times in the fourth quarter.
December, 21, 2013
12/21/13
2:00
PM ET
IRVING, Texas -- For the past seven years, every time he has played the
Washington Redskins
,
Dallas Cowboys
tight end
Jason Witten
has known he would see linebacker
London Fletcher
.
Sunday is likely to be the last time, with Fletcher saying he is 99.9 percent sure he will retire after the season.
Fletcher
Witten
With Fletcher's retirement, Witten would take over the NFL's ironman streak of consecutive games played for position players. Fletcher will play in his 255th straight game Sunday, and make his 214th straight start.
Witten will play in his 170th straight game on Sunday. Houston punter
Shane Lechler
has played in 188 straight games.
"Anything like that labels you as just getting up there," said Witten, who is 31. "It is hard to play consistently and at a high level like he has every week, week in and week out. I've been fortunate to be healthy, and that's a big part of it. Obviously, London -- that's just unbelievable at that position to do it as long as he's done it."
Witten missed one game as a rookie in 2003 with a broken jaw.
Over the years, Witten has developed a healthy respect for Fletcher.
"London's a great competitor," Witten said. "He kind of defeats all the football odds. He's not big. He's not overly fast. But he's just a great football player and he's done it for a long, long time. I heard about his starts streak. It's hard to play that many games, and that's all you need to know about a guy like that is every Sunday he comes and he brings it. Just a true pro. Great player, and obviously a great career. I've enjoyed going against him the last seven or eight years, and just a great competitor."