Dallas Cowboys:

2013 Week 3 STL at DAL
September, 23, 2013
9/23/13
10:30
AM ET
ARLINGTON, Texas -- As a golfer,
Tony Romo
knows the secret is in the dirt, as Ben Hogan once said of work on the practice range. He knows it's true as a quarterback, too.
Romo
Coming out of the preseason Romo talked about some mechanical tweak he made to his throwing motion that he felt would help him greatly when the games became real.
He always mentions these kind of adjustments without going on and on about them, but whatever it is, he believes it has helped his accuracy.
"No, it's just random and I'm getting lucky," he laughed as he walked to an AT&T Stadium elevator after Sunday's 31-7 win against the
St. Louis Rams
.
Through three games, Romo has completed 83 of 115 passes, good for 72.2 percent. He entered Week 3 as the NFL's most accurate quarterback.
Romo entered the season with a 64.7 completion percentage for his career. In a full season, his career-best was 66.3 percent in 2011.
On Sunday, Romo completed 17 of 24 passes, giving him 34 games in which he has completed at least 70 percent of his passes.
Troy Aikman
holds the team record with 39.
Since 2006 only
Peyton Manning
(45),
Drew Brees
(44),
Philip Rivers
(39) and
Matt Schaub
(35) have more games of 70 percent or better.
September, 22, 2013
9/22/13
8:25
PM ET
ARLINGTON, Texas – When is the last time the
Dallas Cowboys
' defense played this well?
"I can't recall when I've seen us play better. Ever," owner/general manager Jerry Jones said.

Gotta love some of that good ol' Jerry hyperbole, huh?
It's not like Jerry had to go all the way back to the '90s glory days to recall a time when Dallas played pretty darn good defense. How about the last time the Cowboys made the playoffs?
Then again, the 2009 season does seem like so long ago. That's when the Cowboys closed out the regular season with the first consecutive shutouts in franchise history, clinching the NFC East division. Dallas allowed the second-fewest points in the league that season.
Not coincidentally, the Cowboys' lone playoff win since 1996 came in 2009.

This might not be the best defense during the owner's 25-year tenure, but the Cowboys have legitimate reasons to be confident that they have a playoff-caliber defense again.
Monte Kiffin's unit gave up a lot of yards in Week 1, but the defense forced five turnovers and keyed the Cowboys' win over the Giants. The Cowboys held Kansas City to 17 points and 313 total yards in a losing effort in Week 2. And the defense was dominant in Sunday's rout of the
St. Louis Rams
, holding
Sam Bradford
's bunch to 232 total yards and seven points.
The Rams' offensive line, which didn't allow a sack in the first two games, couldn't block the Cowboys. Dallas had six sacks, including two by
DeMarcus Ware
. That had a lot to do with St. Louis' inability to convert on third down (1-of-13).
"It's just one more step to trying to get where we want to go," cornerback
Brandon Carr
said. "We're still trying to establish our identity.
"Just across the board, we want to be that physical, aggressive, high-energy defense. Everybody swarming, everybody getting to the ball, guys in the right position to make plays, just flying around and having fun. This is Week 3. We still have some more progress to go, but this is a step in the right direction."
Defensive tackle
Jason Hatcher
, who had a sack for the third straight game, added: "The sky's the limit for this defense. We've just got to keep the bar high and work during the week."
September, 22, 2013
9/22/13
7:47
PM ET
ARLINGTON, Texas – For a week,
Dallas Cowboys
cornerback
Morris Claiborne
had to live with getting run over by Kansas City running back
Jamaal Charles
.
Claiborne
It took him four snaps on Sunday to put that to rest – and worry about his injured left shoulder – when he was able to blow up
St. Louis Rams
wide receiver
Tavon Austin
on a quick throw to the flat.
Forget the difference in size between the players, because it did a world of good for Claiborne's confidence.
"I wanted that opportunity to come back again," he said. "I had it last week and I failed at it. That's one of those things all week I wanted that opportunity to present itself again, and I think I handled it well."
Claiborne, who came off the bench again with
Orlando Scandrick
starting, was credited with just one more tackle in the game, but he also had a pass breakup in the end zone in the fourth quarter. Coach Jason Garrett was even willing to let a dubious pass-interference penalty in the fourth quarter slide.
"I thought he did a really good job of just playing the guy the right way," Garrett said. "I mean, that play happens a lot in football. I think he's getting healthier and healthier, and I think with that he becomes a more and more confident player."
September, 22, 2013
9/22/13
7:32
PM ET
ARLINGTON, Texas -- Playing quarterback in the NFL is never easy, but Tony Romo's job Sunday was easier than most days he has had since becoming the Dallas Cowboys' starter.
Romo's numbers were not staggering in
the Cowboys' 31-7 win
against the
St. Louis Rams
-- 17-of-24 passing, 210 yards, three touchdowns, no interceptions -- but they were effective.
Romo was the biggest beneficiary of
DeMarco Murray
's afternoon.
[+] Enlarge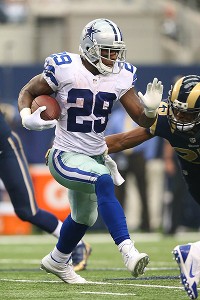 Matthew Emmons/USA TODAY SportsDeMarco Murray has feasted against the Rams defense, gaining 428 rushing yards in his past two games against St. Louis.
Murray ran for 175 yards on 26 carries and a touchdown. In the first two games the Cowboys ran the ball 39 times, however, only 34 were called running plays. On Sunday the Cowboys ran it 34 times for 193 yards.
"I think a lot of their plan was minimized because of it," Romo said.
The last time Romo threw only 24 passes in a game that he started and finished was 29 games ago … against the Rams on Oct. 23, 2011 when Murray ran for a team-record 253 yards.
The only time Romo had three touchdown passes with fewer completions was the 2009 season opener at Tampa Bay when he had just 16 completions in throwing for 353 yards.
"Obviously when you run the football the way we ran it, it really makes your life as a quarterback that much better," coach Jason Garrett said. "A lot of the burden is taken off you. When you can hand the ball off and have success and get in favorable down and distance situations and then you start getting favorable matchups in the passing game, it's really the way you want to play."
The Cowboys did not have a game last year in which they ran the ball more than they passed. Through the first two games Romo threw the ball 91 times and it was on him to make all of the plays.
"You'll have one or two games like this and you'll have one slanted the other way and you have to throw it more times than you want to," Romo said. "That's going to be part of the season, but it's nice to just give them the ball and let those guys go."
But it wasn't like Romo just managed the game.
Garrett said Romo made "big-time" touchdown throws to
Dez Bryant
(fired over
Cortland Finnegan
),
Gavin Escobar
(threaded over linebacker
Will Witherspoon
), and
Dwayne Harris
(pinpointed over a cornerback).
It was the 29th three-touchdown game of Romo's career. It was the 34th time he completed better than 70 percent of his passes. It was the 50th time he had a passer rating of better than 100 (137.4).
"I thought he saw things really well throughout the game," Garrett said. "I thought he made some big-time throws … I thought he threw the ball where he needed to throw it and I just thought he was really comfortable."
September, 22, 2013
9/22/13
6:50
PM ET
ARLINGTON, Texas – As
J.J. Wilcox
emerged from the tunnel after hearing his name announced as a
Dallas Cowboys
starter for the first time, the rookie safety paused briefly and pointed upward.
He had to let his mother, Marshell, who passed away on Aug. 13 after a lengthy bout with lupus, know she was on his mind.
"She would have wanted that," Wilcox said after playing well in
Sunday's 31-7 rout
of the
St. Louis Rams
. "She's truly missed. I dearly love her."

Wilcox
Wilcox's performance in the win was certainly a worthy tribute. His mother would have plenty of reason to be proud of her only son.
It's an impressive accomplishment for a rookie with one season of college experience at his position to earn a starting job at this point of the season. It's especially remarkable for Wilcox, who was a running back and receiver until his senior year at Georgia Southern, considering the tragic circumstances of his summer.
Wilcox created a lot of buzz with his athleticism, instincts and penchant for delivering punishment the first few weeks of training camp. He seemed on the verge of challenging 10-year veteran
Will Allen
for a starting job after a strong outing in a preseason game against the
Oakland Raiders
before getting a phone call he'd long feared. He hurried home to Cairo, Ga., after being informed that his mother likely didn't have much time left to live.
Marshell Wilcox, 49, died the next night. J.J. Wilcox missed the final week of training camp and the first few days after the team returned to Valley Ranch to grieve and help his father, James, and sister, Lesha, deal with the aftermath.
The Cowboys treated Wilcox with the appropriate amount of respect and kindness, telling him to take as much time as he needed. However, the harsh truth is that it's hard for a rookie with so much to learn to make up for missing a week and a half of practice reps.
Yet, since returning to the Cowboys, a heavy-hearted Wilcox has refused to let his personal tragedy ruin his rookie season.
"It's motivation," said Wilcox, whose dad was in the stands Sunday. "Sad, still hurts me to this day, but I'm going to stay strong. I know what she would want. I'm going to stay strong for my dad and my sister back home. It helps push me and motivates me."
There Wilcox was, starting in Week 3 and playing a significant role in the Dallas defense's dominant performance against the Rams, making three tackles and no obvious mistakes in coverage against an explosive St. Louis offense that sputtered Sunday.
Wilcox, whose preparation and communication was praised by fellow safety
Barry Church
and cornerback
Brandon Carr
, isn't a temporary plug. The Cowboys' front office sees him as a long-term solution for a position that has been problematic for years.
"I think you all saw it in training camp, that he had a chance to be a high-caliber player," owner/general manager Jerry Jones said. "We think that is the case. I look out there and I see him, I see Church, and I see a safety position that I kind of like."
Maybe the only thing that could have made Wilcox's starting debut better was if his interception counted. The pick and long return was negated by a roughing-the-passer penalty against defensive tackle
Jason Hatcher
.
"I'm going to have to tell him I'm sorry about that," Hatcher said.
No need for that. There will be plenty of chances at picks -- and plenty of opportunities to make his mother proud -- in Wilcox's bright future with the Cowboys.
September, 22, 2013
9/22/13
6:37
PM ET
ARLINGTON, Texas -- This isn't baseball, but is it too early to talk about magic numbers?
Sure it is, but a
31-7 win
Sunday against the
St. Louis Rams
has the
Dallas Cowboys
looking down at the rest of the NFC East.
The Cowboys will have no worse than a share of first place as they enter October even if they were to lose next week to the
San Diego Chargers
.
Edging a game over .500 in Week 3 is hardly worth celebrating -- and this is by no means a lowering of the bar -- but the Cowboys have been a picture of mediocrity the past two years with consecutive 8-8 finishes.
The more the Cowboys can stack up wins early in the season the better, especially with the way the rest of the NFC East looks right now.
The division has three wins in the first three weeks and the Cowboys have two of them.
[+] Enlarge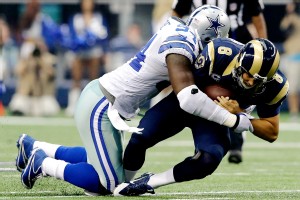 AP Photo/LM OteroDeMarcus Ware got the 114th and 115th sacks of his Cowboys career Sunday.
The
Washington Redskins
and
New York Giants
are 0-3 and don't look like the teams that won the division last year (Redskins) or the Super Bowl two years ago (Giants). The
Philadelphia Eagles
are 1-2 and Chip Kelly already is facing questions in his first season as coach.
Who knew the Cowboys would look so stable?
"We needed this type of game," said defensive end
DeMarcus Ware
, who picked up sack Nos. 114 and 115 of his career, passing Harvey Martin for the most in team history. "Coming off the loss we just had to Kansas City this sort of puts us back on track."
The Cowboys' 24-point margin of victory was the second largest since Jason Garrett took over as head coach. Only a 44-7 win against Buffalo on Nov. 13, 2011 was better. Three weeks prior to that game they beat the Rams 34-7 with
DeMarco Murray
rushing for a franchise-record 253 yards on 25 carries.
Murray managed only 175 yards on 26 carries Sunday, including a 2-yard touchdown run in the second quarter that gave the Cowboys scores on their first three possessions and a 17-0 lead.
The defense was stifling. The Rams had one first down in the first half.
Sam Bradford
was not sacked in the first two games of the season (and four in a row dating back to last season), but he was sacked six times Sunday. The last time the Cowboys had six sacks in a game was an overtime win at San Francisco on Sept. 18, 2011.
Tony Romo
played that game with a punctured lung and fractured rib. His ribs were merely bruised this time and he did not need a pain-killing injection before the game.
"You feel good when you win and it doesn't feel good when you lose," said Romo, who completed 17 of 24 passes for 210 yards and three touchdowns. "That's probably the aftereffect. This Monday will feel good. Last Monday probably didn't feel as good."
The goal now is to make sure a week from Monday, they feel good after playing San Diego. The Giants play at Kansas City. The Eagles are at Denver. The Redskins are at Oakland.
"We can't be a roller coaster," Ware said. "We've got to be consistent. It's going to take heart and hard work to do what we want to do."
Even if it is ridiculously early in the season, things are shaping up in the Cowboys' favor.
Yet even owner and general manager Jerry Jones, the king of optimism, did not take the bait, sounding more like the process-oriented Garrett.
"I think that before we start putting the dirt on the coffin, figuratively speaking, I think we better wait and see some more games played," Jones said. "This division could turn out to be as strong as horseradish. It's early and these teams are evolving."
September, 22, 2013
9/22/13
6:30
PM ET
ARLINGTON, Texas --
Dallas Cowboys
defensive tackle
Jason Hatcher
turned into the Speaker of the House.
After Wednesday's practice, he spoke to his teammates and named names. Not in the way you would think he did, but just in general. He mentioned players such as
DeMarcus Ware
,
Tony Romo
,
Jason Witten
and himself as leaders.
Hatcher said everybody needs to play better.
Everybody.
[+] Enlarge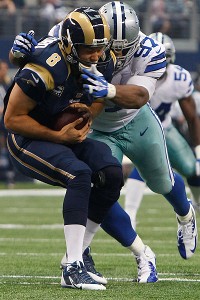 Richard W. Rodriguez/Fort Worth Star-Telegram/MCT via Getty ImagesJason Hatcher's actions spoke volumes Sunday in the Cowboys' win over the Rams.
Hatcher is irked his private chat with his teammates slipped through the proper channels and got to the media.
There was this report Hatcher was upset at a pick-six Romo threw in practice and he decided to call out Romo.
"That's a complete fabrication," Romo said to ESPN Dallas. "It's funny how people make this stuff up."
Hatcher said it never happened and referred to his quarterback as his brother and said he loved him.
"I think those reports are inaccurate," coach Jason Garrett said of a beef between Hatcher and Romo. "One of the things we try to do as a football team is empower the people. Get everybody invested. Get players invested, get coaches invested and guys to take leadership roles. This is their football team."
Oh, yeah, the Cowboys had a game to play Sunday and did so, beating the
St. Louis Rams
31-7 at AT&T Stadium.
The Speaker of the House spoke to the team after the game, too, thanking them for their efforts.
Hatcher set the tone early with a tackle on the first run play. Hatcher finished with two tackles, a sack, a tackle for loss and three quarterback hits.
The Cowboys seem to be playing with a chip on their shoulder these days. Maybe all of these 8-8 seasons have finally upset some stomachs.
As you get older, you look back on your life with regret sometimes. The Cowboys review the 2006 playoff loss to Seattle and Romo's fumbled snap on a field goal try as a wasted opportunity. The next season, a No. 1 seed and first-round bye wasn't good enough as the Cowboys were knocked out by the
New York Giants
in the NFC divisional round.
In 2009, the Cowboys were a better team, but not as good as
Brett Favre
and the
Minnesota Vikings
in the divisional round and lost.
In 2011 and 2012, the Cowboys could have clinched a playoff berth with a victory in the regular-season finale. The Cowboys lost both times.
And now this season, after a season-opening victory against the Giants, the Cowboys lost in Kansas City, 17-16, in Week 2.
Hatcher had seen enough.
"It was supposed to be private," Hatcher said of his chat. "I don't do stuff for attention. I'm just a number, I'm not a name, I'm not a star player, I'm a role player. I do my job on this team, that's what I do. I'm not trying to get in the media and be the face of the franchise. I'm serving my purpose and I'm doing what I feel I'm supposed to do. I'm doing everything from my heart. That's me in a nutshell. I'm not out here trying to get it back to the media. I don't know how it got back to the media -- it wasn't supposed to -- it was for my teammates and not for anybody else's ears."
Hatcher said he didn't need to set the tone for his team. Yet, it was needed because whenever you step up in front of your family and tell them to improve, you better be out front.
"In fact, it's inspirational with Hatcher, especially inspiring the team, and of course those guys backing it up with [their] play," Jerry Jones said. "In order to really make that work, [you do it] with emotion and persuasion when you need to be a real player."
One of Hatcher's closest friends on the team, like Romo, supported him.
"It's just how people should play and we played that way this week," Ware said of Hatcher's talk. "Everybody calls us a roller-coaster team and we're not trying to be that. We're trying to be consistent every week."
The Cowboys (2-1) are in first place in the NFC East. Hatcher asked reporters who the Cowboys play next week because he honestly didn't know. (It's San Diego.) The only thing Hatcher watches on TV is "Breaking Bad," and that series is about to conclude. So Hatcher is taking this one-game-at-a-time approach seriously. His focus is on the Cowboys and not so much on what's happening at his alma mater, Grambling State, which fired coach Doug Williams recently.
Hatcher's focus is on ending these roller-coaster seasons. He wants sustained success.
"We look too good on paper, man, to let games like Kansas City slip through our fingers," he said. "And we came out and we played it well [Sunday]."
September, 22, 2013
9/22/13
3:54
PM ET
ARLINGTON, Texas -- A few thoughts on the Dallas Cowboys'
31-7 win
against the
St. Louis Rams
.
What it means for the Cowboys
: The Cowboys moved to 2-1 and for the first time in five years opened a season with back-to-back wins at AT&T Stadium.

It was as thorough a performance as the Cowboys have had in the past two years. They jumped out to a 17-0 lead after their first three possessions and extended it to 24-0 after opening the third quarter with an impressive 80-yard drive that ended with a
Tony Romo
touchdown pass to rookie tight end
Gavin Escobar
.
But this was about the running game.
After running for 124 yards on 39 carries in the first two games, the Cowboys ran for 193 yards on 34 carries against a St. Louis defense that entered Sunday ranked sixth against the rush. It was the best Cowboys rushing performance since they put up 227 yards at the
Baltimore Ravens
on Oct. 14, 2012.
That game ended in a loss. This one was never really in doubt.
Stock watch:
Rising --
DeMarco Murray
. He must like the Rams. In 2011, he ran for a franchise-record 253 yards against St. Louis. On Sunday he had 175 yards on 26 carries and a touchdown. The Cowboys are 10-0 when Murray has 20 or more rushes in a game in his career.
Early risers:
Starting fast has been an issue since Jason Garrett took over as head coach, but that hasn't been the case so far this season.
The Cowboys have scored on their first possession in each of the first three games this season but were finally able to score a touchdown on the opening drive when Romo hit
Dez Bryant
on a 2-yard fade route with 7:06 left in the quarter.
The Cowboys scored on their first three possessions of the game. The last time they were that prolific came in a 44-7 win against Buffalo on Nov. 13, 2011, when they scored on four straight possessions.
Sack-happy Cowboys:
St. Louis entered the game as the only team not to have allowed a sack in the first two games.
Sam Bradford
was sacked on his fourth pass of the game with a blitz off the edge by cornerback
Orlando Scandrick
.
The Cowboys ended up with four sacks in the first half and six for the game.
DeMarcus Ware
broke Harvey Martin's unofficial franchise record with a third-quarter sack of Bradford after beating a double-team. Ware now has 115 sacks for his career. His first sack came on St. Louis' second drive after overpowering left tackle
Jake Long
.
What's next:
The Cowboys travel to play the
San Diego Chargers
next week. They are 4-1 all time in San Diego with their last win coming in the 2005 season opener (28-24).