Dallas Cowboys:

2013 Week 8 DAL at DET
October, 28, 2013
10/28/13
8:58
PM ET
IRVING, Texas --
Dallas Cowboys
cornerback
Brandon Carr
did not need to recite what happened Sunday when
Detroit Lions
wide receiver
Calvin Johnson
caught 14 passes for 329 yards.
Carr saw most of it up close and personal, but he swears his confidence is not in tatters.
"You know what I've been through to get here? Just from childhood until now, I've been through so much, so many obstacles, struggles, things thrown at me, people saying I couldn't do this, couldn't do that," Carr said. "I just get up each and every day, put my shoes on and go to work. I knew I had a big challenge [Sunday] and I was ready for it. I'm always up for these challenges. This is what you play for. I learned a lot for myself within that game. Some things I could have done differently. Some things I was proud of myself for doing. At the end of the day, I stood in there and I fought and that's all you can ask for. I'm going to get better as time goes, we're going to get better as a unit, but it definitely hasn't shaken my confidence. It might have boosted it. It might sound crazy, but I learn from games like that. It's time to move on and go on again."
The Cowboys mixed their coverages on Johnson, according to coach Jason Garrett. Carr followed him all over the field, but they played man-to-man some, mixed in zone, had safety help at other times. Whatever they tried, it did not work, but the Cowboys did not use any extreme measures to slow Johnson, like employing the strategy the
New England Patriots
used on
Atlanta Falcons
tight end
Tony Gonzalez
and not letting him off the line of scrimmage.
"They have other players on their team that we felt like we had to defend as well and certainly we gave Calvin Johnson a ton of attention, immense amount of respect for the guy, we've played against him before, we've seen him play against other guys and we felt like we had a pretty good matchup with Brandon and we challenged him," Garrett said. "We gave him some safety help by leaning that way or play cover 2 or reroute at the line of scrimmage or do a combination of those things. He's a damn good player and there were instances in that game where we had two guys on him, they threw it up anyway and he went up and made the play. He's that kind of player."
Carr was able to break up a pass to Johnson that led to a
Sean Lee
interception, but wishes he was better in situational football against Johnson.
"An awareness of who's hot, who's the go-to guy and just different things you have to fight back and find a way to make a play on them, or find a way to get them covered up," Carr said. "He was hot and they just kept feeding him, which is what you're supposed to do with your horse. You're supposed to feed him the ball and target him as many times as they did, and he made a lot of plays for them and kept them in the ballgame and down the stretch he was the one that helped them get the victory."
October, 28, 2013
10/28/13
8:00
AM ET
DETROIT -- The good news is that the
Dallas Cowboys
have had to come back from emotional losses like the one they suffered Sunday against the
Detroit Lions
.
The bad news is that it keeps happening.
Two of the Cowboys' four losses this season have been by a point. A third was on a final-play field goal against the
Denver Broncos
after a late
Tony Romo
interception. Last year they lost in overtime against the
New Orleans Saints
.
Dan Bailey
missed a potential game-winner at Baltimore last year. In 2011 they had the crushing losses in back-to-back weeks against the
Arizona Cardinals
(icing the kicker) and
New York Giants
(Jason Pierre-Paul's blocked field goal).
[+] Enlarge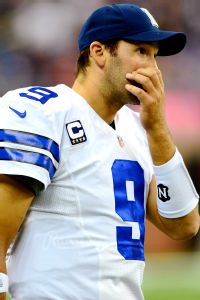 Andrew Weber/USA TODAY SportsWe "will stick stick together and go back to work and will get better," Tony Romo said. "It's the only approach you can take."
"Our football team has been through this," Romo said. "Tough loss, have to be able to put it behind you and come right back. It's not going to happen (Sunday). It will happen (Monday) after guys get a chance to review the tape, find out what we could have done better and go back to work. What you do is you grab a bunch of people and put them on your football team, who have the ability to mentally understand that there are good games and bad, that you're going to play well, you're not going to play as well. You've got to come back next week and be at your best. That will start during practice. If you let it hang over it will creep into the season as it gets later. Our football team has a bunch of guys, in my opinion, who care about each other, stick together and are competitive and mentally tough individuals who will stick together and go back to work and will get better. It's the only approach you can take."
Since 2010 only the
Miami Dolphins
have had more losses by three points or fewer (13) than the Cowboys (11).
"It's never easy to lose," defensive tackle
Nick Hayden
said. "No one likes losing. It's the NFL. You've got to move on and prepare for the next one."
The next one is at AT&T Stadium against the
Minnesota Vikings
, but it sounds so much easier to say than to actually do, despite Jason Garrett's one-day-at-at-time proclamations. At some point these losses have to haunt and lead to doubt when they are in these situations time and time again.
"I'm sure that has happened in the past, but I think this football team is different than four, five, six years ago," Romo said. "You've got to try and get rid of that. You win, you lose. You go look at it, you get better from it and then you wash it away and go right to the next game. That's the best approach you can take in the National Football League and gives you the best chance to succeed each week. You can't get too high and you can't get too low. I mean, it's moments like this are the emotional times."
October, 27, 2013
10/27/13
9:00
PM ET
DETROIT -- It's not getting any better.
The confidence level, while still there from the people inside the locker room, seems to be waning on the outside.
The
Dallas Cowboys
defense did it again on Sunday afternoon.
[+] Enlarge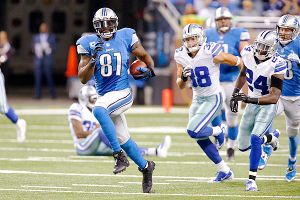 AP Photo/Duane BurlesonCalvin Johnson was just seven yards shy of the NFL record for most receiving yards in a game.
It gave up a franchise-record 329 receiving yards to
Detroit Lions
receiver
Calvin Johnson
, but with the game on the line, the defense failed to make the plays necessary to win.
The Cowboys lost to the Lions,
31-30
, at Ford Field because of the defense's inability to get enough pressure on quarterback
Matthew Stafford
, hold down the running game and of course make a play on the last drive of the game.
"We got to finish games and we didn't finish it on defense," defensive tackle
Jason Hatcher
said. "We had a chance to win it on defense with a minute left and they came up with a big play and it's on the defense."
The Cowboys clung to a 30-24 lead with 62 seconds left when Stafford took over. The big play was a 40-yard strike to wide receiver
Kris Durham
, who ran past cornerback
Orlando Scandrick
with 33 seconds remaining.
The next play, Johnson caught a 22-yard pass at the goal line before cornerback
Brandon Carr
knocked him down as the clock wound down.
"It's very frustrating," cornerback
Morris Claiborne
said. "Brandon had tremendous coverage on his guy and he was still able to use his physical nature, his long arms and his big body to come up with some of those catches."
Stafford decided against faking a spike and dove into the end zone with 12 seconds to play for the final score.
"We had a shot at the end of the game," defensive coordinator Monte Kiffin said. "We can't give them that."
This was one of those games where the defense did everything Kiffin's 4-3 is supposed to do. It forced four turnovers and still lost. Kiffin's defense mixed up man and zone coverage on Johnson. It picked up one sack, Hatcher's in the fourth, but failed to ruffle Stafford. Kiffin's defense also gave up 24 fourth quarter points.
Defensively the Cowboys have failed this team in 2013:
At least six receivers have caught at least 100 yards in a game.

According to Elias Sports Bureau, the Cowboys are the first NFL team to allow four quarterbacks to throw for at least 400 yards in a single-season.
Guess what?
Drew Brees
,
Aaron Rodgers
,
Eli Manning
,
Robert Griffin
III and maybe
Jay Cutler
(if he returns from a groin injury) are looming in the winter months.
At the end of this contest with the Lions, the Cowboys had three rookies on the field in the secondary in
B.W. Webb
,
Jeff Heath
and
Jakar Hamilton
due to injuries.
Three main defensive players are out with injuries. End
DeMarcus Ware
(thigh) was doing more work on the sidelines watching and trying to calm
Dez Bryant
than playing. End
Anthony Spencer
is home recovering from microfracture surgery and defensive tackle
Jay Ratliff
is getting ready to work out for other teams.
The no-name defense is left in its place and given the salary cap space, less than $2 million, trading for a veteran isn't going to happen.
"It's the NFL, you're here," Scandrick said. "You get in the game you're expected to make plays. They don't really care if you got a backup."
Kiffin has to take the blame here. While Johnson is hard to cover and beat up the Cowboys' secondary, the front four has to knock down the quarterback. The front seven can't allow 143 rushing yards.
Reggie Bush
became another running back to take control of the passing attack from the backfield with his eight catches for 30 yards.
You could point to the draft and the injuries and ineffective play for the reasons why the Cowboys lost on Sunday afternoon.
The bottom line is these players aren't good enough.
"We did a good job of getting turnovers but we struggled to stop them in the second half," said linebacker
Sean Lee
, who had two interceptions. "A lot of area to improve. We started the game strong but we didn't finish strong. We let them score and we let them handle the ball and at the end of the game we have a great shot to win. We give up a bunch of big passes and that's unacceptable."
October, 27, 2013
10/27/13
8:40
PM ET
DETROIT --
Brandon Carr
did everything he could on Sunday against
Calvin Johnson
.
It still wasn't enough.
While Johnson finished with 14 catches for 329 yards and one touchdown in the
Detroit Lions
'
31-30 victory
against the
Dallas Cowboys
, Carr had a busy day himself. Carr, a Flint, Mich., native, had nine tackles, a pass breakup and he recovered a fumble by Johnson.
"It was challenging, we never had an answer for him," Carr said of Johnson, who had the second-best receiving performance in league history. That's the guy they kept feeding and keep feeding. We just didn't adjust quick enough to take him out of the game and they rode him to a victory."
There were times when quarterback
Matthew Stafford
didn't care if there were two defenders on Johnson. Stafford completed a pass with Carr and rookie safety
Jeff Heath
on Johnson. In zone coverage designed to double Johnson, he found soft spots in the zone to make catches.
"That's what he does, that's what
Dez Bryant
does. Those types of players, they have a knack for getting the ball and jumping out for the ball," Carr said.
At one point, rookie
B.W. Webb
covered Johnson because the Lions moved Johnson to the slot.
It was a frustrating day for the Cowboys' secondary which allowed 488 passing yards and five pass plays of 25-yards or more. Johnson made a spectacular 87-yard catch-and-run on a slant. Johnson stiff-armed Carr in the chest and kept running until Heath pushed him out of bounds at the Dallas 3.
"It's crazy, shoot, I mean, we got one-on-one coverage and were able to hit on it a lot," Johnson said. "I don't know what our percentages were, but we were able to hit on a lot of deep passes, intermediate, we were all over the place."
Carr gave a brief answer when asked was Johnson's performance the best he's ever seen.
"I don't know," he said. "It's up there."
October, 27, 2013
10/27/13
8:30
PM ET
.
DETROIT -- It's not always pretty, but passion is part of the package with
Dez Bryant
.
And it was far from the
Dallas Cowboys
' biggest problem Sunday afternoon at Ford Field. In fact, Bryant's sideline outbursts had nothing to do with the fact that the Cowboys went home with a 4-4 record after a gut-wrenching
31-30 loss
to the
Detroit Lions
.
That won't stop the debate from raging all week about whether Bryant is another diva receiver. It's an easy but inaccurate assumption to make.
Bryant's sideline outbursts, separate shouting matches with
Tony Romo
and
Jason Witten
, certainly looked ugly. They definitely qualify as bad PR and proof that Bryant's maturation process is far from finished.
But calling Bryant's sideline behavior a serious problem for the Cowboys? Please. Stop the drama. And don't even start the T.O. comparisons.
All had been forgiven by the time the cooling-off period before the media is allowed in the locker room had passed. That's because Bryant's bosses and teammates know that his passion is pure. They know there is nothing remotely malicious about his motivation.
"It's all about winning," Bryant said. "I promise that."
Bryant, a 24-year-old man who has done a lot of growing up during his four NFL seasons and still has plenty left to do, doesn't just want to win. He's absolutely obsessed with winning, something that earns Bryant respect from veterans such as Romo and Witten, both of whom he has repeatedly credited for helping him overcome his tragically dysfunctional background and develop into an elite receiver.
"I love that kid like a brother," Witten told reporters. "There are no hard feelings.
DeMarcus [Ware]
and I talked to him. He's a great receiver and plays his tail off week in and week out. It's as simple as that. It's a disappointing loss. Dez is a guy who plays with his heart. We all do. Those things come up."
You wish those things wouldn't come up in such spectacularly cringe-worthy fashion. Bryant's sideline temper tantrums Sunday were childish, but they were rooted in a competitive nature that the Cowboys love.
The Cowboys will continue to work with Bryant on properly channeling his passion, but they're more than willing to deal with a little drama from a freakish talent determined to do everything in his power to end Dallas' playoff drought.
"That's emotion, and I don't place any issue on his demeanor or his sideline activity," Cowboys owner/general manager Jerry Jones said. "He's a very emotional player and this was a tough game for him to compete in because he wanted to really contribute and do everything he could for the team and to win. I have no issue at all in terms of criticizing him for sideline demeanor or sideline behavior."
[+] Enlarge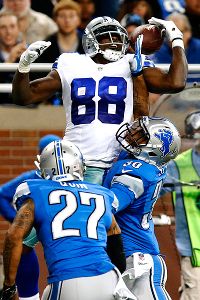 AP Photo/Duane BurlesonAfter the game, in which Dez Bryant caught two TD passes, none of the Cowboys had a problem with his sideline outbursts.
Notice that Bryant didn't do any complaining after his four-catch, 22-yard performance in the season opener. He praised his teammates and talked about being patient after the Cowboys' win over the
New York Giants
.
And you will never hear Bryant utter a bad word or even hint at anything negative about Romo, a quarterback he reveres and essentially considers to be an authority figure.
Why did Bryant go off on Romo with the Cowboys up six points Sunday afternoon? He feared the game was slipping away and was frustrated that he wasn't being given opportunities to do something about it.
Bryant was vague about the details of that discussion, and Romo claimed that it wasn't about No. 88 asking for the ball. That's a bunch of bull, but Romo's point about Bryant not being a "me guy" is right on.
Bryant plays with a belief that he's the baddest man in the building -- yes, even when the magnificent Megatron is in the midst of a historically dominant performance -- and craves opportunities to prove it while helping his team win.
Frankly, Bryant didn't get enough opportunities Sunday. There's no good reason for him to have to wait until there are 51 seconds remaining in the first half before Romo throws a pass in his direction. He should never be targeted only six times, three of which he caught for 72 yards and two spectacular touchdowns.
"He gets a lot of attention from the opposing defenses and he wanted the football," Cowboys coach Jason Garrett said. "And we want guys who want the football. Dez has never been a distraction to our football team. He is a really positive asset to our team, on the field and off. The way he works, his passion for the ballgame -- that's good stuff. He's competitive. He wants it. He wants to make a difference in the game."
If you're going to bark on the sideline, you'd better produce when the ball comes your way.
As far as that goes, Bryant held up his end of the bargain. Midway through the fourth quarter, Bryant caught a deep out, made a safety miss and sprinted down the sideline for a 50-yard touchdown that should have sealed Dallas' victory.
Alas, the Cowboys managed to blow a 10-point lead in the final 6:45, leading to Bryant's passion boiling over and a confrontation with Witten after the Lions' go-ahead score with 12 seconds remaining.
"He just wanted me to calm down a little bit," Bryant said. "Y'all saw what happened. They scored at the end of the game. I'm like, who wouldn't be pissed? Who wouldn't?"
Who wouldn't? Someone who didn't care passionately about winning. There's no doubt about how much Bryant cares.
There are better ways for Bryant to express his passion, but as far as the Cowboys' concerns go, that doesn't even make the first page of the list.
October, 27, 2013
10/27/13
8:00
PM ET
DETROIT -- There was a thought starting running back
DeMarco Murray
would play for the
Dallas Cowboys
in Sunday's game against the
Detroit Lions
. But Murray missed his second consecutive game with a sprained left knee.
Murray
Murray's absence might have surprised Cowboys owner/general manager Jerry Jones.
"I think DeMarco Murray could have gone," Jones said after the Cowboys' 31-30 loss to the Lions. "I don't know what risk we would have taken with him, but he could have gone."
Murray was limited in practice this week and said if he was practicing he expected to play.
The Cowboys might have been being cautious with Murray by sitting him out another week. His replacement, rookie
Joseph Randle
rushed for 26 yards on 14 carries.
Lance Dunbar
also rushed for 16 yards on five carries.
Starting defensive end
DeMarcus Ware
and wide receiver
Miles Austin
also missed the game with injuries. Ware has a thigh injury and he could return for next week's game against Minnesota.
Austin's return from a hamstring injury is uncertain. The Cowboys have discussed shutting him down until he gets 100 percent.
Injuries have become an interesting topic around the Cowboys after the team released defensive tackle
Jay Ratliff
.
Ratliff's agent, Mark Slough, disputed the severity of his injuries. Team officials said Ratliff underwent a sports hernia surgery last year, but it was later revealed it was a much more severe injury.
Slough said Ratliff tore muscle off his pelvic bone and that it would take a year to recover.
October, 27, 2013
10/27/13
7:40
PM ET
DETROIT -- What
Detroit Lions
wide receiver
Calvin Johnson
did against the
Dallas Cowboys
was unreal.
So we've decided to give you a by-the-numbers look at his performance:
Johnson caught 14 passes for 329 yards and one touchdown on Sunday. It was the second-best single-game performance by a NFL receiver in league history. It was also the most receiving yards against the Cowboys ever. Harold Jackson of the Los Angeles Rams held the previous record of 238 yards, set on Oct. 14, 1973.
According to the ESPN Stats and Info group, Johnson had seven 20-plus yard receptions. He has now recorded seven receptions for at least 20 yards in a game three times in his career. No other receiver has done it once since the start of 2001.
Johnson was tackled inside the 5-yard line four times against the Cowboys. That's the most a receiver has been tackled inside the 5-yard line in a game since 2001.
The 14 catches by Johnson ties the most catches by a Cowboys' opponent. Marvin Harrison of the Indianapolis Colts caught 14 passes on Nov. 17, 2002. Running back Brian Westbrook of the Philadelphia Eagles also caught 14. That was done on Nov. 4, 2007.
The Cowboys' defense has allowed six players to hit at least the century mark in receiving yards this season. Victor Cruz (5-118), Hakeem Nicks (5-114), Ruben Randle (5-101), Antonio Gates (10-136), Demaryius Thomas (9-122) and now Johnson have performed the feat in 2013.
October, 27, 2013
10/27/13
7:20
PM ET
DETROIT – The
Dallas Cowboys
managed to give away a game they never should have had a chance of winning.
The defense allowed 623 yards.
Detroit Lions
wide receiver
Calvin Johnson
outgained the Cowboys 329-268 yards. The defense allowed 24 fourth-quarter points. The offense held the ball for 24 minutes, 49 seconds.
And yet after a fourth-down stop with 1:24 to play, the Cowboys had the ball at the Lions 31 and held a 27-24 lead.
[+] Enlarge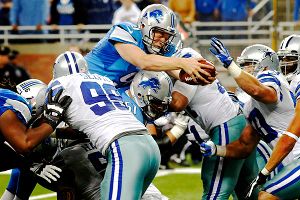 Rodger Mallison/Fort Worth Star-Telegram/MCTThe Cowboys could not stop Matthew Stafford and the Lions at the end of the fourth quarter.
Then it unraveled for the Cowboys in the
31-30 loss
.
Looking to run out the clock, the Cowboys ran the ball three straight times. On the third play, left tackle
Tyron Smith
was called for holding, stopping the clock with 1:07 to play. The Lions declined the penalty because they did not have any timeouts remaining and time was more important than yards.
Never has a
Dan Bailey
field goal -- that gave the Cowboys a 30-24 lead -- been so deflating.
"We had to kick the field goal but what you would like to do in that situation is let the rest of that time go down because they used their timeouts already," coach Jason Garrett said. "We called that third down run and we get the clock down to about 30 (seconds) or even below that, but that increases your chances of winning when you take that time off the clock."
Even though Bailey had made two 53-yard field goals earlier in the game, Garrett gave no consideration to just taking a knee on third down and letting the clock run down.
"If we don't get called for the penalty, I think they probably have 20 seconds or so left on that final play," quarterback
Tony Romo
said. "I don't know you can coach thinking there is a possibility of that. It's easy to say stuff now."
But that's what happens when the Cowboys lose a game the way they lost it. Every decision is magnified.
On the Lions' final drive, the Cowboys chose to sit back defensively and it cost them. But with undrafted rookies
Jakar Hamilton
and
Jeff Heath
playing safety and Johnson having a game that few in NFL history have ever had, could the Cowboys bring pressure on
Matthew Stafford
?
Maybe Monte Kiffin calls it differently if
Barry Church
and
Morris Claiborne
aren't sidelined by hamstring injuries.
"We didn't play as well as we should have," Kiffin said. "It's too bad because we can say this about this coverage or this and that, you can't put it on the rush, you can't put it on guys who haven't played a whole lot. It's just a tough situation."
The key play on the drive, however, wasn't a throw to Johnson. It was a 40-yarder along the sideline to
Kris Durham
that put the ball at the Dallas 23. Stafford put it between
Orlando Scandrick
and Hamilton as he rolled right and threw left .
"As we prepared we saw that and that's why I tried to stay right there and just keep it on to that side," said Hamilton, who was called up from the practice squad on Saturday. "He's great at looking safeties off and throwing another way."
Stafford hit Johnson with a perfect throw down the seam for 22 yards on the next play. Instead of spiking the ball, Stafford dove over the top for the touchdown. The play was reviewed because all scoring plays are reviewed, not that there was any real doubt he crossed the goal line.
There was a helpless feeling on the sideline as the Lions went down the field.
"It never feels good, but you always think you're team is going to make a play," Romo said. "It's a tough one for all the guys right now."
October, 27, 2013
10/27/13
7:15
PM ET
DETROIT --
Dallas Cowboys
starting right guard
Brian Waters
suffered three injuries in the loss to the
Detroit Lions
on Sunday afternoon.
Waters played only one series in the second half because he suffered injuries to his knee, ribs and triceps.
"Just trying to make it out of Detroit alive, man," Waters said.
The Cowboys also lost cornerback
Morris Claiborne
and safety
Barry Church
to hamstring injuries. At the end of the game, the Cowboys' defense had rookies
Jakar Hamilton
and
Jeff Heath
playing safety due to the injuries to Church.
Starting running back
DeMarco Murray
(sprained knee) and starting defensive end
DeMarcus Ware
(thigh) missed the game due to injuries. Ware's absence wasn't a surprise, but there was a thought Murray would play after practicing some last week.
Murray said if he was practicing he expected to play, but that wasn't the case.
"I know the guys that were in there for (Church and Claiborne) really played well," Cowboys owner/general manager Jerry Jones said. "I think DeMarco Murray could have gone. I don't know what risk we would have taken with him, but he could have gone."
October, 27, 2013
10/27/13
4:34
PM ET
DETROIT -- A few thoughts on the
Dallas Cowboys
'
31-30 loss
to the
Detroit Lions
on Sunday.

What it means for the Cowboys:
Dominated offensively and defensively, the Cowboys had no business being in the game but lost it in a way only they can, giving up a touchdown with 12 seconds left to play on a
Matthew Stafford
leap after blowing two 10-point leads in the fourth quarter.
The Lions scored 24 points in the fourth quarter, and the defense was unable to find an answer for
Calvin Johnson
, who had 329 yards receiving, which were 125 more yards than the Cowboys had as a team.
With the loss, the Cowboys dropped to 4-4 and are foreshadowing a third straight 8-8 record.
The only thing that could save them is the NFC East division title, because the Cowboys would lose a wild-card tiebreaker with the Lions if it gets that far.
Stock watch:
Cowboys defense, falling -- Johnson proved just how otherworldly he is with 14 catches for 329 yards, and he did it with
Brandon Carr
following him all over the field. Carr had success against
Demaryius Thomas
,
Pierre Garcon
and
DeSean Jackson
. He had none with Johnson. The Lions finished with 623 yards on offense, negating the four turnovers the Cowboys forced.
Three touchdowns, but:
Tony Romo
completed at least 69.4 percent of his passes in each of the first five games, but he has been off-target of late.
He completed 60 percent against the
Washington Redskins
, 59.6 percent against the
Philadelphia Eagles
and 46.7 percent (14-of-30) against the Lions.
He did, however, throw a touchdown pass in his 21st straight game with a 5-yarder to Bryant in the second quarter, then hit on consecutive passes to
Terrance Williams
(60 yards) and Bryant (50 yards) in the fourth quarter for scores.
What's next:
The Cowboys return to AT&T Stadium next week to face the
Minnesota Vikings
. It is their only home game in a six-week span with road games against the
New Orleans Saints
(Nov. 10) and the
New York Giants
(Nov. 24) sandwiching their Nov. 17 bye week.