Dallas Cowboys:

2014 5 Wonders
November, 11, 2014
11/11/14
1:00
PM ET
LONDON -- For the second straight week Five Wonders is brought to you from London, and it could be the final time when hearing
Dallas Cowboys
owner and general manager Jerry Jones say he will not give up a home game -- even for a Super Bowl -- to play at Wembley Stadium.
The Cowboys are such a big draw on the road that the
Jacksonville Jaguars
would seem to be the only team willing to give up a home game in order to play them in London.
Away we go:
[+] Enlarge

AP Photo/Brandon WadeDallas is starting to move star receiver Dez Bryant all over its formations to dictate coverages.

I don't wonder if the Cowboys coaches listen to Michael Irvin, but I do wonder if he knew something we didn't last week when he said the Cowboys have to do more to make sure Dez Bryant is involved in the offense. Irvin mentioned bunch sets to give Bryant a free release at the line. The Cowboys didn't do that, but they did move Bryant all over the formation to dictate coverages. His 35-yard touchdown catch was a perfect example. The Jaguars brought five pass-rushers as the Cowboys showed a two-tight end set on second-and-8 and Bryant lined up tight to the left. He ran a shallow cross and was uncovered. The idea of the play was to set up a third-and-short, but Bryant ran away from safety Johnathan Cyprien, who had the coverage responsibilities, and through the rest of the Jacksonville defense for the touchdown. On his 68-yard touchdown, Bryant lined up outside the numbers to the right, put a terrific release on the cornerback and Tony Romo hit him over the top.
I wonder if the coaches will show Terrance William's hustle on Joseph Randle's 40-yard touchdown run when they meet with the players for the first time after the Jacksonville win. It was rather amazing. Lined up to the right side of the formation in the slot, Williams was able to block cornerback Peyton Thompson at the Jacksonville 36 as Randle gets the handoff. As Randle breaks free, Williams is four yards behind his teammate, leaps Thompson, then has to hurdle Devin Street and Dwayne Gratz. Four defenders have an angle on Randle, but the runner is able to shrug off Cyprien at the 14. At the 7-yard line, Williams gets just enough of Demetrius McCray to knock him off balance to make it easier for Randle to run through him and get to the end zone. That is the kind of relentless spirit Jason Garrett talks about.
I wonder how confounding the coaches find Bruce Carter. He is the definition of inconsistent. It can be play to play, series to series, game to game, week to week and month to month. That will hurt Carter when he tests the free agent market in the offseason. But Carter was active and involved in the win against the Jaguars. He even recorded his second interception of the season. The Carter who played against the Jaguars is the Carter the Cowboys need for the rest of the season. He would be wise to make sure he plays at this level, too, because of his impending free agency. A team will take a gamble on his athleticism -- I don't think the Cowboys keep him with a big deal, if you were wondering -- but they will go only so high if he doesn't show consistency.
I wonder if teams are starting to target Sterling Moore the way they did Mario Edwards as the 2003 season wore on. Moore has had some struggles the past two games against the Arizona Cardinals and Jacksonville Jaguars. Edwards was a starter in 2003 as the Cowboys built a surprising record early in the season only to get beat repeatedly on Thanksgiving by the Miami Dolphins. The Cowboys made the playoffs in Bill Parcells' first year, but lost three of their final five regular-season games and were eventually bounced in the wild-card round. Moore has done a decent job when the season is viewed as a whole. The Cowboys should be happy he was there when Morris Claiborne was lost for the season. But are teams figuring him out? And now the Cowboys won't be able to turn to Tyler Patmon if they wanted to because of a knee injury.
I wonder what Zack Martin says to his teammates after touchdowns. This will be something I ask the rookie guard the next time I see him, but he is always around the player who scores in the end zone, slapping a helmet or knocking him off balance. Garrett also made mention of how Martin is always there to help his running backs up off the ground. Another offensive lineman who used to do that? Marc Colombo. They play different positions -- Colombo was a tackle -- but they have some similarities in on-field manners.
September, 9, 2014
9/09/14
11:23
AM ET
IRVING, Texas -- It's time for the first regular-season version of Five Wonders, and after the
28-17 loss
in Week 1 to the
San Francisco 49ers
that was not as close as the score indicated, there are plenty of things to wonder about the
Dallas Cowboys
.
[+] Enlarge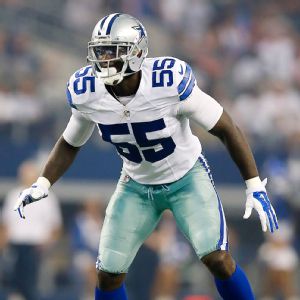 Matthew Emmons/USA TODAY SportsRolando McClain, as seen in a 2014 preseason game, played well against the 49ers in Week 1.
1. Since the news following the Cowboys' loss has been mostly negative, let's start with a positive that could end up being negative in a way. I wonder if the Cowboys will have to send the
Baltimore Ravens
a sixth-round pick in 2015 after seeing
Rolando McClain
play in 76 percent of the snaps in the opener. He played in 44 of 58 defensive plays and that should grow if
Justin Durant
misses time with a groin injury. If McClain plays in 50 percent of the snaps this season, then the Cowboys will have to give up their sixth-round pick but gain the Ravens' seventh-rounder in return. From appearances, there is no doubt McClain will be on the 46-man roster three times and the 53-man roster five times this season, so that part of the trade will be voided. It's quite possible the Ravens will get a sixth-rounder for a player who never saw a down of action for them. Not a bad deal. But it's not a bad deal for the Cowboys either if McClain plays as well as he did against the Niners.
2. Speaking of snaps played in the season opener, I wonder why fullback
Tyler Clutts
is on the roster if he is only going to play one offensive snap. He had six special teams' snaps. This isn't a new wonder. I debated the merits of keeping a fullback on an offense that works mostly without a fullback. Despite the Cowboys' talk of wanting to be a physical team, the fullback is just not a big part of the scheme. The Cowboys could have kept another position player to develop or help more than Clutts. Maybe I'm getting carried away after just one game, but if the Cowboys didn't use him vs. the Niners, how much will he play in any game? Six snaps on offense? That's still not worth it. And they have a fullback on the practice squad. To me, that's overkill.
3. Speaking of snaps played in the season opener, part three, I wonder if the defensive line rotation we saw Sunday will be the same throughout 2014. I believe it will even when guys such as
Anthony Spencer
,
DeMarcus Lawrence
,
Terrell McClain
and possibly Amobi Okoye get on the field.
Jeremy Mincey
played the most snaps vs. the Niners among the linemen with 43.
Tyrone Crawford
,
Nick Hayden
and
Davon Coleman
played 33 apiece. The others:
George Selvie
(27),
Henry Melton
(26),
Ken Bishop
(21) and
Lavar Edwards
(15). As Melton gets more work, his action will increase. Well, let me put it this way: it better. So I think you'll see him and Coleman flip their Week 1 percentages with Melton taking more as the season goes on. The Cowboys want to keep players fresh and attack the quarterbacks in waves. They only sacked
Colin Kaepernick
once but they were able to pressure him.
4. I wonder if we made too much of the
Gavin Escobar
talk in the offseason. It's too early to give a complete answer. Escobar is playing through a shoulder injury, which might have been a reason why he only played nine offensive snaps vs. the Niners. As training camp wore on, however,
James Hanna
took most of the "12 personnel" snaps when the Cowboys were running. Hanna played 13 snaps with most of them coming in the first half when the Cowboys ran out of their two-tight end sets. There are only so many snaps to go around on offense and
Jason Witten
does not come off the field unless the games are blowouts either way. This goes back to the Cowboys using a second-round pick on Escobar in 2013 (and maybe even
Anthony Fasano
in 2006 and
Martellus Bennett
in 2008) not being the wisest of selections just because of lack of opportunity. The Cowboys will have to find Witten's successor eventually, but if they're not going to come up with ways to use Escobar on more than 13 percent of the snaps, then it was a wasted pick. Don't blame only Escobar for that either.
5. I wonder if people have selective memories when it comes to fans of opposing teams taking over AT&T Stadium, like San Francisco's did. Go back to 2004 at cozy Texas Stadium when the
Pittsburgh Steelers
visited. That was Three Rivers in Irving, Texas. It happened when other teams visited there, too. Heck, it happens for every sports team in the area. Red Sox and Yankees fans have been louder than Rangers fans. Jerry Jones built the biggest and best stadium in the world and there are a ton of seats to fill. The Cowboys aren't doing zip-code checks when they sell tickets and they can't control who their fans sell their tickets to. Look for the same thing to happen at the Cowboys' next home game. The
New Orleans Saints
visit AT&T Stadium on Sept. 28 and the Who Dats will be there in full force, especially if the Cowboys are 0-3 going into that game.
July, 22, 2014
7/22/14
12:00
PM ET
OXNARD, California -- With Jerry Jones set to author the
Dallas Cowboys
' version of the State of the Union on Wednesday, let's get to wondering about some topics. Five of them exactly.
Church

ESPN Dallas' Calvin Watkins has ranked the roster the last few years in terms of a player's importance to the team. It's something I've been thinking about lately and I wonder if we need to put Barry Church in the top five. Remember, this isn't a list of the best players. This is a list of the most important. In other words, if they lose this guy, they're done. The easy answer is to always put the quarterback at No. 1, and if the Cowboys lose Tony Romo for a long period of time, then they'd be done. But I think they could still function to a degree with Brandon Weeden. They did OK in 2010 with Jon Kitna as the quarterback. If they lose Dez Bryant, I think Romo can make the receivers better. Losing Jason Witten would be a major blow, but they can alter their style on offense. Losing DeMarco Murray would hurt, but they've been used to playing without him. If they lose Church, what do they do? Move J.J. Wilcox over? Go with Jakar Hamilton or Jeff Heath or Matt Johnson? There is not a proven performer at safety other than Church. A mini-wonder inside a wonder: I wonder if they'll be looking at safeties hard when teams start making cuts.



I wonder if the Cowboys will continue coming to Oxnard in the future once they move their headquarters to Frisco, Texas. The new facility is scheduled to be open in 2016 and there will be an indoor stadium available to stay out of the Texas heat. Oh, and there would be enough seating to sell a ton of T-shirts, hats, hot dogs and sodas to make it all worthwhile too. The Cowboys are one of a handful of teams that still go away for training camp. The coaches like Oxnard because of the weather and proximity of the practice fields. Everything is self-contained. The Cowboys aren't able to do a lot of marketing because of league rules, but they can still get together with some Los Angeles big wigs and they see a ton of national media show up every year. Could Jerry Jones be happy enough to stay at home in Frisco for an entire summer? Perhaps. Setting up shop for the West Coast for just a two-week run doesn't seem worth it, considering the cost involved to get everything there.


Tyron Smith would also be a tough player to lose. He's one of the best left tackles in the NFL. But my wonder isn't about Smith's value on the field. It's his value off it. He should get a contract extension that would make him one of the highest-paid tackles in the NFL. What I wonder about is how long that deal will be. Smith is only 23. He doesn't turn 24 until December. The Cowboys have locked up his services for 2015 by picking up his fifth-year option. They know they're not going to lose him, but I think they would like to go beyond five or six years on a new deal for Smith. I wonder if they could look at a deal as long as nine years for him. Crazy? Heck, he'll still be 31 by 2022 (how crazy is it to read 2022, by the way?). Locking Smith up to that long of a deal will require creativity and a lot of guaranteed cash, but tackles can play a long time. Smith would have a chance to cash in again at the end of that deal. Flozell Adams was 32 when he signed a six-year deal in 2008 that guaranteed him $15 million.


I've been asked this a few times on chats and on Twitter: Who leads the Cowboys in sacks? I don't have a good answer. I think I've said Henry Melton once and perhaps Jeremy Mincey. Maybe even DeMarcus Lawrence. I've jumped around because I don't know how anybody would know the answer. But I wonder how many sacks the leader will have this year. The last time the Cowboys did not have a defender with at least eight sacks was in 2002 when Greg Ellis had 7.5. The fewest sacks to lead the Cowboys in the Jones era is six, when Shante Carver did it in 1997 and Kavika Pittman followed it up in 1998. The Cowboys have one player on the roster with a double-digit sack season and Anthony Spencer, who had 11 in 2012, is likely to start the year on the physically unable to perform list. I think the over/under is seven and I don't know if I'd take the over.


Every year there are surprise players in training camp. Last year, wide receiver Eric Rogers had a good run, but it was undrafted safety Jeff Heath who made the biggest move in earning a spot on the 53-man roster. A couple of years ago it was Ben Bass, who has become something of a legend for his good work in the summer only to see it end because of an injury in his first two seasons. I wonder if we'll be talking about running back Ben Malena and safety Ryan Smith as the surprise players this summer. Malena is super quick. He's smart. He can play special teams. Lance Dunbar can play special teams, but they'd prefer to limit his work there with the role he'll play on offense, so that could make Malena the only back with special teams' ability. Smith did a nice job in the spring and was under the radar (in other words, we didn't talk much about him) unlike some guys like a Davon Coleman.