Dallas Cowboys:

2014 NFL Preseason Week 3 BAL at DAL
August, 17, 2014
8/17/14
12:50
AM ET
ARLINGTON, Texas -- From the owner to the franchise quarterback, everyone in a position of authority has promised that the
Dallas Cowboys
would commit to the run this season.
Murray
Pro Bowl running back
DeMarco Murray
vowed to be ready but basically said he'll believe it when he sees it.
Perhaps two series in a preseason games isn't concrete proof, but Murray certainly got plenty of work during his brief appearance in Saturday night's loss to the
Baltimore Ravens
. He carried eight times for 34 yards, plus caught a screen pass for a 21-yard gain, before taking a seat on the bench midway through the fourth quarter.
Nine touches in two series? Do the math and that'd multiply into a massive workload for Murray, one of the NFL's most underutilized backs last season.
"I feel like I can do whatever they ask me to do," said Murray, who rushed for 1,121 yards and nine touchdowns on 217 carries in 2013. "Like I said before, I'll be ready to carry it as many times as they give it to me."
It makes sense for so many reasons for the Cowboys to commit to the run. They want to take pressure off of quarterback
Tony Romo
, who is coming off December back surgery. They want to limit the amount of time a no-name defense spends on the field.
And, as much as anything else, the Cowboys want to take advantage of one of their best assets by giving Murray plenty of chances to burst through big holes created by one of the NFL's best offensive line, which features recent first-round picks
Tyron Smith
,
Travis Frederick
and
Zack Martin
.
"[The potential of the running game is] definitely high, with those guys, the way they work and the kind of things we've done this offseason and training camp," Murray said. "I definitely feel like we've got a good feel for each other and we just go to continue to get better every week."
Murray's durability is the only real question about the effectiveness of the Cowboys' running game. The fact that the Cowboys are 11-0 when he has at least 20 carries in his career illustrates that he can finish games strong in a workhorse role.
However, Murray has missed 11 games in his career due to a variety of injuries. He's healthy and in excellent physical condition now, though, and should be primed for the most productive season by a Cowboys running back since
Emmitt Smith
's heyday.
"Yeah, he's that kind of back," owner and general manager Jerry Jones said. "You see him. He runs with power, but then he really puts some pressure outside on defenses even though he's got some power to really make some inside yards. He's a good back for us."
Murray might be primed for a great season, if he gets enough opportunities.
August, 17, 2014
8/17/14
12:39
AM ET
ARLINGTON, Texas -- The Dallas Cowboys' defense was better Saturday night.
[+] Enlarge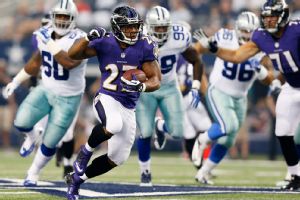 Matthew Emmons/USA TODAY SportsThe Cowboys allowed another preseason opponent to cross the 150-yard rushing threshold -- this time it was Ray Rice and the Ravens. But Dallas also saw progress on defense.
It might sound funny when it allowed 23 of the 37 points in Saturday's 37-30 loss to the Baltimore Ravens, but considering the performance in the first week of the preseason against the San Diego Chargers, there was progress.
Considering the performance in 2013, there was progress.
The Cowboys gave up 331 yards, which was a 64-yard improvement over the Chargers' loss. They had only five games in which they allowed fewer yards last season.
The Ravens converted only three of 12 third-down opportunities. The Chargers converted 50 percent. The Cowboys had only two games last year with a better percentage in which they got off the field on third down.
"Obviously that's the key to playing good defense -- be good on first and second down and somehow, some way get off the field on third down," Garrett said. "And they did that against a pretty good offense."
Playing with a mixed-and-matched group because of injuries and coaches' decision,s it is hard to determine what was the first group and what was the second, and the score was 14-7 before the Saturday's starting defense played a snap.
The starters forced a punt on the first drive against Joe Flacco & Co., with pass deflections by Nick Hayden and Bruce Carter. Safety
J.J. Wilcox
broke up a Flacco-to-Steve Smith pass on third down on the next drive to force a Baltimore field goal. The third drive, when the mixing and matching really kicked in, ended when undrafted rookie Tyler Patmon broke up a third-down pass to Smith on the sideline to force a three-and-out.
"We got called soft a couple times and I'm not a very friendly person on being called soft, so I took that personally and I took it to my defense and told them, 'Hey we get called soft, and we don't play that way. We don't practice that way. We don't walk around that way. We don't even study that way," Wilcox said. "We took ... I took it very offensive. We still lost the game, but I think we took strides in the right direction."
It was better, but it also marked the second straight game they allowed more than 150 yards rushing. There was a lull in the second and third quarters in which the Ravens scored on three straight drives of 96, 37 and 67 yards.
It wasn't until the Ravens inexplicably -- well, it is the preseason so maybe there is some ability to explain -- went for a 61-yard field goal attempt by Justin Tucker that the defense, filled entirely with reserves to the reserves, stood up.
"I wondered if we had eaten some of that San Diego fish or something when we came out for the third quarter, if we'd gotten some of that," owner and general manager Jerry Jones said. "It just didn't look like we wanted anything."
The Cowboys figure to have cornerbacks Brandon Carr, Morris Claiborne (shoulder) and Sterling Moore (groin) next week against the Miami Dolphins. Defensive tackle Henry Melton (groin) could also make his preseason debut.
The pieces might not fit entirely just yet, but they were closer Saturday. And that's progress.
"It's definitely hard to see what we have as a whole defense as a starting group," safety Barry Church said, "but it was a great opportunity to see what these young guys can do and see what they do when they get out there and times a crunching ... As a whole, I think we did all right."
August, 17, 2014
8/17/14
12:25
AM ET
ARLINGTON, Texas -- As far as August football goes, it doesn't get much more entertaining than
Dez Bryant
's preseason debut Saturday night.
[+] Enlarge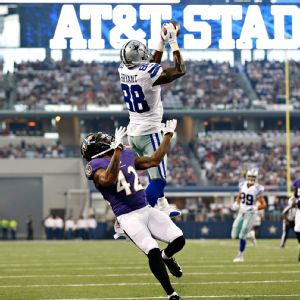 Matthew Emmons/USA TODAY SportsCowboys receiver Dez Bryant, who made a patented grab on a 31-yard touchdown play against the Ravens, said he's ready for the "real deal" to begin.
The
Dallas Cowboys
' Pro Bowl receiver caught three passes for 59 yards and a touchdown during his two series against the
Baltimore Ravens
. Bryant displayed his tackle-breaking talent on his first two receptions, moving the chains after catching passes over the middle. He showed arguably his best attribute -- the ability to soar over a defender and snatch the ball out of the air -- on a 31-yard score over helpless cornerback
Dominique Franks
before standing on the sideline and cheering the rest of the game.
Bryant's most impressive play might have been on the one pass intended for him that didn't go down as a reception. He made a remarkable, juggling, tightly contested catch on the sideline, but it was ruled that he didn't have complete control of the ball before going out of bounds. The play was negated by a holding penalty anyway, but Bryant still wowed the AT&T Stadium crowd.
Not that Bryant was real impressed with anything he did in this glorified scrimmage.
Bryant threw up his customary "X" to celebrate his touchdown, but he basically responded with a shrug when asked about his performance after the Cowboys' 37-30 loss.
"Wasn't really nothing. It was a tease," Bryant said. "I feel good mentally and physically, but other than that, I'm ready for the game. I'm ready for the real deal. This is not the real deal to me. I'm waiting for what's real."
It's not as if Bryant's spectacular plays come as any surprise. The Cowboys are counting on him to come up with them on a consistent basis.
"If he keeps that up, he is going to make us a very tough team," quarterback
Tony Romo
said.
Bryant established himself as one of the NFL's premier receivers the last two seasons, ranking tied for first in touchdown catches (25) and sixth in receiving yards (2,615) in that span. And there is good reason to believe the best is yet to come for the 25-year-old Bryant, who is excited about the potential of playing in new play-caller Scott Linehan's attacking offense.
Bryant's progress as a receiver and a leader was on display every day during training camp, when he was usually the most dominant player on the field and always the loudest.
"Well, I think Dez played just like he's been practicing, almost consistently throughout training camp," owner and general manager Jerry Jones said of Bryant's performance against the Ravens. "He's made those kinds of plays. He's a force out there."
In a few weeks, it'll be worth getting fired up about for Bryant.
August, 17, 2014
8/17/14
12:08
AM ET
ARLINGTON, Texas --
Ahmad Dixon
was the brightest spot on the
Dallas Cowboys
' defense after the first preseason game with 12 tackles. Being late to Friday's walkthrough cost him a chance to play in Saturday's 37-30 loss to the
Baltimore Ravens
.
As he attempted to get involved in the walkthrough, he was waved off by coach Jason Garrett and was told before the game he would not play.
"It was real disappointing not to be out there with my teammates and I've been real hard on myself," Dixon said. "I've never missed a game in my life unless I was hurt. I've beat myself up about it."
Dixon missed all but one practice last week because of a concussion suffered in the fourth quarter of the loss to the
San Diego Chargers
. A seventh-round pick, Dixon may have hurt his chances of making the final roster.
"We had intentions of playing him but you have to handle your business," Garrett said. "You have to be somebody we can trust and hopefully he'll learn from this experience."
August, 16, 2014
8/16/14
10:45
PM ET
ARLINGTON, Texas -- You wanted to see
Tony Romo
move around Saturday night in his preseason debut against the
Baltimore Ravens
.
You wanted to see him get jostled, and you wanted to see him throw the deep ball. And deep down, you probably wanted to see him lead the first-team offense on a scoring drive too.
He did all of that in just 14 plays and emerged unscathed.
So the evening must be considered a rousing success, despite Baltimore's 37-30 win at AT&T Stadium.
This season is all about the
Dallas Cowboys
' offense because we know the defense is going to stink. For the Cowboys to end their string of three consecutive 8-8 seasons, Romo must stay healthy and the offense must be prolific.
[+] Enlarge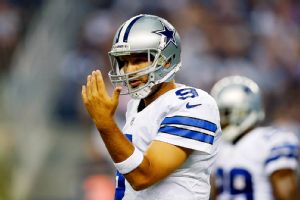 Tom Pennington/Getty ImagesTony Romo's 4-for-5 night and long TD pass suggest the 34-year-old QB will be ready for Week 1.
Obviously, we won't know whether Romo's back is going to hold up until the regular season begins, but the starting offense has looked dynamic throughout training camp and has been good in each of the first two preseason games.
The Cowboys have taken a cautious approach with Romo throughout training camp, given that the 34-year-old quarterback has had two back surgeries in the past year and the alternative is
Brandon Weeden
.
So far, so good.
Romo completed four of five passes for 80 yards and a touchdown in his preseason debut. He led the starting offense to a touchdown but also botched a handoff that resulted in a Ravens touchdown.
Considering he's missed so much practice time during training camp, we shouldn't really be surprised he was involved in a mishap such as that. Actually, the real surprise is probably that more mistakes didn't occur.
Romo has become one of the NFL's best quarterbacks because of his ability to move in the pocket and create extra time that often results in big plays. He provided a glimpse of his ability to still do that on the Cowboys' third play.
Facing pressure, Romo stepped up into the pocket. Then, he moved right and delivered a perfect pass to
Dez Bryant
, who was running across the field. The catch and run netted 22 yards.
"I thought he looked like himself and moved around in the pocket," coach Jason Garrett said. "He made some good throws that looked like he saw the field well. He felt the pocket really well and looked comfortable moving the team."
August, 16, 2014
8/16/14
10:26
PM ET
ARLINGTON, Texas --
Dallas Cowboys
quarterback
Tony Romo
's first action since undergoing back surgery Dec. 27, 2013, has to be deemed a success -- and not just because he was able to make it through 16 snaps of action, including penalties, unscathed.
The Cowboys
lost 37-30
to the
Baltimore Ravens
, but Romo completed four of his five passes for 80 yards in two series of work in the first quarter, including a 31-yard touchdown throw to
Dez Bryant
.
There was a fumble on a handoff exchange with
DeMarco Murray
that
Courtney Upshaw
returned 26 yards for a score on the first drive. Romo attempted to drag down the 272-pound Upshaw but was unsuccessful. The good news: The tackle didn't affect his repaired back.
On his first pass attempt, Romo moved effortlessly up the pocket to find Bryant for a 22-yard gain. On the second series, he bought time with a spin move as things broke down in front of him but
James Hanna
dropped the pass.
With his deep pass under scrutiny in camp, Romo perfectly floated a pass down the sideline to Bryant with the cornerback in good position. Bryant was able to leap at the goal line for the score as
Dominique Franks
stumbled.
Romo should see more action Aug. 23 against the
Miami Dolphins
. Typically, the starters play into the third quarter in the third preseason game.
Here are some other thoughts on the Cowboys' second preseason game of the year:
August, 16, 2014
8/16/14
9:53
PM ET
ARLINGTON, Texas -- No matter the outcome of Saturday night's preseason game against the
Baltimore Ravens
,
Dallas Cowboys
quarterback
Tony Romo
was going to be the story.
Romo
In two series of work, Romo completed four of five passes for 80 yards and a touchdown.
"I thought he looked comfortable," coach Jason Garrett said at halftime. "I thought he looked like himself and moved around in the pocket. He made some good throws that looked like he saw the field well. He felt the pocket really well and looked comfortable moving the team."
Romo saw his first action since Dec. 22, 2013 in Week 16 against the
Washington Redskins
because of back surgery. He missed five of 16 practices in Oxnard, California, for training camp as he and the Cowboys worked through a schedule in which Romo got enough work but not enough to overdo it.
"It felt good," Romo said. "I thought it was great to get out there and help the football team and go through the checks and balances you have to do to get your team in a position to compete."
Romo had a 31-yard touchdown pass to
Dez Bryant
to cap his night.
"His mind was right, he was poised and went out there, knew what he wanted to do, and did it," Bryant said. "He wanted to show the world he is 9 and he's a baller."