October, 4, 2012
10/04/12
10:31
AM ET
IRVING, Texas -- If you were wondering where Five Wonders was this week, we just pushed it back a little because of the bye.
With no further ado, we give you the wonders: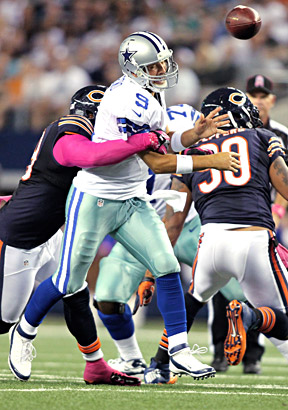 Tim Heitman/US PresswireAfter a pair of flip flops under duress, don't be surprised to see Tony Romo take more sacks from this point on in the season.
** After Monday's debacle,
Tony Romo
pledged to "do his job" and not try to do too much in the future. I wonder why it takes games like Monday's (and last year's against Detroit) for Romo to come to realization, but I wonder more about what it means going forward. Here's what I think (or wonder): He will take more sacks. And that's a good thing, believe it or not. Too many of us want to just kill last year's offensive line by always bringing up the career-high 36 times Romo was sacked in 2011. In the first four games last year, he was sacked seven times. Quick math says he was sacked 29 in the final 12 games. He went from getting sacked 1.8 times per game to 2.4 times a game. And he had his best season. There's a health risk to taking sacks obviously, but there's something also about living to fight another day. Twice Romo has climbed the pocket in as many weeks and looked to flip the ball forward and twice he's fumbled. Both times, the Cowboys were in field goal range. Last year Romo showed he could still be Romo, meaning make plays when things break down, but he could do it in a somewhat controlled fashion. I wonder if he goes back to that way of thinking.
** Jason Garrett has been calling plays here since 2007. Generally I think the reaction to playcalling is completely overrated because all anyone says is, 'How can you call that play?' when it doesn't work. It's a second guesser's dream. I wonder if Garrett should allow offensive coordinator Bill Callahan to take a crack at it a few times in games. Garrett talks about the collaborative effort there is during the week in coming up with a plan and how that is factored into the playcalling. Well, when you've scored 65 points in four games, you can't just keep doing the same thing over and over, can you? It's not unheard of for playcallers to do this. Bill Parcells let Sean Payton and Tony Sparano take turns when they were with the Cowboys. Callahan has called plays before. I say this and should point out the Cowboys have had a ton of drops, too many penalties and missed throws. But sometimes, a fresh voice can just break things up.
**
Jay Ratliff
will make his return when the Cowboys play at Baltimore next week. I wonder how much of a difference he will make. The run defense has been decent if not spectacular, but that's not where Ratliff is at his best anyway. Where he needs to help most is in the pass game, although his sack totals have decreased in each of the last four seasons.
DeMarcus Ware
will get sacks if you and I are playing alongside him, but Ratliff's influence could help
Anthony Spencer
,
Jason Hatcher
and
Sean Lee
. Ratliff is so active that he occupies the attention of multiple blockers more than a
Sean Lissemore
or a Hatcher. It doesn't mean he will get a ton of sacks, but his presence could help others get sacks. Just something else to note about Ratliff: He showed up at training camp last year weighing 285 pounds. A lot was made of it and he wasn't happy about it. His official playing weight this year is 303 pounds. Maybe it's a coincidence, maybe it's because he was not able to do any on-field work in the offseason. Or maybe they wanted him to be a little bigger.
**The Cowboys signed
Brodney Pool
early in the free-agency process. They gave him only $100,000 to sign and a $1 million base salary, and, yes, I realize we all should be so fortunate to get that kind of signing bonus when I say "only." Pool was viewed as a stopgap with the hopes the team would draft somebody as a longer-term answer. Unfortunately, Pool didn't seem so interested in playing football. I wonder if the team needs to stop listening to the coaches when it comes to them wanting guys they used to coach. Rob Ryan coached Pool in Cleveland and by the time the Cowboys cut Pool a week into training camp, Ryan said Pool wasn't the same guy he coached. But here's the problem with the Pool miss: It took them out of the running of keeping Abe Elam, who wasn't great but was certainly better than Pool and could have been the same stopgap guy while allowing
Barry Church
to be the starter, or another veteran-type safety more willing to want to play. Elam ended up in Kansas City. Church's Achilles injury, combined with
Matt Johnson
's hamstring issues, have left the Cowboys thin at safety for the rest of the season. And for a bonus wonder, no, I don't wonder if the Cowboys will look in the trade market for a veteran safety.
**The Cowboys are on pace for 12 takeaways this season. Chicago already has 14. Atlanta has 12. New England has 11. Arizona has 10. The Cowboys have a Lee interception and fumble recoveries from Church and
Victor Butler
. I wonder why the Cowboys just can't seem to take the ball away from the other team. They practice it over and over. The coaches emphasize it in drills. And it rarely happens. The generalization is that turnovers come in bunches. Once you get one, it becomes a feeding frenzy. In the first 10 games last year, the Cowboys had 23 takeaways, including four against New England and Buffalo each. In the last 10 games, the Cowboys have seven takeaways and have not had a multiple takeaway game during that span.
June, 20, 2012
6/20/12
9:38
AM ET
IRVING, Texas -- We've got about five weeks to go before quarterbacks, first-year players, injured players and rookies report to Valley Ranch for workouts before the team flies to Oxnard, Calif., so there are plenty of things to wonder about.
Here is the latest installment of Five Wonders:
** I wonder if we'll see the back-shoulder throw be a big part of the Cowboys' offense in 2012. Two years ago it certainly looked that way given the way
Tony Romo
was throwing them in training camp with
Miles Austin
,
Roy Williams
and
Patrick Crayton
in camp. Then the season started and we didn't really see it much before Romo suffered a season-ending collarbone injury. To me, the back shoulder throw is impossible for a cornerback to defend. Green Bay's
Aaron Rodgers
might be the best at it in the league with his receivers and
Drew Brees
and Jimmy Graham might be the best quarterback-tight end combo. It takes time for the quarterback, tight ends and receivers to become comfortable in reading the defenders' alignments for such a throw. With
Dez Bryant
entering his third year, Austin healthy and Witten able to push the middle of the field, Romo should be in position to make more back-shoulder throws this year. We saw hints of those throws in the OTAs and mini-camp.
** The Cowboys have five tight ends on the 90-man roster, but only
Jason Witten
would be considered a top blocker.
John Phillips
could be an overall upgrade from
Martellus Bennett
as the No. 2 tight end, but in-line blocking is not his strong suit. The others are
James Hanna
,
Andrew Szczerba
and newly claimed
John Nalbone
. Szczerba might be the best blocker. I wonder if the team's approach to the tight end position could mean the addition of
Pat McQuistan
is more than just a camp filler. They will not waste Witten as a blocker because of what he means to the passing game. McQuistan served as a tight end in jumbo packages for New Orleans last year and the Saints managed to throw out of that formation as well. I also wonder if it means the team could keep two fullbacks on the 53-man roster with
Lawrence Vickers
and
Shaun Chapas
, but I think it's more of a McQuistan thing than a fullback thing.
**The Cowboys signed
Brodney Pool
early in free agency, but he received only a $100,000 signing bonus to go with a $1 million base salary. He took most of the first-team reps in the organized team activities and mini-camp, but I wonder if he is a lock to make the final roster. Some inside Valley Ranch wanted Pool over another Rob Ryan guy, Abe Elam, last year, but the Cowboys went with Elam instead. In the OTAs and minicamp practices that were open to the media, Pool was hardly noticeable. Maybe that's a good thing, I don't know. Maybe things will change when the pads come on. But we heard raves about
Barry Church
and
Matt Johnson
, one of their fourth-round picks last April, and
Danny McCray
is their best special teamer. Add
Gerald Sensabaugh
to the mix and you're talking about five safeties, including Pool. At some point, it might be a numbers game or the team's willingness to pay a guaranteed $1 million for a veteran once he's on the opening week roster. And there's this:
Mana Silva
, who was signed late last season, might be a name to watch when camp opens, too.
** I wonder if the Cowboys will bring in more competition for
Dan Bailey
. Not to take the kicker's job, mind you, but simply to keep some pressure on him. Bailey had a tremendous rookie season, making 32 of 37 field goal attempts and winning four games with late kicks. His kickoffs were better than they thought too. Jason Garrett mentioned at the close of the offseason that Bailey has added strength in 2012. The Cowboys have
Delbert Alvarado
on the roster, but he is also working as a punter. Bailey might be better served to have another leg in camp. It's not that he can't handle it. He showed last year he doesn't mind the competition. Some kickers don't like it.
Nick Folk
did not like it when the team drafted
David Buehler
in 2009.
**
Bruce Carter
earned a lot of raves before a hamstring strain kept him out of the final two days of minicamp. I wonder if people were/are jumping the gun on him. Like Pool, I just didn't see him make plays in the passing game. I'll give him a pass in the running game because without pads on it's hard to evaluate just about anything. But Carter's strength is his ability to run and cover, and I can't remember a pass breakup during the team and seven-on-seven periods that I charted. Now, covering Witten is difficult for every linebacker in football, I get that. But, as Bill Parcells used to say, I'm not getting the anointing oils out just yet. My belief is that
Dan Connor
will be the "starter," which means he will play running downs, and Carter will play passing downs, which means he will play a higher percentage of snaps in 2012.
December, 6, 2011
12/06/11
10:32
AM ET
By
Bryan Broaddus
| ESPNDallas.com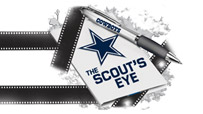 During the Cowboys' four-game winning streak, I learned that no matter the opponent's record, there will always be a reason for caution and concern.
The only time this season I've felt the Cowboys would clearly handle an opponent was against the Rams. In breaking down the Cardinals, I didn't let their record affect me. There is talent on their squad. The more I studied, the more I believed that the Cowboys couldn't just roll their helmets out on the field and feel like they would get a favorable result.
Where it all started to go wrong for Cowboys
Defensively for the Cowboys, this game really hinged on two areas: Could this secondary hold up against one of the league's top five playmakers in
Larry Fitzgerald
and could they control
Beanie Wells
? For three quarters, Rob Ryan's defense was up to the task, not allowing Fitzgerald or Wells many opportunities. All that changed on a play to start the fourth quarter to wide receiver
Andre Roberts
.
With the Cowboys holding a 10-6 lead, Roberts lines up in the slot with
Terence Newman
in coverage on the defensive right side. Fitzgerald is lined up outside Roberts with
Mike Jenkins
in coverage on Fitzgerald. At the snap of the ball, Fitzgerald runs a vertical route inside of Jenkins and past him but right on the toes of
Gerald Sensabaugh
, who is playing single high safety in the middle of the field. The other safety, Abe Elam, is on the left side of the defense near the line and in coverage on tight end
Rob Housler
, who is lined up as a wing right.
Roberts runs a route like he is going to curl, squaring his shoulders to quarterback
Kevin Kolb
. Newman, reading the route and feeling that Kolb is going in the direction of Roberts, drives forward to get into position to handle the ball. As Newman gets to Roberts' back, he spins away from Newman and heads up the field and toward the sideline. There is no safety help in the middle of the field because Sensabaugh is running with Fitzgerald through the middle of the field. Newman is left trailing Roberts who now has separation on Newman.
In the backfield, Kolb is using a play-action fake to Wells and begins to roll to his left after the fake. The protection for the Cardinals is outstanding, allowing Kolb to make a perfect pass down the field to Roberts on the Dallas 49 with Newman still in chase. Newman manages to finally catch up with Roberts, getting him out of bounds on the Cowboys' 33.
Four plays later, the Cardinals scored to take the lead. If the Cardinals don't make this play to gain some momentum, I don't believe that they would have won this game.
Costly series of mistakes by Terence Newman
In overtime, the Cardinals win the toss and go on offense first. Newman's problems continued when he allows Roberts to run a slant on the first play, which looked like a sight adjust by Kolb, who takes the snap and the throws the ball to Roberts, taking advantage of a 12-yard cushion.
A couple of plays later, Newman commits a costly penalty. Newman is playing press coverage on Roberts and is in good shape on the jam, but he gets overextended and is out of balance on the route. Newman has to grab Roberts and ends up holding him. That turns a second-and-20 into an automatic first down.
Later in the drive, after a false start penalty against offensive tackle
Levi Brown
that makes it first-and-15, the Cardinals come with the perfect call against the Cowboys defense. Fitzgerald is lined up in the slot to the right, Roberts is outside right. Kolb is in the shotgun with
LaRod Stephens-Howling
to his right and fullback
Anthony Sherman
to his left.
At the snap,
Anthony Spencer
blitzes off the offensive right side, Stephens-Howling slides underneath from left to right, as the line slides to the right as well to form the blocking for the screen. Kolb manages to get the ball to Stephens-Howling in the flat and he heads up field.
The first line of support is Newman, who is blocked to the outside by Roberts and has no chance on the tackle.
Sean Lee
tries to chase from the inside along with
Bradie James
, who gives an outstanding effort but isn't fast enough to make the tackle.
With Fitzgerald in front blocking on Gerald Sensabaugh, Stephens-Howling cuts back to the inside and then quickly back out. Elam tries to get into position to make the tackle but overruns the play when Stephens-Howling makes his second cut. Sensabaugh has fought off Fitzgerald's block, but he has a hard time adjusting to make the tackle and misses.
Orlando Scandrick
tries to get in position to make a play from across the field but is too late arriving. The touchdown on the screen gives the Cardinals victory in overtime.
Missed opportunities for Cowboys offense
Offensively for the Cowboys, when you only score 13 points in a game, there is a pretty good chance that you will lose. This was the case for the Cowboys.
It really was a game of missed opportunities. There were several plays where the normally reliable
Dez Bryant
dropped balls that he would never put on the ground. Bryant has improved greatly this season as a route runner. This is important because with Bryant finding ways to get open, it's giving
Tony Romo
more opportunities to get him the ball.
Throughout this season, I have been critical of Jason Garrett's play-calling, but in this case I have to give him credit for a nice design of a play. When I worked for the Packers, Mike Holmgren used to have this play he called "swing arrow." The design of the play is to get the ball to a running back down the sideline after you ran the receiver hard inside to pick off his man in coverage. It is one of those calls that works when you feel like the defense is in man coverage.
On this play, the Cardinals were in man coverage and Garrett tried to take advantage of that. At the snap, Bryant took off hard inside, trying to pick off Felix Jones' man. Jones appears to start his route too far inside instead of trying to arch wide. If Jones takes his route wider, there is a better chance of gaining separation and getting the ball up the field.
When Jones finally works outside, he is unable to find the football in the air. In the backfield, Romo has to deliver the ball a little early because he is feeling a blitz from safety
Adrian Wilson
, who is unblocked coming from his right side. Romo has to throw the ball more to the sideline than to the middle of the field where Jones is running. The play was well designed and had a chance to be successful, but the blitz by Wilson made Romo have to hurry his throw.
Jones has to do a better job of running the route and finding the ball in the air. Garrett got the defense and coverage that he wanted and the execution from Bryant, but the result was a missed opportunity.
There are always plays in the game plan that when called have a great chance to be successful. This was one of those times.
Play-by-play: Cowboys' final drive in regulation
On the final drive, the Cowboys get the ball with 2:54 left on the clock. The drive starts with a nice completion to
Jesse Holley
on a curl when Romo buys time by moving to his right away from the pressure inside.
On the next play, Garrett sends three wide receivers in the game left and Romo wants to throw that way. Holley is on the back side and works to the middle of the field between the corner and safety. Romo again heads to his right with Holley still open in the middle of the field. Now Romo heads back to his left to throw the ball to
Jason Witten
in the flat for a loss of a yard. Romo never sees Holley in the middle of the field.
On second-and-11, the Cardinals go with single high safety as Romo moves Jones from the right to the left to help with protection.
Kevin Ogletree
runs the inside slant from the slot, and cornerback
Michael Adams
can't stay with Ogletree. Nice throw and catch. Gain of 10.
On third-and-1, Romo gets the team to the line for the quarterback sneak. First down.
Garrett sends three wide receivers, one tight end and one back in the game, but
Montrae Holland
moves at left guard for a false start that costs the Cowboys five yards. With the Cardinals in a two-deep look,
Laurent Robinson
gets doubled on the outside. Late pressure from linebacker
Paris Lenon
causes problems because Holland doesn't adjust. Incompletion.
On second-and-15 from the 50, Garrett and the offense get a delay of game penalty. This was strange because it comes after an incompletion with the same personnel on the field for the Cowboys as the previous play. Don't understand why there would have been a delay of game there.
On second-and-20, there are two missed blocks on the play by Holland and Jones that cause Romo to have to throw off his back foot. He manages to get the ball to the outside to Bryant, who does a wonderful job of working the sideline and coming back to the ball for the reception for a gain of nine.
On third-and-11 from the Cardinals' 46, Bryant is lined up wide left, Ogletree slot right and Robinson outside right. Witten is on the line to the right. Jones is next to Romo to his left in the gun. At the snap, Witten heads up the field, then out, Ogletree drives hard inside and sets up over the ball, Bryant runs his best route, which is the "In" 10 yards behind where Ogletree is set up. Romo throws the ball over the top of a jumping Ogletree, and Bryant adjusts low to make the catch with Peterson on his back. Great throw and even better catch.
On first-and-10 from Cardinals' 31, Romo -- with direction from Garrett -- spikes the ball to set up the attempted game-winning field goal.
Dan Bailey
has been money all year for the Cowboys. With the game on the line from 49 yards, there was no reason to believe that he would not be able to get this ball home for the win.
With every successful kick comes a good snap and hold. The snap to
Mat McBriar
was slightly above his eyes. As Bailey moves forward with his eyes down, he sees the laces are facing him. Two steps from the ball, McBriar does the best he could to get the laces forward before Bailey gets to the impact point.
Just before Bailey gets there, McBriar gets the laces away from Bailey, but the ball looks to be moving at impact. That split second of operation can affect the kick. In this case, it did.
August, 5, 2011
8/05/11
9:13
AM ET
Even before the draft, there was a very strong argument that the weakest area of the Cowboys' roster was the secondary. Dallas' pass defense was among the worst in the league last year -- but it wasn't from a lack of quality pass-rushers. The draft is ancient history and the first wave (more like a tsunami) of free agency is just about behind us. But is Dallas vastly improved on the back end of its defense? Not even close.
The starting cornerbacks,
Terence Newman
and
Mike Jenkins
, were particularly poor in 2010. And the starting free safety,
Alan Ball
, was miserable in coverage.
Gerald Sensabaugh
, the starter at strong safety, had the best year of anyone in this secondary. But he really isn't a great cover man, which shows how bad things were a year ago for the Cowboys. Dallas wisely kept him near the line of scrimmage. It also re-signed Sensabaugh, who was up for free agency. In the draft, the Cowboys only used one selection for secondary help, a fifth-round pick on
Josh Thomas
from the University of Buffalo. Thomas is considered a project.
[+] Enlarge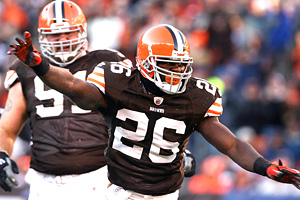 Matt Sullivan/Getty ImagesThe Cowboys on Wednesday signed safety Abram Elam to a one-year, $2.5 million contract.
Needless to say, this isn't a good situation for the Cowboys. They are going to move Ball back to cornerback, where he belongs. And I believe Jenkins is a better player than what he showed last year. Their nickelback,
Orlando Scandrick
, could be poised to get more playing time. But in the end, I see Scandrick as best suited for his current role. Dallas does have two youngsters who could step up in their second NFL seasons in
Bryan McCann
and particularly
Akwasi Owusu-Ansah
. But neither of these two did anything to speak of in Year 1.
Are there free agents available who could help the cause? There are several intriguing safeties who have yet to be signed, and every one of them would be massive upgrades from what Ball did at free safety a year ago. On Wednesday,
Dallas signed
safety
Abram Elam
. He is a smart player with decent range. He isn't afraid to insert himself or throw his body around. He is certainly an upgrade over what the Cowboys were playing with as a last layer of defense in 2010. But I still question if that is enough to really compete in their secondary -- especially with the rigors of the season and once injuries occur. The Cowboys should also look at free agents
Dashon Goldson
,
Donte Whitner
and
Deon Grant
at free safety; all are unsigned as of this morning.
I commend the Cowboys for keeping many of their own free agents and addressing their offensive line situation, especially since they were in a real bind financially. But their secondary is a huge problem.
Scouts Inc. watches games, breaks down film and studies football from all angles for ESPN.com. Follow Matt Williamson on Twitter @WilliamsonNFL.