May, 21, 2014
5/21/14
11:30
AM ET
IRVING, Texas -- The
Dallas Cowboys
and
Oakland Raiders
are looking into the possibility of holding joint training camp practices in Oxnard, California, according to sources.
The Cowboys and Raiders practiced together in training camp numerous times. Jerry Jones fondly remembers his first training camp when the Cowboys made the drive from Thousand Oaks, California, to Oxnard to practice against Al Davis' club.
The Cowboys have not practiced against another team since 2012 when they spend two days working against the
San Diego Chargers
prior to their preseason meeting.
The Cowboys and Raiders do not meet in the preseason this summer. The teams would practice together between their first two preseason games. The Cowboys play the Chargers on Aug. 7 and play the
Baltimore Ravens
at AT&T Stadium on Aug. 16. The Raiders play at the
Minnesota Vikings
on Aug. 8 before hosting the
Detroit Lions
on Aug. 15.
The Cowboys plan on breaking camp on Aug. 15 and remain in Valley Ranch for the rest of the preseason. According to sources, the Cowboys talked to the
Miami Dolphins
about practicing together before their Aug. 23 meeting but the Dolphins wanted to have a regular-season feel to their lead up to their third preseason game, which is generally a dress rehearsal.
November, 27, 2013
11/27/13
7:00
PM ET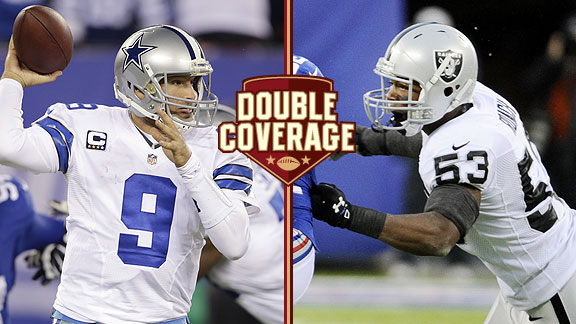 AP PhotoTony Romo's Cowboys host Nick Roach and the Raiders in a Thanksgiving Day duel.
IRVING, Texas -- For the second time in five years, the
Dallas Cowboys
and
Oakland Raiders
meet on Thanksgiving at AT&T Stadium.
The Cowboys won the 2009 matchup 24-7 with
Tony Romo
throwing for 309 yards and two touchdowns and
Miles Austin
catching seven passes for 145 yards. Since that game Austin has had more yards in a game just twice.
ESPN.com's Raiders reporter Paul Gutierrez and Cowboys reporter Todd Archer bring you this week's holiday version of Double Coverage.
Todd Archer:
The Cowboys are bad in most areas defensively, but they have given up 200 yards rushing in three games this season. The Raiders' strength, from afar, seems to be their running game. What makes it so good and how has it differed with
Terrelle Pryor
out?
Paul Gutierrez:
Hey, Todd, it's not just Pryor being out, but also
Darren McFadden
, who has missed three straight games and four overall with a strained right hamstring. He said Monday night he hopes to play after practicing (limited) for the first time since Nov. 1. The run game, though, has not missed a beat with underrated
Rashad Jennings
picking up the slack. In the past four games, he has run for 413 yards while averaging 5.7 yards per carry. In fact, the running game has been so surprisingly solid without McFadden and Pryor that the play-action pass game has picked up with undrafted rookie
Matt McGloin
under center.
Speaking of passing games ... no doubt Tony Romo can rack up stats, but has he decided to assume more of a leadership role yet as the QB of America's Team, or is that just not in his makeup?
Archer:
He has developed over the years as a leader, but there's no question that this has been "his" team the past three seasons. He is the veteran. He is the guy the Cowboys look to. The guys on this team now don't know of the Romo who burst on the scene in 2006 or had to deal with the
Terrell Owens
stuff. He's the guy who led the lockout practices and has been the big voice in the room. This year he has been given the added responsibility of being more involved in the game plan. The Cowboys' past two wins have come on last-minute drives led by Romo to beat Minnesota and the
New York Giants
. I don't think there's anybody questioning his leadership anymore. And if they did, well, the $106 million extension Jerry Jones gave him in the offseason should be more than enough proof to those guys that this is Romo's team.
Let's stick with the quarterback theme. Before the Cowboys lucked into Romo, they ran through a ton of guys after
Troy Aikman
's departure. Is there any reason to believe McGloin or Pryor can be a solution or do the Raiders need to go after one of these guys in next April's draft?
Gutierrez:
Well, the way I put it earlier in the season, before Pryor hit his purported ceiling and sprained his right knee, robbing him of his greatest strength (running) while accentuating his biggest weakness (passing), if Pryor was not the Raiders' Mr. Right, he was their Mr. Right Now. McGloin is a pure quarterback, a pocket passer whom Dennis Allen prefers for what he wants to accomplish offensively. It's hard to give Allen and GM Reggie McKenzie much credit for their evaluation of QBs, though, what with their misses on
Matt Flynn
and
Tyler Wilson
, not caring much for Pryor early on and then, similar to the Cowboys with Romo, stumbling upon McGloin. But it's hard to see them going all in with the undrafted rookie from Penn State, too. At least hard at the moment. Unless McGloin continues to improve and wins a few games, it would behoove the Raiders to draft another QB if they see one as a can't-miss prospect. I know, I know, they really wanted USC's
Matt Barkley
but Philadelphia traded in front of them so they traded back and selected Wilson. Oops. There is no doubt, though, that this Raiders regime prefers McGloin as a prototypical QB over the more electric Pryor.
No matter who is under center for Oakland, though, the Raiders' QB is going to have to keep an eye on
DeMarcus Ware
. Is he rounding back into shape as a dominant pass-rusher, or is he more decoy as he rehabs from his quad strain?
Archer:
I think he's still feeling his way through it. The fact that he made it through the Giants game healthy was a plus. He has been dinged up in just about every game with stinger and back strains earlier in the season before the quadriceps injury. We'll see how he fares on a short week, but the defense is a lot better with even the threat of Ware on the field.
Jason Hatcher
had two sacks against the Giants at least in part because of the attention Ware received. Ware has talked about wanting to make up for lost time. He has five sacks so far, his fewest this late in a season since his rookie year in 2005. Thursday would be a good time to look like the DeMarcus Ware of old.
This game is a homecoming of sorts for guys like
Mike Jenkins
,
Andre Gurode
,
Kevin Burnett
and Tony Sparano, but it's a real homecoming for Dennis Allen. How is he perceived in Oakland and will McKenzie be more patient with him than, say, Al Davis would have been?
Gutierrez:
The jury, so to speak, is still out on Allen in the streets of Silver and Blackdom. Of course, when the Raiders win a game, he's the man. When he loses, the fans turn on him and start pining for Jon Gruden ... again. But isn't that the nature of the beast? Even Allen himself said this was a results-oriented business. Of course, he was referring to the quarterback position at the time, but it still applies. Make no mistake about it, Allen is McKenzie's "guy" and he's going to roll with him and have patience with him. The plan coming in was to give Allen at least three years to right this ship and really, the only thing that could damage Allen's chances of lasting another year would be if the team quit on him, like it did last November before playing hard again at the end. Then again, it might not be McKenzie's choice. Owner Mark Davis is a more patient owner than his father and wants McKenzie to handle all football-related decisions. But a year after stating he was fine with just about anything but regression, Davis wants progress. Stagnancy won't cut it, either. So, stay tuned.
Sticking with the coaching theme, is Jason Garrett in Jerry World for the long haul, or was Jerry Jones' support merely the dreaded vote of confidence?
Archer:
Jerry has publicly backed Garrett, but he's also been a guy who's said, "Just because I say something, doesn't mean it's true." I do know this: He wants Garrett to be the guy. He desperately wants it to work. I really believe that. He believes in Garrett's approach and how he builds a team. Garrett will provide some blow-back to Jerry but not as much as, say, a Bill Parcells. Garrett knows what makes Jerry work and knows how to work around it to a degree or push Jerry in a certain direction. Honestly, Cowboys fans should want the Garrett deal to work out because it might be the best combination to mitigate the bad parts of Jerry and keep the good parts of Jerry.
October, 10, 2011
10/10/11
9:52
AM ET
IRVING, Texas -- Can you imagine what a team co-owned by Al Davis and Jerry Jones would have been like?

In remembering Davis, who passed away on Saturday at age 82, Jones said, "I could've been a partner with Al if we jointly owned the team through the years because he was very loyal, very smart and very reasonable. He didn't have the perception of being reasonable but he was."

In the last 15 months two of Jones' contemporaries have died in Davis and George Steinbrenner, the New York Yankees owner who was a business partner with Jones.

"In their cases they made enormous contributions and their will and their personalities are a part of those franchises," Jones said. "I would readily say that with George Steinbrenner and Al Davis, their personalities are bigger than life because they're so passionate. It's passion. It's caring. And there was no detail that if they decided it was needed that was beyond their influence in the organization. It's no accident I had the relationship I had with Al and it's no accident I ended up partnering with George Steinbrenner."

In Jones' office he has "wonderful letters from George," and he would receive countless calls from Davis, too.

"They were men that encouraged you when you were down and were quick to sense when you were under siege and quick to come with their support," Jones said.

October, 8, 2011
10/08/11
1:20
PM ET
The Cowboys released the following statement from Jerry Jones about Raiders owner Al Davis, who died Saturday:
"In my eyes, so much of his legacy will be defined by the loyalty he had for the men who played for the Raiders and the love that they had for him. That was a bond that extended beyond the playing years and lasted lifetimes.

"His contributions and expertise were inspiring at every level--coach, general manager, owner and commissioner. There was no element of the game of professional football for which Al did not enjoy a thorough and complete level of knowledge and passion.

"He welcomed me and my family to the NFL 23 years ago and was a trusted friend for all of our time in professional football. We will miss him deeply and we are thinking of Mark and Carol at this difficult time."
July, 29, 2011
7/29/11
11:22
AM ET
SAN ANTONIO -- The easy thing to do when players get cut is to trash their memory, call them no-good slugs who were a waste of money.
But that would be unfair when you look at the production the Cowboys received from Marion Barber, Leonard Davis and Marc Colombo. Barber was at one point a huge difference-maker and tone-setter on the offense, even if most of it came before he received his big contract. Davis was dominant in his first couple of seasons and went to three Pro Bowls.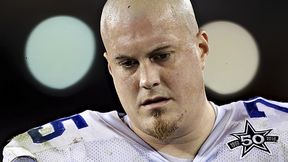 Christian Petersen/Getty ImagesWith the sending of an email, the Cowboys cut Marion Barber, Leonard Davis and Marc Colombo (above), one of the team's better free-agent signings. "There's no getting used to it," Jason Witten said. "... It's tough, but that's how this business operates."
And Colombo might be one of the Cowboys' better free-agent signings ever.
As much as personnel people get stoked out of hitting home runs in high-priced free agency or high draft picks, they really enjoy it more when they get something from nothing. Many reputations get made on finding jewels like that.
Colombo was a street free agent when he joined the Cowboys in 2005. Chicago gave up on its first-round pick from 2001 because it felt Colombo would never be a player because of a serious knee injury. Bill Parcells, using a theory time-tested by Al Davis and Ron Wolf, wanted to see what Colombo had because of a pedigree. If a guy was once a first-round pick, something had to be there, according to Parcells.
The Cowboys signed Colombo on Nov. 2, 2005, without much fanfare; gave him time to get stronger in the weight room under the tutelage of strength and conditioning coach Joe Juraszek; and by the next season he was the starting right tackle. He started the next 72 games he played, missing seven games in 2009 because of a fractured ankle.
He was rewarded with two contract extensions and he played through a myriad of injuries in addition to the knee problems that cropped up from time to time. It wasn't always pretty, but Colombo fought. He set a tone in the meeting room and on the field. He was a big part of the player-run practices in May at Southlake's Dragon Stadium.
But with the click of the send button Thursday, an email officially ended it all for Barber, Davis and Colombo as the Cowboys moved on. There was really nothing surprising about the decisions because of the age and money tied into the three players.
Football can be an exhilarating and cruel business all at the same time.
As the team officially announced the cuts, Tyron Smith was practicing for the first time with all the promise of the No. 9 overall pick. There was no stopping the momentum of a new season on Thursday, just to praise the work of three players that contributed a lot to the Cowboys.
"It's a short life. It's a short career," coach Jason Garrett said in answering a question about Tony Romo earlier in the day. "It's a great opportunity for us to play and coach in the National Football League for the Dallas Cowboys. Each and every day you wake up and you try to take full advantage of that."
One day, maybe five, 10, 15 years from now, it will end for Smith, the first player born in the 1990s to be drafted by the Cowboys, and the NFL life cycle will continue with another first-round pick or free-agent pickup ready to replace him.
"It is difficult," tight end Jason Witten said. "There's no getting used to it. There are a lot of guys who aren't here that had a lot of blood on the wall. They put it out there every day, every Sunday and left everything they had out there on the field. It's tough, but that's how this business operates. And you know that but you definitely appreciate all of those guys' work. It's unfortunate we didn't have more success with them."
July, 30, 2010
7/30/10
9:03
AM ET
By
Bryan Broaddus
| ESPNDallas.com
My thoughts from Thursday practice:
*When you are building your team, you set out with a plan in mind to try and obtain more talent than your division opponents and the other teams in the league. That talent is added through the draft or through free agent signings. To the organization, free agents are the players that you can't add during the draft that fill in your roster.
One of the best additions to this roster in several years has been that of linebacker
Keith Brooking
. From a personnel man's standpoint, Brooking is a dream. He brings toughness, smarts, leadership and passion to the game.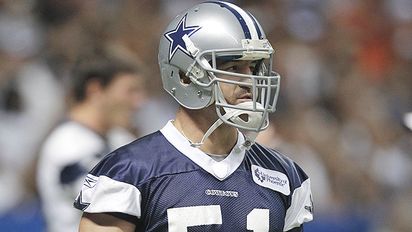 AP Photo/Tony GutierrezVeteran Keith Brooking has proved to be nothing but an asset since he's arrived with the Cowboys.
When studying him during practice, you see a sideline to sideline player. When the ball goes outside, Brooking defeats blocks to get there.
Guard
Pat McQuistan
tried to reach him on a play in 9-on-7 but Brooking used his hands to control McQuistan, work outside and make the tackle. In the same drill, Brooking took on fullback
Deon Anderson
-- same result, fires his hands inside, takes on the block to make the tackle.
In pass coverage, he is no different in his ability to read and react to the football. In the nickel, backs or tight ends in his area are tightly covered.
Tashard Choice
tries to run an option route inside but Brooking is right there in coverage, tight on his hip to defend the ball.
In pro free agency, you have the opportunity to help your team or hurt your team with your additions. In this case it was a huge get for the Cowboys.
*There is no doubt in my mind that nose tackle
Jay Ratliff
is a "Blue" player. In the Cowboys scouting lingo that would be an "elite" player. A real difference maker, one that can turn the direction of a game by his play.
As wonderful as it is to have a "Blue" player, you need players behind him that are not "Orange" or "not for us". When you study the backups at the nose tackle spot, you see some borderline "Orange" players.
Junior Siavii
does nothing for me to be real honest and by taking a shot on a supplemental pick in Josh Brent, the club might be thinking the same way. There are too many times where Siavii gets hooked up on blocks and cannot escape. In one-on-one pass rush drills, he has trouble with
Travis Bright
and
Phil Costa
.
The Cowboys have to be looking forward to Brent getting back into the rotation soon because in the short time that he was in there, he mixed it up well.
*Speed will always get you a look regardless how much football you have played. This is the case of the newest Cowboy Teddy Williams.
A much decorated track star from the University of Texas at San Antonio, Williams donned the pads for the first time since high school and took part in an NFL practice.
The first thing that popped into my mind about this was when Jerry Jones broke into the NFL one of the owners he really leaned on was
Oakland Raiders
owner, Al Davis. This is the type of move that Davis would make. Get a guy that can really run and give him a look.
Davis fell in love with a former Cowboy that could really run in
Randal Williams
. Williams hung around for a couple of seasons until Davis realized, he could not play.
In my view, there really is no harm in this at all. Williams didn't look totally out of water to me moving around. Even if he makes mistakes, his speed can run him out of a lot of problems.