Dallas Cowboys:

Alvin Harper
July, 11, 2014
Jul 11
10:00
AM ET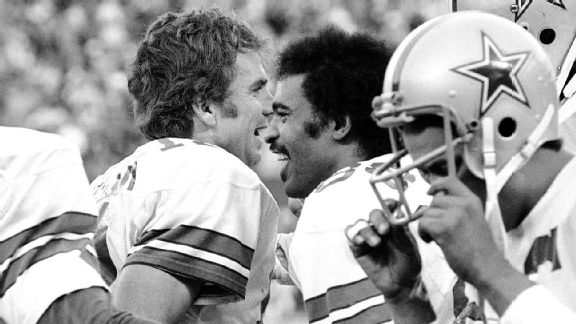 AP Photo/Bill Kostroum
Score:
Cowboys 17, Vikings 14
Date:
Dec. 28, 1975
Site:
Metropolitan Stadium
With nearly 40,000 votes cast, Roger Staubach's Hail Mary pass to Drew Pearson was voted as the most memorable play in
Dallas Cowboys
' history by the ESPN.com readers.
Troy Aikman's fourth-quarter pass to Alvin Harper in the 1992 NFC Championship Game against the
San Francisco 49ers
that set in motion the 1990s dynasty finished second. Bob Lilly's sack of Bob Griese in Super Bowl VI was a distant third even if it propelled the Cowboys to their first championship.

The voters got this one right. Staubach is the most iconic player in franchise history, and that play is frozen in time. It was one of the most iconic plays in NFL history and introduced "Hail Mary," into the league's lexicon. You cannot write the history of the NFL without that play.
To recap the play: With time running out in a 1975 divisional playoff game against the
Minnesota Vikings
, the Cowboys had the ball at midfield and needed a miracle. They had dominated statistically, but the Vikings had a 14-10 lead.
Staubach pumped to his left after taking the shotgun snap, in hopes of moving safety Paul Krause away from the sideline. As he pumped, Staubach said he nearly lost the ball and as a result the pass was underthrown.
Subsequently, Pearson had to pull up and either knocked Nate Wright down (Minnesota's version) or made an excellent adjustment to the ball (Dallas' version) to score the winning touchdown, pinning the ball against his right hip.
Some of you wondered why Tony Dorsett's 99-yard run, Emmitt Smith's carry in which he broke Walter Payton's rushing record or his stiff-arm of Lawrence Taylor playing with a separated shoulder, Clint Longley's Thanksgiving Day heave against the Redskins or even Leon Lett's miscue in Super Bowl XXVII didn't make the list.
Two of my personal favorites: Marion Barber's run out of the end zone against the
New England Patriots
breaking seven tackles and
Tony Romo
's first-down scramble vs. the
St. Louis Rams
after a shotgun snap sailed over his head didn't make the list either.
There needed to be some historic value to the play. The Hail Mary had that, so did Aikman-to-Harper and Lilly's sack.
But there's no question which play had the most value.
July, 7, 2014
Jul 7
10:00
AM ET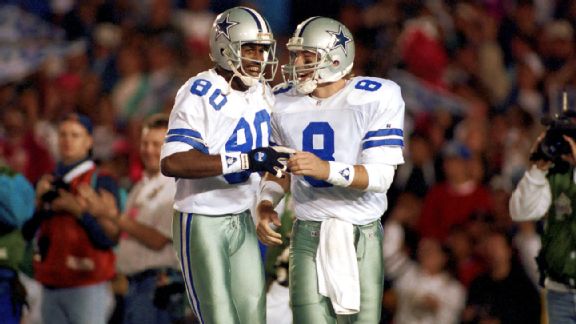 USA TODAY Sports
»
VOTE HERE
»
NFC Plays:
East
|
West
|
North
|
South
»
AFC:
East
|
West
|
North
|
South
This is one of three finalists for the most memorable plays in team history. In the next two days we'll include the sack of Bob Griese by Bob Lilly in Super Bowl VI and Roger Staubach's Hail Mary touchdown pass to Drew Pearson in the 1975 playoffs against the
Minnesota Vikings
. Please vote for your choice as the Cowboys' most memorable play.
Score:
Cowboys 30, 49ers 20
Date:
Jan. 17, 1993
Site:
Candlestick Park
If you're looking for the moment the
Dallas Cowboys
took over as the best team in football in the 1990s, this was it.

With San Francisco scoring a touchdown to cut the Dallas lead to 24-20 with 4:22 to go in the NFC Championship Game, Cowboys coach Jimmy Johnson told offensive coordinator Norv Turner to attack. On the first play of the ensuing drive and with the 49ers expecting a run, Troy Aikman connected with Alvin Harper on a 70-yard completion.
That Harper caught the pass was something of a surprise. He lined up to Aikman's left only because Michael Irvin switched positions. Having run the play a few times earlier in the game, Aikman had thrown to Harper in the slot. Once he heard the play called in the huddle, Irvin switched to the slot believing the ball would come to him with the game and season on the line.
Seeing a blitz before the snap, Aikman knew the ball had to go to Harper on a slant quickly. The receiver won at the line of scrimmage and sprinted to the 49ers 9-yard line before getting tackled.
Three plays later, Aikman found Kelvin Martin for the game-clinching touchdown and the Cowboys had earned their first Super Bowl trip since 1978.
Two weeks later, the Cowboys would win their first of three championships in a four-year span by whipping the
Buffalo Bills
in Super Bowl XXVII, but the Aikman-to-Harper pass is the moment when the Jimmy Johnson Cowboys arrived.
The play signified Johnson's willingness to take a chance when other coaches would have run the ball to kill the clock, especially on the road. Going to Harper in a big moment showed Aikman's precision as a passer and decision-maker.
Aikman-to-Harper didn't end in a touchdown, but it did spark a Super Bowl run that had been unmatched up to that point.
@toddarcher changed the momentum of the game when everybody expected us to run and milk the clock. They played to win on the road!

— GatorDwqam (@GatorDwqam) July 2, 2014
.
April, 9, 2014
Apr 9
12:00
PM ET
IRVING, Texas -- There was a time when the way the
Dallas Cowboys
ran their draft room was the envy of the league.
One of those years was back in 1991 and
Mike Tanier of Sports on Earth
ranked the Cowboys selecting Russell Maryland and Alvin Harper that year as ninth best on the all-time list of teams with two first-round picks.
The Cowboys actually had three first-round picks that year thanks to a deal with the
Washington Redskins
, but traded Kelvin Pritchett to the
Detroit Lions
for picks in the second, third and fourth rounds.
In Maryland, the top overall pick, the Cowboys got a vital piece to their vastly underrated defensive line. In Harper, the No. 12 pick, they got a complement to Michael Irvin who Norv Turner knew how to maximize.
In trading Pritchett, who had a solid career, the Cowboys got linebacker Dixon Edwards, guard James Richards and defensive end Tony Hill. Edwards was a starter, but Hill lasted two seasons and Richards didn't make the team.
The Cowboys had two first-round picks in 1992, 2005 and 2008 as well.
In 1992, they took cornerback Kevin Smith (No. 17) and linebacker Robert Jones (No. 24), who became starters on Super Bowl teams. In 2005, they took outside linebacker
DeMarcus Ware
(No. 11) and defensive tackle
Marcus Spears
(No. 20). Ware became the franchise's all-time leader in sacks. In 2008, the Cowboys selected running back
Felix Jones
(No. 22) and cornerback
Mike Jenkins
(No. 25). Neither signed a second contract, although Jenkins had a Pro Bowl season.
February, 27, 2014
Feb 27
10:00
AM ET
IRVING, Texas -- Tuesday marked the 25th anniversary of Jerry Jones' purchase of the
Dallas Cowboys
and Texas Stadium for $140 million.
The highs have been high, but the lows have been low, especially since the Cowboys last won a Super Bowl in the 1995 season.
Here we will look at Jones' top five moments as the Cowboys' owner and general manager while realizing that a large segment of the fandom will not give him any credit for what happened in the early years when Jimmy Johnson was around.
1. How do you like those Super Bowls?
[+] Enlarge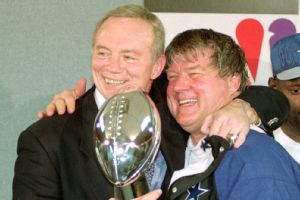 AP Photo/Charles KrupaOwner Jerry Jones and coach Jimmy Johnson celebrate their 30-13 win over Buffalo in Super Bowl XXVIII on Jan. 30, 1994, in Atlanta.
The Cowboys won three titles in Jones' first seven years as owner. They became the first team to win three Super Bowls in a four-year span, becoming the team of the 1990s with the Triplets -- Michael Irvin, Troy Aikman and Emmitt Smith -- becoming household names. The Cowboys beat the
Buffalo Bills
in Super Bowls XXVII and XXVIII by a combined score of 82-30. They claimed Super Bowl XXX with Barry Switzer as coach by beating the
Pittsburgh Steelers
27-17, exacting some revenge for the '70s Cowboys who could not beat Terry Bradshaw & Co.
2. Hiring Jimmy Johnson
Jones expressed regret Sunday about the rushed nature of firing legendary coach Tom Landry, but there is no doubt he made the right decision in bringing his former college teammate Johnson with him to the Cowboys. Johnson was the best coach in college football at the time at the University of Miami and brought a brashness that took the NFL by storm. The Cowboys suffered greatly in 1989 by going 1-15, but by Johnson's second year they were competing for a playoff spot in the final week of the season and winning a playoff game by the third year. By Year No. 4, Johnson had his first of two straight Super Bowl wins. It ended badly between Jones and Johnson, wrecking what could have been a history-making era because of the egos of the owner and the coach.
3. The trade of all trades
This is where the Jimmy and Jerry camps will always be divided. If you were a Jimmy guy, he engineered the trade of Herschel Walker to the
Minnesota Vikings
. If you were a Jerry guy, he had the final say. Regardless of who you want to credit, the moment is in Jones' era as owner and is among his biggest moments. The Walker trade brought about the formation of the Super Bowl teams. The Cowboys received five players and eight picks, turning those picks into Smith, Alvin Harper, Dixon Edwards and Darren Woodson. It might be the best trade in NFL history.
4. A new home
At $2.1 billion, there is no stadium like AT&T Stadium. This will be the monument Jones leaves whenever he is no longer the owner and general manager of the team. To get the stadium built, Jones acquiesced to a degree by bringing in Bill Parcells as coach in 2003 after three straight 5-11 finishes. With Parcells and the coach's two Super Bowl wins, Jones could show people he was serious about winning and changing his ways. The stadium is unmatched in the NFL, if not the world, with its nightclub-type feel, center-hung digital board, retractable roof and sliding doors. The Cowboys might not have the same home-field advantage they had at Texas Stadium, but the stadium has delivered a Super Bowl, an NBA All-Star Game, numerous concerts and the upcoming Final Four.
5. Trading for Charles Haley
Again, this will divide the Jimmy and Jerry camps, but Haley was the piece to the puzzle who got the Cowboys over the top. It weakened the Cowboys' biggest rival at the time, the
San Francisco 49ers
, and brought the Dallas defense an attitude it lacked. The signing of Deion Sanders in 1995 also weakened the Niners, but Haley brought two titles -- if not the third, as well. The drafting of Smith, No. 17 overall, was another top moment with him becoming the NFL's all-time leading rusher. But Haley's arrival brought to Dallas what the fans want most: Super Bowls.
August, 3, 2012
8/03/12
3:25
PM ET
OXNARD, Calif. – No player has looked better offensively in camp than
Dez Bryant
.
Bryan'ts pre-training camp arrest has not affected the third-year wide receiver's play so far in training camp, and coach Jason Garrett points to one factor: conditioning.
Last year the lockout prevented Bryant from working out with the Cowboys' strength and conditioning coaches, and while he was in shape, he was
not
in shape. Let's allow Garrett to explain:
"I think he understands the importance of being physically ready to play," Garrett said. "I think he's been in the offense so he understands what we're asking him to do more. Dez is an interesting guy. It's something I've talked to him a lot about. He's one of those guys, he's about four percent body fat. He takes his shirt off and he's carved out of a mountain. There's a sense that, 'Boy, I'm in shape. I'm ready to go.'
"The guys that I was around as a player and the best receivers I've been around as a coach, they could run all day. They could run all day. I tell our guys all the time,
Alvin Harper
, for all of his craziness as a player, Alvin Harper would run 16 110s at 8:30 in the morning with the 8:30 group and be done around 9 o'clock. He'd turn around and say, 'Yeah, I'll run with you guys at 9:30.' Sixteen 110s at 9:30. Now Alvin has a track background. He was a great track athlete at Tennessee, so those guys have a little bit of an advantage that way, but he could run all day long.
Michael Irvin
could run all day long. He runs a nine (go) route, runs back and runs another nine and a deep eight and he runs a deep over route. They could run all day long, come back in the huddle and here we go.
"Dez is one of those guys as a young player, 'I'm in shape. I'm 214 pounds. I'm carved out of a mountain. I have 4 percent body fat.' Dez, the description for you is you have to be able to run all day long. All day long. I can call 15 nine routes, you run them and you run back and you run it again. That's the point you want to get to, and Dez is understanding that more and more. He did a great job at different times last year fighting through injuries. He had the thigh deal going. He had some other things he fought through, so he has the mental toughness to do it. He just has to continue to understand the importance of it because when he's good and explosive and fast and coming in and out of his cuts, he's hard to defend. You're seeing a lot of that already."
Bryant struggled in the second halves of games last year in part because of conditioning and, according to Garrett, some wasted energy. Bryant caught 26 of his 63 passes in the second half for 370 yards and two touchdowns.
"A lot of you guys get to our games early and you see this guy out there ... throwing the ball 80 yards in the air and he's got an unbelievable arm and he's running around like he's 10 years old," Garret said. "Nobody loves football more than Dez Bryant. He wears out the trainers. He wears out the equipment guys, 'Throw me passes. Throw me passes.' It's unbelievable. He loves the game. But you have to channel that, and we've talked to him a lot about preparing yourself for practice. We need you in these practice reps. We need you in these game reps. We need you throughout the game. So you have to be able to channel that energy and be mature enough to know when you need to be at your best, and I think he has a better understanding of that."
January, 17, 2012
1/17/12
12:13
PM ET
IRVING, Texas -- A lot of times when players are about to hit free agency, all they see is dollar signs.
PODCAST
Free-agent WR Laurent Robsinson joins Ben and Skin to discuss his first season with the Cowboys and his desire to return.

Listen

After playing for four or more years with one team, they look forward to the open market, dreaming of the biggest payday.
That sure didn't sound like
Laurent Robinson
last week when he appeared on ESPN Dallas 103.3 FM's Ben and Skin Show.
"This is where I want to be," Robinson said. "It doesn't matter if I'm the No. 1, 2 or 3. I feel like I have a good fit here."
Maybe Robinson has a different view on his impending free agency because he did not make his mark with three organizations before joining the Cowboys, but if he is talking about "fit" and not about the "money" then the Cowboys have a good shot at re-signing Robinson, who caught 11 touchdown passes as part of his 54-catch, 858-yard season.
Robinson and
Tony Romo
meshed right away, which flew in the face of the excuses we heard during Roy Williams' run with the Cowboys.
Back in 1995,
Alvin Harper
was in a great position as the Cowboys' No. 2 receiver opposite
Michael Irvin
but left to become the No. 1 receiver in Tampa Bay with a four-year, $10.6 million contract, which at the time was a large deal, and it never panned out.
It never panned out for
Peerless Price
in Atlanta (seven years, $37.5 million) after he caught 94 passes for 1,252 yards from
Drew Bledsoe
. It didn't work out for
David Givens
in Tennessee (five years, $24 million) in part because of injury. It didn't work out for
T.J. Houshmandzadeh
in Seattle (five years, $40 million). A pair of trades didn't work for
Javon Walker
(from Green Bay to Denver and a five-year, $40 million contract) or
Deion Branch
(from New England to Seattle and a six-year, $39 million deal).
Branch was traded back to New England and it's working out just fine once again because he fits with
Tom Brady
.
Funny how that worked.
It's easy to sit on the sidelines and say, 'Don't think about the money.' What would most of us do if you could do the same job somewhere else for a large check?
The Cowboys need Robinson in a lot of ways because there always seems to be something with
Dez Bryant
and
Miles Austin
was hurt most of 2011. He is not a No. 1 receiver, but he showed he could fill in for Bryant and Austin when they were hurt and excel.
If fit matters, as the wide out said, then the Cowboys have a chance to keep him.
January, 25, 2010
1/25/10
9:18
AM ET
There are a lot of similarities between the 1991 Cowboys and the 2009 Cowboys, as
presented by ESPN Stats & Information's Alok Pattani.
However, there are some significant differences between the Cowboys of those days and today that you should consider before making Super Bowl parade plans.
Start with the drafts of those years.
Four players from the class of '91 -- DT
Russell Maryland
, WR
Alvin Harper
, RT
Erik Williams
and CB
Larry Brown
-- were full-time starters by their second seasons. LB
Dixon Edwards
and DT
Leon Lett
were significant contributors who developed into starters.
Will the class of '09 produce any starters? Kickoff specialist
David Buehler
and TE
John Phillips
were the only significant contributors as rookies.
The Cowboys also had a strong draft in 1992, when they selected three players who started for Super Bowl champions: CB
Kevin Smith
, LB
Robert Jones
and S
Darren Woodson
. But the biggest immediate impact move they made that offseason was trading for Pro Bowl DE
Charles Haley
.
Those moves helped the Cowboys go from the second round to three Super Bowls in four seasons.