Dallas Cowboys:

Amani Toomer
July, 13, 2012
7/13/12
9:49
PM ET
By
David Collier
| ESPNDallas.com
Former
New York Giants
wide receiver
Amani Toomer
recently made comments that the
Dallas Cowboys
'
Tony Romo
is a better quarterback than NFL East rival
Eli Manning
of the New York Giants.
Jason Witten
, who has a long history with Romo, appreciated the comments but feels it's best to not pay attention to those things.
"You usually don't hear that from Giants fans," Witten said. "It was good to hear for Tony. I think for all of us, especially Tony, you have to be able to block that out -- good or bad."
Witten knows how much Romo means to the Cowboys and knows that for the team to have the overall success it strives to have that it takes more than Romo having a good game.
"Ultimately, he had a really good season last year, but we didn't make the playoffs," Witten said. "We have to do more. We understand that. We have a great relationship with him in understanding let's press it and be our best. Not only do we need to be our best, but let's make everyone around us better."
At the same time, Witten respects the job Manning and the Giants have done, but he does believe Romo deserves more credit.
"I think he's an elite league quarterback," Witten said of Romo. "Many people have said that. I think that's great that Amani said that, but at the end of the day, Eli is a Super Bowl champ. He's won two out of the last five years. They're doing a lot of good things right up there. They're the poster boys of how you do it and not let adversity get in the way because of where they're at."
July, 9, 2012
7/09/12
2:12
PM ET
All due respect to
Amani Toomer
, but you can't make a rational case right now that
Tony Romo
is a better quarterback than
Eli Manning
.
Not as long as Manning has more Super Bowl rings than Romo has playoff wins.
Romo has said repeatedly in recent years that quarterbacks are ultimately judged by championships. He's right.
But that doesn't mean that
Dan Marino
should be excluded in conversations about the all-time greats, but his lack of titles can certainly be used as a tiebreaker when comparing him to his peers. As is the case in the Romo-Eli debate, even though the same logic doesn't apply when comparing, say,
DeMarcus Ware
and
Justin Tuck
.
Just don't make the case that Manning is far superior to Romo, who has the edge in the majority of statistical categories. It's really a matter of inches.
Take a look at two plays in particular, a couple of crucial Romo incompletions that Manning watched from the sideline. Manning might be perceived as a choker, not praised as a champion, if Romo's receivers executed properly on these plays.
What if
Patrick Crayton
doesn't hesitate at the top of his route on a throw to the end zone late in the top-seeded Cowboys' 2007 playoff loss to the Giants? If Crayton catches that pass – and he did have a critical third-down drop earlier in the game – Manning's season would have ended in Texas Stadium instead of with a Super Bowl upset of the previously undefeated Patriots.
What if
Miles Austin
bent his route inside as much as he should have on a potential dagger deep ball against the Giants at Cowboys Stadium last season? The Cowboys would have won the NFC East, meaning the Giants would have missed the playoffs instead of making a stunning run to their second Super Bowl title in five years.
Of course, those plays didn't go the Cowboys' way. Romo wasn't to blame in either case, but that doesn't change the results.
Manning has the rings. He has to get the nod as the NFC East's best quarterback. But a couple of plays could have completely changed the conversation.
July, 6, 2012
7/06/12
2:06
PM ET
I don't know. I mean, I saw everything blow up on Twitter last night about former
New York Giants
receiver
Amani Toomer
saying
Dallas Cowboys
quarterback
Tony Romo
was better than Giants quarterback
Eli Manning
, and so I was eager to hear the Sirius XM radio audio myself. And as usual, everybody's way overreacting.
PODCAST
Matt Mosley and Ian Fitzsimmons react to the comments former Giants WR Amani Toomer made about Tony Romo and Eli Manning.

Listen

Toomer wasn't answering a question about which of those two NFC East quarterbacks is better. He was issuing a defense of Romo against his Cowboys-fan critics. He barely even mentioned Manning. Here's what he said:
"Tony Romo is probably, if you look at it statistically, he's probably the best quarterback in the NFC East. I mean, look at Eli Manning and what he does in the fourth quarter, but you talk about consistency, you talk about 31 touchdowns and only 10 interceptions, that guy can play. And all the Cowboy fans out there that are saying he can't play, saying they don't like him, you've got to really look at what you're getting, because you can't replace a guy like that because he is a top, upper-echelon quarterback and I just don't see why he is getting blamed for all these things that kind of aren't his fault.

"For me, if I wanted a guy that is going to throw less interceptions and be more productive, higher completion percentage, I'm going to go with Tony Romo."
So yeah, in saying Romo's the best quarterback in the NFC East he's picking him over Manning. Surprising because Toomer is a former Giant and a former Manning teammate, but it's hardly the scintillating stuff of major controversy. Romo does throw fewer interceptions and more touchdown passes than Manning does. Manning's fourth-quarter comeback ability ranks among the very best of this or maybe any generation, but Romo has a pretty strong fourth-quarter record as well. Scouts watch both players, and most of them like Romo better, in terms of his physical ability, but they tend to say it's pretty close.
Manning, of course, has the ultimate trump card -- eight playoff victories, including two Super Bowl titles and two Super Bowl MVP awards. Romo, as we all know, has won only one playoff game. Which is why Romo is not the best quarterback in the NFC East and Manning is. But it's worth remembering that this was a very close call all throughout last year and that, if the Cowboys had won the Jan. 1 game, it wouldn't seem nearly as silly as it does now for Toomer to say what he said.
These are two extremely similar players. Romo has the better stats, but not by much, and Manning's championship accomplishments overcome whatever the differential is. I take Manning over Romo, as you all know, because quarterbacks have to be winners. Manning is, without a doubt, a winner. Romo has the tools to be one, and may someday. But to this point, he has not won the big games. I understand and agree with Toomer's fundamental point, which is that Romo is much better than his critics would have you believe. But he's not the best quarterback in his division.
December, 27, 2011
12/27/11
12:45
PM ET
»
NFC Stock Watch
:
East
|
West
|
North
|
South
»
AFC
:
East
|
West
|
North
|
South
FALLING
1. Cowboys' offensive line
. With the exception of brilliant rookie right tackle
Tyron Smith
, who handled the red-hot
Jason Babin
well most of the night, the
Dallas Cowboys
' line was dominated physically by the Eagles' defensive front. And now, with left guard
Montrae Holland
out with a torn biceps, they're shorthanded for their big division title game against the
New York Giants
and their fearsome D-linemen. Someone on the Cowboys' line is going to have to step up and play better than they've been playing. And no matter what happens Sunday night, interior offensive line is going to be a need position this offseason.
2. The Philadelphia Eagles' draft position.
One more win gets the Eagles to .500 for the season and could slide them further back into the middle of the draft's first round than they already are. (Currently, they'd hold the No. 13 pick). That lessens their chances at an impact player that would hasten their planned 2012 turnaround, but the Eagles have several needs they can address on defense at that point in the draft. They might even be able to get a wide receiver there if they cut ties with
DeSean Jackson
.
3. Washington Redskins' self-confidence:
Flying high two weeks ago after a big victory over the Giants, the Redskins' defense melted down Saturday against
Joe Webb
,
Toby Gerhart
and the
Minnesota Vikings
' bench. The loss deprived the Redskins of a chance to improve on their 2010 record and, as their worst defensive performance of the season, left them scratching their heads a bit as they ponder the future. The thought around Washington has been that this offseason's focus would be on offense. But there may be some tinkering left to do on defense, particularly on the back end.
RISING
[+] Enlarge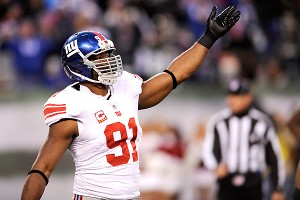 AP Photo/Bill KostrounWith Justin Tuck healthy and on his game, the New York Giants can be a force on defense.
1. Justin Tuck, Giants defensive end.
And, with him, the Giants' defensive line. After last week's pep talks by coach Tom Coughlin and GM Jerry Reese, Tuck was able to exert a little bit of mind over matter for the first time this season, sweep aside the aches and pains that have been bugging him and play his best game so far this year. Tuck admitted after the game he hasn't been mentally right this year, and he has let his injury problems bother him more than they should have. If he's back in the right frame of mind to stay, and the Giants can come after
Tony Romo
from his side and
Jason Pierre-Paul
's on Sunday night, you have to like their chances.
2. Cowboys fans' blood pressure.
Because this should have been taken care of weeks ago. If the Cowboys lose to the Giants and miss the playoffs, the laments will be numerous and woeful. They should have held their late leads against the Jets, Lions, Patriots, Cardinals and Giants. Win two of those five games -- all of which they surely could have won — and they'd have rendered the season finale meaningless. But their inability to finish games has put them in a position to have to finish the season with a tough win on the road. And their fans will spend this entire week fretting over whether Romo, Jason Garrett and the crew have what it takes to do that.
3. Victor Cruz, Giants wide receiver.
His 99-yard touchdown catch flipped the game in favor of the Giants right before halftime and may have been the play of the Giants' season. Cruz also set a new Giants team record for receiving yards in a single season, running his 2011 total to 1,358 and breaking
Amani Toomer
's team record. He's not likely to be announced as a Pro Bowler tonight, because he wasn't on the fan ballot and the fan vote counts for one-third of the total. But his breakout season is a big reason the Giants have a chance to make the playoffs.