Dallas Cowboys:

Andre Cureton
July, 18, 2014
Jul 18
9:00
AM ET
Constructing a 53-man roster is a difficult process, piecing together 10 positions groups and matching up present needs with future production of older and younger players. This week we take a look at constructing the Cowboys' roster.
Offensive line
Smith
On the roster:
Tyron Smith
,
Mackenzy Bernadeau
,
Travis Frederick
,
Zack Martin
,
Doug Free
,
Jermey Parnell
,
Ronald Leary
,
Darrion Weems
,
Uche Nwaneri
,
John Wetzel
,
Josh Aladenoye
,
Brian Clarke
,
Andre Cureton
,
Darius Morris
Locks:
Smith, Bernadeau, Frederick, Martin, Free, Leary, Parnell
Inside track:
Weems, Nwaneri
Need help:
Wetzel, Aladenoye, Clarke, Cureton, Morris
How many fit?
The Cowboys had 10 offensive linemen on the 53-man roster to start last season and through attrition ended with eight on the final 53-man roster of the season. Eight seems too light, but the Cowboys have carried just seven to the game for the past few seasons. Ten might seem like too many but finding offensive linemen can be tricky and the future has to be factored in with Free and Parnell entering the final year of their contracts.
As the Cowboys head to Oxnard, California, for training camp, I believe nine is the magic number. The top six are without question Smith, Bernadeau, Frederick, Martin, Free and Leary. The Cowboys could have their best line since 2007 when Flozell Adams, Andre Gurode and Leonard Davis made the Pro Bowl. The Cowboys invested three first-round picks in Smith, Frederick and Martin. Free rebounded with a solid 2013 season. Bernadeau and Leary are good enough to win with.
The questions are with the backups.
With Parnell entering the final year of his contract, could he be trade bait late in camp provided Weems shows he can be the swing tackle on game day?
There would be some salary-cap benefit, saving $1.5 million, especially if Parnell isn't viewed as a starter in 2015 or beyond. The Cowboys could choose to extend Free's deal, which could make a Parnell move possible. It's all predicated on Weems, who had some good moments in the offseason.
The interior depth is a little in question. The loser of the left guard battle between Bernadeau and Leary becomes the top backup with Bernadeau serving as the backup center. Nwaneri has a lot of experience. Clarke could be a guy worth grooming for the future after what he showed as well. Wetzell might have some position flexibility as well at tackle and guard.
The series:
Quarterbacks
Specialists
Running backs
Safeties
Wide receivers
Cornerbacks
Tight ends
Linebackers
July, 2, 2014
Jul 2
10:45
AM ET
IRVING, Texas – When Jason Garrett said goodbye to us all after the Dallas Cowboys' minicamp ended on June 19, he was asked about the state of the roster.
"We'll continue to make evaluations of individual guys, where they stack up, if they belong on the roster, who else is on the landscape,"
Garrett said then
. "You're always trying to do that. Feel good about how guys have come in here and worked. A lot of young guys got a lot of work over the course of the OTAs and minicamp. A lot of veteran players worked hard, felt competition. That's a good thing for our team and we want to continue to do that. Whether the competition comes from within or without, it's our job to make sure we're always trying to put the most competitive situation available out there on our roster."
[+] Enlarge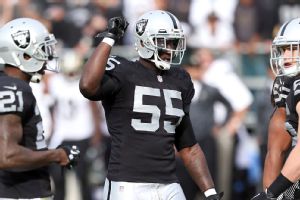 AP Photo/Paul SpinelliThe Cowboys hope recent acquisition Rolando McClain can help fill the void left by the injury to Sean Lee.
Since then the Cowboys have added two veterans: guard
Uche Nwaneri
and linebacker
Rolando McClain
.
The player acquisition business is 365 days a year. It never stops.
In Nwaneri the Cowboys have a veteran with 92 starts to his credit. The loser of the left guard battle between
Mackenzy Bernadeau
and
Ronald Leary
would be the top backup on the inside. The other backup candidates are inexperienced with
Brian Clarke
,
Andre Cureton
and
Ronald Patrick
. At the least, Nwaneri gives the Cowboys a lineman to help the backup quarterbacks have a chance in preseason games. At the best, he is a possible starter.
Trading for McClain is something of a gamble because of his past and his two forays into retirement. Does he truly want to play? If he does, then maybe the Cowboys have hit on a player who will be just 25 years old when training camp begins at a position of need with
Sean Lee
out for the year.
For all of the talk of
Brian Urlacher
joining the Cowboys, signing a 36-year-old with a bad knee after sitting out one year made less sense than adding a soon-to-be 25-year-old who sat out a season.
So where do the Cowboys look next for help before camp starts?
In the minicamp post referenced earlier, I mentioned they could look at linebacker, interior offensive line and tight end for help. Two of the three have been checked off. All that is left is tight end.
Why tight end?
They have a need for a blocker behind
Jason Witten
. That's not
Gavin Escobar
's forte.
James Hanna
is willing but that's not his strength either.
Jordan Najvar
is an undrafted free agent. There aren't many current candidates available to fit the bill in price or job description, but the Cowboys could spend time in training camp looking at other rosters for help.
May, 15, 2014
May 15
9:30
AM ET
IRVING, Texas – The
Dallas Cowboys
have not been shy in giving larger than normal signing bonuses or guaranteed money to undrafted free agents, but their 24 signings totaled $66,500 and no guaranteed money in base salaries.
Tarleton State cornerback Dashaun Phillips, a Duncanville, Texas, native, received the largest signing bonus at $7,500. Missouri wide receiver L'Damian Washington received $7,000 to sign. Running back Glasco Martin did not receive a signing bonus.
In 2012, the Cowboys guaranteed guard
Ronald Leary
$214,000. Last year, the Cowboys guaranteed linebacker
Brandon Magee
$70,000 and paid out a $10,000 signing bonus to
Jakar Hamilton
.
Here is the remaining breakdown of signing bonuses:
$5,000
QB Dustin Vaughan, West Texas A&M
DT Chris Whaley, Texas
OL Jarrod Pughsley, Akron
OL Josh Aladenoye, Illinois State
$3,500
WR Chris Boyd, Vanderbilt
$3,000
OL Andre Cureton, Cincinnati
$2,500
TE Evan Wilson, Illinois
$2,000
FB J.C. Copeland, LSU
RB Ben Malena, Texas A&M
S Marvin Robinson, Ferris State
P Cody Mandell, Alabama
LB Keith Smith, San Jose State
$1,500
S Ryan Smith, Auburn
OG Ronald Patrick, South Carolina
OG Brian Clarke, Bloomsburg
TE Jordan Najvar, Baylor
LS Casey Kreiter, Iowa
CB Jocquel Skinner, Bethel
DE Joe Windsor, Northern Illinois
DT Davin Coleman, Arizona State
$1,000
LB Dontavis Sapp, Tennessee