Dallas Cowboys:

Andre Johnson
July, 24, 2013
7/24/13
8:41
AM ET
Dez Bryant
finished sixth in the NFL in receiving yards last season. Imagine where he would've finished if the
Dallas Cowboys
hadn't ignored him in the first quarter.
Bryant caught just nine passes for 104 yards in the first quarter last season. For a guy who finished with 93 receptions for 1,382 yards and 12 touchdowns, that's a joke.
Detroit's
Calvin Johnson
caught 24 first quarter passes, and Houston's
Andre Johnson
caught 31. Chicago's
Brandon Marshall
caught 21 first-quarter passes and Denver's
Demaryius Thomas
had 24. Even Tampa Bay's
Vincent Jackson
had 15 catches in the first quarter.
Those are the only receivers with more yards than Bryant last season.
See the trend? All but Jackson were offensive focal points in the first quarter. Bryant is the Cowboys' most dynamic offensive player, so the Cowboys need to make it a priority to get him the ball.
And they need to get it to him in the first quarter, if for no other reason than he will create opportunities for others with the coverage he draws.
Coach Jason Garrett loves to spread the ball around and take what the defense gives him. Let's hope Bill Callahan is more persistent in getting his best player the ball.
May, 8, 2013
5/08/13
5:00
PM ET
We have talked a lot on here about the contract situation of
New York Giants
wide receiver
Victor Cruz
, who wants to get paid based on his No. 1 wide receiver production of the past two seasons, while his team wants to pay him as the top slot receiver in the league. We don't know how that situation will ultimately resolve itself, but once it does, it could have a ripple effect throughout the league for other wide receivers looking for contracts.
Bryant
Cruz
To that end,
Calvin Watkins examines
the possible impact Cruz's deal could have on
Dallas Cowboys
wide receiver
Dez Bryant
, whose contract expires after 2014 and is coming off a year in which he established himself as one of the most dangerous all-around wide receivers in the league:
The Cowboys need to be cautious what they pay Bryant because of his questionable decisions off the field -- which, in fairness, don't seem to be an issue anymore -- and what the top receivers make.

Larry Fitzgerald ($16.1 million), Calvin Johnson ($15.6 million), Andre Johnson ($14.4 million), Mike Wallace ($12 million) and Dwayne Bowe ($11.2 million) are at the top of the average salaries per seasons for wide receivers.

Does Cruz belong at that level? What about Bryant?

Whatever Cruz gets, Bryant's agent, Eugene Parker, will look at and make sure he tells Jerry and Stephen Jones to take care of his client from a financial standpoint.
I think it's impossible to make a prediction about Bryant's deal until we see at least one more year of Bryant. If he continues to show that he's got his off-field life together, and if he continues to play the way he did in 2012, he will indeed be able to ask for at least what Wallace and Bowe received, and likely more. If he slips up again off the field, or his play is inconsistent in 2013, or if he gets hurt, then old questions arise. I don't see Cruz cracking that top five Calvin listed here even if he gets every dollar he's asking for, so the only way he becomes a benchmark for Bryant is if Bryant does not continue to perform at that elite level over the next year or two. But I think 2012 was just the start for Bryant, who has the talent to become one of the very best in the entire league at his position.
May, 8, 2013
5/08/13
9:05
AM ET
When you look at some of the younger wide receivers in the NFL, finances are a major part of the discussion.
PODCAST
Ed Werder joins Fitzsimmons & Durrett to discuss potential past conflicts between Jason Garrett and Tony Romo regarding Romo's involvement in the offense and what changes will be made in the 2013 season.

Listen

Which brings us to what the
New York Giants
'
Victor Cruz
is looking for from his team and what
Dez Bryant
could potentially demand from the
Dallas Cowboys
.
Cruz was tendered by the Giants at $2.8 million but wants a long-term deal averaging close to $10 million a season. The Giants want him to average less than that.
What does this mean for Bryant?
The young receiver is signed through 2014 and will make base salaries of $1.5 million in 2013 and $1.7 million in 2014. He's also slated to make $500,000 in workout bonuses the next two seasons.
Bryant is coming off a career season where he had 92 catches for 1,382 yards and 12 touchdowns. He's emerged as
Tony Romo
's main target in the passing game and might become the emotional leader of the offense if he continues on his current path.
The Cowboys need to be cautious what they pay Bryant because of his questionable decisions off the field -- which, in fairness, don't seem to be an issue anymore -- and what the top receivers make.
Larry Fitzgerald
($16.1 million),
Calvin Johnson
($15.6 million),
Andre Johnson
($14.4 million),
Mike Wallace
($12 million) and
Dwayne Bowe
($11.2 million) are at the top of the average salaries per seasons for wide receivers.
Does Cruz belong at that level? What about Bryant?
Whatever Cruz gets, Bryant's agent, Eugene Parker, will look at and make sure he tells Jerry and Stephen Jones to take care of his client from a financial standpoint.
December, 24, 2012
12/24/12
3:15
PM ET
IRVING, Texas --
Dez Bryant
has scored a touchdown the last seven games and is just becoming a difficult man to cover these days.
The Cowboys wide receiver had nine catches for 224 yards and two touchdowns in the overtime loss to the
New Orleans Saints
. Bryant has produced five games with over 100 yards and nine games with at least 70 receiving yards.
Bryant's 224 yard performance was the fifth best performance by a wide receiver this season. Houston's
Andre Johnson
had a seasons best 273 yard effort against Jacksonville on Nov. 18.
"He's playing pretty well," coach Jason Garrett said of Bryant. "There's no question about that. He's done an amazing job with that finger. It doesn't seem to faze him in any way shape or form. He made a couple of really big plays in the ballgame early for us, running the 9 route, making the play over his head and then catching a slant and breaking a couple of tackles to score. Not only did he make those plays, but he made a number of other plays in the game. I think he's grown. I think he's playing with a great deal of confidence. He and (
Tony Romo
) have a really, really good relationship. They're seeing the field the same way. He's been good. There's no question about that."
September, 28, 2010
9/28/10
8:48
AM ET
By
Bryan Broaddus
| ESPNDallas.com
This week Scout's Eye wanted to focus in on a couple plays that were positive for the Cowboys against the Texans and one that was not.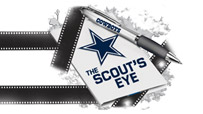 Wide receiver Roy Williams was brought to the squad by Jerry Jones to be a difference maker for the Cowboys' offense and he was against the Texans on Sunday with two big touchdowns in the 27-13 win. On Williams' second touchdown of the day, it appears that offensive coordinator Jason Garrett had called for a draw play on second-and -10 from the Dallas 37. What Romo and Williams did was far from run that draw.
Williams lined up far right in the formation in the personnel grouping of two tight ends and one back. Tight end
Jason Witten
was in the backfield with
Marion Barber
and motions right to left, remaining in the backfield. As the ball is snapped, tackle
Marc Colombo
fans to the outside trying to work his man up the field. Center
Andre Gurode
works to the second level and is already three yards down the field and could have easily been called for illegal man downfield. The offensive line and Barber are setting up for the draw but Romo and Williams "sight adjust" when Romo sees Texans safety
Eugene Wilson
in the middle of the field and no way able to adjust to have to cover Williams from his alignment.
[+] Enlarge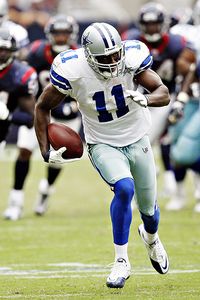 Bob Levey/Getty ImagesRoy Williams had his best day as a Cowboy on Sunday with five catches for 117 yards and two touchdowns.
Romo takes the snap, rises up and fires the ball to Williams, who has defeated cornerback
Kareem Jackson
to the inside as Jackson stumbles and is unable to recover. The pass is a little behind Williams as he adjusts on the move. The play happens so fast that Wilson from the center of the field doesn't even move as Williams is off to the races with the ball in hand.
On Monday morning, Texans coach Gary Kubiak commented that Jackson thought that he was to get some safety help inside from Wilson but none was there. The play results in a touchdown and was just another example of what a huge game that Williams had in the win, but also how Romo was in total command of not only the execution of the game plan but the mental side of it as well.
*In the days leading up to the game with the Texans, Wade Phillips knew that his defense was going to have their hands full trying to slow down a Texans offense that was ranked first in the NFL through the first two weeks of the season. The Texans' ability to run the football and the skill they also had on the outside made for a great challenge.
The Cowboys defense did rise to the challenge and was able to force the Texans into two field goal situations when the offense managed to get inside the 10-yard line.
The goal-line stand that I'll break down happened with 14:05 left in the fourth quarter with the Cowboys holding onto a 17-3 lead. To even get in this situation, you have to give safety
Gerald Sensabaugh
a ton of credit because without his touchdown saving tackle on Texans tight end
Owen Daniels
, the Cowboys would be protecting a seven-point lead.
Let's go through the plays that led to the stand.
On first-and-goal from the 1, the Texans try to run
Arian Foster
to the right behind
Eric Winston
,
Joel Dreessen
and
Andre Johnson
, who has come in motion from left to right.
Anthony Spencer
, who had a quiet game until that point, swims Dreessen, meets Foster with help from rookie safety
Barry Church
and
Keith Brooking
filling from the inside.
Second-and-goal from the 1, same formation for the Texans but this time, no motion from Johnson to the right. The ball once again goes to Foster moving to his right, fullback
Vonta Leach
leads to the outside, Spencer this time destroys Dreessen driving him back into the backfield.
Jay Ratliff
shoots the gap from the inside and fights his way to the point of attack.
Bradie James
comes flying from the inside to help clean up.
Now third-and-goal for the Texans from the 3. The Texans go to a three-tight end package with
James Casey
in the game. Casey is the wing to the right and motions left. Foster is the single back, Johnson is on the left outside runs a slant inside, Daniels is the left tight end, goes up and to the outside and draws coverage from Brooking. Casey works himself into the left flat. Foster tries to cut Ware but is not successful. Winston can't handle Spencer from the backside and he gets a holding call as Brooking gets a pass interference call against Daniels. The offsetting flags mean a replay of third down.
On this play is where Phillips dialed up a game-changing blitz. The Texans now bring three wide receivers into the game. Walter to the left, Johnson motions from the backfield to the right, Jones in the slot to the right as well. At the snap, Johnson hooks up on the goal line with
Orlando Scandrick
and
Alan Ball
in coverage. Foster works into the flat and is picked up by really no one with Newman playing half way between Foster and Jones who is running for the corner and might have a chance to make a play. Brooking comes screaming off the left corner untouched as Foster goes right by him. Ratliff on the inside beats center
Chris Myers
as well to create inside pressure. Schaub has no chance to see any type of route development and is sacked for a huge loss.
The Texans have to settle for a field goal and the Cowboys continue with a 17-6 lead. It was an outstanding series for Wade Phillips and the Cowboys defense.
*With the good of the Cowboys defense, there was a little bad.
In the second quarter, the Texans were faced with a third-and-19. The Texans put their three-wide receiver package on the field as Phillips counters with his nickel group. The Texans have three receivers, one tight end and one back. Schaub gets into the shotgun with Foster to his left. At the snap, Schaub fakes like he is going to throw a pass but hands the ball to Foster inside.
DeMarcus Ware
is hard up the field from the defensive right side,
Stephen Bowen
takes an inside charge and then is pushed further inside by guard
Wade Smith
, creating a large gap to that side of the defense. Foster wants to take the ball to his right, but
Jason Hatcher
does a nice job and is along the line of scrimmage with his shoulders square waiting for Foster. Foster then sees what has happened to his left side and heads in that direction. James is in his drop, then reacts to Foster's movement to his left, while Brooking gets blocked by Dreessen coming across the middle. James gets trapped too far inside and Foster manages to get outside of James because of his angle.
Now the ball is outside and
Mike Jenkins
is getting blocked by Andre Johnson. Jenkins finally frees himself from the block and tries to cut Foster down but he jumps over him and to the first down marker as Ball arrives a step late as well as the damage is done.
For the Cowboys defense, it really was the only time in the game where they were not technique sound and it allowed the Texans to continue a drive when they were trying to run a safe play and just punt the football.
September, 27, 2010
9/27/10
12:54
PM ET
IRVING, Texas –
Mike Jenkins
looks forward to seeing fellow Florida native
Andre Johnson
on South Beach this offseason.
The Cowboys contained the NFL's best receiver, holding Johnson to four catches for 64 yards and no touchdowns. Jenkins intends to remind Johnson of that repeatedly when they run into each other.
"It's a big thing for me just because I'm going against a lot of Florida guys," Jenkins said. "It's competition, talk, bragging rights going back to South Beach."
Johnson was limited by a sprained ankle that he aggravated during the game. But Jenkins played with a bruised knee that kept him from practicing full speed all week.
Jenkins and Johnson formed a friendship while occasionally working out against each other in South Florida. But there was no friendly banter Sunday afternoon, especially after the game. Johnson wasn't in the mood for small talk after the Texans' first loss of the season.
"He's hot," Jenkins said with a big smile.
September, 24, 2010
9/24/10
3:09
PM ET
IRVING, Texans -- Cowboys cornerback
Mike Jenkins
was a full participant in practice on Friday, and he's listed as probable against the Texans with a bruised knee.
Jenkins said he hasn't gone 100 percent in practice this week and will test the knee prior to the game Sunday.
"I'm going to get out there early, definitely," Jenkins said. "I'm going on the first bus [from the hotel to the stadium]. I'm going to push it as hard as I can and we're just going to go from there. Mentally that's what I've got to get through. I'm going to go out there and push it to the limit."
*Tight end
Jason Witten
(concussion) and wide receiver
Dez Bryant
(ribs) participated in the whole practice Friday and are listed as probable.
*Linebacker
Sean Lee
(hamstring) and tackle
Sam Young
(knee) also practiced but are listed as questionable.
*
Jay Ratliff
returned to practice after missing the last two days to attend the funeral of his grandparents.
*As for the Texans, tight end
Owen Daniels
(knee) was a full participant and is listed as probable. However, wide receiver
Andre Johnson
was limited in practice and is questionable for the game.
Defensive end
Mario Williams
(groin) and defensive tackle
Amobi Okoye
(ankle) were limited in practice but are probable.
September, 24, 2010
9/24/10
1:51
PM ET
IRVING, Texas – Cornerback
Mike Jenkins
looks forward to the challenge of trying to contain the NFL's best receiver. Jenkins just isn't sure how healthy he'll be Sunday when he faces Houston's
Andre Johnson
.
Jenkins has been limited in practice all week due to his bruised right knee. He won't go full speed until he tests the knee in pregame warm-ups.
There is no doubt that Jenkins will play against the Texans. The question is how close he'll be to 100 percent. He'll figure that out after arriving at Reliant Stadium early Sunday morning.
"I'm going on the first bus," said Jenkins, adding that soreness is the only issue with the knee. "I'm going to push it as hard as I can and we're just going to go from there. Mentally, that's what I've got to get through. I'm going to go out there and push it to the limit."
Jenkins called Johnson, who led the league in receiving yards last season, the league's best receiver. He said Johnson is a fast, physical player that most cornerbacks shy away from jamming, but that's what Jenkins does best.
"I can't change what I do," said Jenkins, who occasionally works out against Johnson during offseasons in South Florida. "I stay focused. Whatever I do in practice is what I'm going to do. I'm not going to change for anybody."
September, 24, 2010
9/24/10
8:00
AM ET
By
Bryan Broaddus
| ESPNDallas.com
Week 3 finds the Cowboys in another matchup with a team that is uses a zone-blocking scheme much like they saw in Week 1 with the Redskins.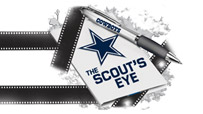 The Texans have the best offensive line that the Cowboys have faced so far this season, but there is now an interesting twist. Left tackle
Duane Brown
is the best linemen that the Texans have, but now he must sit four games because a violation of the league's substance abuse policy. This is a huge break for the Cowboys because Brown has done an outstanding job in the first two weeks handling Redskins outside linebacker
Brian Orakpo
and Colts defensive end
Dwight Freeney
as rushers.
In Brown's place is fifth-year pro
Rashad Butler
, who was originally drafted by Carolina and hasn't started a game during his NFL career. Butler doesn't play with the footwork and power that Brown has. Brown does a nice job of running his man up the field but also can be a force at the point of attack getting push.
If there is a saving grace for the Texans, it is the fact that their next best offensive lineman happens to play next to Brown and that is guard
Wade Smith
. Smith is the best athlete on the line. He is outstanding pulling and in space. Good adjust and finish. Plays with nastiness. Not afraid to dive into the legs of the defender when blocking on the backside of the zone play. Is a willing helper when blocking in the pocket, when uncovered, he will take a shot at the rushers ribs as well.
[+] Enlarge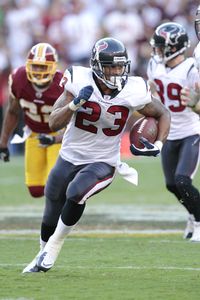 AP Photo/Bill BaptistAnother big game from running back Arian Foster could give Houston the balanced attack it will need against Dallas.
There will no doubt that Smith will be that safety net for Butler in this game and not leave him on an island for too many plays.
*Texans running back
Arian Foster
is a load and there is no way around it. He is physical breaking tackles. Foster is not a home run back, but he is the type that can wear you down the more he carries the ball.
In the first game of the season against the Colts, he took over the game. The Colts were down safety
Bob Sanders
, but as the game wore on, the more the Colts wanted nothing to do with Foster.
The most impressive thing about Foster is how he has a feel for running behind this line. He is patient in the way he takes the ball, watches the blocks develop then makes a cut through the hole.
The one area the Cowboys cannot struggle is getting off blocks. The Texans like to stretch your defense out and then cut the backside. The Texans' offensive does a really nice job of staying on their feet front-side and tying the defenders up, allowing their backs to make the reads.
If the Cowboys' defense doesn't play with their hands and play square, they will be in for a long day. Players like
Igor Olshansky
and
Marcus Spears
will play a huge role this week because if they get hooked, now the ball for the Texans is out on the edge.
Watch
Keith Brooking
and
Bradie James
in this game. It will be very important for them to be in the right place and fit correctly in the scheme. If they overshoot the play, the ball will come backside on them.
Too much stretch creates gaps in the defense and with Foster running the ball, that's a problem. Fits and finishes are the goal for the defense this week.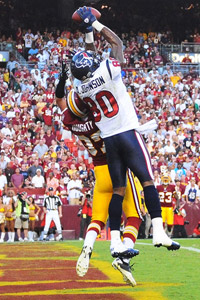 James Lang/US PresswireDon't expect the Cowboys to have much success slowing down Texans WR Andre Johnson.
*
Andre Johnson
is one of the top five receivers -- if not one of the top five players overall -- in the NFL.
How do the Cowboys go about trying to slow him down? You don't.
The Texans will line him up all over the place so you can't get a lock on him. In games this season, Johnson has lined up in the back field, in the slot and on the outside.
Johnson is an outstanding football player with rare talent. His movement is effortless and he will go all over the field to catch the ball. The defensive problem you run into when you play Johnson is that you can have him covered, but he still manages to make the play. Where the Cowboys need to be careful is not to allow Johnson to be that dominant player.
It will be interesting to see the health of
Mike Jenkins
this week. He was limited in practice on Wednesday and Thursday, which are your big work days. The Cowboys are already light at corner but need Jenkins' skill in coverage to try to slow Johnson down, which will be a tall order.
*Through the first two weeks of the 2010 season, the Cowboys are ranked first in the NFL in fewest sacks per attempt on offense. The Texans are ranked 17th in sacking the quarterback but last in the NFL in pass defense.
This is where the Cowboys need to take advantage of the Texans. If the Cowboys can protect
Tony Romo
, they can make some plays down the field.
The majority of the pass rush comes from defensive ends
Mario Williams
and
Antonio Smith
. Williams and Smith will line up all over the place along the front to try and create mismatches.
Amobi Okoye
is the defensive tackle in the scheme and he will try to beat you with quickness up the field more than power.
Rookie
Kareem Jackson
is on the outside at corner and looks like he has skill but gave up a big play to Redskins receiver
Joey Galloway
on a vertical route and some inside routes as well. When the Texans go to the nickel, they move starting left corner
Glover Quin
into the slot and put Texan (by birth)
Brice McCain
on the outside.
Against the Colts, defensive coordinator Frank Bush played his nickel package the majority of the game to combat the Colts' three-wide receiver package.
Where the Texans struggled last week was giving up the big play to the Redskins by losing their men in routes in crossing routes and down-the-field routes. The majority of the coverage is Cover 2 and with some of the success that the Bears had last week in jamming receivers, you will probably get the same look from the Texans.
If the Cowboys can handle those twist stunts, which have given them trouble in the past, they will be able to put pressure on this Texans secondary.
September, 23, 2010
9/23/10
5:05
PM ET
IRVING, Texas -- The Cowboys received some positive news Thursday regarding their injury report.
Cornerback
Mike Jenkins
(bruised knee) was limited in practice, but coach Wade Phillips said he's getting "better and better."
Wide receiver
Dez Bryant
was also limited in practice with bruised ribs. Phillips said Bryant won't wear a flack jacket to protect his ribs, but there appears to be concern about the soreness in his rib area where it continues to bother him.
Sean Lee
, the linebacker coming back from a hamstring injury, and
Sam Young
the tackle returning from a knee injury, practiced but probably won't play Sunday at Houston.
Jay Ratliff
missed a second consecutive day because of the death of his grandparents and was returning to Dallas on Thursday night. Ratliff is expected to practice on Friday.
Houston wide receiver
Andre Johnson
(ankle) and defensive end
Mario Williams
(groin) were limited in practice Thursday, but both are expected to play.
August, 28, 2010
8/28/10
7:55
AM ET
By
Bryan Broaddus
| ESPNDallas.com
After five weeks of practice and preseason games, the Cowboys roster will be trimmed down to 75 players Tuesday, but not before a meeting with another AFC foe in the
Houston Texans
.
The Texans are a talented football team and are on the verge of becoming one of those teams that you hear the football experts talk about in the mix for a playoff spot in 2010.
With players like
Andre Johnson
,
Mario Williams
,
DeMeco Ryans
and
Brian Cushing
on the roster, it's easy to see why they have a shot to realize that opportunity.
Johnson will be an outstanding test for cornerbacks
Mike Jenkins
and
Terence Newman
on Saturday night. Johnson is an explosive, down the field player that shows the ability to adjust to the ball well. He can catch the ball in traffic and he is not afraid to take his route anywhere on the field to make a reception. Johnson had 101 receptions in 2009 with nine touchdowns and a 15.5-yard average per catch.
Offensive tackle
Doug Free
, making the transition to the left side, will draw defensive end Mario Williams, who led the Texans with nine sacks in 2009. Williams has outstanding length and a surge up the field. He was very productive in 2009 with 20 quarterback hits, which led the Texans. Free will need to be quick out of his stance, show patience in his punch and not allow Williams to get the edge on him.
This will be a nice matchup of two athletic players. Watch and see who gets the upper hand here because it could send a message for the rematch in Week 3.
Linebackers Cushing and Ryans were 1–2 in tackles last season for the Texans. Cushing, the NFL Defensive Rookie of the Year in 2009, is playing through the preseason but will miss the first four games of the regular season for having a high amount of the hormone hCg in his system, a banned performance enhancing substance by the NFL. With that suspension, Cushing will miss the regular-season meeting with the Cowboys.
Cushing is a sideline-to-sideline player and is also effective as a blitzer. He has a nice feel for how to beat blocks and get in on the quarterback.
Ryans at middle linebacker will be a strong test for the inside three of
Montrae Holland
,
Andre Gurode
and
Leonard Davis
. Ryans has a nose for the football and is relentless in his effort to get there. In visiting with offensive line coach Hudson Houck, he spoke of the importance of secondary level blocking and the ability of the line to work together to not only secure the down linemen but to get hats on the linebackers.
Ryans is a player that will need to be secured one way or another or the Cowboys will see him make the majority of the tackles.
For the Cowboys to have any success Saturday night with their first offense, watch how effective they are in dealing with Williams, Cushing and Ryans.
*What will you see from the Cowboys on offense and defense on Saturday night? Not as much as you would like scheme-wise.
These two teams will meet again in Week 3 again in Houston, so I believe that will limit what you will see on both sides of the ball.
In visiting with staff members before practice Friday, they have that Week 3 matchup in mind. Starters will get some extensive work in the game, but it will once again be with a vanilla package on both sides of the ball.
July, 22, 2010
7/22/10
2:27
PM ET
Here's some ammunition for
Miles Austin
's negotiations for a long-term contract with the Cowboys: KC Joyner, aka the Football Scientist, makes a strong statistical case that No. 19 already surpassed Houston's
Andre Johnson
as the NFL's best receiver.
For the details, check out the
ESPN Insider column
.
In other Austin news, he was spotted vacationing with good-luck charm/well-rounded gal pal Kim Kardashian in Cabo this week. (Hey, at least he's hitting the beach the week before camp, not during the pre-playoffs bye.) Check out
TMZ for photographic evidence.
June, 10, 2010
6/10/10
12:03
PM ET
Houston Texans
wide receiver
Andre Johnson
is considered one of the top wide receivers in the game. He signed a eight-year $60 million contract extension in 2007.
But Johnson wants a new deal and his agent, Kennard McGuire is currently in talks with the Texans.
Why are we talking about this?
Well, I'm sure
David Dunn
, Austin's agent, is looking to see what type of deal Johnson gets. Does Johnson get the highest paid deal in the NFL for a wide receiver? Currently,
Steve Smith
,
Larry Fitzgerald
and
Brandon Marshall
are at the top of the list averaging $10 million a season. (
Roy E. Williams
is at $9 million).
Does Austin get about $10 million a year on average after reaching the Pro Bowl for the first time in his career last year? Or should Austin get the Johnson contract that he's trying to get rid of?
When Johnson signed his deal, he received $15 million in guaranteed money and based on what's left of the contract, was expected to receive base salaries of $5.8 million (2010), $6.8 million (2011), $7.3 million (2012), $7 million (2013) and $7.3 million in (2014).
Those sound like good numbers for Austin. But if he has another strong season, which the Cowboys expect him to do, his price tag goes up.