Dallas Cowboys:

Arian Foster
January, 7, 2013
1/07/13
12:06
PM ET
So I was sitting here on Redskins playoff detox, catching up on the division's other teams, and I got to reading
this Calvin Watkins item
on the
Dallas Cowboys
' running game. And it got me thinking about the
New York Giants
' running game, which has a similar problem at its core -- namely, a starting running back who can't be relied on to stay healthy.

In discussing the state of the Cowboys' running game, Calvin quotes coach Jason Garrett saying this:
"We have to do a better job running the football, and you've heard me say this a lot, that balance is critical," coach Jason Garrett said when the season was over. "You want to be able to attack defenses a lot of different ways. DeMarco Murray was out for a large portion of this season, but having said that, you have to put the next guy in there and you have to be effective running it."
In theory, that makes sense. But if Calvin's point is that many of the teams having success in the playoffs are strong in the running game, I submit that they're strong around a reliable central figure who takes all of the snaps and the hits and keeps on grinding.
Marshawn Lynch
in Seattle.
Ray Rice
in Baltimore.
Arian Foster
in Houston. Denver got lucky, when
Willis McGahee
went down in the second half, it was able to turn to a former first-round pick in
Knowshon Moreno
and keep going.
The problem in Dallas is Murray has an injury history that starts in college and has drastically impacted both of his pro seasons. And as a result, the Cowboys don't know for certain that they can count on him going forward. They not only need to improve their depth around him, they need to see if they can find a running back capable of handling a full-time workload in his absence.

There was a similar problem in New York, where the Giants wanted to give
Ahmad Bradshaw
the chance to be the lead back this past year but he couldn't hold up physically either. Recurring issue with Bradshaw that has the team thinking about moving on and going with 2012 first-round pick
David Wilson
in a
"lead dog"
role. Can that work? You hope so, certainly, when you take a guy in the first round. But the Giants don't know. Issues with Wilson include ball security (famously) and pass protection. And it's not necessarily that Wilson
can't
pass-protect, but rather that Bradshaw's the best in the league at it, so if you're going to switch from Bradshaw to anyone as your "lead dog" your offense will have to adjust somehow.
The Cowboys and Giants both went into this season thinking they had solutions at running back, but they came out of it with questions -- some fresh and some old. Expect both teams to address this position in some meaningful way this offseason.
October, 10, 2012
10/10/12
3:36
PM ET
IRVING, Texas –
Lawrence Vickers
has a 12-game history with Baltimore, playing for Cleveland and Houston, so he knows what the Ravens defense is about.
"Let me tell you something, I played them two times a year every year I've been in the NFL, right?" Vickers said. "And I'm still here standing. Still mean. Still stiff. They're going to have to jump me, man. You feel me? They're going to have to jump me, that's the way it's going to be.
"If you go back watching things, they're out there jumping me because I'm coming with it. And they know I'm coming with it, just like I know they're coming with it. Let's meet in the lines. That's just how it goes."
Earlier in the day on a conference call Ravens linebacker
Ray Lewis
was asked about the Cowboys getting their running game going against Baltimore, which is 20th against the run.
"I tell you what, they can look to do whatever they want to do, but it ain't going to be what they think it's going to be," Lewis said.
Vickers said Lewis was entitled to his opinion.
"Names don't scare me, man," Vickers said. "Teams don't scare me, man. I'm a man before anything, so I'll just let other men just talk. You see me in between them lines. That's how I get it done, like that."
In January, Vickers helped Houston's
Arian Foster
run for 132 yards against Baltimore, the most the Ravens allowed in a playoff game in their history. Unfortunately, the Texans lost and Vickers' Browns and Texans were a combined 2-10 against Baltimore.
August, 8, 2012
8/08/12
12:15
PM ET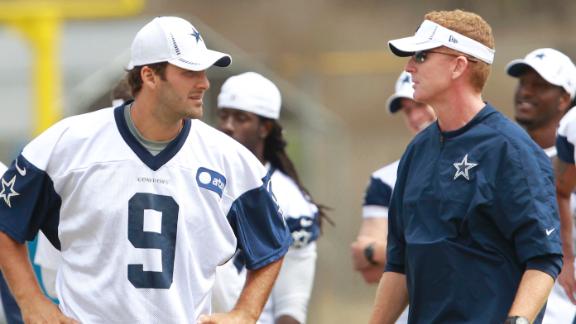 OXNARD, Calif. -- Much was made last year of the performance of
Dallas Cowboys
fullback
Tony Fiammetta
in connection with the breakout performance of running back
DeMarco Murray
. But the Cowboys let Fiammetta go this offseason and replaced him with veteran fullback
Lawrence Vickers
, who blocked for
Arian Foster
and
Ben Tate
last year in Houston and for
Peyton Hillis
the year before that in Cleveland. Vickers is a remarkably fun guy to talk to -- enthusiastic and engaging -- and here's what he told me about Murray when I spoke with him after Cowboys practice Monday:
[+] Enlarge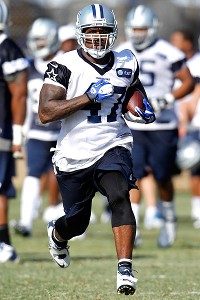 AP Photo/Paul SpinelliFullback Lawrence Vickers will be paving the way for DeMarco Murray this season.
"First of all, he's ambitious. And he's coming in to work. He's got that hard-nosed mentality, but he loves the game. And when you want to be great and you have ambition and goals and dreams and all those things, there's only one way to get there -- work, work, work. And that's what he wants to do. When it's his time to go, he wants to get in there. Everything he's doing, he's trying to do it to the best of his ability."
Vickers said his most important jobs as the fullback in the Cowboys' offense are "to lead by example and to be the eyes of the running back." Then he tried to demonstrate by standing in front of me with his back turned and asking if I could see anything. I could not. I am 5-foot-9, 190 pounds. Vickers is 6-0, 250. More relevantly. Murray is 6-0, 215 and likely cannot see around Vickers, either.
"He has to trust in me in order to go where I'm going," Vickers said. "You have to trust in me that I'm going to go to the right place, because you're following me. We have to be able to trust each other, and that just comes from repetition."
Murray obviously trusted Fiammetta with a great deal of success, so it's not as though running behind a fullback is some kind of new concept for him. But to those who have asked me whether there's anything to fear about Murray switching from Fiammetta to Vickers my answer is: If you met Lawrence Vickers, you wouldn't have to ask.
"I've got no complaints there," Murray told me. "He's a great guy, a great blocker, a smart guy and he gets after it."
Talking to Vickers fired me up. I wanted to go try to run through a defensive line. Fortunately for me, the opportunity did not readily present itself. If it had, I'd have asked Vickers to block for me. He'd probably have done it. He's a different sort of guy. I mentioned to him that the fullback position wasn't really a glory position in the NFL, and he agreed. He just doesn't care.
"I love it," Vickers said. "Because it's a job everybody can't do. So when you're doing something everybody can't do, and you're making it look good, that says a lot about you as a person. I don't need the glory, because at the end of the day, when those guys get in that end zone, when those guys go over to Hawaii, when those guys get in that Hall of Fame ... Emmitt Smith said it best: 'Couldn't do nothing without my fullback.' Not that my guys have to say that about me, but knowing that I was a part of that is enough for me."
June, 13, 2012
6/13/12
10:31
AM ET
IRVING, Texas --Fullback
Tony Fiammetta
was a joy for running back
DeMarco Murray
last season. But Fiammetta is gone, having signed with New England, and the
Dallas Cowboys
replaced him with
Lawrence Vickers
, who was released by Houston.
Vickers blocked for
Arian Foster
last season and we all know how good he is. Foster rushed for 1,224 yards last season, fifth in the NFL.
Vickers said he was shocked to be released by the Texans, but it was more about the salary cap than performance. The Cowboys value the fullback position and were of the belief Vickers was a better option than Fiammetta.
"So far so good," Murray said of his work with Vickers. "I'm loving him and the enthusiasm he brings to the running back group and what he brings to the practice field and what he brings to his team. So I'm excited to see what he's going to do in training camp."
Last season, Murray rushed for 897 yards, 22nd in the league, with Fiammetta as the primary blocker. Each player has to learn the tendencies of the other. Though Vickers has said he has to be a comfort level for Murray more than anything else.
Murray said he will watch film with Vickers on a daily basis and point out plays he likes and what he's looking for after he gets the handoff.
"His eyes are my eyes, and my eyes are his eyes," Murray said. "We're going to continue to work on that and continue to work on the chemistry. It's still early. We've been practicing for only three weeks and we have a lot of time to work."
June, 7, 2012
6/07/12
2:10
PM ET
IRVING, Texas -- Now that we've gotten over
the ants-in-the-pants episode
with Cowboys fullback
Lawrence Vickers
, we can focus on why the Cowboys signed him and the
Houston Texans
let him go.
Texans running back
Arian Foster
rushed for 1,224 yards and 10 touchdowns last season behind starting fullback Vickers. Foster had seven games with over 100 rushing yards and three games with 30 or more carries. Foster is an elite running back, having rushed for 2,840 yards with 26 touchdowns the last two seasons.
Vickers was released by Houston when the season was over. It was an interesting decision by the Texans, given they signed Vickers to a two-year deal after the 2010 season. But salary-cap concerns forced the franchise to make hard decisions, which also included letting star linebacker
Mario Williams
go in free agency.
"It was a shocker, I was shocked," Vickers said. "I was shocked. Then by Foster getting his (new) deal I would think there's more reason you got somebody that's going to protect him. I guess they just didn't value the position. I guess that's what it is."
It's not like Vickers is a one-hit wonder, either. As Cleveland's fullback in 2010, he led the way for
Peyton Hillis
to rush for a career-high 1,177 yards and 11 touchdowns.
But Vickers hit the free-agent market and signed with Houston for the two-year deal.
After 2011 ended, Vickers was placed on the open market and sought a team that valued the fullback position. Enter the Cowboys, who have always employed a fullback on the roster. When
DeMarco Murray
emerged as a talented force at running back last season, he praised the work of then-fullback
Tony Fiammetta
.
There was a thought Fiammetta would return to the Cowboys, but that changed when Vickers became available.
"That's why I'm here, because they value the position," Vickers said.
With
Felix Jones
,
Phillip Tanner
and Murray as the running backs, Vickers said he has to adjust his game for them and not the other way around. Developing a chemistry with the running back is key to any successful running game when a fullback is involved. Vickers said he has to see the holes just like the running back does, or create one when there's a wall.
"It's just the same approach, even if I was going to be with the same guy," Vickers said. "You approach it the same way, every year. So it never changes, always approach each year the same way as if we're just meeting each other and we've got to get on the right page. Chemistry is a must, even being with somebody two or three years, chemistry is still the same. You're going to have different linemen and you're going to be going against different defenses (with) different things going on."
March, 22, 2012
3/22/12
4:08
PM ET
So we have this thing where you can
go on and vote
for who you think should be on the cover of "Madden NFL 13," and perhaps because it's March it's been set up as a bracket. There are 32 players in the bracket. The idea was that there'd be one for each NFL team, but as you can see the Patriots and Jets each now have two. All the Jets had to do to get their second was spend Wednesday completely embarrassing themselves.
But I digress.
New York Giants
wide receiver
Victor Cruz
is the 2-seed on the left side of the bracket, matched up in the first round against 15th-seeded
Washington Redskins
linebacker
Brian Orakpo
. We all like Orakpo, and he's sure to get a bit of a boost from the small measure of fame he's earned giving the caveman a hard time on the Geico commercials. But Cruz is the popular breakout star of the surprise Super Bowl champs, and he's sure to roll through the first round. In fact, as I break down the bracket, Doug Gottlieb-style, I don't see too many potential tough matchups for Cruz until the final. Fourth-seeded
Larry Fitzgerald
could give him a run, but I think the winner of that stellar second-round matchup between Fitz and the
Philadelphia Eagles
'
LeSean McCoy
is going to be spent. And I like Cruz's chances even against top seed
Cam Newton
in the semis. I'm picking Cruz to salsa right into the final.
McCoy is the fifth seed on the same side of the bracket, and he's got a tough draw. A first-round matchup against an underseeded
Reggie Bush
, who has a Kardashian history and may pull in some tabloid votes, is brutal. Then he's likely to see Fitzgerald in the second round and Newton in the third. If McCoy makes it to the semis, he'll have earned his way there, no doubt about it.
On the other side of the bracket,
Dallas Cowboys
linebacker
DeMarcus Ware
is the No. 10 seed and matched up in the first round against No. 7 seed
Jared Allen
of the Vikings. I like Ware to pull the upset here, and while there's trouble looming in the second round from No. 2 seed
Rob Gronkowski
, I think Ware's won enough "Madden" games over the years that he can upset Gronk as well. I have Ware in my Elite Eight, but that's where his dream ends. He's going to get either
Tim Tebow
,
Arian Foster
or
Calvin Johnson
there, and those guys are heavyweights.
My bracket has Cruz meeting
Aaron Rodgers
in the final and Rodgers getting his discount double-check revenge for the Giants' victory over the Packers in the NFC playoffs. But what do I know? I picked the Packers to win that game, and I never do well in the bracket pools.
Anyway, go vote. It'll give you something to do while you wait for
London Fletcher
to sign or the Giants to do something or whatever it is you're doing these days as a fan of a team in the super-quiet NFC East.
February, 6, 2012
2/06/12
11:00
PM ET
This is the second-part of a 12-part series on the Cowboys roster. Today we look at the running backs.

Players:
Felix Jones
(signed through 2012),
Tony Fiammetta
(free agent),
Shaun Chapas
(signed through 2014),
Sammy Morris
(free agent),
Chauncey Washington
(free agent),
DeMarco Murray
(signed through 2014),
Phillip Tanner
(signed through 2013).
[+] Enlarge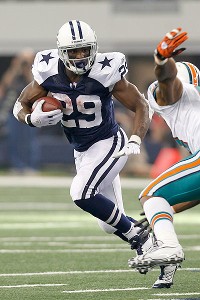 AP Photo/Sharon EllmanDeMarco Murray rushed for 897 yards in his rookie season before suffering a fractured ankle.
Top free agents:
Matt Forte
,
Chicago Bears
;
Arian Foster
,
Houston Texans
;
Peyton Hillis
,
Cleveland Browns
;
Marshawn Lynch
,
Seattle Seahawks
;
Ray Rice
, Baltimore
Top draft prospects:
Trent Richardson, Alabama; Lamar Miller, Miami (FL); David Wilson, Virginia Tech; LaMichael James, Oregon; Doug Martin, Boise State.
2011 review:
The season started off with uncertainty as Jones took over the starting role after
Marion Barber
was released. An injury to Jones opened the door for Murray, a rookie, who set a franchise record with a 253-yard rushing performance against St. Louis. Murray's season ended with a fractured ankle, but he rushed for 897 yards. He will become the starter in 2012 and Jones will go back to coming off the bench. Murray is the future and has the skills and mindset to have a bigger season. Fiammetta burst onto the scene as a strong fullback that cleared the way for Murray and Jones to pick up big yards. Tanner has a future as Murray's backup but must have a strong training camp to make the roster again.
Offseason preview:
Should the Cowboys consider trading Jones this offseason? It's hard to accomplish a trade with Jones entering the final year of his contract. The Cowboys should explore whether a fourth-or fifth-round pick is available for the former first-round pick. The team doesn't trust Jones to become a 20-down back in the NFL. He's a solid backup, which leads us to Tanner. He should compete with Jones for more playing time. If he makes the roster, he should get more game-day carries and special teams snaps. The Cowboys need to re-sign Fiammetta to maintain the chemistry he developed with Murray. Fiammetta was the glue to a solid running attack in the middle of the season. If Fiammetta's health issues (inner ear infection) are solved, then his return should be considered a positive.
Bryan Broaddus' Scout's Eye:
Running back will be a position of strength for the Cowboys going into the 2012 season. Murray was outstanding when given the opportunity to start for the club, which allowed Jones to return to the role for which he is better suited -- backup off the bench. Tanner was a nice fit as a third back who contributes on special teams -- a role that Jerry Jones likes.
The learning curve for Murray was not that steep and he was able to do things as a pass protector that allowed him to stay on the field for more than two downs. The Cowboys were a different offense with Murray in the lineup, and Garrett was a better playcaller. If the Cowboys try to upgrade the position, it will most likely be for Tanner, but he will be tough to replace. I don't see the club using a draft pick on this spot unless it's late and it's a height, weight and speed player with high-quality traits.
Need meter (0-5):
2.
October, 25, 2011
10/25/11
12:01
PM ET
There's been a Texas invasion of
the latest Cross-Sport Power Rankings on ESPN.com
.
Cardinals slugger
Albert Pujols
took the top spot after his 5-for-6, three-homer Game 3 performance. (The Rangers'
Nelson Cruz
was No. 1 last week, by the way.)
But after Pujols, Lone Star State athletes dominated the top 10.
Derek Holland
was No. 2 after shutting down Pujols and the Cardinals in Game 4 of the World Series.
Cowboys rookie DeMarco Murray is No. 3 for setting a team record with 253 yards against the Rams.
Next is No. 4
Mike Napoli
, whose bat and arm have the Rangers one win away from their first world championship.
Texas Tech quarterback
Seth Doege
, who led the Red Raiders' stunning upset of Oklahoma, is No. 5.
South Texas also provided top-10 pair, with University of Houston quarterback
Case Keenum
at No. 7 and Texans running back
Arian Foster
at No. 8.
October, 14, 2010
10/14/10
9:51
AM ET
IRVING, Texas -- The Cowboys failed to play up to their standards against the NFL's two leading rushers the last couple of games.
The Dallas run defense doesn't exactly catch a break this week against Minnesota's
Adrian Peterson
, who ranks behind only Houston's
Arian Foster
and Tennessee's
Chris Johnson
with 485 rushing yards despite the Vikings' early bye.
"He's one of the hardest runners in the NFL. It doesn't get any easier," outside linebacker
DeMarcus Ware
said. "You've got to be ready for a guy like Adrian who can catch the ball out of the backfield, run the ball really hard. We've got to be physical and we've got to be physical up front, especially the front seven. That's how we've always been.''
The Cowboys haven't been nearly as stingy against the run recently as they usually are. Their run of 19 consecutive games without allowing a 100-yard rusher -- which was the longest streak in the NFL -- was snapped when Foster gained 106 yards on 17 carries. Johnson followed that up by racking up 131 yards and two touchdowns on 19 carries against the Cowboys.
Now the Cowboys have to figure out a way to contain Peterson, whose blend of speed and power makes him one of the most physically gifted backs to ever play the game.
"He's the total package," inside linebacker
Keith Brooking
said. "He can do it all."
The Cowboys remain confident in their run defense. They actually believe that, for the most part, they played sound up front the last couple of games.
They've been hurt by big plays. Foster had runs of 26 and 21 yards. Johnson had runs of 42 and 29 yards, with the secondary guilty of poor run support on both plays.
Coach Wade Phillips pointed out that Johnson averaged less than 3 yards on the rest of his carries. We'll call that fuzzy math instead of fibbing. He actually averaged 3.5 yards on the rest of his carries. If you also take Johnson's two 1-yard touchdowns out of the mix, it was 3.9 yards per pop, which still supports Phillips' point that the Cowboys' run defense played reasonably well against the defending NFL rushing champion with two major exceptions.
"I know we're a very good run defense," Brooking said. "When you turn on the film and watch the game, you see that. We have to eliminate the two or three explosive plays per game. That's something that can be eliminated quickly."
The flip side is that Peterson can cover 60 yards quickly if the Cowboys' front seven isn't sound.
September, 28, 2010
9/28/10
8:48
AM ET
By
Bryan Broaddus
| ESPNDallas.com
This week Scout's Eye wanted to focus in on a couple plays that were positive for the Cowboys against the Texans and one that was not.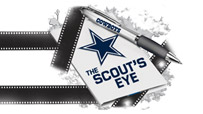 Wide receiver Roy Williams was brought to the squad by Jerry Jones to be a difference maker for the Cowboys' offense and he was against the Texans on Sunday with two big touchdowns in the 27-13 win. On Williams' second touchdown of the day, it appears that offensive coordinator Jason Garrett had called for a draw play on second-and -10 from the Dallas 37. What Romo and Williams did was far from run that draw.
Williams lined up far right in the formation in the personnel grouping of two tight ends and one back. Tight end
Jason Witten
was in the backfield with
Marion Barber
and motions right to left, remaining in the backfield. As the ball is snapped, tackle
Marc Colombo
fans to the outside trying to work his man up the field. Center
Andre Gurode
works to the second level and is already three yards down the field and could have easily been called for illegal man downfield. The offensive line and Barber are setting up for the draw but Romo and Williams "sight adjust" when Romo sees Texans safety
Eugene Wilson
in the middle of the field and no way able to adjust to have to cover Williams from his alignment.
[+] Enlarge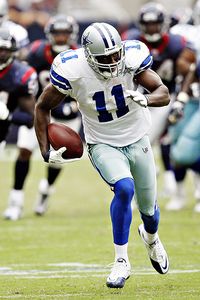 Bob Levey/Getty ImagesRoy Williams had his best day as a Cowboy on Sunday with five catches for 117 yards and two touchdowns.
Romo takes the snap, rises up and fires the ball to Williams, who has defeated cornerback
Kareem Jackson
to the inside as Jackson stumbles and is unable to recover. The pass is a little behind Williams as he adjusts on the move. The play happens so fast that Wilson from the center of the field doesn't even move as Williams is off to the races with the ball in hand.
On Monday morning, Texans coach Gary Kubiak commented that Jackson thought that he was to get some safety help inside from Wilson but none was there. The play results in a touchdown and was just another example of what a huge game that Williams had in the win, but also how Romo was in total command of not only the execution of the game plan but the mental side of it as well.
*In the days leading up to the game with the Texans, Wade Phillips knew that his defense was going to have their hands full trying to slow down a Texans offense that was ranked first in the NFL through the first two weeks of the season. The Texans' ability to run the football and the skill they also had on the outside made for a great challenge.
The Cowboys defense did rise to the challenge and was able to force the Texans into two field goal situations when the offense managed to get inside the 10-yard line.
The goal-line stand that I'll break down happened with 14:05 left in the fourth quarter with the Cowboys holding onto a 17-3 lead. To even get in this situation, you have to give safety
Gerald Sensabaugh
a ton of credit because without his touchdown saving tackle on Texans tight end
Owen Daniels
, the Cowboys would be protecting a seven-point lead.
Let's go through the plays that led to the stand.
On first-and-goal from the 1, the Texans try to run
Arian Foster
to the right behind
Eric Winston
,
Joel Dreessen
and
Andre Johnson
, who has come in motion from left to right.
Anthony Spencer
, who had a quiet game until that point, swims Dreessen, meets Foster with help from rookie safety
Barry Church
and
Keith Brooking
filling from the inside.
Second-and-goal from the 1, same formation for the Texans but this time, no motion from Johnson to the right. The ball once again goes to Foster moving to his right, fullback
Vonta Leach
leads to the outside, Spencer this time destroys Dreessen driving him back into the backfield.
Jay Ratliff
shoots the gap from the inside and fights his way to the point of attack.
Bradie James
comes flying from the inside to help clean up.
Now third-and-goal for the Texans from the 3. The Texans go to a three-tight end package with
James Casey
in the game. Casey is the wing to the right and motions left. Foster is the single back, Johnson is on the left outside runs a slant inside, Daniels is the left tight end, goes up and to the outside and draws coverage from Brooking. Casey works himself into the left flat. Foster tries to cut Ware but is not successful. Winston can't handle Spencer from the backside and he gets a holding call as Brooking gets a pass interference call against Daniels. The offsetting flags mean a replay of third down.
On this play is where Phillips dialed up a game-changing blitz. The Texans now bring three wide receivers into the game. Walter to the left, Johnson motions from the backfield to the right, Jones in the slot to the right as well. At the snap, Johnson hooks up on the goal line with
Orlando Scandrick
and
Alan Ball
in coverage. Foster works into the flat and is picked up by really no one with Newman playing half way between Foster and Jones who is running for the corner and might have a chance to make a play. Brooking comes screaming off the left corner untouched as Foster goes right by him. Ratliff on the inside beats center
Chris Myers
as well to create inside pressure. Schaub has no chance to see any type of route development and is sacked for a huge loss.
The Texans have to settle for a field goal and the Cowboys continue with a 17-6 lead. It was an outstanding series for Wade Phillips and the Cowboys defense.
*With the good of the Cowboys defense, there was a little bad.
In the second quarter, the Texans were faced with a third-and-19. The Texans put their three-wide receiver package on the field as Phillips counters with his nickel group. The Texans have three receivers, one tight end and one back. Schaub gets into the shotgun with Foster to his left. At the snap, Schaub fakes like he is going to throw a pass but hands the ball to Foster inside.
DeMarcus Ware
is hard up the field from the defensive right side,
Stephen Bowen
takes an inside charge and then is pushed further inside by guard
Wade Smith
, creating a large gap to that side of the defense. Foster wants to take the ball to his right, but
Jason Hatcher
does a nice job and is along the line of scrimmage with his shoulders square waiting for Foster. Foster then sees what has happened to his left side and heads in that direction. James is in his drop, then reacts to Foster's movement to his left, while Brooking gets blocked by Dreessen coming across the middle. James gets trapped too far inside and Foster manages to get outside of James because of his angle.
Now the ball is outside and
Mike Jenkins
is getting blocked by Andre Johnson. Jenkins finally frees himself from the block and tries to cut Foster down but he jumps over him and to the first down marker as Ball arrives a step late as well as the damage is done.
For the Cowboys defense, it really was the only time in the game where they were not technique sound and it allowed the Texans to continue a drive when they were trying to run a safe play and just punt the football.
September, 26, 2010
9/26/10
6:14
PM ET
HOUSTON – The Texans were 1 yard away from getting back in the game at the beginning of the fourth quarter.
"They ain't getting in. Period," nose tackle
Jay Ratliff
recalled thinking.
Ratliff was right. The Texans actually moved backwards 11 yards before settling for a field goal, the equivalent of waving a white flag for a team that was down two touchdowns at the time.
The Cowboys stuffed
Arian Foster
on first and second downs. Linebacker
Keith Brooking
committed pass interference against tight end
Owen Daniels
in the end zone on third down, a penalty that was offset by a holding call on Houston right tackle
Eric Winston
.
Brooking redeemed himself the next play, coming free on a blitz from the offense's right side to sack
Matt Schaub
and essentially seal the Cowboys' first win of the season. Credit Wade Phillips for scheming to bring six, with no blocker touching Brooking.
"The goal-line stand arguably was the most significant thing in the ballgame," Jerry Jones said. "That's a guaranteed momentum changer."
September, 25, 2010
9/25/10
8:00
AM ET
By
Bryan Broaddus
| ESPNDallas.com
*Cowboys wide receivers vs. Texans cornerbacks:
The Texans are ranked 32nd in the NFL in pass defense and 17th in sacks per attempt. The Cowboys are ranked second in passing offense and first in the NFL in protecting the quarterback.
As much as the Cowboys want to fix their running game -- and it is something they need to try to do -- the matchups on the outside can favor them if they are able to hold up against this Texans pass rush.
The Texans like to use a four-man line and twist their defensive linemen to cause problems in the blocking scheme. The Cowboys have struggled at times with this style of scheme inside with
Leonard Davis
and
Andre Gurode
adjusting. The Cowboys do a much better job with
Kyle Kosier
and
Marc Colombo
in the lineup because of their ability to pass stunts.
If
Tony Romo
is given time, he can attack corners
Kareem Jackson
,
Glover Quin
and
Brice McCain
when he comes in for the nickel. Jackson is a talented rookie from Alabama, but he just doesn't have a feel yet for playing vertical and inside routes. I really like the matchup of
Miles Austin
against him because how physical Austin can be and his ability as a solid route runner. Austin gives veteran defensive backs problems; watch what he does to this rookie.
The Texans will play a form of cover 2 much like the Bears did, so I expect their corners to try and be physical with the Cowboys receivers. The Texans struggled last week against the Redskins when the receivers were running through zones and they lost their men in coverage.
Watch how the Cowboys try and attack this group if they can hold up in protection. Some plays can be made.
Texans LT Rashad Butler vs. Cowboys OLBs DeMarcus Ware and Anthony Spencer:
Not going to sugarcoat this for the Texans: Duane Brown's suspension is a huge blow for this offense. Brown was outstanding at left tackle against
Brian Orakpo
and
Dwight Freeney
both in the running and passing games. Butler makes his first NFL start after five seasons in the league.
Butler did play against the Cowboys in the preseason, but it wasn't against the front-line defenders. Butler looks athletic in movement, but he doesn't play with the power and nastiness that Brown did.
The Texans are lucky enough that their next best lineman happens to play next to Butler and that is guard
Wade Smith
. Smith is not big for a guard, but he is very athletic and in this scheme.
I do not believe that the Texans will allow Butler to be on an island much in this game. I look for the Texans to help him with tight ends and backs to that side.
In the preseason match up, Cowboys defensive end
Igor Olshansky
didn't play his best game. When the Texans try to run the stretch play going to the left, it will be interesting if Butler can handle Olshansky at the critical point of attack.
Cowboys run defense vs. running back Arian Foster:
The Texans run a very similar offense to that of the
Washington Redskins
in the zone blocking, stretch play scheme. The Cowboys did a nice job in their fits against the Redskins, but this Texans bunch is a different animal.
This offensive line minus
Duane Brown
at tackle will be different but not scheme-wise. This is the best line that the Cowboys have faced so far this season. They like to push the front side and cut the backside off.
The thing that makes this offense go is running back Arian Foster. Foster is a 224-pound load with the football in his hands. He doesn't have huge speed, but he is deceptive in the way he can cover ground. He is physical and he will run through arm tackles.
The area that makes Foster dangerous is that if he does get going, it sets up the play-action game for the Texans. The Texans like to run boots and waggles off their stretch plays. In the preseason, the Cowboys gave up a touchdown to
Jacoby Jones
off the full-flow stretch play to the left.
The Cowboys cannot allow Foster to take over this game like he did against the Colts. If the Cowboys don't get off blocks and play with discipline with their linebackers, it will allow the Texans to control this game and keep the Cowboys offense off the field.
September, 24, 2010
9/24/10
8:00
AM ET
By
Bryan Broaddus
| ESPNDallas.com
Week 3 finds the Cowboys in another matchup with a team that is uses a zone-blocking scheme much like they saw in Week 1 with the Redskins.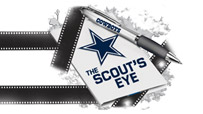 The Texans have the best offensive line that the Cowboys have faced so far this season, but there is now an interesting twist. Left tackle
Duane Brown
is the best linemen that the Texans have, but now he must sit four games because a violation of the league's substance abuse policy. This is a huge break for the Cowboys because Brown has done an outstanding job in the first two weeks handling Redskins outside linebacker
Brian Orakpo
and Colts defensive end
Dwight Freeney
as rushers.
In Brown's place is fifth-year pro
Rashad Butler
, who was originally drafted by Carolina and hasn't started a game during his NFL career. Butler doesn't play with the footwork and power that Brown has. Brown does a nice job of running his man up the field but also can be a force at the point of attack getting push.
If there is a saving grace for the Texans, it is the fact that their next best offensive lineman happens to play next to Brown and that is guard
Wade Smith
. Smith is the best athlete on the line. He is outstanding pulling and in space. Good adjust and finish. Plays with nastiness. Not afraid to dive into the legs of the defender when blocking on the backside of the zone play. Is a willing helper when blocking in the pocket, when uncovered, he will take a shot at the rushers ribs as well.
[+] Enlarge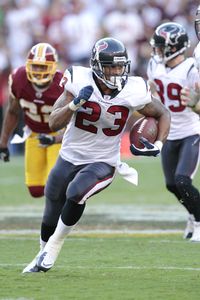 AP Photo/Bill BaptistAnother big game from running back Arian Foster could give Houston the balanced attack it will need against Dallas.
There will no doubt that Smith will be that safety net for Butler in this game and not leave him on an island for too many plays.
*Texans running back
Arian Foster
is a load and there is no way around it. He is physical breaking tackles. Foster is not a home run back, but he is the type that can wear you down the more he carries the ball.
In the first game of the season against the Colts, he took over the game. The Colts were down safety
Bob Sanders
, but as the game wore on, the more the Colts wanted nothing to do with Foster.
The most impressive thing about Foster is how he has a feel for running behind this line. He is patient in the way he takes the ball, watches the blocks develop then makes a cut through the hole.
The one area the Cowboys cannot struggle is getting off blocks. The Texans like to stretch your defense out and then cut the backside. The Texans' offensive does a really nice job of staying on their feet front-side and tying the defenders up, allowing their backs to make the reads.
If the Cowboys' defense doesn't play with their hands and play square, they will be in for a long day. Players like
Igor Olshansky
and
Marcus Spears
will play a huge role this week because if they get hooked, now the ball for the Texans is out on the edge.
Watch
Keith Brooking
and
Bradie James
in this game. It will be very important for them to be in the right place and fit correctly in the scheme. If they overshoot the play, the ball will come backside on them.
Too much stretch creates gaps in the defense and with Foster running the ball, that's a problem. Fits and finishes are the goal for the defense this week.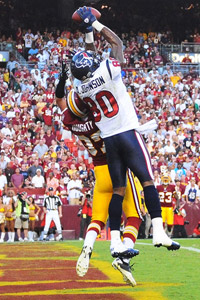 James Lang/US PresswireDon't expect the Cowboys to have much success slowing down Texans WR Andre Johnson.
*
Andre Johnson
is one of the top five receivers -- if not one of the top five players overall -- in the NFL.
How do the Cowboys go about trying to slow him down? You don't.
The Texans will line him up all over the place so you can't get a lock on him. In games this season, Johnson has lined up in the back field, in the slot and on the outside.
Johnson is an outstanding football player with rare talent. His movement is effortless and he will go all over the field to catch the ball. The defensive problem you run into when you play Johnson is that you can have him covered, but he still manages to make the play. Where the Cowboys need to be careful is not to allow Johnson to be that dominant player.
It will be interesting to see the health of
Mike Jenkins
this week. He was limited in practice on Wednesday and Thursday, which are your big work days. The Cowboys are already light at corner but need Jenkins' skill in coverage to try to slow Johnson down, which will be a tall order.
*Through the first two weeks of the 2010 season, the Cowboys are ranked first in the NFL in fewest sacks per attempt on offense. The Texans are ranked 17th in sacking the quarterback but last in the NFL in pass defense.
This is where the Cowboys need to take advantage of the Texans. If the Cowboys can protect
Tony Romo
, they can make some plays down the field.
The majority of the pass rush comes from defensive ends
Mario Williams
and
Antonio Smith
. Williams and Smith will line up all over the place along the front to try and create mismatches.
Amobi Okoye
is the defensive tackle in the scheme and he will try to beat you with quickness up the field more than power.
Rookie
Kareem Jackson
is on the outside at corner and looks like he has skill but gave up a big play to Redskins receiver
Joey Galloway
on a vertical route and some inside routes as well. When the Texans go to the nickel, they move starting left corner
Glover Quin
into the slot and put Texan (by birth)
Brice McCain
on the outside.
Against the Colts, defensive coordinator Frank Bush played his nickel package the majority of the game to combat the Colts' three-wide receiver package.
Where the Texans struggled last week was giving up the big play to the Redskins by losing their men in routes in crossing routes and down-the-field routes. The majority of the coverage is Cover 2 and with some of the success that the Bears had last week in jamming receivers, you will probably get the same look from the Texans.
If the Cowboys can handle those twist stunts, which have given them trouble in the past, they will be able to put pressure on this Texans secondary.