Dallas Cowboys:

Barry Sanders
July, 2, 2014
7/02/14
9:00
AM ET
IRVING, Texas -- With the players entering the downtime of the offseason, we offer up a Five Questions segment.
Today's subject is
Dallas Cowboys
cornerback
Brandon Carr
.
Carr signed with the Cowboys in 2012 with a five-year, $50 million deal. He has started every game in his six-year career, having spent the first four years of his career with the
Kansas City Chiefs
.
Carr
What is your first football memory?
Carr:
I was 6 years old and for Christmas my parents bought me the Dallas Cowboys uniform with the helmet and the little shoulder pads and the jersey. It was Troy Aikman and my cousin, they bought him a Barry Sanders'
Detroit Lions
one and we used to always go outside and play one on one and do different things then we started hitting, so my first experience of actually tackling was on Christmas day in the snow. We played from about what, 3 in the afternoon all the way until about 8. My brother was the quarterback/referee.
If you could play any other position, what would it be?
Carr:
I would want to be a (pause) wide receiver. I like catching the ball. I like when the ball is actually getting thrown to me. I wouldn't want to be a running back. Quarterback, that's OK. I did those years. I'd rather go to the other side of the ball and just switch hats and play and feel how they feel. I can use some of my knowledge on some DBs.
If you were the NFL commissioner for a day, what rule would you change?
Carr:
Haha. There's two of them. I would change the targeting rule. Then I would change the pass interference rules. I'd let them play a little bit more. I'd let them be a little bit more physical down the field.
Who is the non-Cowboy you respect the most in the league?
Carr:
I've always had a respect for
Steve Smith
. I played him my rookie year. Just a guy who seems like a pretty cool guy. Takes care of his business on the field, does the same off the field. He's always in the community and doing some kind of charitable things. He has some good movements going on.
If you weren't playing football, what would you be doing?
Carr:
This is year seven, hopefully I'd just be getting ready to finish up my residency in the medical field for pediatrician. This is year seven, four years in college, so about 11-12 years. I would just probably being stressed out right now, eyes all red.
October, 8, 2010
10/08/10
12:30
PM ET
By
Bryan Broaddus
| ESPNDallas.com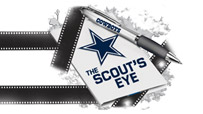 One team is going to leave Cowboys Stadium on Sunday night with three losses and questions moving forward. The other will gain much-needed momentum and the opportunity to build on that.
The
Dallas Cowboys
are coming off a bye week. The
Tennessee Titans
suffered a difficult home loss to Denver in which their defense was able to get six sacks on
Kyle Orton
but couldn't get him on the ground when they needed it the most to close out the game.
The one thing you know about the Titans and Jeff Fisher is that they will be well prepared. Since the league's realignment in 2002, the Titans have been one of the NFL's most successful teams in interconference play with a record of 24-9. Only the Patriots and Colts have a better record during that time period.
When you study the Titans, there are two areas that really stand out on their offense. The first is running back
Chris Johnson
and the second is the offensive tackles,
Michael Roos
and
David Stewart
.
[+] Enlarge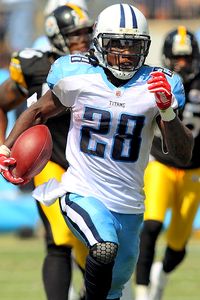 Icon SMIThe Cowboys' defense will have its hands full with the Titan's explosive running back, Chris Johnson.
Johnson is impressive to watch with the ball in his hands. When I worked for the Packers and we played
Barry Sanders
, you always had the feeling that on any carry, no matter where the offense was on the field, there was a chance for a huge play. Johnson has that same game-changing type of ability.
When the Titans run the ball, they like to do it with stretch plays, counters and tosses. Johnson has a real feel for how to find the gaps and holes along the defense, then explode through them.
His timed speed is 4.24 coming out of East Carolina and he is every bit of that. He plays with vision and that stop-and-start quickness.
Johnson can also hurt you as well in the passing game. He does a nice job of catching balls in the flat or inside and getting up the field.
On Wednesday morning, Fisher was asked about the make up of his star running back and his qualities. Fisher spoke of Johnson's ability with the ball in his hands, but if he does have a weakness, I felt like it's his ability to pass protect. Would not be surprised to see the Cowboys try to make him have to pick up some blitzes in this game early. He didn't show the ability to hang in there and be square in pass protection. He's a cut blocker.
When you play a back that has the talent of Johnson, tackling is huge. He will bounce off tackles if you don't wrap him up. If the Cowboys do not tackle well when Johnson has the ball in his hands, it plays right into what the Titans want to do on offense.
The strength of the Titans offensive line is at their tackle spot. Through the first four weeks of the season, this is the best set of tackles that the Cowboys have had to face. Roos and Stewart are good.
Overall, this offensive line is more mobile than they are powerful. They are very good at getting out on the edge and blocking in space. The Titans use a zone blocking scheme but will also pull on counter plays. They are a productive second-level blocking team and do a nice job of staying on their feet and finishing blocks.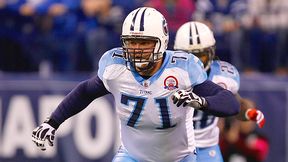 Scott Boehm/Getty ImagesMichael Roos (71) and David Stewart anchor a Titans offensive line that produced the league's top rusher a year ago.
The Cowboys should have an advantage with the matchup at nose when
Jay Ratliff
works against center
Eugene Amano
. Amano will struggle with Ratliff's quickness and power.
Ratliff puts a ton of pressure on the offense because of his ability to attack the pocket. When you play the Titans, you do worry about Johnson in the running game but you also want to attack
Vince Young
up the middle in the pocket. Young does not do a good job when he has to face pressure in his face; it's from the outside where he can avoid and use his legs to escape.
Would not be a bit surprised if the Titans allow Roos and Stewart to handle Ware and Spencer on the outside and try to help inside with guards
Leroy Harris
and
Jake Scott
on Ratliff.
*On defense for the Titans, there are not the names that we have seen in the past like
Albert Haynesworth
,
Jevon Kearse
,
Kyle Vanden Bosch
or
Keith Bulluck
. Instead guys like
Jason Babin
,
Dave Ball
and
Stephen Tulloch
are the players that are the new blood in this eight-ranked Titans defense.
The Titans have different players, but it's still the same aggressive defensive that has always been a staple of Jeff Fisher teams. The Titans are an undersized along the defensive front, but they are very aggressive when it comes to rushing the passer. Wade Phillips calls it relentless and they do a nice job of playing the run on the way to rushing the passer.
The Titans like to bring four-man pressure and they like to work games up front. You will also see twist stunts, corner and slot blitzes.
The player to watch for the Titans up front is defensive tackle
Jason Jones
. Jones is one of those relentless players that Phillips was talking about. Jones is always coming forward, always attacking the offensive linemen. He plays sometimes inside eye of the guard as a one-technique or he will line up outside shoulder of the guard and rush from the three.
Jones has good movement inside, so watch for the Titans to try and match him up inside on
Leonard Davis
, who will struggle with quickness to his outside shoulder.
In the secondary, the Titans have two players that I really like. Cornerback
Cortland Finnegan
and safety
Michael Griffin
are outstanding players.
[+] Enlarge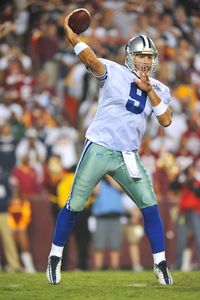 Larry French/Getty ImagesScreen plays will help Tony Romo and the Cowboys' offense counter the aggressive, revamped Tennessee defense.
Finnegan is one of those corners that doesn't give you much room in the route. He is a hard guy to run away from. Finnegan plays with an ease of movement and can be aggressive in the running game.
Griffin is a ball-hawking safety. He had a very nice interception against the Broncos and he is a factor when coming forward in the running game.
The Titans like to play two deep and play man coverage underneath. They will try to get their linebackers in coverage and in help with the secondary. When the ball is thrown or run, they as a group really rally to the ball and the ball carrier.
Look for the Cowboys to try to take advantage of the aggressive nature of the Titans defense. The Broncos and Steelers used screen packages to try to slow down the Titans rush and keep them off balance.
Again, this is not a big front for the Titans, but the Cowboys need to handle their movement and stunting to have success moving the ball on Sunday.
February, 3, 2010
2/03/10
5:08
PM ET
FORT LAUDERDALE, Fla. _ It's expected that
Emmitt Smith
will get elected to the Pro Football Hall of Fame on Saturday.
Barry Sanders
, who is in the Hall of Fame, rushed for 15,269 in his 10-year career.
Smith of course is the all-time leading rusher with 18,355 yards over 15 years. He also rushed for a NFL-record 164 touchdowns.
"He's been sort of heading on his way here for a long time," Sanders said. "We've all known it. It's just appropriate to see him go in."