Dallas Cowboys:

Barry Switzer
March, 7, 2014
3/07/14
1:30
PM ET
IRVING, Texas -- Wade Phillips has the second-best winning percentage of any coach in
Dallas Cowboys
' history. Better than Tom Landry's. I think Phillips might know that.
On Thursday, Phillips
tweeted this
:
Jason Garrett is tied with Wade Phillips for 56 games as the @dallascowboys head coach. Phillips: 34 - 22; Garrett: 29 -27. #suprisesMe

— Wade Phillips (@sonofbum) March 6, 2014
And later followed up with
this addendum
:
My surprise was that Jason and I had coached the same number of games. Not the record - time passes quickly -I wish Jason & Cowboys well

— Wade Phillips (@sonofbum) March 7, 2014
Like most things with Phillips, he lacked context.
When Phillips took over in 2007 as head coach, he inherited a team from Bill Parcells that was ready to win. QB
Tony Romo
was going into his first year as a full-time starter. The defense had DE
DeMarcus Ware
at his best. WR
Terrell Owens
was putting up big numbers.
The Cowboys went 13-3 and had the best record in the NFC. Phillips was the perfect antidote to Parcells and the players responded. Well, they did to a point. The Cowboys were not the same after beating the
Green Bay Packers
to move to 11-1 and effectively clinch home-field advantage.
They got lucky to beat the
Detroit Lions
the following week. They lost two of their last three games, but they were in shutdown mode against the
Washington Redskins
with nothing to gain from a win.
Other than momentum they had lost.
The Cowboys lost to the
New York Giants
in the divisional round at Texas Stadium, and the Giants went on to win the Super Bowl.
That's basically when the Romo narrative started. Maybe you heard that Romo went to Cabo during the wild-card weekend. Did it affect the outcome of the Giants' game? Of course not, but the perception machine was rolling, and has been rolling ever since.

You can track most of the Cowboys' woes to that lost opportunity. If they simply beat the Giants and make the NFC Championship Game, things would be different. Could they have beaten the Packers for a second time at Texas Stadium? It's the best what-if of the Romo era.
In 2008, the Cowboys acted as if they were predestined to not only make the playoffs but win the Super Bowl. Go back and watch the "Hard Knocks" episodes, and you see a team full of itself. They finished 9-7, missed the playoffs and were a mess late in the season.
Phillips could not pull it all together and looked inept as he attempted to deal with the fallout from the
Adam "Pacman" Jones
' incident. Phillips earned a reprieve in 2009 when Dallas posted an 11-5 record, won the NFC East title, and recorded a playoff win -- but that was the high point.
The Cowboys went 1-7 to start the 2010 season, including an embarrassing home loss to the
Jacksonville Jaguars
and a gutless loss to the Packers (45-7) the following week. After that game, Jerry Jones made the switch to Garrett, and the Cowboys are 29-27 since and have not made the playoffs.
Garrett did not inherit a team ready to win the way Phillips did in 2007. By the time Garrett took over, the Cowboys were growing old on the offensive line, and there were too many people (especially those in offices at Valley Ranch) who believed they had the best talent in the league.
The head coach of the Cowboys has tremendous sway with Jones. The Cowboys did not take
Randy Moss
in 1998 at least in part because then-coach Chan Gailey didn't want Moss.
On that premise, the 2008 draft -- with Dallas' two first-round picks -- was a mess because the Cowboys didn't even attempt to re-sign those first-rounders (
Felix Jones
and
Mike Jenkins
) when their contracts expired. The 2009 draft was a colossal failure in part because Jones was convinced that it could be a "special-teams draft," which is as ludicrous as the "draft for backups" the team had when Barry Switzer was the coach in 1995.
This is not in defense of Garrett. He has made plenty of mistakes on the field and in the draft.
Phillips has had a tremendous career in the NFL that has spanned decades. He is a terrific coordinator, but is he in the same conversation as guys like Dick LeBeau, or even Monte Kiffin? I'm not sure a Phillips defense scared offenses the way LeBeau's defenses in Pittsburgh and Kiffin's defenses in Tampa Bay did. Phillips was a good head coach but could not get his teams in Denver, Buffalo or Dallas past a certain point.
Phillips knows his resume inside and out. He can cite team stats and all the Hall of Famers he has coached.
He can claim his tweet was more about the number of games he and Garrett have coached, but it looked more like a passive-aggressive shot at the guy who replaced him, and a way for him to remind everybody of his record.
By the way, his winning percentage is .607. Landry had a .605 winning percentage.
January, 2, 2013
1/02/13
2:29
PM ET
IRVING, Texas – One of the more interesting things Jerry Jones said on KRLD-FM this morning was how he plans to address some of the issues with the Cowboys going forward.
"I'm going to spend a lot of time visiting with people outside of the organization that I have a lot of confidence in that will help us evaluate how to do the things that I know what our fans want to do, and that's not be sitting here at .500," Jones said. "There are a lot of teams that haven't been at .500, but nobody hasn't been at .500 and spent as much cash as I'm spending."
Jones' circle of trust includes former coaches and personnel people in the NFL that he turns to at different times of a season as sounding boards. It's good to have sounding boards, but they shouldn't be more influential than the people inside the building.
Why doesn't Jones listen to the people who are inside the building more?
They have followed this team more closely than anybody else outside the building. They have followed the college talent more closely than anybody outside the building.
PODCAST
Ed Werder joins Galloway & Company and points out that Jerry Jones has still not confirmed that Jason Garrett and his staff will be returning as the Cowboys coaches for the 2013 season.

Listen

He has talented scouts. His pro department the last two years has done a great job of finding guys off the street that have helped keep the Cowboys competitive. In talking to other teams across the league there is a great respect for the Cowboys' college scouting staff as well. The drafts the last three years have produced
Dez Bryant
,
Sean Lee
,
Sean Lissemore
,
Tyron Smith
,
Bruce Carter
,
DeMarco Murray
,
Dwayne Harris
,
Morris Claiborne
,
Tyrone Crawford
and
James Hanna
.
Jones might not believe he is doing a disservice to his staff by saying such things, but when the first person he credits for picking Murray two years ago is Barry Switzer, it's just wrong.
August, 16, 2012
8/16/12
8:30
AM ET
OXNARD, Calif. -- Jerry Jones' bust will one day be in the Pro Football Hall of Fame.
The marketing genius and business acumen of the
Dallas Cowboys
' owner and general manager have been revolutionary forces in the NFL. As coach Jason Garrett said recently, when the history of the NFL is written, there will be at least a chapter on Jones.
Too bad the part of his chapter that focuses on football won't be very flattering. Not at this point, at least.
Not unless Jones gets to grip a Lombardi Trophy that doesn't have Jimmy Johnson's DNA on it. And, while Barry Switzer proved right Jerry's claim that any of 500 coaches could win a Super Bowl with the mid-'90s Cowboys, Johnson claims the bulk of the credit for putting that roster together.
For all the money Jerry has made, for himself and the rest of the NFL owners, he's widely perceived as a football fool. That's the price a man pays for pushing a coach out of the door in the middle of a dynasty that quickly decayed into a franchise with one playoff win in 15 seasons.
Read the full story
here
.
April, 5, 2012
4/05/12
1:49
PM ET
Reaction to the
death of longtime
Dallas Cowboys
special teams coach Joe Avezzano, who died Thursday in Italy at the age of 68:
PODCAST
Former Cowboy Nate Newton shares stories about the late Joe Avezzano.

Listen

Cowboys owner Jerry Jones:
"Joe Avezzano was a very special part of our Dallas Cowboys family and our organization's history. He was also a wonderful father, husband and friend. No one enjoyed life more than Joe, and no one that I know had a greater appreciation for the people that he loved and the lives that he touched. We grieve with Diann and Tony and the thousands of fans who loved Coach Joe. He was an original. There was no one else like him."
Former Cowboys safety/special teams standout Bill Bates:
"No. 1, what a great husband and a great dad and obviously a great friend and coach that I'll miss forever. It just breaks my heart for the family. I knew he was in Italy, coaching over there. … I had no idea anything like this would happen. It just breaks my heart for everybody."
Former Cowboys head coach Barry Switzer:
"Joe would rather have been a country western music star or on-stage performer than a football coach if he had a choice. Joe did a great job coaching, was highly ambitious and a hard worker, but Joe always thought he could sing. I got a kick out of that."
Former Cowboys head coach Jimmy Johnson, via Twitter (@JimmyJohnson):
"Joe was great guy and coach..prayers go out to his family..."
Cowboys wide receiver Jesse Holley, via Twitter (@Mr4thAndLong):
"Coach Joe Taught me how important Sp Teams was & it doesnt take talent 2 be great on Sp Teams it takes Effort, Passion & "Want To"!"
Cowboys kicking coach Chris Boniol, who was coached by Avezzano for three seasons:
"Joe loved being a Dallas Cowboy, and he cared an awful lot about being part of this organization. He also cared a great deal about having his players be as prepared as possible to do their job. He had a very high standard for performance and production from his players. He was also entertaining and could coach with a sense of humor. He was unique in that he could bring humor into the meeting room without having it affect his authority. He made it fun to play for him, but he always demanded respect."
Cowboys head coach Jason Garrett
"Joe Avezzano was a great football coach, but, more than that, he was an outstanding human being. The impact that he had on me and the hundreds of other players and coaches who had the good fortune to be around him was significant. There are not many days that go by where we are not sharing a legendary Joe Avezzano story or using a trademark Joe Avezzano expression. He was a wonderful friend. We loved him very much, and he will be sorely missed. Our thoughts and prayers are with his wife, Diann, and his son, Tony."
April, 5, 2012
4/05/12
1:26
PM ET
Barry Switzer knew Joe Avezzano for four decades, dating to the Avezzano's days as a young coach on Johnny Majors' staff at Iowa State. Avezzano worked for Switzer for four seasons with the Cowboys, including the franchise's last Super Bowl title season.

But when Switzer thinks of his old friend, who died suddenly Thursday, football usually isn't the first thing that comes to mind. Switzer thinks of Avezzano strumming a guitar and belting out country songs.

"Joe would rather have been a country western music star or on-stage performer than a football coach if he had a choice," Switzer said. "Joe did a great job coaching, was highly ambitious and a hard worker, but Joe always thought he could sing. I got a kick out of that."

Switzer laughed as he recalled a party he hosted after a Cowboys game once that included Charley Pride and a couple of other country stars as guests. It didn't take long before the music started, with Avezzano right in the middle of the group.

"They were all over there pickin' and singin'," Switzer said. "That's what Joe loved to do – pick and sing. That was his passion."
May, 10, 2011
5/10/11
1:07
PM ET
By
Tim Graham
| ESPNDallas.com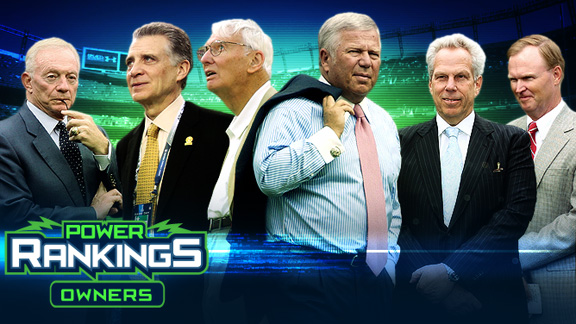 ESPN.com IllustrationThe Rooney family received only first- and second-place votes from our panelists.
There wasn't a whole lot of room for debate at the top.
ESPN.com took its positional Power Rankings series off the field and into the boardroom to rate the owners. None of them are popular fellows these days, but for the purposes of this project, nobody was more respected than the Rooney family.
The
Pittsburgh Steelers
' owners were listed first or second on all eight of the panelists' ballots.
By any definition, Dan Rooney and Art Rooney II qualify as powerful.
They're winners. The Steelers have played in eight Super Bowls and won six of them with three head coaches. The family's success has spanned such a long time that Dan and the late Art Rooney Sr. were inducted into the Pro Football Hall of Fame 36 years apart.
They're transcendent. President Barack Obama selected Steelers chairman Dan Rooney as the U.S. ambassador to Ireland.
They're influential. Dan Rooney was behind the so-called "Rooney Rule," which changed sidelines dramatically by stimulating minority hires. When it comes to the lockout, Rooney is a prominent voice of reason and could help broker the eventual deal.
"The Steelers selection is a no-brainer," ESPN.com senior writer John Clayton said. "The Steelers under the Rooneys have been the model of franchise ownership in sports. They are successful, consistent and supportive.
"They don't undergo the constant changes of other franchises. Plus, the family has been so instrumental in doing things that help advance the league, sometimes at the expense of their own franchise. It's no secret that two Rooneys are in the Pro Football Hall of Fame."
Clayton, AFC North blogger James Walker, AFC West blogger Bill Williamson and NFC South blogger Pat Yasinskas each had the Rooneys atop his ballot.
"The Rooney family is the perfect combination of tradition, consistency and success," Walker said, echoing Clayton's thoughts almost verbatim. "The easiest thing to point out is they've had the most Super Bowl wins and fewest head coaches since 1969. But they also set trends off the field with things like the Rooney Rule. They're very well respected, and there's a special sense of pride about the Steelers from players and fans that you don't see in many places. It starts at the top."
But the Rooneys were not unanimous choices in our ownership Power Rankings.
What about the power of the people?
The
Green Bay Packers
' ownership received three of the four remaining first-place votes. NFC North blogger Kevin Seifert, NFC West blogger Mike Sando and I all listed the Packers first because of their unique kind of power. Rules governing the other 31 franchises don't apply to them.
The Packers are the only publicly owned franchise. Green Bay Packers Inc. is a nonprofit organization formed in 1922. About 112,000 stockholders own roughly 4.75 million shares of the team. A seven-member executive board oversees the team on behalf of the stockholders.
Packers fans never will have to worry about the team being sold or moving away. The Packers are the only franchise that must open its books.
Oh, yeah. They also just won their NFL-record 13th championship.
Seifert explained why the Packers are special.
"My criteria for this category was twofold," Seifert said. "Do the owners fund the team's operations well? And do they operate the team well?
"I think the Packers' arrangement is currently doing both and has none of the baggage that goes along with single-family ownership. Shareholders don't take dividends, so no one is driven by individual profit. All profits go back into the franchise. In my experience, no expenses are spared in operating the team. People might note that general manager Ted Thompson doesn't sign many free agents, but that's a football decision. He's spent plenty on retaining the Packers' own free agents.
"The executive committee has hired a competent president in Mark Murphy, and after a bumpy start on the
Brett Favre
departure, Murphy has facilitated excellent work from the GM and coach he inherited.
"Finally, the Packers' ownership arrangement requires Murphy, Ted Thompson and Mike McCarthy to be more accountable to 112,000 fans than any other NFL official is to his fan base. Shareholders can't make operating decisions, but they have the right to question decisions, to know how money is being spent and to get straight(er) answers than fans of any other NFL team."
Clayton, however, wasn't impressed. He omitted the Packers from his ballot, ensuring they didn't finish second in the Power Rankings despite their three first-place votes.
One gets the impression that if Clayton were to slot all 32 ownerships, he would jot the Packers last.
"I couldn't vote for the Packers because it is a community ownership, not a normal ownership," Clayton said. "It's not as though one owner makes the decisions and has to stand up for the praise or criticism. Assigned the chance to vote for ownership, I felt more comfortable voting for individual owners or family owners."
[+] Enlarge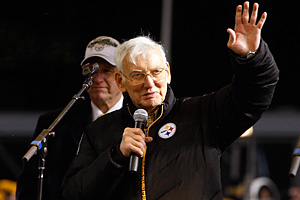 Jared Wickerham/Getty ImagesDan Rooney has been one of the most influential owners in the NFL.
As a result,
New England Patriots
owner Robert Kraft was second overall. Kraft hired Bill Belichick as head coach and has stayed out of the way of football operations. The Patriots have won three Super Bowls in the past decade and went to a fourth. Forbes estimated the Patriots are the third-most-valuable NFL franchise and the world's 10th-biggest sports brand.
AFC South blogger Paul Kuharsky listed Kraft above all. Kuharsky had the Rooneys second and the Packers third.
Kuharsky had the most efficient Power Rankings ballot. He was the lone panelist to vote for all of the owners who finished in the top 10.
"Robert Kraft versus the Rooneys is a close call," Kuharsky said. "I went Kraft because I feel he and his team have done more lately. In many ways, the Patriots -- not the Steelers -- are the standard-setters for the league. And while I prefer the way Heinz Field is in the middle of Pittsburgh, that development around Gillette Stadium has to be the envy of a lot of owners."
New York Giants
co-owners John Mara and Steve Tisch came in fourth,
Philadelphia Eagles
owner Jeffrey Lurie was fifth and
Baltimore Ravens
owner Steve Bisciotti was sixth.
From there, everybody else on the Power Rankings top 10 was omitted from at least one ballot.
Eclectic
Indianapolis Colts
owner Jim Irsay, who was able to help land a Super Bowl in a nontraditional locale, came in seventh. Irsay rated no higher than sixth on any ballot, but he didn't make Williamson's top 10.
"I know it sticks out because I was the only one not to rank him, but if he was in the top three, I'd re-evaluate my reasoning," Williamson said. "But I can live with not voting for the No. 7 finisher. To be frank, I never considered Irsay. I considered 14 ownerships in all. Other than his random tweets, Irsay doesn't stick out to me, good or bad."
When it came to voting, money didn't necessarily equal power for some panelists.
I ranked
Dallas Cowboys
owner Jerry Jones third, higher than any other voter. Sando and Yasinskas didn't rate Jones at all. Jones ended up eighth.
To me, you can't argue with his money or his presence. Forbes ranked the Cowboys the world's fourth-greatest sports brand behind only the New York Yankees, Manchester United and Real Madrid. Their estimated brand value was $128 million more than the NFL average and $15 million more than the Eagles and Giants combined.
Forbes estimated the Cowboys franchise was worth $1.8 billion, nearly $300 million more than the next-closest NFL club, the
Washington Redskins
.
Jones also serves as general manager. That puts him in control of every business and personnel decision. Sando saw that as a drawback.
"Jerry Jones is more involved in football operations than an owner ideally would be," Sando said. "He has shown questionable judgment in hiring head coaches. His involvement in football operations had made those coaches' jobs tougher. Jones dispatched with Tom Landry harshly and later failed to sustain the success Jimmy Johnson orchestrated.
"Also on Jones' watch, the Cowboys have suffered through the practice-bubble catastrophe, a Super Bowl experience that produced poor reviews and a video purporting to show Jones' drunken antics in a bar. Jones also was part of the NFL Management Council Executive Committee when the league agreed to the ill-fated 2006 collective bargaining agreement. Overall, the team hasn't enjoyed enough success recently to say the ends justify the means."
Yasinskas contended that Jones simply is overrated these days.
"If Jerry Jones had continued the success he had with Jimmy Johnson and Barry Switzer back in the 1990s, he'd be at the top of my list," Yasinskas said. "But the fact is the Cowboys really haven't been all that relevant for a long time. Part of that is due to Jones.
"He's done some good things and the new stadium is fabulous, but he's been way too hands-on with that franchise and he's run through lots of good coaches and players without any real results."
Let us know what you think.
April, 14, 2010
4/14/10
8:11
AM ET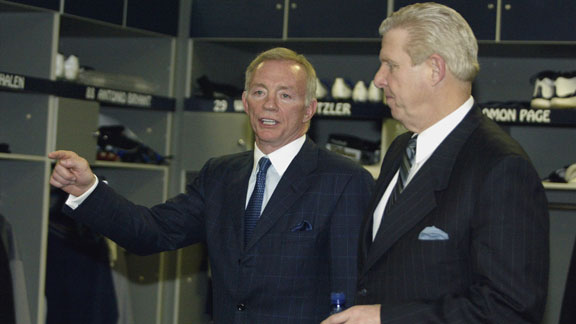 Jerry Jones
didn't want to remind the world
that his ego is out of control, but that's what happened when the Web site deadspin.com published a video of the Cowboys' owner cursing former coach Bill Parcells.
"Bill's not worth a [expletive]," Jerry rambled, perhaps after a night of enjoying his beloved Pepsis.
That's a pretty harsh take on a Hall of Fame coach who inherited a perennial 5-11 mess and left a playoff team when he left Valley Ranch. But when it comes to coach appreciation, Jerry set the bar at about his toenails when he divorced ex-college teammate Jimmy Johnson in the wake of the Cowboys' back-to-back Super Bowl wins.
The grainy video, which the Cowboys would not comment on, surely came as a surprise to Jones. But nothing Jerry said will live in infamy like his post-Jimmy comment that 500 coaches could win a Super Bowl with his Cowboys. His old buddy Barry Switzer might have proved Jerry right once after pulling himself off his Norman, Okla., couch, but the Cowboys swiftly went from dynasty to debacle over the next decade.
That prompted Jerry to fly his private jet up to Jersey to talk the Tuna into playing the big room, as Parcells called the America's Team stage. Well, actually, it wasn't just the losing that caused Jerry to recruit a coach who would overshadow him.
"They were on my [butt] so bad: 'Jerry's gotta have a yes-man.'" Jones said during the video, in which he also says that Tim Tebow could never get on the field for the Cowboys. "So to get this [expletive] stadium, I need to bring his [butt] in."
Jerry has always had "yes-men" as head coaches, with two exceptions: Johnson, the coach who built a dynasty; and Parcells, the coach who restored respectability to the franchise. But one thing is as clear as vodka: Jerry was willing to share the credit and spotlight at Valley Ranch only until he got the deal done for the stadium.
Now Jerry has exactly what he wants: a beautiful $1.2 billion building that is a reflection of his ego and a coach who has no problem passing the credit up the corporate ladder. As long as Wade Phillips continues to understand the pecking order around these parts, Jerry will have nothing but nice things to say about him.
To see the video,
go here
.
Warning:
Explicit language.
January, 3, 2010
1/03/10
6:13
PM ET
ARLINGTON, Texas -- Last week,
Orlando Scandrick
, the young backup cornerback for the Cowboys, said he wanted to win the NFC East title so bad because he wanted to experience something special.
Growing up in California, he watched other teams get gear that said such-and-such wins such-and-such division title. Scandrick said if he made it to the NFL, he wanted to be in a scene like that.
Well, the Cowboys clinched the NFC East on Sunday afternoon in front of the second-largest crowd in Cowboys Stadium and team history.
A crowd of 100,621, saw Dallas blow away the Eagles, 24-0, to clinch the No. 3 seed in the NFC. Dallas will play the Eagles next week at Cowboys Stadium. The Cowboys will be looking to knock off the Eagles for the third time this season.
The Cowboys have shut out opponents for consecutive weeks for the first time in team history. Dallas shut out Washington, 17-0, last weekend.
In the process, coach Wade Phillips won another division title. He won the NFC East in 2007 when the Cowboys went 13-3. The last coach other than Phillips to win the divison title was Chan Gailey in 1998. Phillips is also the first Cowboys coach to win multiple division titles since Barry Switzer did it for three consecutive seasons (1994-96).
This was a beating the Cowboys owed the Eagles from last year, when Dallas needed win at Philadelphia to reach the postseason, but lost, 44-6. It set off a series of events where Jerry Jones cut
Terrell Owens
,
Greg Ellis
, Pacman Jones and
Tank Johnson
.
Defensive coordinator Brian Stewart and special teams coach Bruce Read were fired.
The entire organization took a hard look at itself.
There were changes, and it seems those things have worked, based on this 11-5 mark.
Going into the postseason, the Cowboys finished the season 3-2, its first winning December-January stretch since 1996, when Switzer's club finished 2-1.
The Cowboys finished this decade resolving some issues, like winning in December/January, and maybe they can win in the playoffs, something that hasn't happened since Switzer's team beat the Vikings, 40-15, after the 1996 season.
As for the Cowboys game, they scored on their first possesion of the game for the fourth consecutive week.
November, 30, 2009
11/30/09
4:04
PM ET
IRVING -- A troubling sign occurred today at Valley Ranch. Coach Wade Phillips is avoiding December talk.

It's an interesting concept but one that shouldn't be avoided.

The Cowboys have not posted a winning record in December/January since 1996 when Barry Switzer was the coach. Under Phillips, the Cowboys went 1-3 in December last year and 2-2 in 2007.

In a nearly 25-minute news conference, Phillips just said the team needs to take it one at a time. In another 10-minute session with the beat writers, he avoided the subject again.

"You've got to get them focused on what they're doing right now," Phillips said. "We can't do anything about the whole five games. You don't play five games at once. You play one. That's what I have to do. Get them focused in on one. Yes, there are a lot of people out there coming up with baseball stats and so forth. Baseball stats -- we lost at night, at 3 o'clock in the morning or something, I don't know."

Phillips is right that you can't worry about the whole month of December, but he should at least acknowledge the team hasn't played well down the stretch.

"I don't know how I felt at this time last year," Phillips said to the beat writers when asked about if he felt better this year than last year regarding December.

Then adding with laughter: "I felt bad last year."

On a serious note: "Coaches always think you're going to win. We're always optimistic. Realistically, looking back at it, certainly we had a lot of injuries last year and we seemed stronger injury-wise this year. Whatever you want to say, it's a factor. But the injuries before last year, when the quarterback got hurt, were pretty significant. Losing two out of three there, we wouldn't have had to beat Philadelphia to be in the playoffs."