Dallas Cowboys:

ben obomanu
November, 4, 2011
11/04/11
10:44
AM ET
By
Bryan Broaddus
| ESPNDallas.com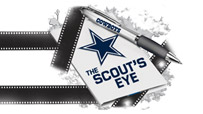 Those of you who think that the Seahawks are going to come into Cowboys Stadium and roll over because of their 2-5 record might be in for a bit of a surprise come Sunday afternoon.
This game has a 2010 Jacksonville feel to it, when the Cowboys clearly overlooked the Jaguars and were embarrassed on their home field 35-17. When you study the Seahawks, their record is misleading because there is some talent on this team and their record should be better.
It's a mistake to compare the the Seahawks to the Rams. St. Louis defensively was a bad football team; Seattle is not.
QB, O-line struggle with pressure
Offensively, there are problems with the third-youngest offensive line in the NFL, but the biggest struggle is at quarterback with
Tarvaris Jackson
. There is no doubt that Jackson has a cannon for an arm, but the problem is that he is not an accurate quarterback. Receivers
Mike Williams
,
Sidney Rice
,
Doug Baldwin
and
Ben Obomanu
really have to work to catch his passes.
[+] Enlarge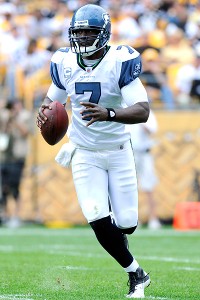 AP Photo/Don WrightA young offensive line does little to improve the accuracy of Seahawks quarterback Tarvaris Jackson.
Jackson is all over the place when he throws the ball. I have seen him throw the out or slant and be dead on the money, but then the next three throws would be nowhere near the receivers.
Offensive coordinator Darrell Bevell likes to move Jackson around in the pocket with designed boots or waggles, but there are plenty of times when you see Jackson moving on his own when the pressure becomes too much. One of the best traits that Jackson has is his ability to scramble and buy the second chance.
There will be times Jackson doesn't make the best decisions. I have seen him throw the ball up for grabs for no reason at all instead of taking a sack and living to fight on the next down.
The pressure that Jackson and even
Charlie Whitehurst
have had to deal with this season can be put at the feet of this offensive line. The Seahawks start two rookies on the right side with guard
John Moffitt
and tackle
James Carpenter
.
Moffitt really struggled on tape. He doesn't sustain well -- run or pass -- and much like his former Wisconsin teammate
Bill Nagy
, when he has to face a rusher who plays with power or strength, it really throws him off.
Carpenter is a large man who is not slow-footed, but he is more of a catch blocker than one who punches and tries to stop the charge of the defender. The Seahawks will try to get him on the edge in the screen game and on the toss sweep as well. Carpenter has had his share of struggles with the inside rush, much like
Tyron Smith
has. For young tackles such as Smith and Carpenter, that's the biggest problem -- always thinking about protecting the outside then having to adjust back inside, which rushers like
DeMarcus Ware
will take advantage of.
The two best offensive linemen for the Seahawks are the left tackle
Russell Okung
and center
Max Unger
.
PODCAST
Official scout of ESPN Dallas Bryan Broaddus previews the Cowboys-Eagles matchup on Sunday.

Listen

Okung is impressive in the way that he tries to finish his blocks. His feet are good and he can adjust to the rush.
Unger was a player who the Cowboys were very interested in drafting three years ago after an outstanding career at Oregon, where he was an All-Pac 10 tackle and center. Unger, like Okung, is good with his feet and is able to adjust to twist stunts and blitzers. Rarely do you see him on the ground, plays on his feet. Good with the reach and cut-off blocks.
RB trio carries load well
The Seahawks have three running backs on the roster and use them all.
Marshawn Lynch
,
Justin Forsett
and
Leon Washington
all get offensive snaps.
Lynch is the main ballcarrier and there is nothing really flashy about the way he does his job. He tries to hammer defenders when they come up for the tackle. Can tell that there are plays in which he gets frustrated because of the lack of blocking that he sometimes receives. Would not call Lynch an explosive back but one that will press the hole and if necessary use his vision to find the hole to the outside to finish the run. Lynch is not the type of back that will run away from you with blazing speed but more of a steady, workman-like runner.
Lynch is a productive pass catcher with outstanding hands. Will see him used in the red zone on screens much like the Cowboys saw last week against the Eagles'
LeSean McCoy
.
Lynch's problem in the games I studied was fumbling the ball. In the Bengals and Giants games, he put the ball on the ground, killing drives for his team.
Washington is a short, explosive ball carrier. Forsett has good hands but doesn't play with the explosiveness of Washington. Washington attacks the hole with suddenness, while Forsett shows more patience.
Safeties shines for Seahawks
While the Seahawks' offense has issues, their defense is far superior to the Rams'. The Seahawks have more skill at safety, corner and pass rusher.
I was really impressed with safeties
Earl Thomas
and
Kam Chancellor
.
[+] Enlarge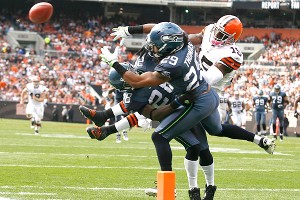 Matt Sullivan/Getty ImagesThe Cowboys likely won't catch Seahawks safety Earl Thomas (29) out of position Sunday.
Thomas shows nice range and catch-up speed to make plays. He is also used as a blitzer in this scheme. He is quick around the corner. Thomas plays assignment sound. You don't see him out of position much.
Chancellor is a physical tackler but doesn't move as well in coverage as Thomas because he is not that quick-footed. Chancellor has struggled some in the passing game. He misplayed a ball in the air against the Giants down the sideline that led to a touchdown, so you don't see him put in those types of situations often.
At corner for the Seahawks,
Richard Sherman
and
Brandon Browner
are the starters. Sherman, a rookie from Stanford, is not the most physical player but has good cover skills. Both corners like to play press coverage and can run with their men.
The Cowboys had trouble last week against the Eagles when they had to fight off the press. I am not saying that these Seattle corners are as good as the Eagles', but they do have height that helps them when they jam receivers at the line. Browner is over 6-foot-3 and Sherman is at 6-foot-2.
Watch for the Seahawks to play with a single high safety and Chancellor down in the box to handle the run. On the outside, these corners will press and make
Dez Bryant
and
Miles Austin
fight for space and hope that their pass rush can get home like the Eagles did last week.
Pass rush can be explosive
The Seahawks have two rushers that can create problems for tackles. Defensive ends
Chris Clemons
and
Raheem Brock
do a nice job. Clemons is a starter that plays the weakside defensive end, so he will flip sides opposite the strength of the Cowboys. Brock will come into the game as a nickel rusher.
Both Clemons and Brock are explosive rushers. Both like to attack the edges, but
Doug Free
and Tyron Smith have to careful when these two try to spin inside on their rush. Last week against the Eagles, the biggest struggles that Free and Smith had was when
Jason Babin
and
Trent Cole
were able to use a spin move. I expect that Clemons and Brock have studied that game, and they will test Free and Smith from the word go.