Dallas Cowboys:

Bill Musgrave
May, 12, 2014
May 12
10:15
AM ET
IRVING, Texas -- For all of the talk about the
Dallas Cowboys
drafting a quarterback, they never really considered selecting one.
[+] Enlarge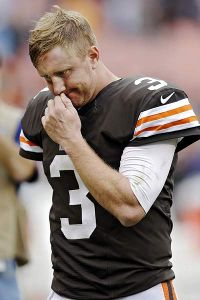 Tony Dejak/AP PhotoThe Dallas Cowboys are viewing 30-year-old backup Brandon Weeden as their "developmental quarterback."
After the first round, owner and general manager Jerry Jones said picking
Johnny Manziel
, "wasn't even a thought," despite loving the former Texas A&M quarterback who ended up with the
Cleveland Browns
.
The Cowboys liked several lower-round quarterbacks, such as
Tom Savage
, but passed on all of them. The Cowboys have not drafted a quarterback since taking
Stephen McGee
in the fourth round of the 2009 draft. Since 1989, the Cowboys have drafted only four quarterbacks:
Troy Aikman
,
Bill Musgrave
,
Quincy Carter
and McGee.
Steve Walsh
was taken in the first round of the 1989 supplemental draft.
With
Tony Romo
coming off his second back surgery and
Kyle Orton
's future in question, many thought the Cowboys would take a shot at a quarterback.
"We feel in signing
Brandon Weeden
, he can be viewed as that developmental guy," coach Jason Garrett said. "A first-round pick a couple of years ago, coming from a baseball background, has all the physical tools you want. We view him as in that role right now, so we wanted to be selective about anybody else we wanted to bring in here."
So no Savage, no
Aaron Murray
, no
AJ McCarron
. The Cowboys did sign
Dustin Vaughan
as an undrafted free agent and he was on their draft board.
At quarterback, "the best players who play typically come from the top rounds," Garrett said. "I do think with how the league has changed, there is a demand to play those guys earlier and that changes the dynamic of taking your time to develop guys year after year and they play in years four and five. The thing you're concerned about is developing them for somebody else. You develop them for two, three, four years and he goes and plays for another football team. We don't think that's a worthwhile thing. There's been a theory around the league, teams like Green Bay for years always took a guy late and if that player develops into something that was a good thing for their team or to trade to somebody else. There were some examples of them doing that. It's a philosophy a lot of teams, they agree with that. But when you have other issues on your team I think it becomes a little bit of a luxury to do that. When you feel good about your starter and you feel good about your backups, we feel it's better to take a position player, a guy we know can contribute on special teams, instead of trying to develop that guy [quarterback]."
February, 3, 2014
Feb 3
2:25
PM ET
IRVING, Texas -- It's clear the
Dallas Cowboys
do not have a philosophy when it comes to drafting a quarterback.
The sounds coming from the Senior Bowl two weeks ago were that whenever the Cowboys decide to move on from
Tony Romo
, they will draft a quarterback in the early rounds and play him right way, like the
Seattle Seahawks
did with
Russell Wilson
and the
Cincinnati Bengals
did with
Andy Dalton
, among others.
Since selecting Troy Aikman with the No. 1 overall pick in the 1989 draft, owner and general manager Jerry Jones has drafted three quarterbacks: Bill Musgrave, Quincy Carter and Stephen McGee. He also took Steve Walsh with first-round pick in the 1989 supplemental draft.
Carter was a second-round reach in 2001 but he did help the Cowboys to the playoffs in 2003 under Bill Parcells. McGee was a fourth-round hope in 2009 but he just did not develop.
Two years ago the
Washington Redskins
traded up to take
Robert Griffin III
with the second overall pick. They took
Kirk Cousins
in the fourth round.
Two years later, Cousins is open to a trade, according to ESPN's Adam Schefter.
How does this relate to the Cowboys?
By drafting Cousins and having him play just a little -- four starts, eight appearances -- the Redskins have an opportunity to acquire a pick or picks from a team interested in Cousins. What can they get for Cousins? It only takes one team to believe, but even if they are not high picks they are still picks.
A team can never go wrong in having extra picks, unless you want to look at the Cowboys' draft of 2009 when they had 11 picks and the best pick was either
Victor Butler
(fourth) or
John Phillips
(sixth).
Under Ron Wolf, the
Green Bay Packers
were able turn
Ty Detmer
(1992),
Mark Brunell
(1993),
Matt Hasselbeck
(1998) and
Aaron Brooks
(1999) into six draft picks.
Jones has seen the benefit of drafting a quarterback and then later trading him with Walsh. In 1990, he sent Walsh to the
New Orleans Saints
for first-, third- and second-round picks.
Considering how much Jones likes to wheel and deal it's strange that he has not seen the benefit of drafting a quarterback in order to do some wheeling and dealing down the road if his starting quarterback spot is as secure as it has been since Romo took over in 2006.
January, 8, 2014
Jan 8
3:00
PM ET
IRVING, Texas --
Dallas Cowboys
owner and general manager Jerry Jones has already said he will not use an early draft pick on a quarterback to possibly begin the process of finding
Tony Romo
's successor.
Could Johnny Manziel sway Jones' mind?
Manziel will be the story of this year's draft. He drives attention with his style of play, with his brashness, with how he has handled the fame since winning the Heisman Trophy at Texas A&M. Wherever he goes in May, Manziel will be a draw.
I've already mentioned
Jones can't so easily dismiss the possibility of taking a quarterback
. History suggests otherwise.
Since taking
Troy Aikman
with the No. 1 pick in 1989, Jones has selected just three --
Bill Musgrave
(1991),
Quincy Carter
(2001) and
Stephen McGee
(2009) -- in the regular draft and used a first-round pick in the supplemental draft on
Steve Walsh
in 1989.
Before the change in the collective bargaining agreement, he did not want to make the huge financial investment in an unproven commodity early in the draft. Now that the rookie prices have come way down, Jones remains reluctant.

But we all know Jerry Jones loves a draw.
He didn't need to draft
Dez Bryant
in 2010 with the first round. He committed megabucks to
Roy Williams
in 2009. He had
Miles Austin
coming off a Pro Bowl season and would soon pay him megabucks. But Bryant kept slipping and the Cowboys moved up slightly to take Bryant with the 24th pick in the first round. Somehow he could not envision passing on
Randy Moss
and Bryant.
This year the Cowboys will pick either No. 16 or 17 in the draft, depending on a coin flip with the
Baltimore Ravens
.
Manziel figures to be gone by then, but what if teams are scared off by Manziel and he slips in the same way Bryant slipped? Does Jones make the move? Does he bring in the star of the draft?
There will be tons of work done on Manziel between now and the draft. The Cowboys will do their due diligence and know the player inside and out.
The general manager will have all of the reports and know if it would be a smart football move or not.
Would the owner be able to stay out of the way?
It sure it would set up an interesting dynamic on draft day.
April, 27, 2013
4/27/13
8:04
PM ET
IRVING, Texas -- With
Matt Barkley
,
Ryan Nassib
,
Tyler Wilson
and
Landry Jones
available in the fourth round Saturday, it looked like the Cowboys could have had to chance to do something they don't do often and draft a quarterback.
By the time they picked at No. 114, only Jones was available and he went to Pittsburgh with the next pick.
Barkley went No. 98 to Philadelphia, Nassib went to the
New York Giants
at No. 110 and Wilson went to Oakland at No. 112.
The last quarterback the Cowboys drafted was
Stephen McGee
(fourth round) in 2009. Since 1990 the Cowboys have drafted only three quarterbacks:
Bill Musgrave
(1991),
Quincy Carter
(2001) and McGee.
The Cowboys have
Tony Romo
, who turned 33 earlier in the week,
Kyle Orton
and
Nick Stephens
on the roster and agreed to a deal with undrafted rookie
Dalton Williams
on Saturday.
"I think every team wants to develop a quarterback," coach Jason Garrett said. "You want a guy coming along. We feel really good about the quarterbacks we have on the roster right now and what their roles are. If one of those top guys had fallen further we would've had another conversation about it. We felt those guys were good players and maybe good value but maybe not for us where we were picking."
February, 20, 2013
2/20/13
4:40
PM ET
PODCAST
Todd Archer joins Galloway & Company to discuss who the Cowboys should draft in the first round and how far the team can go with Tony Romo at quarterback.

Listen

INDIANAPOLIS – As the Cowboys look to extend
Tony Romo
's contract this offseason, they will not be looking for his successor early in April's draft.
Since taking
Troy Aikman
with the No. 1 overall pick in the 1989 draft, Jerry Jones' first as owner and general manager, the Cowboys have drafted only three quarterbacks –
Bill Musgrave
(1991),
Quincy Carter
(2001) and
Stephen McGee
(2009).
"We've never been opposed to drafting young quarterbacks," executive vice president Stephen Jones said. "We drafted Stephen McGee. Unfortunately it didn't work out for us, but in my mind – and we've not gone over this in detail, Jerry and myself – but I can't imagine we wouldn't take a quarterback if the right guy is there, just like we did Stephen. I don't necessarily see us using our first round pick or second round pick on one, but after, depending on who might be there, I wouldn't rule it out."
The 2013 draft class is not considered too strong at the top, but there could be a quarterback slip to the middle rounds that could be worth exploring.