Dallas Cowboys:

Bill O'Brien
July, 11, 2014
7/11/14
2:00
PM ET
IRVING, Texas -- Part 1 of the
Dallas Cowboys
' Twitter mailbag is ready.
In it we discuss:
The potential of Tyrone Crawford
The potential of the defense overall
The potential of Jason Garrett
The potential of Sean Lee
Away we go:
@toddarcher chances Tyrone Crawford has 7+ sacks this year? Cowboys liked his motor out of Boise State before the injury! #cowboysmail

— James Jacobs (@Texas_Nation84) July 10, 2014
@toddarcher: Everybody wants to heap a pile of expectations on Crawford. Jason Hatcher did it. Tony Romo did it. Jerry Jones did it. The coaches have done it. I'm just not ready to say he will have seven or more sacks in 2014. I think if he had five, that would be a good year. Remember, he is coming off a torn Achilles that cost him the 2013 season and he did not have a sack as a rookie in 2012. He was good, solid, dependable, but he never got the quarterback. He had a good spring, but he also expressed some worry that he was still having pain in his leg even if it is considered normal. A five-sack season would be a good way for Crawford to rebound. If he has seven, the Cowboys will be ecstatic. I'm not saying he doesn't have the potential for that kind of season. I just want to see some more evidence before jumping on an already crowded bandwagon.
@toddarcher Keep hearing about defense being worse. What does history say? How do 32nd-ranked Ds generally do the next season? #cowboysmail

— PJWick23 (@PJWick23) July 10, 2014
@toddarcher: Thankfully the fine folks at bloggingtheboys.com have already looked this up. Generally, they do better. Only one team in the past 19 seasons allowed more yards after giving up the most yards in the NFL. Unfortunately that team was the 2008 Detroit Lions coached by Rod Marinelli, who takes over as Cowboys' defensive coordinator. According to BTB, the average improvement is 827 yards from the previous years. Sixteen of those 19 had more wins the following season, which bodes well for the Cowboys. I think the defense will be better in 2014 because it can't be worse. Well, I know it can be worse, but I think Marinelli will make a positive impact. I think you will see the Cowboys go from No. 32 in yards to the Nos. 20-25 range. Call me crazy.
@toddarcher #cowboysmail Rank Jason Garrett as a NFL head coach? Who is worse?

— Mike in Duncanville (@mikedville) July 10, 2014
@toddarcher: I'm going to take the new head coaches out of the mix, so no Bill O'Brien, Mike Zimmer, Jay Gruden or Mike Pettine. He clearly isn't among the best in the league. I don't think he's the worst either. I've got Jason Garrett as better than Doug Marrone, Gus Bradley, Joe Philbin and Dennis Allen. I think he's better than Jim Caldwell. I think he's better than Marc Trestman. To me, guys like Jeff Fisher and Lovie Smith are overrated, but that is just my opinion. I'd put him in with guys like Ron Rivera, Mike McCoy and Ken Whisenhunt, and, yes, I realize those guys have made the playoffs or a Super Bowl (Whisenhunt). Garrett is in that 18-23 range, to me. Middle of the road. Much like the Cowboys.
@toddarcher Is it time for the team to move on from Sean Lee? #Cowboysmail

— Jason Hamby (@IPAzRGR8) July 7, 2014
@toddarcher: Maybe I'm just being stubborn on this one, but no. Contractually they can't really walk away yet even if they wanted to ... and they don't want to. I realize Lee has had his share of injuries, but he is an impactful player. He has shown too much even with missing so many games. I'm going to take my chances that he will be healthy eventually. I don't doubt he will come back from the torn anterior cruciate ligament. While still a major rehab, it is not as daunting or as uncommon as it was in the past. Lee will do everything he can do be ready. Sometimes this stuff comes down to luck. Maybe all of Lee's bad luck is out of his system and he'll be able to play a full season in 2015 and beyond. I wouldn't want to see him do it elsewhere for another team..
January, 16, 2014
1/16/14
10:00
AM ET
IRVING, Texas -- With the NFL's game of musical chairs involving head coaches just about over -- except for the uber-patient
Cleveland Browns
-- let's look at the effect the new names in new spots will have on the
Dallas Cowboys
.
The Cowboys will face three teams with new head coaches in 2014: Jay Gruden with the
Washington Redskins
, Bill O'Brien with the
Houston Texans
and Ken Whisenhunt with the
Tennessee Titans
.
In 2013, the Cowboys went 1-4 against teams with new coaches. The lone win was the October meeting against Chip Kelly's
Philadelphia Eagles
, but they returned the favor in the more-important Week 17 rematch that won the NFC East.
The Cowboys also lost to Kansas City's Andy Reid, San Diego's Mike McCoy and Chicago's Marc Trestman.
Gruden and O'Brien will be head coaches for the first time in the NFL. Whisenhunt had a six-year run with the
Arizona Cardinals
.
The Cowboys went 0-3 against Whisenhunt. Two of the losses came in overtime and the third was by a point. And they were three of the strangest losses. In 2008, they lost on a blocked punt for a touchdown in overtime. In 2010 they lost in part because
David Buehler
missed an extra point. In 2011 they lost in overtime in a game in which many believe Jason Garrett iced
Dan Bailey
at the end of regulation.
(Personal aside: I don't believe that was the case. The play clock was running down and Garrett called the timeout at the request of special-teams coaches Joe DeCamillis and Chris Boniol. Bailey's first miss of that season at San Francisco came with the operation rushed because of the play clock. Now back to your regularly scheduled programming.)
O'Brien was the
New England Patriots
' offensive coordinator in 2011 when
Tom Brady
beat the Cowboys on a final-minute touchdown pass 20-16. The Texans have the top pick in the draft and a team that could be in line for a quick turnaround.
Gruden was the
Cincinnati Bengals
' offensive coordinator when Bailey won the game on a last-second field goal after
Andy Dalton
was limited to 206 yards passing. The Redskins folded under Mike Shanahan and have a ton of needs, but the return of a healthy and motivated
Robert Griffin III
could change their fortunes quickly.
The Cowboys could have six more games against teams that will lose assistant coaches in 2014.
As of Thursday, the only assistant the Cowboys have lost is Boniol, who oversaw one of the best kickers in the NFL. Maybe that will change too. Maybe.
January, 9, 2014
1/09/14
8:00
AM ET
IRVING, Texas -- The
Dallas Cowboys
are not in a search for a head coach. Jason Garrett will be back for his fourth full season in 2014.
The
Tampa Bay Buccaneers
(Lovie Smith) and
Houston Texans
(Bill O'Brien) have landed their guys. The
Washington Redskins
,
Tennessee Titans
,
Cleveland Browns
,
Detroit Lions
and
Minnesota Vikings
are still in the search process.
And they have been elaborate.
The Redskins' list has 11 names, including Cowboys special teams coach Rich Bisaccia. Bisaccia's name has turned up in the Titans' chase too. A lot of the searches have the same names with guys like Jay Gruden, Mike Zimmer, Ken Whisenhunt, Todd Bowles, Jim Caldwell, Dan Quinn and James Franklin.
In 2007, Jerry Jones cast a wide net to find Bill Parcells' successor.
He interviewed 10 coaches, including three from Parcells' staff -- Tony Sparano, Todd Haley and Todd Bowles -- and a former assistant in Gary Gibbs. Unlike the Redskins, he did not interview any assistant from NFC East teams.
Including Wade Phillips, who was Jones' pick, and Garrett, who took over for Phillips in the middle of the 2010 season, eight of the 10 interviewees became head coaches: Sparano with the
Miami Dolphins
, Haley with the
Kansas City Chiefs
, Norv Turner with the
San Diego Chargers
, Ron Rivera with the
Carolina Panthers
, Jim Caldwell with the
Indianapolis Colts
and Mike Singletary with the
San Francisco 49ers
.
Only Bowles and Gibbs have not been named head coaches, although Bowles has a chance in Cleveland or Minnesota.
Of the eight the only two not to take their team to the playoffs are Garrett and Singletary.
In 2010, Jones' search was not as prolific. He liked what Garrett did in taking over for Phillips in finishing 5-3 without
Tony Romo
, who was out with a broken collarbone. Jones interviewed wide receivers coach Ray Sherman and also brought Bowles back for another look.
The job was always going to be Garrett's so Jones did not need to put out a lot of feelers.
Jones could be in the head -oach business in 2015 if things do not go well for the Cowboys. The feeling is that the next search will look more like the one in 2007 than 2010.
November, 19, 2013
11/19/13
9:00
AM ET
IRVING, Texas -- Refreshed off the bye week, Five Wonders is back and ready for action.
We'll start with this mini-wonder: Does anybody more than wonder whether the Dec. 29 meeting between the
Dallas Cowboys
and
Philadelphia Eagles
at AT&T Stadium will be to win the NFC East?
I wonder it, but only if the Cowboys beat the
New York Giants
this week.
On to the wonders:

• I wonder if the season is on the line Sunday against the New York Giants. The Cowboys would still be alive because of the state of the NFC East, but at 5-6 and reeling it would be hard to see a turnaround. They would have lost three of four and the only win came on a 90-yard drive in the final minute against the
Minnesota Vikings
. The Cowboys carry emotional baggage with them no matter how much Jason Garrett attempts to keep them in the present. Injuries have piled up again. Questions about the scheme have rumbled on both sides of the ball. There is a lot on the line this week. The Giants have won four in a row to claw back into the race after a 0-6 start. Their wins have not come against the best quarterbacks but winning breeds confidence and the Giants have confidence. Maybe the feeling comes from the 32-point loss to the
New Orleans Saints
before the bye, but the Cowboys sure seem fragile mentally right now as well as physically.
[+] Enlarge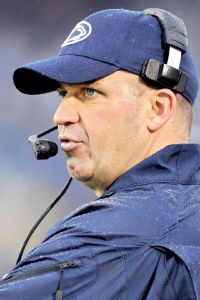 Abby Drey/Centre Daily Times via Getty ImagesIf the Cowboys fail to make the playoffs this season, Penn State coach Bill O'Brien could be an interesting choice to replace Jason Garrett.
• I don't believe owner and general manager Jerry Jones wants to replace Garrett. I truly believe he wants Garrett to be the Cowboys' head coach for a long time. But if the Cowboys don't make the playoffs this season, it would not surprise me if Jones made a move. That would be four straight seasons without a playoff appearance. Jones can sell anything, but selling a status quo wouldn't be easy. One thing I don't wonder about is if Lovie Smith would get an interview. I believe he would. But here's another guy I wonder about: Penn State coach Bill O'Brien. I don't know all of the particulars of the buyout at Penn State, but O'Brien was tempted by the NFL last season. His background with Bill Belichick and
Tom Brady
gives him a plus, and how he has handled the mess that has enveloped Penn State gives him a few more pluses. His time running the Patriots' offense, however, means more to me. The Cowboys drafted
Gavin Escobar
to be more of a "12 personnel" team but the Cowboys have not been creative enough in getting people involved. They are running the same plays they did with
Anthony Fasano
and
Martellus Bennett
as the second tight end and they were not able to produce. O'Brien made the
Rob Gronkowski
-
Aaron Hernandez
package work well with Brady. Do I believe O'Brien would get an interview? I don't know any of it, but I would have him on the list. Not that Jones would listen to me.
• The Cowboys drafted
Kyle Wilber
with the idea that he could play outside linebacker in a 3-4. With the move to the 4-3, he was moved to defensive end. Now he is playing some outside linebacker again because of an injury to
Justin Durant
. I wonder if Wilber is a man without a position. When
Anthony Spencer
went down in training camp with a knee injury, Wilber got the first look and then saw
Ben Bass
take some of his snaps. Then it was
George Selvie
who took them later on. When
DeMarcus Ware
got hurt in the season, Wilber took over but then saw
Jarius Wynn
take over the starting spot. Wilber always was a tweener, but the coaches have yet to feel like he can handle the full-time duty. If they did, they wouldn't be moving him around so much, especially because the defensive end spot is much more valued in this scheme than strong side linebacker.
• I wonder if we'll see a more engaged
Bruce Carter
now that
Sean Lee
is out of the lineup. There is no other way to say it then this: Carter has been a disappointment this season. The Cowboys did not need him to be
Derrick Brooks
in this defense, but they needed him to be productive. He had two sacks in the first two games. He had a pass deflection and a quarterback pressure. He has just two pressures and a pass deflection in the last eight games. He has one tackle for loss. The weak-side linebacker spot is designed to be the playmaker in this defense. When the Cowboys lost Lee last year to a toe injury, Carter stepped up his game before an elbow injury KO'd him for the year. The Cowboys need that Carter and not the Carter that ended the New Orleans game. We can pick on just about everybody on defense from that game, but Carter was ready for that game to end sooner than it did.
•
Back in June I wondered
if people were sleeping on just how effective
Lance Dunbar
would be when the season started. I pegged him in for 30 catches out of the backfield. I saw his speed and elusiveness as being a big part of a revamped offense. I was wrong. While not as big a disappointment as Carter, Dunbar has not been able to deliver on offense. He has four catches for 21 yards and 15 carries for 48 yards. Some of it is injury. Some of it is ball security. Some of it is scheme. Jerry Jones said he wanted to see Dunbar more involved. Bill Callahan said he would like to get Dunbar more involved. Sometimes there's just not enough of the football to go around. Dunbar has seen his role taken by
Cole Beasley
to a degree because of the use of the "empty" package. Maybe things change in the final six games, but I would be surprised.
July, 24, 2012
7/24/12
2:41
PM ET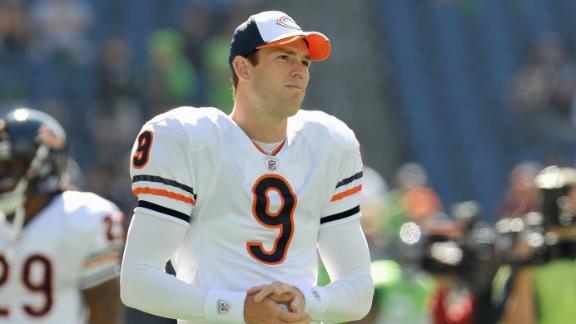 DALLAS --
Sean Lee
is as Penn State as they come and the Cowboys linebacker is sticking with his alma mater through the Jerry Sandusky scandal that has put the football program in peril.
The NCAA on Monday fined Penn State $60 million and banned the school from bowl games for four years, while also taking away scholarships as a penalty for the school's lack of action against Sandusky when charges were initially brought forward in 1998.
The findings of the Freeh Report, which found that the school's highest officials, including coach Joe Paterno, concealed knowledge of Sandusky's abuse, have angered Lee. Sandusky has been convicted of 45 counts of child sex abuse.
"Obviously I don't support the actions of how they handled that situation at all," Lee said Tuesday at a Boys and Girls Club appearance in Dallas. "The facts have shown they didn't report Sandusky and what happened and because of it more kids got hurt. That's what the facts show and I don't agree with that at all. This should've been reported right away. There should've been procedures in place where this is what we do, investigation and go from there and more kids wouldn't have been hurt. I actually think the Freeh Report was a good thing because it shows where Penn State can go, how they can improve on some things so something as horrible as it did will never happen again."
The statue of Paterno outside Beaver Stadium was removed Sunday.
"It doesn't matter to me," Lee said. "It's a statue. They keep it up, they (take) it down, that's not what I feel the issue is. What I feel the issue is, is to make sure the healing process for these victims is taken care of. Now if taking the statue down helps with the healing process, then so be it. If sanctions are going to help with the healing process, then it needs to be done. And also making sure this never happens again. I think Penn State has taken that step."
The NCAA also vacated every Penn State win from 1998-2011, which dropped Paterno as major college football's all-time win leader. Lee was a three-year starter at Penn State from 2005-09, missing the 2008 season with a knee injury.
"There's obviously the memories that you have, so that (removal) was done for whatever reason but as a teammate and former player you realize what you did as a team and what accomplished," Lee said. "Your memories will always be there so that's not what bothers me."
Lee has been a vocal supporter of new coach Bill O'Brien even when former players were criticizing the hire following Paterno's departure, and he will continue to help the new coach.
"Like I said, supporting Penn State going forward does not mean you support the actions of what happened up there," Lee said. "There are a lot of good people that want to do the right thing and Coach O'Brien is one of those guys. He wants to represent the university the right way. He wants to have guys who work hard, play the right way, go to class, who can impact the community in a good way. There's a lot of people in the community that want to do the same thing. They want to support the team. They want to bring the positive about this horrible negative that happened up there."
January, 7, 2012
1/07/12
1:12
PM ET
Linebacker
Sean Lee
, a proud Penn State alum, released a statement via the Cowboys public relations office in response to his alma mater's hiring of Patriots offensive coordinator Bill O'Brien, which has been criticized by several former Nittany Lions who played for Joe Paterno.
"Many former Penn State players, including myself, had hoped an assistant coach from the prior staff would be appointed as the next head coach because we felt it would help preserve the tradition built by Coach Paterno," Lee said in the statment. "The University has chosen to move in a different direction by hiring Coach O'Brien, and as of today, we need to consider him a Penn Stater.
"Alumni, current players and students need to rally around him and try to help him be as successful as possible. If you have reservations on whether Coach O'Brien embodies the Penn State tradition, instead of turning our backs on him, we need to embrace him and help him understand the Penn State way. The best thing for Penn State right now is to support Coach O'Brien and that is what I intend to do.
"I would also like to lend my support to the assistant coaches who have held the program together during its toughest times. Coaches such as Tom Bradley, Ron Vanderlinden and Larry Johnson Sr. deserve to be applauded for the way they have led the program the past couple of months. Hopefully, Coach O'Brien will consider them for his staff because not only are they great coaches, but they are people with great integrity."