Dallas Cowboys:

Bob Sanders
March, 7, 2011
3/07/11
7:30
AM ET
A pair of accomplished safeties found new homes last week without even an invitation to visit Valley Ranch.
PODCAST
Business in the NFL is changing in big ways; can the Cowboys keep their head above water or will they be drowned in financial trouble? Ben and Skin weigh in.

Listen

Cowboys fans can feel free to panic after O.J. Atogwe and
Bob Sanders
went off the market, but it's probably premature. There will be safeties available in free agency capable of filling the glaring void in the Dallas secondary, assuming that there is free agency this offseason.
It's tough to blame the Cowboys for not taking a risk on Sanders, whose terrific career has been derailed by injuries. He's been healthy enough to play in only nine games in three seasons since being named the NFL's defensive player of the year.
I don't quite understand the Cowboys' lack of interest in Atogwe for the second consecutive season. He's a safety who is reliable against the run and pass and has a track record of forcing turnovers. However, even if the Cowboys were in pursuit of the soon-to-be 30-year-old, they probably would have been outbid by the Redskins. Danny Snyder, a man known to overpay in the free-agent market, gave Atogwe a five-year, $26 million contract.
If the Cowboys don't sign a safety, they deserve to be ripped for ignoring Atogwe. But that's not the case if they sign any of the following six players:
Michael Huff
,
Quintin Mikell
,
Eric Weddle
,
Danieal Manning
,
Dawan Landry
or
Brodney Pool
.
Just a hunch, but the Cowboys might have their hopes set on Huff, an Irving Nimitz and Texas product who has started to live up to his potential as a top-10 pick after a few disappointing seasons at the beginning of his career. Rob Ryan was the Raiders' defensive coordinator when they drafted Huff seventh overall in 2006.
Huff, 28, is an elite coverage safety with a knack for blitzing. He'd be a tremendous upgrade over
Alan Ball
.
Perhaps Huff could be paired with
Gerald Sensabaugh
, although the Cowboys aren't going to give the strong safety the lucrative long-term deal he wants in free agency. Maybe the Cowboys find their second starting safety in the draft.
Anybody who watched the Cowboys play last season knows that improving at safety ranks atop the offseason priorities. The fact that they were spectators while a couple of big-name safeties changed addresses shouldn't prevent them from addressing the problem.
March, 3, 2011
3/03/11
9:06
PM ET
The NFL and the NFLPA agreed on a 24-hour
extension
Thursday to prevent a possible lockout, but several teams made roster moves in anticipation of a work stoppage.
As part of Thursday's agreement, even though an extension was granted, the league year has ended. Teams could no longer cut, re-sign players or make any player moves after 10:59 p.m. CT Thursday, until there's a new CBA.
League spokesman Greg Aiello confirmed the transaction freeze via text, saying teams are free to negotiate with players and agents, but signings are prohibited.
Before the deadline, San Diego
signed
safety
Bob Sanders
on Thursday night and
A.J. Hawk
inked
a five-year deal with the
Green Bay Packers
.
The Cowboys must now wait for a new collective bargaining agreement to sign a free agent or make any other move. The team extended its tender offers to a handful of its free agents and has signed a few players to futures contracts. But it has not invited free agents to Valley Ranch to gauge their interest in the Cowboys.
Whenever the CBA is settled, the new league year will commence. The Cowboys have 15 days to make a decision on whether to pick up
Marc Colombo
's $2.6 million option bonus. There are some other roster bonuses the team has to make decisions on, such as
Marion Barber
's $500,000, but that's not due until June.
Of course, the NFL draft will take place regardless of whether there is league business. But teams will be unable to sign or release players during a lockout.
On Wednesday, Cowboys coaches spoke with several players about the offseason plan in the event of a work stoppage. Players would be banned from going to Valley Ranch, and coaches are not allowed to speak with them away from the facility.
But this recent development might give the union and the owners even more time. The mediator might give the sides another extension of seven to 10 days to possibly come to an agreement.
March, 2, 2011
3/02/11
2:46
PM ET
There's no indication that the Cowboys have any interest in oft-injured former Colts safety
Bob Sanders
. But that didn't stop ESPN Football Outsider Bill Barnwell from speculating that the 2007 NFL Defensive Player of the Year would be a good fit in Dallas.
Barnwell provided his take on the
NFL's biggest offseason moves (Insider link)
, starting with the Colts' release of Sanders.
He needs an organization that's exhibited a history of turning injury-prone players into contributors, and there's one that fits the criteria and could definitely use a safety: the Dallas Cowboys. The Cowboys turned around the career of offensive lineman Marc Colombo after he flopped with the Bears because of injury, and with starting safeties Alan Ball and Gerald Sensabaugh hitting free agency, Dallas could opt to take a chance on their medical staff being able to keep Sanders in one piece. The upside is enormous and the gamble is certainly worthwhile.
February, 23, 2011
2/23/11
8:00
AM ET
Players:
Alan Ball
(free agent),
Gerald Sensabaugh
(free agent),
Barry Church
(signed through 2012),
Danny McCray
(signed through 2012),
Akwasi Owusu-Ansah
(signed through 2013),
Andrew Sendejo
(signed through 2011)
Top free agents:
Michael Huff
,
Oakland Raiders
; O.J. Atogwe,
St. Louis Rams
;
Bob Sanders
,
Indianapolis Colts
;
Roman Harper
,
New Orleans Saints
;
Quintin Mikell
,
Philadelphia Eagles
;
Danieal Manning
,
Chicago Bears
;
Dawan Landry
,
Baltimore Ravens
[+] Enlarge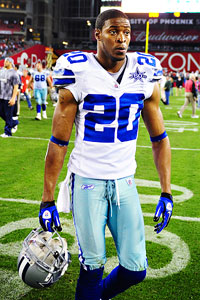 Mark J. Rebilas/US PresswireDon't expect safety Alan Ball to be a starter next season, if he's even on the Cowboys' roster in 2011.
Top draft prospects:
Rahim Moore
, UCLA;
Quinton Carter
, Oklahoma;
DeAndre McDaniel
, Clemson;
Robert Sands
, West Virginia;
Jaiquawn Jarrett
, Temple.
2010 review:
To put it simply, this position was a problem. The Cowboys made a major misevaluation with Alan Ball, who doesn't have the instincts or tackling ability to be a starting free safety for a decent NFL defense. Gerald Sensabaugh was a disappointment for most of the season, although he finished strong by making four of his five interceptions in the last six games. He was not a factor against the run or an intimidating presence in the middle of the field. Barry Church and Danny McCray didn't perform well enough in limited playing time to make a case to contend for a starting job. Akwasi Owusu-Ansah, who missed much of camp due to shoulder surgery and was placed on injured reserve with an ankle injury, essentially had a redshirt season.
Offseason preview:
The Cowboys have to find at least one, and preferably two, new starting safeties. If Ball is on the roster next season, it'll be as a backup and core special teams player. There is a chance that Sensabaugh could return as a starter, but the Cowboys won't give him the lucrative long-term deal he's looking for in free agency. It would behoove the Cowboys to be aggressive in free agency, but they haven't set up a visit with O.J. Atogwe, who is available to sign immediately after being released by the Rams this week. There are no safeties who are projected as top-10 picks, so don't expect the Cowboys to draft one in the first round. They should be able to find a starter in the second or third round.
Need meter:
(1-to-5) 5