Dallas Cowboys:

Brady Quinn
May, 9, 2014
5/09/14
2:45
PM ET
IRVING, Texas -- The
Dallas Cowboys
reaffirmed their love of QB
Tony Romo
on Thursday night when they passed on selecting
Johnny Manziel
in the 2014 NFL draft.
In 2007, they made a very similar move.
Romo
Back then, there were questions about Romo even after he took the NFL by storm and lifted the Cowboys to the playoffs in 2006.
Was he truly a franchise quarterback? Would a new coaching staff see him the same way the previous coaching staff saw him? Would there be any aftereffects from the bobbled snap in the playoff loss to the
Seattle Seahawks
?
The Cowboys had searched forever, it seemed, for Troy Aikman's successor. They tried Quincy Carter. They tried baseball players, such as Chad Hutchinson and Drew Henson. They tried veterans, such as Vinny Testaverde and Drew Bledsoe.
In 10 games, Romo threw for 2,903 yards with 19 touchdowns and 13 interceptions. He went to the Pro Bowl.
He was also in the final year of his contract. Would the Cowboys make him a mega-offer with such a short track record?
Staring at the Cowboys as they were about make the 22nd pick in the '07 draft was Notre Dame quarterback
Brady Quinn
. Nobody expected him to be there. He was the Cowboys' highest-rated quarterback. Forgetting what we know now, he had the stamp of approval from Charlie Weis, a coach who worked with
Tom Brady
. Quinn put up some strong numbers.
On the clock, the Cowboys traded out of the first round when they secured the Browns' second-round choice in 2007 and their first-rounder in 2008. Eventually they moved back into the first round in a trade with the
Philadelphia Eagles
to take
Anthony Spencer
with the 26th pick.
The Cowboys affirmed their love for Romo. Seven games into the 2007 season, they signed him to a six-year, $67.5 million deal that included $30 million guaranteed.
About 14 months ago, the Cowboys reaffirmed their love for Romo with a six-year, $108 million extension that included $55 million.
Like in 2007, he faces some questions in 2014. Some are football-related. He has not led the Cowboys to the playoffs since 2009. He has a 25-28 record since the beginning of the 2010 season. There are a lot of questions about his health because he is coming off his second back surgery in less than a year. He turned 34 last month.
But just like seven years ago, Jerry Jones backed Romo once again.
"I think that Tony has everything to do with this decision," Jones said of Dallas' selecting OT
Zack Martin
over Manziel. "We have a big commitment to Tony. We feel that anything we look at at quarterback would be down the road and in the future in the development of that quarterback. If you look at the difficult dynamic, giving up this player [Martin] that really enhances what we can do on offense and what Tony can do for the future, just on a pretty quick consideration [taking Manziel] didn't make sense. That was the driving force behind it."
April, 24, 2013
4/24/13
2:17
PM ET
IRVING, Texas – Jerry Jones basically bought an ad in the NFL classifieds during Monday's pre-draft press conference, sending out the message that the Cowboys could be in trade-down mode when they get on the clock with the 18th overall pick.
PODCAST
Randy Galloway, Matt Mosley and Glenn "Stretch" Smith discuss some of the players the Cowboys should be looking at in the upcoming NFL draft.

Listen

That news was met with a lot of moaning and groaning from Cowboys fans.
How can you be adamantly against trading down if you have no idea what the offer might be or which players might be available? Folks just don't trust GM Jerry.
Should they in this situation? Let's look at the Cowboys' history of trading down in the first round during the Jerry era.
1991 -- No. 14 overall (obtained from New Orleans – RB Leonard Russell) to New England for No. 17 overall (traded to Washington – DT Bobby Wilson) and No. 110 overall (DE Kevin Harris).
No. 17 overall (Wilson) to Washington for No. 20 overall (traded to Detroit -- DT Kelvin Pritchett) and No. 132 overall (Darrick Brownlow).
No. 20 overall (Pritchett) to Detroit for No. 37 overall (LB Dixon Edwards), No. 64 overall (G James Richards) and No. 108 overall (DE Tony Hill).
PODCAST
How close were the Cowboys to getting John Elway in 1983? Fitzsimmons and Durrett discuss what could have been if John Elway got his wish and was traded to Dallas.

Listen

These three deals have to be judged essentially as one. After all the wheeling and dealing was done, the Cowboys turned the 14th overall pick into a second-round linebacker who started for two Super Bowl title teams (Edwards), a third-round guard who never played an NFL game (Richards), a fourth-round defensive end who played 13 games in two NFL seasons (Hill) and a fifth-round linebacker who made 11 tackles in two separate one-year stints in Dallas (Brownlow).
This was a case of great value on Jimmy Johnson's trade chart and essentially a push in reality. Russell ended up being a decent running back, rushing for 3,973 yards and 29 touchdowns in his career, and it's not as if the Cowboys passed on a Hall of Famer who went later in the first round. Edwards contributed to three title teams, starting for two.
This deal would have been a steal if the Cowboys selected offensive tackle
Erik Williams
at No. 64 overall. They ended up drafting him six picks later.
1993 -- No. 29 overall (S George Teague) and No. 112 overall (Albert Fontenot) to Green Bay for No. 46 overall (WR Kevin Williams), No. 54 overall (LB Darrin Smith), No. 94 overall (RB Derrick Lassic) and No. 213 overall (LB Reggie Givens).
PODCAST
Nate Newton went undrafted in 1983, but he still feels like he was part of one of the greatest draft classes in league history. Newton joins Fitzsimmons and Durrett to discuss his draft experience from 30 years ago and his journey to three rings.

Listen

Both of the second-round picks the Cowboys acquired contributed to two Super Bowl title teams. Williams was a quality punt and kick returner who started at receiver for the Cowboys' last championship team, setting career highs with 38 catches for 613 yards and two touchdowns that season. Smith started all four of his seasons in Dallas.
Teague had a solid nine-year career, but he ended up spending most of that in Dallas anyway. Fontenot also lasted nine NFL seasons, making 81 starts. Lassic lasted 10 games, and Givens never played for the Cowboys.
Give the Cowboys a win for this deal, but it wasn't lopsided by any measure.
1995 -- No. 28 overall (LB Derrick Brooks) to Tampa Bay for No. 41 overall (traded to Atlanta – DB Ron Davis) and No. 63 overall (OG Shane Hannah).
All Brooks did in Tampa Bay was go to 11 Pro Bowls, be named first-team All-Pro five times, win a Super Bowl and establish himself as one of the best linebackers of his generation.
Hannah started the Cowboys' tradition of early-round offensive line busts, getting hurt in training camp and never playing a game in the NFL. They flipped Davis for a second-rounder (RB
Sherman Williams
) and fourth-rounder (TE
Eric Bjornson
), a couple of backups who combined for 10 career touchdowns.
This might be the worst draft-day deal the Cowboys ever made.
1996 -- No. 30 overall (Andre Johnson) to Washington for No. 37 overall (DE Kavika Pittman) and No. 67 overall (C Clay Shiver).
Pittman made 18 sacks in eight NFL seasons (10 in four seasons for the Cowboys). Shiver started 25 games, but that was evidence of how weak the Cowboys were at center, as he was out of the league after three years.
Johnson was a huge bust for the Redskins. He never played a game in Washington.
The Cowboys would have been better off staying put and drafting Texas product
Tony Brackens
in the first round. Brackens, picked No. 33 overall by Jacksonville, had 55 sacks and 27 forced fumbles in his eight-year career.
2002 -- No. 6 overall (DT Ryan Sims) to Kansas City for No. 8 overall (SS Roy Williams), No. 75 overall (CB Derek Ross) and a sixth-round pick in 2003 (WR Zuriel Smith).
A couple of Williams' five Pro Bowl berths were reputation selections after his performance fell off, but he was a dominant force as a playmaking intimidator early in his career. That's much more than you can say for Sims, who only had one more sack in his career than Williams did.
Ross looked like a steal when he had five picks as a rookie, but the character red flags that caused him to drop into the third round proved true. Bill Parcells got rid of him midway through Ross' second season. Smith played nine games for the Cowboys, contributing primarily as a return specialist.
This was a good deal for Dallas, just not nearly the steal it seemed destined to be during the rookie seasons of Williams and Ross.
2004 -- No. 22 overall (QB J.P. Losman) to Buffalo for No. 43 overall (RB Julius Jones), No. 144 overall (TE Sean Ryan) and a 2005 first-rounder (DE Marcus Spears).
Spears was a serviceable player for the last eight seasons. Ryan was a nonfactor during his two years in Dallas.
But this deal comes down to
Steven Jackson
vs. Julius Jones.
The Cowboys decided, based strongly on the input of running backs coach Maurice Carthon, that there wasn't much difference between the top back on the board and the backs who would be available in the second round.
Jackson has rushed for 10,135 yards and counting, more than twice as many as Jones ran for during his career. Jackson has accounted for 64 touchdowns, almost three times Jones' total.
Oops.
2007 -- No. 22 overall (QB Brady Quinn) to Cleveland for No. 36 overall (traded to Philadelphia – QB Kevin Kolb) and a 2008 first-rounder (RB Felix Jones).
The Cowboys were tempted to pick Quinn, who they had in the top 10 on their board, but they opted to fully commit to a quarterback with 10 starts under his belt named
Tony Romo
. Considering that Quinn is with his fourth team and Romo just got $55 million guaranteed, it's pretty clear that was the right call.
The Cowboys moved back into the first round to select OLB/DE
Anthony Spencer
, giving up third- and fifth-rounders to do so. No regrets there, with Spencer a solid player coming off his first Pro Bowl appearance and Kolb failing to make an impact in Philadelphia.
This deal would have looked like a stroke of genius if the Cowboys picked
Chris Johnson
,
Matt Forte
,
Ray Rice
or
Jamaal Charles
the next year. Alas, they selected an Arkansas alum to be a change-of-pace back.
Felix Jones
had some flashes of brilliance, but his Dallas tenure was a pretty big disappointment given the quality of backs picked behind him.
This was still a solid deal for Dallas.
April, 26, 2012
4/26/12
11:38
AM ET
IRVING, Texas -- Over the last few days the Cowboys have done what Mel Kiper, Todd McShay and every other draft guru does at this time of year: conduct mock drafts.
The Cowboys, and every other team, want to go through all kinds of scenarios so when they are on the clock for real they will have already played it out before the draft started.
In 2007 the Cowboys went through a mock draft in which quarterback
Brady Quinn
fell to them. They knew
Tony Romo
was their quarterback, even after just 10 regular-season starts at the time, but played out a scenario in which Quinn fell to them. Would they take Quinn? Would they trade back?
When Quinn did fall, the Cowboys knew what to get in return for a trade down. Cleveland complied and the Cowboys had two first-round picks in 2008.
On Wednesday, Jones said the team played through a scenario in which they traded up from No. 14 to get a player they wanted if there is a run on the handful of players they expected to be there when they picked. Undoubtedly they went through the other end of the story, too, in which all of their guys are gone.
"I don't want to get into our strategy, but we have done that exercise and in essence said, 'How many guys we got up there that would cause us to go up?'" Jones said. "And we spent quite a bit of time on that exercise. Again it's according to the cost. According to how big it is. You get a situation, as you know, where you can move up one or two places that there is a real value that they give you just to swap a couple of spots with you. That's hard to up there early, but, yes, that it is a possibility. I don't want to say one player, but there are players we would go for."
Teams usually take their in-house mock drafts through three rounds because, as Jason Garrett said Wednesday, you're picking starters (or eventual starters) in those rounds and want to have a feel for what will be available.
January, 20, 2012
1/20/12
10:30
AM ET
IRVING, Texas --
A week ago we brought up the backup quarterback subject
and wondered how the Cowboys will approach that spot in 2012 with
Jon Kitna
retiring and
Stephen McGee
entering the final year of his contract.
On Thursday, Jason Garrett was asked about the possibility of bringing in a veteran backup.
"It's a very important position," Garrett said. "As we all know you want to make sure you allocate the resources necessary to that spot. Jon Kitna was great for us the last three years. He had a chance to play last year and played really well for our team and was a real leader for our team. He's retired now and in Seattle and enjoying life after football and we have to make a decision there. Stephen McGee has gotten some real good experience the last couple of years, playing in games and we'll continue to evaluate his progress. We like what he's done but it's an important decision. We've got to make sure we have enough people for no other reason than guys get hurt and you better have a suitable guy who can go in there and play."
Chicago found out the hard way after losing
Jay Cutler
to an injury. Kansas City's hopes faded after
Matt Cassel
got hurt and led them to
Kyle Orton
, whom the Cowboys also claimed on waivers.
Orton will be an unrestricted free agent and the most interesting possibility, however, he could get the chance to be a starter somewhere else (maybe even the Chiefs), which would hurt the Cowboys' chances of going after him.
The other free-agent names are less palatable (
Jason Campbell
,
Shaun Hill
,
Brady Quinn
) but Garrett's history here has shown he prefers the veteran.
Brad Johnson
was 39 when he came to the Cowboys in 2007. Kitna was 37.
August, 10, 2011
8/10/11
2:53
PM ET


Denver Broncos coach John Fox told ESPN's Ed Werder that second-year quarterback Tim Tebow will follow starter Kyle Orton in the team's preseason opener against the Cowboys on Thursday night at Cowboys Stadium.

Fox said Orton and the other starters are expected to play 12 to 15 plays, and that Tebow and Brady Quinn will lead the offense for most of the remaining three quarters -- although rookie Adam Webb might also play.

Fox said he has made no firm decisions at the position and considers the quarterback competition open.
March, 31, 2010
3/31/10
12:52
PM ET
Notre Dame QB
Brady Quinn
's slide was the best thing that could have happened to the Cowboys in the 2007 draft.
The Cowboys might be able to benefit from another Notre Dame QB's draft-day slide this year. There is speculation that
Jimmy Clausen
, widely considered the the second-best quarterback in the draft, could fall all the way to the second round if he isn't picked in the top half of the first round.
That could result in the Cowboys having several options when they go on the clock with the 27th overall pick. Stay put and draft the best available non-quarterback, or take an offer from a team trying to move up for Clausen.
Jerry Jones and Co. convinced the
Cleveland Browns
to give up a high second-rounder and '08 first-rounder for the right to pick Quinn with the 22nd overall pick. Dallas parlayed those picks into a pair of players who appear to be rising stars: OLB
Anthony Spencer
and RB
Felix Jones
.
Could the Cowboys get a similar deal if Clausen tries? You can count on Jones at least working the phones if that's the case.
The Cowboys strongly considered drafting Quinn, who was the No. 8 player on their draft board. Jones has declared that he has no intention to draft a quarterback this season, especially in the first round. But a QB could still be the key to their draft.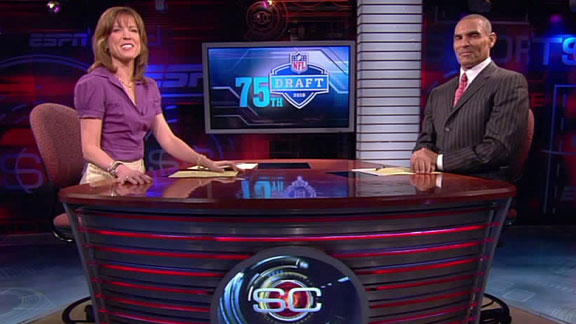 March, 15, 2010
3/15/10
1:35
PM ET
In 2007, the Cowboys had a chance to draft quarterback
Brady Quinn
but elected to trade that pick to Cleveland for a second round choice and a 2008 first round pick.
There was nothing wrong with Quinn creating competition with starting quarterback
Tony Romo
. If anything, the thinking is that if Romo struggled, you had a younger quarterback in waiting.
Well, I was wrong. The Cowboys used their 2007 first round pick on
Anthony Spencer
, somebody they targeted from the beginning. In 2008, the Cowboys first round pick, thanks to the Browns, was running back
Felix Jones
.
That same draft, they picked up
Mike Jenkins
, as the other first round pick.
It seems the Cowboys trade worked out here with Jenkins a Pro Bowl corner, after only two seasons, and Jones is turning into a special player.
Quinn meanwhile is looking to
start over
seeing he was traded to Denver.
March, 15, 2010
3/15/10
11:07
AM ET
As much as we rip on the Roy Williams deal, it's only right to point out when the Cowboys committed robbery in a trade.
That's the case with the 2007 draft-day deal, aka the
Brady Quinn
Con Job.
The
Cleveland Browns
gave up on Quinn yesterday, when new management shipped the young quarterback to Denver for a fullback, a sixth-round pick and a conditional draft pick. That's what Cleveland has to show for the high 2007 second-rounder and 2008 first-rounder they gave the Cowboys for the right to draft Quinn with the No. 22 overall pick.
The Cowboys parlayed those picks into two guys who will be core pieces around these parts for a long time. They traded up to get OLB
Anthony Spencer
in 2007 and drafted
Felix Jones
with the No. 22 overall pick the next season, after the Browns had surprising success. Spencer and Jones performed like Pro Bowlers down the stretch last season, but they're still just scratching the surface of their potential.
Quinn might develop into a decent quarterback in Denver, but that won't benefit the Browns other than increasing the value of the conditional pick.
The Cowboys strongly considered drafting Quinn, who they ranked as a top-10 value. The reason they didn't is
Tony Romo
. They wisely figured they'd be better off with two young players who could make an impact instead of a guy who wore a cap and held a clipboard.
Give Jerry Jones credit for convincing Cleveland to give up a pair of premium picks. It's the best trade he's made since Jimmy Johnson's days at Valley Ranch.